Back in the '80s, there wasn't a lot of diversity in the field of digital marketing. It was just all about sending emails and text messages, and that used to be pretty much it.
However, now in 2022, digital marketing is a whole realm in its own. Online brands and business have to do a lot of different stuff in order to keep themselves in the running. This can involve things like creating websites, setting up blogs, doing SEO, setting up email marketing campaigns and whatnot.
Since digital marketing has become so extensive, it's not something that can be done manually. Marketers have to use different tools and utilities in order to make their tasks quicker and easier.
And for beginners and rookies, it can be difficult figuring out just which tools to use. There are so many of them available online, and it can get a little confusing deciding which one to opt for and which one to leave out.
In this post, we are going to be looking at five important tools that you have to use in your digital marketing endeavors in order to make sure that you get the results that you need.
Read: How to do Digital Marketing
5 Tools You Need for Digital Marketing

For some people, the words 'digital marketing' may have become synonymous with 'SEO'. This can be due to the fact that SEO is a very major branch of digital marketing, and it is one of the most popular techniques in 2022.
However, digital marketing is a lot more than just SEO. Mobile marketing, content marketing and email marketing are all part of digital marketing.
And from among all these, email marketing is one of the simplest, oldest and most effective approaches. It is for this reason that it is the go-to customer outreach method for 64% of all small businesses.
Just as there are tools and utilities for other forms of marketing such as content marketing and SEO, there are also tools available that you can use for making your email marketing campaigns more streamlined and effective.
In this regard, HubSpot offers a range of excellent tools that can be accessed from its Marketing Hub. You can use the tools offered by HubSpot to do the following:
Create attractive and engaging emails using the drag-and-drop styled editor

Personalizing emails for each individual recipient to maximize click-through rate

Get analytics and stats on your sent emails

Automate the emailing process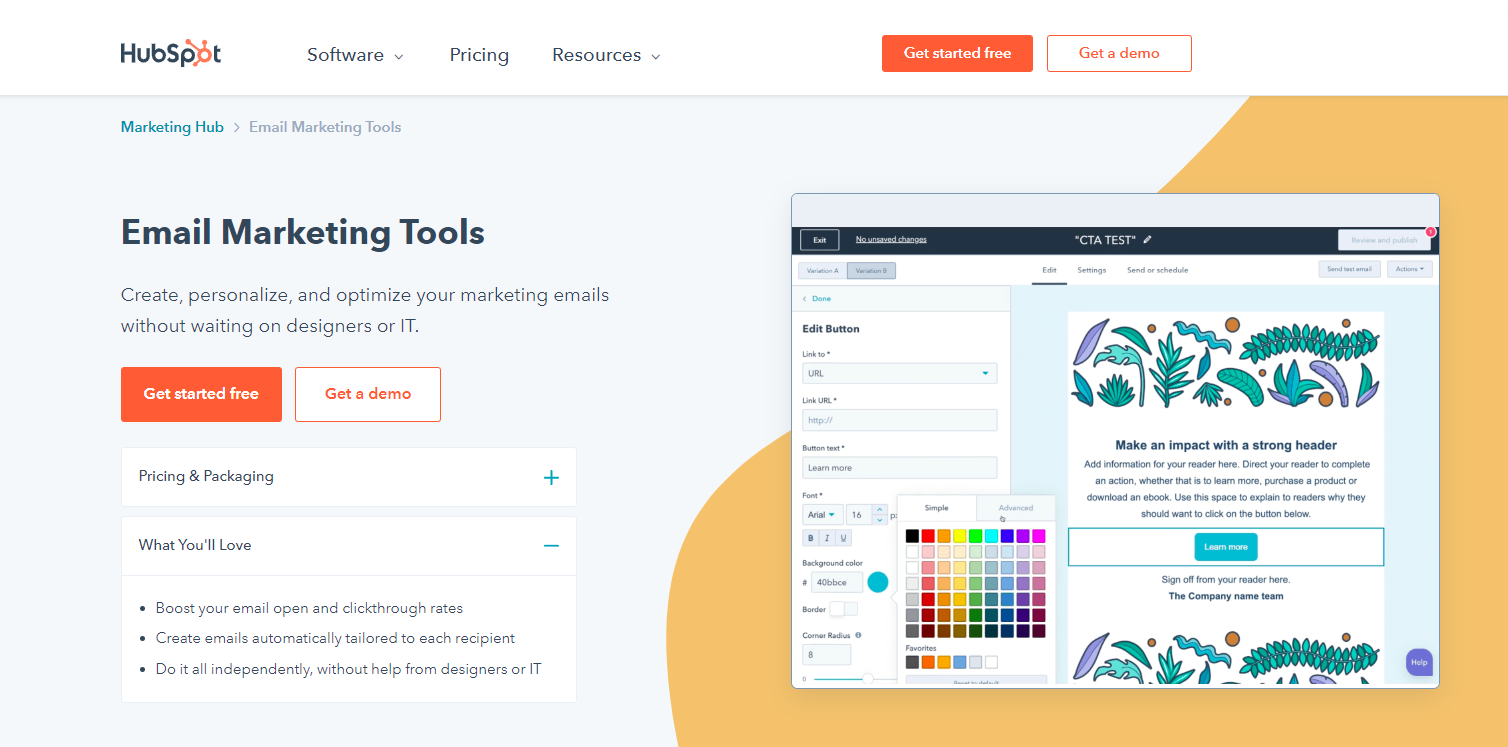 Normally, creating emails for your mailing campaign alone can be quite a hassle. A lot of people may have to outsource this task to professional designers and end up spending a considerable amount of money just to get the message draft.
But by using the Email Marketing Tools by HubSpot, you can do it yourself with the impressive styling options and features available in the editor.
The best part about all this is that you can get started for free, and begin making your emails without going through a lot of lengthy rigmaroles. Mind you, apart from the email creation option, you may have to buy a paid plan to get access to the other features (such as the mail automation) in the Marketing Hub.
Read: Traditional Marketing vs Digital Marketing: Main Differences
For a lot of brands and businesses, the first step in their digital marketing plan can be to set up their emailing campaign. And with HubSpot, that can be done very quickly and easily.
Ahrefs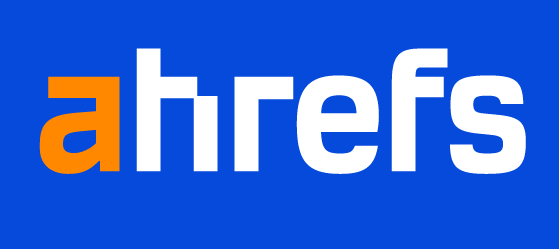 Ahrefs is one of the most popular and famous names when it comes to SEO tools. There are a lot of different things that you can do with this tool such as keyword research, obtaining website ranking metrics and statistics, and finding the SEO health for particular domains.
Ahrefs is a very useful tool for digital marketing since it is essential for SEO experts. As we mentioned earlier in this article, SEO is one of the most major and important branches of digital marketing nowadays.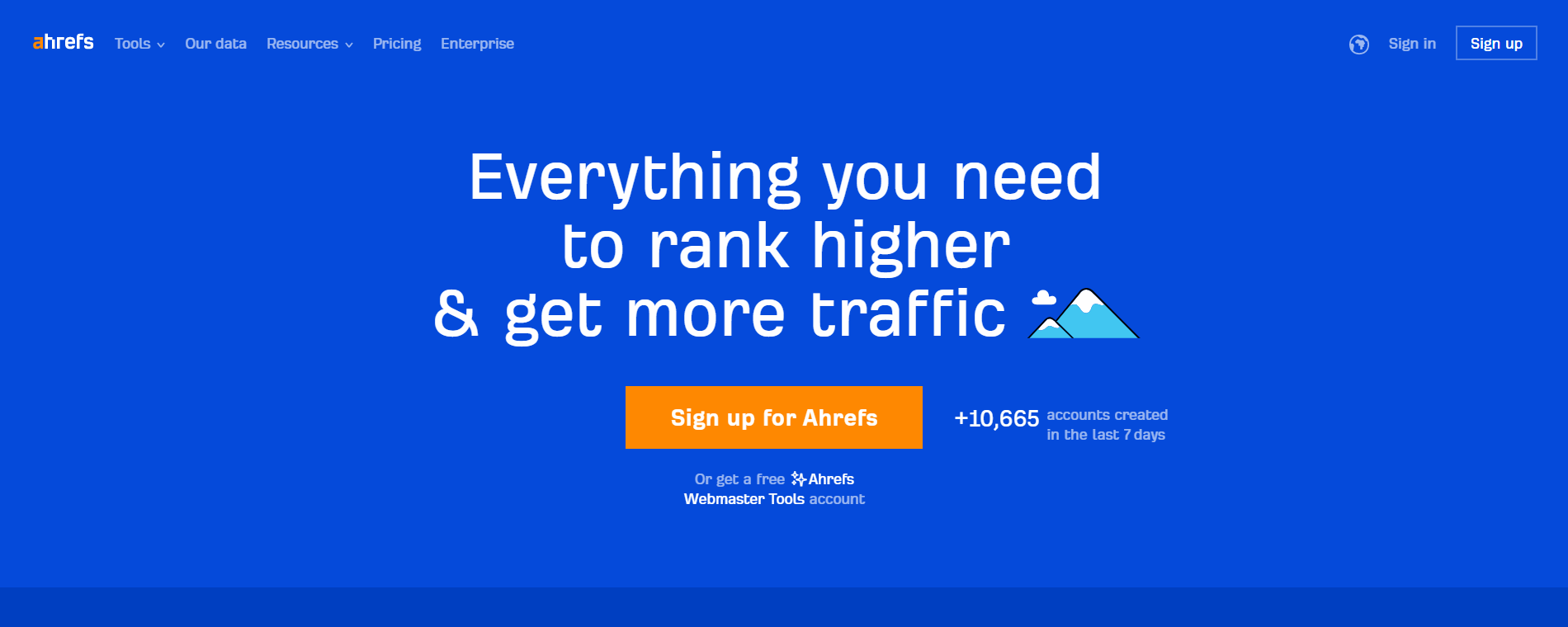 Here are some things that Ahrefs can help experts with during the course of their SEO campaign.
Keyword Research: Finding the right keywords is the initial and primary step that all SEO experts have to take before starting their campaign. Ahrefs can be very helpful in this process as it provides a lot of useful information related to keywords. You can find the total number of clicks on a particular keyword, its ranking difficulty, search volume and so on.
Competition Monitoring: You can also use Ahrefs for keeping tabs on your competitors, and for analyzing their progress. The 'Site Explorer' tool by Ahrefs can help you get the following types of data pertaining to your competitors:

Number and quality of backlinks

Organic traffic being driven to their webpages

Information about paid search campaigns

Website Audit: The 'Site Audit' tool by Ahrefs can help you get useful insights and metrics related to your website's performance. You can find different sorts of issues and problems in your website's outgoing and incoming links, HTML tags, content quality, performance etc.
Read: What Is the Most Prominent Way for Effective Digital Marketing Writing

Prepostseo is, as compared to the other tools discussed so far on this list, a whole bundle of different tools and utilities. Like Ahrefs, Prepostseo is also useful for digital marketing because it can be helpful for SEO purposes.
There are a total of 95 different tools offered by Prepostseo, and a lot of those tools can directly and indirectly help marketers during the course of their SEO campaign.
There are basically four different categories of tools on Prepostseo i.e.,
Writing and Education

Domain Tools

Website Management Tools

More Tools

Writing and Education
In the first category viz. 'Writing and Education', you can find various types of content optimization tools such as a plagiarism checker, paraphraser, grammar checker and so on. Since SEO has a lot to do with quality content (for blogs and website texts etc.), these sorts of tools can be very helpful.
Domain Tools
Moving on, the tools in the second category viz. 'Domain Tools' can be helpful to website owners and SEO experts for monitoring purposes. For example, in this category, you can find tools such as a DA checker, PA checker, Moz rank checker and so on. All of these tools can help you find the ranking and performance of your website…which is something that is very important in an SEO campaign.
Read: 6 Revolutionary Digital Marketing Trends in 2022
Website Management Tools
In the third category viz. 'Website Management Tools', you can find various code minifiers and beautifiers. Since these tools can be used to improve the performance of your website, these are also, in a way, useful for SEO.
And as for the last category viz. 'Other Tools', it just includes different converters, calculators and text generators. They don't really help in digital marketing.

SEMrush more or less offers the same type of services as Ahrefs. These two are actually competitors. Other than these two, the third big name in SEO tools is Ubersuggest…which we won't be discussing in this post.
Coming back to SEMrush, there are a lot of different tools and features that this platform offers. Looking at them all would take up more space that we would like, so let's just skim over some of them.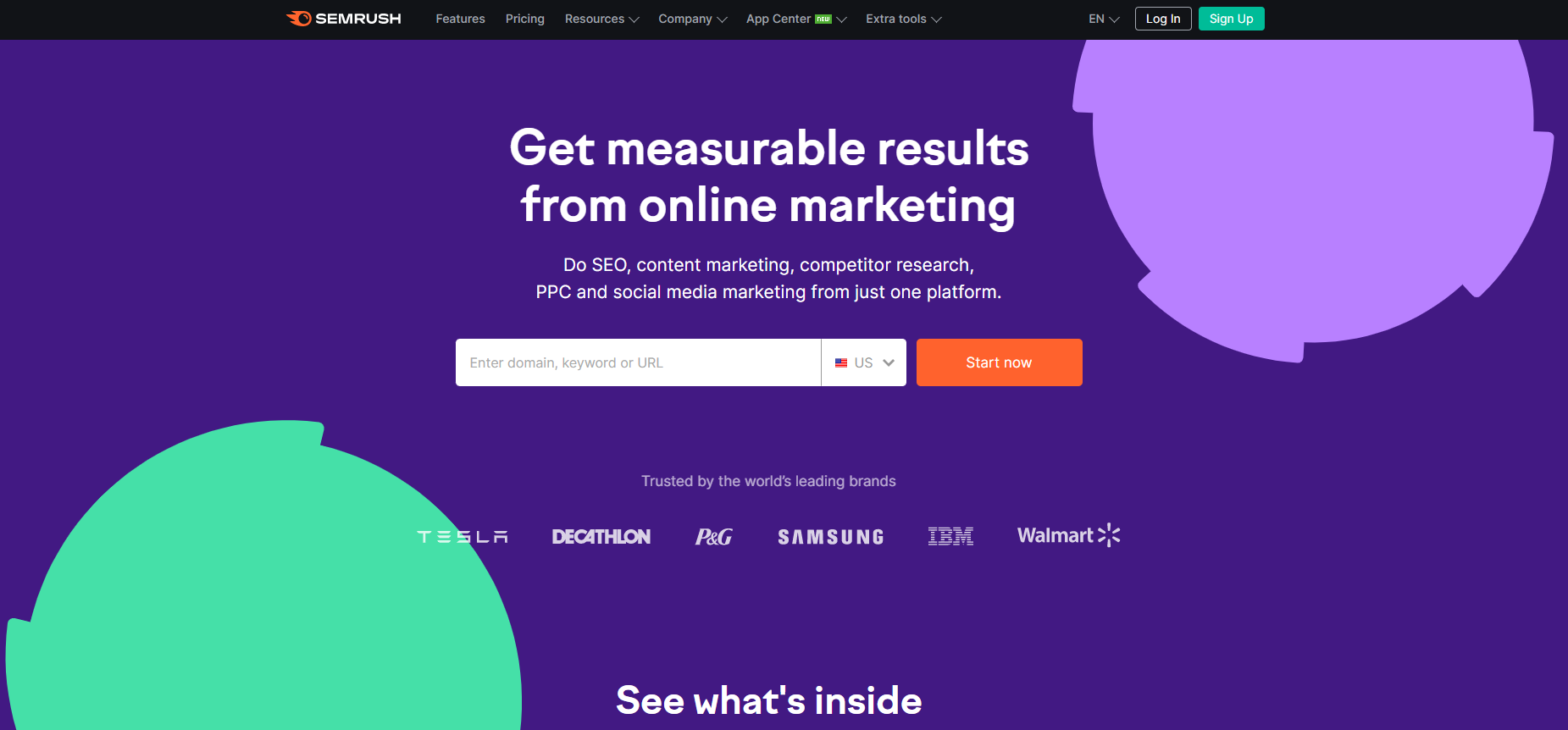 There are essentially various 'toolkits' that you can find on SEMrush. Some of these toolkits include:
SEO Toolkit

Content Marketing Toolkit

Competitive Research Toolkit
Using the SEO Toolkit, you can do things such as site audits, backlinks analyses, traffic analyses, get domain overviews and so on.
On the other hand, with the Content Marketing Toolkit, you can do topic research, use SEO content templates, get help from the SEO writing assistant etc.
As we said earlier, we can't really go into extensive details about each and every tool offered by this platform. However, judging from the ones we've discussed briefly till now, we can simply conclude that SEMrush is an excellent tool for digital marketing since it can help SEO experts get all the necessary data and information they need for executing their strategies.
Read: Artificial Intelligence in Marketing

Written content is an extremely important element of digital marketing. There are a lot of different methods and approaches in digital marketing that are pretty much useless without content.
For example, in email marketing, good quality content has to be used in promotional messages. The same thing goes for content marketing and other forms of interactive marketing.
Since content is such a necessary part of digital marketing, it is important for marketers and experts to have a tool or software that allows them to ensure that the content they create (or procure) is of top-notch quality.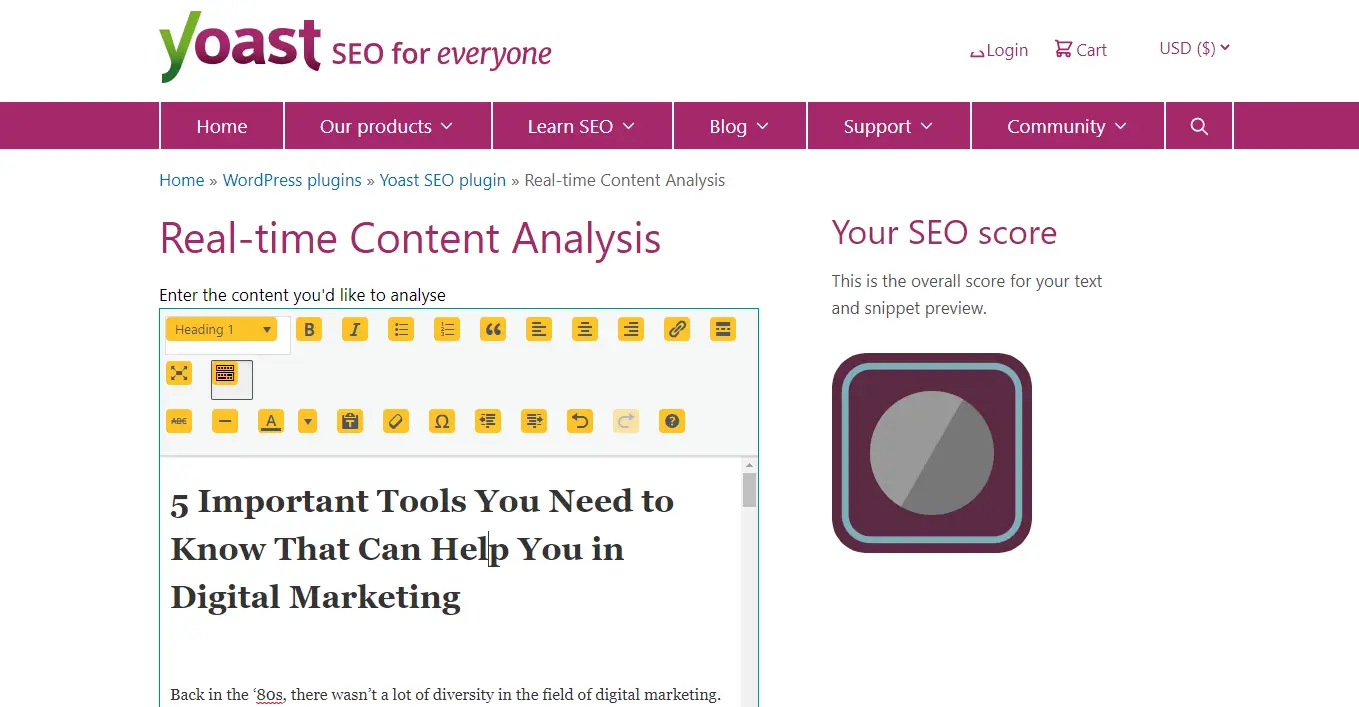 And this is where the Content Analyzer by Yoast comes in.
With the Yoast Real-Time Content Analyzer, you can get various stats and metrics on your entered content. For example, this tool will let you know if your content is missing images, focus keywords, links and other SEO elements.
And apart from the SEO assessments, the Content Analyzer will also give you some generally readability statistics that you can check to see if your content is too difficult to read. This can include things like
Number of transition words

Passive voice sentences

Long sentences
Essentially, with this tool, you can polish and optimize your content for SEO and for other marketing purposes.
The best part about all this is that this tool does not require any sort of payment or subscription. You can even use it without even signing up.
Read: Biggest SEO Trends to Look for in 2022 (UPDATED LIST)
Conclusion
Digital marketing is a big field. There's a lot of different stuff involved in it, and it is very difficult for anyone to pull off their marketing strategy without taking help from the proper tools.
But then again, the tools available for this purposes are not few in number either. There is, as they say, a whole galore of such tools available online. Marketers, especially rookies, can get a bit overwhelmed and they can have trouble selecting the right tools for themselves.
But, for people who don't know where to look and where to start, the tools mentioned on this list can be a good place to begin. Try them out and you'll be able to get around your digital marketing needs easily.
---
If you like the content, we would appreciate your support by buying us a coffee. Thank you so much for your visit and support.