Because of a variety of factors, the COVID-19 epidemic has caused many businesses to change the way they think about work and where workers should dwell. With the shift to hybrid and remote work, it is vital that organizations ensure that both off-site and on-site employees are performing tasks and assignments in a timely and effective manner. Employee monitoring software is one approach to help oversee these employees.
What is Employee Monitoring Software?
The use of employee monitoring software enables employers to keep tabs on workers by following them in a number of various ways. Those in administrative roles are able to monitor and manage the use of all of their employees' computers from a single place because of this capability. The software that monitors employees is often installed on a variety of different devices, and it enables a centralized viewing of data and features via the use of a single networked personal computer.
The program allows individuals in supervisory positions to automatically monitor what workers are working on, as well as what applications and websites have been used and visited on the company's computers. This information can be accessed by those in charge. Some may also detect and classify whether the program or the website in issue fits inside a recognized "productive" or "unproductive" category. This can provide those who wish to track employee productivity with a simplified and organized view of their daily history, enabling them to make decisions or determinations based on the amount of time spent on a task or assignment by an employee. This can be helpful for those who wish to track employee productivity.
 Is employee monitoring software required?
This type of employee tracking can be beneficial to organizations for a number of reasons. Namely, the move to offsite work due to the pandemic has left many businesses without a way to ensure that employees are spending their time on assignments and tasks as needed, rather than spending time on social media or leisure activities. There are a number of ways businesses can ensure that the time of its workforce is being properly allocated to completing duties, from tracking the location of a PC to remotely viewing an employee's desktop and seeing what websites have been accessed.
In addition, this can lead to intellectual property of the company being more secure, as alerts can be received by those in admin positions if a worker was to transfer files off of a company server onto another device. Receiving these types of notifications can save an enterprise a large amount of time and money in trying to recoup this lost or stolen IP in the long run.
Another major reason for employing this type of software is to track which employees are more productive than others. This type of monitoring can provide managers with detailed information on who may be more suited for upper-level roles in the long run, if a track record of being efficient and capable can be demonstrated over a period of time using analytics to back up future hiring or compensation increases.
You will find below some of the best Best Employee Monitoring Software in 2022.
Veriato is an industry-leading piece of employee monitoring software that provides businesses with reports to assess employees' levels of productivity. Employee activity reports may be read online in real-time or sent at the end of the day, depending on the requirements of the organization. These reports can either come pre-configured or be entirely configurable, depending on the requirements of the business. It is possible to reap benefits not just in the short term, but also in the long term, by identifying the workers who are the most productive. These reports may be very beneficial when searching for individuals who would be better suited for promotions or who are due salary raises. Additionally, they can highlight workers who need to meet their expectations inside the workforce.
Price: Plans differ based on system OS
Read: Training Employees in VR: What Are the Risks
HubStaff claims the capacity to keep track of individual workers as well as their timesheets, and the system even creates a report that demonstrates the amount of time that was spent on certain pages. These comprehensive reports make it possible for those in executive positions to monitor employee hours, automate monitoring to ensure that employee timesheets are accurate, and provide workers with user-friendly mobile, desktop, and web-based time tracking applications to assist them in monitoring their own timesheets. When it comes to payroll, this may also provide businesses with the piece of mind they need when managing hourly staff and ensuring that money is being allocated appropriately. This can be beneficial from the standpoint of remuneration.
Price: Options range from Free to Enterprise level
Teramind is an additional piece of employee monitoring software that includes a stealth option. However, due to its cost, it may be more suitable for small to medium organizations than SentryPC is. Teramind is capable of recording screen activity remotely and tracking anything from emails to particular keystrokes, in addition to collecting screenshots of workers' work activities and displaying those images. Teramind's price model, which is based on a 'pay per endpoint' model, may depending, on the size of the company, make it more appropriate for use by firms that have a smaller number of workers.
Price: Plans start at $10 per seat per month
Read: 6 reasons why model monitoring is needed for your business
Another common choice for businesses that need to confirm the whereabouts of their personnel is to do so on an hourly basis. To a significant extent, this is managed on the workers' end via the use of a mobile app. Employees open the app on their phone, press the clock in, and start the timer to begin tracking their hours worked. With the help of the Hourly app, businesses are able to use GPS and geofencing settings to confirm that their employees are in the locations they claim to be in. This provides businesses with the piece of mind they need while managing a large number of remote employees at the same time. Additionally, people in management positions have the ability to guarantee that personnel may only clock in once they are physically present in the appropriate location for doing so.
Price: Plans start at $6 per user per month
The solution provided by VeriClock offers features for location management, which make it possible for businesses to monitor the locations from where their workers are doing their job at any given moment. As a result of the epidemic, people are moving to more isolated and mixed surroundings, and this may prove to be very helpful. The fact that the VeriClock platform incorporates GPS tagging, which enables users to monitor in real time the locations from which employees clock in and out, has made it a well-liked alternative for businesses that operate in a number of different locations as well as for distribution and courier services. This clock-in data is also time-stamped and geotagged, which provides evidence to companies about the location and time at which an employee began and concluded their shift on a daily basis.
Price: Plans start at $5 per user per month
Read: Internet Monitoring Software Helps to Increase Employee Productivity
When it comes to employee monitoring software, iMonitorSoft is one of the greatest pieces of software you can use to ensure that staff members are remaining on task while they are at work. Through the use of the iMonitor platform, businesses are able to monitor up to a thousand computers from a central place. When it comes to task management tracking, one of the most important components is the ability for executives to run up to ten different remote desktops concurrently in order to monitor the actions taken by employees in real time. Executives also have the ability to notify organizations when employees have completed specific tasks or alert supervisors when employees are on particular websites.
Timesheet tracking is an essential function for businesses that utilize employee monitoring software like ActivTrak, which is why it is one of the features offered by this particular kind of software. Timesheet tracking is one of the fundamental features included in a variety of different types of employee monitoring software; however, ActivTrak is recommended for those who work with remote employees and need to ensure that their workforce stays logged in and engaged with the tasks and assignments they have been given. ActivTrak's platform is quite similar to that of Teramind in that it is charged per monitored user; but, unlike Teramind, ActivTrak does provide a free version, although one with far less features.
Price: Options range from Free to Enterprise level
Read: Observability VS Monitoring: What is the Difference
The cloud-based productivity ratings provided by Work Examiner are also among the finest in the business when it comes to measuring the amount of time workers spend working on certain activities. The Work Examiner platform is equipped with a substantial amount of data for each employee. These statistics include automated monitoring of productive and distracting activities, a productivity score for users and departments, productivity graphs, and tracking of user activity ratios. The ability to aggregate both people and departments into the graphs that are offered by the Work Examiner platform provides businesses with the opportunity to verify that their employees are making the greatest use of their time, as well as convenience of use when sifting through the enormous number of workers who are employed by a major corporation.
Price: Plans start at $79.90 per user per year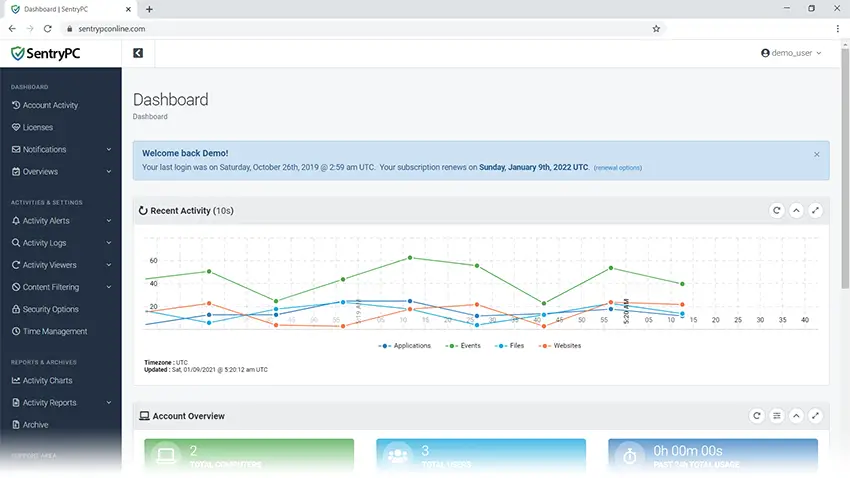 SentryPC is one of the comprehensive measures of employee monitoring software for a variety of reasons, but the fact that it may secretly enable people at management levels to follow user behavior elevates it to the status of one of the best pieces of employee monitoring software. SentryPC's platform enables individuals in supervisory positions to remotely examine the content that a specific user is reading. Additionally, the platform enables the supervisor to capture screenshots of an employee's screen in order to verify that the employee is doing the required amount of work. The fact that SentryPC can be purchased at a price that is reasonable for those operating at the enterprise level contributes to the product's popularity among companies that are interested in using software of this kind.
Price: Plans start at $59.95 per year
Read: Making the most of your employees working hours
Another sort of software for monitoring employees is called InterGuard, and it contains features for task management that are linked to alarms. These alerts may be provided to people in management positions through regularly scheduled emails, providing specific information about which particular tasks workers are working on and how long they have been working on each of those activities. The notification emails may also be color-coded and bundled in order to reflect the severity of the situation. This enables the emails to be read in the order of how time-sensitive they are. In addition, InterGuard is helpful for people working in particular roles that are required to adhere to certain policies, such as HIPAA. This is because the organization can receive alerts whenever it is determined that one of these policies has been violated, and these alerts can be sent out immediately.
Price: Plans start at $9.99 per user per month
Employee Monitoring Software Aspects
When choosing a solution for an organization's problems, it is important to consider all of the benefits that come with the different kinds of employee monitoring software. Some companies have a number of employees who perform their duties away from the main office or spend their days making deliveries, while other companies simply need to ensure that their workers are completing their tasks in an effective manner and making the most of the time that they are paid to be working. When it comes to the management of their workforce, businesses are always responsible for locating the sort of software that is ideally suited to the particular needs of their organizations.
Timesheet tracking
Those that hire people on an hourly or freelance basis will find that keeping track of timesheets is incredibly beneficial since it ensures that workers are engaged in a job for the amount of time that they claim they are. If it is discovered that an employee is not truly carrying out their responsibilities as anticipated and is instead simply making it appear like they are busy, then using this sort of monitoring might possibly save income for the company. In addition, individuals in charge of payroll may obtain weekly reports that indicate how much an employee ought to be rewarded depending on the amount of time they spent working on tasks or projects, thanks to the automated tracking tools that are available.
Productivity assessment
Some of the software solutions for employee monitoring may provide reports that have been carefully considered and put together, which is exactly what many businesses are looking for. When dealing with a big number of employees, this may be very helpful since it gives supervisors and managers specific information on how long it took staff to complete projects and how many assignments were successfully finished in a given amount of time.
Read: 5 Productivity Apps For Mobile Professionals
Whereabouts tracking
Due to the fact that many businesses provide delivery or courier services, it is sometimes essential to check that an employee is present at a certain location. There are, thankfully, a variety of technologies that enable people in executive positions to monitor whereabouts using GPS capabilities. These platforms ensure that workers are where they say they are and can even aid with timesheets by validating how long a worker was present in an area.
Covert tracking
Organizations that want to monitor the actions of their workers in a covert manner, without drawing attention to the fact that they are doing it, might make use of a technique known as "stealth tracking." Businesses are able to view not just every activity or time spent on various activities but also who among their workforce is productive or needs development without the employees being aware that a manager is peeking over their shoulder since stealth monitoring allows for this capability.
Read: Staff Management: 6 Things You are Forgetting to Do
Task management
Task management is one of the most hands-on aspects when it comes to employee monitoring. It may enable organizations to remotely monitor and control the devices that their workers are using while they are on the job. In addition, many of the same technologies that provide features for task management also have the ability to ban websites and even specific terms, should the business choose that this is essential. Task management is the most efficient method for businesses that want to actively manage the activities of their employees to do so when it comes to the capabilities offered by software.
Read: 8 Advantages of Enterprise Digital Asset Management
Employee Monitoring Software Functionality
Installing a piece of employee monitoring software into a personal computer (or several personal computers) so that it can be remotely seen on a centralized administrative computer is how the software is made to function. Once the software has been deployed, a person in an administrative capacity is able to do a range of tasks, including examining what an employee is looking at or working on, as well as observing where the employee is working from. In addition, personnel in administrative positions are able to take on more active duties, such as limiting access to certain applications or websites or even checking to see whether a detachable drive has been inserted into a device and determining which data have been copied onto the removable drive. By determining which form of employee monitoring software best meets the demands of the company, organizations may simplify the procedures of their workers to guarantee that productivity is being maximized.
It is essential to keep in mind that if a company uses more covert displaying features, including stealth tracking, and the use of these features is discovered, the workforce may become wary or even suspicious of their employer's motivations for doing so beyond the scope of normal employee monitoring. It is important to keep this in mind if a company plans to use more covert viewing features. Employees can feel violated by this kind of surveillance, which would have a negative impact on the overall morale of the firm. It is of the utmost importance that companies only use the covert surveillance approach when there are good and important reasons to do so.
---
If you like the content, we would appreciate your support by buying us a coffee. Thank you so much for your visit and support.