It is important to do all of the necessary research when it comes to locate the best Foosball table. Decide how much the table will be used before allocating funds. It should go without saying but those who are going to be playing on a regular basis will be able to spend more on the best Foosball table, as opposed to players who are not planning to use the table as often.
Selecting The Best Foosball Table: A Helpful How To
Researching each brand that is available is also a crucial step. This is how a buyer is able to learn more about their individual needs and select the best Foosball table for their personal needs. Let's take a closer look at the top brands in the current marketplace:
1. KICK
These tables have been around for a long time and they are geared towards the cost conscious player. The best part of making a purchase from KICK is receiving a guaranteed lifetime warranty on the product. This brand has been in existence for a long period of time and is a go to company for shoppers who are looking to save on this purchase.
2. Carrom
Carrom also has a wealth of experience to offer Foosball players. Their tables are affordable, family friendly and come with a number of designs. Harley-Davidson and NASCAR fans will love their tables.
3. Atomic
Atomic burst onto the scene recently but their tables are of the highest quality. These are mid level tables that are best used in the home by teens and other intermediate players. This brand has been in the business of manufacturing sporting goods for some time now, even if they are not yet well known to Foosball players.
4. Warrior
This is one of the more recognizable brands on the current marketplace. While Warrior foosball table may not have the same level of prestige as some of the other brands on this list (we will get to those shortly), the company is owned by a professional Foosball player. Brendan Flahery is dedicated to crafting American style tables that are easy to use and able to be trusted.
5. Bonzini
Bonzini makes some of the world's finest tables and this French company is believed to be one of the more prestigious Foosball table makers in the world. These tables are crafted with maximum durability in mind. Linoleum is used for the playing field and this provides players with a maximum level of control.
6. Garlando
This Italian manufacturer is also considered to be one of the more prestigious Foosball table providers. These tables are designed for fast paced play. However, the fast pace does not come at the expense of ball control. Garlando foosball table is also the top manufacturer for those who are in search of the best Foosball table for outside usage.
7. Tornado
Last but certainly not least, Tornado foosball table is widely considered to be the top American Foosball table manufacturer. In the market for tournament style tables? If so, Tornado is the go to brand. There are a wide range of top models to choose from. Selecting the right one for your needs is a snap.
You will find below some of the best foosball tables for this year. Make sure to view the Frequently Asked Questions section further down in this article.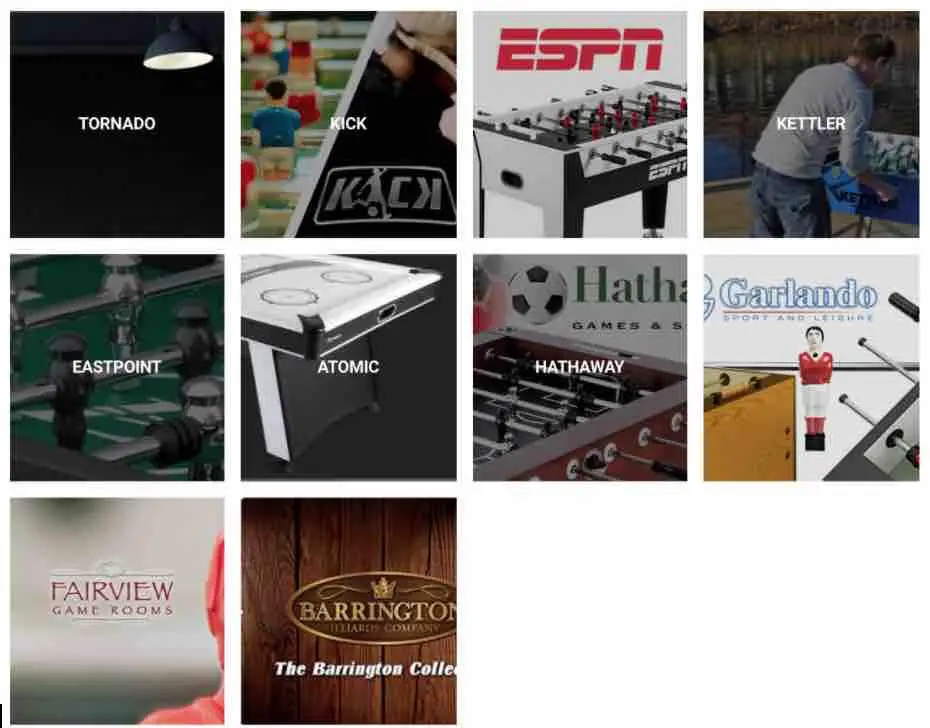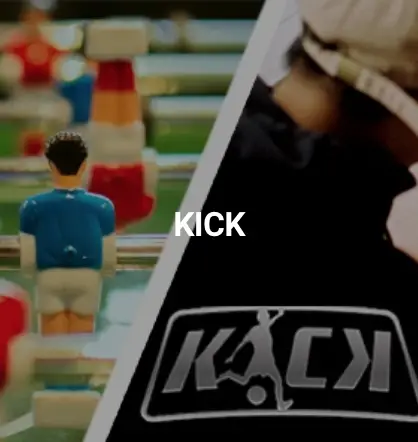 Elegant yet stylish looking foosball table – impressive design without excess.

Simple setup makes it easy to blend into just about any environment you need.

26x Counter-balanced players included as well as a 26x uniformed set for completion.

1-3 keeper design for customisation in the play style to suit your needs.

2x KICK footballs and 2X standard soccer balls included.

Non-slip wooden handles offer plenty of maneuverability without loss of grip.

Durable semi-solid stainless steel rods with chrome plating for durability.

5" leg levellers on rubber bottom for better balance.

Comes from the popular KICK brand, with an emphasis on excellence and consistency.

Unlimited, lifetime warranty gives any owner of the Triumph peace of mind.

123lbs in weight, 55" L x 30" W x 36" H in size.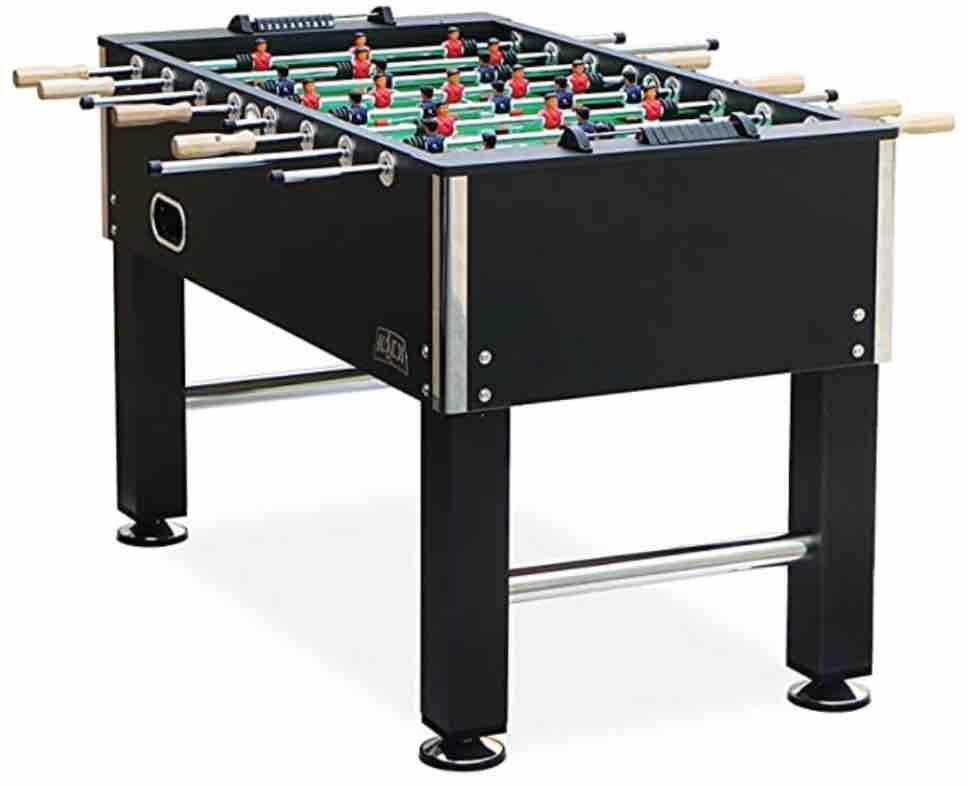 When you buy a foosball table in the price range of 600$, you expect to get something of high quality. Consistency always matters when buying a product like this, and the Triumph is no different. This comprehensive and stylish looking foosball table makes a fine choice for those who prefer minimalism. The less excessive nature of the design might not be what you want, but the Triumph trades outward design for complete consistency when in use.
You'll rare have issues with it in general, making it much easier for you to move the Triumph around and to get full purchase on every shot. The handles are strong and easy to move without being easy to lose grip of. This makes every shot feel firmer, better and generally more reliable than on other tables. If you are a foosball fan who prefers a more relaxing pace of play, the Triumph might be a good pick for you.
It's got some old-school touches that do make it easy to love. That classic black design really makes it a hark back to the older days. However, it's got a lot of nice modern touches that does make it a fun table to play on. It's good for those who want one at home, or perhaps want to furnish their arcade or bar with some top-quality entertainment.
Another thing to like about the Triumph, of course, is who owns it. It's made by KICK, so you already have a trustworthy developer. On top of that, though, KICK offer lifetime warranty. As such, you can quickly feel like you are getting even more value with your purchase. If anything goes wrong, it's easy for you to get simple and easy support.
Summary Verdict
With everything encased in a solid body with some neat finishes, then, it's easy to love the Triumph. It's by no means a radical departure from what you would normally expect. It's not a no-thrills table either: it's solid, strong, professional and consistent. As such, it's easy to see why a lot of people would see the Triumph as a good pick for them. It's a smooth, easy to handle table that's very good for the price range required.
Where it probably lets itself down is a lack of unicity. If you want something a bit more inventive, the Triumph is not for you. If you want a solid, standard foosball table that makes no mistakes without taking any risks, you'll find a friend here.
Standard 'butcher block' style table design comes with a rich finish in traditional style.

Durable, high quality finish keeps the KICK Splendor in conditions for years to come.

Impressive assembly ease allows for a quick and simple set-up.

Thick and sturdy surface keeps the ball moving without any issue.

Can be set up with both 1-man and 3-man goalkeeper set.

13x Blue/Red teams and 26x Uniform teams in different sets.

Sturdy leg levelers help to keep each match balanced and fair.

Strong and sturdy semi-solid stainless steel player rods for easy movement.

No-slip handles allow for simple movement and control of each part of the team.

Comfortable to hold, use and work with for simple games or for competitive matches.

Lifetime warranty to give you many more games of foosball for years to come.

55" L x 30" W x 36" H at 123lbs.
Foosball tables can be hard to use at times, often a little confusing and unwieldy. However, with the KICK Splendor, you get something that is damn easy to use without any issue. It's a table that offers great satisfaction from the moment that you take it out of the box. It's supremely easy to take apart and put together, meaning that adjusting and moving it is simple. Assembly is easy, and the product is a richly finished, highly detailed looking foosball table. It's got a rich, professional finish that, while never too flashy, fits the theme of a more serious set of foosball matches.
This design style makes the Splendor a fine pick for many reasons. On top of that, though, it's also a table that feels good to work with and has many impressive features in terms of performance. You can easily move each of the rods, and the actual players are the usual KICK quality. So, too, are the balls that you get: 2x Premium and 2X Soccer style balls. This makes it easy for you to get not only good games, but fast games. The smooth pitch, the reaction times of the rods and everything else is hugely impressive. It helps you to get much more assistance in receiving regular rallies and good passing moves.
So, if you see one of your challenges when playing foosball as not getting fast enough gameplay, start here. It's a slick surface and a smooth table that is totally even at both sides. No need to worry about one side getting an unfair advantage over the other with a table made by KICK!
Summary Verdict
There's not really anything to say wrong about the Splendor in all honesty. It's a relatively price little table at around $560 in terms of price range, but it's a table worth the money. If you are looking to make a good investment that is going to last, you will find plenty of value in the KICK Splendor.
That classic style is one that we can all often enjoy using, so don't let a rather basic setting put you off. When the action gets underway, it's superbly easy to use.
Premium quality foosball table, rating as one of the best in its price range.

Comes with a thick, sturdy and impressive playing field on both sides.

5" leg levelers keep the playing surface fair and shots nice and accurate.

Durable, reliable, semi-solid stainless steel player rods for easier movement.

8 non-slip handles that come with screws and safety caps for easy movement.

1-keeper or 3-keeper design prepared for, suitable for both.

13x Red/Blue players and 26x Uniformed players for you to pick from.

55" L x 29" W x 36" H foosball table, weighing 126lbs.

Lifetime warranty that makes the Ambassador a friend for years to come.
Quality always comes first when buying a foosball table. Thankfully, as the name implies, the KICK Ambassador is a fine spokesman for the sport. This is a high quality table, that comes with the experience of the much-respected KICK brand behind it. It's made for those who want an affordable foosball table that comes with a great, slick design and a classic, all-purpose design style. It's the go-to choice for those who want a decent foosball table, but one without too many excesses or thrills.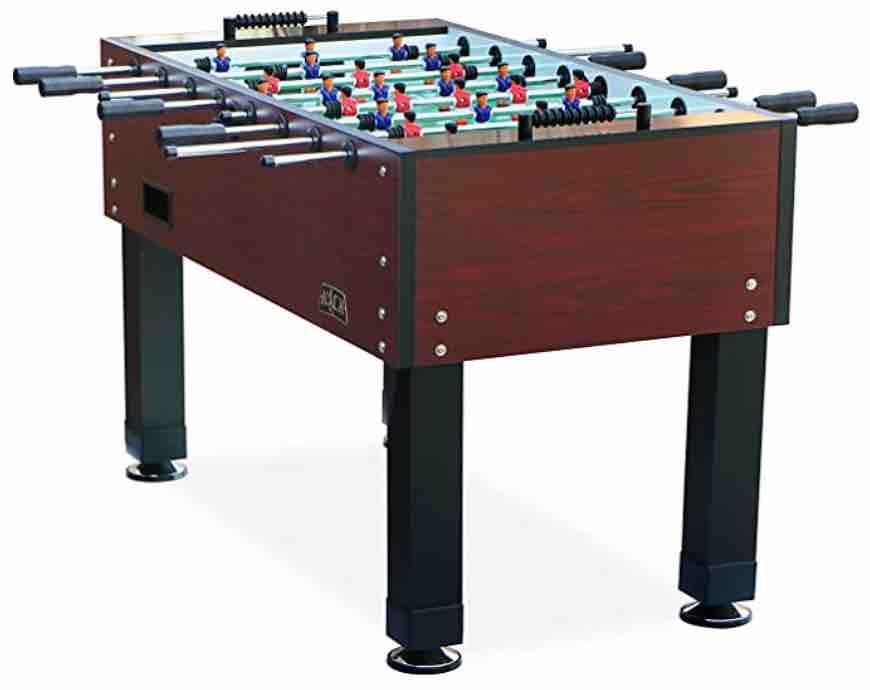 Fans of the genre often find that the Ambassador is a fine starting point for a consistent gaming experience. It's got plenty to it in terms of features and is a solid tournament-level table. It's got excellent control for the players; the equipment stays well-balanced and the design of the table encourages a more free-flowing game.
You might find it tough at first to appreciate the rather basic design of the Ambassador, though. It does have a somewhat dated look to it, though in the foosball world that often provides a bit more charm. However, if you want something that feels a lot more modern, this might not be a design that you like all too much. However, with the fact it's such an all-rounder and the parts quality are hard to argue with, you'd be better placed to find a more reliable table.
At a price range of $500-600, the KICK Ambassador is a pretty good starting place. It's a well-priced table that comes with a fair amount of value. Given you could pay more for something that's less refined or reliable, it's often seen as a fine deal financially.
Summary Verdict
While not quite the aesthetic beauty the Ambassador could be, it makes up for it in performance. Easy to assemble, complete with a thick playing surface and impressive premium bearings, it's a fine starting point. The price is a good consideration, too, as many tables more expensive don't deliver the same consistency.
Yes, it's true that the Ambassador could probably use a bit more excitement in terms of its design. It might look a touch dated if put up to more modern models. However, if you want to get an enhanced playing experience that stays intact, you would do well to find a better place to begin with than the KICK Ambassador.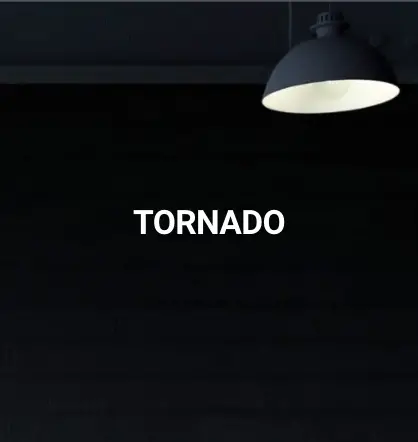 High quality black leather laminated finish that adds professional appeal to your new table.

1 ½" thick cabinet adds extra durability as well as pristine appeal to the design.

Comes with natural and solid wood handles that look excellent and make the right difference.

Uses commercial grade leg levellers for the most balanced, fairest match possible.

Uses a ¾" laminated playfield for very impressive game performance and slickness overall.

Durable and professional finish makes sure that this is a table that is built to last.

Tournament standard table that should allow for the best quality of games again and again.

Wood is durable, thick and robust to help give you a long lasting table that stays in condition.

Smooth action, fast response from more or less every shot that you take on with this table.

Built to last for many years, and comes with a warp-free playing surface that keeps games fun.

Stable, strong and secure: the perfect table when you want something to play on for tournaments.

56" H x 30" W x 36" H weighing around 225lbs.
When you want to get a good quality foosball table, the Tornado Classic is one that just about anyone will recommend to you. Style always counts for a foosball table, and this can give you a good and stylish table that is made for tournament play. The use of hollow rods makes for a more lightweight gaming experience, helping you to react faster to unexpected moves and to avoid being caught out when things go wrong.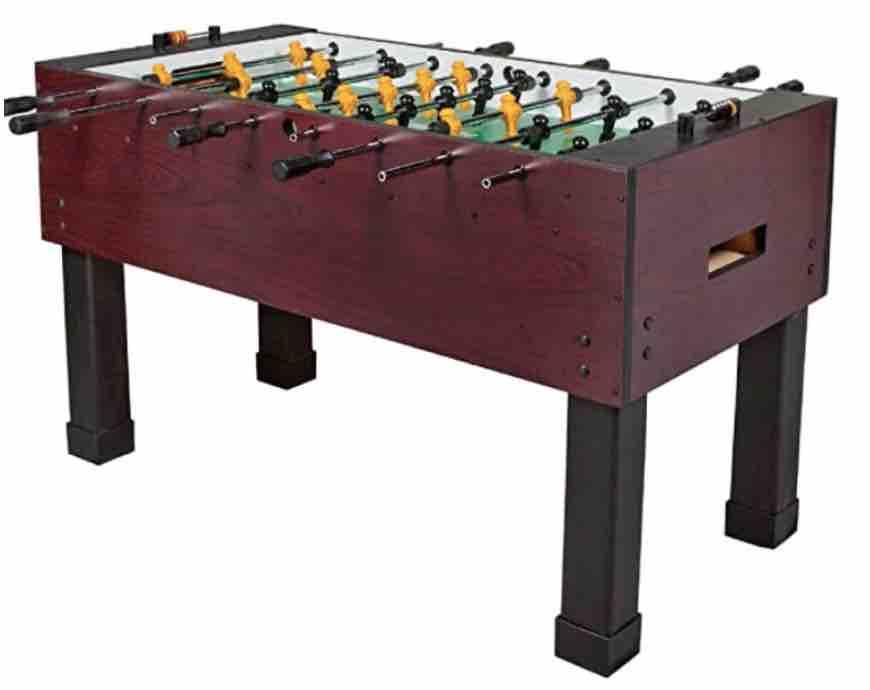 The surface is made to help keep the table in fine condition, too, so you have nothing to worry about with regards to a drop-off in performance. It's those impressive aesthetics mixed with the durable nature of the wood that makes this such a satisfying and endearing game to play.
However, while it comes with a rather hefty price point of $1800, the Tornado Classic truly lives up to its name as a classic of the genre. While you might grit your teeth paying so much, there is a lot of quality stored in this table. After all, it's got the best part of 20-years of manufacturing expertise behind it, so you can trust that the Tornado is worth that price point.
Summary Verdict
That extra level of standard in the design, though, does bring a few issues outside of the price. For one, you should expect to have to really take care of this table. It's designed to last for a long time, yes, but it's also got to be cared for: excessive use will obviously begin to deliver wear and tear to the table.
If you want a table that is going to cost you a fair amount but does a fine job of making foosball fun, start here. It will be a significant investment on your part, but it is by no means an investment that you need to decry. Keep that in mind, as the Tornado Classic got its good name for a reason!
Made for the competitive foosball gamers out there: the Tornado Tournament 3000 is a specialist surface.

Comes with a solid non-slip surface that allows the ball to move nice and slick on the pitch.

Enhanced grip of the solid no-slip handles, too, allows for continuously high level tournament play.

Hollow steel rods give you all the help you need to keep play accurate and strong

Comes with 3 high visibility balls, as well as a bearing wrench and a rulebook for learning,

Uses an abacus for scoring and keeping count of all the goals that you have scored.

Comes with 1-goalie and 3-goalie set-up as well as Tornado counterbalanced players.

Re-designed and modernised player feet allows for much better control of the ball.

Made with Tornado National Tour and Tornado NFL standards, all to ITSF quality.

Impressive 56" L x 30" W x 36" H as well as a weight of 355lbs makes this solid and secure.

Comes with a 1-year warranty from the manufacturer, also.
Tournament standard foosball tables can often cost a pretty penny. With the help of the Tornado Tournament 3000, though, you get an outstanding quality of table to play on. Usually priced in the range of $2200, these foosball tables come with a very impressive finish overall. The sturdy and strong casing of the table itself gives it the durability to handle game, after game, after game.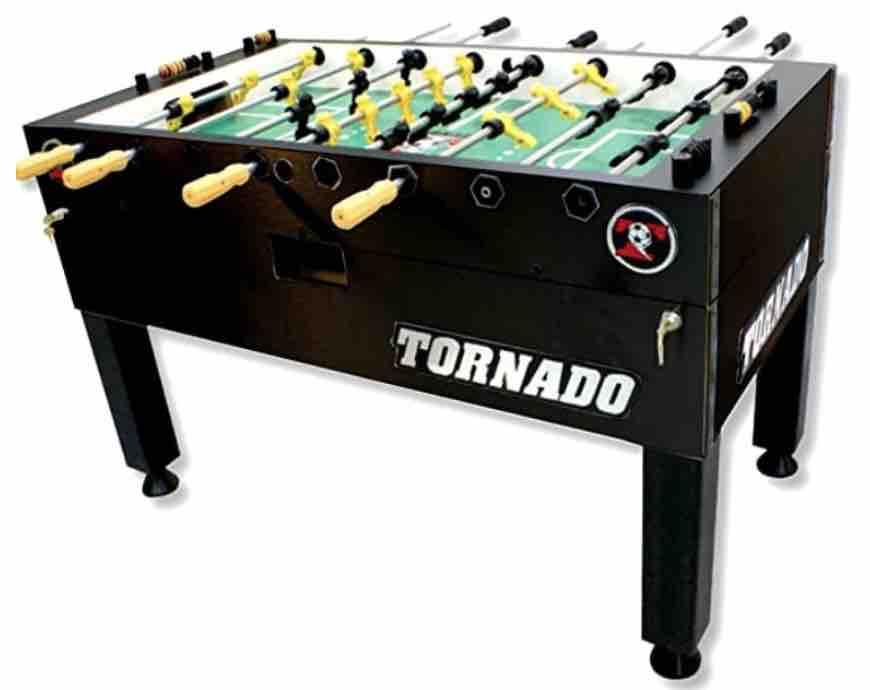 So, too, does the wonderful durability of the table itself with regards to the pitch. Even other tournament level tables cannot live up to the skill, scale and quality of the Tornado Tournament 3000 in terms of the pitch. You can get excellent, fast-paced, inventive games on a slick surface that allows the ball to move with no fuss. The solid bearings and the steel rods allow for total control over the moment of the shots, too, making each game feel more and more exciting.
For this reason, many people love to take part on the Tornado Tournament 3000. The 1-year warranty is a nice touch, too, giving you a pretty decent idea of how solid the table is.
Summary Verdict
For competitive play, though, you might worry that constant use could see it fall to pieces post-warranty. Fear not, though: this is not really a problem with regards to the Tornado Tournament 3000. At a price range of $X, you can feel like you are getting a pretty high standard of table.
It's a solid table, built with durability and consistency to help keep shots sound and moving with total freedom. Overall, it's a table that is probably only let down by the fact that delivery can sometimes be a little tetchy. We've read more than a few accounts of people having their table delivered in not the perfect condition. However, customer service are pretty solid in solving problems with the table.
A strong build quality, an impressive tournament standard finish and a very professional overall product. While issues can exist with getting the table in the first place, it's an outstanding piece of equipment.
Strong Tornado style players included for both sides in their classic Tornado style.

All players are counterbalanced to help make sure performance is fair.

Solid, non-sloped surface means that it comes down to skill, not geography.

Impressive solid chrome steel rods that come with natural, solid wood handles

3-goalie system makes it easy for you to have ambitious and exciting games.

Makes use of the famous split bearing system that Tornado tables are so well-known for.

Designed in an intoxicating Victorian Cheery laminated finish, with a 1 ½" thick cabinet.

Adjustable leg levellers for total control on the size of the table that you wish to have.

56" L x 30" W x 36" H in size, with a weight of 225-pounds.
Suitable for use at home, the Tornado Elite is a fine foosball table for gamers who enjoy a more luxurious style of play. The rich and decorated finish of the table is one thing: the attention to detail on the overall design is another. The impressive dual ball returns mixed in with those durable heavy gauge rods allows for total control over the pace and style of place.
So, too, does the fact that it comes with some very impressive and professional finishes elsewhere. The patented Tornado split bearings are a fine choice, really adding to the pace of the play. So, too, do the accurate, easy to move and use gauge rods. This, factored in with their solid non-slip wooden handles, allows for eloquence and crispness with every shot that you take. If you want a table that can keep the games fair and the scores high, this is probably one of the best places for you to start.
It's not only that, but you should find that the Tornado offers you the kind of skill and eloquence that you would have expected. Performance is a very important thing, and this delivers a high level of performance due to the slick surface, the smooth layout of the table and the strong build quality. If you were to complain about something, it would be the mild nightmare that comes from building it up. Still, for the price range of around $2100, it's just an issue you might need to accept.
This is a table that will test the patience of those who don't like doing a lot of building. It's quite an annoying table to set up in, in truth. For that reason, you might find it a bit beyond your normal capacity if you are not someone who is mechanically minded. Once you get it built, though the Tornado Elite foosball table certainly lives up to such a lofty and ambitious name.
Summary Verdict
While the assembly can be a bit of a nightmare, which is not what you want, everything else falls into place. If you are someone who has little patience for assembly, then this might manage to test your patience. If you can get used to the set-up quirks, though, you will be left with a broadly tournament standard table that really does the job that you would want, need and expect in a short space of time.
The perfect table for both beginners and veterans at close to professional levels of quality.

Easy control and balance in games due to the impressive levelling of the table.

Finished off with a beautiful mahogany melamine finish that is on a 1" thick cabinet style.

Easy to adjust the height of the Tornado Sport thanks to the addition of boot levellers.

Uses sturdy SureGrip black plastic handles which keep the shots secure and easy managed.

Comes with impressive pace in the end ball return, allowing for fast games and rapid response.

Easy to control matches due to the impressive layout of the table overall.

Faster and simpler rod spins made easier with a durable, professional-standard finish.

56" L x 30" W x 36" H, weighing around 205lbs.
When you go to buy the Tornado Sport foosball table, you should be aware of its quality already. If you have ever used one, you'll notice how smooth the games are how bright the matches can be. The fact that it's so easy to control the players allows for a very enterprising playing style, reinforced by the ease in which you can move the players around.
More importantly, though, this comes with one of the sturdiest build qualities around. It feels really easy to use, which should give you plenty of confidence when you start taking on more ambitious players. The main challenge with this table is the fact that it's so hard to assemble. It's a sometimes common issue with Tornado tables, but the assembly really can be a pain. Be sure to get someone to help you with the set-up, because assembling this table is a lot more challenging than it should be. At a price range of $1150, though, assembly issues might be expected.
However, what you are left with in the end is a very impressive, studious style of equipment. It's much more likely to handle constant usage due to the good quality of the materials used and the faster, simpler rod spins. The sturdy build quality also helps to keep the table nice and level, stopping anyone from feeling as if they are shooting up or downhill!
With that in mind, then, it's important to consider the Tornado Sport as a potential purchase. It might not be for those who hate assembly, but it's a very well-regarded table with good reason. Keep that in mind, as it's a foosball table that you can very quickly grow to love using.
Summary Verdict
Though it might not be a professionally certified table, professionals can easily enjoy a good game on the Tornado Sport. However, the lack of counterbalancing in the players is a bit of a let-down, as is the general assembly. While it might have some problems, though, we would hesitate to denigrate the Tornado Sport too much.
If counterbalancing is a big thing for you, though, you might not quite have the time and patience that you would hope for with this. Add in the fact that it's a bit of a challenge to put together, too, and you might want to look for something a bit more user-friendly. Overall, though, it's a fine table for various purposes and pursuits.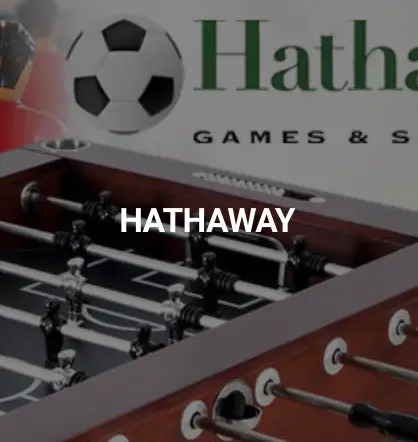 The perfect choice of foosball table when you need a family-friendly, classic style.

Vintage premium quality foosball table with ABS counterbalanced squads included.

Thick, sturdy soccer-style field that lets the ball roll with consummate ease.

Uses fast, easy-spin bearings for complete control over every aspect of your performance.

Comes with everything that you need to set-up and assemble in a few minutes.

Provides you with set-ups for any foosball game possible, and with 2x foosballs.

Sturdy, stylish table design allows for balanced play and impressive performance.

Scoring units come in a sleek silver tone finish that looks great and adds to the atmosphere.

All parts and accessories that you need are provided for simplicity.

56.5" L x 29" W x 34" H table, made from high quality materials and medium density fibreboard.

Comes with a 180-day manufacturer warranty.
When you want quality and consistency, it can be tough to know where to start. However, the Hathaway Primo has become a go-to foosball table for many people, for many reasons. It's a stylish and easy to love foosball table that looks great, delivers on its promises and hits the right spot. The performance that it delivers is very impressive indeed, as is the overall style and structure of the table.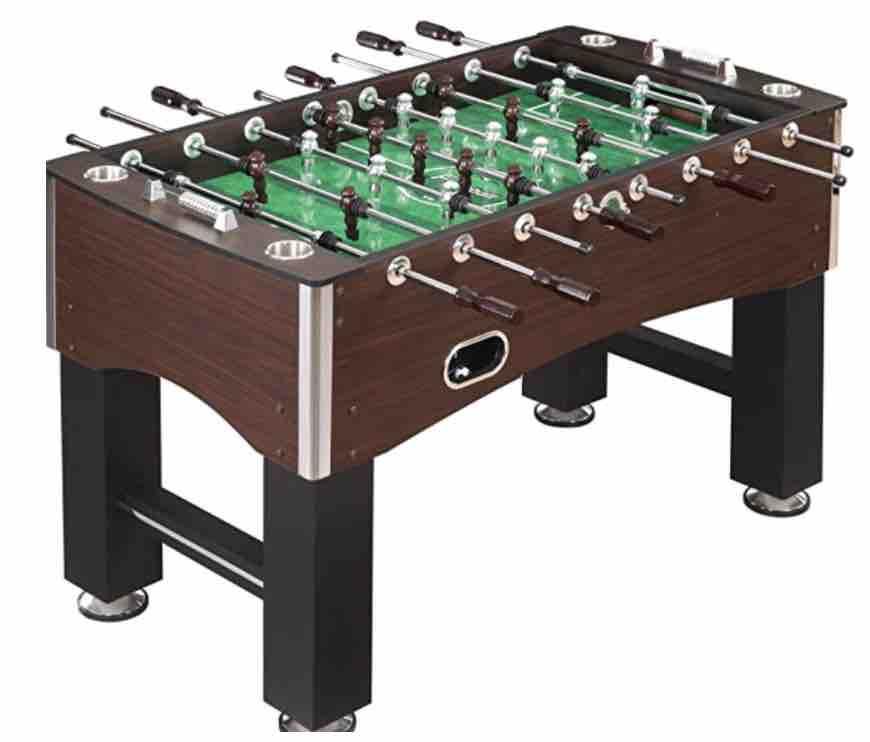 When you want a table that you know can take plenty of punishment, be sure to take a look at the Hathaway Primo. However, it does have to be said that while it's built exceptionally well, it's 180-day warranty is pretty average. Many of these systems give you much longer with regards to warranty – some, such as KICK brand foosball tables, often come with a lifetime warranty. Still, in a price range of $480, the Hathaway Primo is a very good foosball table for you to take a look at.
The no-hassles money back guarantee in those 180-days is pretty nice, too. And, given the fact that the table is made to such pristine standards, the chances of failure or damage are actually pretty small. Still, we recommend that you exercise some caution when you pick up this table due to the warranty. If you are going to be using it for constant tournament level play, then it might become a little too worn out too quickly for your needs.
For games with the family and occasional tournament runs, though? The Hathaway Primo is excellent value.
Summary Verdict
It's a fine choice for many reasons, not the least fact it's so easy for you to work with and utilise in such a variety of ways. There are numerous reasons as to why the Hathaway Primo is so fun to use, but it just comes down to the fact it's a solid, robust playing surface. The main gripe is probably the fact that the warranty runs out so fast in comparison to other models.
If you are careful with your playing style, though, you are less likely to damage the table anyway. Overall? A good pick, let down by the lack of solid warranty.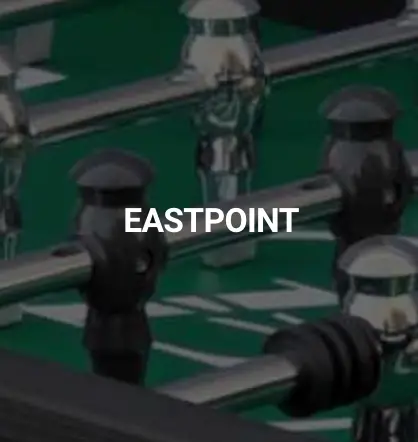 Easy to assemble and impressive design makes it good for just about any location.

Suitable for set-up anywhere that you need a foosball table with everything included.

All-in-one package allows for simple setup and easy for faster foosball gaming.

Weighted and balanced players allow for cleaner and crisper games and passing.

Comes with four various foosball types for better quality of shooting.

Premium quality coating on the table itself keeps it nice and sturdy.

Good quality steel rod bushings help to keep the performance standards high and effective.

Powerful, accurate movement of the rods allows for better control over your team.

Simple abacus scoring system helps to add a nice touch of classic foosball appeal.

Impressive size at 60" L x 29.75" W x 34" H.

Suited for players of just about any skill standard or level of foosball ability.

A fine choice for a table to use at home.
Buying a foosball table that proclaims itself to be easy to set up can be a risk. With the help of the EastPoint Sports Ellington Foosball Table, though, you do get a table that you can buy and set up in the same afternoon. It's easy to work with, thanks to a very easy levelling system that keeps it always on point and accurate with every shot.
More importantly, the wider table is easy to set up thanks to the awesome, detail-packed instruction manual that comes packed in with it.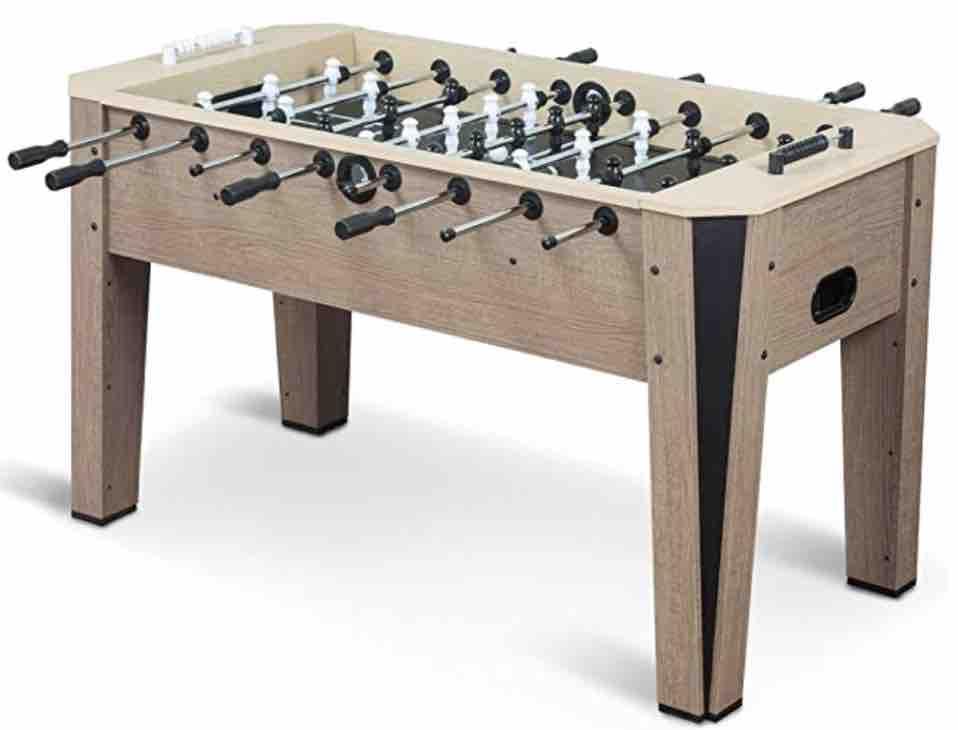 For those who want a table that feels good and easy to work with, you should definitely look to try out this particular foosball table. It's a good choice, with the simple layout and setup making it fine for those who wish to use it at home.
We do have to say, though, that you would probably struggle to use this for tournament purposes: it's probably not of that standard.
Summary Verdict
The price, though, with a price range of around $140, is a very affordable price of this kind of table. One thing that you might find with the table is that it does a good job of giving you a good place to start. As your skills improve and you want to get more competitive, though, you might wish to change to a foosball table with a bit more to it.
One other thing that you might find a bit weird about this table, though, is the smell. The odour that the table gives off is next very nice. It's like that for many owners of this table: it's an issue that can be a bit off-putting when you play. You should look to get a furniture expert to take a look and find out where the smell comes from if your table arrives with an odd odour attached to it.
Overall, though, the table does a good job of giving you a strong starting foosball experience. It might not be suited to higher level players, but most should be able to find some kind of benefit from owning this table.
The ideal foosball table for fans who want to play at home or have a practice table.

Comes with everything that you need packaged into the one enjoyable grouping.

Highly detailed table fixtures including a vey impressive pair of balanced players.

Uses hollow steel rods and spin-and-slide handles that allow for total control during play.

Abacus style points scoring system allows for players to keep score without any issue.

Comes with a classic, well-levelled foosball table design that fits into the room without issue.

Measured at 54" L x 29.5" W x 34.5" H when you want something to work with that's sizable.

Suitable for just about any level of player, but mostly aimed at non-professional players.

Classic style of foosball table that is easily set-up and enjoyed as and when you wish.
When you want to get a good quality foosball table, knowing where you wish to start can be quite the challenge. The EastPoint Sports Preston Foosball Table Game is quite a popular table for a lot of people. It's classy, stylish and comes with all of the fittings and features that one would typically expect. For that reason, many people pick this up as they want something that is made for maximising performance and giving them a solid, sleek surface to play on.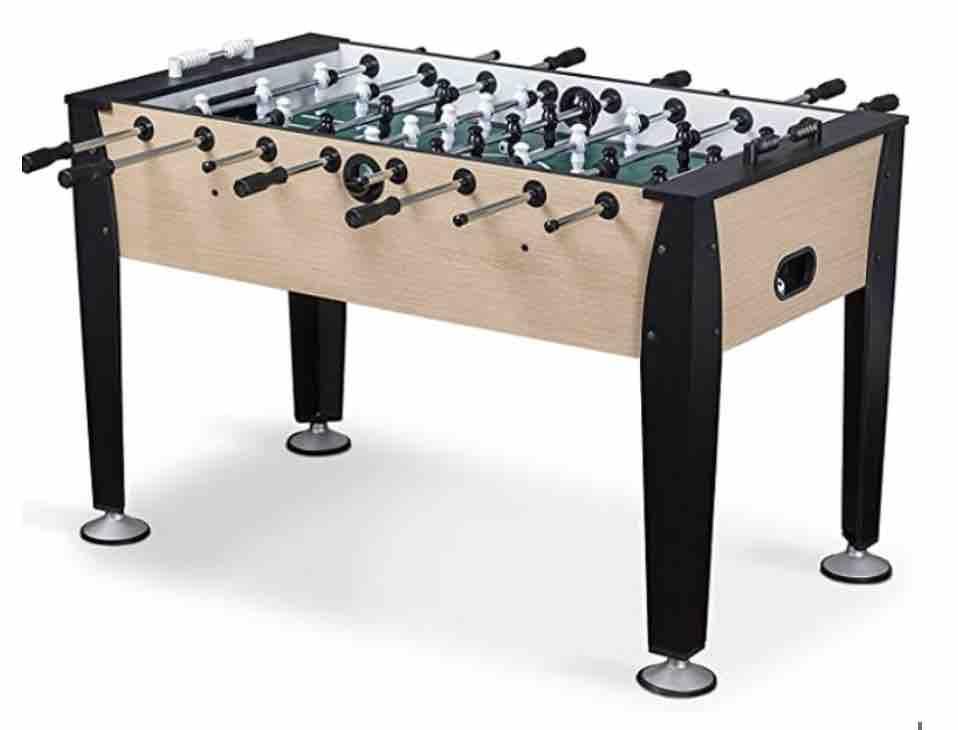 Another reason why you might enjoy using the EastPoint Sports Preston Foosball Table Game is that it's one of the most level playing fields that you get in foosball. For the price range, around $300, you can easily get a good bit of value by buying this. With an unlevel surface without the leg levellers, though, you will need to make sure that the playing surface is as fair as possible for everyone who is involved.
If you do that, you will be left with a foosball table that is much easier for you to control and work with generally. One of the main reasons that it's so easy to play with, too, is the impressive quality of rod bushing. The rod bushings in the EastPoint Sports Preston Foosball Table Game are very strong, giving you a good way to help get more accurate and responsive spins compared to some of its competition out there.
This is going to make sure that you have no problems getting high-octane, high intensity games on the go.
Summary Verdict
There's a lot to like about the EastPoint Sports Preston Foosball Table Game, not least the fact that it's so easy to assemble. It's good for those maybe on the lookout for their first table, but it might not be suited to veterans and those wanting to play in tournaments. It's quite easy to set up, but it can also have problems with the structure overall.
Keep that in mind, as some people find that it can be a touch flimsy if they put too much pressure on it or use it to excess. So, always keep in mind that you need to be quite minimal with the pressure that you put on the model. Overall, though, it's a good model that you should be able to use to get started on your journey to foosball stardom.
Rods that move freely and handle spin easily.

Simple scoring system for easy points management.

Comes fitted with a pair of foosball styles to help you find your own playing format and style.

Great for making sure you can play the game without damaging the equipment.

Side ball return allows for the player to play quickly and easily without loss of pace.

Simple to assemble: comes with all the instructions that you could need.

Easily set up for just about any size of room at home giving you much-needed entertainment.

All players are weighted and balanced for the best playing experience possible.

56" L x 29.5" W x 35.75" H gives you a huge amount of playing space to enjoy.
When you buy any foosball table, it's only natural to expect consistency from the table itself. Sadly, this table can be a challenge when it comes to consistency. Though it's well-built to a point, and assembly is simple, it's by no means as sturdy as you would have wanted or have expected.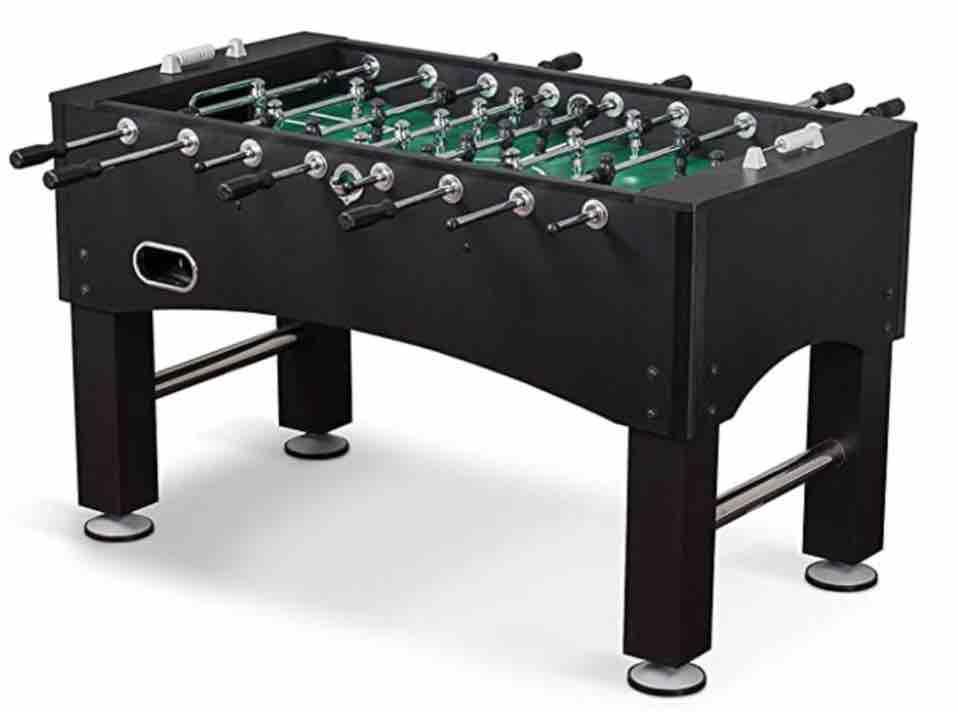 While the Eastpoint Sports League Pro Foosball Table looks really strong, it needs a lot of accommodation. It's easy to needlessly damage the equipment and leave it in poorer condition, which can obviously be a bit of an issue. Not only that, but you will often notice that the table itself can be a bit ungainly. However, so long as you are careful with the table, the actual gaming experience is pretty good. Gaming is consistent, the balls roll smoothly, and the overall balance of play is very fair indeed.
However, you should probably keep a bit of an eye on the table as time goes on. As mentioned above, it needs a fair bit of control and maintenance to keep it in good shape. It does come with everything that you need in one package, though, giving you a good table to buy when you want something reliable and consistent. Just keep in mind that the problems we have mentioned do exist: they could become a bit of a problem for you if you let them. With a bit of care, though, this is a table that can make your games relatively smart, simple and easy to enjoy. Care, though, is needed with this foosball table a touch more than you would probably would want.
Summary Verdict
However, we do have to say that there is a bit of an issue with the build quality overall. With the table in a price range of around $450, it's quite a lot of money to pay for the build standard. Though this is a good quality f table, it does have some issues with the overall build quality. Therefore, you will need to take extra care with this table compared to some of the other models out there.
Avoid putting too much pressure on the table and keep it clean, though, and you can probably avoid problems with the table. In terms of overall value, though, the Eastpoint Sports League Pro Foosball Table is a good purchase: just don't expect perfection.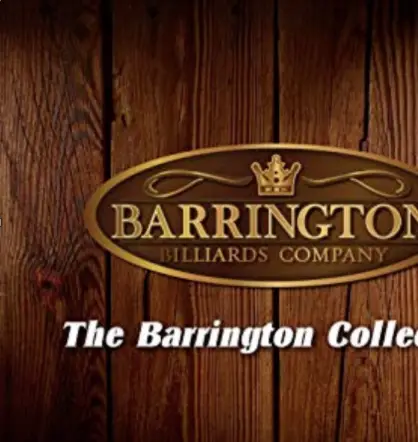 A high quality, premium standard foosball table that is made with a classic design style.

Durable and robust design helps to keep this foosball table in great condition for long-term.

Easy to work with, with no tools needed to assemble and set-up your table upon delivery.

Comes with a patented style of balanced player, allowing for simple and easy assembly.

Adjustable leg levers add extra balance to the play, allowing for a strong, even playing field.

Comes equipped with everything that you need to start playing foosball as soon as it has arrived.

The perfect package for those who want to get more practice at home on a high-value table.

Great for those who need a foosball table to use at home: near to a tournament standard product.

56" x 29" x 34" at 115lbs.
As part of the wider Barrington foosball table collection, the Barrington Bellevue is the kind of table that makes your whole gaming experience feel a little bit more enjoyable than before. Sturdy, swift, stylish and very easy to set-up: you can see why so people love to turn to a table like this. It's a classic, high-energy, high intensity game that can be played at home, in a bar or anywhere outside of official tournaments. The standard is exceptional, and the level of detail is probably among the most impressive for foosball tables in the $550 price range.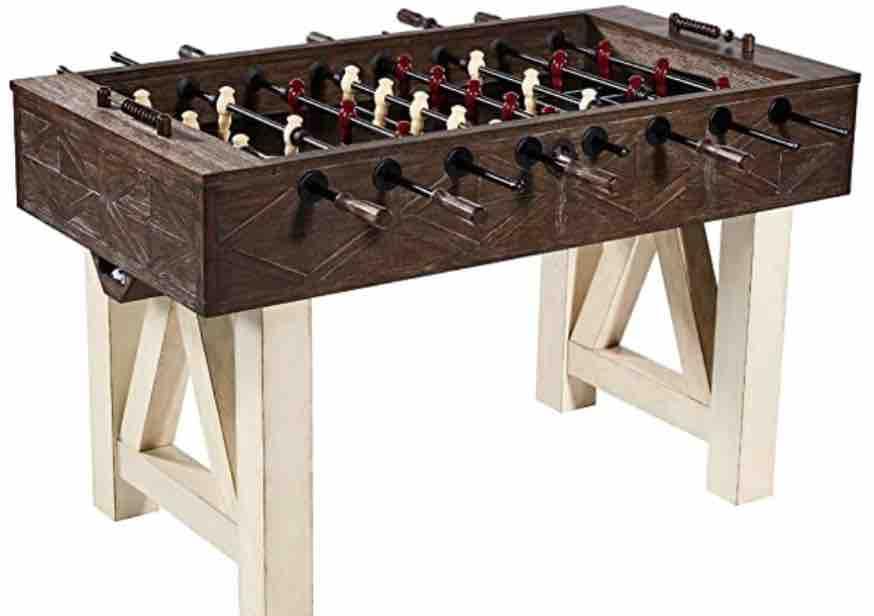 Part of what makes this worth the cost is the immense standard of performance, though. Thanks to those impressive 15.88mm chrome plated steel rods, you have total control over everything that you do. The same is true of your solid wood hand grips and bead scorers. These help to make the whole thing easy to control and to keep track of: especially who is winning in your battles.
The playfield is nice and thick, too. This helps to deliver a very impressive and easy to play with playing surface that makes shots easier to score and the ball easier to move. The built-in wooden ball return also makes sure that the ball will return to your in a fraction of the normal time.
It's this professional finish and imperious style, matched with a traditional foosball table design, that makes the Barring Bellevue a classic for so many reasons. An absolute must-have when you want something suave, sophisticated and professional.
Summary Verdict
If you want a table that takes out much of the stress and guess-work from playing, then this is probably a fine place for you to start with. The challenge with many foosball tables is setting them up properly. With this table, you get a high value system that is easily arranged and simply set up. Their unique style of players makes it easy for you to tell them apart, too, which is just another bonus of using this system.
Overall, this is the kind of foosball table that you want at home. It's about as close to a tournament level table as you can get without having to sink in huge sums of money!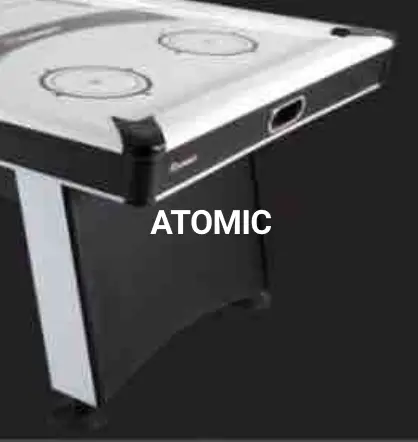 Impressive, high standard foosball tables that are made for a greater playing standard overall.

Comes with a rich quality of balls, four in total, for simple and easy play.

Players are perfectly balanced and ready for a higher standard of play overall.

Foosball table made with internal ball return and ball entry for rapid pace of play.

3.5" leg levellers helps to keep the ball coming back into play without any imbalance.

Heavy duty body build helps to make the Atomic Pro Force a very sturdy option to work with.

Perfect choice for those who want to play on something that is close to tournament standard.

Brilliant build for hose who are looking to play at home on a great table.

Uses bamboo laminate with a black accent to help finish off the table and design.

Easy to move, assemble and put together in any way that you might need.

56″ L x 29.5″ W x 34.5″ H size with an impressive weight of 144lbs when put together.
When you want to find a good quality foosball table for the home, the Atomic Pro Force should be high-up on your list. It's sturdy, stylish and very easy to put together. Not only that, but it's a richly impressive design that looks excellent. It's great for those who want to find a simple to assemble and to work with foosball table that minimises stress and results.
It's got a very sleek, stylish finish and an appealing form overall. With a really colourful finish, too, it makes a fine choice for those who prefer a more enterprising, encouraging looking foosball table. The rich build quality shines through, also, with the price tag of $350 very much justifying the price that you will pay. You will often find that even more expensive tables can be far less durable than this, and also far less aesthetically impressive.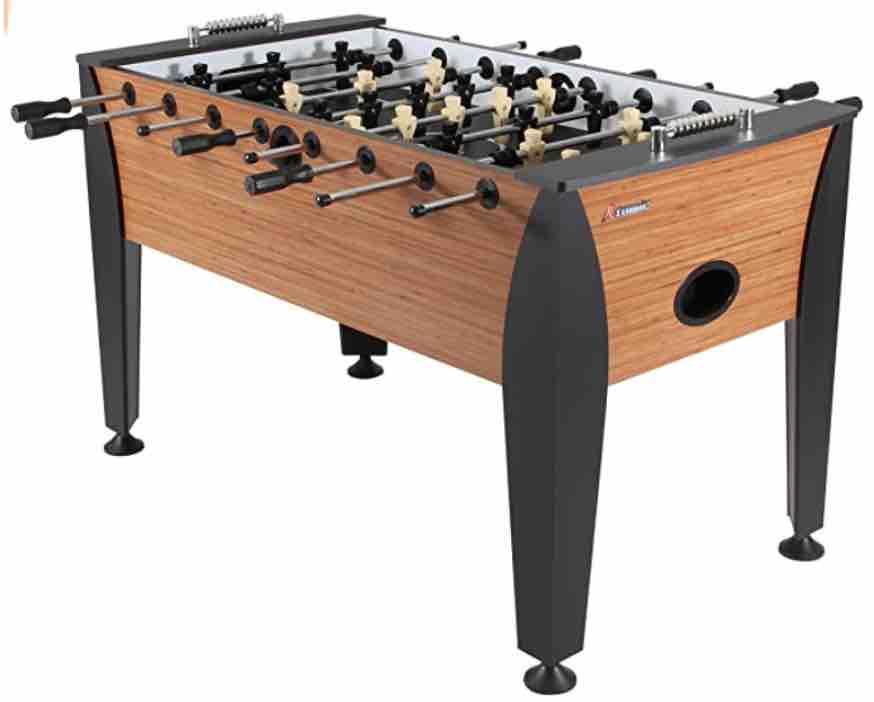 The stainless steel finish to the score panels is really impressive, too, giving you a standout design that helps this to really look like a tournament quality board. It's strong, sturdy, easy to move and easy to play on with responsive steel rods keeping every shot as easy as possible to manage. However, we do have some issues with the players included. While they are functional and are well-balanced, they are pretty rough looking and this could be a bit of an off-putting finishing touch.
Summary Verdict
On top of this, we've found that the four balls you get don't have a good shelf life individually. It's not often that one will last for too many matches, so if you need to get more balls you'll need to do so. The issues wit this table, though, are small: player aesthetics and ball count aren't the biggest worries that you need to have when buying a product like this.
Overall? The Atomic Pro Force foosball table makes a fine starting point. It's great for everyday foosball gamers and is not a million miles off a tournament quality model.
Made with solid, sturdy steel rods that are backed up with simple solid wooden handles.

Internal ball return system allows for simple and fast paced entry to play each time.

3.5" leg levellers helps to keep the whole system nice and balanced for both players.

Come with a set of cup holders for easy retrieval with every shot.

Abacus scoring system helps to make the Atomic Gladiator feel a bit more vintage and classic.

4 balls are included for easy control of your shots and for finding the right ball for each match.

Weighted and balanced players make it easy for simple and professional gaming each time.
When you choose to buy a good quality foosball table, the Atomic Gladiator is almost certain to come up in discussion. It has become a go-to option for many gamers, and is one of those tables that just about anyone can have some fun playing on. It's got a robust and durable style, and comes with a very impressive playfield. Add in the fact that it helps to keep the game so level and balanced, too, and you can see why so many people have taken to this playing surface.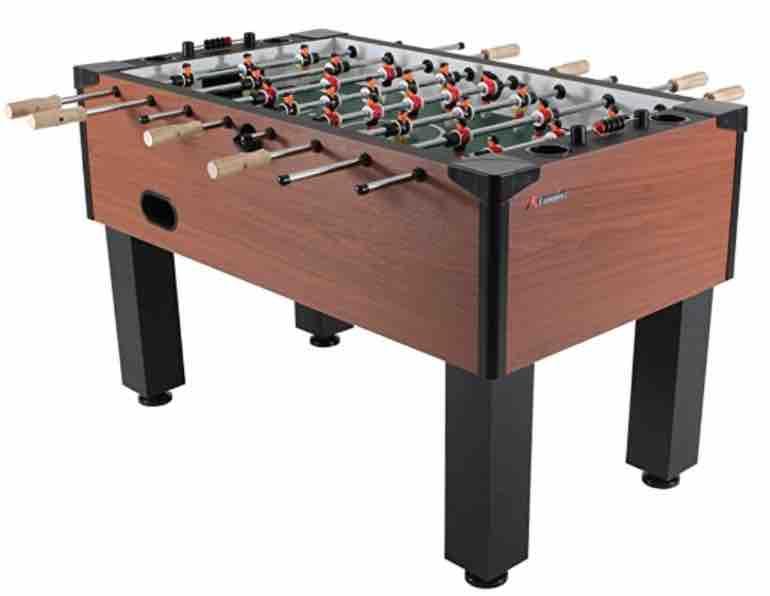 With a price range of around $630, too, it's very good value for when you want to spend without excess. It's a good choice for the price, and will give you a good level of balance and stability during plays. Best o all? It's very sturdy. Other tables can feel more than a little off-putting due to a lack of durability, but the Gladiator has the stability and strength to live up to that famous name.
Gameplay pacing is often very fast, and the retrieval of balls is absolutely rapid. Therefore, you are unlikely to find that you find the pace of the game to be needlessly slow or sedate. Many tables can make the whole thing feel a bit slow, but you should have no issues with tempo due to the side ball returns. Gameplay pace is improved further by the use of wooden handles and solid steel rods that allow for great accuracy and flexibility in every shot that you take on.
More importantly, you can soon find that the table is easy to set up and to get perfected in a short space of time. If you are looking for a rapid play style that is easy to control, you'll find this to be a good table to star with.
Summary Verdict
Made to last and to take the pace of higher intensity games, you should find that this is a table that you can have little to no problems playing with. The standard is very high, and it's very easy to get put together without a single problem. In fact, the one thing we would say about this particular piece of kit is that the warranty is not great – 90 days is pretty small.
Warranty issues, aside, this is a table that many people pick up with good reason. It's strong, sturdy, secure and very much suited to the purpose that you have in mind. So, why not try it yourself? For the price, you might struggle to find better value.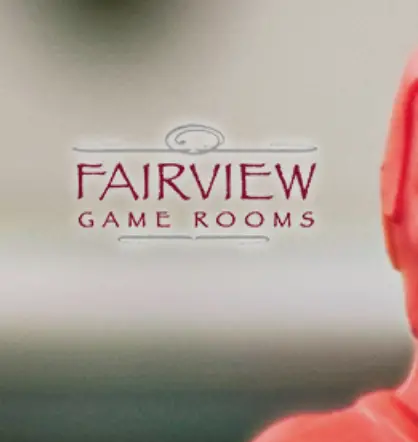 A high quality choice of foosball table for those who want something a bit more antiquated and old-school.

Comes in a beautiful mahogany or chestnut finish that adds a very eloquent exterior finish often missing from its competition.

Foosball men have rounded toe finishes, allowing for better accuracy and balance with every shot that you take on.

Impressive design on the table helps to combine together a more vintage finish, including the awesome Queen Anne designed legs.

Uses a 3-man keeper system so that you can get the most varied kind of foosball game, with the best pace.

Uses safety cups at either end of the rods to make sure you never need to worry about being hurt in the heat of battle.

Made with a rich and durable design that should last for many years to come.

55" x 30" x 35" in size, weighing around 160lbs.
When you are hunting around for a foosball table with a bit of a difference, you might not be sure where to look. This Fairview Game Rooms foosball table is a fine choice, though. The immediate difference is the layout: unlike modern foosball tables, this is mostly all wood. The whole thing looks a bit more varied in terms of the style, with a rich and delicate wooden finish. This helps to add a more magisterial look to the whole table, ensuring that it carries the quality of finish that you would normally expect.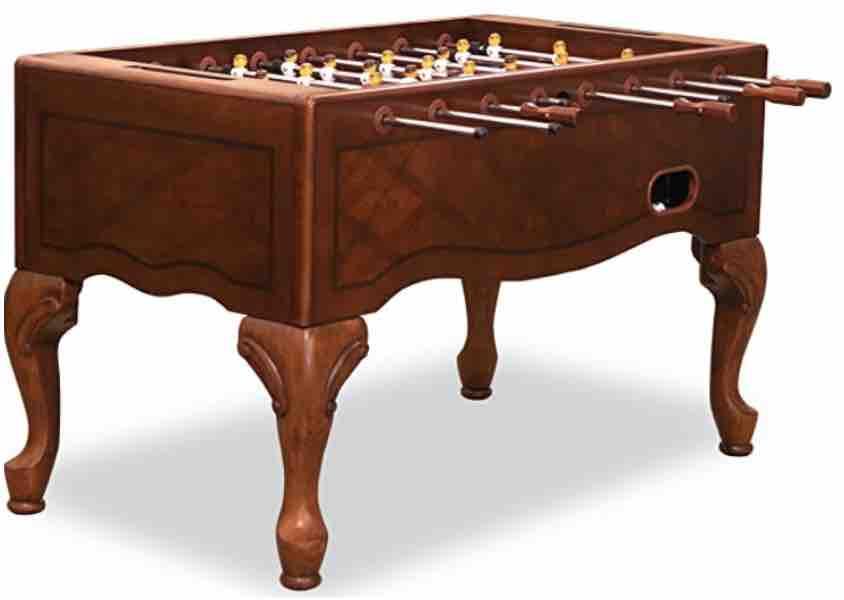 It's designed for those who might be struggling to come up with a valid reason to install a foosball table into an all-wood room. That delicate and beautiful finish is one that you can easily love working with: it makes sure you are left with a table that looks strong, carries a really eloquent finish and generally maintains a high standard of play. Those legs help to keep every shot nice and balanced, meanwhile it's general look helps to add a freshness that other tables don't offer aesthetically.
If we had to complain about something, we'd probably say that it might be hard to fit into certain room designs. For those who are on the lookout for something totally different to the norm, though, this is almost certainly the place for you to start. It's not for everyone, but it's impressive performance and unique design means it'll be perfect for someone!
Summary Verdict
While the price point of $1050 might feel a bit sore in terms of purchase cost, the Fairview Games Rooms latest offering is one that looks very noble indeed. If you are sick of standard layouts and designs for a table of this kind, then you will find that this makes an excellent choice for all number of reasons.
A must-have table when you prefer a more classically themed foosball table. If you have a room with a mostly wooden finish, then this can help to make the whole table – Queen Anne legs and everything – blend in with the rest of the look!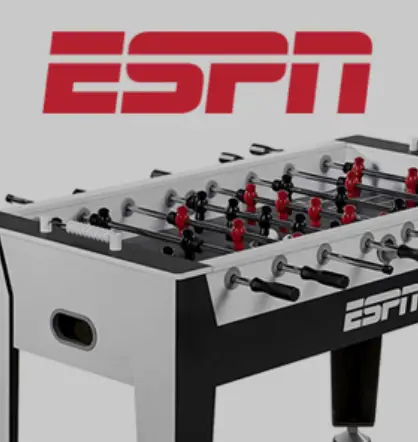 Impressive attention to detail in the design. Richly inspired by traditional ESPN Arcade models.

A fine pick for those who want to get something a bit more old-school for playing foosball.

Classic design, modern implementation: there is much to love about this foosball table.

Comes with a really strong finish – durable, protective material that keeps the table in condition.

Everything comes installed and ready to be enjoyed as soon as it arrives: assembled in moments!

Convenient and easy to use for both players, with a level playing surface keeping things flat.

Perfect playing conditions for those who enjoy a more robust playing style overall.

High execution of playing with strong, weighted and balanced players kept on rods.

Great player execution, with ball-to-all player connection for mishap-free playing.

Fair playing surface that helps to keep every shot feeling accurate and on-point.

Perfect for playing with at home or even at tournament level – made for all foosball fans.

54" x 24.2" x 34" at 72.3lbs.
When you want to find a classy foosball table, the ESPN Arcade makes a wonderful place for you to start. It's got a really easy to identify with design: the kind that makes this a table that any player, beginner or professional, will be impressed by. It's a foosball table that is made for professional enjoyment, with a game style that is incredibly easy to fall in love with. It's also one that is good for using at home, as its relatively small size makes it easier to fit into rooms than other options.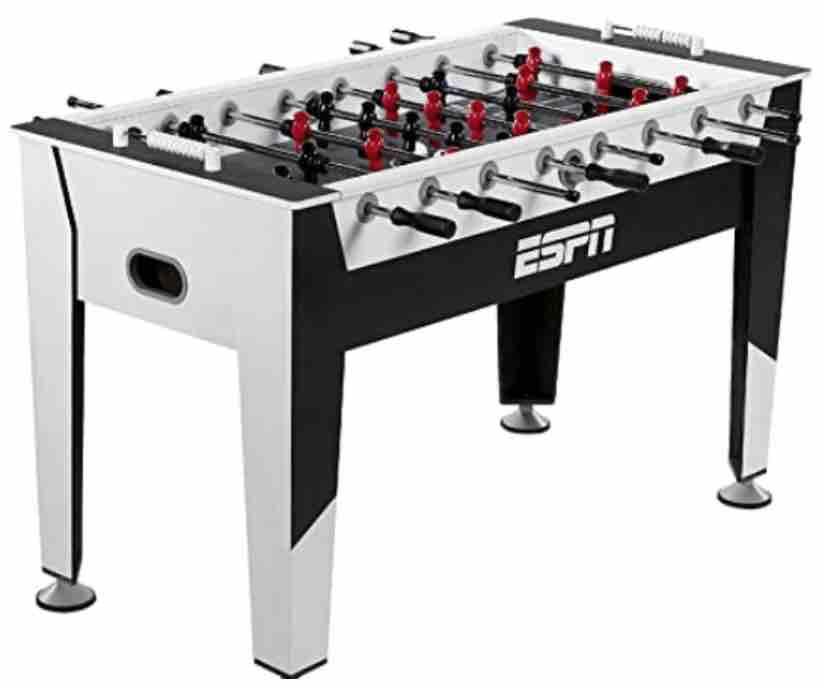 That classic ESPN foosball table theme can make you feel like you are playing on a big TV event, too. It's a cool foosball table for more than its look, though. With numerous features that helps it to stand out on the market overall, this is a table that is suitable for both use outdoors and in a covered outdoor section. It's aimed at all levels of players generally, too, so it would make a good gift for a hobbyist as well as a tournament professional. For that reason, it's a choice for those who might want to get an affordable foosball table, as this is priced at around $120.
For that reason, you can find that it makes a good choice for just making your experience a bit easier overall. Affordable, robust and pretty much suited to any player: it's a good choice for an ESPN foosball table made for the expert and the enthusiast.
Summary Verdict
Well-made, professionally capable and more than capable of living up to standards: there's a lot to love about the ESPN foosball table. There's not a whole lot wrong with it, outside of the rather arduous setting up process. Get over that, though, and you'll more or less be on the perfect pathway forward.
It's well-made and durable, and this makes it a fine choice for a table you can use at home or in a bar. Just keep in mind that it's 90-day warranty is not the best, so if anything does go wrong after that you are often on your own. That aside, it's an excellent starting point for so many reasons.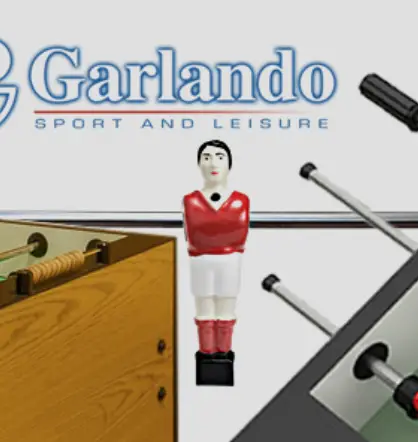 High quality, richly detailed and impressive marine plywood cabinet.

Moisture resistant design makes it perfect for using outside.

Coverage makes this perfect for working with booth indoors and outdoors per your preference.

Moulded players means that they cannot be pushed through or moved needlessly.

Waterproof gluing is used to help reduce any damage to the machine or letting in moisture.

Anti-rust solution helps to keep this in perfect condition moving forward.

High quality, stylish model with anti-rust steel rods and anti-slip handles for better playing style.

56" x 30" x 36" in size.
When you want to get a foosball table that you can play with outside, the Garlando G500 indoor and outdoor foosball table makes a wonderful touch. Made by Italian geniuses Dazadi, this is a model that breathes quality – and allows itself to be used both inside and outside. Now, if the summer rain has come on, you can enjoy a bit of outdoors gaming without having to be stuck inside all day. It uses various anti-rust parts to help keep the table in the best condition possible.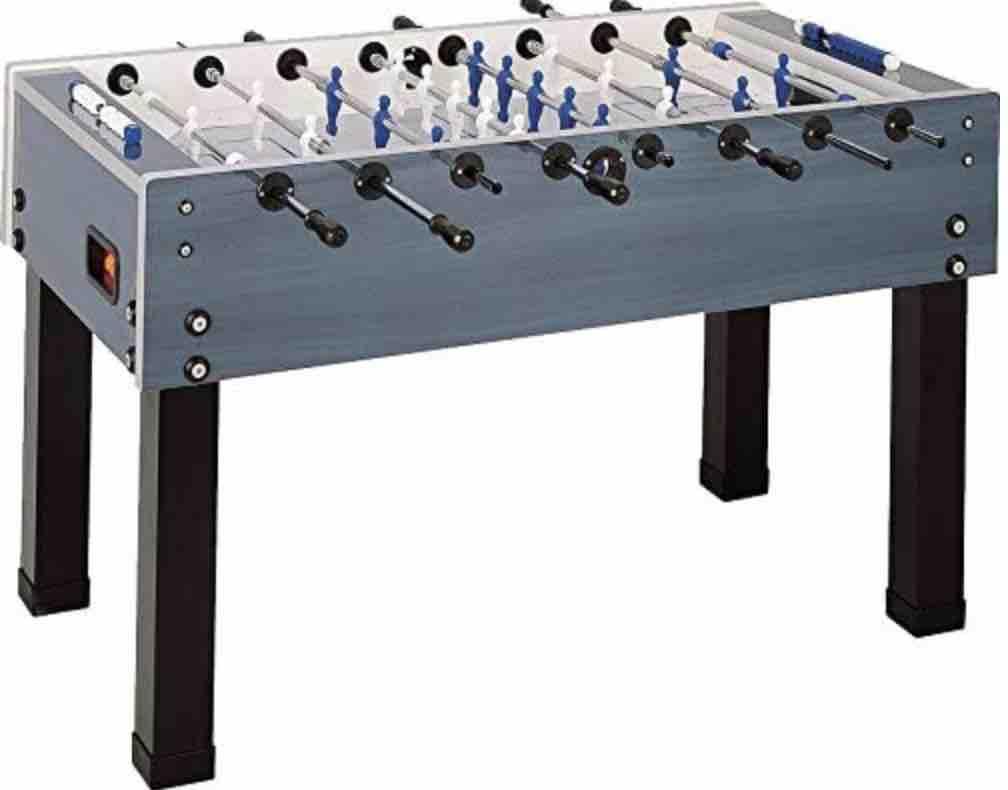 This helps to make sure that it can handle even the most challenging rust and mess, keeping it free from moisture. Now, you can use this outside to help make sure that it holds-up outdoors. The sturdy nature of the frame also extends to the table itself. The table feels strong, sturdy and very much secure. The telescoping rods also help to give you plenty of control over your squad, with easy control and simple twisting, spinning and turning as you need it.
Add in the impressive 4" leg levellers, and this never feels like it's going to be too an uneven gaming contest. Easy enough to move around and to life as a group, too, getting it indoors or outdoors is nowhere near as challenging as you might have expected. The heavy duty cover that comes with it is also very impressive, helping to keep it well shielded from damage from the elements.
If your main concern is finding a well weatherproofed solution, then, you should definitely look to pick up one of these foosball tables. The style is immense, the detail is impressive and the overall shape easy to get your head around. So, with that in mind, why not consider giving it a try? It's a fine choice for those who want a foosball table in their garden that can easily come indoors, too.
Summary Verdict
For the price range, around 1100$, you can get an excellent deal. It's a simple table to use for anything outside of tournaments, so keep that in mind. If you are looking for a model that is flexible, variable, easy to use and very much impressive in terms of anti-rust protection, be sure to look here.
There are many good models on the market: this is easily one of them. Style, substance and solidity all in the one model. While it might not be quite so stylish as some of the more intricate indoor models, the flexibility and ease of use outside makes it more than worth considering.
Professionally crafted with loving attention to detail: a must-have for anyone looking for a thick wood encased cabinet.

Grey oak melamine coating helps to add a nice, professional finish to the Garlando G500.

Made with a set of telescopic rods that will make sure that consistent play does not damage the hardware.

Anti-rust chromium plating and steel ball bearings help to improve the pace of play without wrist wear and tear.

Detailed laminate play field that keeps the ball rolling well and moving naturally as it should.

Red and blue players moulded onto the rods allows for total control without damage to each player.

Sturdy and strong 4" metal legs help to keep you easily level for fairer, fresher gaming.

56" x 42" x 35" at 172lbs is very impressive, offering plenty of space to play.

Packed with rich features and with nice extras, such as a classic abacus scoring system.

Easy to set up and to maintain for the long-term, giving you a must-have foosball companion.

Impressive and customer friendly 3-year warranty is provided with the product.
When you want to have an indoor foosball table that is perfect for use at home, this is a fine place to start. The Garlando G500 indoor foosball table is a very good looking table, making it great for finishing off your games room. It also looks good for professional use, though it might not be quite to the standard of a tournament table. The use of telescopic rods is a nice touch, as is the fact that you can get access to a table that is low enough that just about any age group can enjoy playing with it. Given the price range of around $1100, this is a very good value purchase.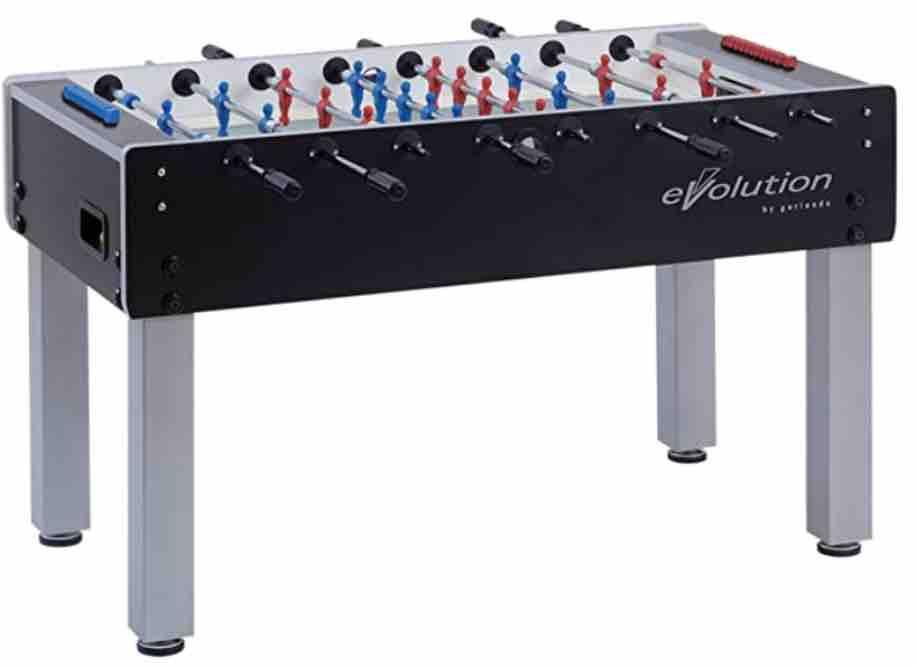 However, one thing that you may find that is that those who want a tournament standard table will be let down. It's a similar standard to the Garlando World Champion, but has some noticeable drop-offs which you expect given the disparity in price. However, if you are someone who wants to just play for some fun at home with friends and family, this is a fine purchase.
It's strong, sturdy and very much reliable. The level playing field, the long lifespan and the 3-year warranty all make this a purchase that you should certainly look at.
Summary Verdict
One thing that might let down the Garlando G500 Indoor Foosball Table, though, is the fact that it can be quite hard to find replacement parts. If you do have any parts that break – such as the telescopic rods, which are hard to maintain – then you might need to pay a bit above and beyond for replacement parts. However, the overall standard of play and the general comfort of performance tends to make this a foosball table that you can easily work with.
For that reason, we recommend that you take a closer look at an indoor foosball table that's very balanced. It's limitations aren't something you necessarily need to worry about today, anyway, so don't let long-term replacement costs be something to put you off buying it today.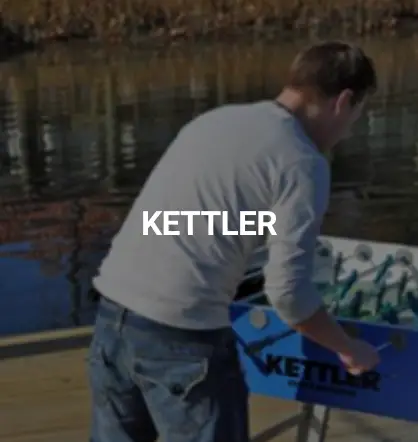 Richly detailed outdoor foosball table that is entirely weatherproof for long-term outdoor use.

Made with a glass playing field that keeps the ball moving simply and slickly along the surface.

Steel, sturdy telescopic rods with an ant-rust chromium plating that makes the difference.

Side and corner rails always help to keep the ball in play without any issue.

Unbreakable players are moulded onto the rods, allowing for top quality reactions with each play.

Adjustable leg levellers allow for you to get the game as balanced as you possibly want.

Corner ramps allow for 1-goalie and 3-goalie systems for your own gaming preference.

Cabinet is made to last for many years to come and to vastly improve performance.

58" x 46" x 35" in size, easy to move and adjust both indoors and outdoors with 2 people.
When looking for a good quality foosball table that can be used outside, KETTLER is a good starting point. They excel in the creation of high-quality foosball tables that are made to handle the weather. This can easily withstand the elements and should make it easy for those summer tournaments to take place in more comfortable climates overall.
It's a fine choice for those who want an impressive overall standard of table, with telescopic rods that aren't likely to wear out anytime soon. They also come without needless poking out, meaning you aren't going to hurt yourself as you play either. A fine choice for those who want to have access to a table that suits both 1-keeper and 3-keeper playing styles and rules.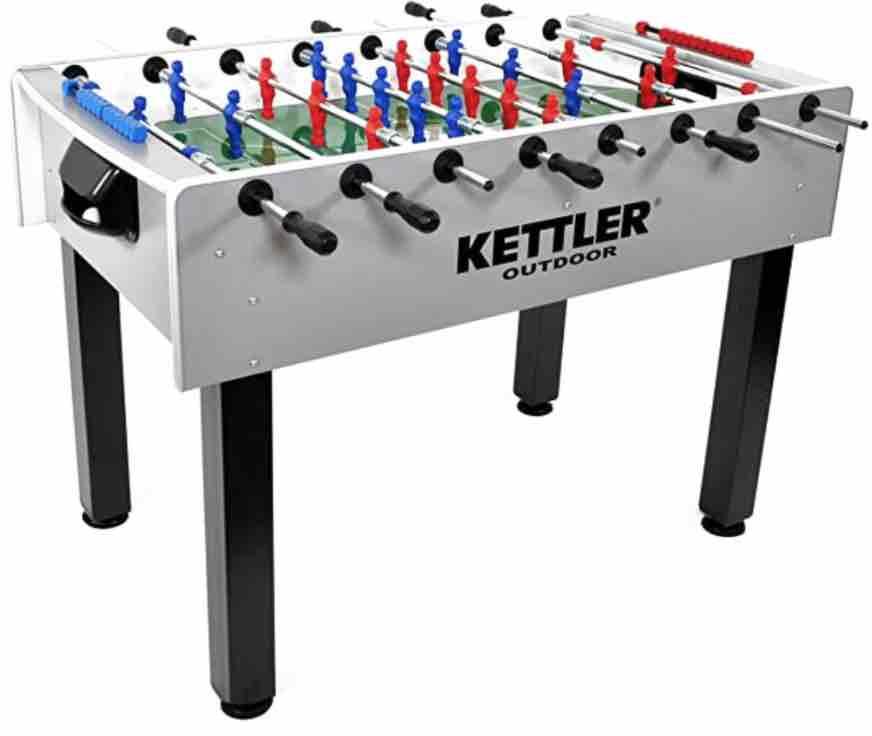 A great choice overall, this is a kind of foosball table that makes more ambitious playing standards quite easy for you to work with. It's not just a good choice for those who want to play outdoors, though. For the price range of around $1000, you get a highly valuable and affordable foosball table that is good indoors and outdoors.
However, when you want to find a classy and reliable outdoor foosball table, start here!
There's a reason that so many people come back to this time and time again. It might not be fully tournament standard, but it really is not a million miles off that level of quality.
Summary Verdict
So long as you set this up properly and follow the instructions provided (which are quite simple), this should offer a very fun and level playing field. Just be sure to double-check the balance, though, as some people do have issues with keeping the balance correct without some regular adjustment.
One thing we will say, though, is that the chrome plating will not last forever. Don't expect the quality of the chrome to last longer than a year or two of constant weather assault. It's not a problem that you should really need to worry about, though: so long as you care for the model and cover it properly, problems with the chrome plating coming off should become a thing of the past.
A Buyer's Guide To Foosball
The best Foosball tables reviews can provide would be players with a helpful template but there is much to know about this popular game. For example, there are many who are unaware of the rules that are associated with Foosball.
While professional websites can offer the best Foosball tables reviews (such as Amazon or Fringe Pursuits), it is important to learn the ins and outs of the game first. This is how we get the absolute most out of our table.
Fortunately, Foosball rules are rather simple in nature. Let's start by taking a closer look at the basic rules that govern game play, shall we?
Foosball Rules
Some may alter the rules for tournament play and each governing body will make their own decisions in that regard. These are the basic rules that all players need to be aware of, though.
1. Flipping a Coin To Decide First Serve
Deciding who will serve first is not always easy but thanks to a simple coin flip, this problem is eliminated right away. Once the first goal of the game is scored, the team that gave up the last goal is able to have the next serve.
In order for a legal goal to be scored, the ball must actually touch another man. If the ball rolls into the goal without any actual touching, it does not count….by the letter of the "law", anyway.
2. Do Not Spin
If the rod that is being used makes a 360 degree rotation and the ball is not touched, this is also against the rules. Foosball players must be aware of the fact that this is an illegal move before game play begins.
3. Do Not Jar The Table
There are also those who will attempt to bump or jar the table to create an unfair advantage for themselves. This is when the rods are slammed against the table, in hopes of knocking the ball loose while another player has it in their possession. No jarring can take place at any point during the actual game.
The rods can be moved back and forth, so that the other player can defend their goal. This is perfectly legal. A player cannot bump into the table, either. There are some Foosball players who will decide to relax this rule and it can be enforced subjectively, so be sure to inquire before gaming begins in earnest.
4. Dead Ball Rules
Let's say that the ball has found a way to stop directly in the middle of the rods. In these instances, the ball needs to picked up off the table. From there, the ball is returned to the team that gave up the last goal. If the ball comes to a stop on the defensive side of the table, it must be placed back into playing position immediately. This keeps players from forcing dead balls in hopes of staving off opposition goals.
5. When The Ball Is Out of Play
There will always be moments when the ball takes a hop, skip and jump right off the table. When these moments occur, the ball is given to the last name that was scored on.
6. 5 Par Passing Rules
These rules do not always apply to casual Foosball players and are typically utilized in a tournament setting. The rules are not applied to the other passing rods that will be used and only apply to the 5 bar. After a serve has taken place, the player must make a pass within 10 seconds.
The ball cannot remain stopped at the 5 bar for a period that exceeds 15 seconds. The ball must also touch multiple men on the bar before being advanced forward. The ball cannot touch the wall more than twice before being advanced, either.
Foosball Balls
The best Foosball balls are those that are easiest to pin down and grip. Otherwise, sending them up the field is nowhere as easy as you will anticipate. Textured balls and corked balls will work best in these instances. For example, a Foosball player will typically want to purchase their balls from certain companies.
Shelti, Tornado and Dynamo provide balls when their tables are purchased and these balls are considered among the best that money can buy. This is not a purchase to skimp on, by the way. Those who are willing to spend more will receive a much higher quality than those who are looking to pinch pennies.
Plastic balls should be avoided. Balls that have a shiny finish are also not in your best interests. These balls are much harder to pin down than the textured balls and create far more noise during game play. If you have not purchased the proper Foosball balls, do not worry. This is one of the easiest areas to upgrade.
Foosball table dimensions
The dimensions of the table that is selected are also very important. The space that is needed will depend on the table's size and the dimensions of the room that it is being placed in. The standard size table requires an area of at least 8 by 7 feet. Other Foosball table dimensions will require some additional planning before they are installed.
The length of the rods and the Foosball table dimensions are important in these instances. Let's say that the table is much larger than the standard size. If so, this means that the length of the table and the length of the table's rods must be added together.
From there, the table's width and the length of the rods are also factored in. If the table happens to be 50″ and has a width of 26″ (with 40″ rods), this means that a 90″ by 116″ playing space is needed. Players need to have freedom of movement. It never hurts to be cautious in these scenarios.
So what does this mean? What is the bottom line? Any table that is set up will require a bare minimum, spacing wise. 10 feet by 10 feet is a good rule of thumb to work with in these instances. This is all the space that is needed to properly fit a table and any other advice when it comes to Foosball table dimensions is not necessary.
Foosball tips
There are a wide range of Foosball tips that are designed to improve our games. Whether you could use some assistance with your offense or your defense, we are here to help:
1. Improving Your Shooting
Most Foosball players will decide to grip their handles too hard. This leads to erratic shooting. However, it is best to keep a looser grip on the handles. This allows for easier shooting and keeps the player from accidentally creating a greater level of resistance.
Is there a gap between the skin that is responsible for connecting the index finger, thumb and the handle? If so, this is a sure sign that the player is making the right decisions as far as their shooting form is concerned. The skin should not ever be wrapped around the handle completely. This only serves to impede shooting.
2. Tips For Serving
Even something as simple as serving can be altered for future success. This is one of the most crucial Foosball tips. A player is allowed to serve the ball to themselves on the drop and this is a part of the rules. Those who decide to simply drop the ball through the hole are only making it easier for their opponents to score.
The ball needs to be spun on the drop, so that the opponent is not able to get to it as easily. The men on the 5 bar rod at midfield need to have first crack at it. Those who learn how to drop the ball properly give themselves a hidden advantage and can enjoy more possessions over the long haul.
3. Defensive Pointers
This is arguably the most important area of game play. While the average player is probably well aware of Foosball tips that are geared towards boosting goal scoring abilities, the experts will tell you that defense wins championships. For starters, the two defensive rods must move as one.
It becomes much easier for the opponent to score when these bars are not moved in a coordinated manner. This keeps the defenders from potentially overlapping each other as well. The men should be spaced apart and players will want to make sure that there is a lack of space for the Foosball to get through.
Players should always remain on the defensive. The ball needs to be followed, no matter where it is on the table. The two outside Foosball men need to be positioned so that ricochets do not take place. Do not move them for any reason. They should not be used to defend actual shots. This keeps accidental bounces and self scores from taking place.
Be sure to avoid predictability. If the opponent is able to learn your movements and patterns, this makes it easier for them to score. Don't continuously defend the same opponents in the same ways. The entire goal does not need to be covered and the usage of similar motions must be avoided at all costs. Those who do not follow this advice are giving their opponents a major advantage.
Finding The Best Foosball Table: Frequently Asked Questions
1. How Can We Find Out If The Table Is Properly Constructed?
First things first, the weight of the table needs to be checked over. The table should not weigh more than 200 pounds or less than 130. Check the nuts, bolts and braces to make sure that the table is well put together. Take a moment to rock the table back and forth. Is there any creaking or cracking? If so, this is not a positive sign. Check the cabinet walls, too. These walls need to provide the necessary support for the rods.
2. Is There A Difference Between European and American Tables?
The major difference between each of these tables has to do with the configuration of goalies. Three man goalie systems are typically used by American table makers and the European tables are usually outfitted with a one man goalie. Three man goalie setups are best for those who seek fast paced games. A one man goalie table is the best choice for top notch players who want to expand their skill set.
3. Are There Any Accessories That Need To Be Purchased?
The scoring units and the wraps are the main accessories that must be purchased. Abacus systems are also used as a means of keeping score. Plastic scoring units are not an advisable purchase and they tend to break easily. A wooden scoring unit is the best choice to make. Those who enjoy a beverage or two during gaming may also want to invest in cup holders.
4. What Is The Best Table For an Office Setting?
The best table for any public setting will be sturdy, low maintenance and low cost. The more wear and tear that the table experiences, the harder it becomes to shell out for replacement parts. No boss is going to want to shell out to replace a Foosball table. That is why any table that is used in an office setting must be able to withstand a great deal of abuse.
5. What About Warranties and Guarantees?
The manufacturer's conditions and the length of the warranty must both be considered. The warranty that is provided may not offer the necessary coverage for all aspects of the product. The onus falls on the consumer in these instances. Who is going to be contacted if replacement parts are needed? This is another area of concern. The table that is purchased should come with a one year warranty, at minimum. This gives the buyer plenty of time to test it out.
How to play Foosball
When it comes time to choose a table, the Foosball players who truly know how to play are going to have a decisive advantage over those who don't. Those who would like to learn more about how to play Foosball should definitely take the time to brush up on the basic rules of the game.
The basic objective is a simple one: use the four rods to keep your opponent from being able to score. In most instances, games are played to five points but some may decide to extend the length of each game. Singles and doubles teams are allowed to compete with one another.
There are not many rules that govern the actual game play. They have all been laid out above and for the most part, these rules remain the same across the board. Some may decide to change the rules because of special circumstances. As long as the match is kept fair between both sides, no additional rules are needed. Common sense is typically used to enforce most rules and they are not that hard to follow for most players, even those who consider themselves beginners.
A Helpful Outline
1. Starting The Game
As described above, a coin flip is used to decide who will serve the ball first.
2. Serving
Once the coin toss takes place, the ball is put into play. If the ball makes its way off the table or there is dead ball, the team that was scored on last will receive possession. The same rules apply after a goal is scored.
3. Offensive 5 Bar
There is no spinning allowed while the player is on offense. Shots can be taken from the 5 bar, though. The 3 bar needs to remain in the catch position at all times.
4. Offensive 3 Bar
As for the offensive 3 bar, the player will have ten seconds to take their shot. No spinning allowed and for best results, the player should take their time. Maneuver the ball as close to the goal as possible before shooting.
5. Defensive Bar
Adapting to the opponent's style of play is key. Pay close attention to their movements. Randomize the defense as much as possible.
6. Blocking In The Defensive Zone
You guessed it, there is still no spinning allowed. The 1 man on the 2 bar and the middle man on the defensive 3 bar should function as the main defenders. The outside men need to remain still, in order to avoid ricochet goals.
7. Clearing In The Defensive Zone
Stop the ball for best results and don't make the mistake of shooting on goal. This may create a prime scoring opportunity for the opponent.
8. Victory!
The first person to make it to five points (or the designated score) is the victor.
---
If you like the content, we would appreciate your support by buying us a coffee. Thank you so much for your visit and support.