Fingerprints, dust, stains, etc…our computer screens are often put to the test and we have to clean them regularly since dust and dirt easily collect on the screen around the slots and speaker grilles. This can reduce the image quality in the long run. 
However, some precautions are required to avoid unpleasant surprises. In this article we provide some tips on how to clean a computer screen as well as what to avoid.
WHAT TO DO
– Use soft cloths, ideally microfibers
One for cleaning and one for finishing if possible. The first is lightly moistened – to remove the most stubborn marks. Of course, both have to be clean.
Lint-free cleaning cloth does not lose fibers through rubbing on the surfaces which means generate static electricity on the screen or you won't add dirt or scratch the glass (the type of fabric you use to clean your glasses works great).
How to clean computer screen
Run your cloth along the entire length of the screen and don't stop wiping halfway since uneven cleaning can be far more catastrophic as some parts of the screen are less dusty than others.
– Turn off your screen
The risk of electric shock from a PC screen is low, that's for sure. However, it is always best to turn off an electrical device before cleaning if you need to use liquid, especially if it is a laptop. In addition, you can better distinguish between stains and dust on a screen. Finally, it is better to free the screen of static electricity that your LED screens do not appreciate.
– Prefer circular movements
A good way to clean your screen is to blow fog in the middle and then clean it in a circular motion from the center out. This technique has the advantage of avoiding vertical or horizontal tracks. You don't have to press as this can damage the screen. It is better to iron several times until it is clean.
Read: Blue light from your computer or phone could damage your eyes
It doesn't hurt to wipe the frame of your laptop the same way: a dry or slightly damp cloth is sufficient, as the frame is generally less sensitive than the screen itself.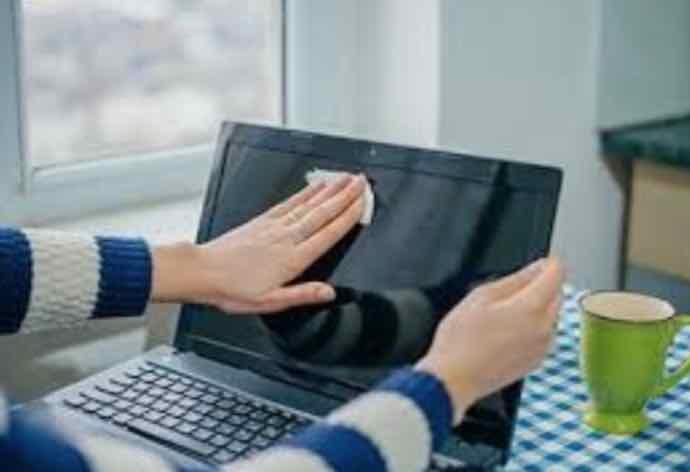 How to clean your computer
WHAT TO AVOID
– Everyday materials
It would be tempting to use what we already have on hand and with which we clean every day. However, it is better to avoid too rough towels, tea towels, paper towels or handkerchiefs, which, even if they appear soft, can scratch your beautiful screen. And don't forget that this is not the case with a laptop PC since a desktop PC screen (except All-in-One) can be easily replaced …
– household products
Although it may seem obvious, it should be remembered that a computer screen is fragile. Any service technician will tell you there are countless returns from customers who wanted to clean their screen with floor care products or even wall laundry! Without forgetting the classic window liquid and even … the solvent! Of course, this type of product should be avoided.
Never use an excessively caustic detergent since If these can be applied to furniture, they can actually damage your screen by attacking its protective layer.
Read: How sleeping with your phone increases the risk of cancer and infertility 
– The vacuum cleaner
The vacuum cleaner is often mentioned to remove stubborn dust, especially that found in the corners of the screen. It can be harmful to your screen. Especially because of the tip, which could irreversibly damage the protective layer with the slightest movement. If you absolutely have to go through this, we recommend extreme care
– sprays
The projected fluid may crust in cracks and seriously damage your computer. It is better to do without it, especially on a laptop. A simple hand wash with preferably distilled water is just as effective and ecological.
Do not apply also water or cleaning solution directly on the screen. If possible, stick to a dry cloth. Do not dampen your cloth with water before cleaning the screen.
Conclusion
Computer screens get dirty quickly. Get into the habit of wiping your products every week and removing fingerprints with a cloth slightly dampened with water and vinegar. Test the product on a small area before applying it on a larger area.
With these few simple gestures, you can find a clean and shiny screen in no time. Be sure to read and follow the operating instructions of your computer before you start cleaning.
---
If you like the content, we would appreciate your support by buying us a coffee. Thank you so much for your visit and support.