Are you looking for the best link builder software for your new website? Your search is over because, today, we will go through the 11 must-have link building tools for 2022. We'll give insights on each link builder software, so you won't have to research them independently.
Why Do I Need a Link Builder Tool?
As SEO marketers, you probably know that link building is no easy feat. Getting backlinks is hard on its own; much more if you aim for high-quality and relevant backlinks. The best link building tools will guide you in finding the best backlinks and link acquisition.
It is also important to note that the latest Google Broad Core Update (May 2022) focuses on anchor text relevance and backlink profiles. Avoiding toxic backlink profiles and irrelevant anchor texts when building backlinks will save your website from Google Penalties. The best link builder software gives you an overview of a website's credibility. This way, you can avoid toxic backlinks from destroying your clean backlink profile.
Aside from avoiding toxic backlinks, the best backlink software can also find new linking opportunities. Link builder software like Ahrefs can bring new backlinks to your website. Analyzing your competitor's website backlinks gives you a shortlist of websites you can reach out to.
Let us now look at the best link building tools for generating the best backlinks.
11 Must-Have Link Building Tools (2022)
Based on a recently-conducted survey for link building professionals, the top 3 most-used link building tools are Ahrefs, SEMRush, and Google Sheets. Trailing behind Google Sheets is Moz, which is one of the best link builder software. Here's a quick graphical summary of the link building tools from the respondents.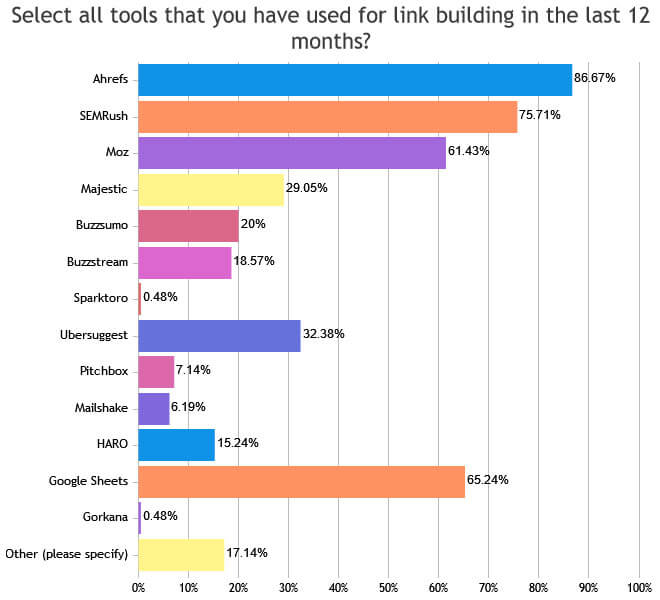 Alt text: Graphical summary of the most-used link building tools based on a survey conducted by LinkDoctor.
To further categorize this list, we will separate them into backlink analysis tools, outreach tools, and tools for finding new backlink opportunities.
Read: 7 Google Ranking Factors you must know
Backlink Analysis Tools
Because of its capacity to generate a comprehensive website report, Ahrefs has been one of the best link building tools. This link builder software will give you a clear overview of a website's organic traffic, keywords, backlink profile, and other important analytics. These data will determine if a website is worth getting a backlink from.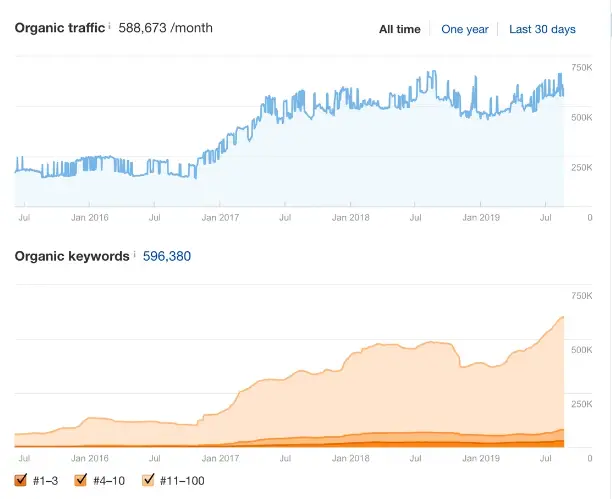 Alt text: Data from Ahrefs website indicating the organic traffic and keywords that help your website rank on SERP.
You can also use Ahrefs to check your website's backlink profile. This tool will give accurate and timely metrics that will give you a good idea if you need to work on your backlink profile. A quick site audit will pinpoint the problematic backlinks and other SEO modifications needed for your website.
Read: 7 Requirements to make your blog successful
Just like Ahrefs, SEMRush brings relevant data for backlink analysis and link building. This tool is useful if you want to get backlinks from your competitors. By giving you a comprehensive summary of a domain's performance, you can gauge if it's a good backlink or not.
To use SEMRush for backlink analysis, follow these steps.
Make an account for SEMRush. You can use your Google account to make a trial account. If you already have one, log in to your account using your credentials.
Choose a SEMRush tool depending on your link-building needs. Available tools are: keyword research tool, competitive research tool, and link checker tool.
Use the competitive research tool to find backlinks from your competitors. You will see what domains link to your competitors and increase their ranks.
After finding the domains linking to your competitors, use the link checker tool to analyze the domain. This will determine if the domain is worth reaching out to.
The Majestic SEO tool is a different link builder tool compared to Ahrefs and SEMRush. With Majestic, you can find out who links to your website. This best link building tool for competitive research has the largest link index database, ensuring that the data you gather is relevant.
The Majestic software has unique metrics that measure how good a backlink is. These metrics are called Trust Flow and Citation Flow.
Trust Flow – this metric indicates the quality of the links pointing to a website. If the Trust Flow is greater than the Citation Flow, this means that the website has good backlinks.
Citation Flow – this metric indicates the number of backlinks on a website. This will give you an idea of how many backlinks are linked to your website, regardless of the quality of the links.
Read: Small Business SEO Tips: A Checklist for Boosting Rankings
Outreach Tools
Outreach is an important part of link building. Talking to webmasters and asking them for a backlink is a method that SEO marketers are fully aware of. That's why email outreach tools are needed to find, connect, and acquire high-quality backlinks.
1. Hunter.io
If you see a relevant website from which you can get high-quality backlinks, the first thing to do is contact the webmaster. However, not all websites place their emails on the "About Us" page. Sometimes, you have to manually find their email using link building tools.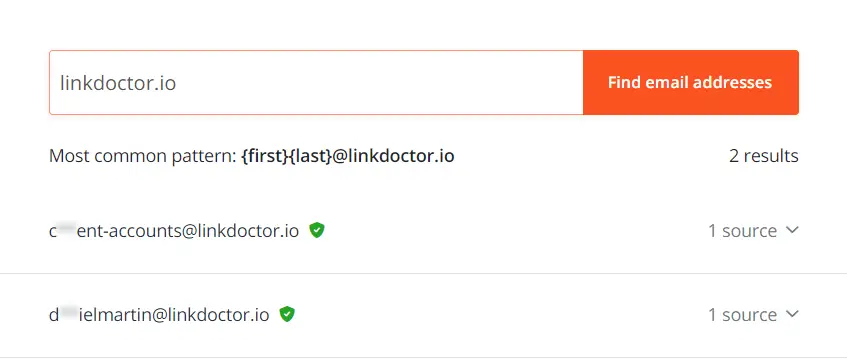 Alt text: Hunter.io gives the website's contact information (email) upon search.
This is where Hunter.io comes in. Follow these steps to find the email address of your prospect's website.
Open

Hunter.io

on your web browser.

On the search bar, place the target website's domain.

Click on the "Find email addresses" button or press Enter. This will give you a list of email addresses from the website.

Click on the email address with a "Verified" stamp on it. This looks like a checkmark on the side of the email address.

Contact the email address using your email outreach tools.
Read: How To Write Compelling Meta Descriptions That'll Boost Your Rankings
Email marketers will surely recognize this software from the get-go. Because of its multi-functionality, Pitchbox has been one of the most-used email marketing platforms.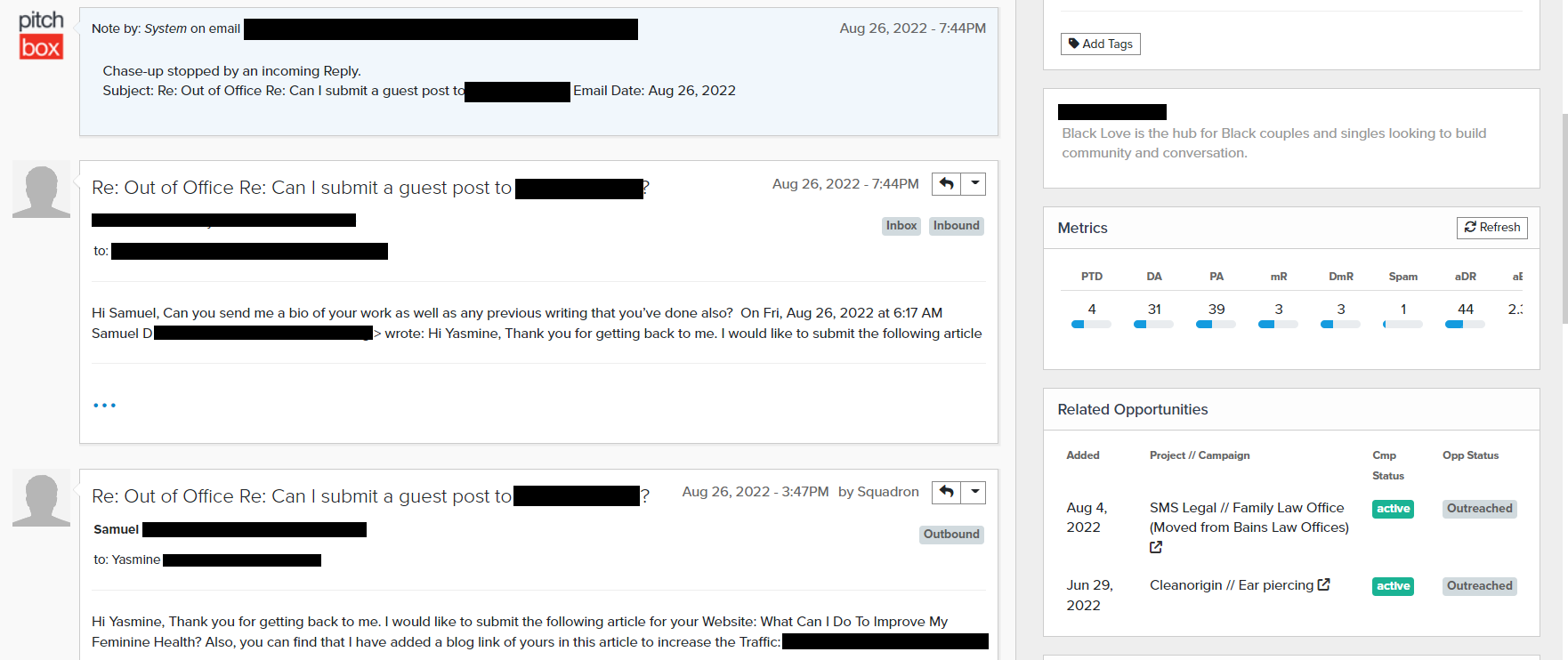 Alt text: Pitchbox dashboard showing different SEO metrics besides the emails.
Some of its features are:
Link your personal account on Pitchbox: Personal contacts can be accessed on Pitchbox if you link your personal account to it. This is useful, especially if you have link building prospects from your personal email.
See website metrics from the HUD: The email conversation HUD will show different metrics from the prospect's website, e.g., DA, ADR, organic traffic, etc.
Keep email conversations: Pitchbox can keep the email conversation (both sent and received). This will help in managing the pipeline for email conversations.
Automated and scheduled follow-ups: In Pitchbox, you can send follow-ups based on a schedule. This link builder software automatically sends follow-ups to prospects.
Pitchbox can save multiple email templates: Email campaigns for different prospects are easier because of the templates saved on Pitchbox.
Read: Top 10 SEO Competitor Analysis Criteria
If you're looking to send mass email outreach to multiple prospects, Buzzstream makes the job easier. This link builder software aids in reaching out to new prospects whenever you launch a new email outreach campaign. More emails sent means more backlinking opportunities.
However, the right way to use Buzzstream is to make email templates only to guide how you'll write your outreach emails. Sending irrelevant emails to webmasters will appear as spam emails. Make sure to customize the templates depending on your need to get the most out of this email outreach tool.
Best Link Building Tools for Finding New Linking Opportunities
1.

HARO

(Help-A-Reporter)
Helpareporter.com was originally made to connect journalists from sources. Now, it is used by reporters, bloggers, influencers, and other websites looking for credible sources. HARO is the best link building tool to find high-quality media backlinks.
If you see your content worthy of media coverage, use HARO to build links to media websites. Make sure to make high-quality content, so journalists can see your website as a reliable and trustworthy source.
This link builder software is true to its name. It is used to find new linking opportunities. You can sign up and run your first campaign on Link Prospector for free.
What's unique about this link builder software is the customizations you can apply when searching for prospective websites. You can search for websites that allow guest posting, product reviews, or content promotion.
Read: 5 Important Tools You Need to Know That Can Help You in Digital Marketing
Other Useful Link Building Tools
1. Broken Link Builder
You can use this link builder software to check broken pages from your competitor's website. Check the broken link status using SEMRush to find out if you can get those links to your content.
And the most useful strategy for using Broken Link Builder is to find broken links on prospect websites. Check the content of the broken link and make similar content. Then, suggest to the webmaster that you'll replace the broken link with similar content.
This link builder software allows you to find broken links on your website. This way, you can remove broken links that can lower your website's rank.
If you want your backlinks to come from relevant blogs only, you'd want to use GroupHigh. This link builder software will give blog page results, much like a search engine but for blogs by searching keywords on the search tab.
Combine These Best Link Building Tools for Better Results
The best link building tools are used in combination for the best results. If you have the budget to go for all these tools, we recommend them. But if you're running on a tight budget, you can sign up for the free trial. This way, you can check if the link builder software is for you or not.
Good luck with your link building!
---
If you like the content, we would appreciate your support by buying us a coffee. Thank you so much for your visit and support.