Linux mint 19.1 "Tessa" Cinnamon is the latest installment in the Linux mint lineup. Linux Mint is better suited for those who have just started with Linux. So if you are new to Linux and find it complicated, then Linux mint might be a good option for you. Linux Mint is a very popular Linux distribution that comes with some extremely useful features which will be outlined in this article.
The latest Cinnamon desktop environment
The latest release of Linux mint comes with Cinnamon 4.0. As you boot up into the latest version of Linux Mint, you will have to select one layout. You will be given two choices, traditional or modern desktop layouts. Once you select a desktop layout, you can change to the other layout whenever you like.
The user interface is redefined and the panel now comes with the modern windows like feel with windows grouping and windows previews. The modern version of cinnamon includes 40px icons, 24px icons in the system tray and grouped application windows.

Users can now define different icon sizes for different panel zones. Every single panel zone can now have a crisp icon size ranging from 16px to 64px. Icon sizes can be scaled either exactly or as per requirements.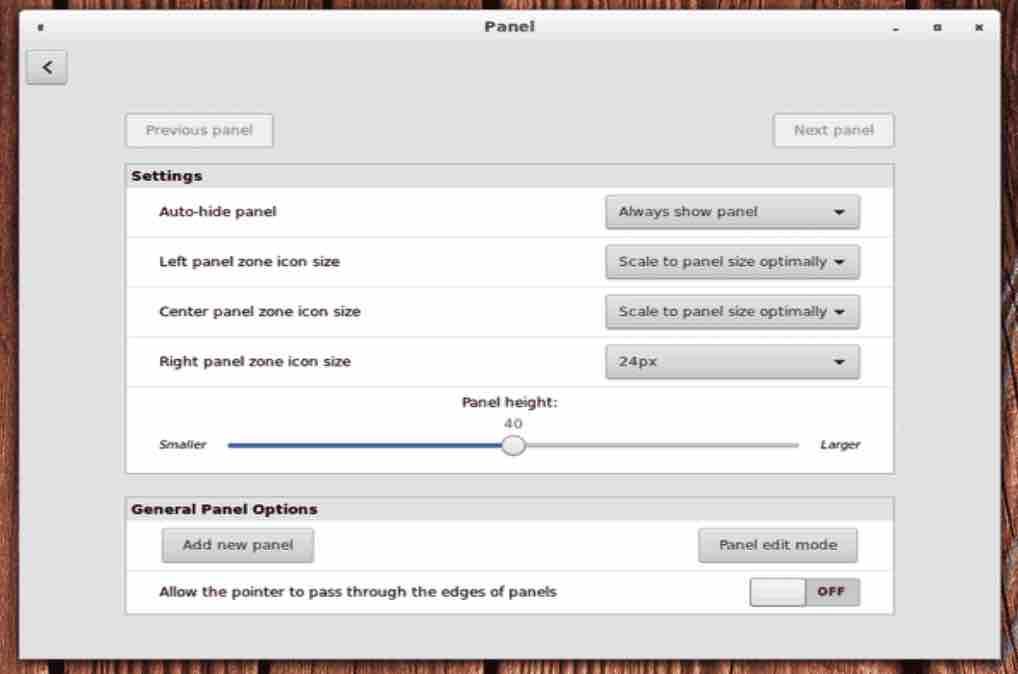 The new version of cinnamon will now reduce screen tearing. The major problem in 3.8 was screen tearing because V-sync was set to Vblank. But no need to worry now, it has been fixed in the latest version of Cinnamon. Moving windows now feels smooth, input lag in NVidia cards is also now reduced.
Nemo4 is another major improvement in Cinnamon 4.0 since it provides a performance boost to the UI of the file manager. It is now easier to navigate within the file manager without a stutter. Now, Nemo4 can show the time when files were first created.
Linux mint 19.1 also comes with MATE and Xfce desktops but you should definitely go with Cinnamon because it is much faster and secure.
Linux kernel 4.15
One of the important features of the recent Linux Mint is the latest Linux kernel 4.15. This version of Linux kernel comes with the latest code which protects against Meltdown. No need to worry about a security threat. All the Intel and AMD CPUs are designed to mitigate Meltdown. Unfortunately, this release doesn't include patches for ARM SOCs.
Good news for AMD users, Linux Mint 4.15 also comes with better display support for the AMD drivers. The display code now comes packed with this version of Linux Mint kernel. Linux Mint was unable to properly implement the ALPM support, which makes it difficult to enter in deep power-saving state. This problem is now fixed with this release of the Linux Mint kernel. RISC-V and AMD Secure Encrypted Virtualization are now supported. Intel's "user mode instructions prevention" is now added too. The extreme CPU usage is now restricted with the help of a new CPU resource controller.
New software sources tool
This release of Linux Mint comes with a revamped software resources tool. Whenever a software crashes, this tool creates a trace file. With the help of this trace file, developers can start debugging without starting from scratch. Debian removed the debug symbols from the default repositories. This also affected Linux Mint. Now you will have to install debug symbols first and then you can use them in the stack trace.
Useful pre-installed apps
Linux mint comes with all essential pre-installed apps. It comes with the Firefox browser as a default browser for your entire web browsing needs. It also comes with Libreoffice which makes it easier to edit and create any MS Office file. Thunderbird is the default twitter client which also comes pr-installed with Linux Mint.
Other major improvements
Now you will have an option to configure firewall settings right after you install the latest version of Linux Mint.
Asterisk is now shown whenever you use a command with sudo, it requires your password to proceed further. Asterisk will prevent you from typing the password in the wrong window.
The latest installment of Linux Mint comes with a collection of some beautiful backgrounds. The mint –y themes are now available in aqua, grey, brown, orange and many more colors. Mint –y themes come also with more contrast.
Muffin now uses its own versions of COGL and clutter.
Nemo-python and their scripts are now ported to Python 3
The updater app is now able to display all the kernels available as well as those supported.
So these are the latest features in Linux mint. It uses fewer resources so anyone with low spec computer will be able to install Linux mint. It is a beginner-friendly operating system by all means. If you want to use Linux but all the command line interface scares you then you should definitely give Linux Mint a try.
---
If you like the content, we would appreciate your support by buying us a coffee. Thank you so much for your visit and support.