Although the Covid-19 pandemic remains latent in much of the world, this is not an impediment for people to give flight to creativity through one of the most popular applications of the moment: TikTok , which has already been downloaded more than 2,000 million times .
According to the analysis platform, Sensor Tower , this social network where short videos are published has had an important growth , since in the last quarter , which coincides with the health emergency caused by the new coronavirus, 315 million were downloaded times in App Store and Google Play Store combined.
The territories where there has been an increase in downloads during this period, according to the same source, were India, China and the United States . However, it is important to mention that the number of downloads does not represent the number of active users on the social network.
Sensor Tower pointed out that the published figures do not take into account the downloads made through third-party app stores , which are popular in countries like China .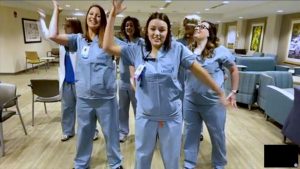 Credits: goodmorningamerica
So far there has been no official confirmation from TikTok, but due to the conditions of social isolation in which the world finds itself in, the growth of this platform is undeniable . Even sectors of the population that previously had not been interested in this format , have started to create and record funny videos.
Although it is relevant to point out that the attractive force of TikTok remains in the adolescent and youth audience , as one in two of its users (52%) is 24 years old or younger . In this sense, one of the keys to success is that they are the protagonists .
Another of the elements that make this platform a success are the viral challenges that cause a furor among users, since they also involve a large number of personalities from the world of entertainment and sports such as Thalía , Anne Hathaway and Lionel Messi .
One of the most talked about challenges was the #PillowChallenge , which consisted of putting a pillow , or more, on the body to create an "original" and funny outfit . Many famous actresses joined this challenge like , Anne Hathaway , and Mexican singer Thalia , among other celebrities.

It is worth mentioning that the increase in the number of users of these platforms could be understood as something normal in the midst of current conditions, since in countries where social isolation measures have been implemented , growth in traffic has also been noted.
In fact, the use of time on leisure platforms has been noticed by other social networks that had been forgotten , such as Snapchat , which increased its daily user base by 11 million people during the same quarter, according to its own report. of earnings.
Given the increased use of TikTok, those responsible for the application have implemented some parental control tools so that adults are not worried about what their children consume and publish .
According to TikTok, Many users start their journey as content creators at age 13 and are presented with a wide range of app options to download , making it a critical time for teens and their families to learn about digital literacy and how to behave smart way by being online.
---
If you like the content, we would appreciate your support by buying us a coffee. Thank you so much for your visit and support.