Updated Feb 22nd 2022 – Knowing the best free WordPress themes for 2020 is the first step for anyone who is creating a website for their new business. In addition to the templates being free, they provide the essential design, navigability and loading speed . More than creating a beautiful website, it is essential that it be responsive. This is because more and more people are using mobile devices , such as tablets and smartphones, to do their research and purchases.
To have an idea, the estimate is that, in 2020, there will be 2.87 billion smartphone users in the world. Of these, 57% say they do not recommend a company that has a poorly designed website, according to socPub .
The good news is that the best WordPress themes for 2020 are responsive, free and have customization options that are super easy to handle.
Read: Which Type of Hosting is Best for WordPress
Important features of good themes
We show below some features that you should look for when searching for the ideal theme for your website.
Main Features and Functionalities These are the main criteria that you should look for in a theme. After all, they are the ones that will define what features and resources your site will have. For example, if you are looking to create a virtual store, WordPress not only has specific themes for this, but also plugins that optimize all ecommerce.
User Ratings and Reviews The better a topic's rating, the better its reputation and reliability. This indicates that it works exactly as expected or even better. Therefore, it is recommended to always check the ratings received and read the testimonials of other users, considering the positive and negative opinions.
Periodic Updates A theme that is updated frequently means that the creator is careful to ensure that there are no malfunctions or safety problems. It is an extra indication that you have to choose only the best options, ensuring the reliability of the template and also that your website will not break because of it.
Read: How to develop a Multi-Vendor eCommerce Website with WordPress
It was with the criteria listed above that we created a list with 20 suggestions of best free WordPress themes for you to use this year. But, remember, it is not exhaustive but it will help you get started.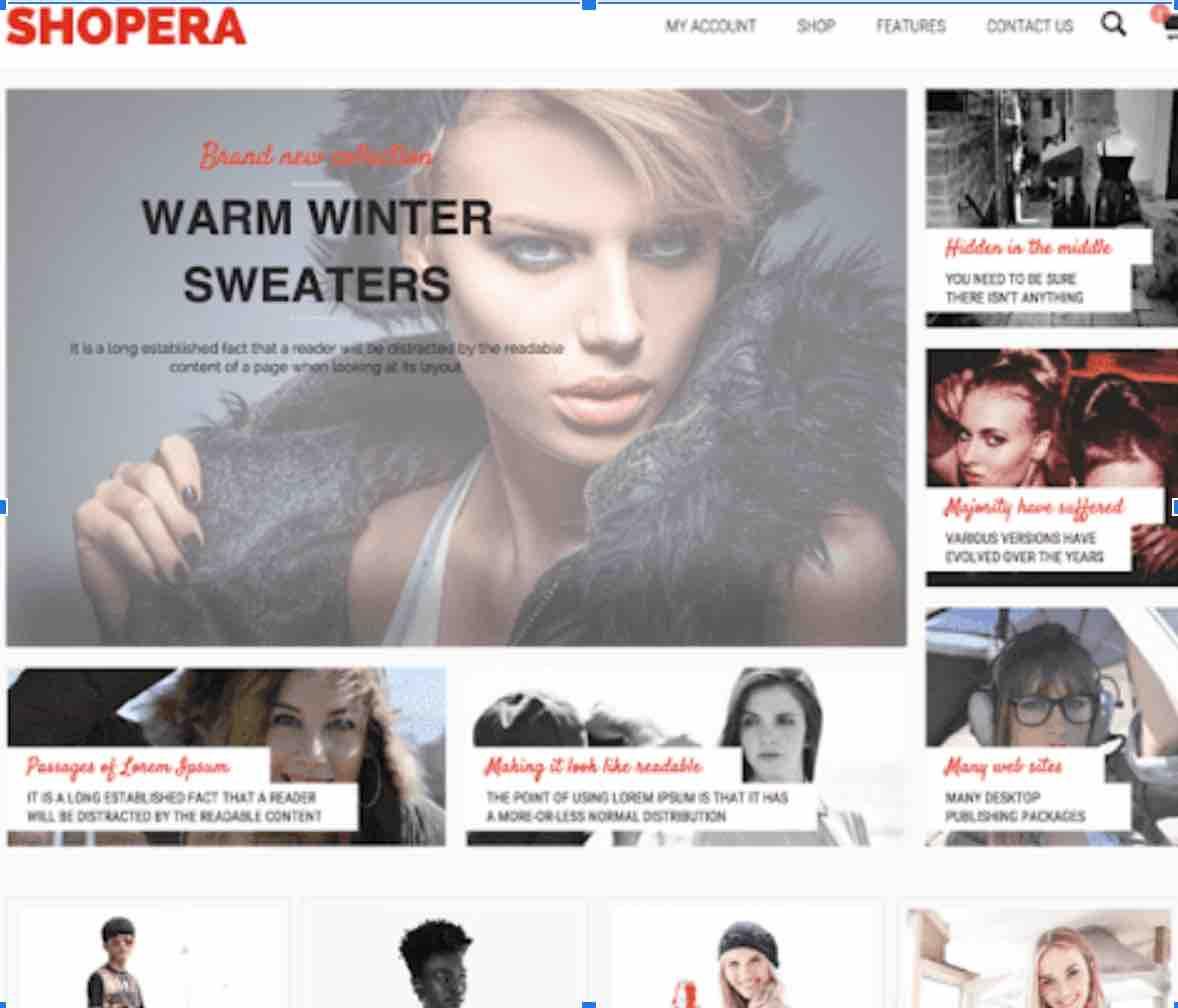 Shopera is a theme that is entirely dedicated to virtual stores. Its visual style is very modern and stylish, which will help sell your products over the internet.
In addition to being integrated with WooCommerce , it has its own product management tools.
Main features
Fits any type of ecommerce.

Suitable for beginners and experienced users.

It is responsive and works on any device screen size.
Create a popular news website with the free Mission News WordPress theme. The double-sidebar layout and broad header give this template a very traditional design, but it's built with modern technology and best practices. With Mission News, your articles will look great across smartphones, tablets, and laptops alike.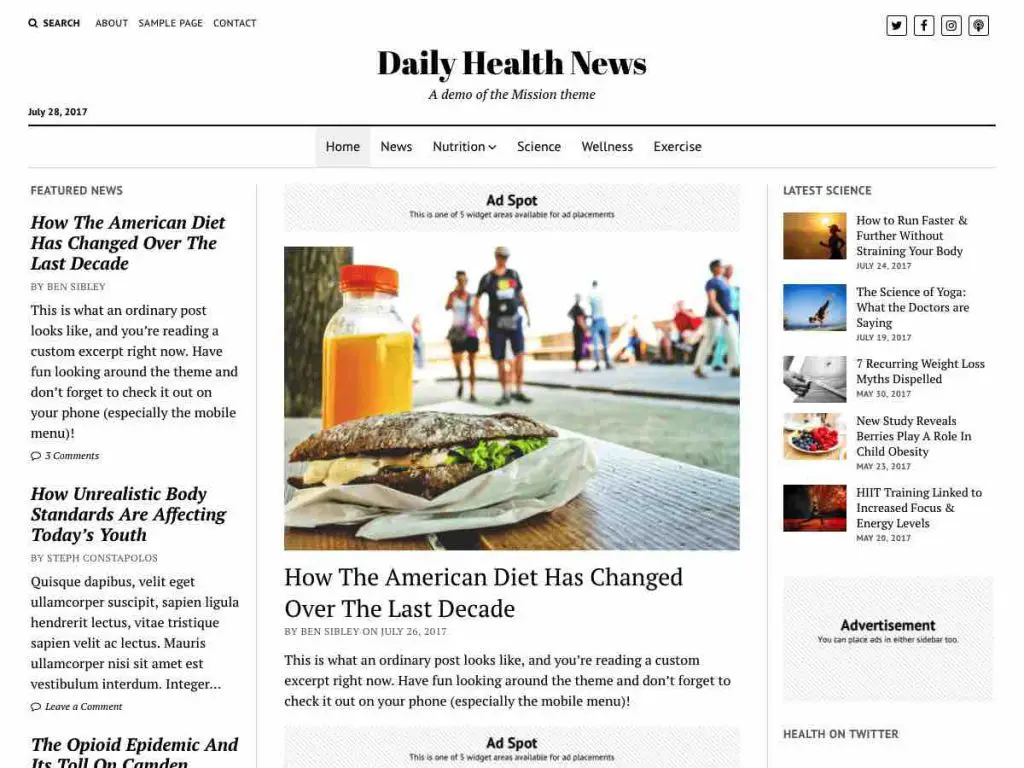 The Mission News theme loads fast and comes with a nice assortment of features that let you control the presentation of your content. You can select from any of nine layouts for the site and individual pages. Upload a custom logo, enable the global search bar, add social media icons linked to your profiles, and utilize three different menu locations. All these customization options make it easy to match your site to your brand and build your audience online.
Mission News is also fully translatable and compatible with right-to-left languages, so WordPress users around the world can enjoy this news theme for their website.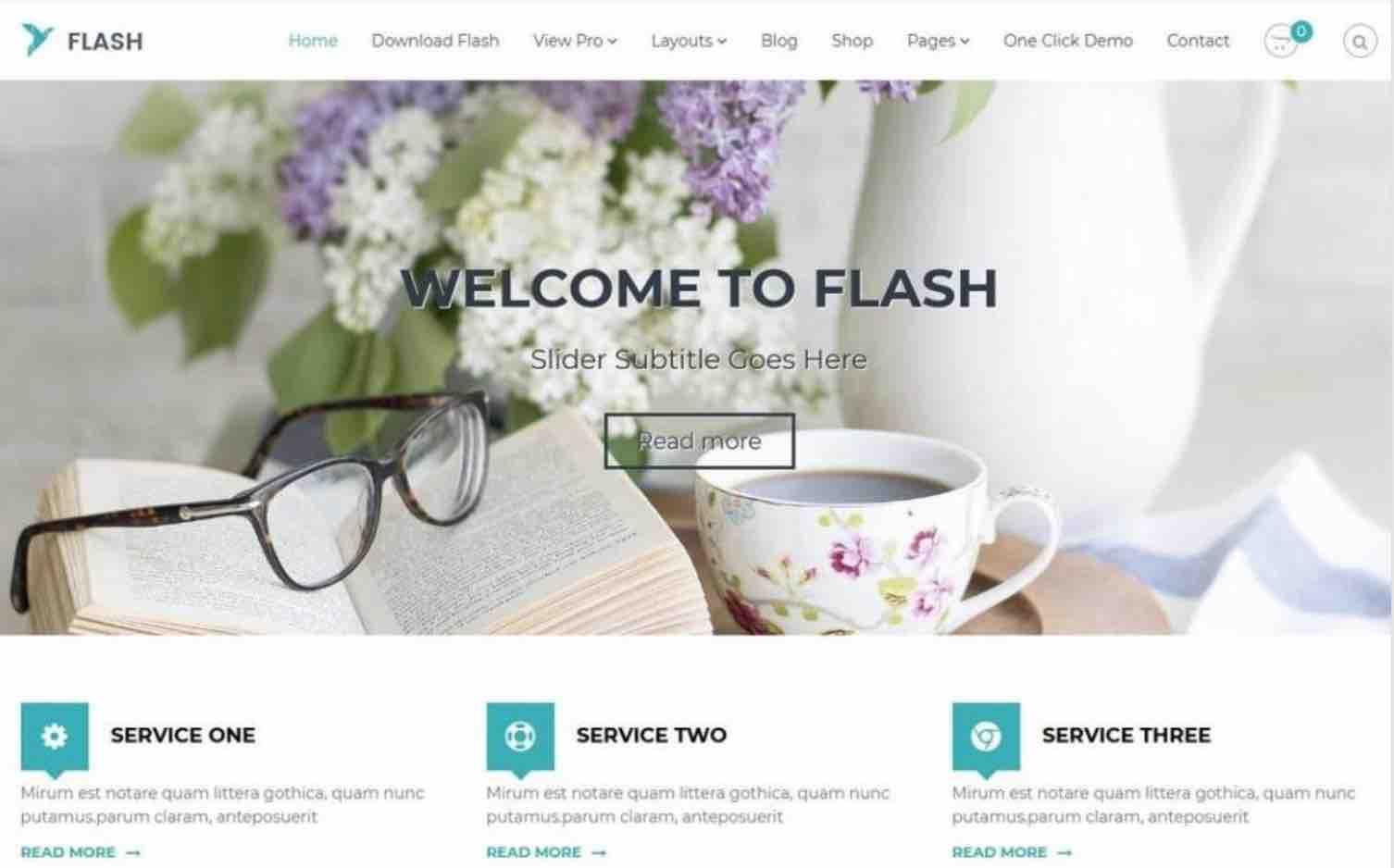 The Flash was designed as a multi-thematic issue. That is, it serves a variety of purposes. Among them: a business website, a blog with daily content and even has a free wordpress themes portfolio for photographs or exhibition of works.
This theme also has several pre-created demos . Thus, you can test variations on the same theme and assess whether it is worthwhile for your business proposal. It even has a drag-and-drop tool for you to customize your pages as you wish.
Main features
Fits virtually any type of niche you work for.

Suitable for experienced users or beginners.

It has widgets, a website builder and visual elements for customization.
Get Genesis Framework & StudioPress Themes free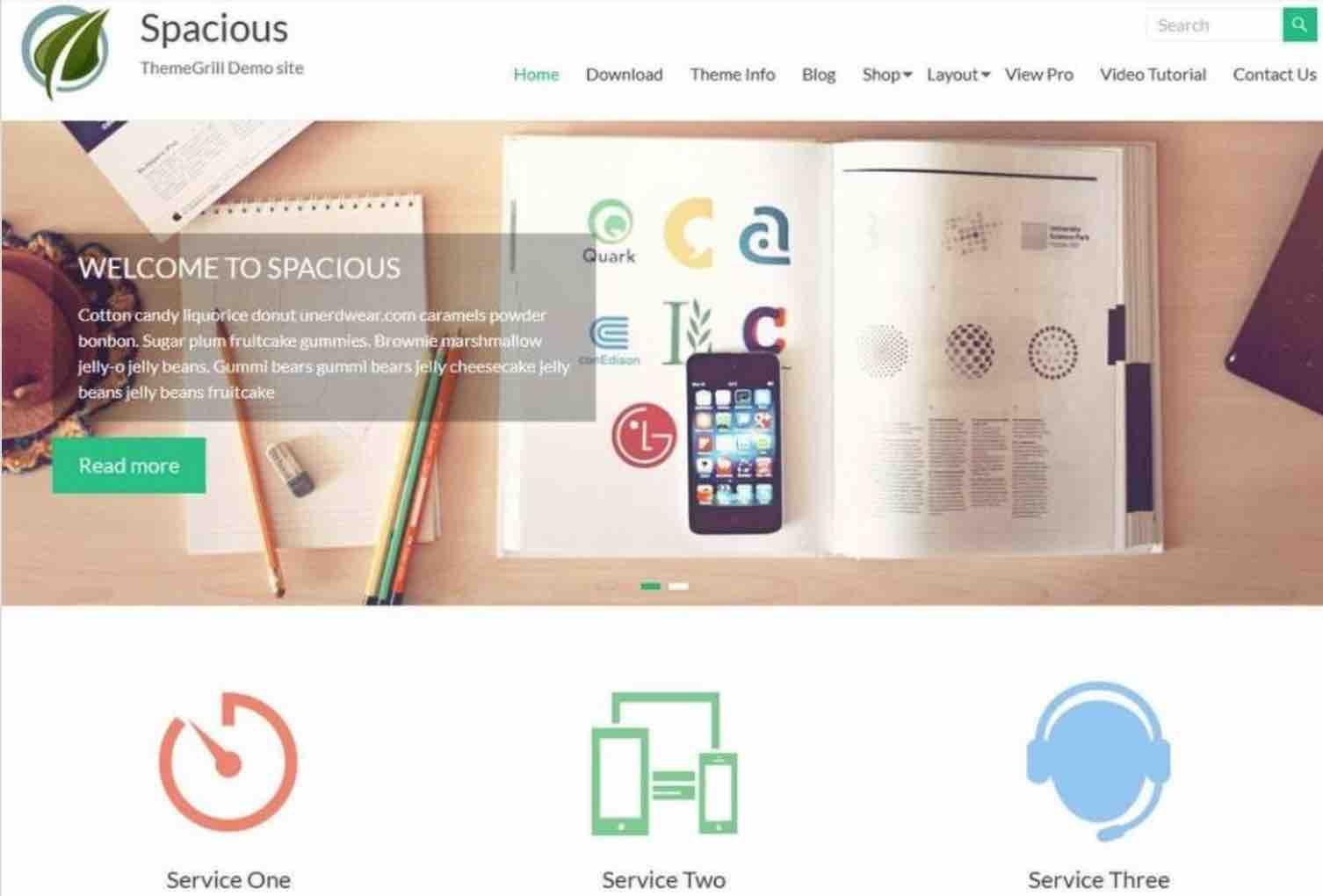 The Spacious is a versatile theme that serves projects with different intentions. It can be used on an institutional page, for freelancers and even an advertising or news agency.
Read: 7 Requirements to make your blog successful
This theme stands out for bringing a clean visual composition, without exaggeration which draws the attention of visitors due to the lightness of the looks on the page. It is a very flexible theme, especially for those who want to carefully customize pages.
Main features
High page customization capability.

4 page layouts, 4 blog layouts and 13 widget areas.

Includes tools for positioning sliders, logo, light or dark colors and page transition elements.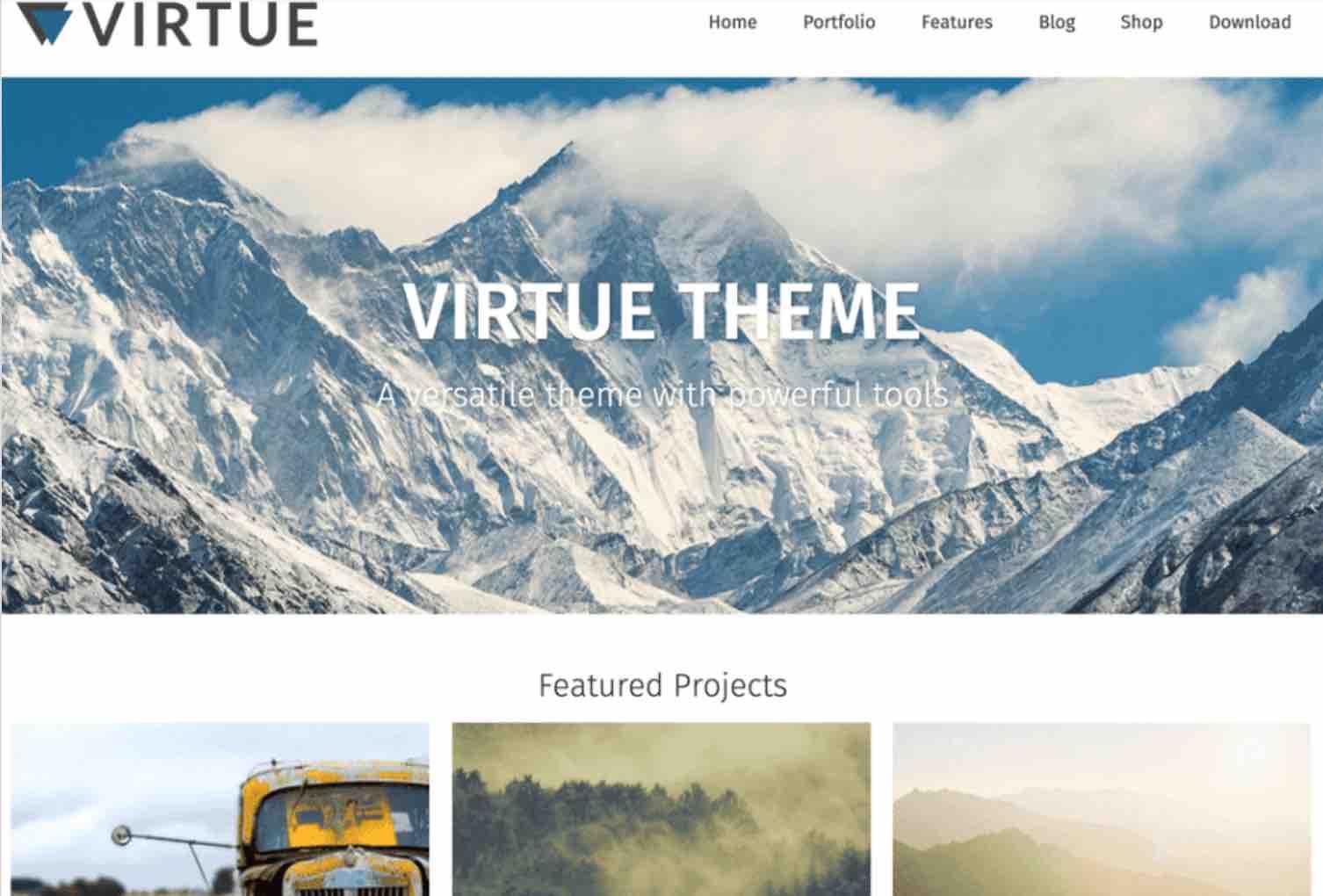 Virtue is one of those topics that fit any user 's proposal and, at the same time, it offers many configuration and customization options to make your online project equipped just the way you want it.
This theme offers a clean and modern design. In addition, its framework uses language structures such as HTML5 and CSS3 so that these qualities are also maintained on any device screen.
Main features
Most suitable for beginners and open to any type of online project.

It has an integration with

Shema Microdata ,

being much more friendly to search engines (SEO).

Highly customizable and responsive on any type of device.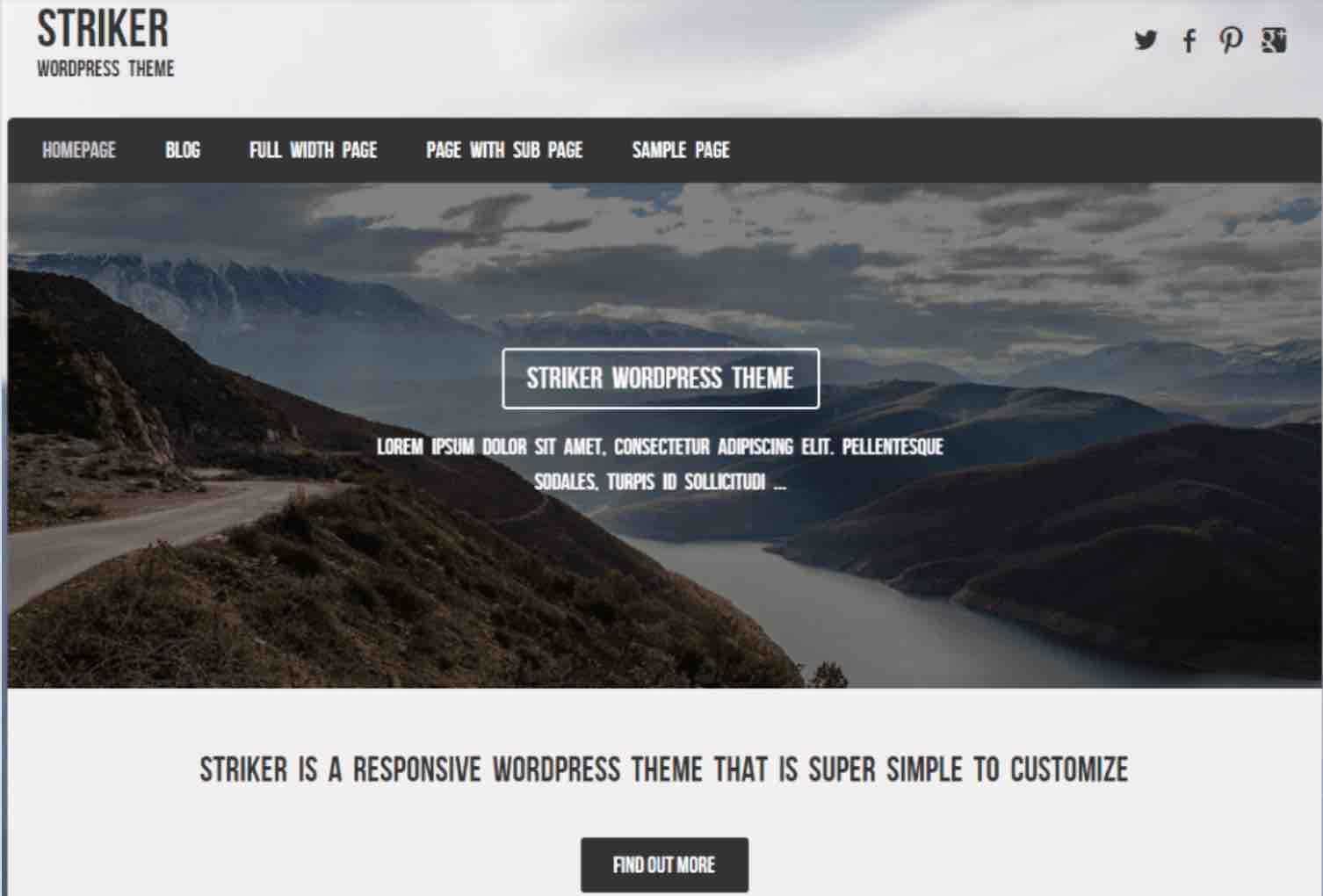 Striker has many customization options or design layouts to choose from. Still, it appears on the list for simplicity and reliability of use, being more suitable for those who want to start a blog on the internet.
In addition to the textual part, it is possible to change and edit basic elements of the page, such as logo, header, background and add social network icons. You can also place any color combination you like and scroll bars in every corner.
Main features
Great for beginners who want a simplistic starting point.

Allows you to edit basic page features, between text and graphic elements.

Discreet look on any platform and without the need to install plugins.
Customizr lives up to its name: it stands out for allowing a number of very specific customization pages.
This allows to create a website for any type of purpose, be it an ecommerce, a business page, a games blog or an image portfolio.
Main features
Focus on personalizing textual and visual elements and adding social media buttons.

It serves both novice bloggers and experienced ecommerce shopkeepers.

Integrates with WooCommerce plugins (online store) and bbPress (discussion forums).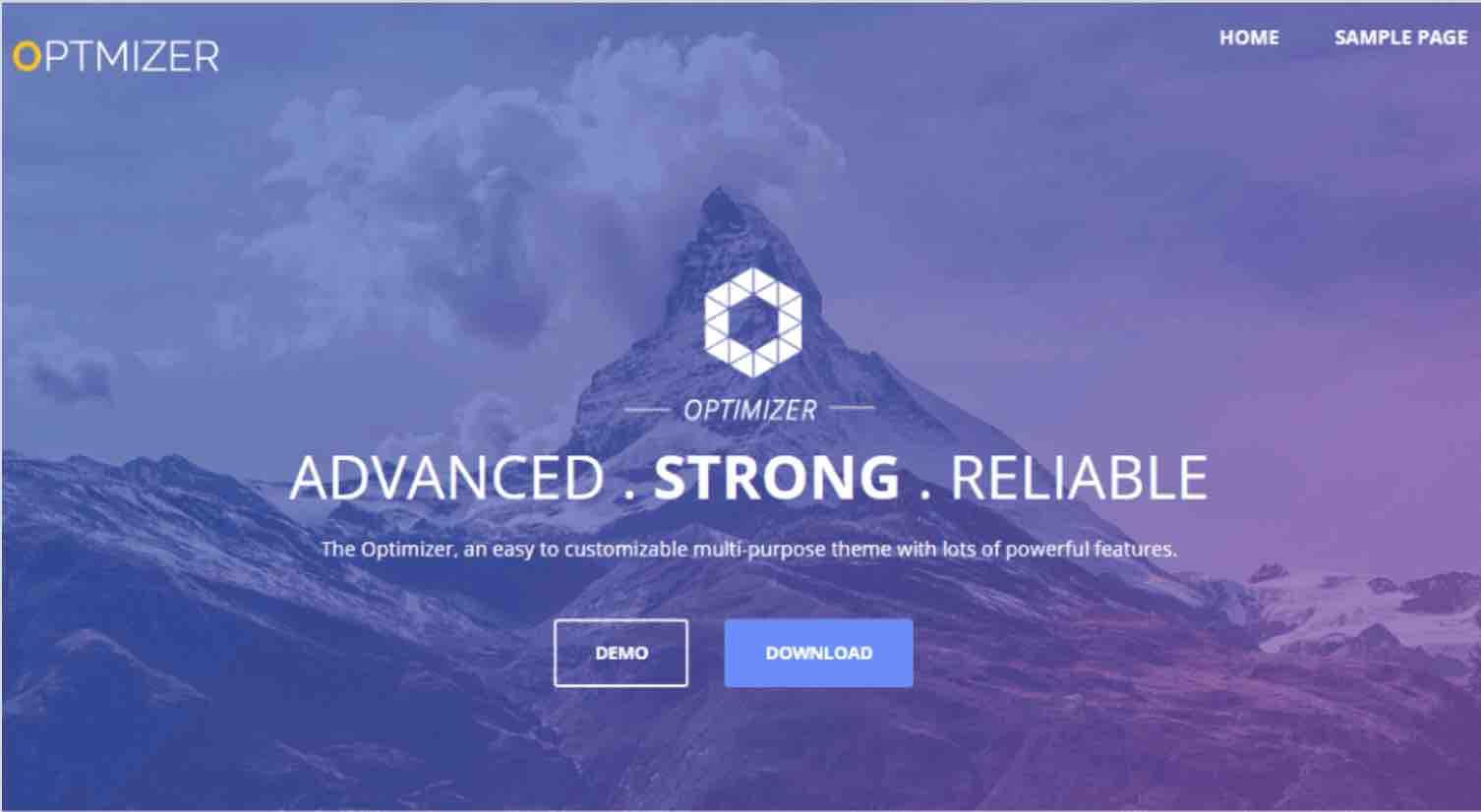 Optimizer is one of the most powerful themes of this list. It integrates language like HTML5 and CSS3 to deliver customization options and beautiful visual elements. That is, there are several options for customizing pages.
Because it is so complete in terms of editing and personalization, it is suitable for any type of business and for users with different levels of knowledge and digital experience.
Be it a digital agency, a virtual store, a business website, an institutional page, a recipe blog or a portfolio of photographs, it is possible to create page templates that match each possible topic.
Main features
High customization without having to touch a single line of code (more than 600 fonts, vast color options, scroll bars, logo field and image carousel).

As It does not require any programming skills, it is recommended for beginners and experienced users.

It is SEO friendly, responsive to mobile devices and can be integrated with other plugins for more complete functions without compromising performance.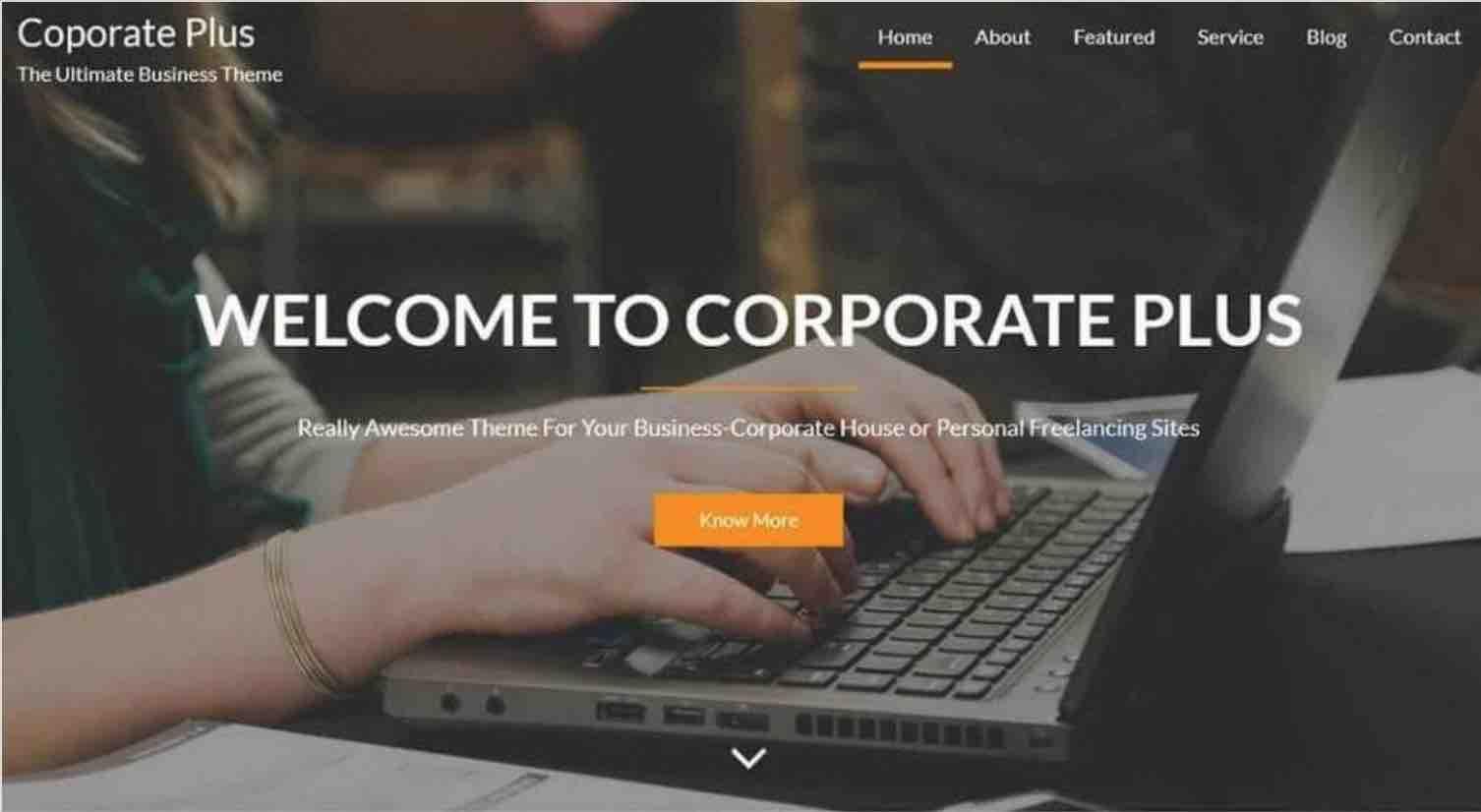 Corporate Plus is a focused theme for those who want more professional pages. For this reason, it is suitable for users who have corporate businesses, complete career portfolios, institutional websites and blogs with more comprehensive and complex themes.
This theme incorporates several elements of page customization. In addition, it has special sections to define pages of the type " Contacts " , " About " , " Services " and " Blog " , among others.
Main features
Compatible with single-page or multi-page sites, which can be customized separately.

Accepts widgets in various positions of the pages, being able to merge resources freely.

It is responsive to mobile devices, friendly to be found in search engines (SEO) and works in any browser.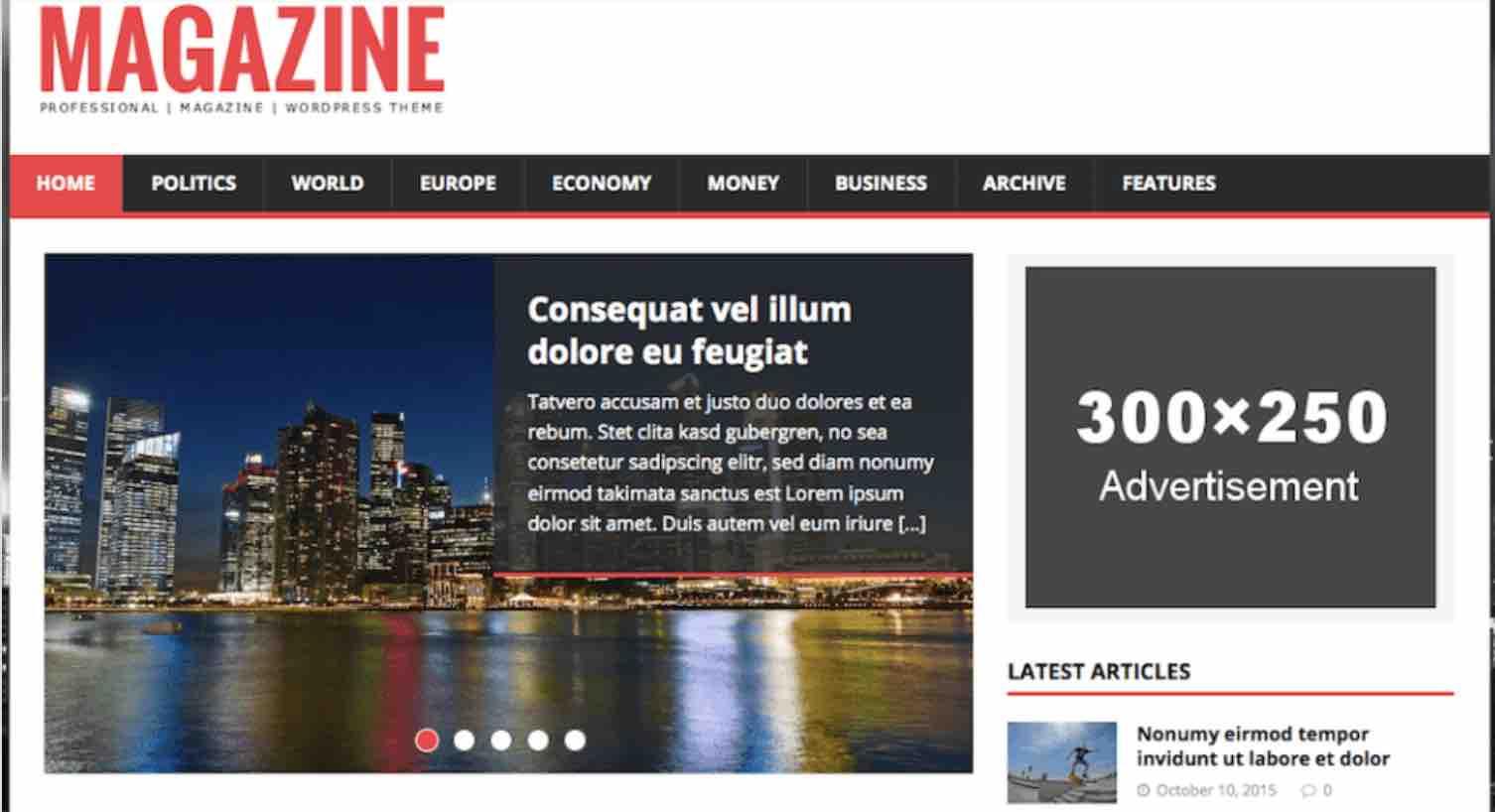 MH Magazine Lite is for those looking for a content publishing style reminiscent to that of a newspaper or a magazine. It has a drag and drop scheme that allows you to position text elements, photos and graphics where the user sees fit.
Everything is organized in a balanced and responsive way for devices with any screen size. That is why it is also recommended for different websites, be it a fashion blog, a news site, a project portfolio, a recipe page and even a virtual diary.
Main features
Recognized for being fast, secure, SEO friendly and responsive to mobile devices.

It has 13 areas of widgets to add extra functions and presents many options for customizing page layouts.

Fits any type of online project theme, as well as suitable for beginners and experienced web content management users.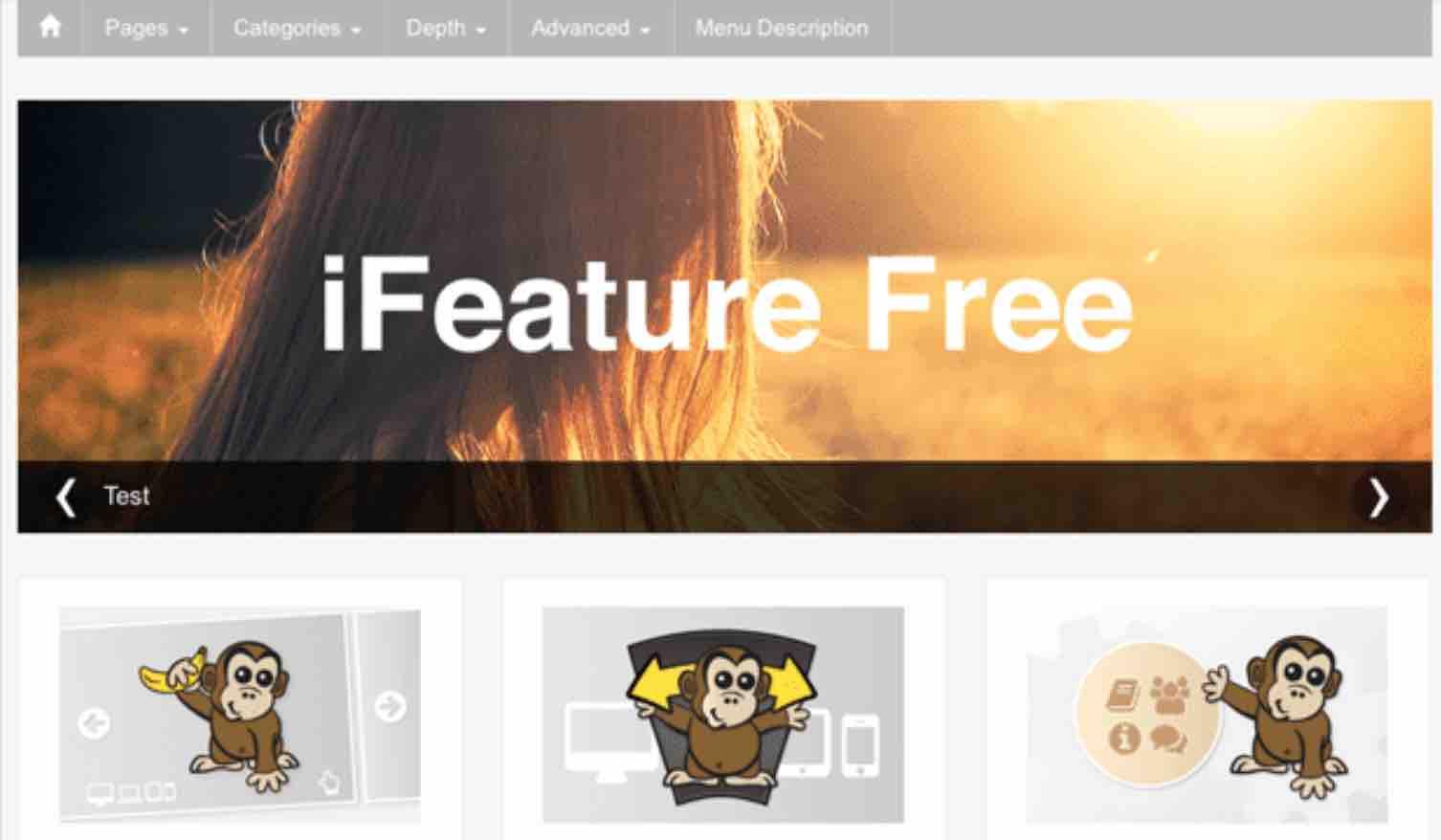 iFeature was designed for digital agencies, ecommerce sites, blogs and pages of profiles and resumes online. That's because it has a drag-and-drop mechanism that allows create almost any combination of page formatting and visuals.
Although the central header is fixed, it is possible to edit and delete, page fields, categories of pages, blog pages and even add a mini biography of the author of the post at the end of each publication.
Main features
Global customization with drag-and-drop style tool (pages can be customized individually).

Compatible and responsive with mobile devices.

It serves almost any purpose.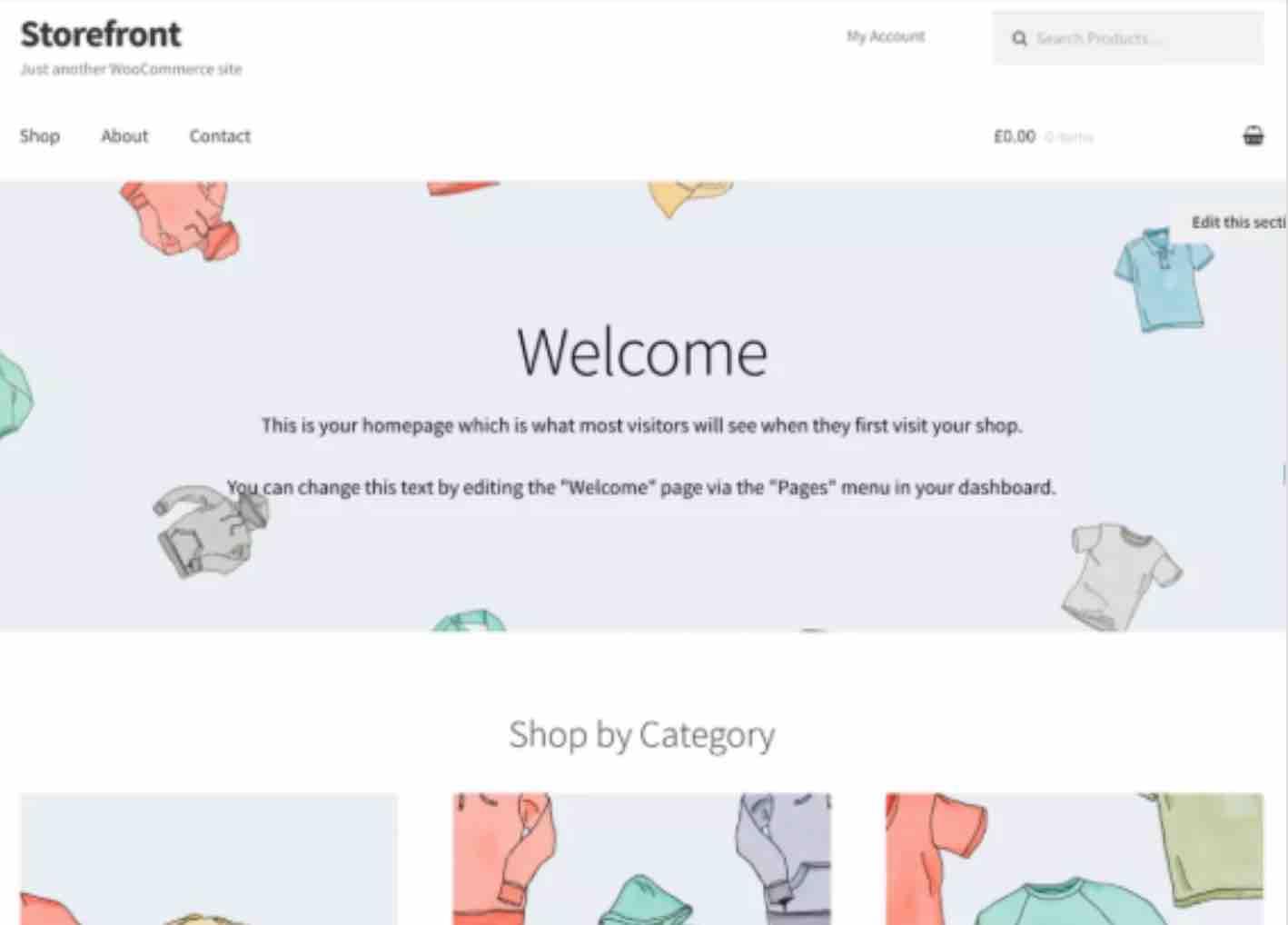 Fully optimized for WooCommerce, Storefront wordpress theme is one of the most complete themes for those who want to create a virtual store. It has an integration with all extensions compatible with WooCommerce.
Storefront allows you to adjust layers of the ecommerce layout by choosing templates, colors, delimiting regions of widgets to add further resources. In addition to also making it possible to insert interactive image galleries on product pages.
Main features
WooCommerce + Storefront = powerful combination for a successful online store.

High customization potential with predefined widgets and layouts for product and content blog pages.

Responsiveness to devices of any screen size.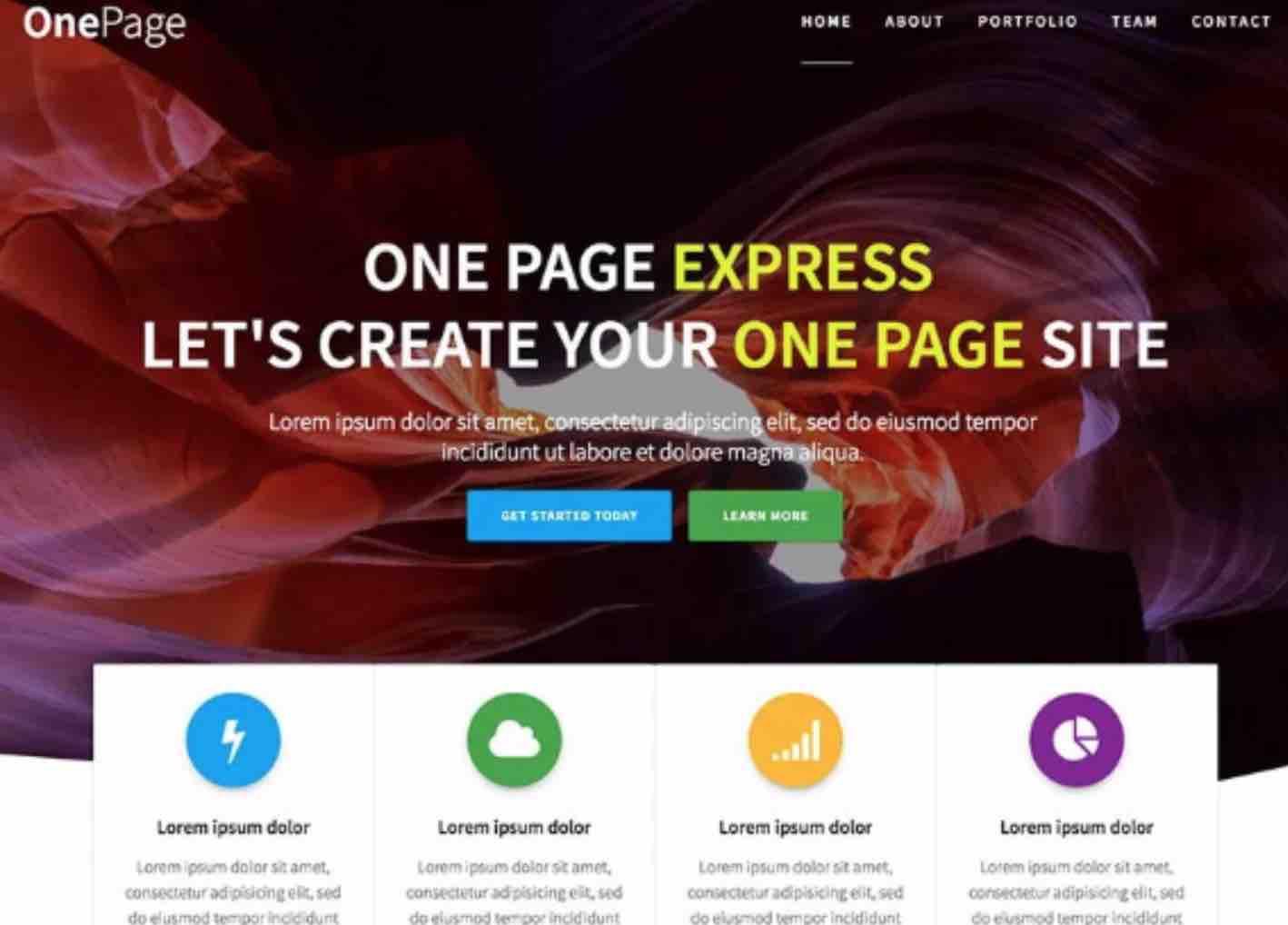 A project on the Internet does not need to have multiple pages to grow and be considered a success. That's why One Page Express exists . This theme concentrates all the content of a blog, website, institutional page or digital portfolio in a single vertical page.
This form of content placement on the Internet gives the author greater control over how users consume the posted materials. In addition, everything is formatted with a drag and drop customization system, being simple and quick to organize.
Main features
It comes with a pre-assembled homepage, which can be customized with a tool to click and drag elements in a practical and quick way.

It has more than 30 sections ready to categorize content as you wish.

Many customization options, including wallpaper for videos, image galleries, headers and blocks of text with interactive buttons.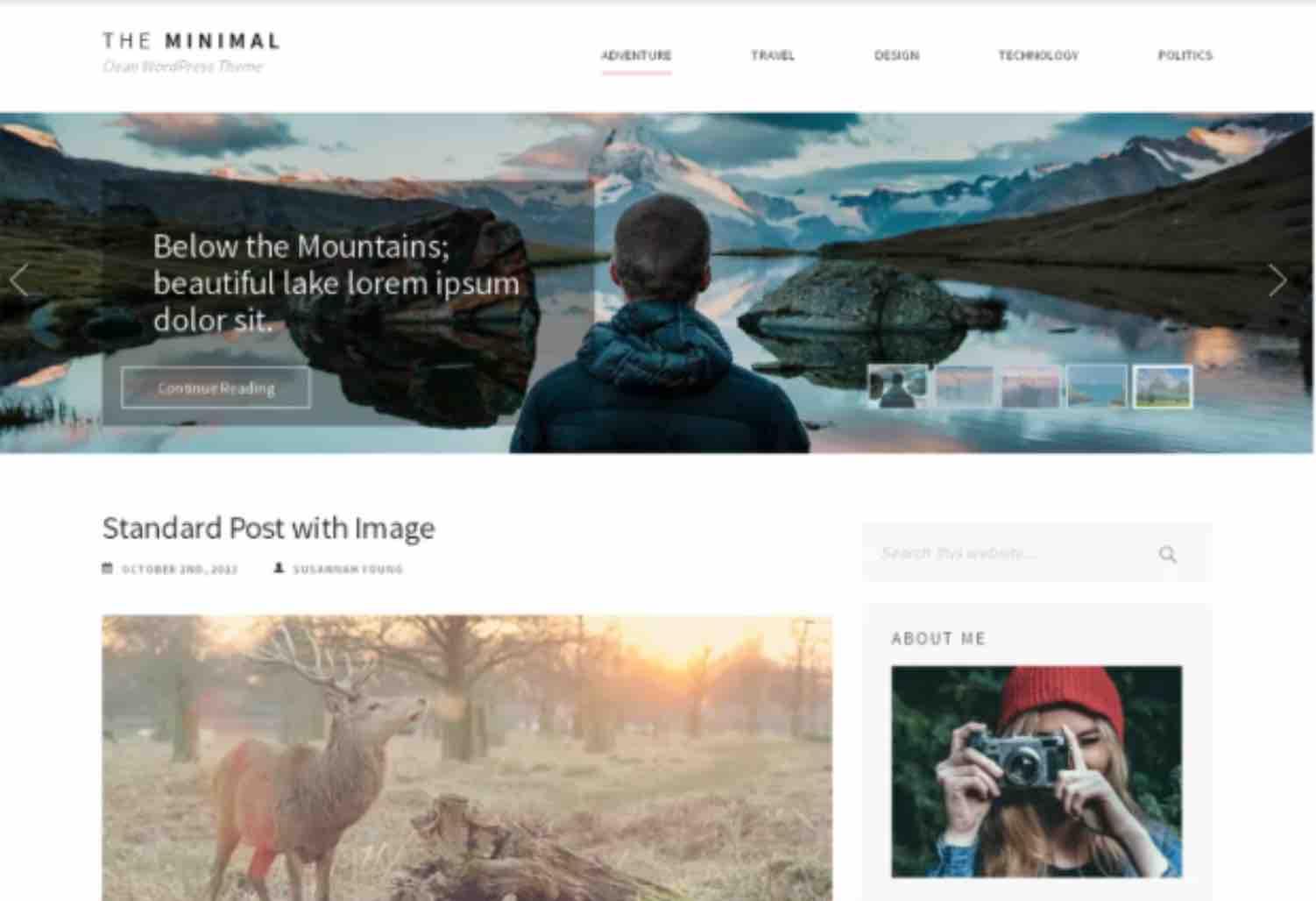 The Minimal is for users looking for a visually simple and clean theme. Because it is very focused on highlighting content, it is much more recommended for bloggers, journalists, writers and enthusiastic authors.
Therefore, this topic is also suitable for any type of subject that the author wants to write. This includes gastronomy, travel, sport, entertainment or fashion. Other than that, it also has areas of widgets to implement extra functions.
Main features
Suitable for those who love to write on any subject, as the focus goes all to the published content due to its clear and unpretentious look.

Integration with widgets for recent posts, the most read and content sharing buttons on social networks.

SEO friendly blog structure with support for any type of post format, such as links, quotes, galleries, audio, video and chat.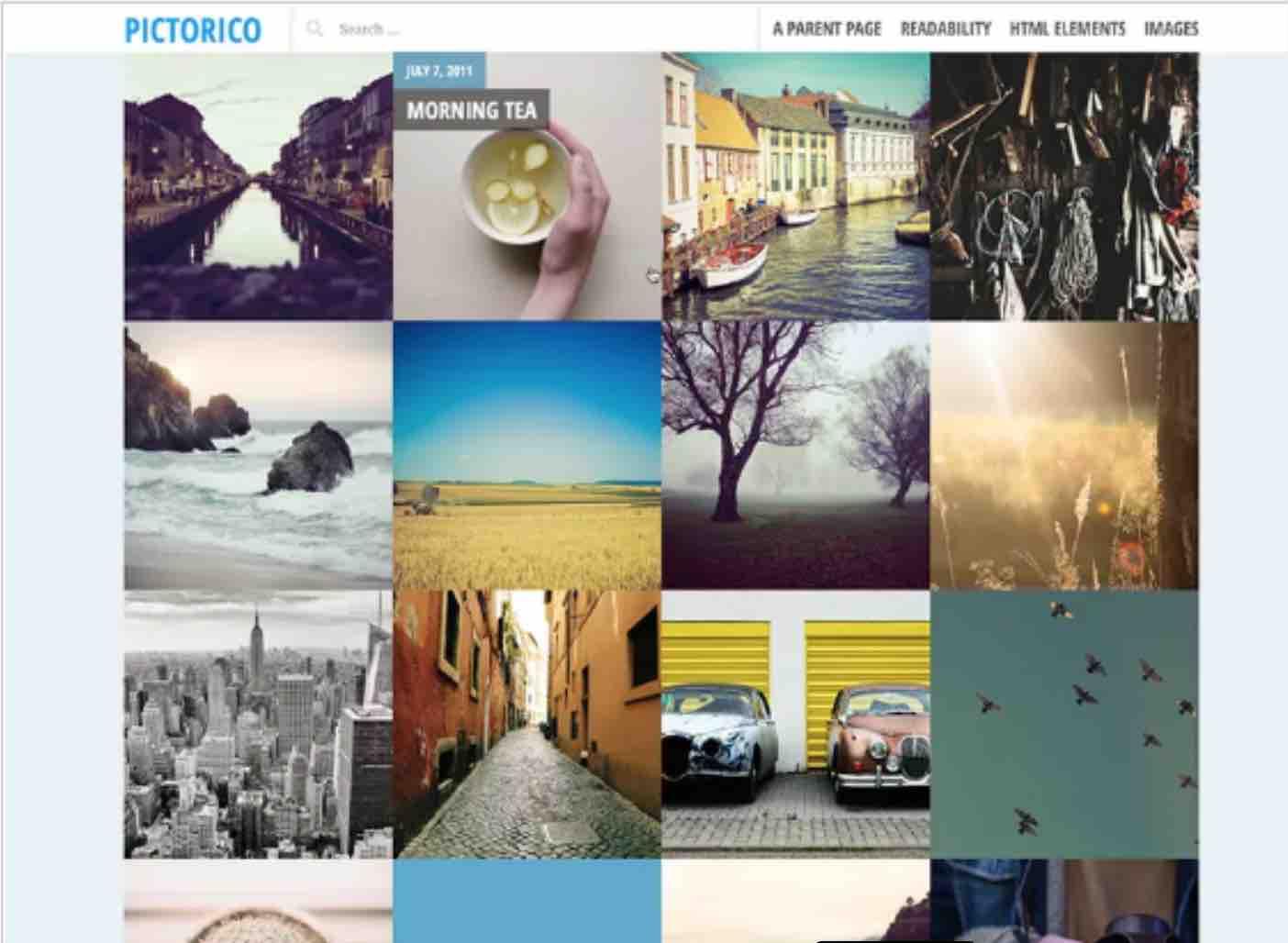 Pictorico is for those who are looking for a specific theme to showcase their artwork on the Internet. With its unique column, the theme is most recommended for portfolios, photographic collages or even articles.
It may even seem like all the content is piled up. But the layout has a grid system that allows you to customize the layout of these elements on the page. Everything is more organized and it is also possible to edit other graphic resources.
Main features
Exhibition of works in a single column.

Customization of content blocks with interactive grid system.

Suitable for artistic productions, photographs, travel blog and culinary recipes.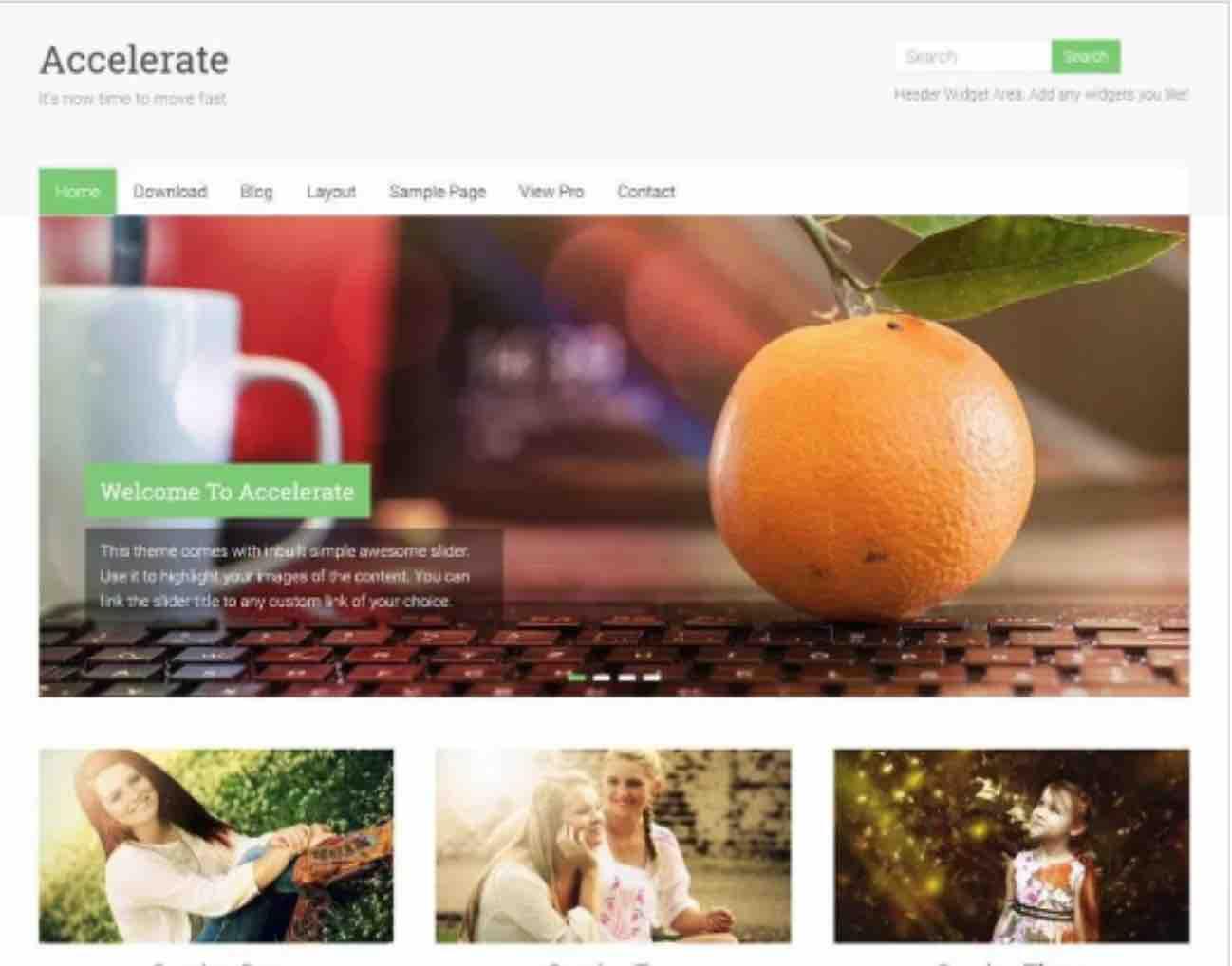 Versatility and usability are the two words that best define Accelerate . The theme is one of those types that fit with any proposed page. The user just has to decide which segment he wants to specialize in and start editing his project as he wants.
The template never gets rid of blank separations on the screen. Therefore, the visuals of the pages are always light, presenting a natural division between publications. The focus is entirely on what the content has to offer.
Main features
It is multifunctional, that is, it serves for any type of website.

It stands out for its ease of use, having support for all publication formats.

Offers design options and simple layouts to customize.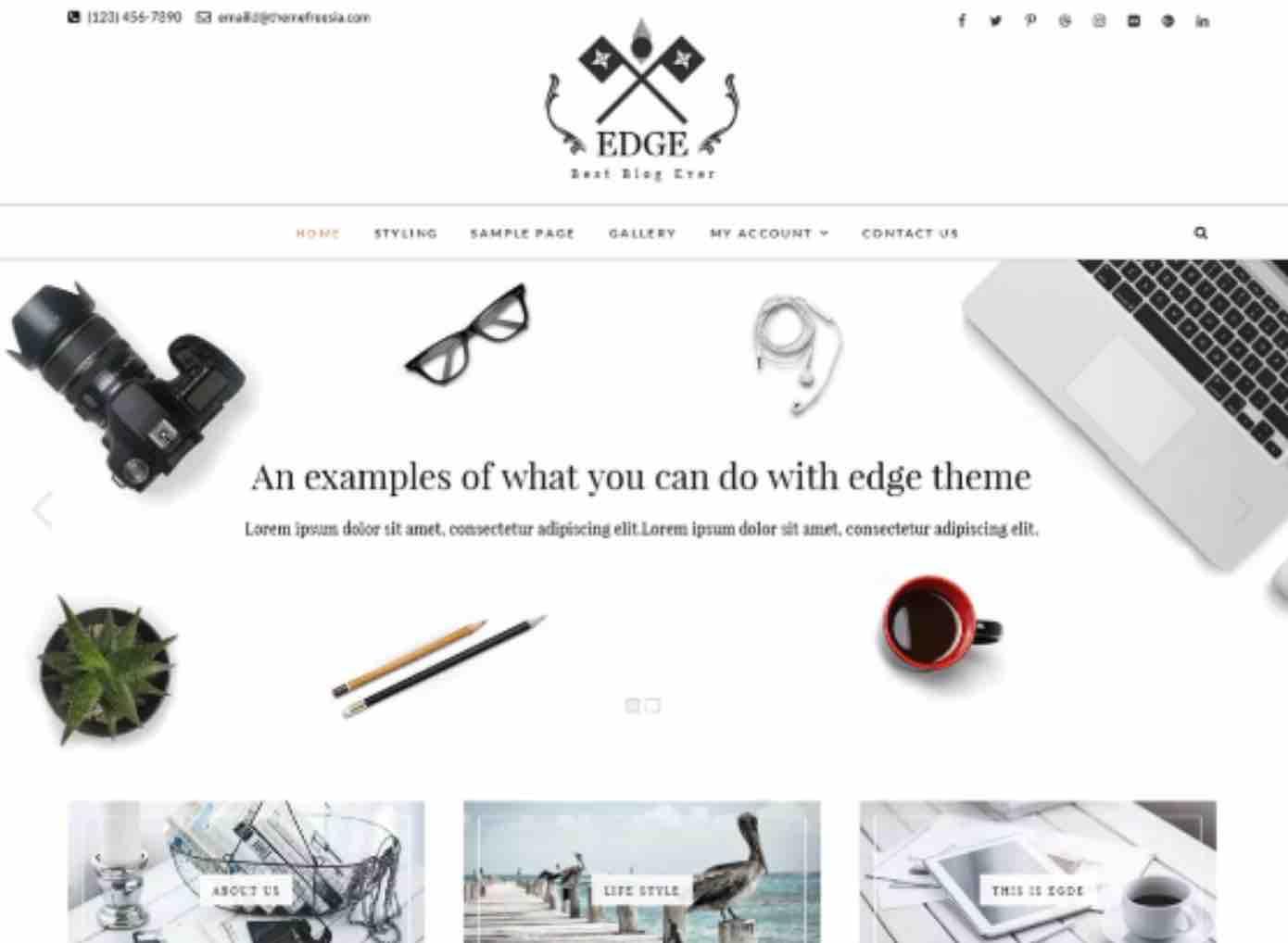 A theme that transforms a simple blog, a minimalist website and a simple portfolio into a very elegant project. This is Edge , which contains its own layouts that help less personalized pages to become more professional and visually impactful.
The magic of this theme is that it simply highlights all the content in the eyes of the reader. Other than that, it offers customization options for additional free customizable blogger templates.
Main features
Recommended for digital agencies, photographic works, portfolios and blogs.

It values ​​the clarity of the formatting with clean white spaces and responsive overall design.

It has templates for image galleries, "About" and "Contacts" pages, as well as a sidebar and an area for positioning widgets with extra functions.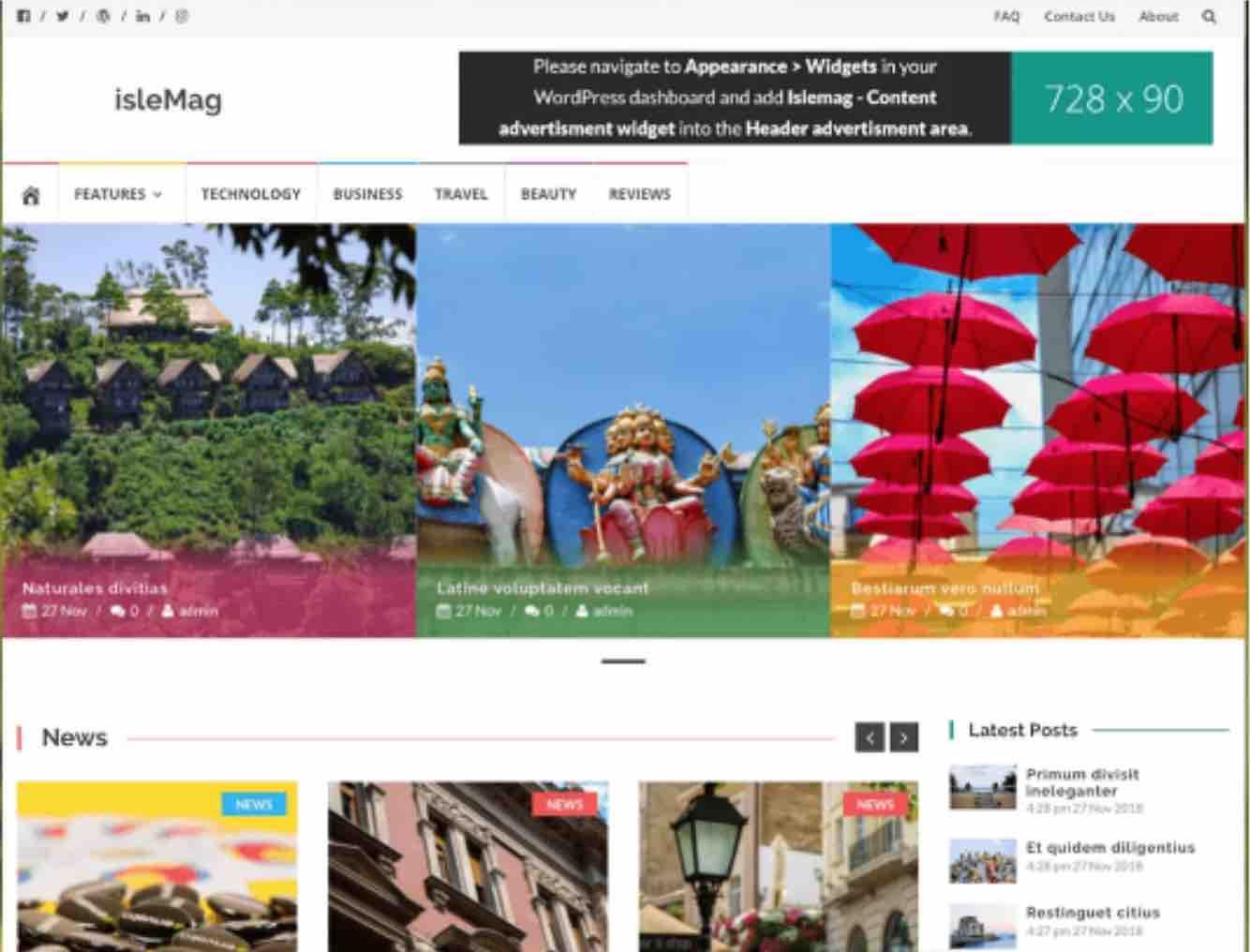 IsleMag is a clean and modern theme for news magazines, tech, newspaper media websites, photography and one of the best free WordPress themes for blogs. IsleMag is flat, responsive minimalist, Retina ready and SEO friendly.
The options for customizing the pages are profound. It is possible to edit a central image carousel, change variable backgrounds and change the categories of posts. It also allows you to add widgets on the sides for extra features.
Main features
It has a central carousel, ideal for exhibiting impact photos, products, handicrafts, visited places and also gastronomies.

It is optimized for SEO, which means greater chances of appearing in search engines.

It is compatible with WordPress plugins, such as Page Builder , Contact Form 7 (contact form) and Gallery Grid (image gallery).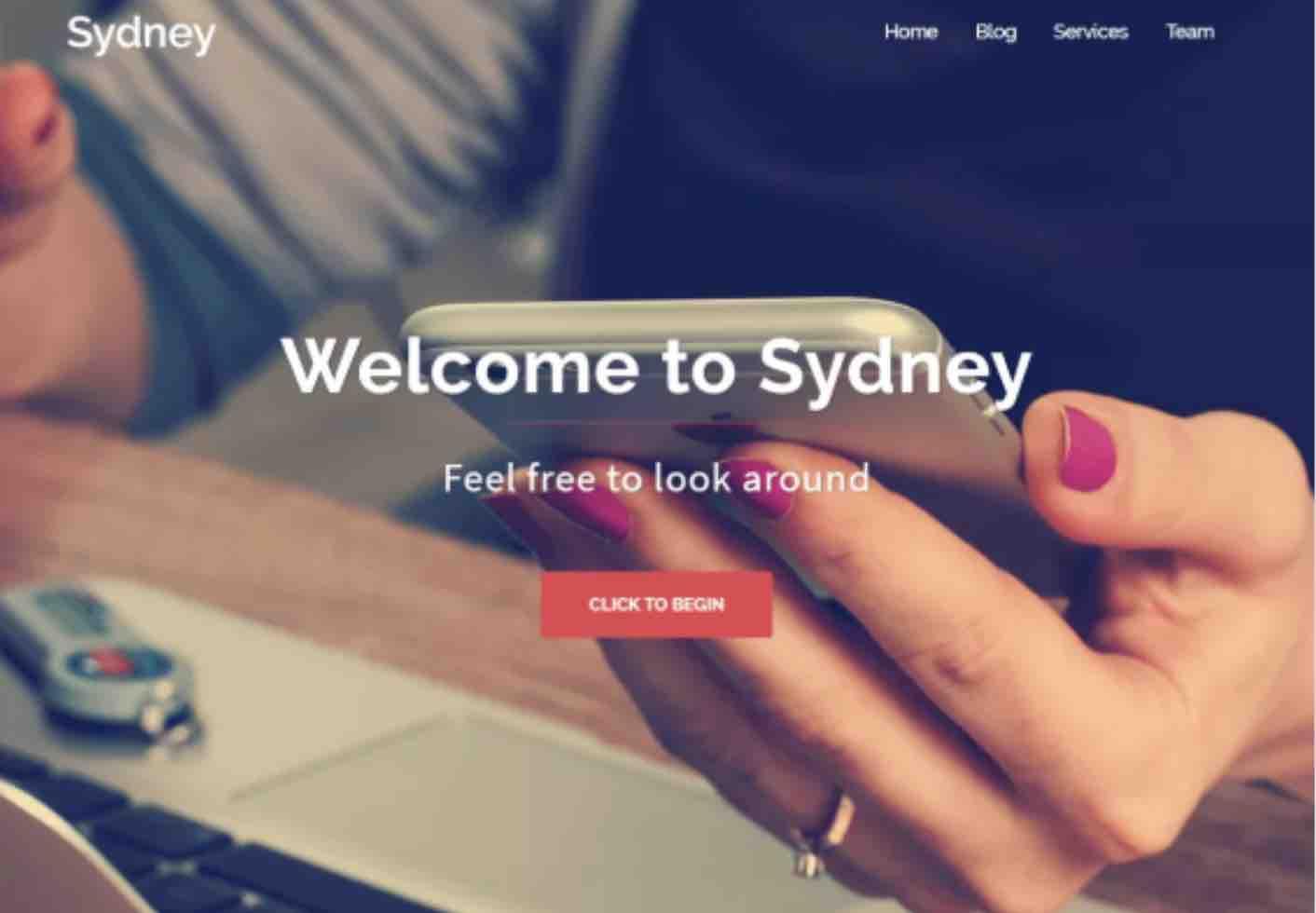 Sydney wordpress theme is for companies and freelancers who want a powerful layout to have a stronger online presence. That's because its customization options are quite complete, pleasing any type of user.
This theme also has other attractive features that others do not usually have. One is the possibility of using Google's own fonts which allows to use letter and writing templates to enhance the style of the pages.
Main features
Focus on customization: colors, navigation, scroll bars, blocks of content and Google fonts.

It is responsive and adapts to any electronic device screen.

It allows integration with social networks like Facebook and Twitter.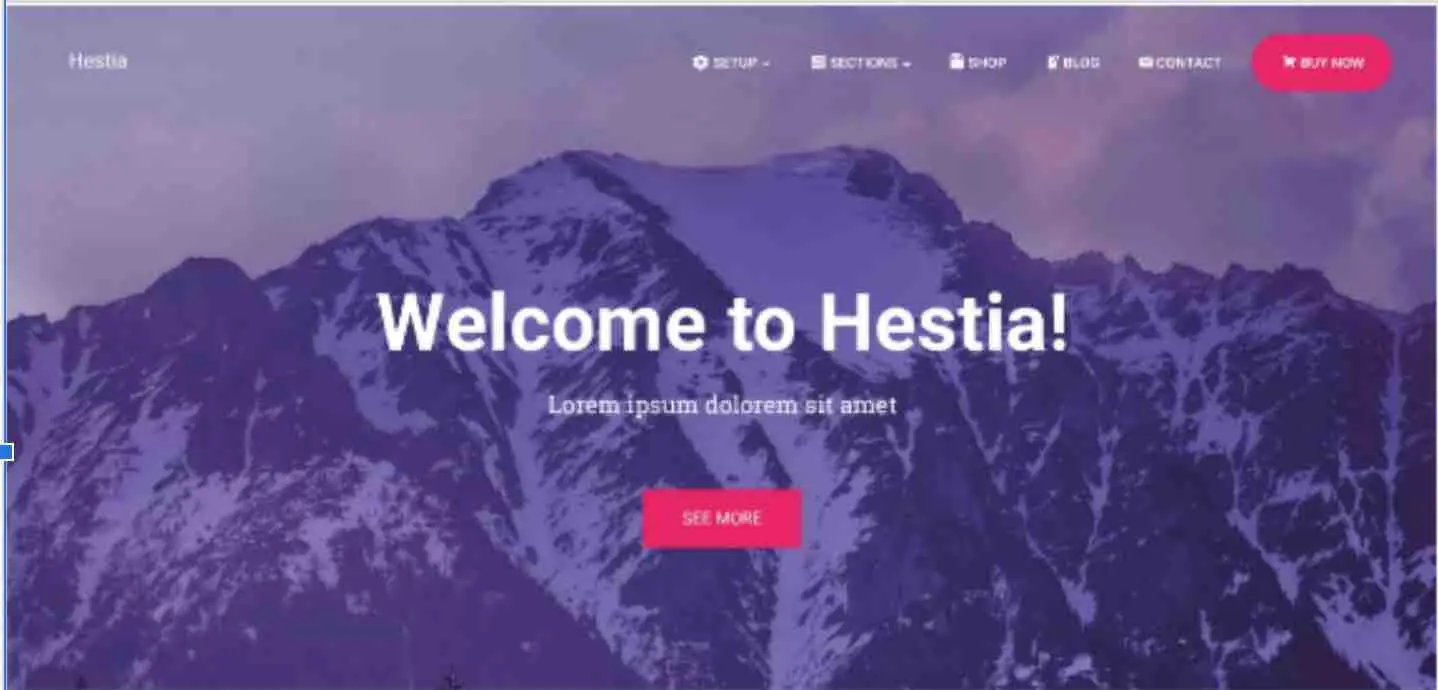 Hestia wordpress theme combines flexibility with professionalism. Its customization options make pages cleaner and optimized for the niche market in which the theme is inserted.
The template's layout structure has a drag-and-drop feature, ideal for users of any level of experience. In addition, it has several tools for editing backgrounds, headers, color styles, borders and photo galleries.
Main features
For small and large businesses: restaurants, sports shops, startups, digital agencies, portfolios and categories of freelancers.

Integration with WooCommerce provides elegant product pages with interactive galleries.

It is responsive for mobile devices, has SEO optimization and compatibility with WordPress plugins.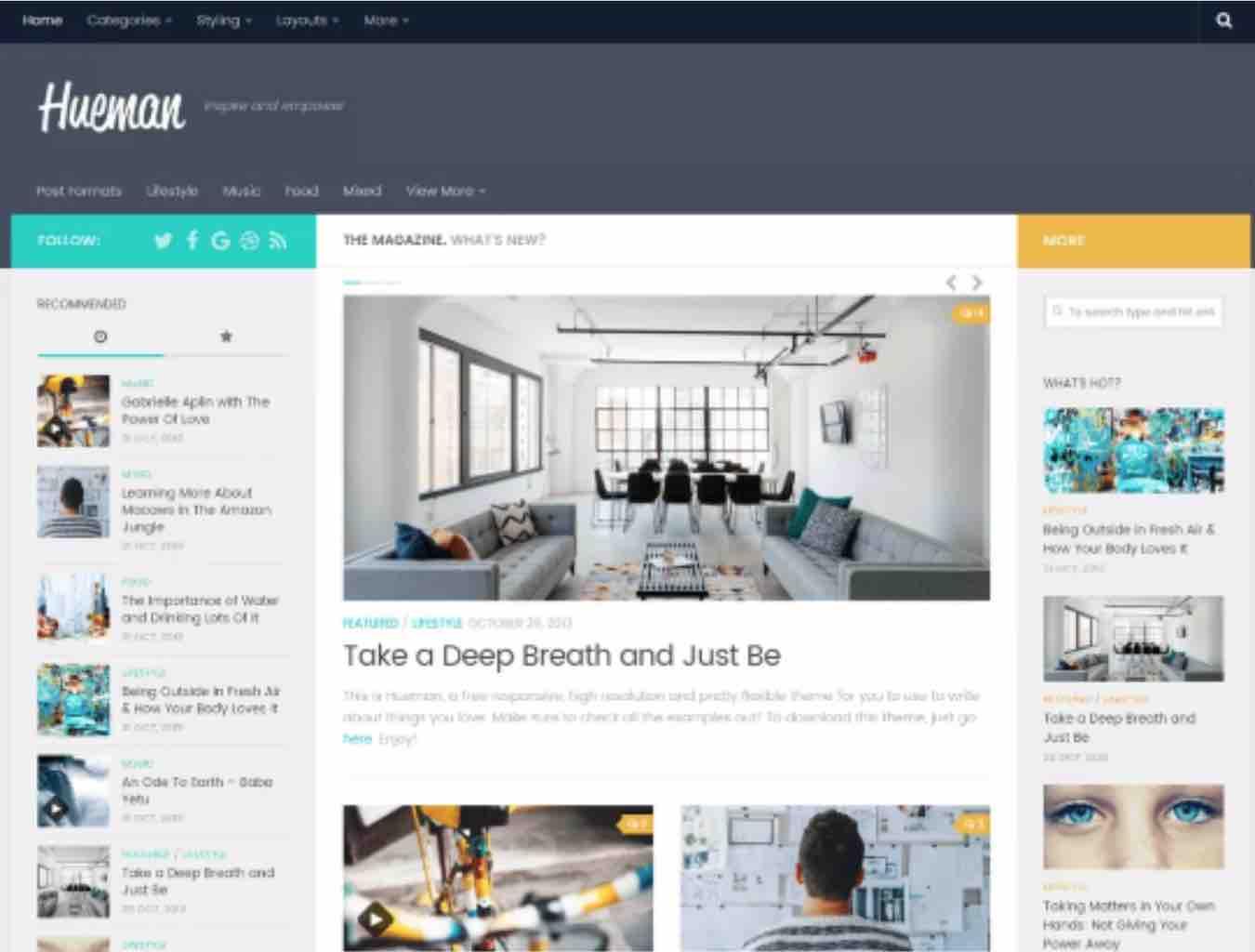 Hueman is one of the complete themes to use in this listing. Its visual style tends to attract a lot of traffic and make visitors interact much more with the publications.
It has more customization options than most other themes, being completely responsive and dynamic in the way the elements are embedded. It is possible to edit areas of widgets, colors, format of posts and navigation bars on all sides.
Main features
Focus on customization: more professional pages with lots of options.

Posts with different formatting: includes social media buttons, location options and visitor comments section.

For blogs of any subject, news sites, online diaries, electronic magazines, digital agencies.
---
If you like the content, we would appreciate your support by buying us a coffee. Thank you so much for your visit and support.