By Dmitriy Maschenko  – WordPress remains one of the best website-building platforms available, as it powers more than 43.3% of all known websites. People love it because it's an easy way to build and customize professional pages, without coding knowledge. With the right tools, it is possible to create a WordPress site in just a few clicks which means you save a lot of time and money. In this article, we review 5 best WordPress development tools that can help you build a unique website for your business. Without further ado, let's dive in!
Read: What is the Best Custom Software Development Company
Benefits of creating your site with a WordPress development tool
When you use the right website builder, you can easily customize your site and build landing pages that will grow your website visits and increase your conversion rates.
Since there are so many WordPress development tools available, it might get confusing to decide which one suits your needs.
Here are some factors you must consider:
The features and functionality of the tool

The ease of use and flexibility

The price/affordability

Availability of software support and regular updates

Compatibility with your site's themes and plugins
Now, rather than recommend a tool that promises to check all these boxes, we have compiled a list of the top five WordPress development tools for you to make a pick.
Take a look at our favorites and their features, benefits, downsides, and prices, to ensure you select the most suitable tool for your needs.
Read: 10 Reasons Why an Ecommerce Website is Important for Your Business
Beaver Builder
Beaver Builder is an intuitive WordPress page builder that is especially great for beginners because of its ease of use. This tool helped over 500,000 people to create over one million websites.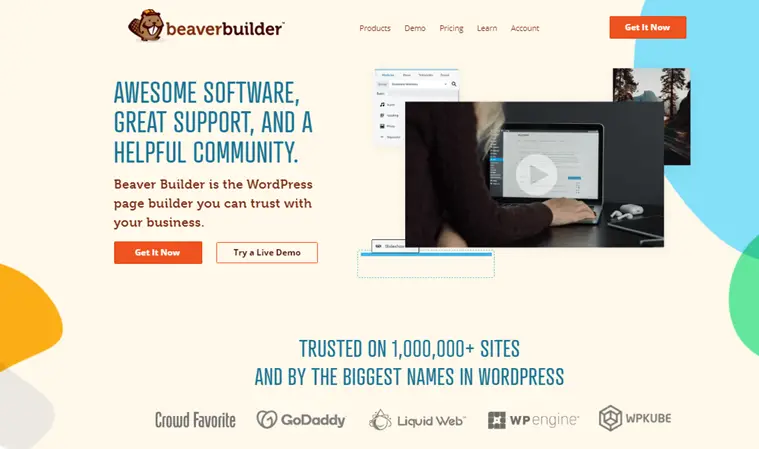 Source
Features and Benefits:
Beaver Builder works in real-time on the front end of your page. With the help of additional plugins such as Beaver Builder Theme, and Assistant Pro, Beaver Builder provides a wide range of features that covers everything you need.
This tool relies on rows, columns and modules as the foundation of a website's design. For instance, rows help you to create the background and manage spacing on your web page. The columns fit inside the rows, so that you can divide the web page vertically to suit all the elements you want to add. This brings us to modules – the actual content such as text, images, and buttons. As the user, you would enjoy this WordPress builder because it offers a lot of control over every element on the page.
Rather than applying its own built-in styling options, Beaver Builder adopts your theme's global styles by default. This way, you can keep using your current WordPress theme.
In addition to this, Beaver Builder introduced the WordPress Customizer. This makes it easy to edit the theme and make further adjustments to theme settings.
Beaver Builder is also a top choice because it is equipped with:
a drag-and-drop support that allows free arrangement of elements across the web page

50+ stunning templates to create landing and content pages

30+ content elements (buttons, images, headings, etc.)

system for easy to import and export of your designs

features for making your website mobile-responsive and SEO-friendly
However, not all of this is available in the free version so you might want to check out some of the premium plans.
Read: Best website design software for 2022
Price:
Beaver Builder Lite is a free version of the tool, available on the WordPress.org repository. However, the features are limited and not suitable for fully building a WordPress website.
Premium options are available in three versions; Standard, Pro, and Agency. Here is the breakdown of the costs:
standard license $99

pro version $199

agency version $399
Standard license doesn't cover provision of Beaver Builder or Multisite. Pro adds those features, while agency adds white labeling.
Although Beaver Builder is regarded as one of the expensive WordPress website builders, it is also a worthy investment that yields its returns.
Elementor
Elementor is another popular WordPress builder that is a great choice if you are on a tight budget. Its free version enables you to get a professional website and even customize some elements on it. With over four million installs, it ranks as one of the most popular preferences for users worldwide.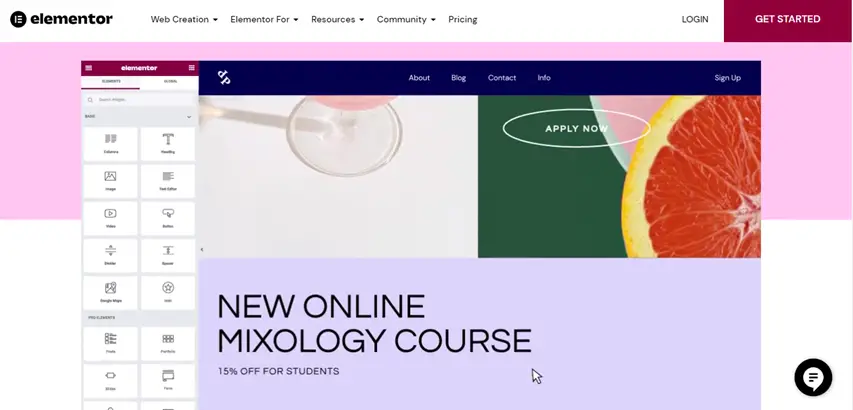 Features and Benefits:
Elementor has a user-friendly interface with very advanced features, which makes it a good choice for developers, not just beginners. Like Beaver Builder, it also includes a live front-end editor that allows you to make reviews in real-time.
With Elementor, you can create flawless websites with custom positions, padding, margins, and global settings for colors & typographies. Elementor constantly releases updates and new widgets to ensure that you enjoy an up-to-date experience.
Read: 6 Essential Website Optimization Strategies
You can access 100 free templates on the free version, and up to 300 templates if you upgrade to Pro. This large amount of templates makes it a preferred tool if you want to explore unique samples. You get to create professional-looking WordPress sites, without necessarily hiring a developer.
Price:
Aside from the free version, Elementor offers several advanced plans.
Personal plan: $49 per year

Expert version: $199 per year

Studio version: $499 per year

Agency plan: $999 per year.
If you need to use Elementor on more than 1 website, then you should choose their Expert plan. The Studio plan allows you to activate 100 websites, while the Agency plan expands this to 1000 website activations.
Read: How to develop a Multi-Vendor eCommerce Website with WordPress
SeedProd
SeedProd is another drag-and-drop WordPress builder with an interface suited for beginners. It is a top WordPress theme builder and landing page plugin that serves over one million users around the world. If you want to create custom themes and page layouts in WordPress in a short time, then SeedProd is a fine choice.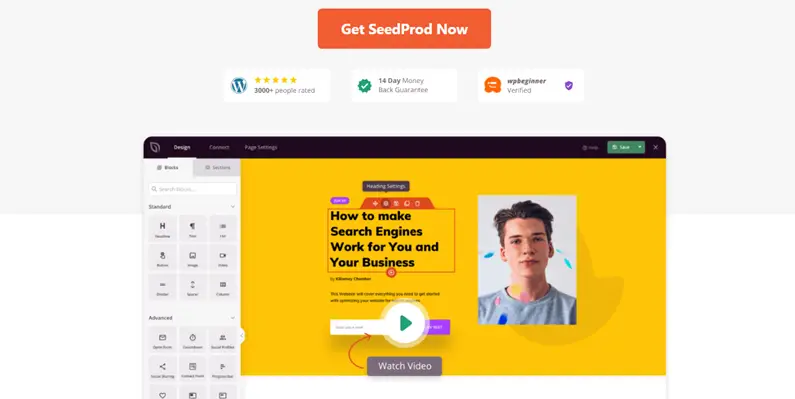 Features and Benefits
SeedProd has fewer templates and features compared to Beaver Builder and Elementor. This makes it suitable for those who know the exact options they would like to pursue. If you do not want to get overwhelmed with the number of available templates, then SeedProd will be your best bet.
Read: 5 Effective Tips on How to Monetize Your Website in 2022
SeedProd has up to 80+ pro blocks that are useful in creating static and dynamic content on WordPress. More so, the web pages you create using SeedProd are fit for mobile devices as well as larger screens. With pre-built themes, you can customize their headers, footers, pages, sidebars, and all other elements without coding.
Price:
SeedProd has no free version. The premium options come in Basic, Plus, Pro, and Elite versions.
Basic version: $79 per year

Plus: $199 per year

Pro: $399 per year

Elite: $599 per year
These price ranges mean SeedProd would not be the first choice for WordPress builders on a tight budget. However, since there is a 14-day money-back guarantee on the premium offers, users are often assured of the value.
Divi
Divi is a WordPress builder that also allows users to edit their WordPress site on the frontend, showing the design progress in real-time. This way, beginners can see what each element looks like before finalizing their website creation.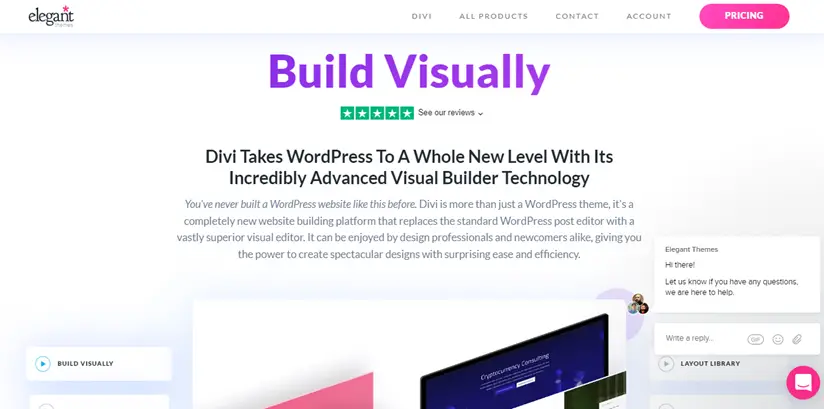 Features and Benefits
Divi's interface is slightly different from what you would see on Elementor and SeedProd. Elementor and SeedProd will allow you to access a menu containing all the elements (text, video, images, buttons, etc). But with Divi, you have to select the area you want to edit or customize. Then you choose whichever element you want to input in that area.
You can use filters, change the fonts, text color, border options, and effects to enhance the appearance of various elements. The tool also offers custom CSS to edit elements.
If you are more familiar with the interfaces on Elementor or Beaver Builder, it might take some time to figure out how to customize the WordPress themes and landing pages on Divi. However, when you understand how it works, it becomes quite easy to use.
Read: Website development: What Platforms Are Created on Drupal?
Divi has 100 pre-built website themes and over 800 pre-built landing page layouts. It also provides over 40 customizable elements for building pages.
Price
Divi has two pricing plans starting from $89 per year with the yearly access plan. There is also the Lifetime access plan that goes for a one-time fee of $249.
Oxygen Page Builder
Oxygen Page Builder is another common but powerful WordPress plugin tool.. It also implements a simple drag-and-drop style that makes it quite easy to create customized pages and editable content.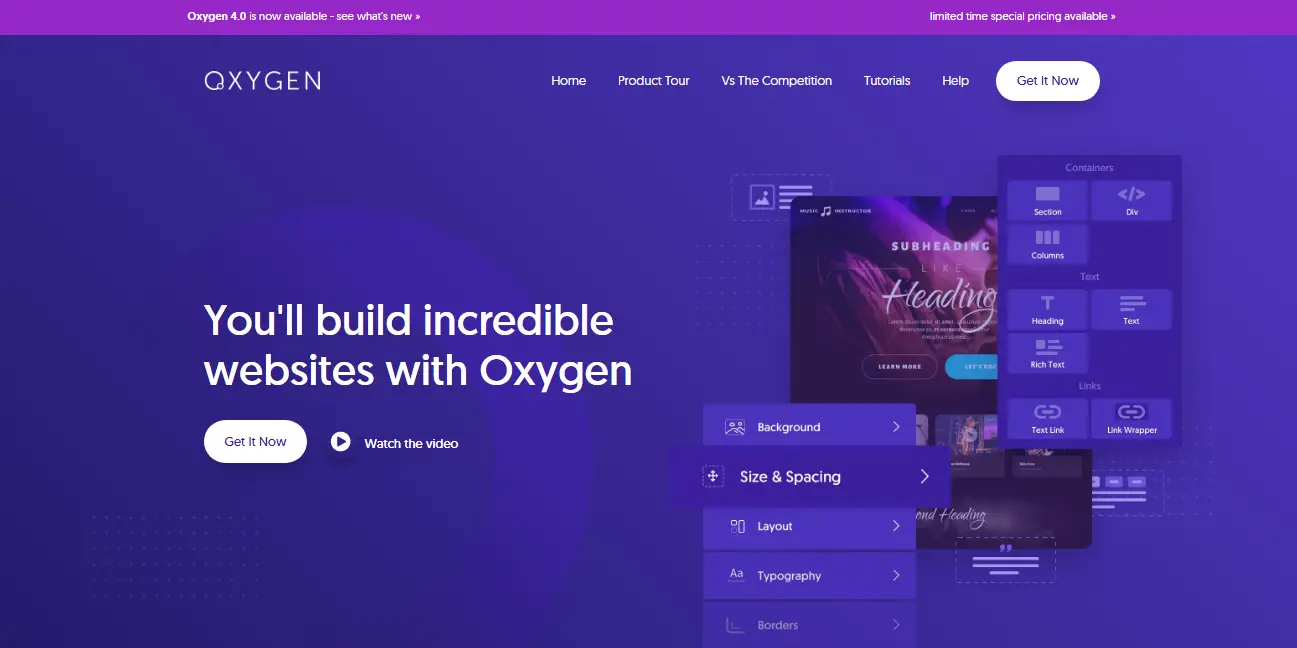 Features and Benefits:
Oxygen is a preferred tool because it supports simple WordPress plugins like Advanced Custom Fields Pro, Jetpack, and Gravity Forms. Users who are familiar with Beaver Builder will also enjoy using Oxygen, considering the similarities. It comes with an inbuilt WordPress editor that allows users to add their own content.
In addition, Oxygen Page Builder has a neat user interface that makes it easy to navigate. As a beginner, you can quickly and easily find the functions you need, because of its uncluttered layout. It is also quite advanced, making it a great choice for expert designers and developers.
Price:
Oxygen Page Builder is a paid WordPress plugin that offers different categories of lifetime licenses. If you prefer to make a one-off payment and not a continual subscription, then Oxygen is your best bet. The Basic one-off version is priced at $129, then the Agency one-off version goes for $279, and the Ultimate version goes for $349. Users who decide to stick to this WordPress tool find this to be a wise, economical choice.
Read: Best website builder software for 2022
Can I access WordPress development tools without breaking the bank?
It is clear that many WordPress builders come in their free and premium versions. Some tools on the other hand have only premium versions. Expectably, premium versions have more robust features that you pay for. However, you can still do a lot with the free versions as well.
The right tools come in handy when you want to include new functionalities or modify existing ones. Accessing the new and best themes, plugins, and frameworks can be made with these resources, which are easily accessible on open marketplaces like GitHub, CodeCanyon, etc.
Make the right choice!
A WordPress development tool is all you need to create complex and bespoke websites faster. When you properly utilize the right tool, your website can strongly rival those created by expert web developers. If this is what you aim for, it is vital that you consider precise factors such as the type of website being created, your budget, and the tool's specifications.
About the author
Dmitriy Maschenko is the head of a division and a Board member at PSD2HTML, a company that offers top-notch web and mobile development services to all kinds of clients, from S&M businesses to agencies and governmental bodies. Dmitriy went all the way from a developer trainee position up to where he is now. With 12+ years of experience in the IT industry under his belt, Dmitriy has a wealth of knowledge to share with his readers. He writes on topics related to business management, website & app development, and everything in between.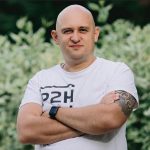 ---
If you like the content, we would appreciate your support by buying us a coffee. Thank you so much for your visit and support.