By Conrad Sturdy – The world has changed so much that now any business must be present on the Internet. Especially, if your company specializes in selling products or services online. The main point of interaction between your company and customers is the website. Thatis one of the main reasons why your website design and functionality should be perfect. Take the time and resources to create a simple yet functional design. By investing money now, you can increase your profit several times.
If it is still difficult to believe in the importance of a good website, then let's take a look at the statistics. According to research, 75% of people base the credibility of a business on how their website looks.
The healthcare industry is not an exception to this rule. Medical clinics, like any other company, need a good website. The design of such sites should be different from other corporate websites. But it should be simple and easy to use.
But why do you need to create websites yourself if you can buy a website template? In this article, we will talk about the suitability of using templates when creating a website for a healthcare clinic.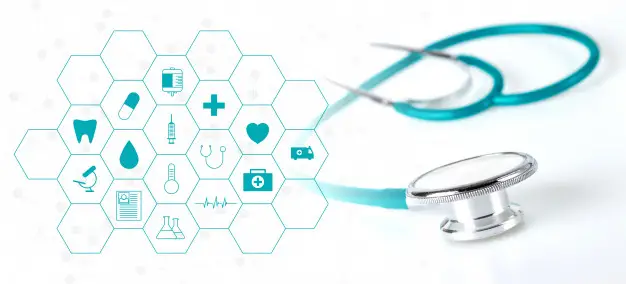 Source: kolabtree.com
Importance of Using Healthcare Website Templates
If you are determined to build your website, then one of the healthcare website templates is a good solution. There are many reasons why using a template is a much better solution than building a website yourself. Not only can you save tons of money and time, but these templates are also easy to customize. Below we will tell you in more detail why you should choose one of the ready-made layouts, and not create a website yourself.
Read: How to Write an Effective Creative Brief for Graphic Designers
Save Your Resources
Website creation is a very complicated process. If you are focused on creating a unique design, then get ready for the fact that you will need to shell out a considerable amount. You will need to hire a team of developers and designers who can make all your wishes come true. But it will cost a lot of money.
Health website templates are much more cost-effective. A dozen different professional templates will cost less to create a website yourself. You can also skip buying a template. There are many good free models on the Internet that you can use right now. But keep in mind that then your site will not be unique.
Use Various Functions
The self-creation of a website requires constant brainstorming of new ideas. If you haven't experienced website development before, you don't understand what functions and tools websites for healthcare clinics should contain. You can browse the websites of other clinics, but are you sure they contain all the necessary tools?
With a website template, you don't have to worry about it. People who create medical website templates have many years of experience in this area. Thus, they understand exactly what functionality a website should have. They also try to add all the possible tools, and then you can choose from the list what you need and whatnot. This way, you can save tons of time and spend it on more important tasks.
Read: Best medical billing software for home businesses
Play with Design
The look of the site is one of the most important issues when creating a site. Users form their first impression of the healthcare clinic based on the website design. That is why you need to try to create a unique design that will attract users and at the same time maintain simplicity and convenience.
This is where healthcare templates can help you. Each model has its unique design, which you cannot find anywhere else. The developers who created the templates are well versed in the color palette and thus have created designs with colors that are best suited to the medical field.
You also can change the design or the colors of the site. If after a few months you realize that this color combination is not suitable for your healthcare clinic, you can always change the colors. Each template can change some design elements. You can also combine your current design with new colors or design elements.
Use Photo and Video Elements
Everyone knows that one text will not interest users. Thus, on each site, you need to use photo video elements that will attract potential customers. This is especially important in the medical field.
With the help of templates, you can embed the videos and photos you need in a few clicks. It is also very easy to move photos or videos around the site or even delete them altogether.
Conclusion
If you wanted to create a website yourself or hire a team of professional designers and developers, we hope you've changed your mind. Using templates for your website is much more expedient than building your website. You can not only save money but also get a unique website.
Conrad is a professional blogger, content maker, and freelance writer. He has written many great and valuable posts on a variety of topics. Conrad loves outdoor activities. He believes the fresh air brings him inspiration for new ideas. You can reach him out through guestpostingninja[@]gmail.com.
---
If you like the content, we would appreciate your support by buying us a coffee. Thank you so much for your visit and support.