Get ready to embark on a thrilling voyage with Ubuntu 23.04, the latest and greatest release of Ubuntu Desktop. In this article, we're excited to introduce you to a treasure trove of cutting-edge features and functionalities that are specially designed to  meet the unique needs of developers, gamers, creators, and tinkerers.
With an unwavering commitment to improving quality, performance, and user satisfaction, this release boasts refined update handling for snaps, a sleeker user interface for installation and quick settings, and an unparalleled gaming experience that's more accessible than ever before.
But that's not all! Ubuntu 23.04 also lays the groundwork for enterprise security, support, and integration, charting a new path for desktop image customization and deployment, and expanding identity management solutions to keep up with the ever-evolving demands of the business world. As we set our sights on the future and eagerly anticipate the upcoming LTS release, Ubuntu 24.04, we're excited to see these stories unfold and expand.
So, without further ado, let's dive into the mesmerizing world of the Lunar Lobster and uncover the wonders it has in store for us.
Read: Best 20 features of Ubuntu 22.04
Upgraded Ubuntu Installer
The long-awaited star of Ubuntu 23.04 is undoubtedly the revamped Ubuntu Desktop installer, boasting a sleek and user-friendly experience powered by the cutting-edge Flutter framework. Canonical, the driving force behind Ubuntu, has gone above and beyond by incorporating meticulous feedback on dual boot scenarios and introducing a new slideshow to enhance overall user engagement.
However, the real game-changer lies beneath the surface. The new installer now shares the same robust Subiquity code-base with Ubuntu Server, ensuring a seamless and consistent experience across different versions. This opens up new possibilities for autoinstall and cloud-init scenarios, empowering system administrators to customize Ubuntu Desktop deployments at scale like never before.
Notably, Subiquity is already in use for configuring Ubuntu Desktop 22.04 LTS images, starting from a barebones Ubuntu Server ISO. This transition is expected to significantly simplify the deployment process, streamlining operations and enhancing efficiency.
While Subiquity offers a plethora of features, some legacy installer functionalities are yet to be integrated. For instance, support for ZFS guided install will be included in the upcoming Ubuntu 23.10 release. In the meantime, users who are eager to leverage this feature can opt for an alternative Ubuntu Desktop 23.04 ISO that still employs the legacy installer.
Read: Securing Ubuntu: Best Practices for Keeping Your System Safe
Revitalized Desktop Interface
Once the installation is complete, users will enjoy a plethora of polished upgrades to the desktop interface, enhancing their overall experience. The latest version of GNOME takes the spotlight, accompanied by a revamped Ubuntu font, and addresses the much-requested change to snap update behavior. Moreover, gamers are in for a delightful surprise with the new Steam snap, now promoted to a stable version, offering improved out-of-the-box setup for a seamless gaming indulgence.
GNOME 44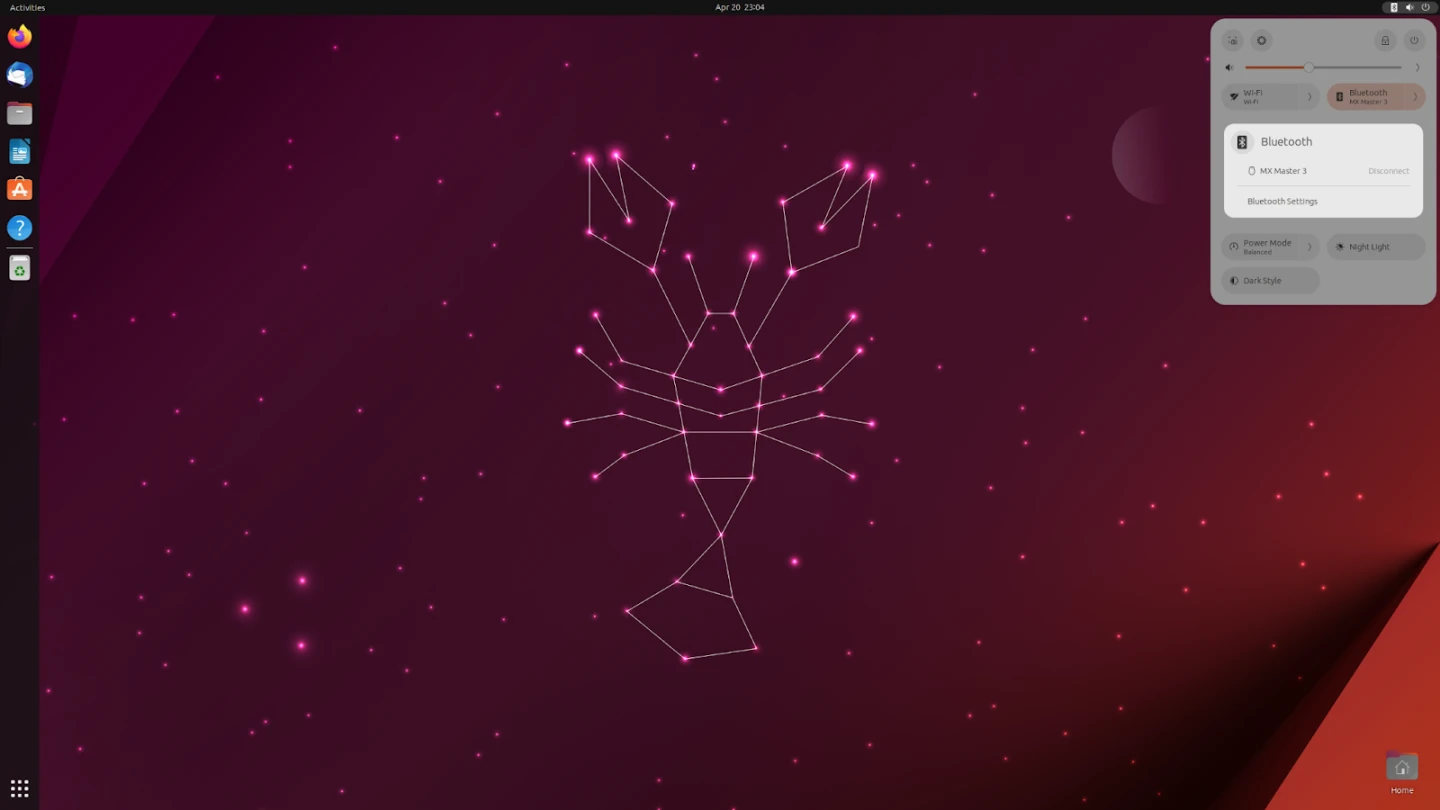 IMAGE COURTESY: Ubuntu
Ubuntu Desktop 23.04 comes packed with the newest version of GNOME, which has undergone a series of updates to bring a host of enhancements that boost usability. Standout features include an upgraded quick settings menu, allowing users to effortlessly switch to dark mode and the introduction of detailed bluetooth sub-menus. Furthermore, the GTK file picker now offers thumbnail views, enhancing the browsing experience for users.
Read: How to install GNOME Shell Extensions in Ubuntu
Improved snap refresh
The way snap updates for Desktop applications are handled has been significantly improved, resulting in a major enhancement in user experience. In the past, users would receive notifications about updates, but faced challenges in applying them without resorting to the command line, Ubuntu Software, or waiting for automatic updates to kick in.
However, the recent update to snapd has changed this. Pending updates are now seamlessly downloaded in the background and automatically applied once the application is closed. Notably, users also have the option to pause updates at their discretion using the newly introduced "snap hold" feature, allowing for greater flexibility and control over the update process. This improvement eliminates the need for users to navigate through multiple steps and provides a more streamlined and efficient approach to managing updates.
This enhanced functionality highlights the development team's commitment to continuously improving the user experience and addressing pain points. By prioritizing user feedback and leveraging cutting-edge technology, snapd has made significant strides in simplifying the update process for Desktop applications, resulting in a smoother and more seamless experience for users.
Read: How to speed up Linux
Steam Snap Now Available in Stable
With an impressive following of over 150,000 enthusiastic gamers, the early access Steam snap has been met with eager anticipation. After undergoing meticulous testing, it has now been promoted to the stable channel. This cutting-edge snap adeptly packages crucial dependencies necessary for seamless and efficient operation of both modern and legacy gaming titles, eliminating the need for enabling and managing additional Personal Package Archives (PPAs). The comprehensive bundle includes essential 32-bit libraries and top-of-the-line Mesa drivers, safeguarding the stability of your system while effortlessly delivering the latest updates. Say goodbye to worries about destabilization and enjoy a hassle-free gaming experience.
Enhanced Integration for Enterprise Management
Ubuntu Desktop is fully committed to delivering a top-notch development experience for all users, ensuring that the skills gained from using Ubuntu can seamlessly translate to the workplace. However, providing Ubuntu desktops to developers can present challenges for IT administrators as they work to integrate them into an existing Windows-based ecosystem. To tackle this challenge head-on, it is crucial for Ubuntu to offer robust support for existing device and identity management tools. By doing so, administrators can efficiently manage fleets with mixed operating systems, using unified workflows that minimize overhead costs.
Azure AD authentication
Ubuntu Desktop 23.04 is making waves in the world of Linux distributions as a true pioneer, setting a new standard in user authentication with its seamless integration of Azure Active Directory (Azure AD). This cutting-edge integration empowers users on Microsoft 365 (M365) Enterprise plans to effortlessly authenticate Ubuntu desktops using their existing credentials for M365 or Azure. As IT administrators explore the endless possibilities presented by the aad-auth feature in this release, their invaluable feedback will play a crucial role in its potential backport to the upcoming Ubuntu 22.04 LTS release, slated for later this year.
Fresh Active Directory Functionality
Ubuntu Desktop's Active Directory (AD) Integration has become a hot commodity in the world of enterprise features, and Ubuntu Desktop 22.04 LTS has taken it to new heights with the groundbreaking ADsys client. ADsys boasts robust Group Policy support, heightened privilege escalation, and seamless remote script executions, raising the bar for integration to unparalleled levels.
Read: What's New in Ubuntu 19.04 Disco Dingo
With the arrival of Ubuntu 23.04, the integration experience has been further honed to include enterprise proxy, app confinement, and network shares, greatly enhancing its functionality. These enhancements will also be retroactively applied to Ubuntu 22.04 LTS and Ubuntu 20.04 LTS later this year, enriching the experience for users across various Ubuntu versions.
Intune Management
Intune, developed by Microsoft, is the top choice among cloud-based unified endpoint management (UEM) solutions used by enterprises, with an astounding 135 million managed devices as of 2021. Originally designed for mobile device management, Intune has evolved into a comprehensive cross-platform tool that handles a wide range of management tasks. This includes overseeing the lifecycle of installed applications and implementing cutting-edge zero-trust conditional access techniques.
In recent times, Microsoft announced its support for Ubuntu in Intune, further expanding its capabilities.
Ubuntu WSL Adopts Systemd as Default
Half a year ago, Microsoft and Canonical dropped a bombshell with their groundbreaking announcement, heralding the arrival of systemd support in the esteemed Windows Subsystem for Linux (WSL). This game-changing development was swiftly followed by an update in the distribution of WSL to Windows developers, effectively bridging the gap between Windows 10 and Windows 11 in terms of feature parity.
Read: How to analyze Linux systemd logs using journalctl advanced filtering options
Systemd, an essential cog in the wheel of developer workflows and the renowned Ubuntu experience, has unleashed a plethora of possibilities for Linux developers, bestowing upon them an unparalleled native-like experience. In a bold and strategic move, Canonical has now revealed that systemd has been designated as the default option for both Ubuntu 22.04 LTS and the primary Ubuntu application, available for download on the prestigious Microsoft Store. This momentous decision serves as a testament to Canonical's unwavering commitment to empowering Linux developers with unmatched versatility and ease of use.
Two new official flavours
Ubuntu flavors are at the heart of the Ubuntu community, allowing users to tailor their Ubuntu experience to their own unique preferences. The wide range of available flavors is a clear indication of the vibrant and dynamic communities that drive their development. The recent release of Ubuntu 23.04 introduces two exciting new additions to the growing family of flavors: Ubuntu Cinnamon and Edubuntu. These newcomers bring a fresh perspective and distinct offerings to the ever-evolving Ubuntu ecosystem, adding to the already rich landscape of flavors that users can choose from.
Ubuntu Cinnamon
Ubuntu Cinnamon blends the top-notch Cinnamon desktop environment, handcrafted by the esteemed Linux Mint project known for its unbeatable customization options, with the reliable and robust foundation of Ubuntu. Tech-savvy users who enjoy tailoring their workspace to their distinct preferences will be thrilled to explore a vast array of meticulously crafted themes and desktop applets, playfully referred to as "spices," that elevate their computing experience to new heights of personalization.
Edubuntu
Edubuntu, a previous official edition of Ubuntu, was born with the noble goal of bringing the classroom the benefits of Linux's unbridled desktop environment, paired with a vast repository of open source educational software. However, over the course of almost ten years, Edubuntu faded into obscurity, until the dynamic duo of Amy and Erich Eichmeyer recently breathed new life into it. Their vision was to craft a faster, more resilient, secure, and privacy-focused solution custom-tailored for educational institutions spanning from elementary schools to prestigious universities.
Conclusion
The latest release of Ubuntu Desktop, version 23.04 is Packed with top-of-the-line features and functionalities. This update is designed with developers, gamers, creators, and tinkerers in mind. One of the major highlights is the revamped Ubuntu Desktop installer, which runs on the cutting-edge Flutter framework. It offers a sleek and user-friendly experience, complete with improved autoinstall and cloud-init scenarios.
Not only that, the desktop experience has been polished to perfection with upgrades to GNOME, a fresh new Ubuntu font, and enhanced snap update handling. The Steam snap, which boasts a whopping 150,000 enthusiastic gamers, has also been promoted to the stable channel, ensuring a hassle-free gaming experience.
But that's not all! Ubuntu Desktop 23.04 also puts a strong emphasis on enterprise security, support, and integration. With expanded identity management solutions tailored for the business world, Ubuntu Desktop is now more business-friendly than ever before.
---
If you like the content, we would appreciate your support by buying us a coffee. Thank you so much for your visit and support.