Ubuntu 19.04 Disco Dingo is the latest version of Ubuntu. It was released on April 18th 2019 hence the name 19.04. This new installment in Ubuntu comes with a few major improvements. In this article, we will talk about the top 10 features this new release has brought.
Top Ten New Features In Ubuntu 19.04 Disco Dingo
The latest version of Ubuntu comes six months after the previous Ubuntu release "Ubuntu 18.10 "Cosmic Cuttlefish." This new release of Ubuntu primarily focuses on minor bug fixing and performance improvements. The new release brings new features, new and improved UI.
Read: Best 20 features of Ubuntu 22.04
Here comes a list of top 10 features of the latest Ubuntu version:
New and improved Gnome 3.32
The new Gnome 3.32 includes performance improvements over the previous version. The first thing you will notice is the new and improved UI and icon tweaks. Desktop's top bar and launcher have a solid background. Transparent background from Ubuntu 18.10 is now gone.
New icon spring animation

High refresh rate monitor support

Smooth desktop zoom magnifying

Other performance improvements and UI tweaks
Linux kernel 5.0 update
Linux kernel 5.0 brings a ton of improvements and hardware support.
Here are some major new changes in kernel 5.0:
AMD Radeon Free Sync support

Vega M support

support for NXP i.MX8 SOCs

Qualcomm QS404, NXP Layerscape LX2160A, and Allwinner T3 are now supported

Intel VT-d Scalable mode support for Virtualization

New Stratix 10 FPGA Intel drivers

Fixes for F2FS, EXT4, and XFS

Realtek R8169 driver improvements

X86 Laptop driver improvement

Improved power management and many more.
Read: How to upgrade to Ubuntu 19.04 Disco Dingo from 18.04/18.10
Yaru Theme support for more Applications
Yaru theme was introduced in Ubuntu in version 18.10. However, the theme support was limited for third party applications. Icons from third party applications didn't blend with the rest of the theme. But now the Yaru theme support is now extended to more third-party applications. it looks prettier now as shown below:
Read: Ubuntu 23.04 features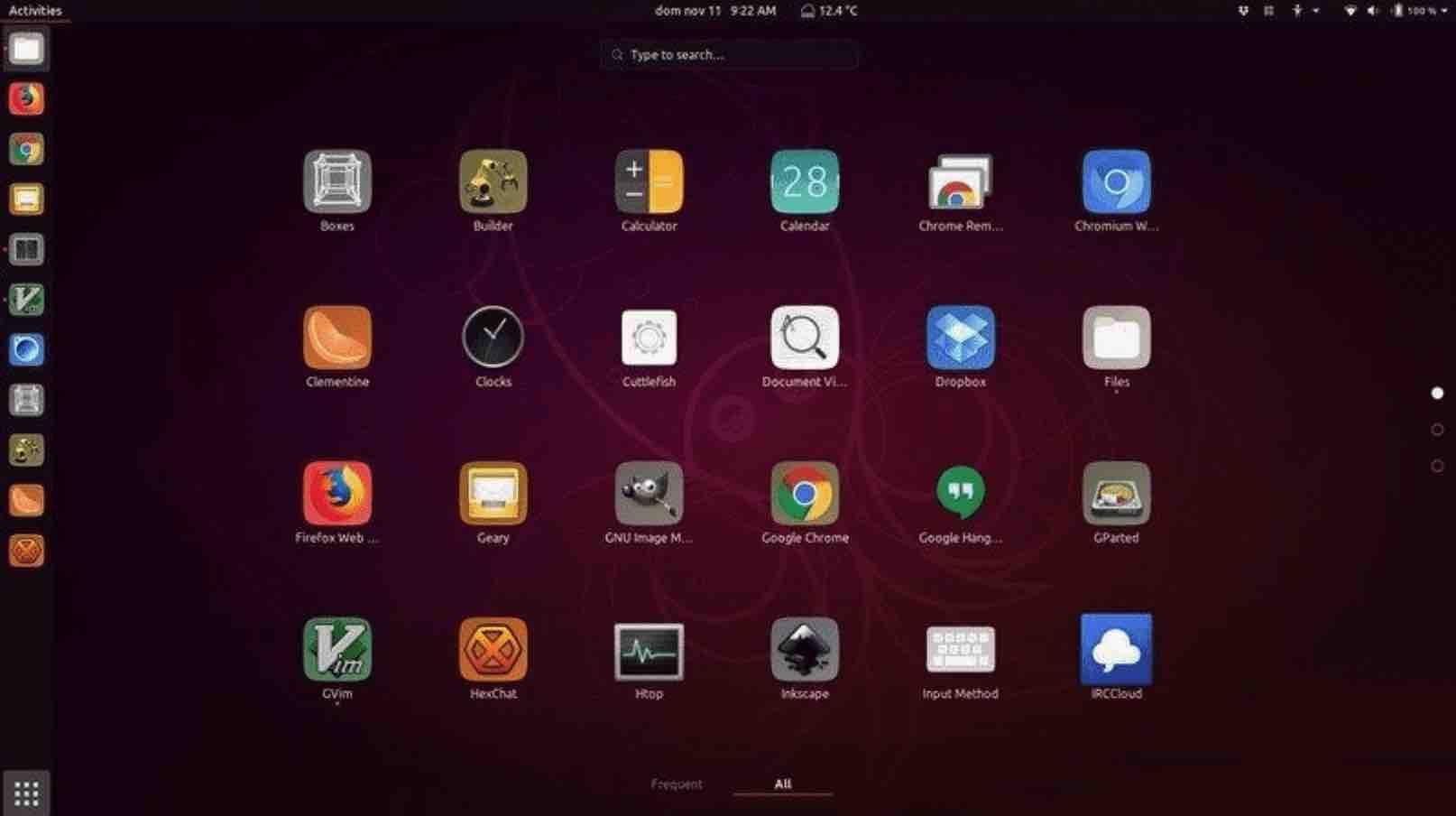 Permission Control for Every Application
In Android or IOS, we have app-based permission control through which we can control the permission acquired by any particular application. Gnome 3.32 introduces the same app permission control through which we can see and control what app is using which resource and permission. The screenshot below shows the resource uses of Chromium Web Browser: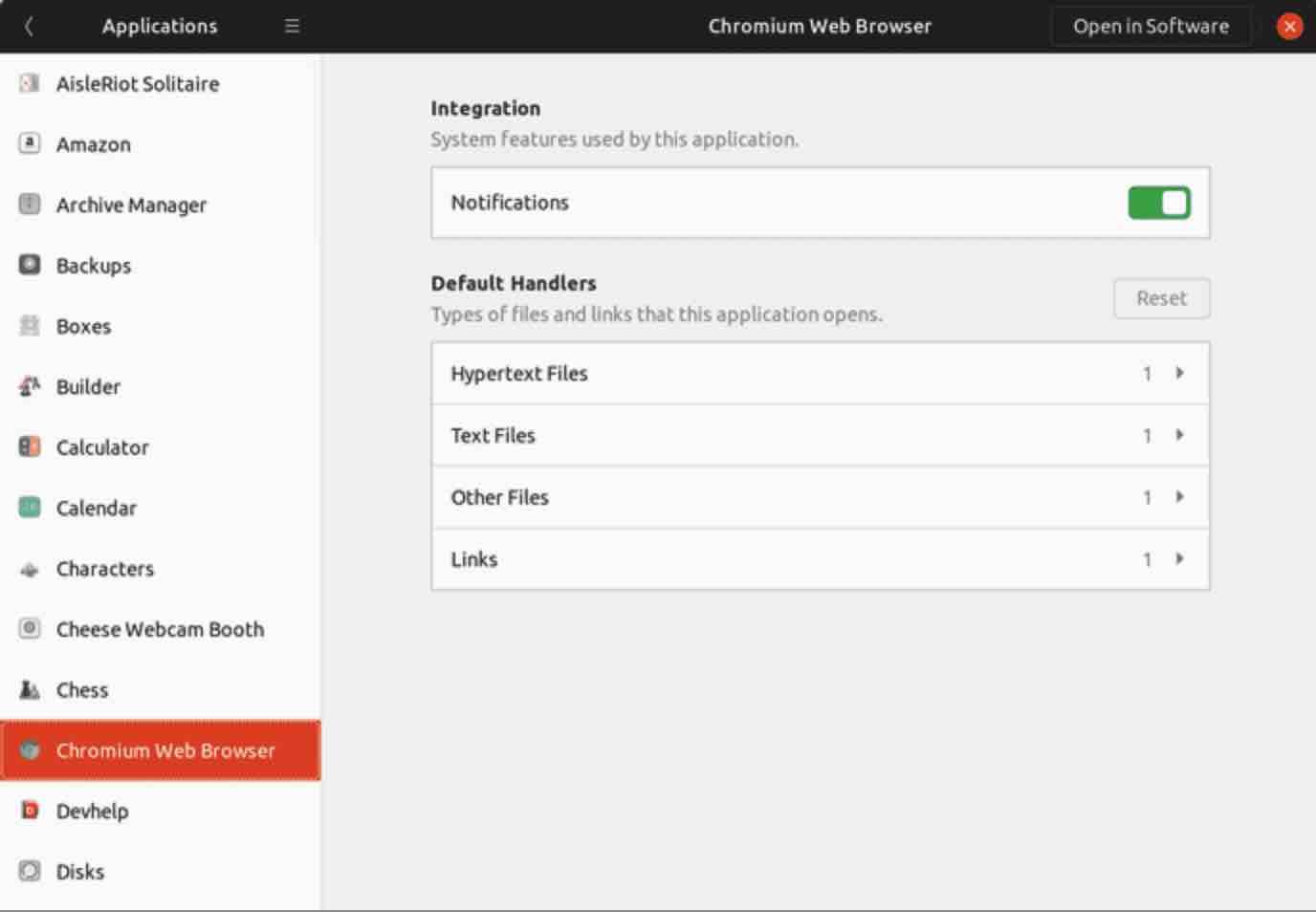 Read: How to enable hot corners in Ubuntu 18.04
Highlighted Live Patching
In Live Patching, you don't have to restart your pc after a system update. In the previous version of Ubuntu, there was no option to highlight the live updating of the system. But now the live patching option can be seen under the Software and Updates option.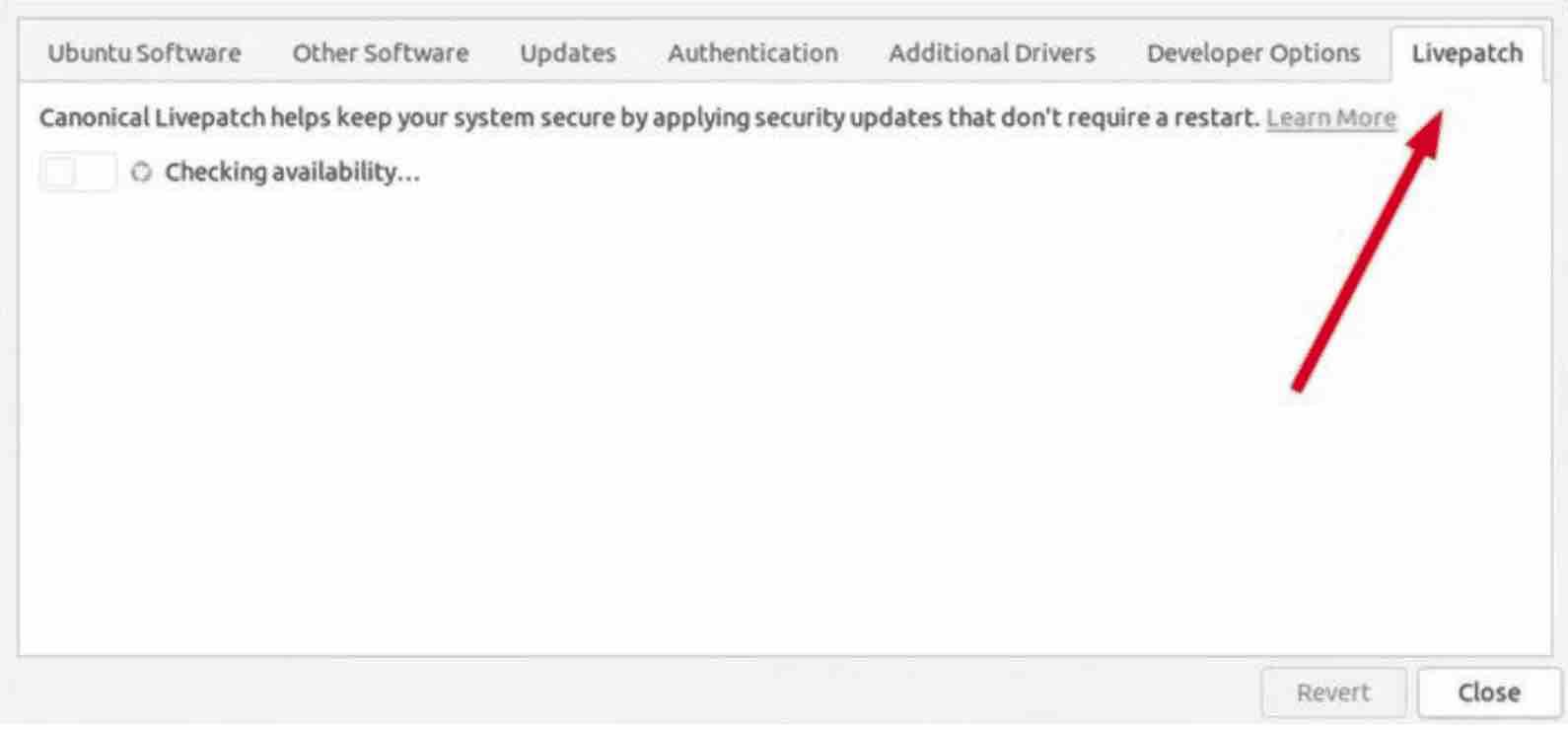 Mesa 19.0 GPU drivers
Mesa 19.0 GPU drivers, bring major improvements to Vulkan and OpenGL drivers. Out of many plentiful improvements, some major improvements in mesa 19.0 are given below:
FP64/INT64 are now merged into mesa

RadeonSLI FreeSync and Nvidia Adaptive sync support

AMD thread optimization

All new OpenGL extensions

OpenGL/Vulkan driver tuning
Read: Must-do Things After Installing Ubuntu 18.04
New adjustment controls for Night Light
Night Light isn't a new feature. It was introduced in previous versions of Ubuntu. But the new release of Ubuntu brings in the granular control for Night Light, which will help you in setting the brightness of the screen according to time. With the help of the new feature, you can have different color temperatures according to the different times of the day. We can see the new Night light adjustment control in the screenshot below: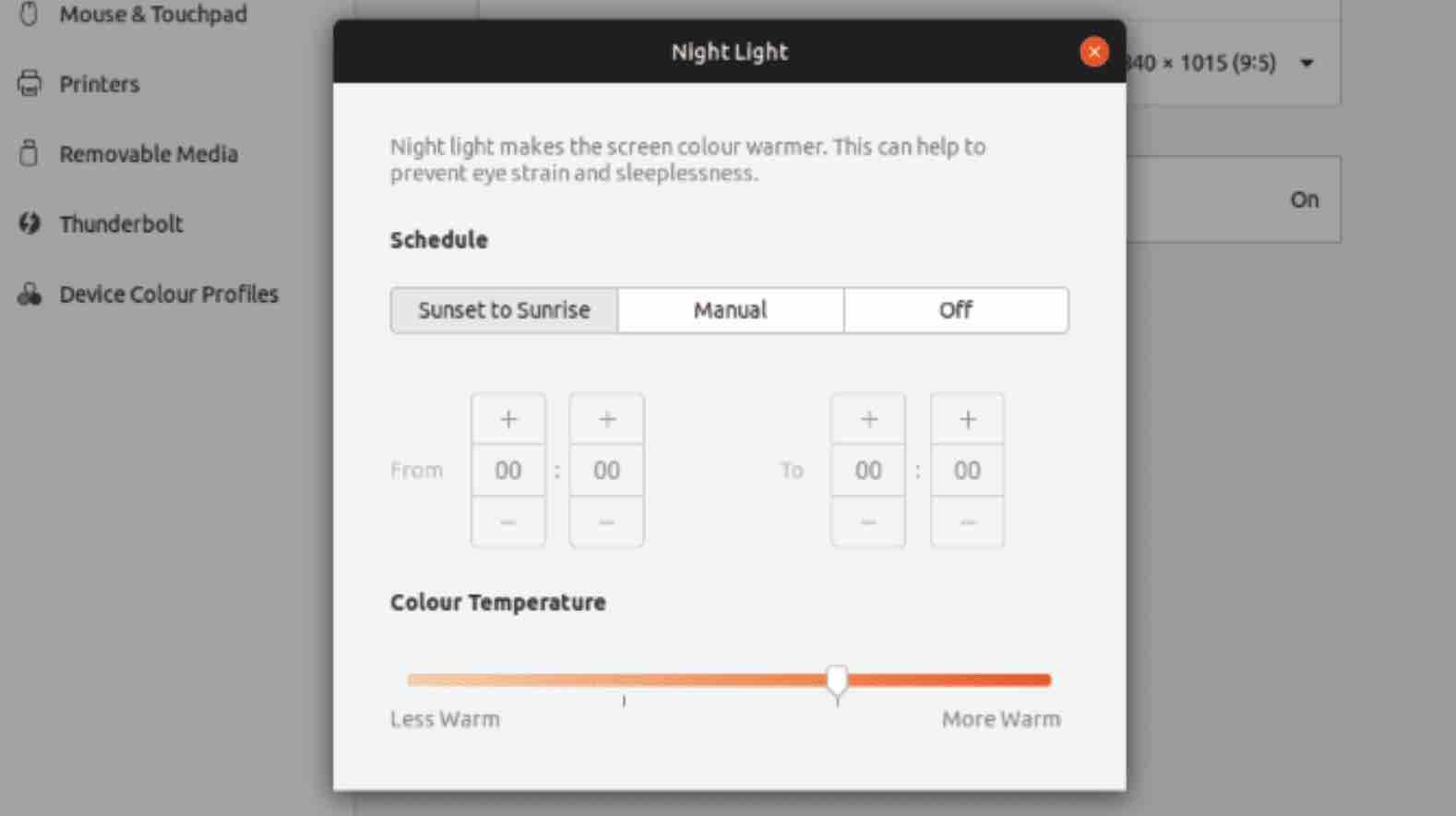 Monitor scaling for High DPI monitors
The same height and the width of icons is a major problem. This is ok for small screen monitors but for large monitors, a 16×16 icon would be too small to see. This problem is not anymore now because scaling is now supported out of the box now. With scaling you can increase the size of graphical element by 25, 50, 75, 100% or more, Making icons visible. Scaling is supported by default in Wayland graphical server but if you are on XORG the feature is disabled by default and can be enabled in settings.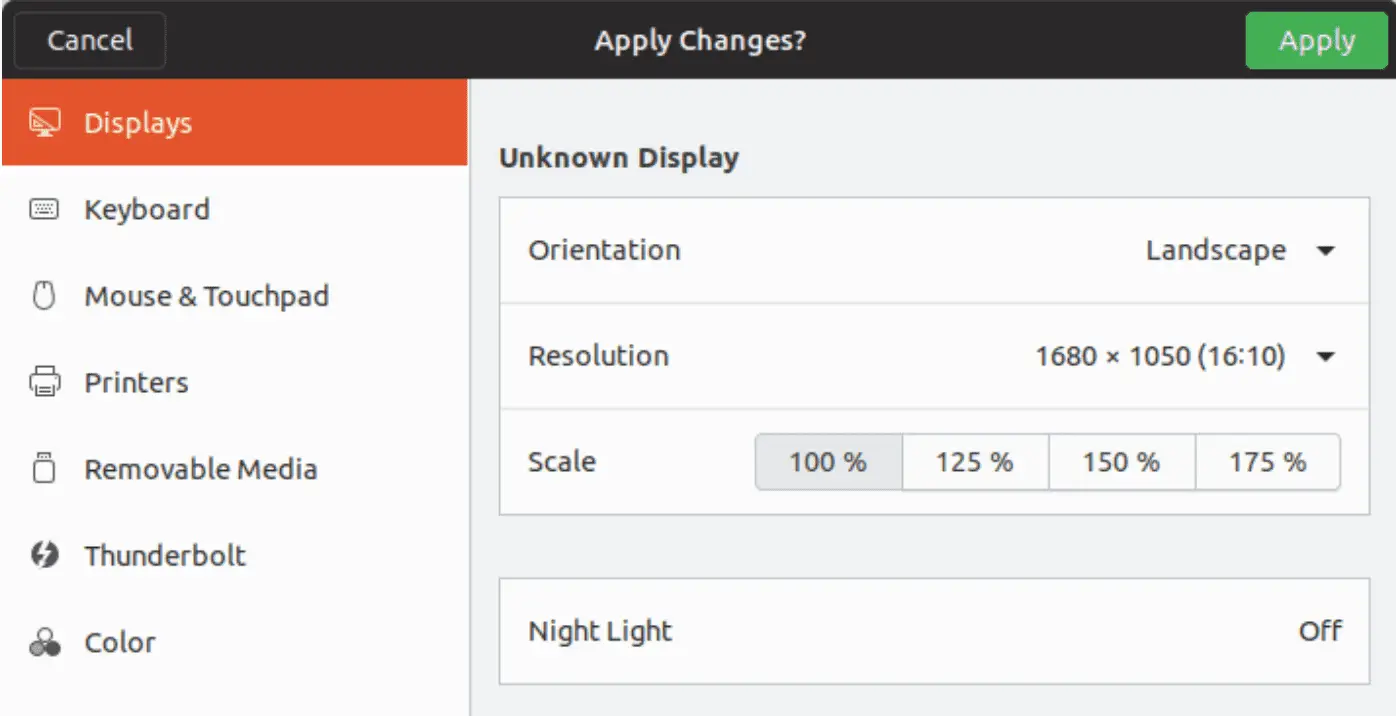 New and improved Audio settings
With the new update, the audio settings get a new and improved look where you can see every audio device connected to PC or set up a new one.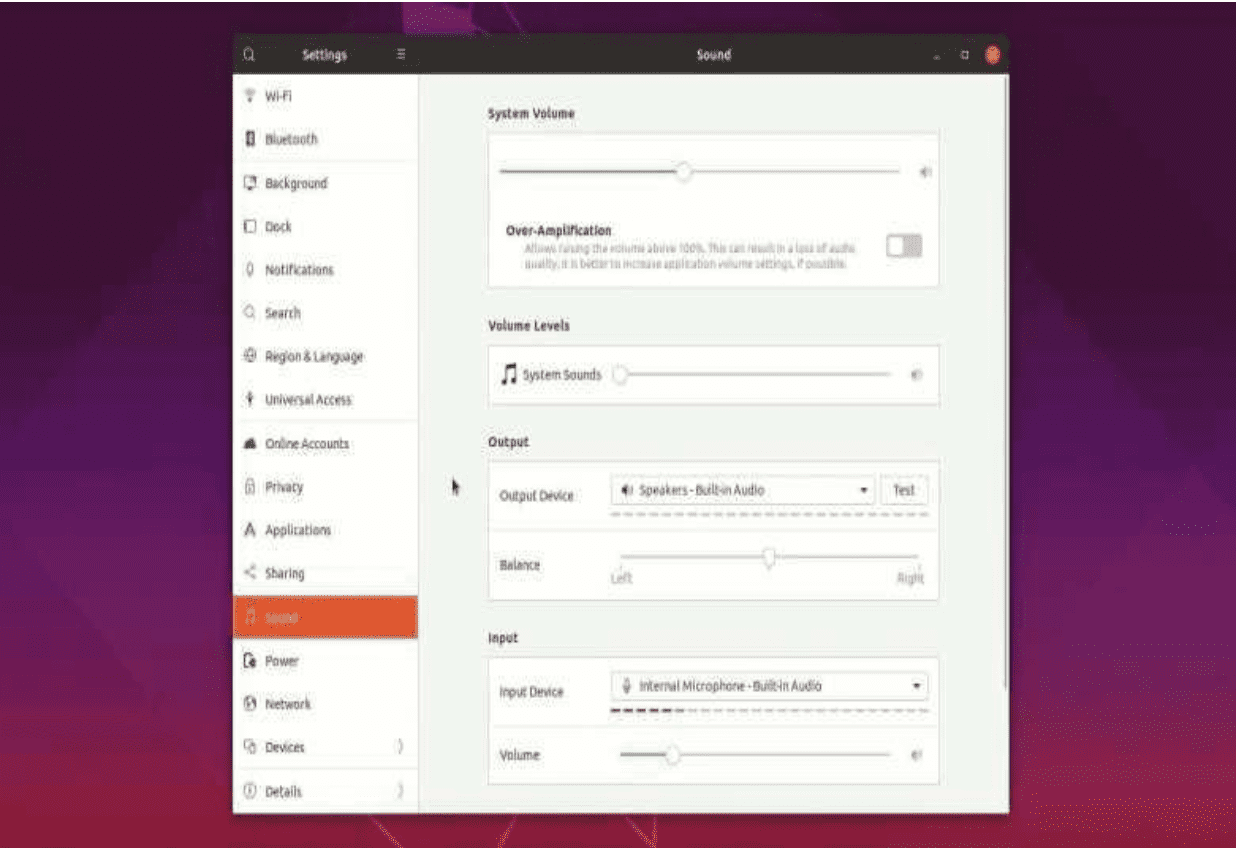 Read: How to manage sounds using PulseAudio on Ubuntu 18.04
Animation and other improvements
Might not sound like a feature to some people but you can actually feel the difference thanks to new Gnome 3.32 and kernel 5.0. Animations are now fluid as compared to the previous version of Ubuntu. Icons are more beautiful now and can be displayed on bigger screens, thanks to the new scaling for high dpi monitors.
Conclusion
Ubuntu 19.04 is an overall major improvement over the previous version. You will notice some UI improvements, fluid animation and some other performance improvements. Overall, this is a balanced Update.
---
If you like the content, we would appreciate your support by buying us a coffee. Thank you so much for your visit and support.