There are many details an entrepreneur needs to be knowledgeable about to run a business. Updating gadgets and work tools is a step in the right direction. The updates make daily tasks much easier and less time-consuming.
Point of sale system is the most recent update to cashier machines in the business world. It's a cashier machine with the hardware and software related to transactions. The system allows faster and easier purchases. It makes the sales process efficient and more organized.
The POS system has been improving and giving businesses greater flexibility and control. It has enabled businesses to move from the traditional cash register to cloud based POS systems. This change in technology offers businesses more features.
POS systems are integrated with other systems to streamline business operations. It automatically enables transactions and helps with analyzing data for greater success.
Read: 10 Benefits of Power BI Integration Into Business Applications
Reasons to Integrate a POS System in Your Business
A lot of manual tasks in businesses are getting automated thanks to technology. This makes business management much easier. It also helps to increase productivity.
In our daily lives, you may catch a common scene of a salesman using smart devices to serve shoppers at a store. Such a scene is considered an innovation in the retail market. It was a milestone remarking advancement when businesses began applying the POS system.
In this article, we inform you about the benefits of a POS system to a business.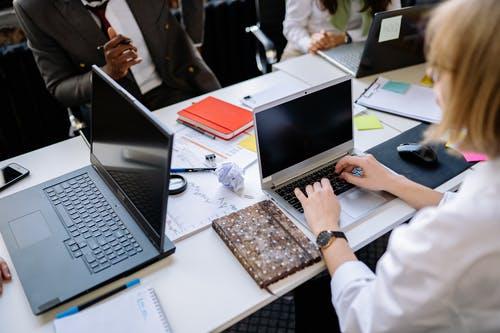 Image source: Pexels
The Software Grows With Changes in Business Trends
Cloud-based point of sales systems regularly update this software to meet emerging consumer needs. This means that a good POS system will keep a business updated based on the changing consumer trends. It also accepts new types of payments, like online and mobile wallet payments.
18% of consumers in the US would prefer cryptocurrency in making future purchases. This is something that will put retailers with POS a step ahead of the competition.
POS's flexibility goes beyond the different types of payments. Businesses can add custom supporting software, such as live chat without integrating POS. Normally, customer satisfaction ratings are higher compared to other support channels. Remember that live chat is the preferred support channel for millennials.
POS systems such as Lightspeed Retail can get integrated with live chat software. As a result, customers get provided with answers to simple questions. The tools also alert customers about their shipping status and process orders.
Read: Top 10 Reasons Why Your Business Needs to Embrace the Cloud
POS Automates Tasks
Automation helps organizations to run businesses more effectively and accurately. The right system allows you to automate tasks such as employee scheduling.
Businesses can personalize the system to get alerted on low-stock items. The system also informs you about team members about to hit overtime. It can also take over employee tasks of manually monitoring stock levels. As a result, you're able to mitigate costly issues like excessive dead stock.
Many POS systems have built-in employee schedules. Some of them even come with tools, such as Homebase and 7shifts. The tools can auto-populate members' schedules based on staff availability and sales.
With the help of the tools, you can also set your POS to reject early clock-ins and unauthorized overtime.
Read: Best IT Automation Software Tools
It Boosts Customer Experiences
Waiting in line for long hours just to purchase an item is frustrating. Given a choice between a store that takes forever to ring you up and one that does fast checkouts, anyone would choose the latter. It's quite difficult to create loyal customers with delayed checkouts.
The right POS system helps to boost customer experiences. This gets done by speeding-up transactions and charging the correct prices. Apart from that, you can also use the technology to round out in-store experiences.
Add all that up and you'll realize how beneficial POS is in improving customer experiences. Note that 86% of consumers are likely to pay more for a product that comes with a good customer experience.
Improved Productivity Through Integrations
The use of smart POS systems can take your retail business to the next level. But we must acknowledge that some businesses are more specific. Others rely on several tools to run their operations.
In such instances, a POS system that's extensive by design and integrates with other hardware and software solutions would be viable. The right POS provides you with flexibility and personalization to support workflows.
A smart POS system transforms business operations. It enables you to increase efficiency and gain more visibility into your business.
Read: Internet Monitoring Software Helps to Increase Employee Productivity
Access to Customer Purchase History
According to research, only about 15% of customers are loyal to a single retailer. These customers' purchases can make up to 70% of your sales, which makes sense. In any case, everyone has their preferred brand that makes them feel welcomed.
Integration of the right POS system allows you to develop a customer loyalty program. This program prompts loyal customers to come to your store more frequently.
The best POS system also enables you to create many loyalty rewards programs. In the end, you have happier and more loyal customers.
It Saves on Costs
It's always important to ensure that your business stays financially competitive. This means that you have to find ways of saving money.
Integrating a POS system helps to save you money. Unfortunately, the reluctance to spend cash is the reason many businesses don't have a POS.
To begin with, a POS system automates tasks as mentioned earlier. So you don't need to worry about hiring more staff or the time spent doing the tasks manually. This enables you to save on time and money.
The system also ensures that your inventory is up-to-date, hence improving customer service. This allows you to deliver up-to-date minute data to your customers. In return, you get an increased likelihood of positive reviews. It also boosts the possibility of word-of-mouth recommendations.
Since the POS system is all-inclusive, you can save money on repairs when something goes wrong. That's because there would be no need to hire people to carry out the repairs.
Read: 5 Proven Ways to Improve Your Small Business
Conclusion
Being an entrepreneur requires a lot of effort to ensure everything is under control. For that to happen, you must have the best tools to help you track every detail related to the business.
That can't be done without the integration of a high-performing system. One that can organize the process of sales, save data, and track sales and promotions.
Another requirement is getting detailed reports on the performance of every aspect. You can get all that done with the right POS system.
---
If you like the content, we would appreciate your support by buying us a coffee. Thank you so much for your visit and support.