In January, Apple announced that hackers might have "actively exploited" security bugs that they found within its operating system. Although it's not known by outsiders who were exploiting the vulnerabilities, the tech giant moved quickly to releaseiOS 14.4 with security fixes that should solve the issue. Two of the bugs were found in WebKit (the browser that powers Safari), but further information about the vulnerabilities isn't widely available. 
Although Apple prides itself on providing customers with exceptional security, such a breach has led security experts to recommend that Apple users should enhance their devices with additional security features. Let's look at how Apple has responded to these security breaches and look at ways to protect yourself from potential hacks.
Why is Apple concerned about security in 2023? 
Although Apple devices are generally considered industry-leading when it comes to security, multiple hacks in recent years into iPhones and iPads have led the tech giant to re-evaluate their operating systems' security. Perhaps the most worrying thing about these recent hacks is that many of them have been what industry experts describe as 'zero-click or interactionless,' which, as you might expect, can infect your device without having you to click on a button or link. 
Read: Cyber security awareness for silver surfers: How to stay safe online
These vulnerabilities showed up consistently in Apple's iMessage platform, and it was hoped that several advanced security measures released within iOS 14 would rectify this issue. But as we set out in the introduction, hackers managed to breach the update. It has led many to question whether or not Apple's internal security features are enough or whether users need to take it upon themselves to make their devices more robust and introduce additional security measures. 
How to protect your iPhone from potential hackers 
While Apple is still widely praised for its security features, industry experts have taken it upon themselves to educate users about boosting security on their devices. Below we take a look at some of the steps you can take to improve your iPhone's security. 
Use a VPN 
Virtual Private Networks (VPNs) are becoming almost essential features for anyone serious about protecting their personal information. Using a VPN on iPhone will encrypt your data and ensure that hackers can't easily interpret your details. What's more, they hide your location, protect you when you connect to public WIFI, and prevent bandwidth throttling, so they're an excellent addition to your iPhone or iPad. 
Invest in a VPN router
If you have multiple Apple devices at home, you should consider investing in a VPN router to protect all of your home internet users. Instead of downloading a VPN on every iOS device in your household, your VPN router connects everyone automatically and provides encrypted access without you having to worry about anything. It's an excellent option if you have many Apple devices in your home. 
Read: Demystifying Zero-Trust and its role in Cybersecurity
Randomize your pin
Many people use their date of birth, part of their phone number, or national ID number for their pins. This makes it extremely easy for hackers to get into your device. By randomizing your pin and changing it regularly, you bolster your device's security and make it much more difficult for hackers to access. 
Use a password manager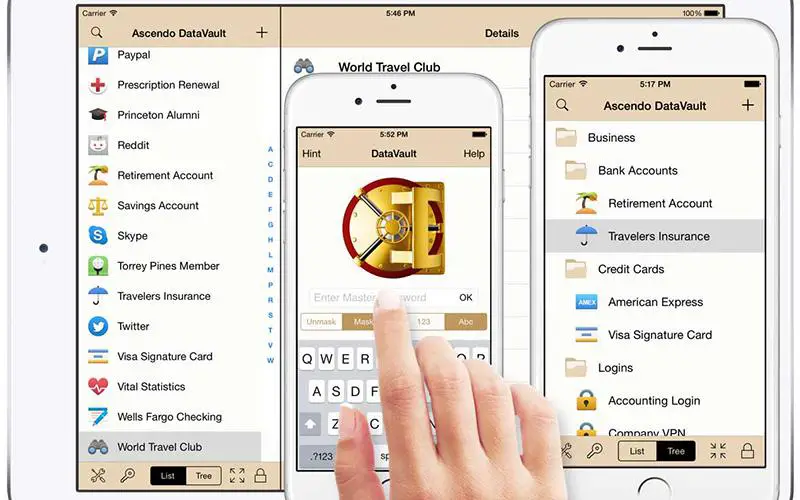 Image credit: ascend.co
Don't be tempted to use the same password for all of your apps and accounts. Instead, randomly generate your passwords and download a password-manager to protect all of your details. This is an excellent way to improve your security without having to worry about remembering complex passwords. 
Enable two factor authentication 
Two-factor authentication significantly decreases the risk of someone maliciously accessing your device or accounts within apps. Your iPhone enables you to use your fingerprint and one other security feature that protects your data and makes it more difficult for hackers should they target your device. 
Get serious about iPhone security
Given the worrying breaches of Apple's formidable security defenses in recent years, it's clear that hackers are getting even more dangerous. As such, it's not enough to simply rely on your iPhone's inbuilt security features, and you should take additional steps to protect the data and sensitive information contained within your device. 
In the present day, your first port of call should be to download a VPN, as this offers an additional layer of protection for everything contained within your device. The other suggestions within this article help boost your security even further and are certainly worth considering.
---
If you like the content, we would appreciate your support by buying us a coffee. Thank you so much for your visit and support.