PDF (portable document format), was developed in order to facilitate the exchange of documents between different computers and operating systems. PDF files gained popularity when users noticed how easy it was to share and print them. As the PDF format became more popular among users, the need for a PDF converter to various other formats became a necessity. In this article we will go through some of the best PDF converters.
ToolRocket PDF Converter is a Windows PDF File converter. This powerful converter consists of several file conversion functionalities which help you convert PDF files to various formats such as images(JPG, PNG..), Word, Powerpoint, Excel, HTML…and many others.
You can find below some of its multiple features and capabilities:
Text recognition using highly advanced OCR technology

Convert version independent CAD files to PDF and several other formats

Image conversion to or from JPG, PNG…

Compress or merge PDF documents easily
CleverPDF offers more than 27 PDF tools online. All the tools are completely free, no signup or membership is required. Here are some of its numerous functions and features:
PDF to Office conversion(Word, Excel, PowerPoint), iWork (Pages, Keynote, Numbers), Images (JPG, PNG, BMP, TIF), and eBooks (EPUB, Mobi)

PDF creation from other document formats, including Office, ODT, EPUB, Mobi and image formats

Images formats conversion

Offers a set of PDF utility tools including compress, combine, split, rotate, encrypt, unlock PDF, add watermark or page numbers to PDF, as well as reorder, delete PDF pages.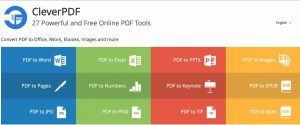 The PDF Shaper program impresses with its entry-level structure and its wide range of functions :
The various functions can be easily called up via the main menu

The program is also ideal for larger amounts of files

The integrated encryption function

Thanks to the low system requirements, very good system stability is achieved

It is possible to convert PDF files to DOC format or an image file. A conversion of DOC or image files is also possible.

The pages can be rotated, cropped, divided and also deleted individually

A free and easy-to-use PDF converter to Word document. An application for your desktop is also available (with only 2 conversion pages in the free trial period).

The online version is the easiest to use and the most reliable though.
Read: Best PDF Editors For Linux
This is an excellent online PDF converter, which is compatible with all platforms. Working with it, you can easily convert the PDF files, as the available converting tools are clearly categorized according to the source formats and output formats on the homepage.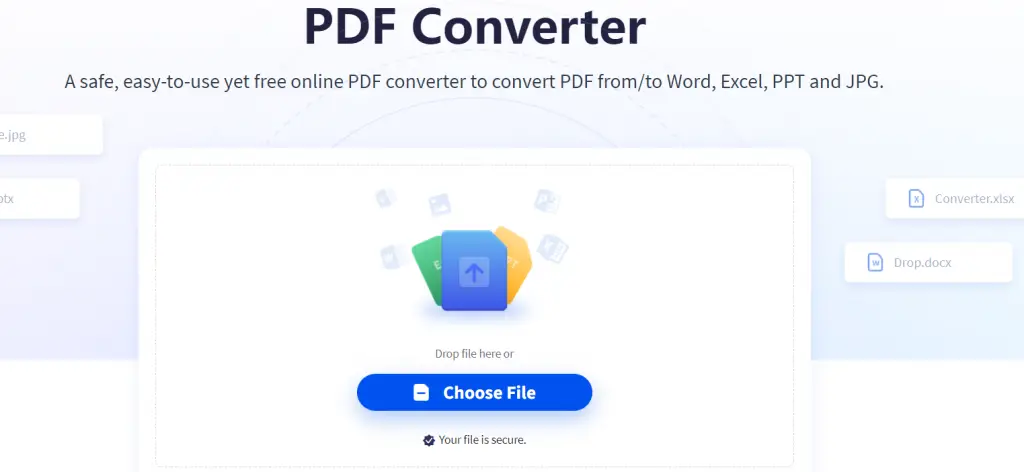 For example, if you want to convert PDF to Excel, all you need to do is to choose the right page, upload your target file, and then start the conversion. That's it! Apart from being an online PDF to Excel converter and an online PDF to JPG converter,   it also supports Word, PowerPoint, and images conversion. 
To conclude, this online tool will assist you in almost any PDF conversion without quality loss.
ConvertOnlineFree is an online PDF to Word converter that allows you to convertPDF files into Word DOC and DOCX documents. It is capable of converting files up to 30MB and allows you to send multiple PDF files for conversion from one ZIP file.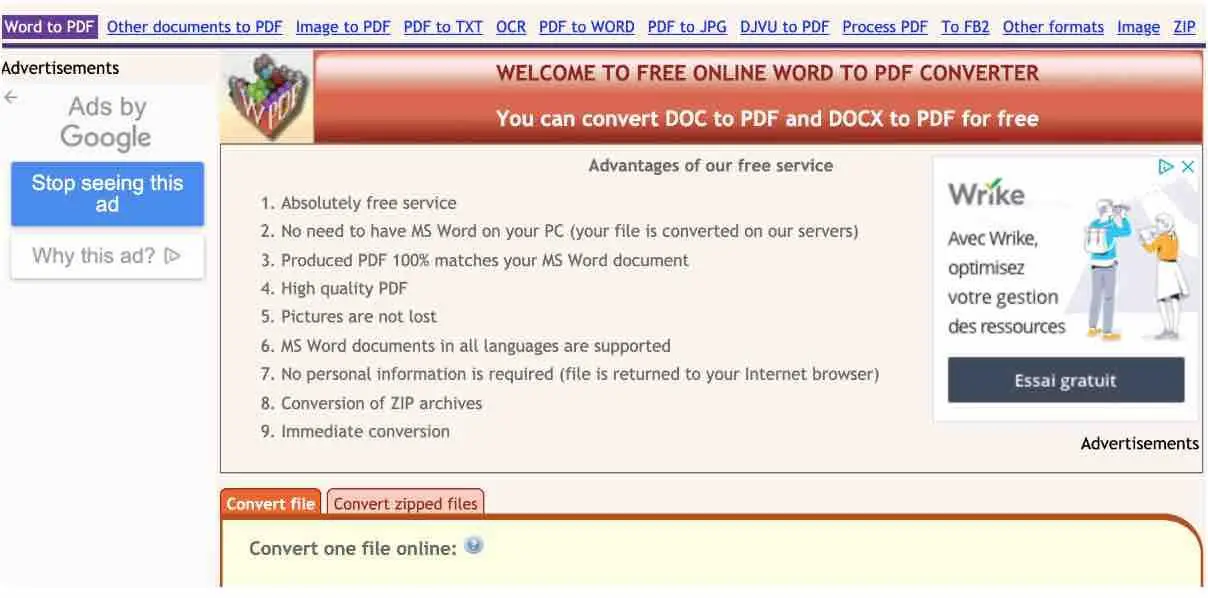 doPDF impresses with its uniform structure and ease of use.
The integrated print function enables you to convert a Word or RTF file into a PDF file from any program by clicking on Print

The program requires very little memory and can be used flexibly

doPDF can be used from any application

It also offers a direct add-on for Microsoft Word
The Icecream PDF Converter supports many different file formats and scores particularly with its chic design.
You can easily convert file formats such as DOC, EPUB, JPG and many more to PDF files

It is also possible to convert PDFs to DOC, JPG, BMP, EPS and other formats

Files can be viewed directly internally with the built-in PDF reader

The conversion is limited to 20 pages in split mode and 3 pages in merge mode

If you want to convert several files at the same time, you should use the premium version, which is subject to a fee.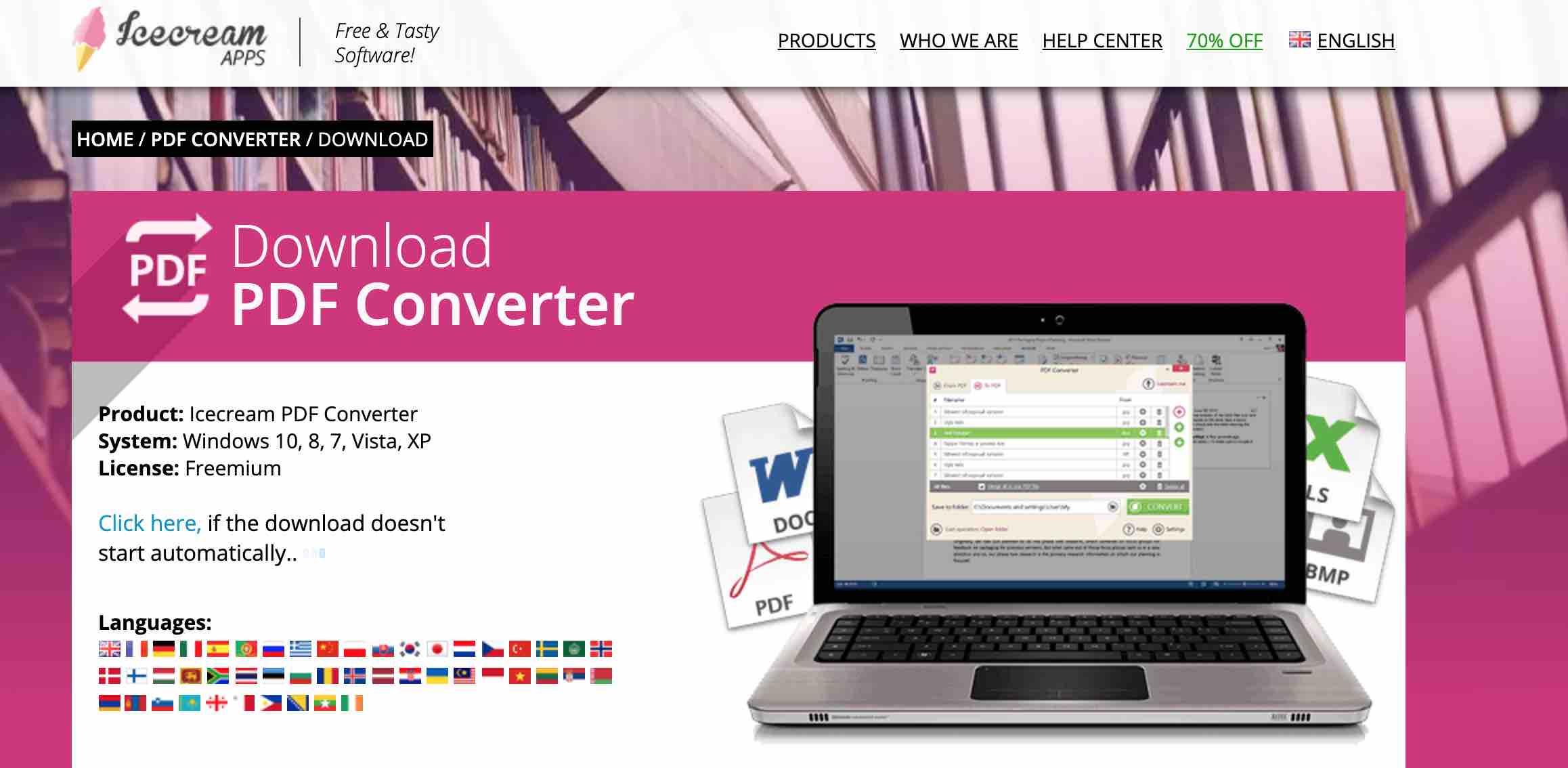 WPS PDF to Word Converter is an excellent option to quickly convert PDF files to Word.It has the advantage of being able to convert batches of files without problems while keeping their original format. It has one of the best pdf conversion set of tools: convert pdf to image, convert pdf to word document, convert pdf to excel, convert pdf to powerpoint. You will also be able to convert word to pdf, convert excel to pdf, convert image to pdf…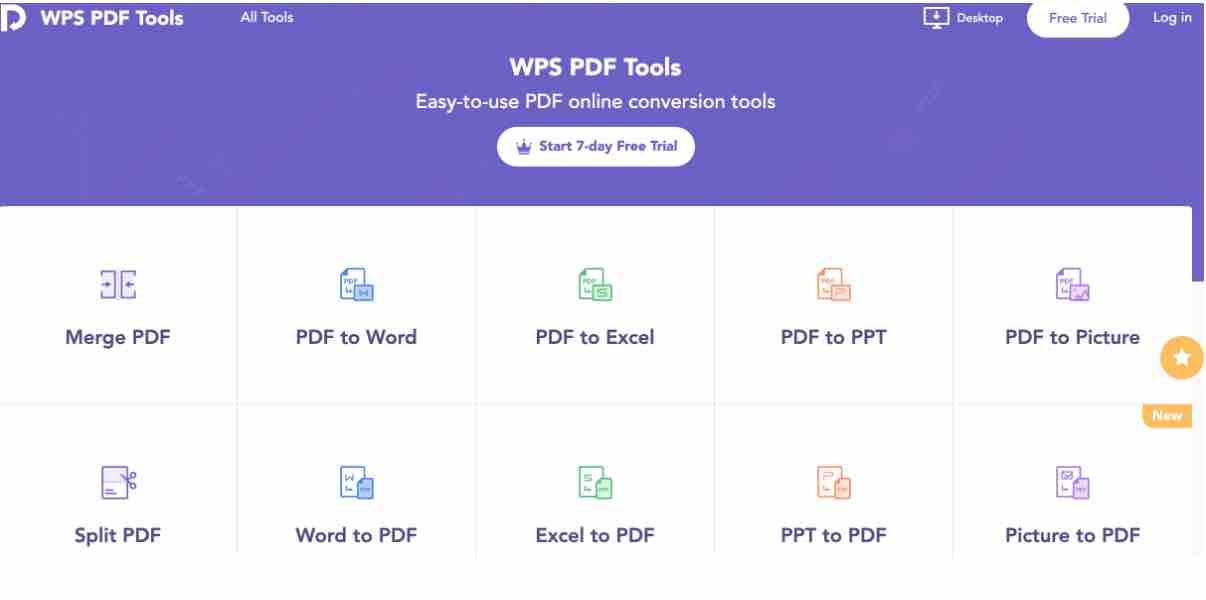 In addition, you can use the converter for free in Windows operating system, on Android devices, but if you do not want to install anything on your computer, you have the option of using the Online version.
Read: How to merge or split PDF files on Linux
It is very common to come across converters that when performing the conversion action, the images can be modified as well as tables, however, with this tool this problem will not occur.
One of the advantages of WPS PDF to Word Converter is that you would be able to choose the pages you want to convert , giving it the order you want and when exporting you can select in different formats , all without altering the original file.
Free converter from PDF to Word document, upload your file directly to the website and then download it, converted. Your files will be deleted after few hours. The files converted will have the .docx format and can therefore be edited with Microsoft Word. You have the possibility to upload any file size and convert any number of files.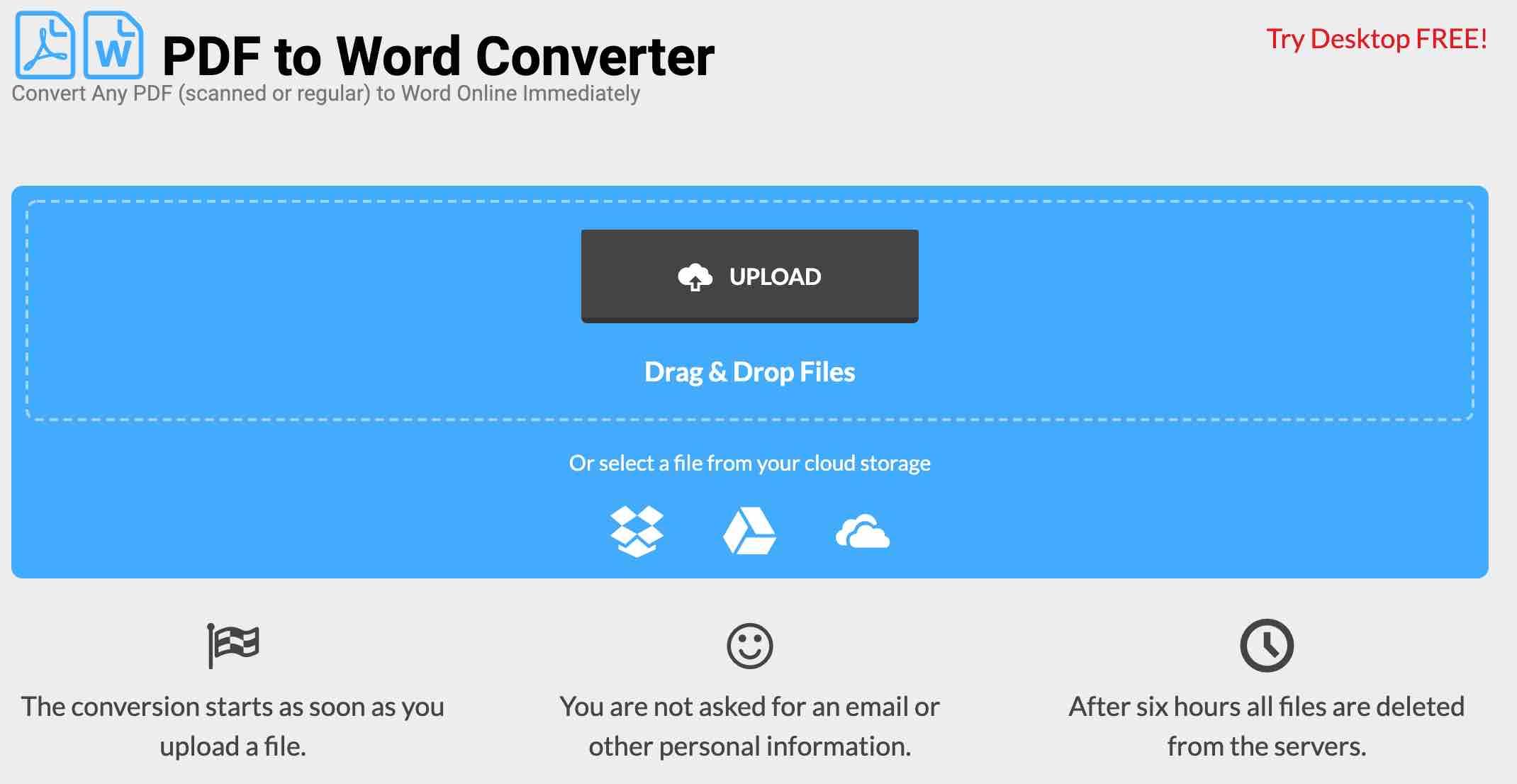 This online tool has infinite options to access PDF documents. This includes compressing a PDF , PDF converter to word, online jpg to pdf converter, pdf converter to PowerPoint , pdf converter to Excel, maintaining the quality of the files. No wonder it is one of the best PDF converter to word and other formats.
You can also edit, join, split or rotate the PDF, as well as add a signature to the document and protect it. It also allows teachers to upload their files from their computer, Dropbox or Google Drive.
Free online PDF to Word converter – Just upload the file and download it directly from the site. The desktop version offers a free trial as well as PDF to Excel conversions.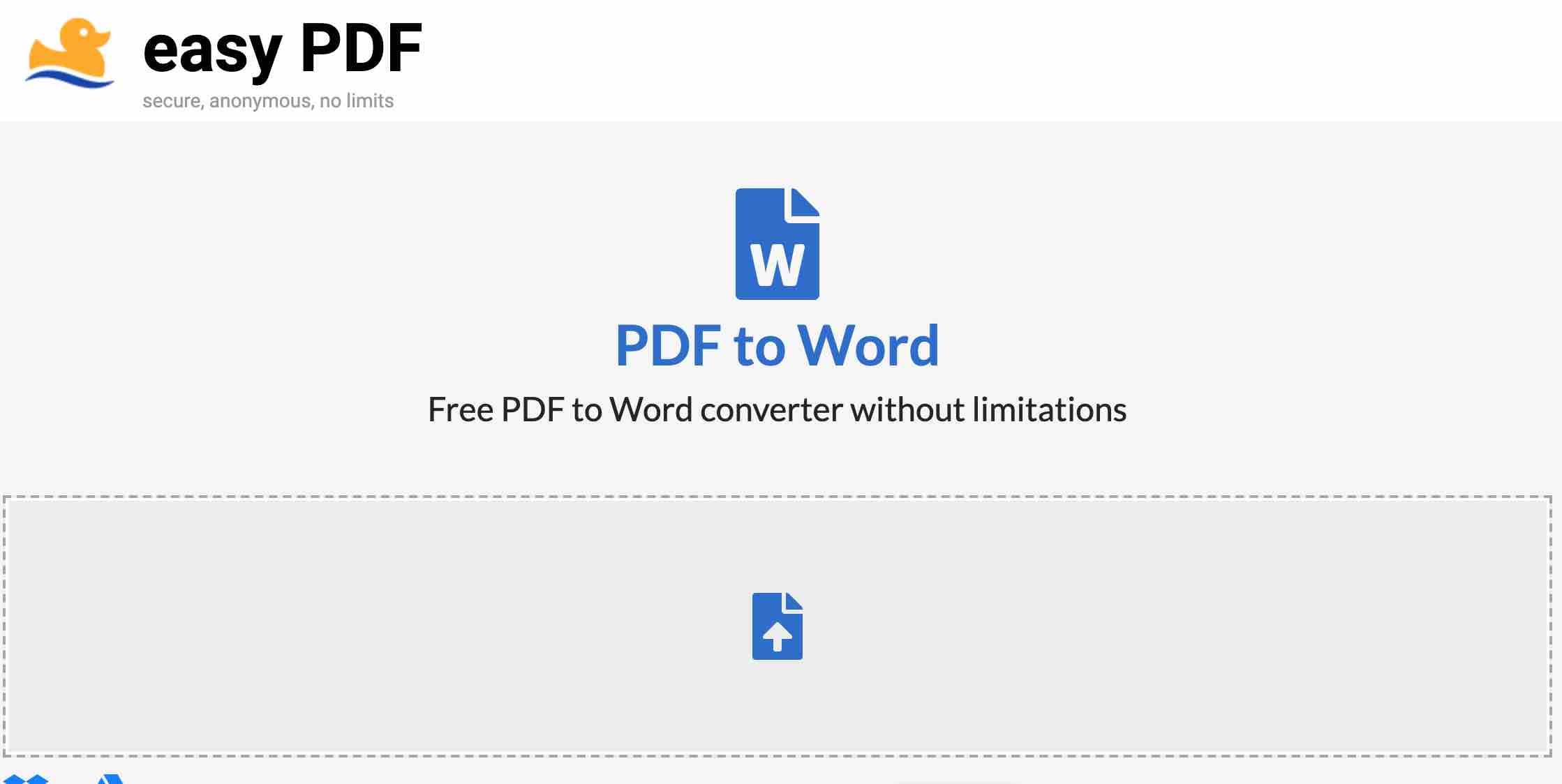 This tool allows you to edit a PDF file online , add text, images or geometric objects. It also includes a converter for images and a word to pdf converter. It allows you to upload a PDF and convert it to Word, image and even a PowerPoint file. As well as compress PDF files , resize, organize or delete pages.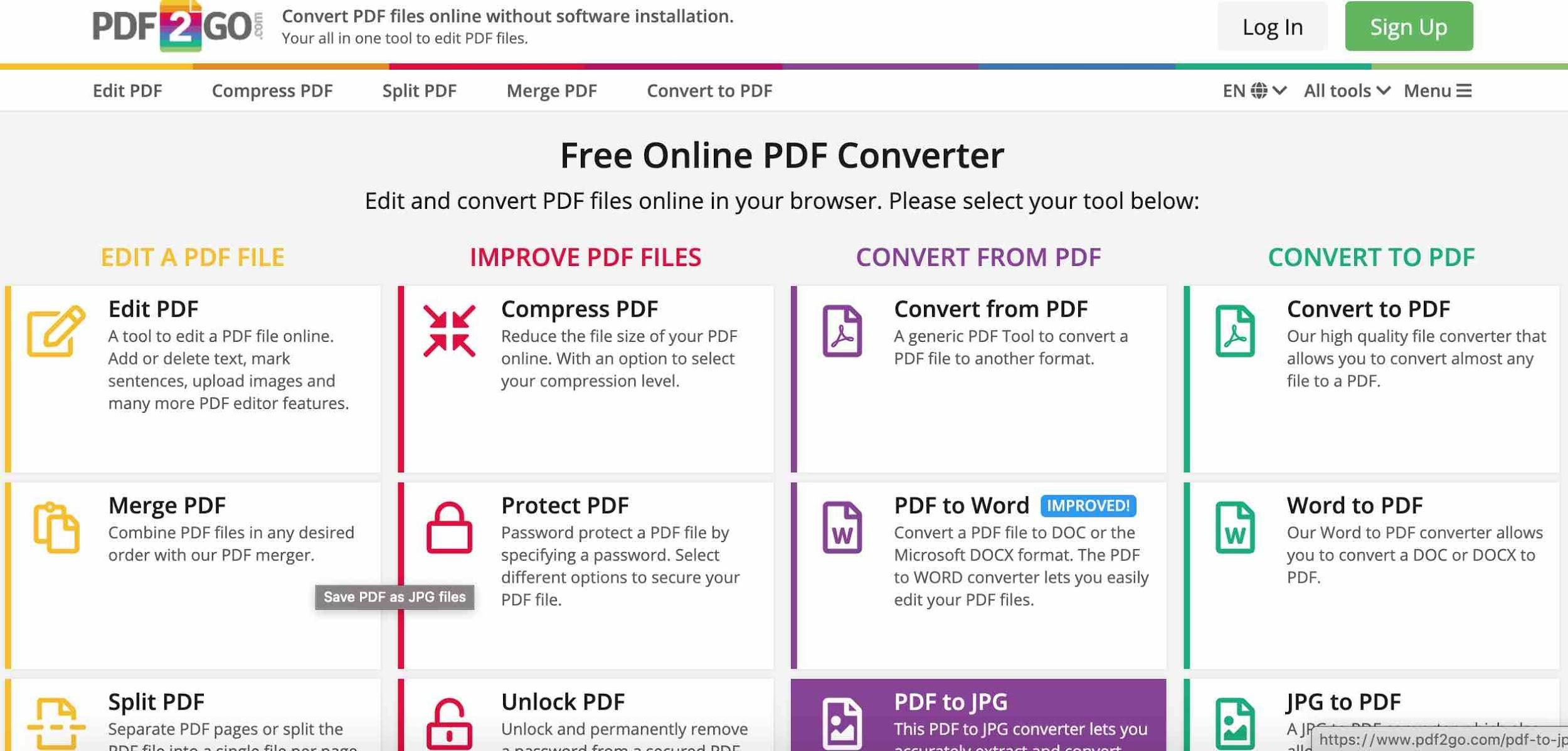 Zamzar is an online converter that allows you to easily convert PDF files to Word documents in DOC and DOCX format. As one of the best pdf to word converter online, It supports 100MB PDF files and preserves PDF file formatting and images. The download link for the Word document is sent by email.
Very good quality results, whether your files contain images, tables or forms. Note that only 3 pages to convert are available during the trial period, the entire software is not free though. light and easy to use.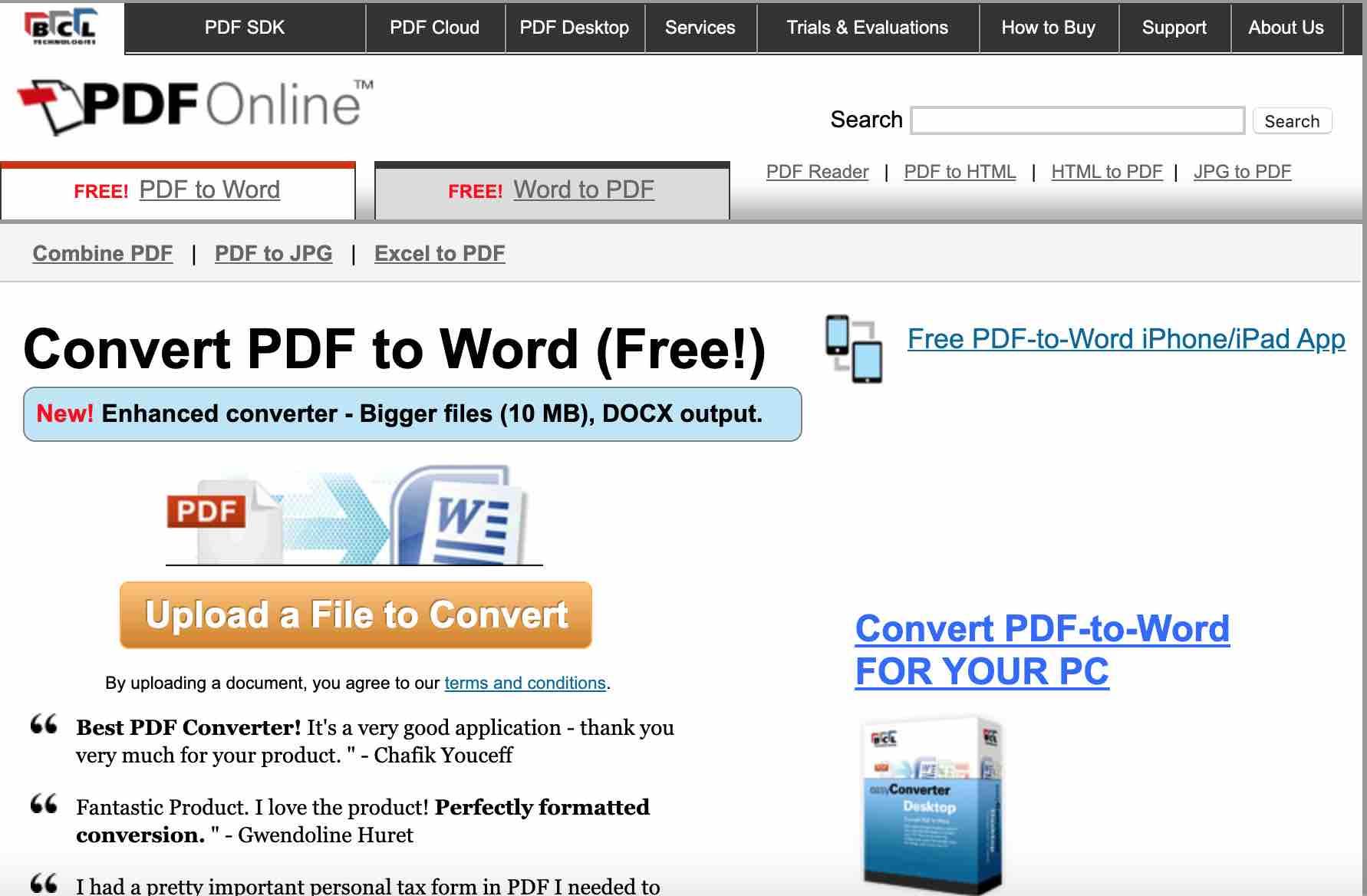 It is a very complete tool like SmallPDF, it allows you to merge PDF, separate PDF, convert Office documents to PDF, and JPG images to PDF, without installation or registration.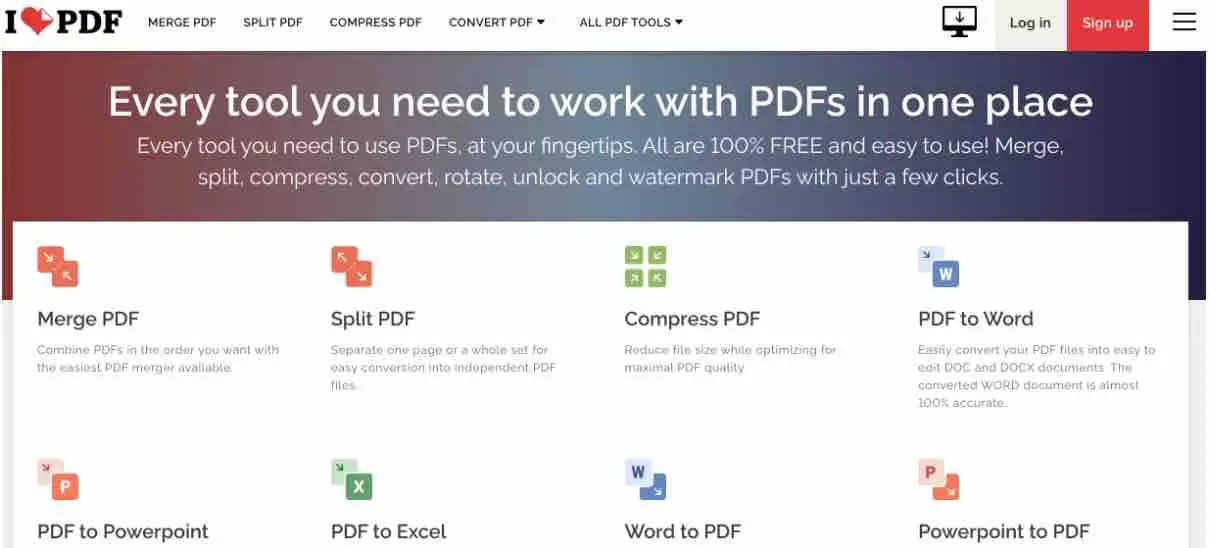 ILovePDF also preserves the formatting and images of the PDF file. Your only limitation is the maximum size of the PDF file supported for conversion, 10MB.
This free PDF to Word converter has pretty eye-catching features, making it one of the best converters in the market. With Wondershare PDFElement you will be able to create, convert, edit and even sign PDF documents.
The application is multi-platform, whether for Windows, Mac, Android or iOS , you can convert your files, quickly and easily. Wondershare PDFElement has a word processor very similar to MS Word, providing greater control when modifying text or images.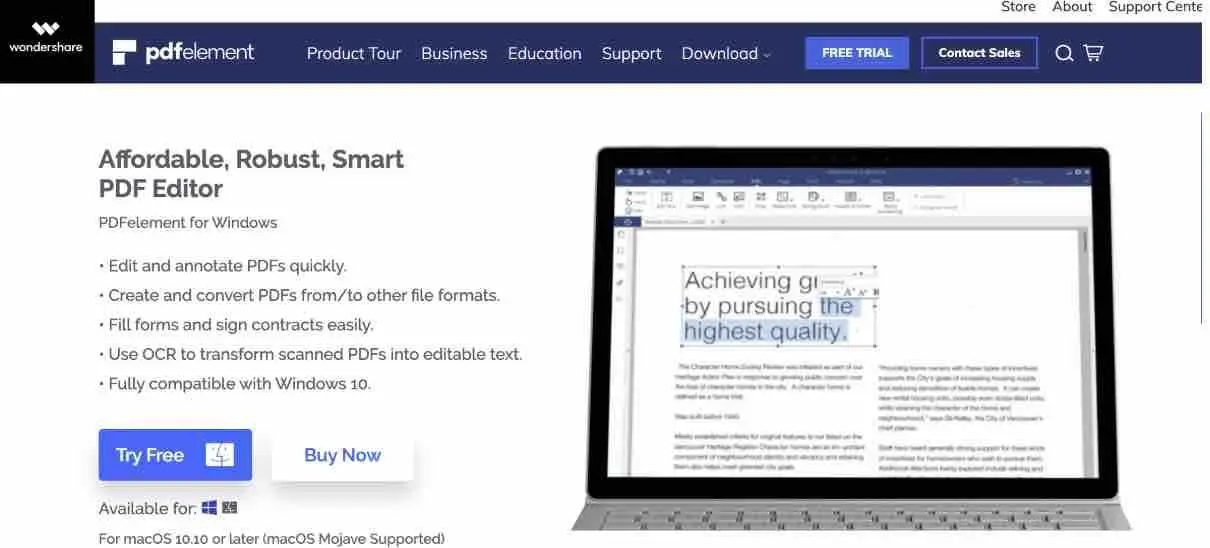 You will have the advantage of inserting comments anywhere in the file , having other people review and sign the document once it is ready and send or share it with others.
One of the most interesting functions of the converter is the ability to encrypt a specific page or text of a document so that only allowed people will be able to access that information.
It is another online tool that allows you to convert PDF to Word, Excel, PowerPoint, as well as JPG. It has basic elements which allow you to simply convert a pdf to word online.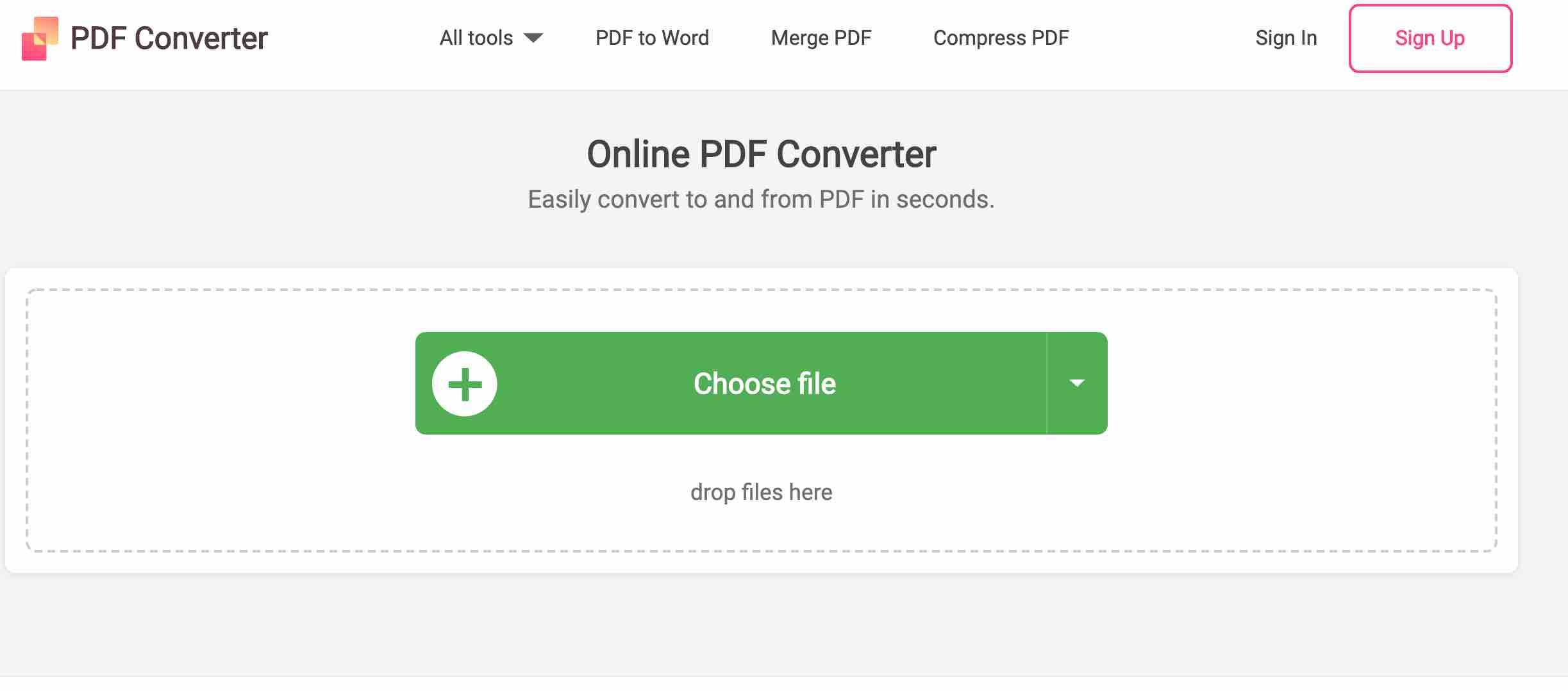 Free Online OCR , as its name suggests, is a free online platform in which you can convert PDF files to Word.
Once the conversion is complete, the platform will provide a link from which you can download the file and since it is an online application, it is available for all operating systems , be they laptops, desktops or Smartphones.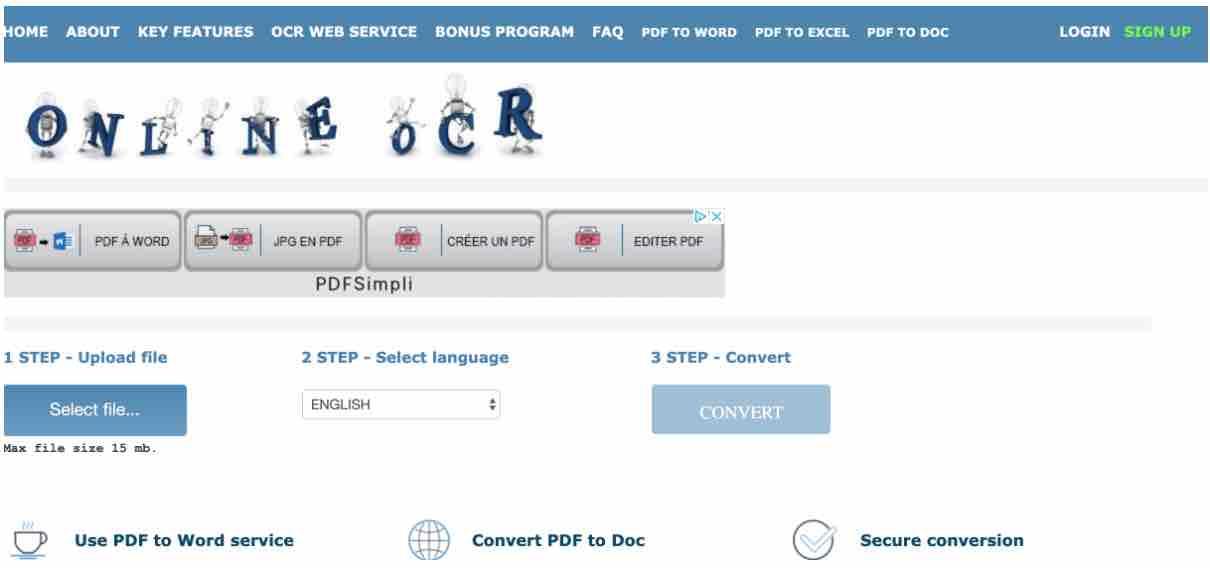 The advantage of providing a link will make the operation easier and safer, since you will not have to register with your email on the platform to receive the file.
Free Online OCR is specially designed for converting documents with images , the platform does an excellent job of maintaining the format and text of converted documents, including accurately capturing headers and footers.
Docs Zone (formerly PDF Burger), is an online service that allows you to convert PDF files into editable Microsoft Word documents while preserving the formatting of the text, images and tables in the original PDF file. The downside is that it converts only the first 2 pages of the PDF.

With Nitro PDF Converter you can upload batches of files without any problem , but the resulting file will be sent by email, which means that you will need to provide an email to receive it in seconds.
Despite having an excellent interface, very intuitive, easy to use, fast and reliable, it has a 14-day trial version and is only available for Windows operating system..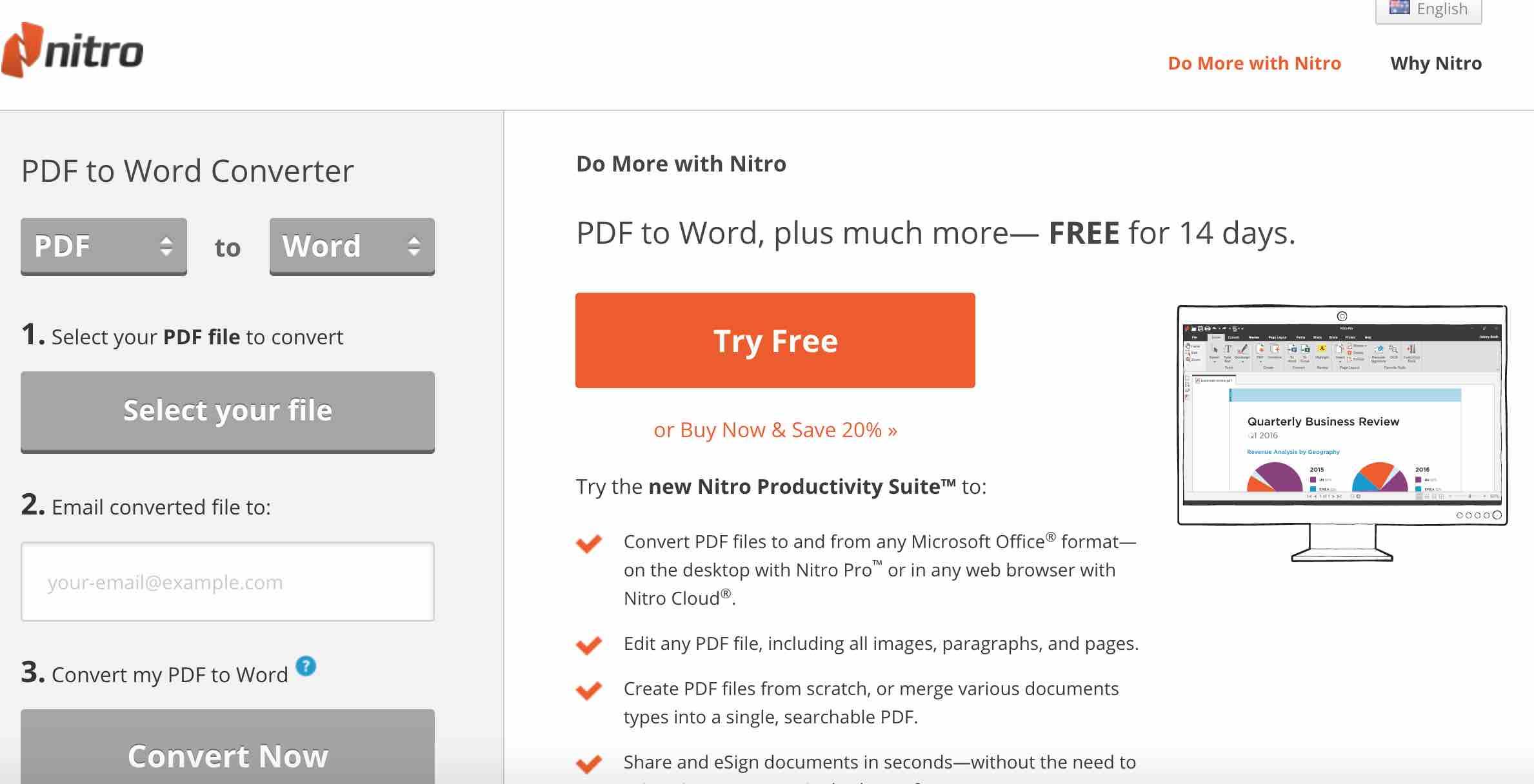 Not only does Nitro PDF convert to Word, but also to Excel and other formats.
PDF Candy is a free service that allows you to convert PDF files into Word documents. It is very fast, does an excellent conversion job and theoretically has no size limitation.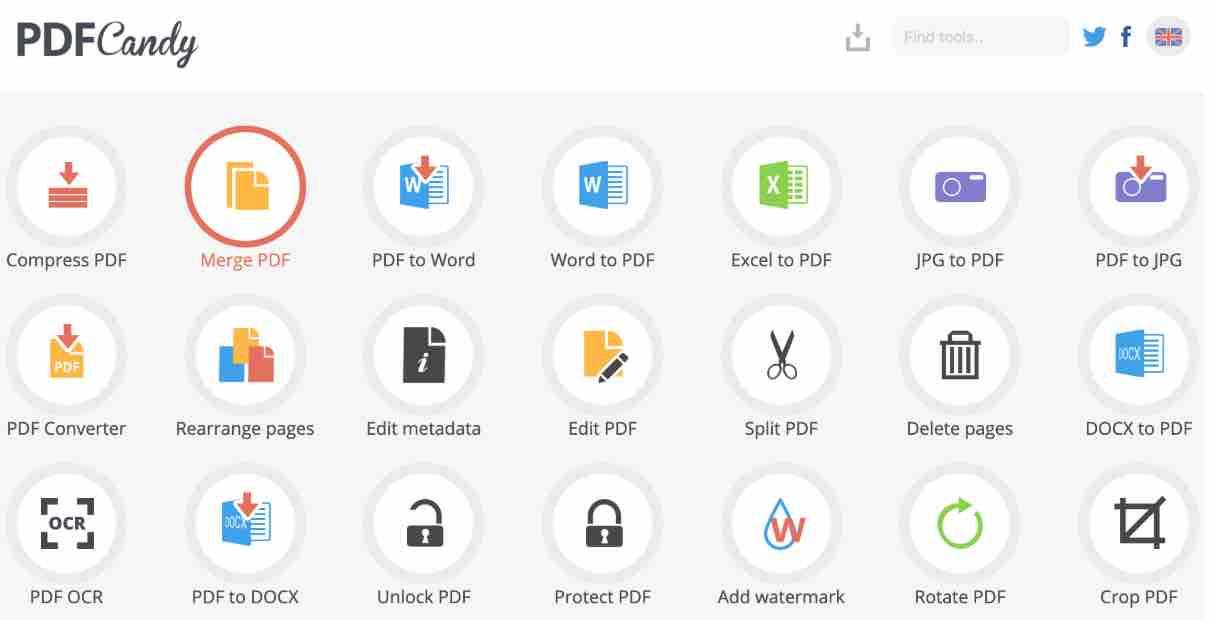 If you are concerned about your personal information and don't like to leave your email or upload your company and personal files to online converters, UniPDF is an excellent option for you.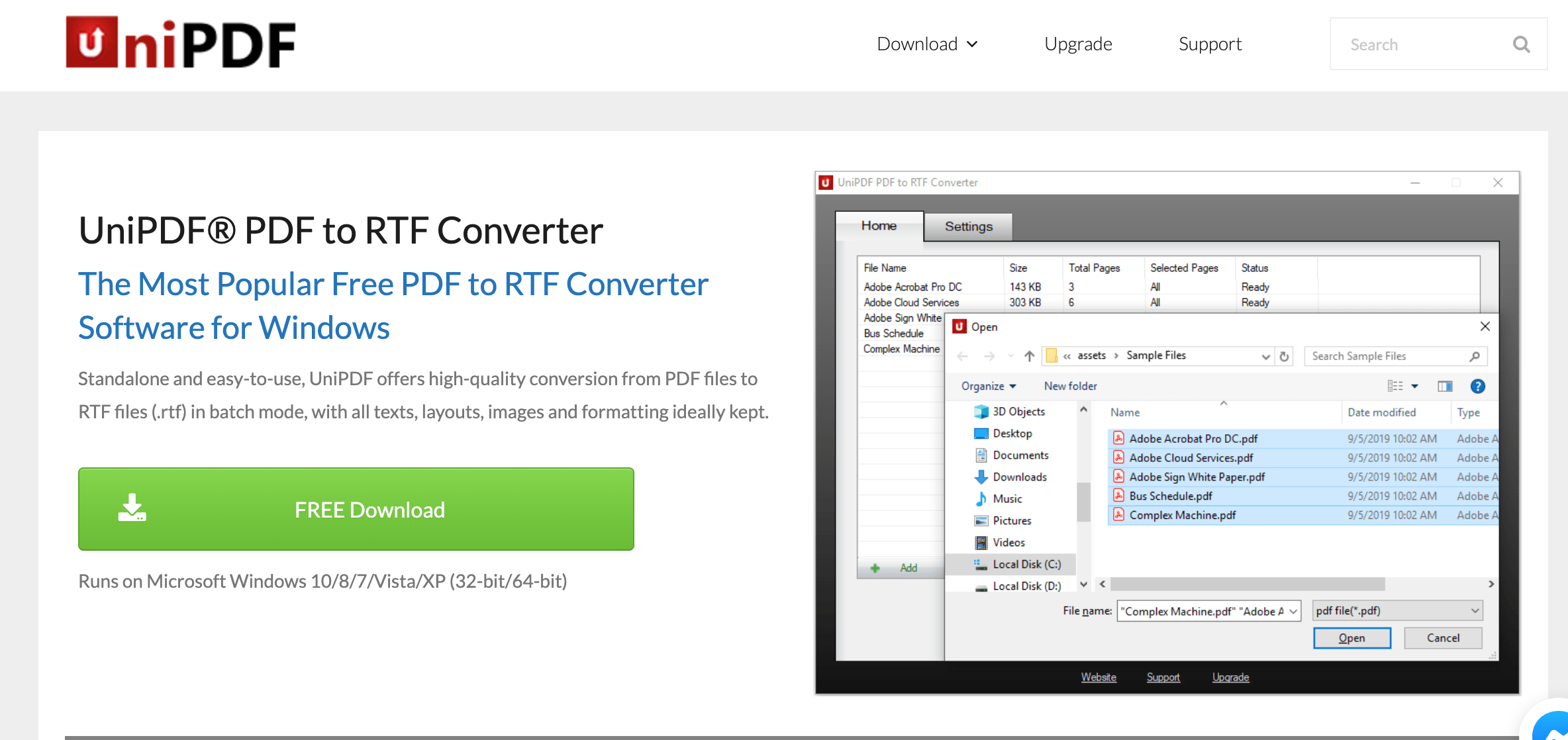 This tool is especially designed for Windows users and since it is a local application, you won't see loading issues, something very common in online converters and of course you will be safer when working with confidential documents.
But not everything is perfect in this application, since when loading a PDF file with many images, it is possible that some of them will be modified when compared to the original. That is why, it is recommended to use UniPDF especially if you work with documents with few or zero images.
---
If you like the content, we would appreciate your support by buying us a coffee. Thank you so much for your visit and support.