With the changing preference of customers to book taxis online, mobile apps have become a need for every transportation business. The demand for this model is expected to increase as more customers are turning to online platforms. The ride-hailing business market is estimated to reach around 159.6 billion in 2020.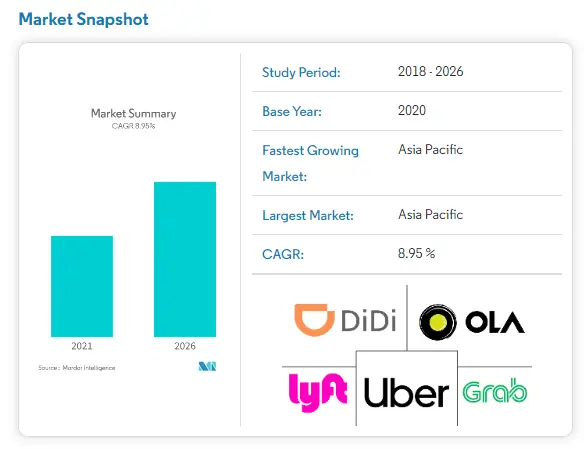 Image: (Source)
The market is estimated to increase and reach 327.54 billion by the end of 2026. It will grow by 8.95% CAGR of 8.95% between 2021 and 2026. However, implementing such a system can prove expensive at the initial stages. However, it helps businesses to survive and grow during a hard time. Let's dive deep to know why you need to give a makeover to your ride-hailing business.
Read: 6 Ways Local Business Can Succeed With Digital Marketing
Why Give Digital Touch to Your Taxi Business?
The traditional way of availing taxi services has been replaced with new ways of booking taxis. People get the chance to choose from many apps that make it easier for them to book rides and reach their desired destination on time. Mobility can make it easier for ride-hailing brands to manage every task systematically right from one place.
The ride-hailing app makes it easier for you to reach your targeted audience. It also helps you manage everything efficiently. The advanced solution helps you eliminate all the tensions regarding payments, booking, and more and provides a quick and easy booking process.
If you are operating a ride-hailing business, you require an advanced app like Uber. An easy-to-use app helps you approach users, boost business profits, and manage everything. It also helps you provide quick access to end-users with a button click. It decreases the gap in booking taxis for both company owners as well as riders. You may also like to know about MnmRidez. Hence creating an app similar to Uber can prove a beneficial option for your business.
Facts & Figure Explaining the Importance of Taxi App Like Uber
Revenue in a taxi-hailing segment has reached US$225,829m in 2021. However, the market shows an 11.33% annual growth rate and is expected to reach US$386,274m by 2026. The number of users in a ride-hailing segment is forecasted to reach 1,665.3m by 2026.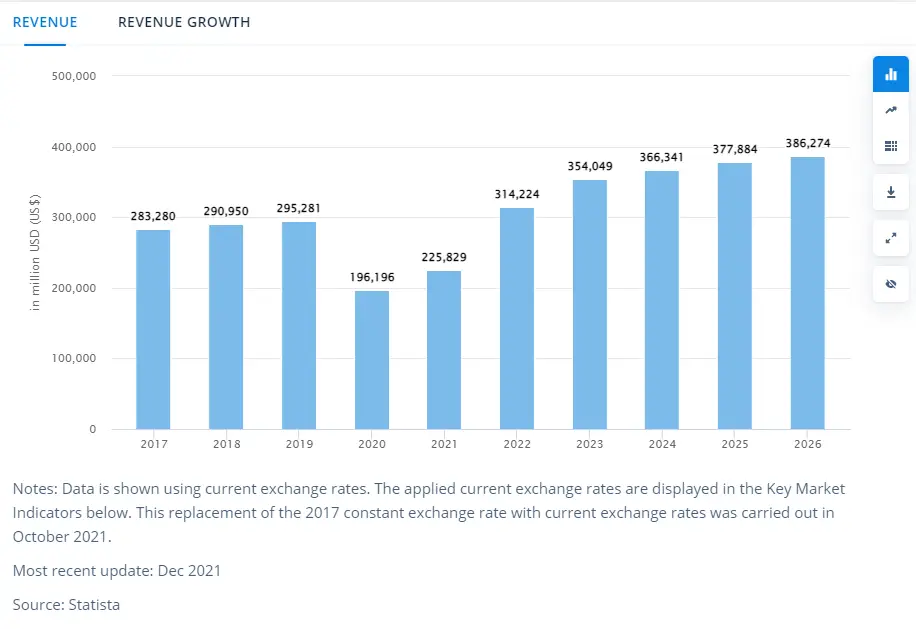 Image: (Source)
Uber covers 74% market share in 2017, while as of July 2021, the ride-hailing giant covers 69%. The loss of shares is due to the launch of Lyft and other ride-hailing services in the market. Lyft covers 31% of the US market share.
Read: 4 Tools for Students – How to Learn Digital Marketing at Home for Free
The global ride-sharing market is estimated to increase at 16.6% CAGR by 2026. The market will grow and reach around 185.1 billion by 2026; this shows a significant increase from 2021 as it was measured at around USD 85.8 billion in 2021.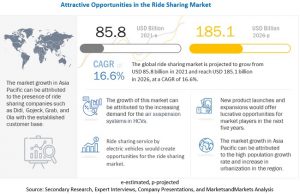 Image: (Source)
With the advent of modern technology, customers have a wide range of options to choose from. They get a chance to make a selection from different models like carpooling, car rental, and more. Thus it becomes critical for you to look for ways that help you engage more customers and provide improved service at the same time.
Uber-Like App Development: Top Advantages You Get
These days, many ride-hailing startups are using advanced apps to build a unique presence and stay ahead in the market. Statistics show that ride-hailing spends around $20 million every day because riders cannot search for taxis on the road. But the "call me a ride" trend has changed to "book a taxi."
The interaction between riders and drivers is virtual; today, most people are looking for quick booking services. Thus investing in Uber-Like app development has become a critical business decision for most taxi businesses.
Why is it essential to embrace technology?
In today's age of smartphones, not having mobility solutions will make you lose various opportunities. Even small fleet business owners require mobility to offer convenient service to customers. It helps passengers to get connected with ride-hailing businesses. Let's explore the list of advantages you can enjoy by developing advanced solutions.
Read: Why Is Web Application Development Important for Businesses
Boost Visibility
Investing in on-demand mobile apps boosts visibility. For example, a person can search engines to find ride-hailing services whenever and from anywhere they want. Most people turn to smartphones to book rides and reach their desired destination. Traditional businesses without apps can lose various customers.
Higher Profits
Ride-hailing startups who work with other aggregators have to pay heavy commission fees. It's one of the main reasons why transportation businesses avoid using aggregator platforms. Nevertheless, ride-hailing business owners can develop an app like Uber and save commissions paid to cab aggregators. They can choose to work with the aggregators model or follow other omnichannel strategies.
Workforce Reduction
Changing your working methodology can help change your ride-hailing business into an aggregator solution. Drivers can choose to subscribe to your services and have a fleet of taxis without owning them. It helps you minimize operational and maintenance costs; this likewise lessens the liabilities and assists in achieving a formidable position in your taxi business.
Ride-hailing brands have embraced an app like Uber to enjoy the advantages. It provides you with many features as well as functionality that help you change traditional business activities. The decision to create an app like Uber can provide you with an end number of benefits.
Read: What Are the Communication Tools Your Business Needs to Success
Cost to Portrait an App Like Uber: Check Which Factors Affect it?
Ride-hailing app development cost depends on different factors. The cost drivers of the mobile app development are as under:
Type of Business Model;

Development Team;

Building Platform;

Design and Functionality;

Features and Testing;

Hosting and Security;

App Updates and Maintenance;

UI/UX.
Apart from the above-listed factors, many other elements affect the cost of developing a mobile app for your taxi business. The time and cost of development increase depending on your choice of features, platform, and functionality.
Parting Words
COVID-10 pandemic has affected every part of our lives. Most businesses are shifting to digital technology to overcome the losses of crises, and ride-hailing is not the exceptional one. You need to choose a better approach for your ride-hailing business as it helps you reach more customers and serves in an improved manner.
Shifting traditional to digital is a genuine move that helps operate a business successfully. It provides you with many other benefits and makes it easier to manage every activity right from one place.
---
If you like the content, we would appreciate your support by buying us a coffee. Thank you so much for your visit and support.