Screen recording comes in handy when creating a video tutorial, recording gameplay, live streaming or even something cool you just did and want to showcase it to others. Uses of a screen recorder are diverse and there are a ton of reasons to have one installed on your PC. In this article, we will provide a brief overview of five best screen recorders for Linux which include some basic as well as some advanced screen recorders.
OBS- open broadcaster software
Open broadcast software or OBS is a great screen recorder. This is a tool that is widely used by live streamers. You will be able to record your screen with multiple scene setups and switch between different scenes with ease. It records both video and audios at the same time with high speed with no Audio or video lag. It comes fitted with a dock with modular UI so that you can setup OBS according to your needs. It has also a lot of customization options for editing recorded video or editing video simultaneously while recording.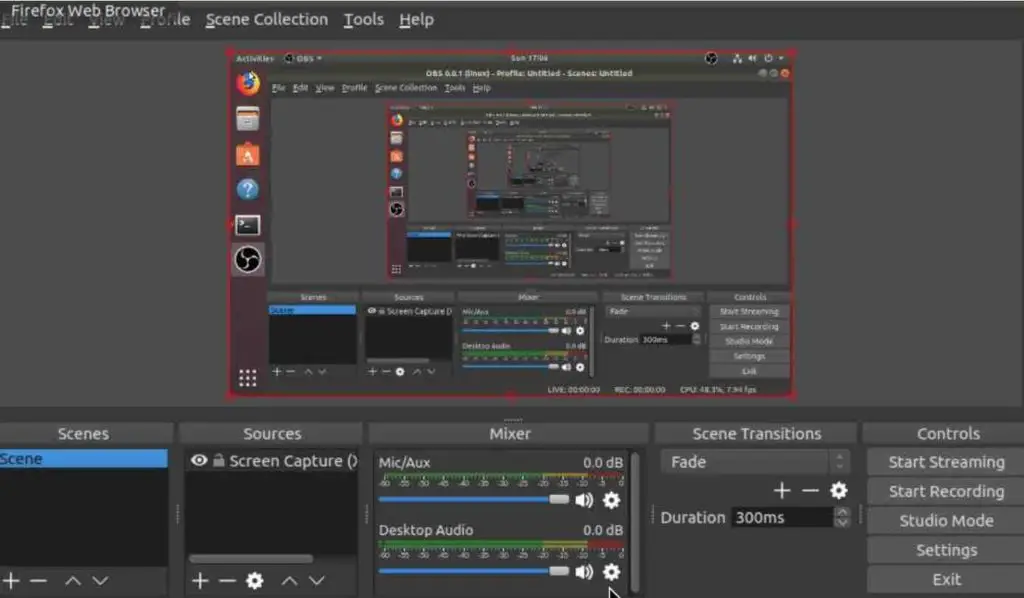 Open broadcaster software Ubuntu
OBS has an option to see eight different scene views at the same time and a studio mode where you can adjust different scene settings before recording. There are so many options and customizations to choose from. If you are new to OBS then you should know that there is an auto-configure option available that will set up OBS for first-time use, automatically.
Overall it is the best Screen recording tool for Linux which has a great community support. Give it a try yourself to explore additional features of this amazing screen recorder.
Read: 6 Best programs to record a PC screen
Kazam
Kazam is another fabulous screen recorder for Linux machines used to capture screen content in VP8, WebM and h264format. You have the possibility to record sound from any audio input device. It is widely used by YouTube content creators. kazam screen recorder can record an entire screen or just a part of the screen.
This is also a great utility to record screens from multiple monitors. You can take screenshots while recording.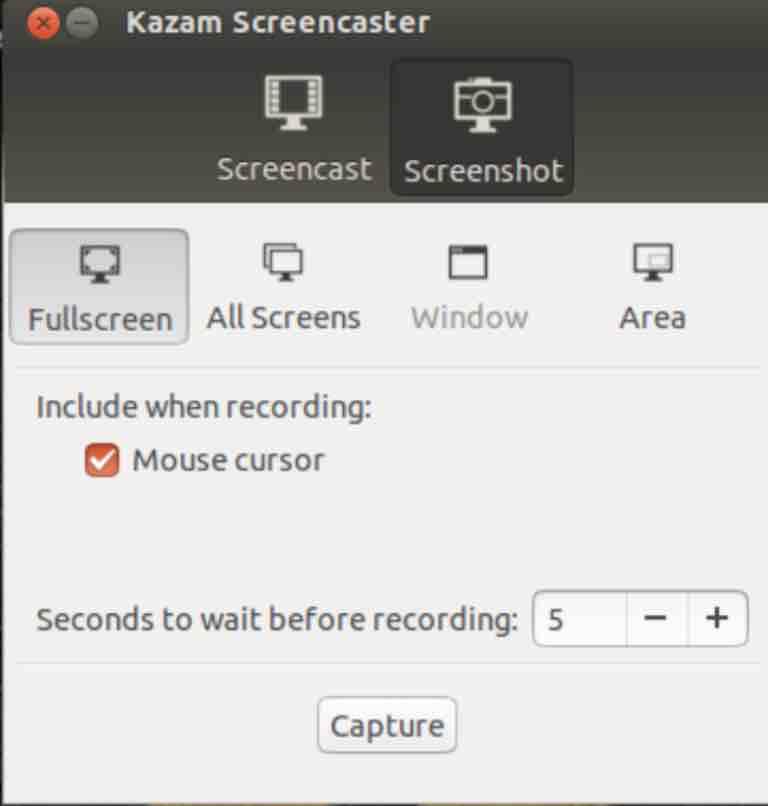 Kazam Ubuntu screen recorder
You can pause and resume recording with simple keyboard shortcuts. You will be able to capture mouse clicks while recording and put webcam video recording side-by-side with screen recording. You can choose whether to edit or directly save the video after recording is finished.
Read: How to use the screen command on Linux to keep your remote task running when the connection drops
Overall, Kazam is a feature-packed screen recorder and is one of the best screen recording tools in the market. It is very easy to use and made for those who don't want many customizations but just a screen recorder with few but useful features.
Screen Studio
Screen studio is a great Open-source screen recorder made available under the GPL license. Screen studio comes with an easy to use intuitive interface. You have the possibility to record videos directly from a webcam while recording your screen. You can either record a selected area of the screen or the entire screen. As well as choose your desired frame rates and resolution. With the help of this tool, you can directly stream your videos to youtube twitch and other major streaming sites.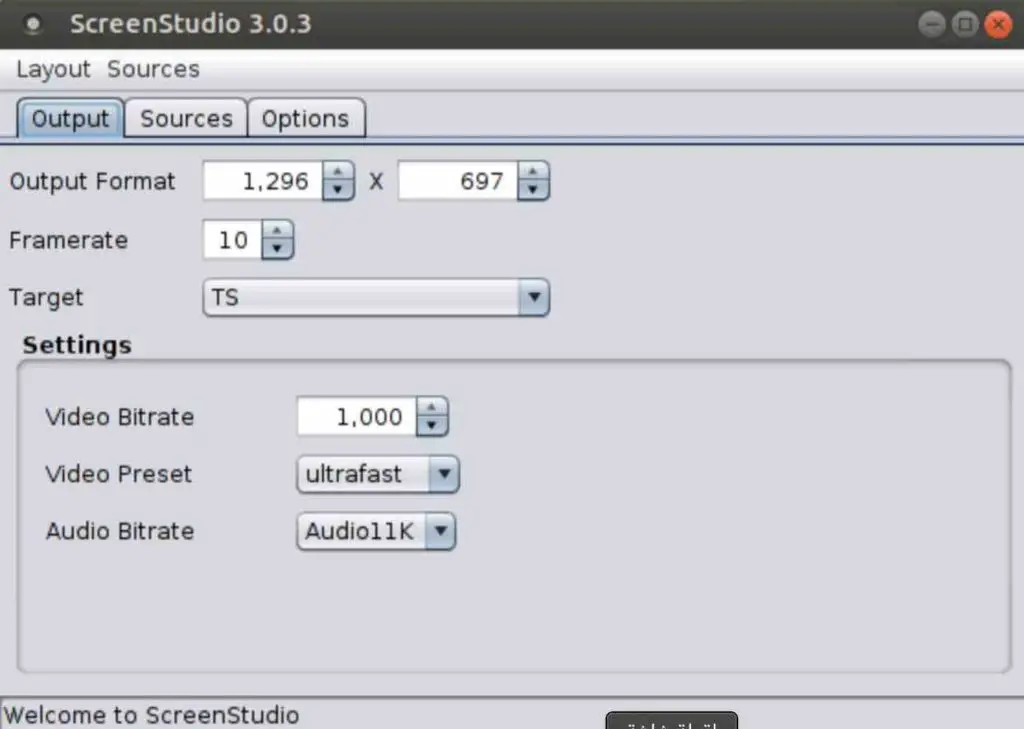 Linux screen recorder
It doesn't come with a fancy user interface but it can beat fancy-looking graphically pleasing recorders. Perfect for those who want a feature-rich screen recorder with few touchups to the video.
Simple Screen Recorder
As the name suggests, Simple Screen Recorder is a simple user-friendly feature-loaded screen recorder. It comes with a QT based graphical user interface. The Audio and video are completely synchronized, that is, there is no audio or video lagging. There are also options to start and stop recording anytime from the system as well as to record a selected part of the screen.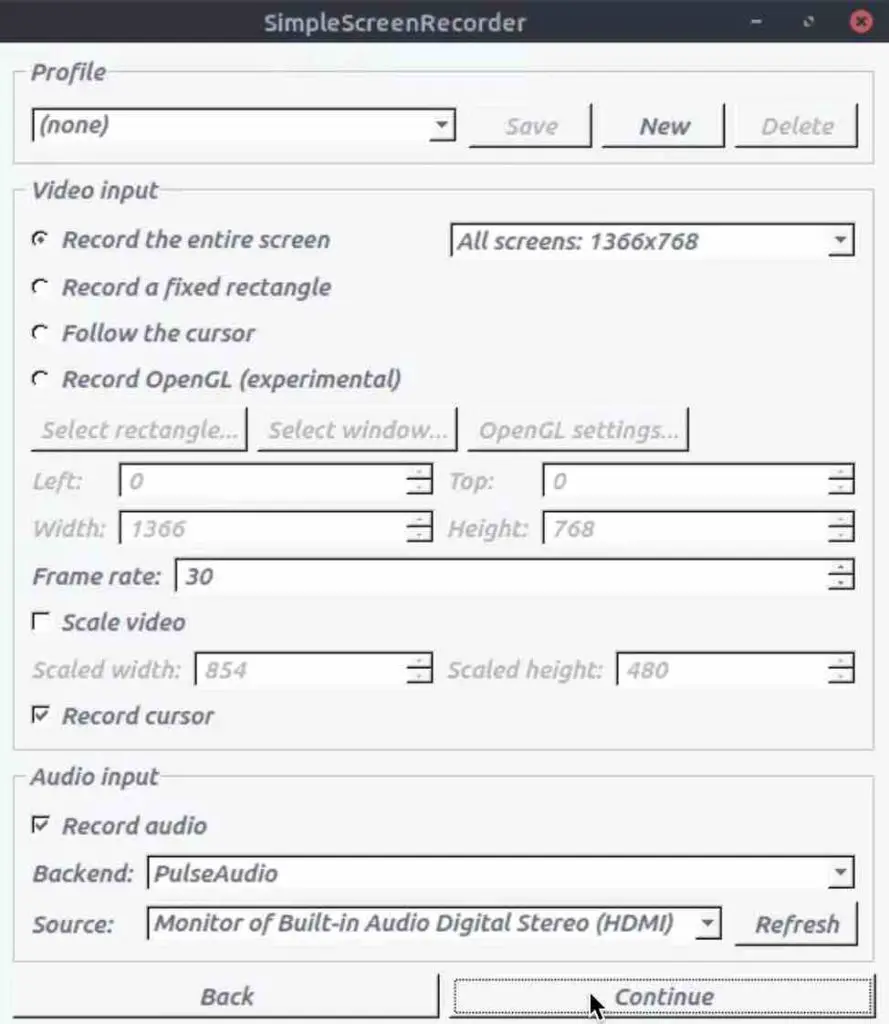 Simple screen recorder Ubuntu
It is another average looking screen recorder like screen studio but it surely is one of the best screen recorders available in the market. This screen recorder is for those who just want to record the screen content and want the editing part to be done by video editors.
Green recorder
In our list of five best screen recorders, Green recorder comes last but certainly not least. It is the first Screen recorder that comes with support for the Wayland display server. MP4, MKV, GIF, and NUT are the formats that are supported by Green recorder.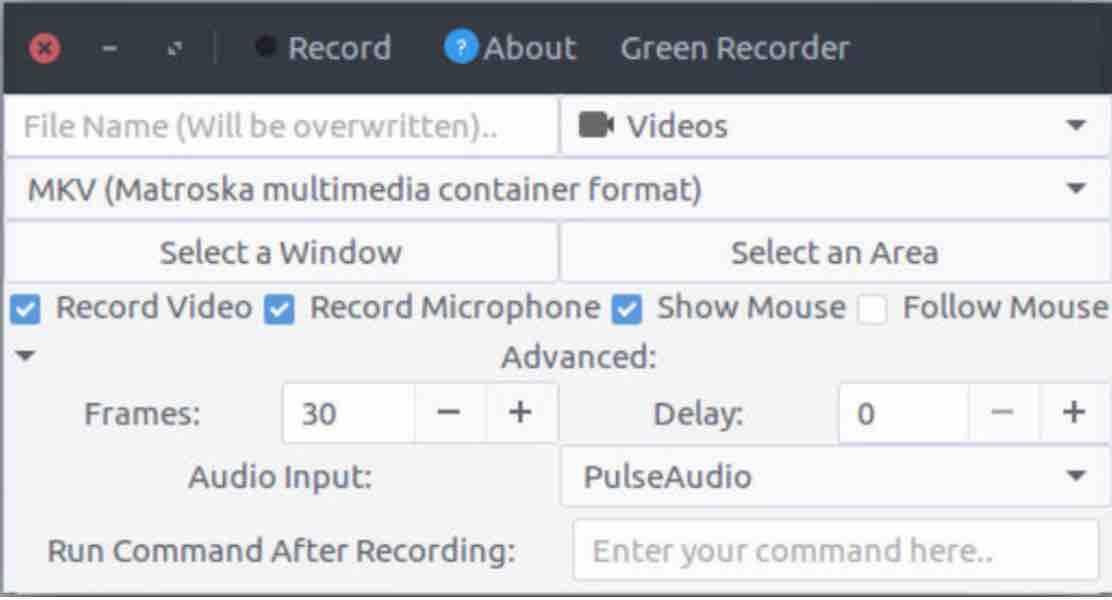 You can also choose the audio input from which you want to record the audio. It is made with Python, FFmpeg, and GTK+ 3 and made available to download under the GPL 3 license. It is a simple yet powerful screen recording tool with D-bus API using GNOME shell.
These are the five best screen recorders available for Linux. Go ahead and try these screen recorders and choose one which fits your needs.
---
If you like the content, we would appreciate your support by buying us a coffee. Thank you so much for your visit and support.