IT Rating differentiates itself from other web resources that assess the performance of IT professionals and companies. First, our independent rating is backed up by unique smart algorithms and scoring systems. Second, we're shaping a powerful  ecosystem for the digital industry that all its participants can benefit from.
Verified data only
Any IT company can submit an application to be included in our ratings. Before accepting it, we'll scrutinize the applicant's portfolio. We'll check which tools, frameworks and programming languages it uses and which projects it has completed. We'll take into account only the information that facts can prove.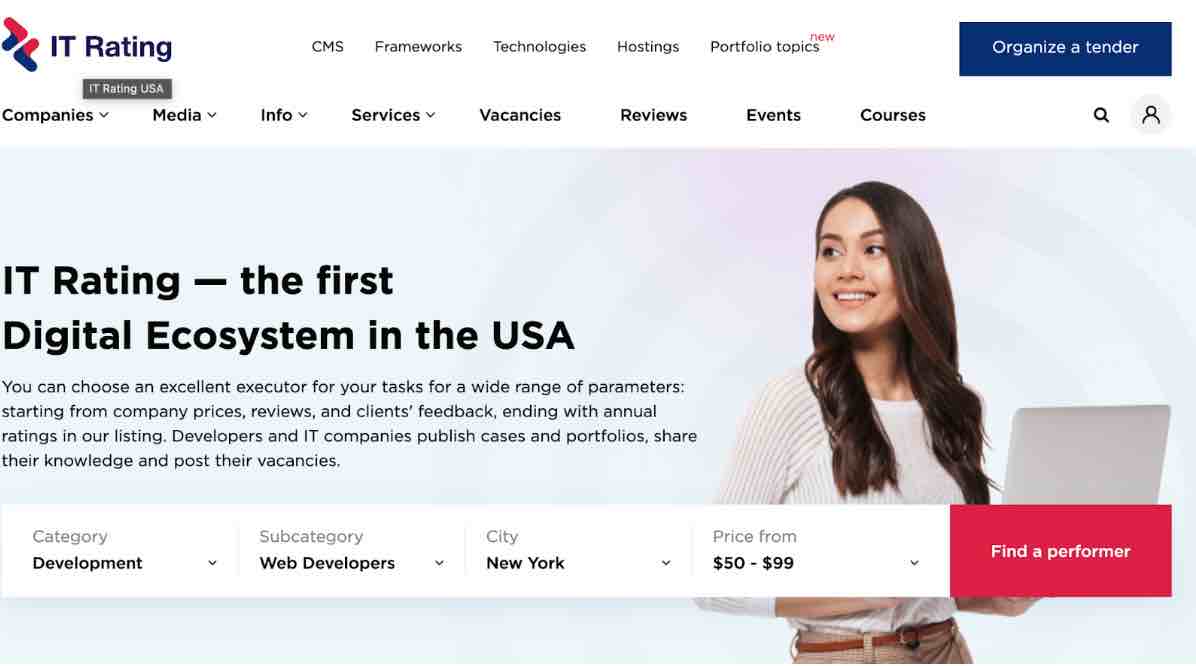 Read: Implementing ITIL: Advantages You Should Know
AI-based solutions
We've built a top-notch Al-based recommendation algorithm. It analyzes your previous experiences on our platform and suggests organizations or professionals to you based on that data.
The primary mission of our ecosystem is to foster partnerships and honest competition among AI companies. They get a chance to solidify their positions on the market, hire top talents and attract new clients. We cater to specialists with any level of expertise, from junior developers to top managers.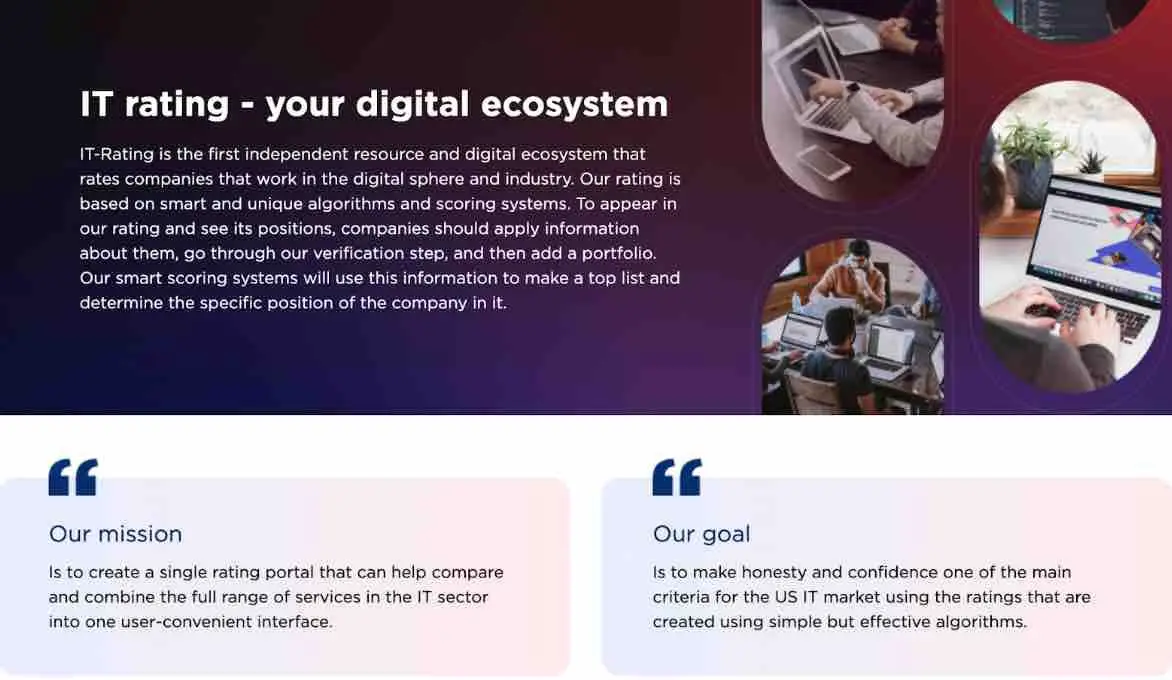 Digital ecosystem
On the IT Rating resource, you can find a lot of useful information: from job openings to educational courses, from industry news to the results of recent research.
Read: How Artificial Intelligence Predicts Trading Market
Ratings
Our ratings are 100% impartial. Our scoring system gives consideration not only to feedback and reviews but to reliable quantitative and qualitative factors. If a certain company lands in the first position in the rating, it means its achievements are reflected in a precise formula.
IT News
On our website, we share the news that enables IT specialists to stay on top of the game. You'll be aware of the latest advancements, innovations and breakthroughs in the industry. All the facts that we publish have a high pragmatic value.
CMS/Framework/Constructors
When selecting a framework for your project, you shouldn't let your gut feeling guide you. Instead, check the statistics that we provide. The numbers will show which solutions are spot-on for the demands of your product.
Business
The IT sphere exists to let businesses operate and evolve. When a company owner or a manager needs to find professionals with specific technical expertise, our website will help them make the right choice quickly and conveniently. You'll get to know how to make the most of IT technologies.
Portfolio
All the IT company portfolios on our website are highly informative and well-structured. They provide insights into the tech stack and the experience of each team. You can easily identify top performers in the niche that you're interested in.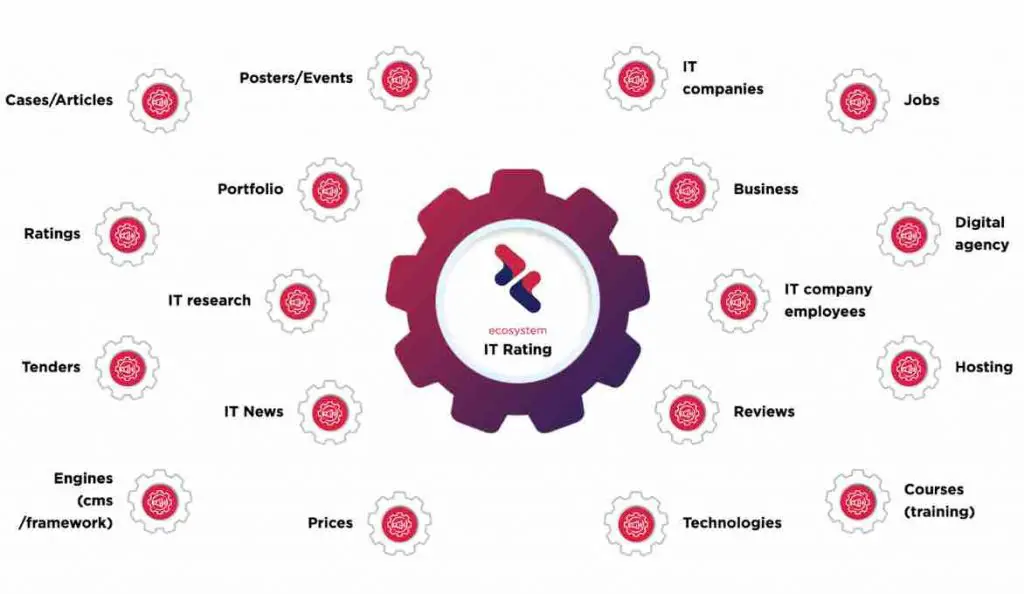 Read: 6 Ways Innovation Accounting is Changing the World of Business
IT Research
We stay in touch with the leaders of the IT industry. We continuously monitor the trends and accomplishments of the sector. We know the peculiarities of the IT market in each country and region. Our team eagerly shares their knowledge with our audience. On our website, you can always find the results of fresh research and actionable analytics.
Tenders
When you start searching for an IT contractor, companies will be sending their presentations to your email. All these documents will have a different structure and it will take you too much time and effort to compare them. To facilitate your choice, we allow our website users to run tenders. It's an intuitive and efficient instrument for detecting the right IT team. Your ultimate decision will be based on the objective performance indicators of each candidate.
Prices
Some IT professionals might charge twice as much for their services as their colleagues with identical skills. Their potential clients might struggle to determine whether the surcharge is justified. We'll help you understand the fair price for each type of service. Your expenses will depend on two factors: the contractor's experience and location.
IT Companies
Thanks to our ecosystem, IT companies can find new clients and hire new team members. A company's position in our rating perfectly reveals its strong and weak sides. The managers of each organization can see by which parameters they outperform their competitors and which aspects of their workflows could have been improved.
Read: Scrum methodology: What is it and how it can be used by companies
Vacancies
Tens of thousands of IT specialists visit our website every month. When you post a job offer with us, it will immediately attract a lot of attention. You'll be able to staff your organization with the right professionals with minimum effort.
Employers in IT companies
Our ecosystem enables businesses to meticulously assess every IT company that they consider a potential partner. You'll find out which specialists work for it, which types of projects they can handle and what their customers think of them. You'll get a holistic impression of the contractor without contacting them.
Reviews
All the reviews on our website are real and verified. Only people who have indeed interacted with IT companies can leave them. It's impossible to share an opinion anonymously, without backing it up with any evidence.
Hosting
The quality of services of a hosting provider is paramount for any business that has an online presence. The more reliable the hosting, the better your customer experience, the smoother your business processes and the higher your revenue. To compose our rating of hosting providers, we analyze the performance of the websites that they cater to. We take into account the niches, the location and the workload of these sites.
Events
In our calendar, you can discover offline and online events that IT professionals might want to attend. It includes conferences, webinars, hackathons and many other types of gatherings. We hand-pick only the most noteworthy events and list them all in one place.
Resume
Creating a new CV for every new job opening is an outdated practice. Instead, we allow candidates to link their IT-Rating pages with their LinkedIn profiles. It will be very convenient for potential employers to check them.
Read: How to Create a Digital Marketing Strategy That Will Generate the Most ROI
Technologies
Before you start building a digital product, you should choose the proper technology for it. The term "proper" means that the selected tools suit the requirements of your project. Plus, the technology should be popular and compatible with an extensive range of solutions. Imagine that the team that you hired finished working for you. New specialists who will keep on maintaining your product should be able to effortlessly take up where others left off. We'll help you select the most powerful and flexible technologies.
Courses (training)
IT professionals need to continuously acquire new skills. Many people decide to abandon their previous occupations and switch to IT for the sake of career growth opportunities and good salaries. We share information about the most useful courses for students with any level of expertise. You won't need to search for educational opportunities manually or ask your friends for advice.
Startups
In the Startups section of our website, you can find a list of promising and credible projects that you might want to support. We select them with the help of an AI-powered algorithm that involves a multi-stage analysis. We keep refining and improving our methodology to help businesses make smart investments,
Our honest and transparent services enable IT companies to understand their strengths and weaknesses and identify ways for improvement. Our rating is instrumental for businesses that want to expand their audiences and maximize their profits. We help IT employers and job seekers find each other and complete exciting projects together.
---
If you like the content, we would appreciate your support by buying us a coffee. Thank you so much for your visit and support.