When several companies began selling methods for rapid recovery, restoring your iOS devices has gotten a lot easier. Getting your iOS device back to normal, whether it's a simple logo malfunction or a significant data loss, isn't difficult if you use reliable system recovery software. We've looked at a few of these programs before, and now we'll look at the TunesKit iOS System Recovery app, which is available for Windows and Mac.
An introduction of TunesKit for iOS System Recovery
TunesKit iOS System Recovery, as you might have imagined, is a utility that can be used to reinstate your iOS to its initial functional condition. It can resolve issues like the Apple logo crash, black screen, and other difficulties with Apple iOS devices and TV. According to Apple, you can fix more than 150 iOS-related bugs on iPhones, iPads, iPod Touches, and Apple TVs. So, regardless of the Apple device that you're using, you'll be able to solve problems on practically any of them.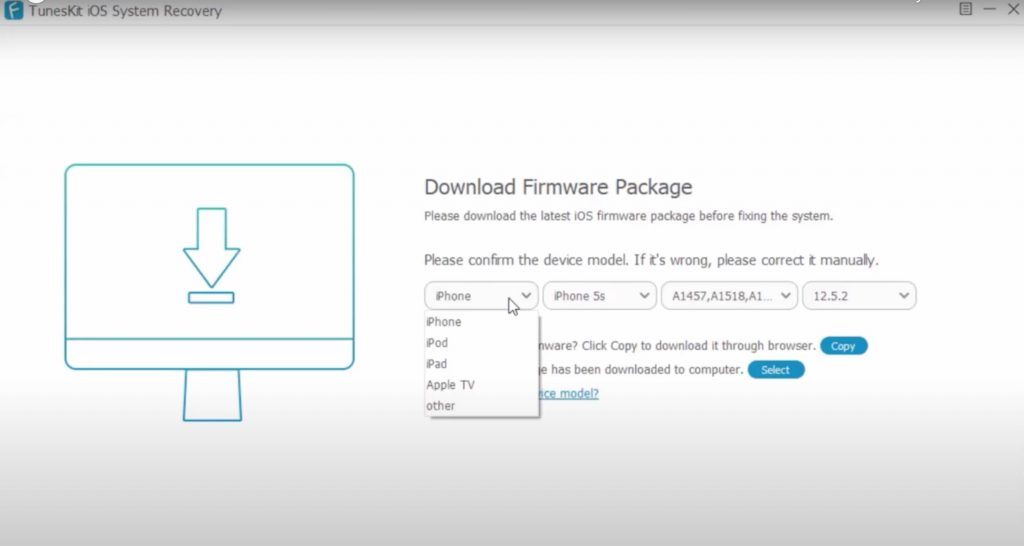 All of this can be performed without causing any data loss, allowing you to use your phone as if nothing had gone wrong. It isn't like a factory reboot where you lose all your info. Instead, the program simply accomplishes what is required and restores the devices to their previous condition. If the repairs don't work, you'll have to resort to advanced recovery, which would wipe out all of your data. TunesKit is a simple three-step recovery technique to help you solve practically any problem with your Apple devices that could cost a fortune to fix.
An all-in-one solution that can fix a lot of different bugs
The tool isn't simply for resolving a few minor difficulties that may arise from time to time. However, it is an all-in-one solution for practically every issue that may occur on your Apple devices, such as the iPhone, iPod, iPad, Apple TV, and so on. Everything from a black screen to the boot loop may be solved with the tool, including stuck in recovery mode, white Apple logo, stalled upgrades, restoration failure, frozen screen, and so on.
Never lose your data again
The content of your devices will not be harmed during the recovery procedure. While many other programs would advise you to factory reset your device to make it functional again, TunesKit will attempt to resolve the problem without causing any data loss. It will ensure that you can enjoy all of your experiences after the patch has been performed. This is the software's default mode. Two options are available to choose from, as listed below.
Read: How to Recover Deleted or Corrupted Files on Linux with These 14 Amazing Tools
Modes: Standard or Advanced
On the program, there are two modes to select. There are two modes: standard and advanced. The normal mode will attempt to utilize the simplest and easiest repairs first, rather than resorting to complex approaches that may result in data loss. If the problem is complicated, you may need to use the Advanced recovery method.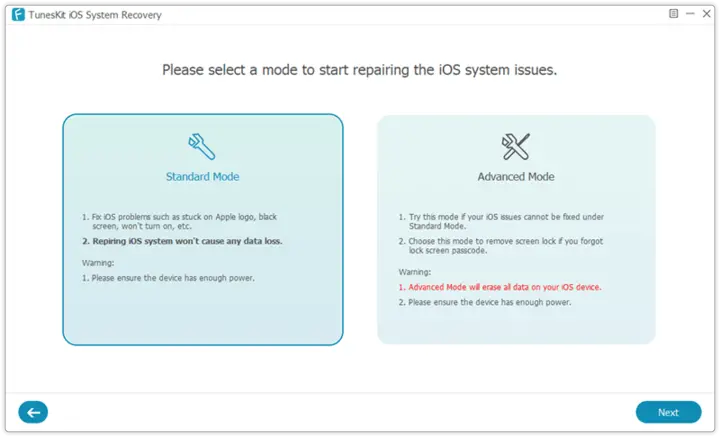 Advanced mode will wipe all of your data, so use it with caution. It should only be used if you cannot restore the device using the standard mode and have no other alternative than to reset the device.
Additionally…
The app is more than simply a troubleshooting tool for minor problems. While offering such a beneficial function, the app may also be used to roll back your iOS update to prior versions if you are having issues with the current one. It can also resolve various iTunes or backup issues, offering a one-click solution for keeping your Apple devices in good working order.
How do I use it?
If you've already downloaded the program, all you have to do now is follow the instructions outlined below to resolve any iOS troubles.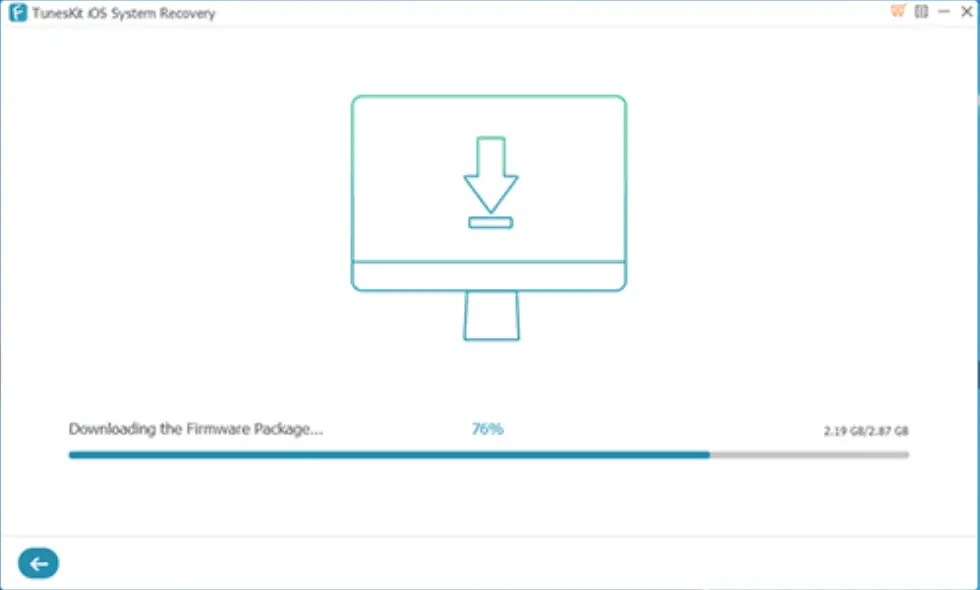 The procedure is fairly straightforward. Here is how to quickly fix your gadgets without difficulty.
1. Start the program.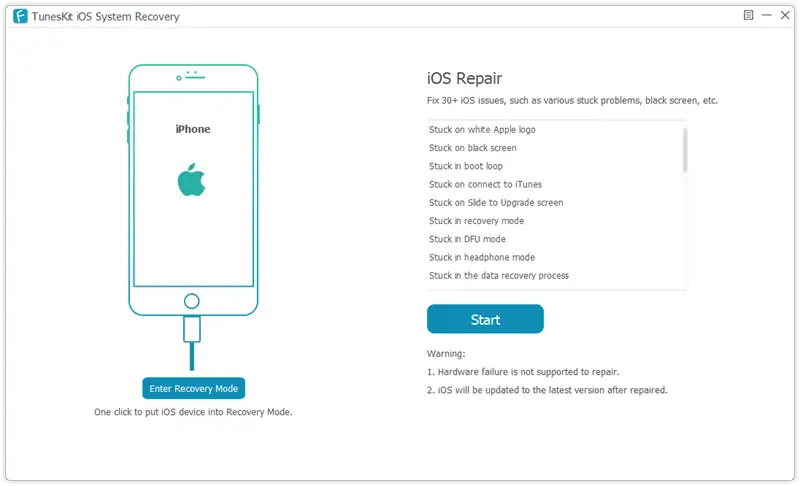 2. Connect your iPhone/iPad/iPod/Apple TV to the PC where the program was installed.
3. Wait for it to be recognized before pressing the Start button.
4. Choose your device model and place it in DFU mode so the program can fix it.
5. Based on the issue's complexity, select Standard or Advanced mode. If you don't want to lose your data, we advise using Standard mode.
6. Install the software file on your device model in the next step.
7. When the download is finished, select Repair from the drop-down menu.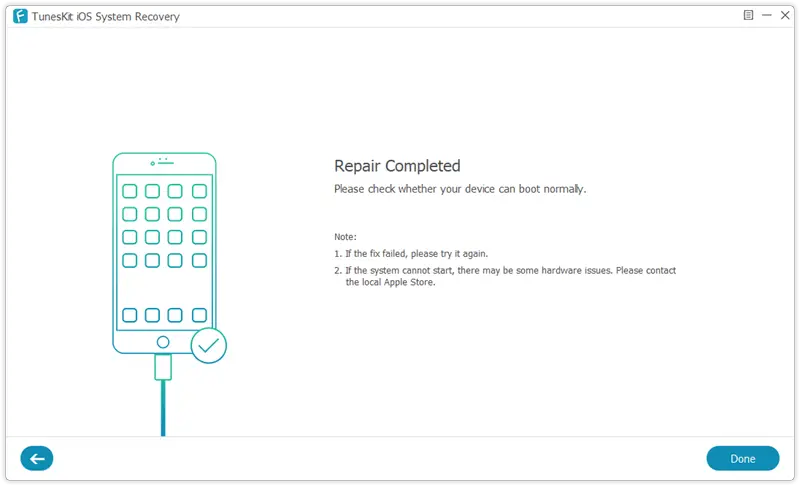 The processes are identical if you select the advanced option and don't mind losing your files. Then, just follow the above-mentioned on-screen instructions.
Ensure that the device is connected for the entirety of the procedure. If you don't, it may become useless due to software corruption. It's best to perform it on a reliable laptop and without power outages.
Read: How To Fix A Corrupted SD Card Without Losing Data
Advantages
Straightforward functions and a quick method

Ability to correct problems without losing data

Nearly all Apple devices are supported.

A money-back guarantee is available if you are not impressed by the program
Drawbacks
Closing Remarks
TunesKit iOS System Recovery is a fantastic solution for resolving iOS problems without compromising your data. Although it was still unable to resolve some complex issues without doing a hard reset and wiping all data, it performed admirably for most typical problems. So, if you don't want to pay a repairman a large sum to fix a black screen or a frozen logo, you should consider trying it. It can save you money and also speed up the procedure. A year's license costs $39.95, which covers two devices and unlimited laptops with a 30-day money-back guarantee.
---
If you like the content, we would appreciate your support by buying us a coffee. Thank you so much for your visit and support.