PDF format is commonly used by office workers for its convenience and portability. However, PDF files can always be a headache for many office workers. An effective and practical PDF processor can make it easier for the user. Yet, most of the PDF converting tools on the market charge high fees. Today, I'd like to recommend you a free and practical PDF converter—WorkinTool PDF Converter. Hope you can enjoy it.
Brief Introduction
WorkinTool PDF Converter is a powerful and effective office operating software that has been released recently. It combines many mainstream PDF operations into one. For instance, it carries out the conversion of PDF formats into Word, Excel, PPT, JPG, etc. You can convert other forms to PDF as well. There are still many other usages, and I will elaborate on them in the following part. Rest assured of the software quality since it has been developed by a leading software company – WorkinTool, which has nearly ten years of experience in desktop software.
Chief Strengths
Easy-to-use
Admittedly, a competitive advantage of this software is that it integrates various PDF operations into one home page. It is clear and friendly to beginners. With its clear interface, you can easily find what you want. Its operation process is smooth and rapid, and the resulting quality is ensured. 
Free
There is very little completely free office software. WorkinTool is one of them.  It has a long-term free trial period, and there is no limit for use.
Safe
Copyright awareness is gradually increasing in recent years. WorkinTool will spare no effort to guarantee your data privacy and information. It asks for no registration or login, and you don't need to input your email or phone number.
User-oriented
This software has been designed from the users' perspective. The developers are always aware of what the end-user need.
Key Features
Not only is WorkinTool PDF Converter a PDF converting tool, but it is also an all-in-one PDF processor that can be used for merging, splitting, compressing, editing, etc. In this article, I'll elaborate on three frequently used functions.
Convert to/from PDF
As a core feature of this software, it is formulated to be comprehensive and concise. There are nine options in the Convert to/from PDF column. It can perform the conversion from PDF to Excel, PPT, JPG, and HTML, and vice versa. In addition, the transformation of other file formats is still underway.
With regards to the operating process, it is suitable for beginners. Just choose what you need. To be specific, if you need to convert a PDF file to Word format, click "PDF to Word" then click "Select PDF file" or drop the files directly.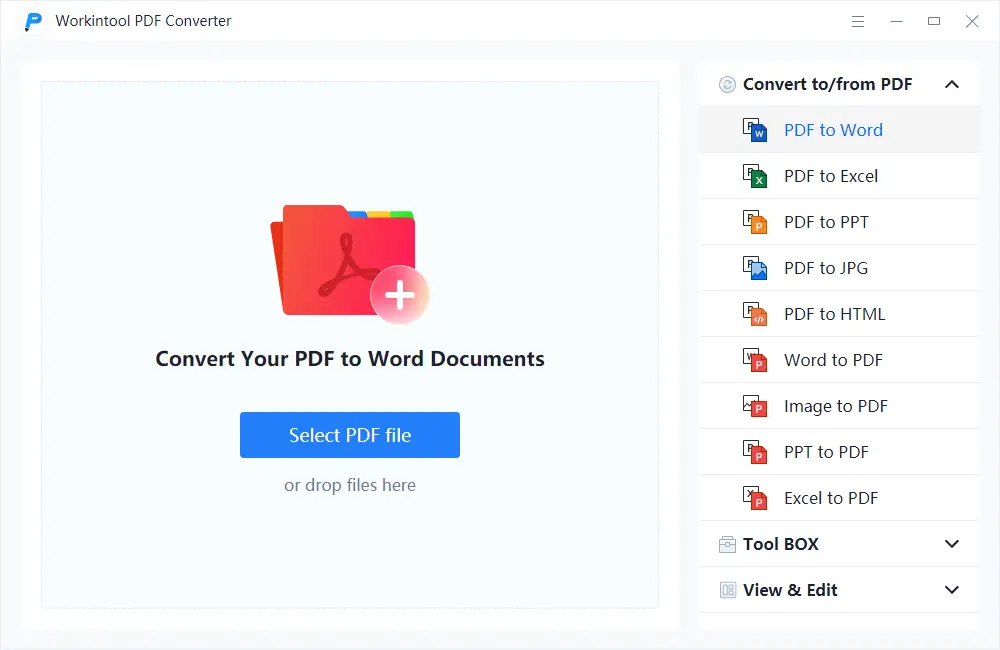 Batch processing is available to you also. And the number of files will not affect the converting speed too much. It will still work fast. To do so, you need to click" Add file". Change the location of new files if you want, then press "Convert". After that, you can achieve batch conversion successfully in just a few seconds.
Read: How to install and use PDFTK on Linux to merge or split PDF files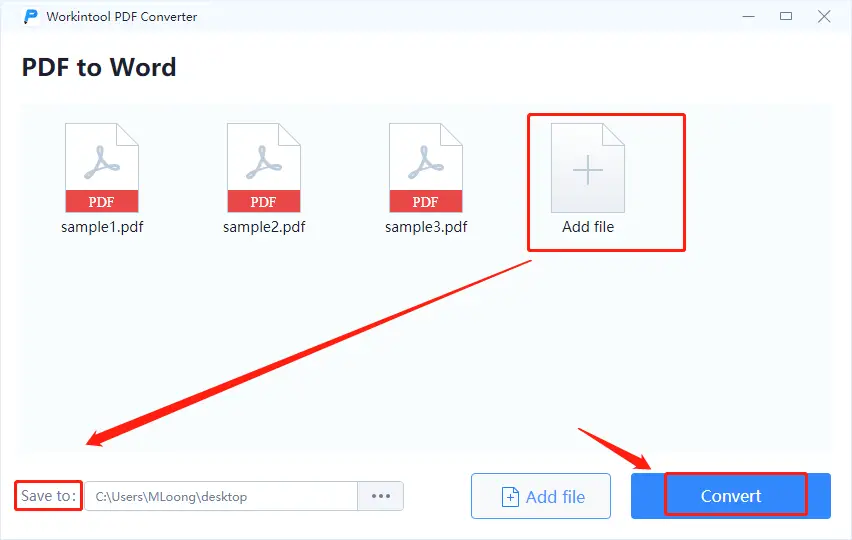 Merge & Split
Sometimes, merging or splitting PDF files is necessary for our daily work. It is always difficult to handle when that relevant files are separated, or unrelated documents are mixed. This feature offers an effective way to integrate related files into one or eliminate unnecessary files with ease.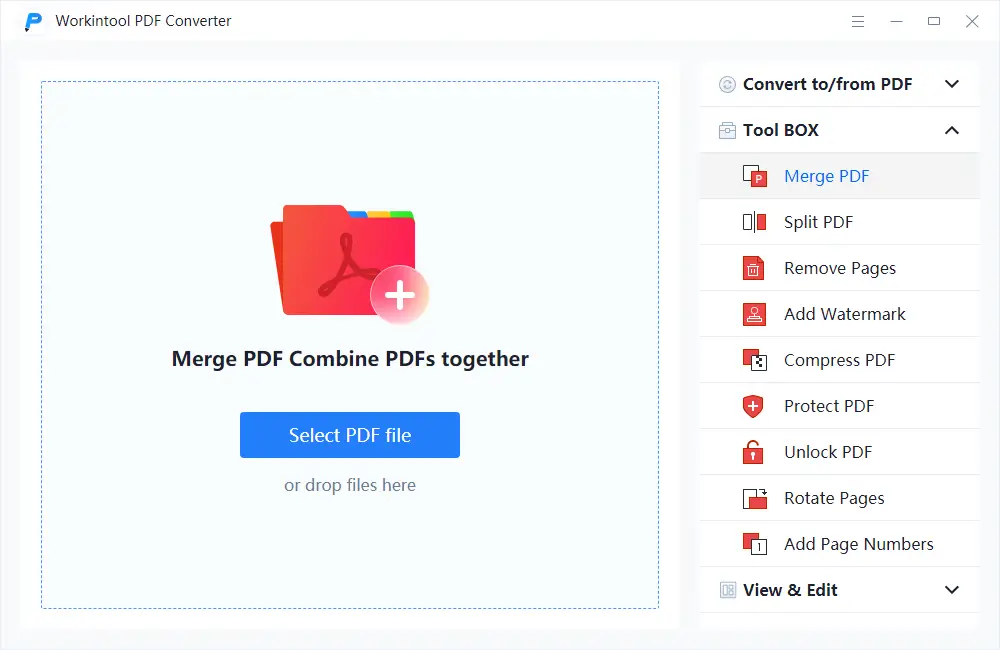 To combine PDF files, first, you need to open the "Tool BOX" column. Then click the button "Merge PDF". After that select your PDF files or drag files in the box directly. You can add and delete files without limits before you press "Convert". After a few seconds, you can get the merged PDF. The operation is similar if you want to split PDF.
Read: 4 Benefits of Compressing Files and Folders Using Tar Backup in Linux OS
Compress PDF
You may agree with me that a large-sized PDF file is always a hassle to deal with. Too many images or pages may slower their loading and handling speed. If this case, you'd better consider compressing the document. This function lets you compress files with minimal effort.
Just choose "Compress PDF" then drag files to the right side or select files from your folder.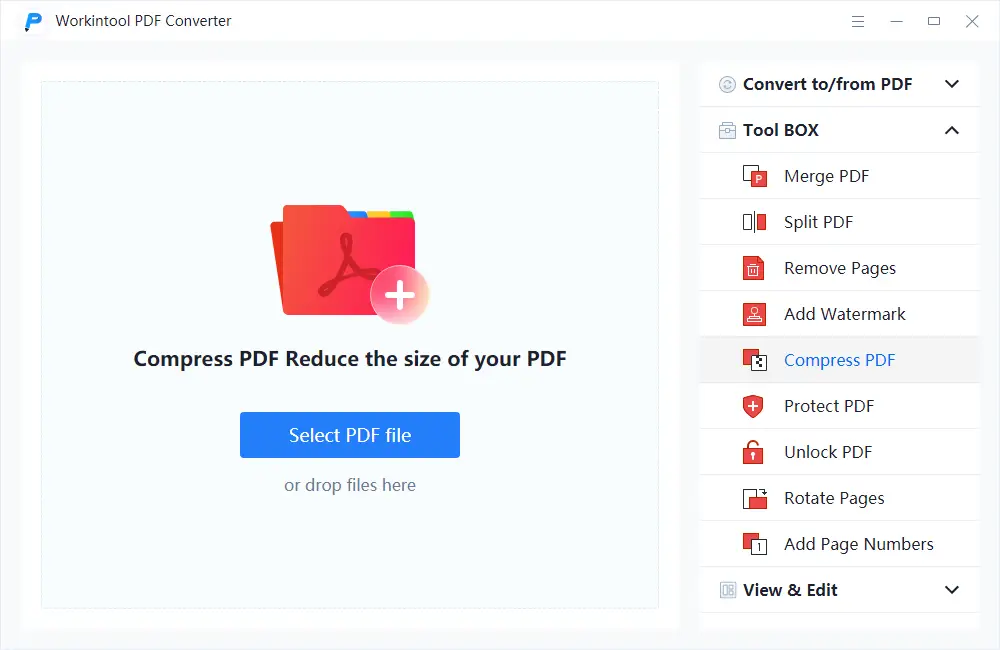 You can compress several files at once. Just press "Add file" or drag other files again. The compressing speed remains fast even when it is converting many files simultaneously. You can also select the normal compression or the extreme compression. It will lead to files of different sizes and qualities.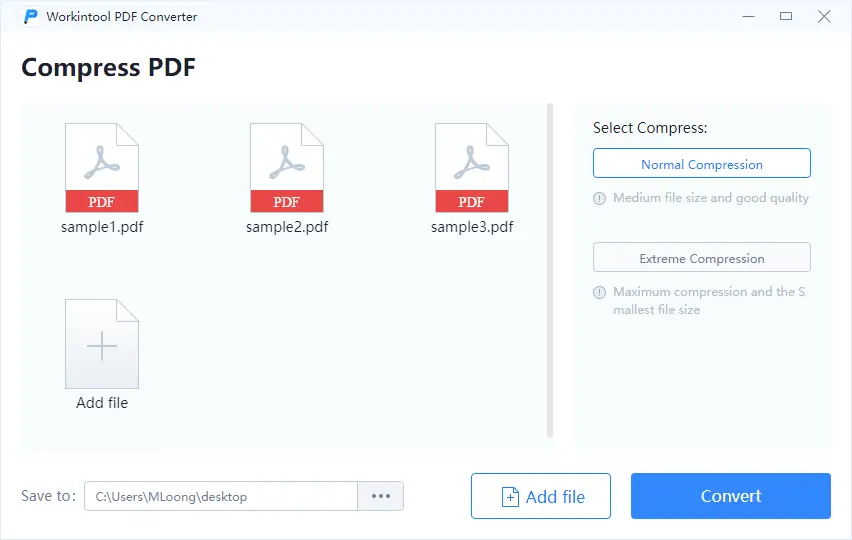 Other Tools
Apart from the functions that I have mentioned above, with WorkinTool PDF Converter, you can have access to extra valuable office operating tools.
It indeed has powerful features more than the competition. Choose it as your working assistant, you can deal with almost all PDF troubles.
Wrapping Up
Workintool PDF Converter is one of the best PDF processors available for Windows, which is packed with many features. If you need to cope with PDF files, converting, or editing, you won't have to spend any coins or accomplish an extra task quota. Considering that it can be used in both online and desktop settings, you can also take a little trial online to examine its functionality. Want to know more details, you can visit the website here.
---
If you like the content, we would appreciate your support by buying us a coffee. Thank you so much for your visit and support.