The iOS 15 was unveiled at WWDC 2021, the annual Apple event . Among the new features of the new iOS, are some that are already known to those who have Android .
Apple Maps , for example, will add information about public transport, which has been available in Google Maps for a long time. Additionally, some features announced for Android 12 on this year's Google I/O will also make it to the iPhone with iOS 15.
1. Navigation Details on Apple Maps vs Google Maps
iOS 15 brought some important improvements to the Apple Maps app. For those who drive, Apple Maps will show more delineated curves, in addition to bus lanes and crosswalks. For those who prefer to get around the city on foot or by bus, Apple Maps will allow you to check transport lines and will send travel times notifications to the iPhone.
When walking around the city, it will also be possible to point the iPhone camera through the streets to be guided by Apple Maps, which will show the correct path through augmented reality technologies. Google Maps has very similar features.
In 2020, Google announced changes to Maps, which included more detailed information about crosswalks and sidewalks. As for bus stops and public transport, the Google map has had this feature for a long time , detailing the routes and end points of buses, trains and subways, with the approximate time of departure of vehicles .
2. Live Text vs Google Lens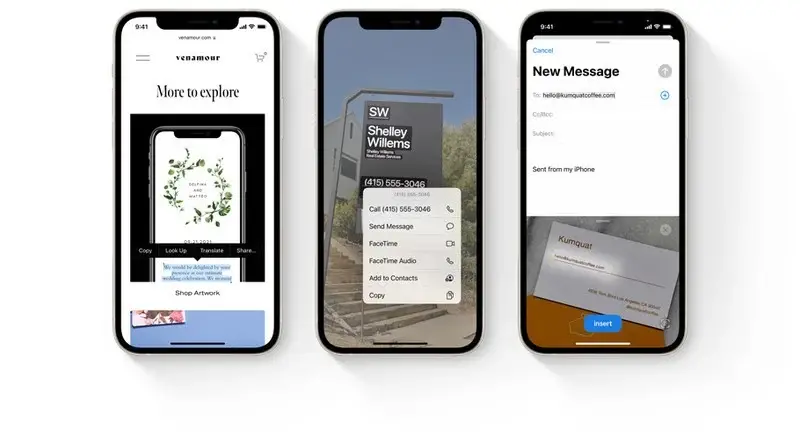 Image source: imore
Another novelty announced at WWDC 2021 was Live Text and Visual Look Up. The tools are capable of recognizing the text content of photos and performing searches based on images.
According to Apple, Live View is able to extract text information from images and transcribe them to the iPhone's notebook, while Visual Look Up will be able to recognize animal breeds and plant species.
Read: Best 9 writing Apps for iOS
The Google Lens , announced by the search giant in 2017, basically does the same. With the phone's own camera, you can point to a specific object and search for similar objects in Google Search , for example, and the same goes for discovering different species of plants and animals. In addition, the feature recognizes and translates texts in real time , and can even solve calculations by scanning equations from photos .
3. More Home Screen Customization
iOS 15 will allow you to rearrange pages on the iPhone's home screen. The feature, which accompanies notifications brought by widgets and App Library with iOS 14 , are already known to those who have Android. Google's operating system has been customizing the home screen for a long time, as well as removing app notification icons.
4. iOS 15 vs Android 12 privacy section
Announced at this year's Google I/O, Android 12 will feature a new section that will allow you to check which apps have accessed device information . It will be possible to check the applications and the granted permissions in the last 24 hours. The feature will be called Privacy Panel, and lets you check which apps have accessed the device's camera, microphone, contacts and location.
At WWDC 2021, Apple, which has been announcing privacy improvements since iOS 14, will also have a page dedicated to the permissions granted by apps on iOS 15. On the iPhone, the feature will be called Privacy Report, and you can check which apps have accessed the smartphone's camera, microphone, location and other data over the past seven days. You also have the possibility to create your own app by contacting for instance mobile app development services companies.
5. Grid view and blur in the background of FaceTime vs Google Meet
The iPhone's video calling app, FaceTime, will get a new audio setting, called "spatial audio" and will also allow for grid viewing on calls with many participants. The update will also allow you to choose a portrait mode to participate in video calls, an option that blurs the environment behind the user.
Of the new features revealed for the iPhone calling app, the last two features are already available on Google's rival. The Meet lets you view conversations with many participants with small screens devoted to each – which is the grid view – as well as offering features that enable blurring the background and modifying the scenario.
Read: 8 Best AR and VR Games for iOS and Android Today
6. Photo Memories
Apple's photo app will integrate with Apple Music on iOS 15, and should allow users of the streaming service to add music to their Memories. In addition, Fotos also has a new automation feature which is able to analyze photos and recognize moments such as events, holidays, photos from when you were a child and even your pets.
The feature, despite being new to the iPhone, is already known to Android users. In 2019, Google Photos started displaying Memories stories at the top of the app, right after opening it. In the last month, the feature has also been enhanced with more photo options to remember , focusing more on images captured during travel events and holidays, as well as showing last month's highlights — a feature that was also announced for Photos, from Apple.
7. Add an heir contact to the Apple vs Google account
Since 2016, Google allows you to register an email address of a trusted person to your Google account, who will be able to access your photos, email and documents after your death.
Along the same lines, Apple also announced at WWDC that it will allow users to add their contacts to their iCloud account .
Read: Best messaging apps for iOS
8. Tagging notes in Notes and Keep
The iPhone Notes app has also received improvements. With iOS 15, it will be possible to add different tags to a note. Now, in addition to creating folders, pinning notes and adding different formats to your lists, you'll also be able to tag so that you can categorize your notes and find them more easily.
The feature, which is already accessible to Android users, Keep , allows you to create different bookmarks for the notes saved in the notebook. Despite this, Google's note-taking app doesn't allow you to create folders, unlike the rival for iPhone (iOS).
9. Tab Groups in Safari vs Chrome
Another feature announced for iOS 15 that exists already on Android is tab grouping. The function started working on Android this year, and allows you to organize Chrome tabs in the same group, making it easier to navigate the platform.
The feature is especially useful when you are researching on the same topic, as it allows you to open different pages in the same place. On iOS 15, the feature will also be available in Safari , and should work similarly to Chrome tab groups.
10. Voice search in browser
In addition to the grouping of tabs, Safari will also receive improvements in relation to searches performed by the browser. iOS 15 should introduce voice searches in Safari, which can be done through a bar with a microphone icon.
By tapping on it, you can say what you want to search for, and then Safari will open the search results. The voice search feature has been around on Android since 2019, when Google added a microphone to the search engine's search bar.
---
If you like the content, we would appreciate your support by buying us a coffee. Thank you so much for your visit and support.