NOTE: The actual contents and opinions are the sole views of the author who maintains editorial independence.
Did you forget your SD card in the pocket, and now it is lying in the washer? Or has your hard drive crashed? Whatever be thereason, you are at a high risk of losing essential data.
Let's admit; all these incidents are nightmares no one wants to go through. However, these human errors are inevitable. And therefore, arises the need for a data recovery tool.
The following guide will introduce you to a powerful data recovery tool Wondershare Recoverit. Unlike others, the Recoverit software has a simple user interface and ensures quick recovery at a reasonable price.
But before we delve deeper into the tool and how it works, let us understand the main reasons responsible for data loss.
The cause of the data loss
40% of information loss is due to hardware failure, while human errors account for 29% only. We have compiled a comprehensive list of the causes and how you fall prey to them.
Hardware malfunction
It is the most common cause of data disappearance the world over. According to stats, two-fifths of data is lost due to malfunctioning in your systems. If you misuse or mishandle the drives, one or more mechanical or physical faults can happen.
To be precise, hardware malfunctioning can be external, internal, or due to system aging.
External causes: Excessive heating, power surge or outage, fire or water damage, and drop off or bad connection can make the system lose some or all the critical information.
Read: 5 Ways To Stop Your CPU From Overheating: A Definitive Guide
Internal causes: Bad sectors, read/write head failure, and firmware corruption are the internal factors that make you face data damage.
Apart from the above, gradual wear and tear and aging can lead to hardware failure and eventually data loss. However, in these cases, you can witness the signs prematurely and work to prevent disaster in the future.
These aging causes include frequent computer crashes, ticking, grinding, clicking noises, unexpected temperatures, corrupted files, and error messages.
Human Error
Another notable reason for data loss involves humans. While adding, editing, or deleting files, some vital data is often deleted accidentally. Coffee spills, dropping an external hard drive are a few errors that occur irrespective of the cautions taken.
All these and more human actions cause the loss of vital information lying in your system.
Viruses
Every day there is a new threat in the form of a virus. These are capable of deleting, stealing, or encrypting vital information. Also, some viruses can even destroy internal functionalities by intruding into the business network and leaving the systems corrupt and inoperable.
Currently, phishing has turned into one of the most widespread reasons for losing data. Just by clicking on the link, the users lose access to confidential information.
However, there is something more dangerous than email attacks. It is called ransomware in the cyber world. The malicious software demands a ransom in lieu of providing you access to your own data. Sometimes, they even threaten to publish sensitive information publicly.
Read: How to fix the blue screen of death error in Windows 10
Natural Disaster
Who can avert a natural calamity? Not only is it unpredictable, but the damage caused is also huge and irreparable. You may lose everything in a jiffy, including data.
Theft
As per research, a laptop is stolen every 53 seconds. While hardware loss can affect you monetarily, it is the data that hits the hardest.
While in the last two cases, the loss is permanent, the good news is that in other cases, you can recover the data with a data recovery tool
What can data recovery software do?
A data recovery tool scans the hard drive or the SD card to hunt for the pages marked as 0s. Once found, they are put together and provided in a retrievable format. Please note that all deleted files are inaccessible and at risk of being overwritten. Using a recovery tool can salvage the problem.
But if the file is partially overwritten or compromised, the probability of recovering it becomes significantly low. The silver lining is that if it isn't long, you can retrieve it. We suggest a robust data recovery software Wondershare Recoverit. Using it is simple. You can retrieve data from external hard drives and many other storage devices easily with it.
Recoverit Data Recovery Process
Start with downloading and installing the Wondershare Recoverit data recovery tool.
Select a location.
To recover data on a computer, it is necessary to choose a location where you have lost data.
Here, please select a hard disk under the "Hard Disk Drives" tab or Desktop under the "Select location" tab. Click "Start" to begin the scanning on the selected location.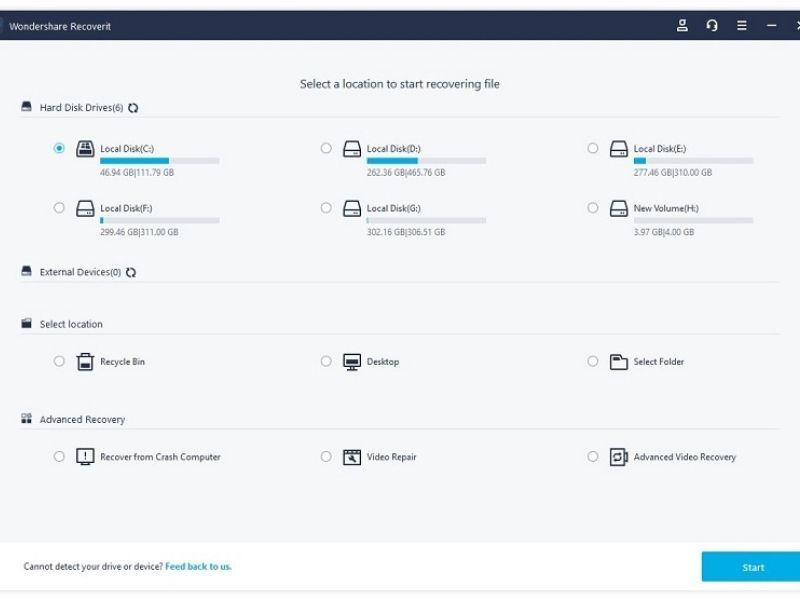 Scan the location
Recoverit begins to scan the location. This step may take a few minutes to complete.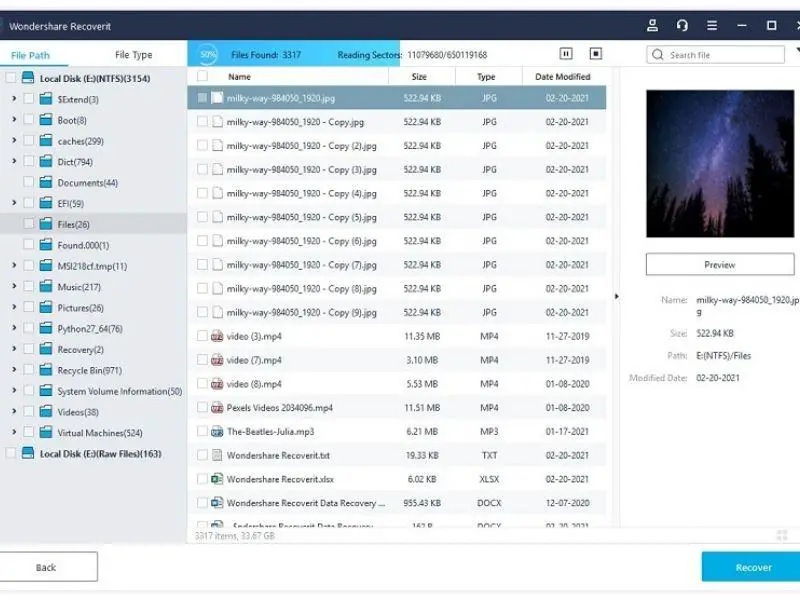 Preview and Recover
Once the scanning is over, have a look at the recovered files and data. Go to 'preview'. Choose the files needed to be restored, Click on the 'Recover' button, retrieve your lost data back and choose a path to save the recovered files.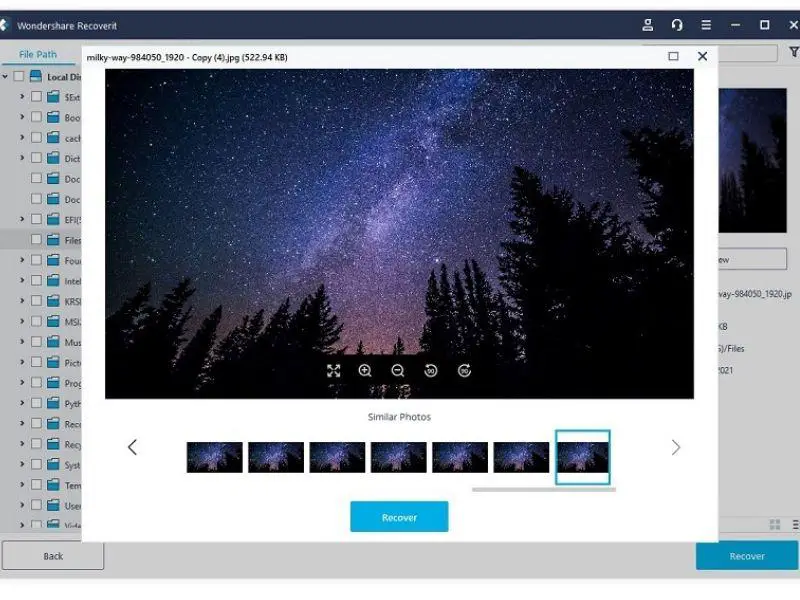 What all can you retrieve with Recoverit?
There are more than 1k types and formats of files that can be recovered. Here is what you can expect to receive back.
photos/images/pictures

Vlog/Videos/movies

Music/songs/audios

Office files

Emails and archives.
Recoverit can even help you recover data from a crashed PC. To accomplish this, the software creates a bootable USB drive or DVD/CD.
Read: Moving the Home folder to another partition in Ubuntu
Features of Recoverit
Recoverit data recovery tool has a few significant features that make it so good.
Files Recovery
With Recoverit, you can recover deleted files such as pictures, videos, documents, music, and more. Irrespective of the reason, you can make use of the software for a successful recovery.
Partition Recovery
When partitions are inaccessible, lost, deleted, RAW, you can use Recoverit to get your hands on to the lost data. The online tool is useful for recovering an array of file formats you may have used such as FAT, Ext2, NTFS, Ext3, HFS+, HFS, and HFSX.
Hard Drive Recovery
Recoverit facilitates you with an impeccable ability to retrieve sensitive information from the PC or laptop's internal storage. Recovery from external drives is also possible with it.
All Storage Media
The free data recovery tool makes data recovery easy from all Windows and Mac devices. You may also recover data from other storage media, such as SSD, HDD, floppy disk, external hard disk, digital cameras, and more.
Recover during Scanning
There is no need to wait until the completion of Recoverit recovery process. If you are searching for a particular file and you spot it while the scan is underway, you can immediately recover it and save it.
Filter
Recoverit allows you to filter any file you desire. This saves time and effort and turns the process shorter.
Read: Wondershare FilmoraPro: Best 2D and 3D Animation Software
Conclusion
If you are looking for a data recovery tool, consider the Wondershare Recoverit data recovery tool. It uses advanced technology to help you recover a wide range of files lost or corrupted. By opting for it, you get 24*7 support from the team.
Besides, it facilitates you to restore at least ten files for free, irrespective of the file size. The tool is available for both Windows and Mac and has a free trial that allows recovering 100 MB of data files without any charge. In addition, you can also try any other free data recovery software in the market to solve your problems.
---
If you like the content, we would appreciate your support by buying us a coffee. Thank you so much for your visit and support.