Updated on May 11th 2023 – In this article we will show some of the best download manager applications for Linux Ubuntu and similar distros. This kind of software is a must for every new and professional Linux user. You will hopefully find some guidance to choose the right download manager that suits your needs. Let's get started.
Persepolis
Persepolis, with its sleek and intuitive user interface, guarantees to exceed your expectations. Say goodbye to the frustration of downloading multiple files from the internet—Persepolis efficiently manages your download sources using reliable protocols.
Unleash the Power of Persepolis Across Multiple Platforms
Persepolis caters not only to Linux but also to MacOS, Windows, and other major ecosystems. This ensures widespread support and compatibility, regardless of your preferred operating system. Seamlessly transition from one platform to another while enjoying the full range of Persepolis's features.
Effortlessly Schedule Downloads and Manage Your Content
Persepolis boasts cutting-edge download management functions, allowing users to schedule downloads according to their preferences. Plan your downloads in advance and let Persepolis take care of the rest. Whether you're downloading large files or multiple packages simultaneously, this powerful tool ensures a hiccup-free experience.
Unlock the World of Video Downloads
In addition to its remarkable download management capabilities, Persepolis comes with a built-in feature for searching and downloading videos from popular sites like YouTube, DailyMotion, Vimeo, and more. This invaluable perk eliminates the need for third-party applications or browser extensions, streamlining your video download process.
Enhance Your SEO Efforts and Stand Out from the Crowd
With Persepolis as your trusted download companion, you'll not only enjoy a seamless downloading experience but also gain a competitive advantage in the digital landscape. By optimizing your downloads with Persepolis, you can enhance your website's performance and attract more visitors. Search engines favor websites with faster download speeds and improved user experiences, making Persepolis an indispensable tool for boosting your SEO efforts.
Maximize Efficiency with Persepolis's Key Features:
User-Friendly Interface: Enjoy a pleasant and intuitive user experience with Persepolis's beautiful UI.

Reliable Download Protocols: Experience hassle-free downloads with Persepolis's robust protocols.

Simultaneous Package Downloads: Download multiple packages concurrently without encountering any issues.

Cross-Platform Compatibility: Persepolis is available for Linux, MacOS, Windows, and other major ecosystems.

Scheduled Downloads: Take control of your downloads by scheduling them to suit your convenience.

Video Downloading: Save time and effort by directly searching and downloading videos from popular sites.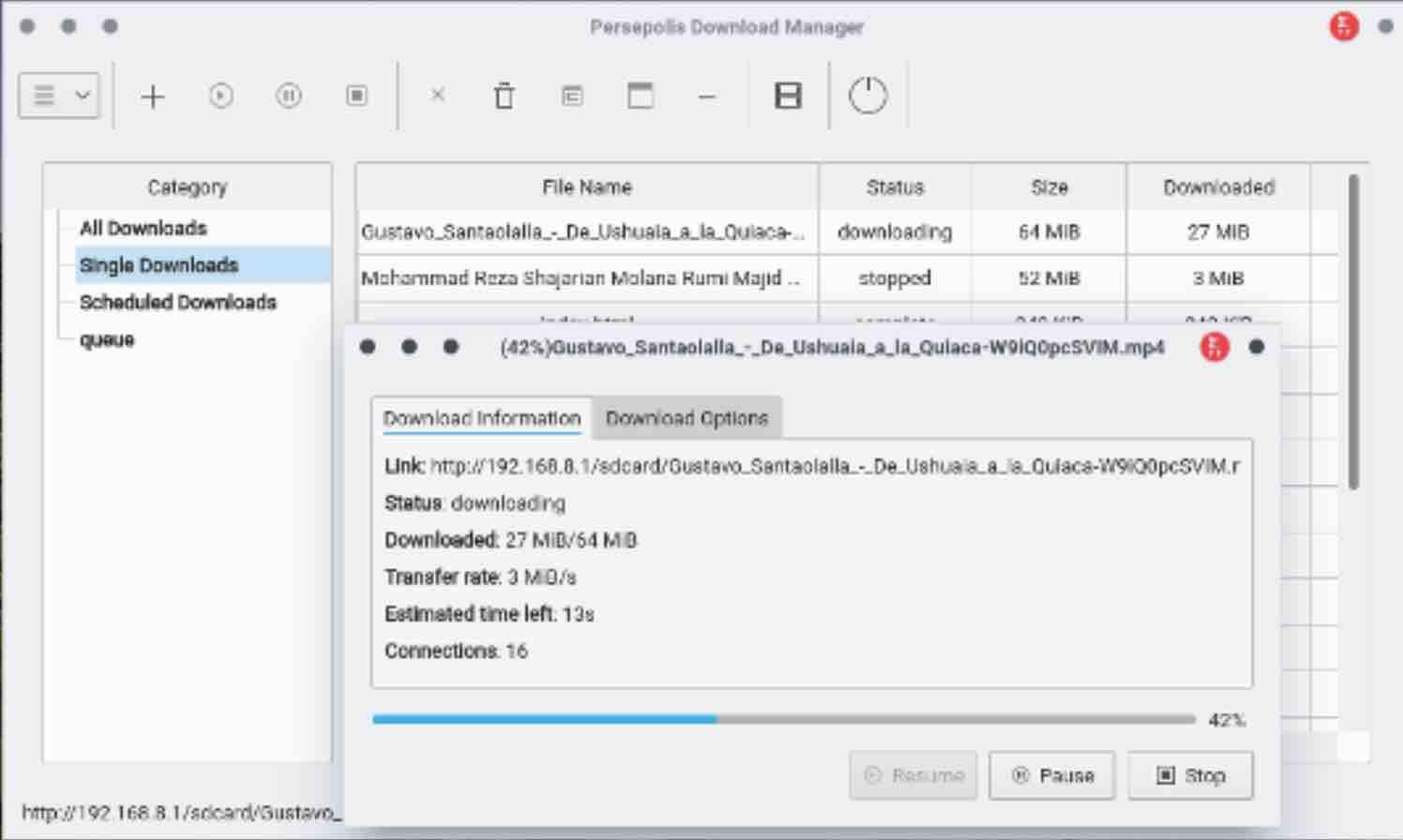 Linux download software Persepolis
To install Persepolis, run the following commands:
sudo add-apt-repository ppa:persepolis/ppa
sudo apt update
sudo apt install persepolis
You can visit Persepolis website here.
Read: Folx: The ultimate Mac downloader
SteadyFlow
Steadyflow, a remarkable download app based on GTK+ and tailored for GNOME, is changing the game when it comes to downloading. With its clean codebase, it puts emphasis on simplicity and user-friendliness, guaranteeing a smooth and efficient experience. Whether you're a fan of a graphical user interface (GUI) or prefer the command line's flexibility, Steadyflow puts you in full control of your downloads. Manage your downloads effortlessly and precisely, thanks to its streamlined performance and removal of unnecessary complexities. The user-friendly GUI empowers users to effortlessly navigate the app, effortlessly monitoring and organizing their downloads. Advanced users can take advantage of the command line interface to personalize their experience, automate tasks, and supercharge their productivity. Steadyflow seamlessly integrates with the GNOME desktop environment, matching its design principles and delivering a consistent look and feel. Experience optimized performance with fast and reliable downloads made possible by a clean codebase and efficient algorithms. Steadyflow's user-centered approach ensures accessibility for users of all levels, from novices to experts, with an uncluttered interface and comprehensive documentation. Make the smart choice and opt for Steadyflow for an exceptional download management experience.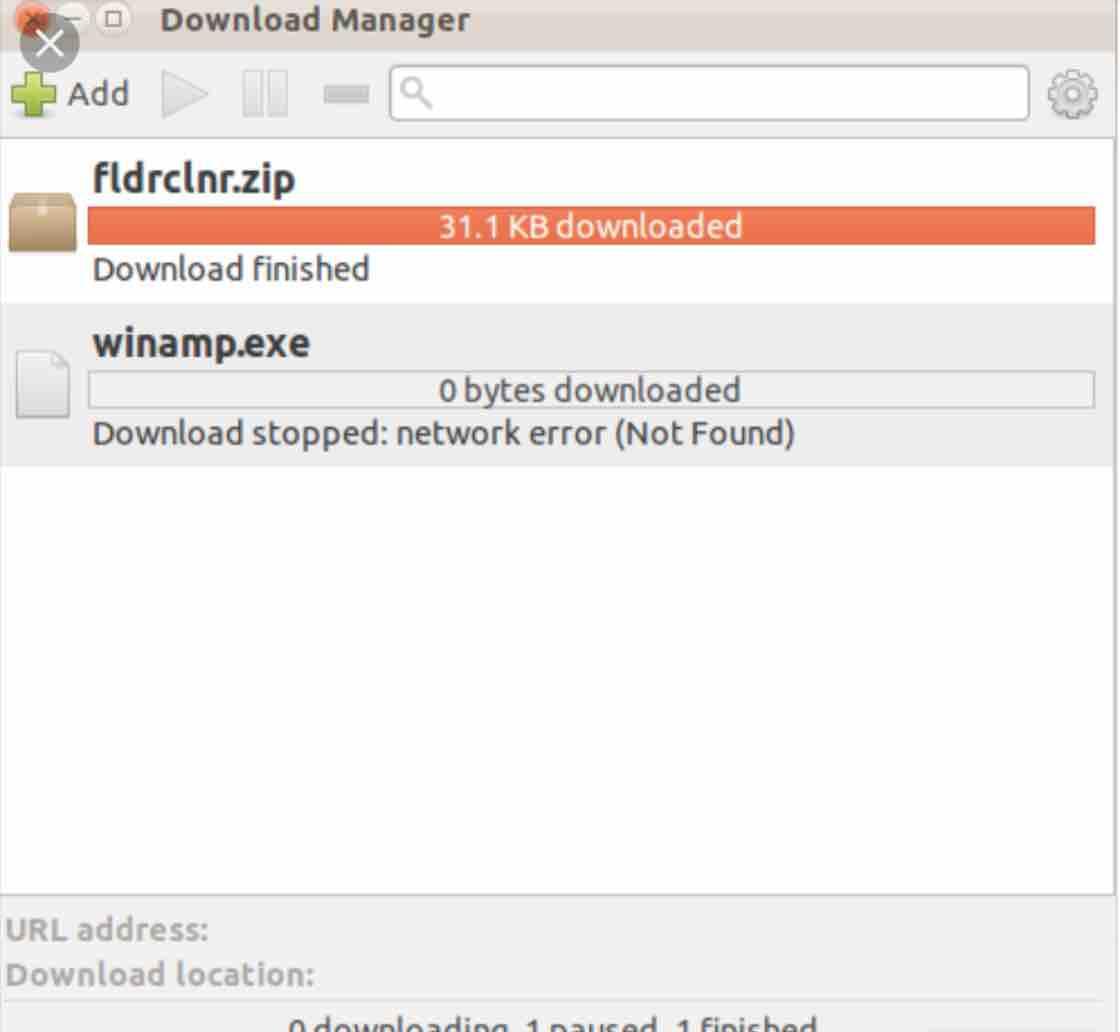 SteadyFlow has the following features :
Supports multiple file downloading at once

File Downloading stop and resume capability

A simple, easy to use with a GTK+ library based GUI

Integration with Chrome/Chromium via "ChromeFlow" extension

Captures URLs from the clipboard automatically

Ability to execute certain commands once the downloaded file is completed
Read: How to speed up Linux
It can be installed using the commands below :
sudo add-apt-repository ppa:sikon/steadyflow
sudo apt-get update
sudo apt-get install steadyflow
Motrix
Motrix stands out from the crowd by offering native support for torrent and Magnet files. No more relying on external clients or struggling with incompatible formats. With Motrix, you effortlessly access a wide variety of files and media content. Whether you're grabbing movies, music, or software, Motrix has got you covered. It even handles BitTorrent links and similar systems seamlessly, ensuring a hassle-free experience.
An Impressive Interface
When it comes to user experience, Motrix takes the cake with its sleek and visually appealing interface. No more cluttered layouts that overwhelm you. Motrix presents an elegant and user-friendly design. Navigating the application is a breeze, allowing you to focus on what truly matters: your downloads.
Efficient Task Management
Ever wished you could download multiple files simultaneously without sacrificing speed? Motrix grants that wish with its exceptional multitasking capabilities. This powerful download manager lets you handle up to 10 tasks at once, ensuring swift and efficient downloads. Bid farewell to those long waiting times and embrace a new era of productivity.
Enhanced Features for Personalized Experience
Motrix goes above and beyond its core functionality by offering additional features tailored to your specific needs. With the Mock User-Agent feature, you can mask your online identity for a more private and secure download experience. Moreover, Motrix provides a dark mode option, perfect for those who prefer a sleek and eye-friendly interface. By incorporating these customizable features, Motrix empowers users to personalize their download manager according to their preferences.
Compatibility Across Platforms
Motrix isn't limited to Linux. Whether you're using macOS or Windows as your default operating system, Motrix is readily available to enhance your download experience. It seamlessly integrates with different ecosystems, ensuring users across various platforms can enjoy its remarkable benefits. Don't miss out on the opportunity to optimize your downloads, regardless of your operating system.
Xtreme Download Manager (XDM)
Get ready to revolutionize your downloading experience with Xtreme Download Manager (XDM), a powerful tool that takes your downloads to the next level. With XDM, you can turbocharge your downloads by a whopping 500%, unlocking a world of convenience and efficiency. Say goodbye to sluggish downloads and hello to lightning-fast file transfers.
Enhance Your Downloading Experience
Xtreme Download Manager is the cutting-edge solution that empowers users to optimize their download speeds and save videos from a wide range of channels. Whether you're a fan of YouTube, Vimeo, Facebook, Google Video, DailyMotion, or any of the other 1000+ supported websites, XDM has got you covered. It seamlessly integrates into popular web browsers like Mozilla Firefox Quantum, Google Chrome, Vivaldi, Opera, and other Firefox and Chromium-based browsers, ensuring a smooth and hassle-free experience.
Unleash the Power of XDM Linux
If you're a Linux user, XDM offers even more functionality with its dedicated Linux version. XDM Linux takes your downloading capabilities to new heights by providing a built-in video converter feature. This means you can not only download videos but also convert them to various formats, expanding the compatibility of your downloaded content. With XDM Linux, you have the freedom to enjoy your videos on multiple devices without any limitations.
Effortless Conversion of Downloaded Videos
Thanks to the video converter functionality embedded within XDM Linux, converting your downloaded videos becomes a breeze. No more searching for external tools or struggling with complex software. XDM Linux streamlines the process with its seamless and intuitive interface, allowing you to convert videos with just a few clicks. Choose from a wide range of supported formats and effortlessly transform your downloaded videos into the format that suits your needs best.
Unparalleled Speed and Efficiency
One of the standout features of Xtreme Download Manager is its exceptional speed. By leveraging advanced algorithms and intelligent dynamic file segmentation, XDM maximizes your download speed to the fullest. It splits files into multiple parts and downloads them simultaneously, delivering blazing-fast speeds that will leave you astonished. Whether you're downloading large files, software, or multimedia content, XDM ensures a smooth and swift process from start to finish.
Stay Organized with Smart File Management
Managing your downloaded files is a breeze with Xtreme Download Manager. It offers a comprehensive set of features to keep your files organized and easily accessible. XDM categorizes your downloads based on file types, allowing you to locate specific files quickly. You can also set custom download paths to ensure your files are saved in your preferred locations. With XDM's robust file management capabilities, you can declutter your downloads folder and maintain a tidy and efficient workspace.
Experience Seamless Integration
Xtreme Download Manager seamlessly integrates into your favorite web browsers, empowering you to harness its power without any disruptions. Whether you're a fan of Mozilla Firefox Quantum, Google Chrome, Vivaldi, Opera, or other Firefox and Chromium-based browsers, XDM flawlessly integrates into the browser's interface. This means you can initiate downloads directly from your browser with a single click, making the entire process swift and seamless.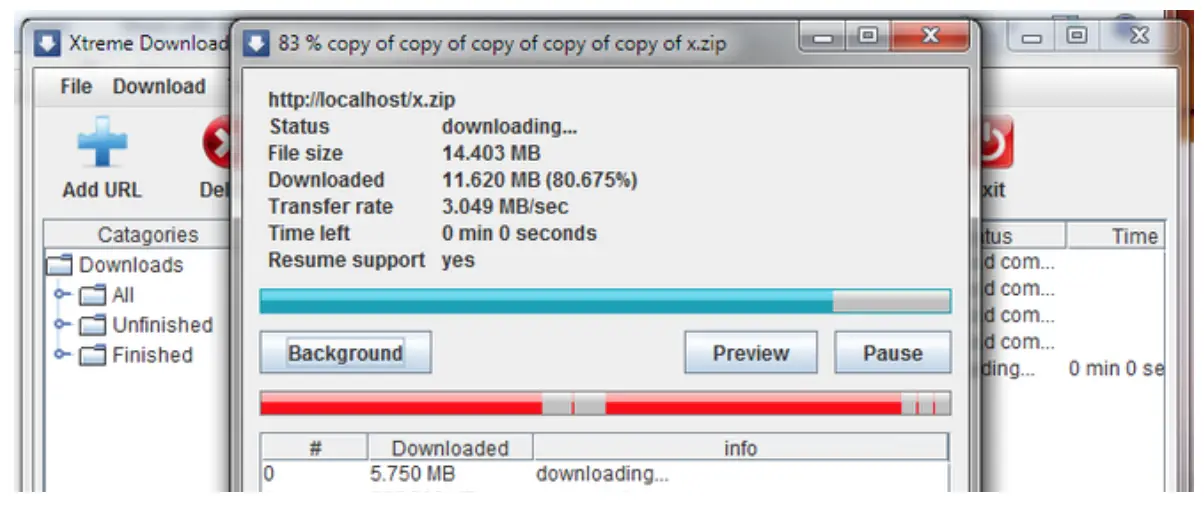 Ubuntu download manager
Here are some of the many features of XDM :
Any streaming video download

5 time faster download speed

Queued downloads with speed limiter

Supports all browsers

Smart scheduler

Download resume feature

Supports all proxy servers types
XDM can be installed from Noobslab ppa by running the commands below:
sudo add-apt-repository ppa:noobslab/apps
sudo apt-get update
sudo apt-get install xdman
You can visit XDM website here.
Read :How to install and uninstall applications on Ubuntu – A Beginner's guide
uGet
uGet stands out as an exceptional open-source download manager, reshaping the way you acquire files. This feature-rich software provides an impressive level of organization and configuration, giving you unmatched control over your downloads. In this article, we will explore uGet's remarkable capabilities and discover how it can elevate your downloading experience.
Effortless Download Management
With uGet, downloading files becomes a breeze. This powerful tool allows you to effortlessly resume, pause, and stop downloads at your convenience. Bid farewell to the frustrations of interrupted downloads or the hassle of starting from scratch. uGet ensures a seamless downloading process, granting you complete control.
Unleashing Maximum Potential
uGet isn't your average download manager; it's an extraordinary tool equipped with a wide array of fantastic features designed to optimize your performance. Whatever your downloading requirements may be, uGet has you covered.
Downloads with Resume Support
Have you ever encountered a situation where a download gets interrupted, forcing you to begin again? With uGet, those days are long gone. Thanks to its resume support feature, you can swiftly pick up where you left off, ensuring minimal disruption to your downloading progress.
Automate Downloads with Queues
Tap into the power of automation by utilizing uGet's queue feature. This ingenious functionality enables you to create a sequence of downloads, ensuring that files are fetched automatically. No longer will you need to initiate downloads individually. uGet's queue functionality takes care of the process for you, saving you valuable time and effort.
Seize Full Control with the Scheduler
Do you require downloads to start at specific times? Look no further than uGet's scheduler feature. This invaluable tool empowers you to initiate downloads at your preferred time, even when you're away from your device. Embrace the flexibility of setting up downloads to commence when it's most convenient for you.
Here are some of the best features :
Simultaneous batch download

Maximum download speed control per file/files

Torrent and metalink files download

Anonymous FTP (or via FTP Login) files download

Download files from external list/clipboard

Integration with Firefox FlashGot add-on

Resume/Pause Downloads

Multiple Sources/Mirrors

Download completion tasks/actions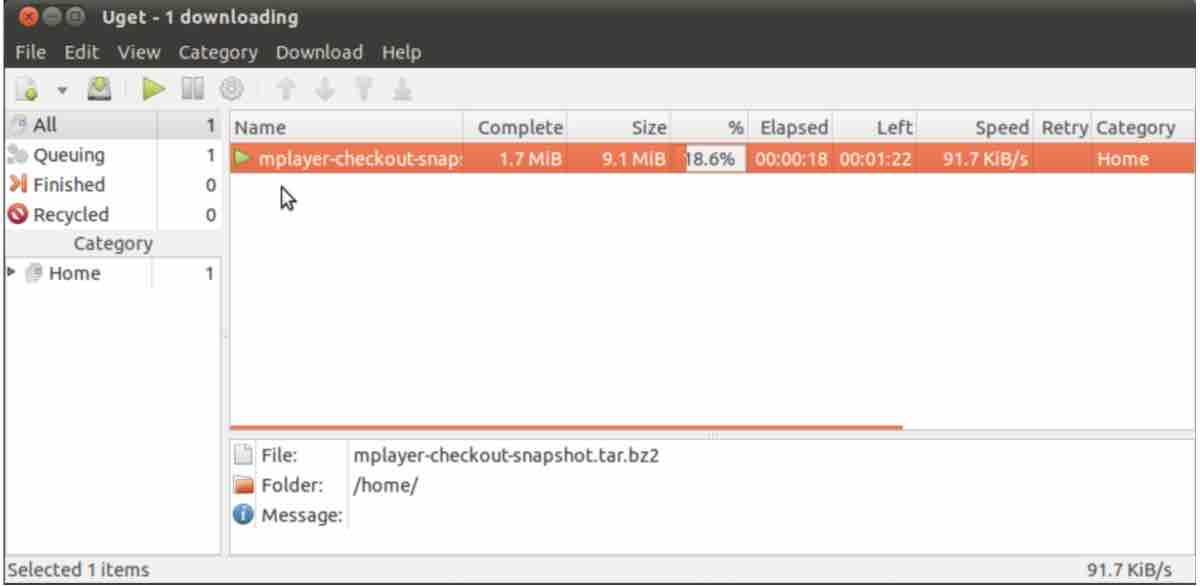 Best download manager for linux: Uget
uGet can be installed by executing the commands below :
sudo add-apt-repository ppa:plushuang-tw/uget-stable
sudo apt-get update
sudo apt-get install uget
You can visit uGet website here.
Read: Best online video editors
MultiGet
MultiGet is the real deal when it comes to turbocharging your file downloads. Packed with cutting-edge features, this robust software is designed to optimize your download experience. It supports a wide range of protocols, including HTTP and FTP, making MultiGet the go-to solution for supercharging your download speeds. Let's dive into the amazing functionalities and benefits of MultiGet, covering its seamless integration, multi-tasking prowess, clipboard monitoring wizardry, and platform compatibility.
Boost Your Download Speed to the Max!
MultiGet takes the hassle out of downloading multiple files. By skillfully merging data from various sources into a single file, MultiGet slashes the time it takes to grab those goodies. It's the ultimate time-saver, enabling you to complete your downloads at lightning speed. Efficiency, thy name is MultiGet!
Seamless Integration and User-Friendly Bliss
With a sleek and user-friendly GUI, MultiGet effortlessly integrates into your Linux environment. Its intuitive interface caters to novices and tech wizards alike, ensuring a smooth sailing experience. Whether you prefer simplicity or crave advanced options, MultiGet delivers a visually stunning and user-friendly journey. It's a feast for the eyes and a breeze to navigate!
Master the Art of Multi-Tasking and Multi-Threaded Magic
Why settle for one download when you can juggle several with ease? MultiGet is your ultimate multi-tasking companion, letting you handle multiple downloads simultaneously without sacrificing performance. It's a download manager on steroids! With its multi-threaded downloading capabilities, MultiGet wrings every drop of potential from your internet connection, giving your download speeds a rocket boost.
Clipboard Monitoring: The Shortcut to Swift Downloads
When it comes to managing downloads like a pro, MultiGet knows the score. Its ingenious clipboard monitoring feature lets you initiate downloads directly from copied URLs. Say goodbye to manual URL entry and menu navigation – MultiGet streamlines the entire process, saving you precious time. It's a game-changer, simplifying your life one download at a time!
Unleash MultiGet Across Multiple Platforms
MultiGet is the multi-platform superhero that has your back. It plays nice with major operating systems, including Windows and macOS. However, Linux enthusiasts rejoice! MultiGet's seamless integration with Linux makes it the top pick for aficionados. Just remember, on Linux systems, MultiGet relies on the GTK+ runtime environment when linked with wxWidgets. It's the ultimate match made in heaven for Linux lovers!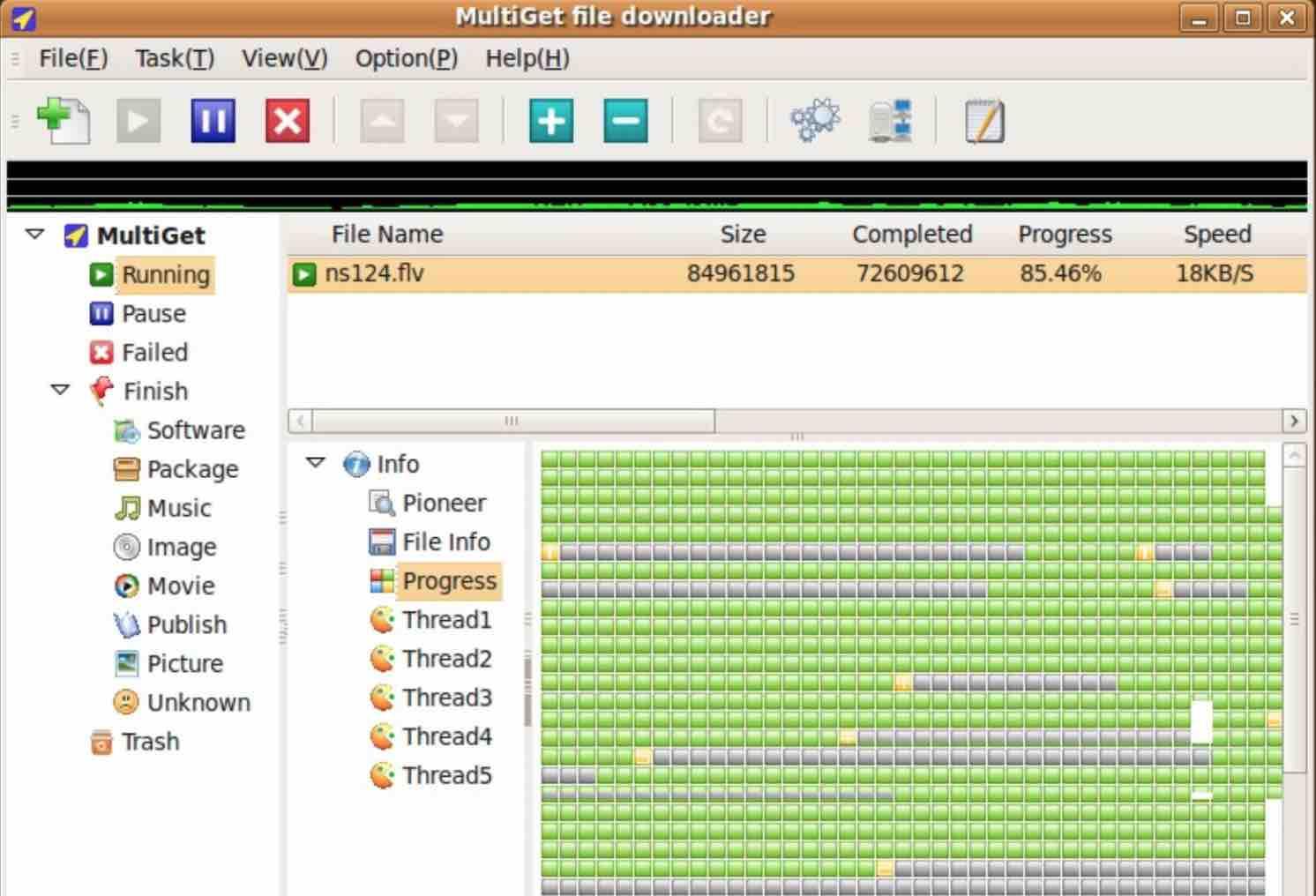 Linux download manager
You can install MultiGet from the terminal using the command :
sudo apt-get install multiget
You can visit the project page here.
JDownloader
Say goodbye to annoying interruptions and frustrating pauses with JDownloader. This powerhouse download manager puts you in the driver's seat, ensuring a smooth and uninterrupted experience. No more downloads cut short or starting from scratch.
With JDownloader, you're the boss. Easily pause and resume downloads whenever you want, no need to fret about losing progress. Take charge of your bandwidth allocation like a pro, optimizing your network resources. Prioritize those essential downloads for lightning-fast speeds while keeping other tasks running seamlessly in the background. It's like having your very own traffic cop for downloads!
Customize your download speed to suit your needs with JDownloader. Speed things up or slow them down—it's all up to you. Tweak the settings to match your internet connection or prioritize downloads based on urgency. The power is in your hands!
Managing downloads has never been smoother. JDownloader streamlines the entire process, effortlessly handling multiple downloads. No more juggling between browser windows or wrestling with complex interfaces. Experience the convenience of a centralized hub that simplifies and organizes your downloads, saving you precious time and effort.
Ditch the manual extraction headache. JDownloader's advanced functionality automatically extracts content from archive files. Simply download the archives, and JDownloader takes care of the rest. Enjoy a hassle-free experience, saving valuable time along the way.
Getting started with JDownloader is a breeze. Take your pick from multiple installation options. Whether you grab the software directly from the official website or integrate it through the source code, the choice is yours. Expect a seamless and personalized experience tailored to your preferences.
JDownloader isn't just for Linux enthusiasts—it's a powerhouse across all major operating systems. Whether you're a Windows guru or a macOS aficionado, JDownloader caters to your downloading needs. Seamlessly integrating with your chosen operating system, it delivers a consistent and reliable experience, no matter the platform.
With JDownloader, you'll have the ultimate download manager at your fingertips. Take advantage of unrivaled control, efficient bandwidth allocation, customizable download speed, effortless management, automated extraction, and flawless cross-platform compatibility.
PyLoad
Built on the solid foundation of Python, PyLoad is the go-to download manager for Linux users seeking versatility and reliability. Whether you're running Ubuntu or any other Linux distribution, PyLoad offers a seamless one-click solution for effortlessly grabbing any file, making it the ultimate tool for managing your downloads.
Effortlessly Download Files with a Single Click
PyLoad's nifty one-click feature allows you to snatch files from premium hosting platforms like Uploaded and Rapidshare without the need for multiple clicks or convoluted processes. Accessing your desired files becomes a breeze with PyLoad.
Take Control of Your Downloads
With PyLoad, you have full control over your downloads. Its pause, resume, and stop features give you the flexibility to manage your downloads according to your preferences, whether you're dealing with intermittent internet connectivity or need to prioritize your bandwidth usage. Seamlessly manage your download queue and optimize your workflow effortlessly.
Mastering HTTP/HTTPS Download Links
PyLoad excels at effortlessly handling a wide array of regular HTTP/HTTPS download links. Say goodbye to broken downloads or compatibility issues. This handy tool understands the complexities of web protocols, ensuring a smooth download experience. Simply paste your desired link into PyLoad and let it work its magic.

Unleash the Power of Unique Features
PyLoad stands out from the crowd with its exceptional features designed to streamline your download management process. From effortlessly unzipping compressed files to advanced captcha recognition, PyLoad eliminates the need for manual intervention, making it a top-notch download manager.
Effortless Software Execution
Running applications directly from your Linux server becomes a seamless experience with PyLoad. Say goodbye to additional steps and complex setups. Initiate software installations or execute programs within your Linux environment, optimizing your workflow and productivity.
Effortless Remote Access with a Smart Web User Interface
PyLoad's intelligent web user interface ensures accessibility. Seamlessly access and manage your downloads from any device with a web browser, whether you're on a different computer or prefer managing downloads from your mobile device. PyLoad offers a consistent and user-friendly experience across platforms.
Lightweight and Expandable: Unleash Peak Performance
PyLoad's lightweight design guarantees optimal performance on your Linux system. With minimal resource consumption, PyLoad provides a smooth and efficient download management experience without impacting other tasks. Moreover, PyLoad's expandability allows you to customize and enhance its functionality based on your specific requirements.
Boost Your Website's Search Engine Rankings with PyLoad
In addition to its powerful features and seamless performance, PyLoad contributes to boosting your website's search engine rankings. As an SEO powerhouse, PyLoad optimizes your content delivery by efficiently managing file downloads on your website. Enhancing the user experience with fast and reliable downloads helps reduce bounce rates and increase engagement, critical factors considered by search engines. Gain a competitive edge in the digital landscape and enhance your website's visibility with PyLoad.
To acquire PyLoad, visit the following Github page.
DownThemAll
DownThemAll is no ordinary download manager—it's a game-changer available on Mozilla Firefox Add-ons. This plugin is jam-packed with incredible features and works seamlessly across various platforms, making it your go-to solution for all your downloading needs. Let's dive into the impressive capabilities of DownThemAll and discover how it can revolutionize your downloading experience.
Speed That Leaves Others in the Dust
When it comes to lightning-fast downloads, DownThemAll takes the crown. Whether you're rocking Linux, Windows, MAC, or any other supported platform, this download manager stands head and shoulders above the rest, especially for Ubuntu enthusiasts. Say goodbye to sluggish downloads and embrace the speed demon that is DownThemAll.
Customize Your Download Journey
DownThemAll hands you the reins, allowing you to customize your download settings to match your preferences. It's as easy as pie! Follow these simple steps: head to "Menu > Add-ons > Extensions > DownloadThemAll > Preferences" and unveil a treasure trove of options. Tailor your download manager to your liking, optimizing the entire downloading process to suit your needs.
Snagging Links with Ease
No more tedious clicking on individual download links. DownThemAll simplifies the whole shebang by letting you grab all the download links with a single click. This time-saving feature not only makes your downloading experience more convenient and efficient, but it also bids farewell to the days of painstakingly selecting links manually. DownThemAll takes care of it all.
Batch Downloads Made Effortless
Ever find yourself in need of downloading multiple files simultaneously? Fear not, for DownThemAll has your back. This powerhouse of a tool boasts advanced downloading capabilities that enable you to initiate batch downloads with ease. No more hassle of downloading files one by one. With DownThemAll by your side, you can effortlessly download numerous files at once, streamlining your workflow and maximizing your productivity.
Fine-Tune Your Downloading Experience
Each download has its unique demands, and DownThemAll recognizes that. Gain complete control over your downloads with the ability to adjust the speed for each individual file. This level of customization allows you to prioritize specific files or effectively manage your bandwidth. Whether you want to ensure a critical file downloads at maximum speed or conserve bandwidth for other tasks, DownThemAll grants you the flexibility to fine-tune your downloads according to your specific requirements.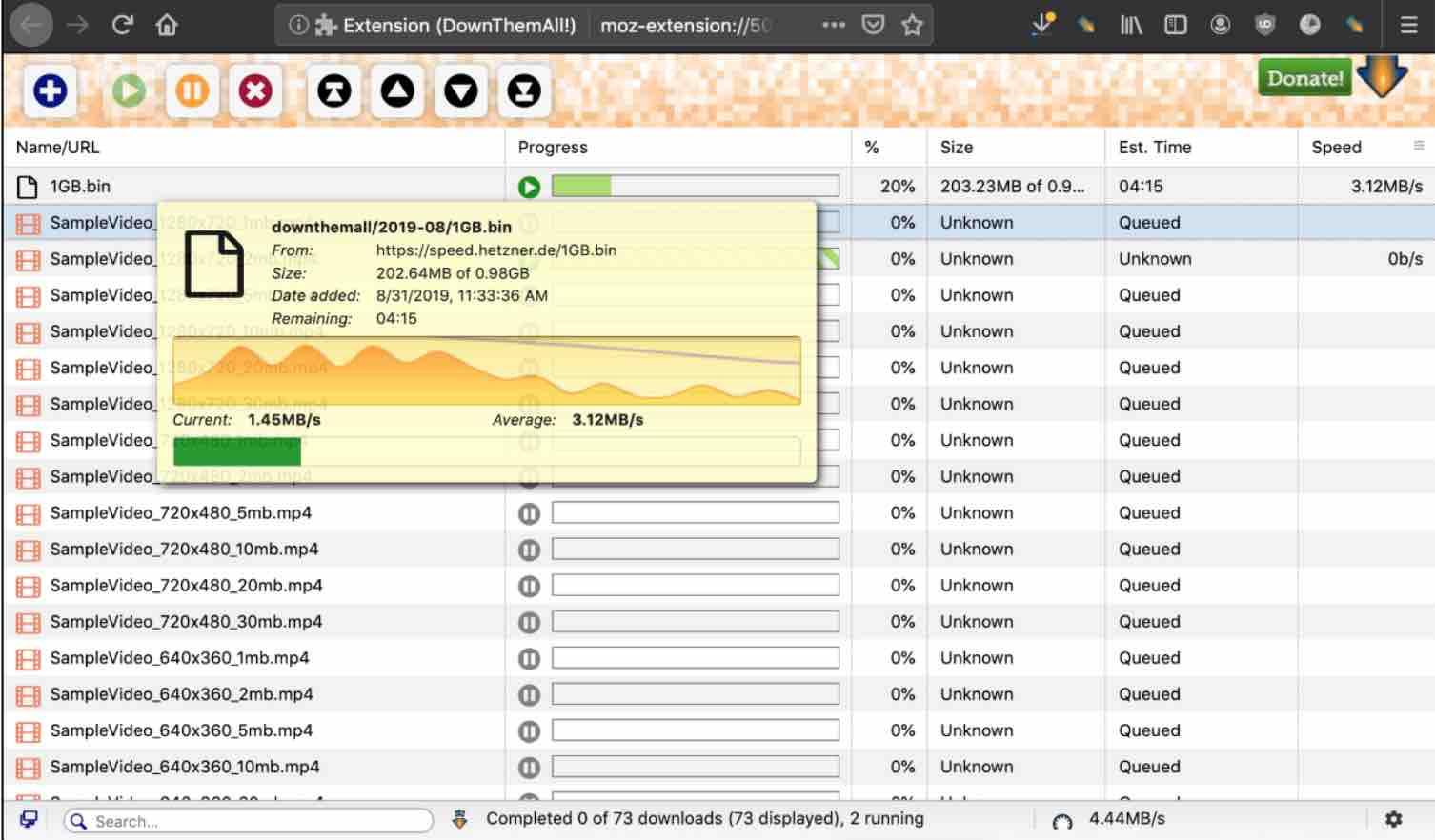 DownThemAll has the following features :
Resume download capability

Simultaneous multiple file Download At Once

File downloading speed control

Grabs download links from Firefox automatically

Downloads all images and links in a web page

Settings customization for integration with Firefox

SHA1, MD5 automatic checks after file downloading
To add "DownThemAll" plugin to your Firefox, you can visit this link.
FlareGet
FlareGet stands out from other download managers because of its exceptional browser integration and intelligent file management system. Say goodbye to the hassle of organizing your downloaded files manually. FlareGet automatically categorizes and organizes your downloads, making it effortless to locate and efficiently manage your files.
Lightning-Fast Downloads with Multi-Thread Support
When it comes to speed, FlareGet is the top contender. This powerful download manager offers multi-thread support, allowing you to divide your files into four segments for faster downloading. By utilizing multiple threads, FlareGet maximizes your download speeds, ensuring that you receive your files quicker than ever before.
Auto-Capture YouTube Videos and Clipboard URLs
Are you frequently in need of downloading YouTube videos or quickly grabbing URLs from your clipboard? FlareGet has got you covered. This exceptional download manager includes an auto-capture feature that seamlessly detects YouTube videos and URLs in your clipboard. With just a simple click, you can effortlessly initiate the download process without any hassle.
Wide Compatibility with Major Operating Systems
FlareGet understands the diverse needs of Linux users and offers comprehensive compatibility with various operating systems. Whether you're using Windows, Ubuntu, Linux Mint, or other Linux distributions, FlareGet ensures a smooth and seamless experience. This versatility makes it an ideal choice for users with multiple Linux installations or those transitioning between different systems.
Hassle-Free Installation with Deb and RPM Packages
Installing FlareGet on your Linux distribution is a breeze, thanks to its user-friendly Deb and RPM packages. Ubuntu, Linux Mint, Fedora, and other Linux distros are fully supported, allowing you to set up FlareGet quickly and easily. Simply select the package that matches your system, and you'll be up and running in no time.
Unleash the Full Potential with Premium Features
While FlareGet offers a free version with impressive features, upgrading to the paid version takes your downloading experience to a whole new level. By unlocking the premium version, you gain access to a wide range of exclusive features. Enjoy accelerated downloads with more segments per file, enhanced browser integration, and advanced file management capabilities. The premium version of FlareGet truly unleashes the full potential of this remarkable download manager.
Incorporating FlareGet into your Linux workflow will undoubtedly revolutionize your downloading experience. Its outstanding browser integration, intelligent file management, and lightning-fast downloads make it a standout choice among its competitors. Don't miss out on the opportunity to optimize your downloading process. Download FlareGet today and witness the true power of efficient downloads.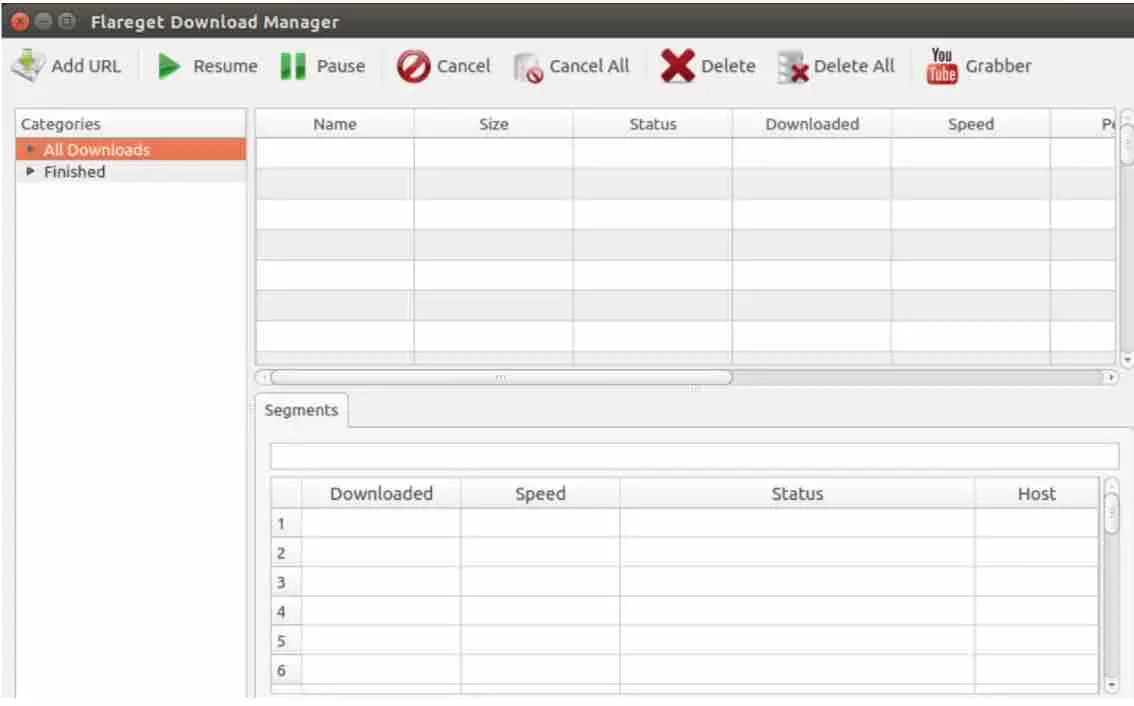 FlareGet has the following features :
Supports Multi threading

Integration with most common web browsers

Support for HTTPS, HTTP and FTP protocols

URL auto grabbing from the clipboard

The GUI supports 18 different languages
KGet
kGet is a cutting-edge download manager that seamlessly integrates into the renowned KDE project, providing top-notch performance and versatility for all major Linux distributions.
Seamless Integration with Konqueror:
As a proud member of the KDE project, kGet teams up with the Konqueror web browser to offer a comprehensive and feature-rich downloading experience. No more struggling with inefficient download managers; kGet brings convenience and efficiency to your Linux distro like never before.
Pause and Resume Downloads:
One of kGet's standout features is its ability to effortlessly pause and resume active downloads. Whether you need to prioritize bandwidth or temporarily halt a download, kGet puts you in full control, ensuring a hassle-free experience.
Metalink Support for Enhanced Downloading:
kGet takes downloading to a whole new level with Metalink support. This innovative feature allows simultaneous downloading from multiple URLs, providing faster download speeds. Additionally, Metalink includes checksums and other crucial information to guarantee the integrity and authenticity of your downloads.
Versatile FTP and HTTP(S) Support:
With kGet, you can say goodbye to limited downloading options. This high-end download manager supports both FTP and HTTP(S) sources, expanding your possibilities and granting access to a wide range of downloadable content. Embrace the seamless downloading experience offered by kGet and bid farewell to compatibility issues.
Comprehensive Download Information:
Unlike many other download managers, kGet goes the extra mile by storing detailed information about your downloads. Keep track of ongoing downloads and access details about completed ones with ease. Stay organized and in control, saving valuable time and effort.
Regular Updates and Bug Fixes:
kGet stands out by delivering regular updates and bug fixes. The dedicated team of developers behind this exceptional download manager works tirelessly to promptly address any issues, ensuring a smooth user experience. With kGet, you'll always have access to the latest features and a reliable downloading tool.
Elevate Your Downloading Experience with kGet:
If you're looking for a reliable, feature-rich, and seamlessly integrated download manager for your Linux distro, kGet is the answer. With its outstanding capabilities, Metalink support, comprehensive download information, and regular updates, kGet takes downloading to new heights. Say goodbye to slow and unreliable downloads and embrace the power and convenience of kGet. Try it today and experience the difference for yourself!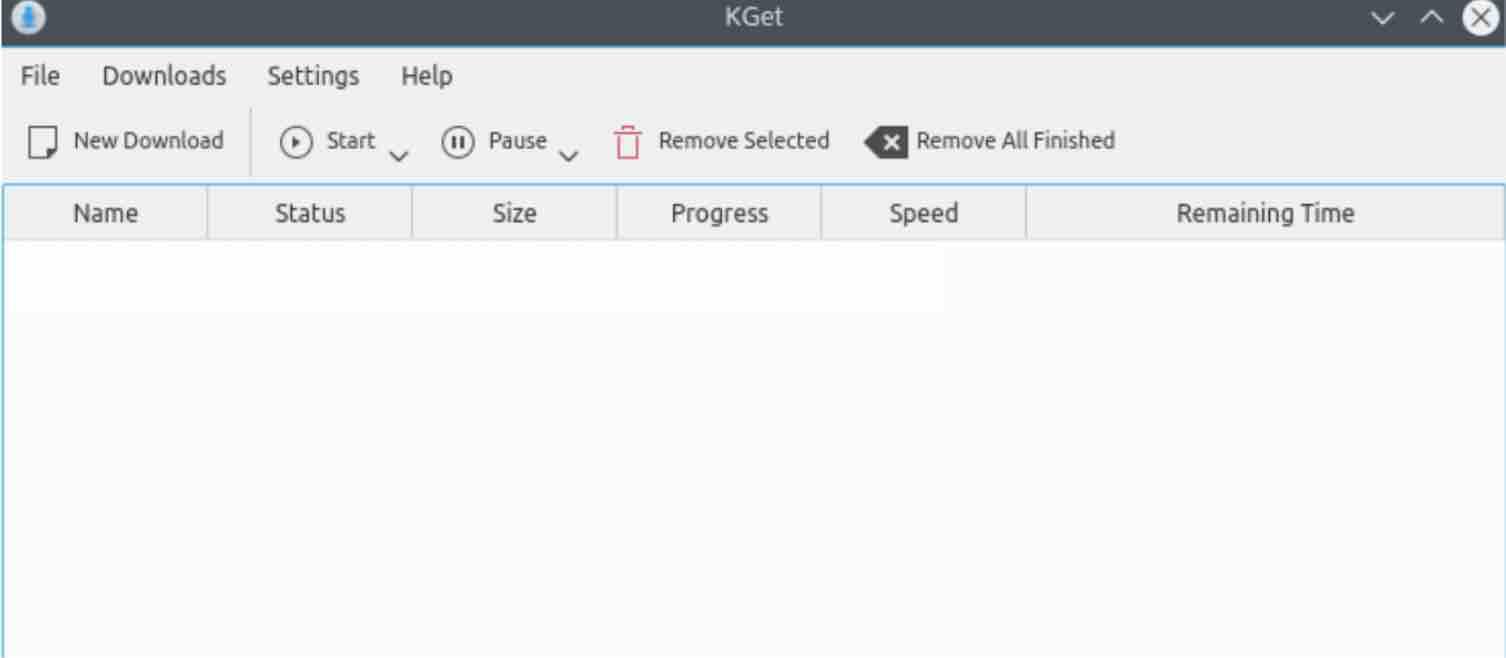 To install KGet use the following commands :
sudo apt-get install kget
You can visit the KGet website here.
CONCLUSION
You have seen some of the best download managers in the market for Linux Ubuntu and similar distros. You may want to install more than one so that you can weigh in the pros and cons in order to finally select the one that suits best your needs. Let us know if you have other similar applications so that we can include them in later versions.
---
If you like the content, we would appreciate your support by buying us a coffee. Thank you so much for your visit and support.