Although Linux is a fantastic operating system, it can be difficult for web designers to make some workflows. However, by utilizing the best web design tools for Linux, processes become much easier and more productive. Here are the top seven tools :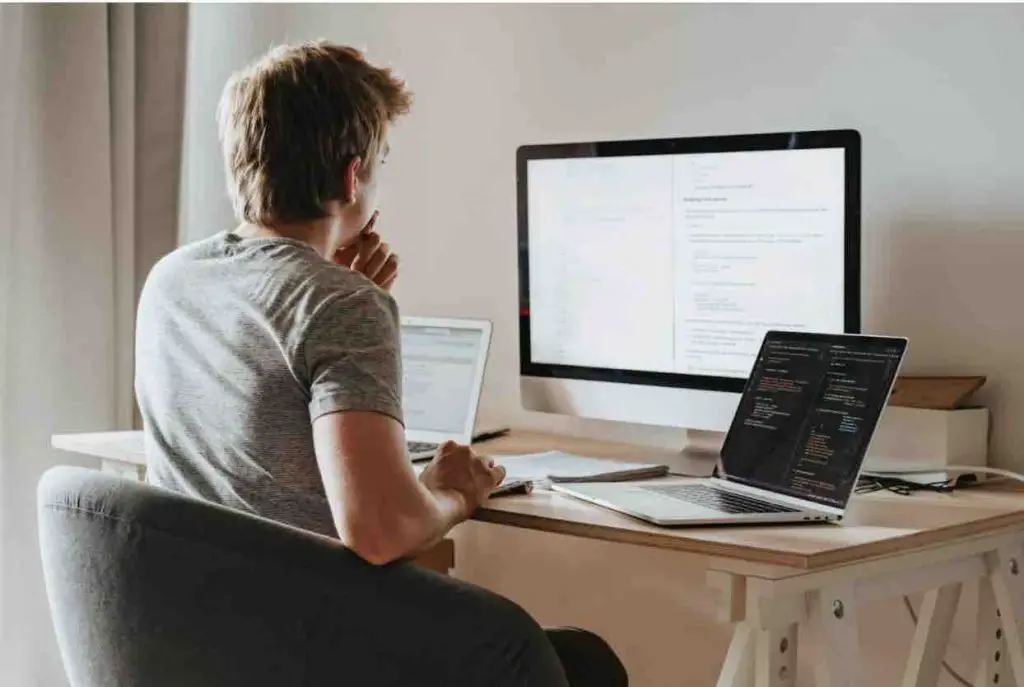 Image source: https://www.pexels.com/photo/man-sitting-in-front-of-three-computers-4974915/
Figma
If you want to match the UX and UI design capabilities of the world's best design agencies, Figma is the way to go. The vector graphics editor and prototyping tool is an excellent alternative to design-tools like Adobe Xd and Sketch. Although the official downloadable version is only available for macOS and Windows, you can use the web version of Figma on Linux.
GIMP
When it comes to photo editing, GIMP is a powerful software solution. You can do pretty much everything you do with Photoshop, although if you are an experienced Photoshop user, you may need some time to adjust to GIMP's workflow. The GIMP editor is ideal for image manipulation, free-form drawing, and transcoding between different file formats. It can even open PSD files. GIMP is open-source as well.
Read: How to compress JPEG or PNG images in Linux using the terminal
Pinta
The cross-platform bitmap image drawing and editing program Pinta is inspired by Paint.NET. The open-source program may have fewer features than tools like GIMP, but it is simpler and easier to use. Pinta includes drawing tools, color adjustment tools, image filters, and much more. It also comes with multiple language support and a flexible toolbar arrangement. And unlike many image editing programs, Pinta features support for image layers.
Inkscape
Inkscape is an excellent alternative to Adobe Illustrator. The free and open-source vector graphics editor is primarily available in the Scalable Vector Graphics format, but additional formats can be imported and exported. With Inkscape, you can render primitive vector shapes and text. You can easily fill shapes with solid colors, patterns, linear color gradients, and more. And optional tracing and embedding of raster graphics are supported, meaning you can crate vector graphics from photographs and other raster sources. Furthermore, vector shapes can easily be manipulated with transformations like rotating, skewing, and scaling.
Krita
Krita is primarily designed for illustrators, concept artists, texture and matte artists, and the VFX industry. The free and open-source raster graphics editor is ideal for 2D animation and digital painting. Features include an OpenGL-accelerated canvas, an advanced brush engine, group-based layer management, non-destructive layers, vector artwork support, and more.
Read: Best Free Graphic Design software for Linux
Karbon
Karbon is another great open-source vector drawing program. It includes a path shaping tool, a gradient tool, a calligraphy tool, and much more. You can import SVG images and edit them easily, plus Karbon has a fantastic easy-to-use and customizable interface. Furthermore, Karbon is compatible with a wide variety of plug-ins.
IcoMoon
One area where Linux lacks in design tools is icon managers. There are few good replacements for stalwarts like IconJar and Nucleo. However, you can use IcoMoon for Linux. IcoMoon enables you to organize and display your icon library, and you can easily select and download sets of icons, which could help your workflow. IcoMoon provides three main services: the IcoMoon app, vector icon packs, and hosting icons as fonts or SVGs.
Author: rob@thecopywriter.io
---
If you like the content, we would appreciate your support by buying us a coffee. Thank you so much for your visit and support.