Music lovers are always looking for the best tools to listen to their favorite albums. And while streaming music services are becoming increasingly popular, many of us still have gigantic musiclibraries on our hard drives that we can hardly replace or abandon altogether. Many players are able to combine both functions and allow us to play our favorite music.
In this article we outline some of the best Linux music players.
Read: 12 Best Free Music Apps for Android and iOS
Lollypop is a modern and efficient audio management tool which has been specially designed for Gnome Dekstop. Its main goal is to be intuitive and easy to access. Lollypop manages music in 3 ways; users can browse by cover, genre or artist.
In addition, the Lollypop player supports a "party mode" which adds shuffle and easier access to playlists. It supports Mp3, Mp4, Flac and OGG audio formats.
Lollypop works with almost all Linux and FreeBSD distributions. They claim from their GitHub page that this is a modern music player where at first glance you can see what it can offer you.
A feature to highlight about this application is that it is based on GTK3 . Lollypop makes excellent use of the header bar in GTK3. This allows the progress bar and the currently playing song to be well hidden.
Read: How to manage sounds using PulseAudio on Ubuntu 18.04
In addition, the application has incorporated support to play from some online sources such as YouTube and Spotify, in addition to Internet radios.
This application also integrates well within the Gnome desktop . It focuses on a minimal, intuitive design that makes it easy to install and use. This program has all the functions that the user would expect from a music player.
Some of them would be browsing and searching through the user's music file collection, searching for lyrics and artist biography on the Internet.
This application will make two themes available to users , one light and one dark.
It does a great job when it comes to organization and navigation. Another interesting option is that it allows you to select how to sort the albums and also to select the album cover size.
The Queue option works as a temporary playlist . You can add songs to a queue and then reorder or remove songs to your liking.
Clementine is a clone of KDE Amarok which is perhaps one of the most "complete" readers on Linux. In addition to managing music, the Clementine player directly supports cloud services such as Spotify, Google Play Music, Subsonic, GrooveShark, Sound Cloud and even Google Drive.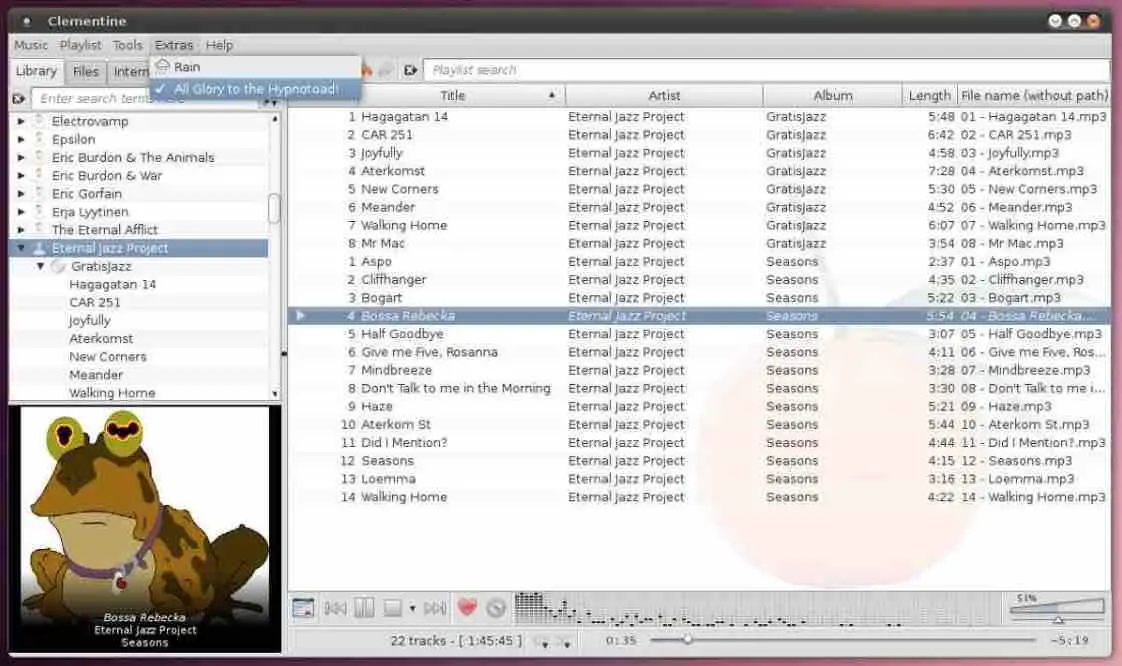 Best music player for Linux: Clementine
As mentioned above, Clementine is strongly inspired by the KDE Amarok player, and therefore has many similar features. It offers a lot of information that it collects from different web services and includes an equalizer. If you're looking for something that can do it all, Clementine is a great choice.
Audacious is a simple, lightweight audio player that allows users to quickly open files, queue them and create playlists. Unlike many other Linux music players, it's all about playlists. By default, there is no artist browser, but users can add their entire library. Audacious's main mission is to make your life easier, which means that lean, resourceless desktop environments can play music without bugs.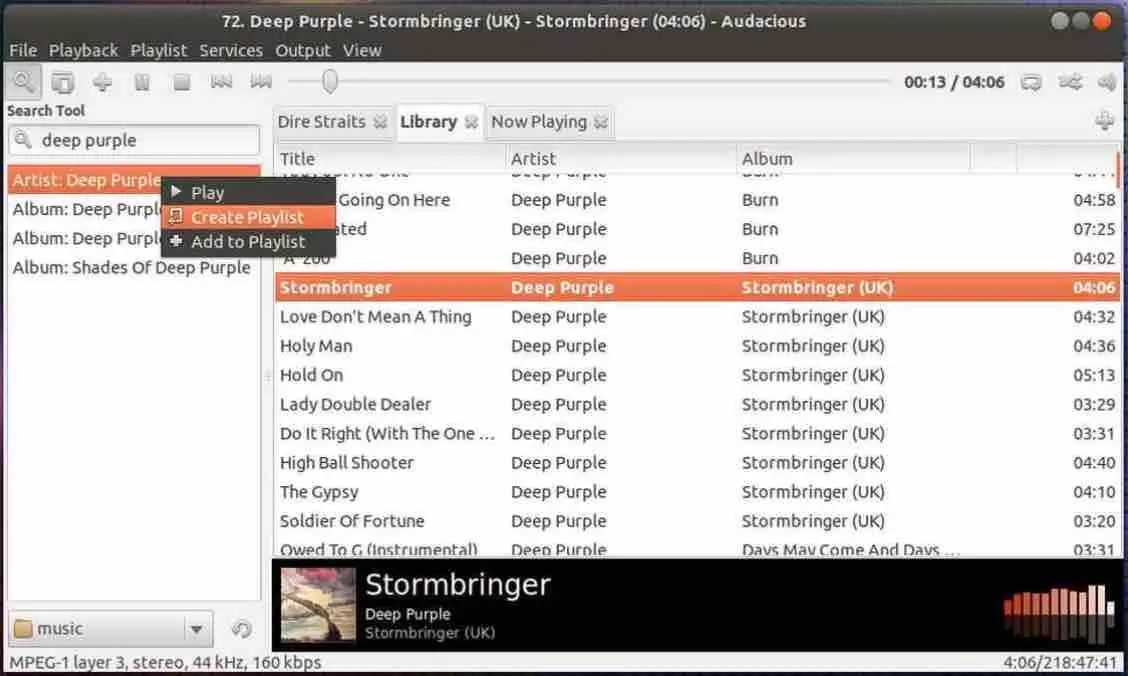 The operation of this player is simple. To play the music, just drag and drop individual song files and folders. It will also allow you to search for artists and albums in an entire music library. If you need to, we can also create and edit your own personalized playlists .
Another interesting feature that this player is going to make available to users will be the possibility to load music from the Internet .
Read: How to troubleshoot sound issues in Ubuntu 22.04
Audacious Player is available for Gnu / Linux and Windows . It includes an extensive list of plugins, along with multiple interfaces: GTK2, GTK3, Qt5 and a Winamp2-like interface .
In the Qt version the main window is more customizable thanks to the addition of a View menu.
This includes the options to see / hide the main menu,information bar display, status bar, as well as the remaining time.
The new version of Audacious offers the possibility to configure the columns of the playlist. It also provides a drag'n'drop support to add more music to the playlist. The program's interface shows an improved search bar for the playlist. It will be hidden until Ctrl + F is pressed.
The Qt version of Audacious provides also new controls for recording sequences . It also offers an integrated menu items as well as keyboard shortcuts for the playlist manager and the search tool.
Regarding its characteristics, who does not know Rhythmbox? It is a simple program that perfectly organizes the music library. In fact, that's one of the reasons why many users use it: while Rhythmbox organizes the library perfectly, other music players don't do as well, which can be annoying.
Rhythmbox music player Linux
Rhythmbox is compatible with radios, different types of music files and its library includes album covers that it collects from the internet . It also seems to be too simple in design, but everything it does it does well.
Linux users love Spotify as it is one of the best linux music player. Years ago, when the company released a beta version of its service for Ubuntu, people pounced on it. Millions of users subscribed to enjoy radio stations and music on demand from all kinds of artists (known and unknown).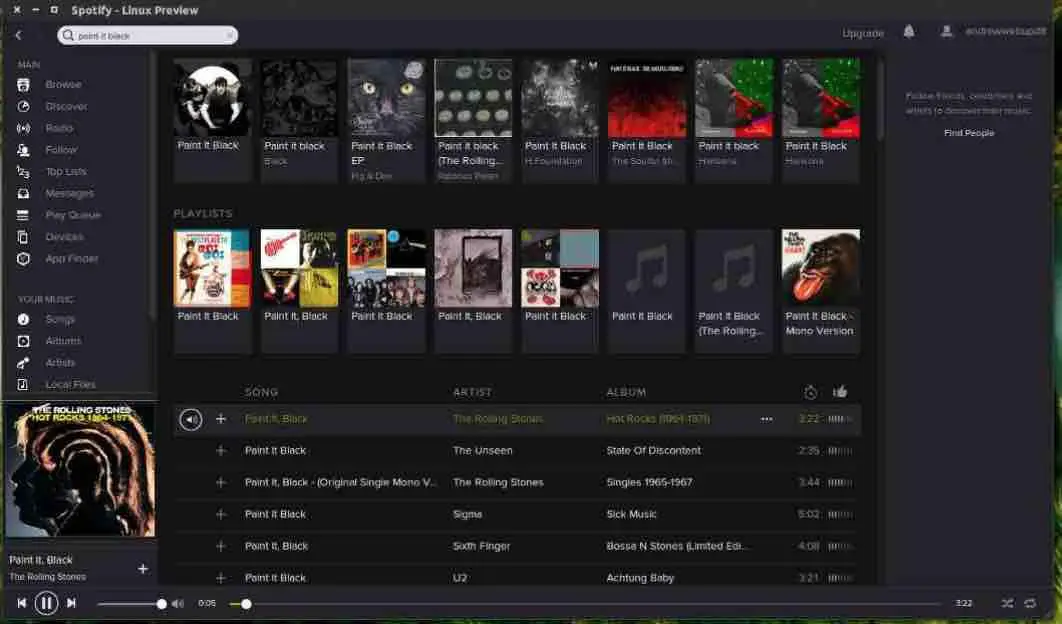 Those looking for a clever and central place to manage music files should seriously consider installing this software.
Simple, intuitive and therefore essential. Google Play Desktop Music Player deserves a place in your desktop.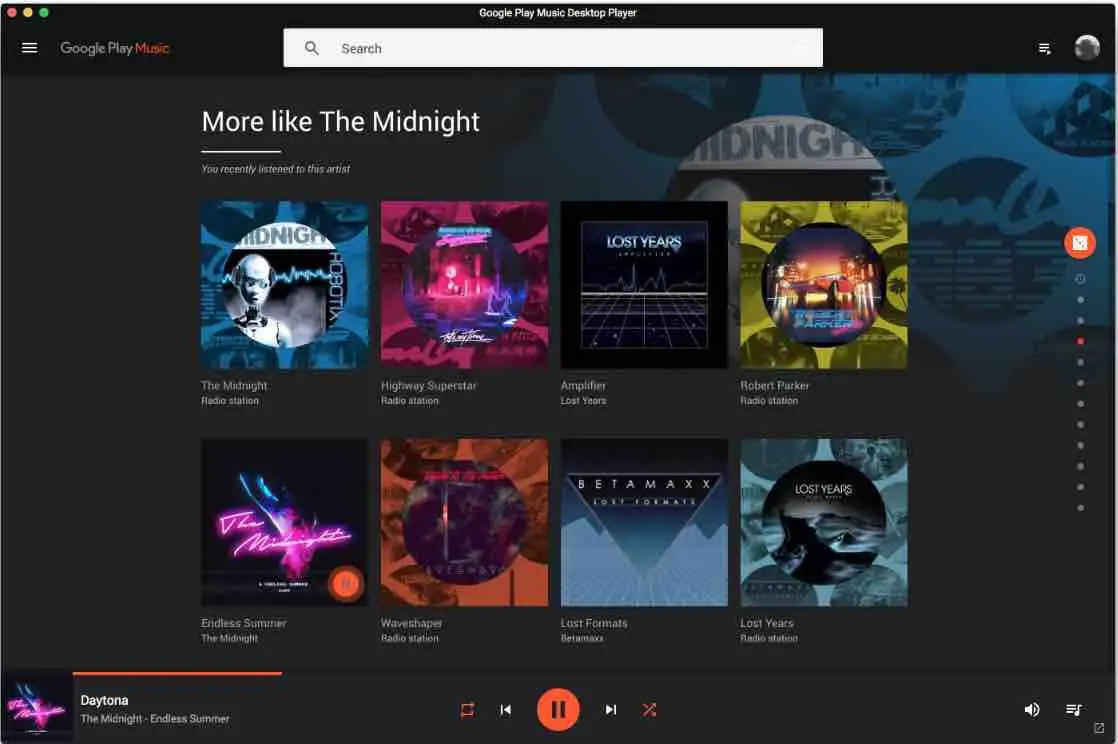 The famous VideoLan player. VLC is an all-rounder that allows to watch movies in different formats or play music. It can be configured so that you only see a mini-player s well as the music library, but at the moment it does not show covers or photos of the groups.
Although VLC's interface is a bit classic, you find almost all standard functionalities of a music player as well as the biggest collection of video and audio codecs enabling you to play almost all audio formats.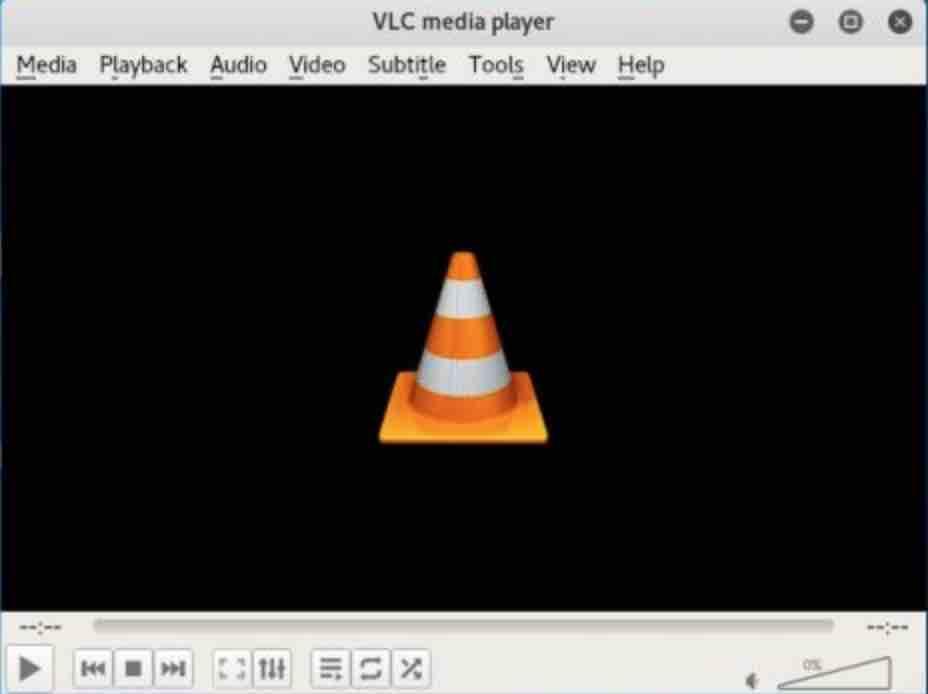 Pragha is a very light and fast music player that has the necessary functions so that users can listen to music comfortably on their Linux distribution.
This audio player for GNU / Linux systems is open source and is based on Gtk, sqlite and completely written in C , built to be fast, light.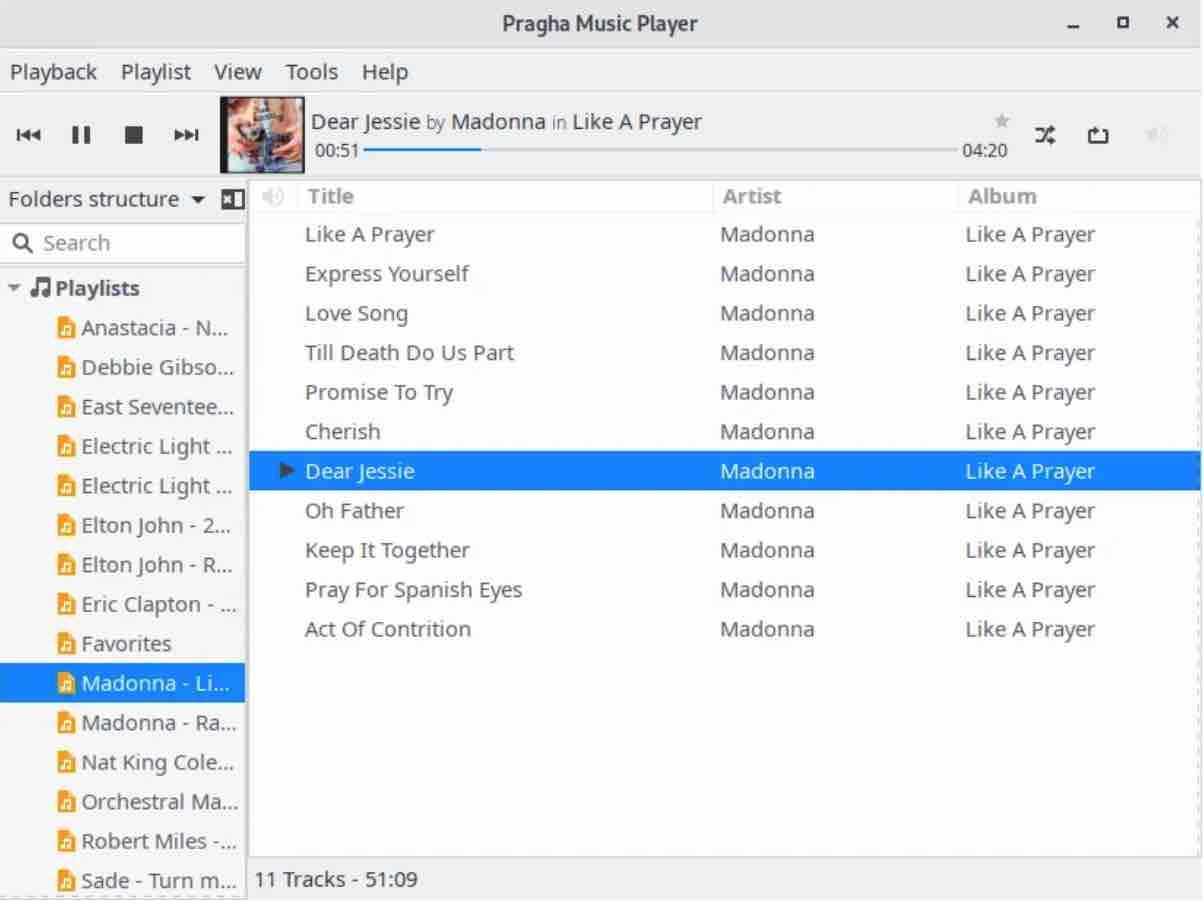 The audio player has excellent integration with GTK 3 , but at the same time the program is independent of the working environment.
Pragha has a built-in folder structure, search, filter, stream, EQ, simple user interface, the ability to edit tags, plus an interface translated into 21 languages.
Read: The best free music players for Windows
Music playback can be done from a local file or from a CD-ROM drive. It supports the most popular audio formats among which we find MP3, M4A, OGG, FLAC, ASF, WMA.
As well as being able to manage playlists, users should be able to operate the player from the command line, export and import playlists.
Amarok is one of the most popular music players for Ubuntu. Graphically, the player has a nice interface. It has the following functionalities:
All information about music is managed via a database.

Information can be changed directly in the user interface.

Automatic collection of information such as album covers, lyrics and artist information from Wikipedia.

Integration of Internet services such as LastFM, Jamendo and Internet radio.

Inserted CDs can be ripped directly, i.e. copied to the computer.

Portable devices such as MP3 players are supported.
Conclusion
Linux manages music very well. No other platform offers as many creative and diverse ways to organize sounds. If you're struggling to find a music player that really does everything you need on Linux, look no further than the aforementioned players.
---
If you like the content, we would appreciate your support by buying us a coffee. Thank you so much for your visit and support.