Windows comes by default with some pre-installed applications. Among them and depending on the version of the system, you will find a music player. But the truth is that this free music player may not be liked by many users.
In this article, you will discover a compilation of some of the best free music players for Windows. In this way, each user will be able to use the one they like best or that suits their needs to be able to play their favorite music while working in front of the computer.
Read: 12 Best Free Music Apps for Android and iOS
AIMP
It is one of the most popular free music players among Windows users. Some of its strengths are the options it offers for sound mixing, 18-band EQ and lots of sound effects. But also, AIMP4 supports multiple audio formats such as DA, .AAC, .AC3, .APE, .DTS, .FLAC, .IT, .MIDI, .MO3, .MOD, .M4A, .M4B, .MP1, .MP2 , .MP3, .MPC, .MTM, .OFR, .OGG, .OPUS, .RMI, .S3M, .SPX, .TAK, .TTA, .UMX and .WAV, is compatible with any version of Windows equal or above Windows 7, it supports live streaming and has an advanced label editor.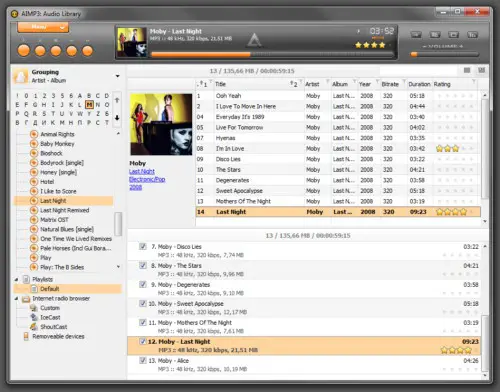 Another feature to highlight is the possibility of setting a timer to turn off the computer at a specific time or after a certain song ends. You can download AIMP for both Windows and Android from the link above on its official website.
MediaMonkey
Among all the free music players for Windows, another one of the most used is Media Monkey. A music player that offers many interesting features. Supports multiple audio formats such as MP3, AAC (M4A), OGG, WMA, FLAC, ALAC, MPC, WAV, CDA, AVI, MP4, OGV, MPEG, WMV, M3U or PLS, it is able to automatically identify the information of the song in playback and also includes an MP3 editor that allows you to highlight certain songs over others or convert and record different audio formats easily.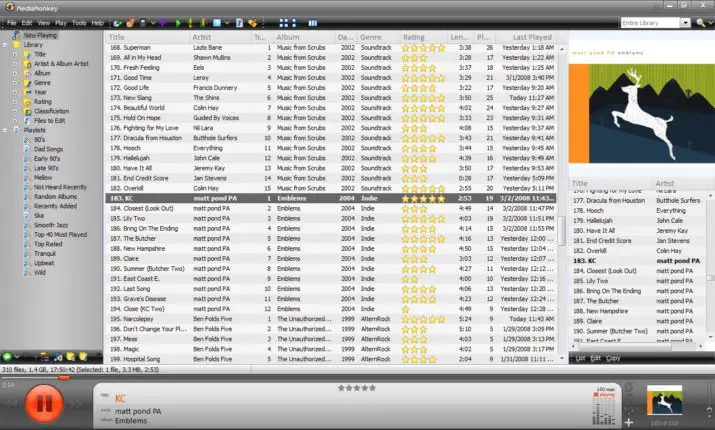 MediaMonkey is compatible with Windows 7, 8 and 10, but it also allows us to synchronize your song library with iOS and Android devices without any problem. It is even possible to share the files with televisions, Blu-ray, etc. Another very attractive function for many is to be able to download postcast from the player itself. Without a doubt, one of the most complete free music players that you can download from this link.
Read: Best music players for Linux
Musicbee
Although it is one of the simplest free music players, the truth is that it has certain functions that make it one of the best alternatives to play audio in Windows for some users. MusicBee offers the possibility of enjoying radio programs, podcasts and songs stored on your hard drive. It has a tool for updating labels, song synchronization and playlists with Android devices, as well as being compatible with Windows 7, 8 and 10.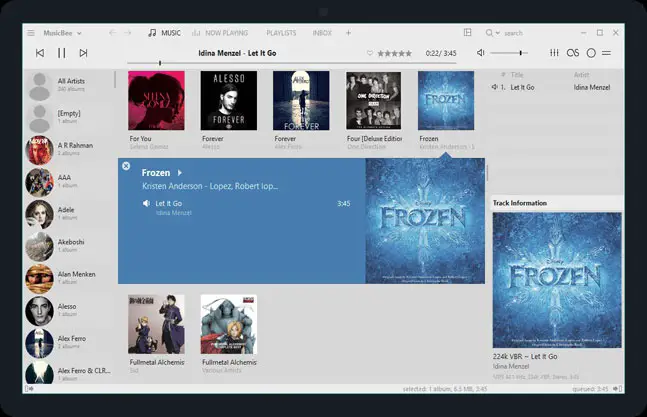 It supports codecs such as MP3, M4A, FLAC, Musepack, WavPack and Opus, among others, and its interface can be customized with numerous themes to give this music player a personal touch that you can download completely free of charge from this link to its official website.
Foobar2000
Foobar2000 is an interesting alternative if we are looking for free music players for Windows, since in addition to being a very light player, it has interesting functions and numerous customization and configuration options. Among some of the features of Foobar2000 and common to most of the free music players in this compilation, is that it supports multiple audio formats such as MP3, MP4, AAC, CD Audio, WMA, Vorbis, Opus, FLAC, WavPack, WAV, AIFF, Musepack, Speex or AU and it has the advanced file tagging tool, but it also includes other very interesting functions.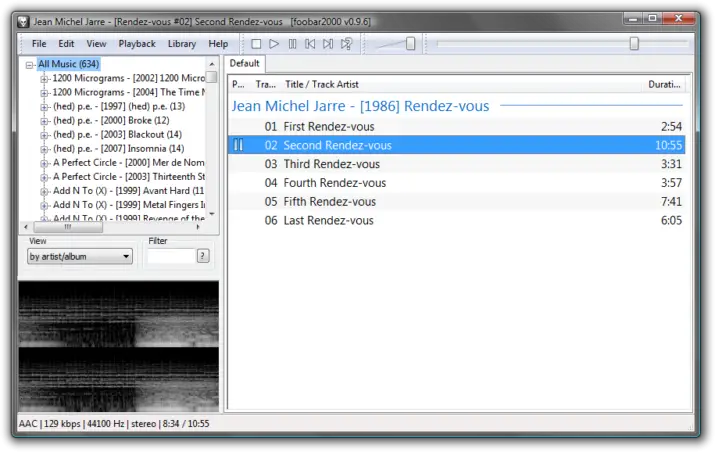 Foobar2000 offers the possibility of creating keyboard shortcuts to execute the main functions, it is capable of reading ZIP and RAR archives, it has an FTP and multimedia server tool, a manager of audio file elements such as artist photos or cover, etc. Its interface is very clean and minimalist and it also offers a lot of options and settings to customize the music player to your liking. Foobar2000 is compatible with Windows 10, ios and Android. Download Foobar200 from here.
Read: How to view your sound card information using the terminal in Ubuntu 18.04
VLC
Although many will know VLC as one of the most used and complete free video players, the truth is that VLC is also used to play music or streaming content. It is a player that is very easy to use and that also allows it to be personalized thanks to the number of skins you can find to give it your personal touch. But it doesn't just offer design-level customization, as VLC also allows you to customize your controls.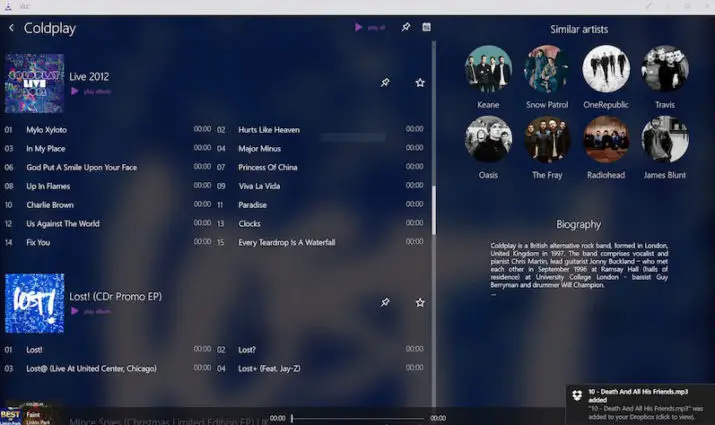 In general, VLC is one of the best rated media players, not only for being compatible with almost all file formats, but also for some of the functions it offers and the possibility of customization it has. It is possible to download it in portable format so that you can take it to any computer. You can download VLC from this link.
Clementine
Clementine is one of many users' favorite free music players. Its interface, versatility and some of its features make Clementine one of the most popular players for Windows. It allows you to listen to songs from services such as Spotify, Grooveshark or SomaFM, songs stored in some cloud storage services such as Dropbox, Google Drive or OneDrive, among others. It is compatible with the main types of audio files, supports codecs such as MP3, OGG Vorbis, OGG Speex and FLAC, among others and it is compatible with Windows, Linux and macOS.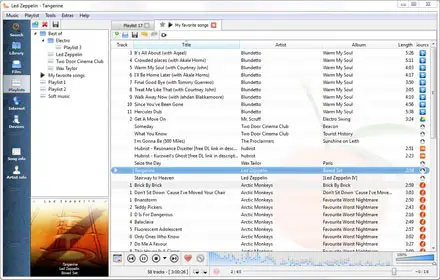 But in addition, Clementine allows you to create smart playlists, offers the lyrics of the songs and the biography of the artists even with your photo, it has its own tool to tag audio files, a manager of queues of reproduction and it can also be managed remotely from your Android mobile or tablet. Start enjoying one of the most complete free music players by downloading it to your computer from this link .
Audacious
If a basic and easy to use free music player is what you are looking for, then Audacious may be your choice. It is an open source application with basic features , easy to use and works perfectly. It has a song search engine, it allows you to create personalized playlists, it is compatible with most popular audio formats and it has some functions such as random playback of songs, the elimination of duplicate tracks, etc.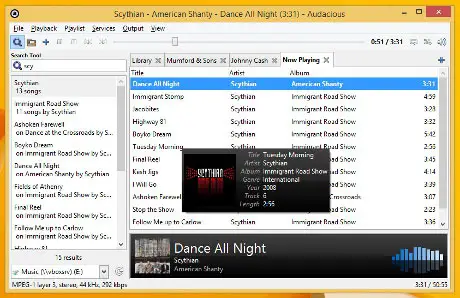 In addition, Audacious has different plugins that allow you to add certain functions to the free music player, such as searching for the lyrics of the songs you are playing, among others. You can download Audacious for free from this link.
ZPlayer
Another free music player for Windows that is easy to use is ZPlayer. It is a Java-based music player with a very simple interface but one that perfectly completes its mission. ZPlayer is compatible with many audio formats such as MP2, MP3, WAV, Ogg, Flac, MID, CDA, MOD, Dolby AC3, among others. It allows you to easily create playlists and is compatible with all versions of Windows. Therefore, if you have an old version of the Microsoft operating system, ZPlayer may be your option as a free music player on the computer.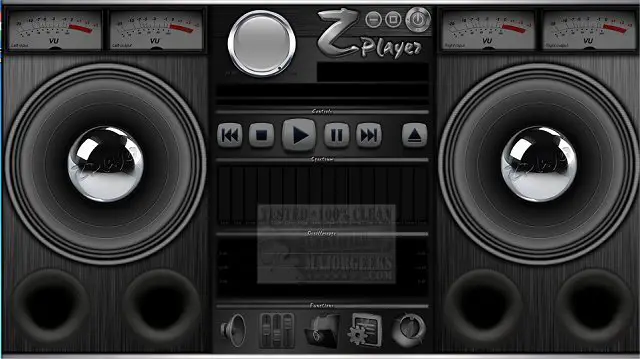 In addition, ZPlayer is a very light application, so it will take up little space on your computer and has all the basic functions of a free music player, play, stop playback, advance a song, go back to the previous one, etc. You can download ZPlayer from this link .
aTunes
It is another of the free music players that, in addition to being compatible with Windows, it has its version for Linux and macOS. It has a very attractive interface that is easy to use. It supports the most popular audio file formats such as FLAC, MP3, MP4, OGG, WMA, WAV, APE, MPC or CUE and has the ability to search for information about the artist of the song that you play on sites such as YouTube, Google Video or Wikipedia.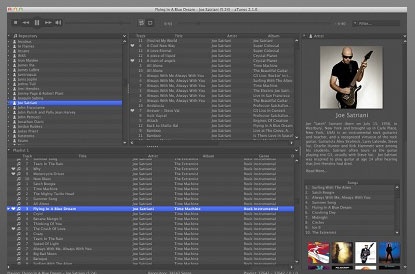 It allows file tagging, streaming, manage playlists easily, organize libraries by title, artist or genre and offers the possibility of automatically searching for tracks stored in folders on your hard drive. ATunes also offers the possibility of connecting to some web services such as Last.fm or different online radio stations. Download aTunes from here.
Tomahawk
Tomahawk is one of the free music players designed for those who, in addition to having the music they listen to daily on the computer's hard drive, also use some streaming music services. Tomahawk allows you to manage all this music in a simple way, since it can be linked with services such as Google Play Music, Deezer, iTunes, SoundCloud, YouTube or Spotify itself. This means that any song you are looking for can be easily found either on your disk or in some of the streaming music services that we connect with Tomahawk. Download and start enjoying Tomahawk from this link , available for Windows, Linux, macOS and Android
---
If you like the content, we would appreciate your support by buying us a coffee. Thank you so much for your visit and support.