Linux users understand the power and flexibility of this open-source operating system, making it a go-to platform for professionals, including project managers. In this guide, we'll explore top project management software 
options specifically designed for Linux, helping streamline workflows and enhance project management capabilities. Whether you're a freelancer, small business owner, or part of a large enterprise, finding the perfect project management tool is crucial for productivity and success. We've curated a list of the best Linux-compatible tools that offer tailored features. From task management to collaboration and resource allocation, we'll cover key aspects for project success. With these cutting-edge solutions, you can achieve remarkable results and take control of your projects on Linux. Join us to discover the finest project management software, empowering you to optimize workflows and deliver successful projects.
ProjectLibre is a powerful Linux Project Management Software that simplifies and streamlines the process of managing your projects. Say goodbye to complicated interfaces and hello to an intuitive and integrated system that will transform the way you and your team handle projects for your clients.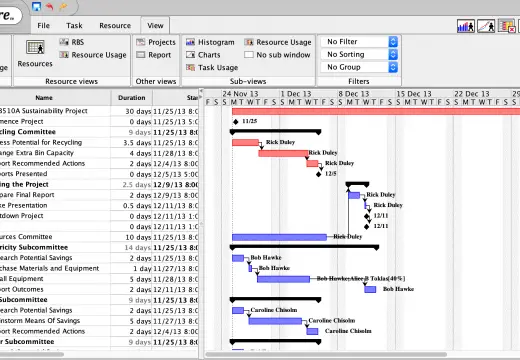 Unleashing the Potential: Features and Advantages of ProjectLibre
Resource Calendars: Effectively manage and allocate resources using ProjectLibre's resource calendars. Stay on top of team availability and ensure optimal utilization of resources throughout your projects.
Read: 13 Best HVAC Software for Small Businesses
Baselines: Set solid foundations for your projects by establishing baselines in ProjectLibre. Monitor progress against these benchmarks and easily track deviations to ensure your projects stay on the right track.
Cost Management: Take control of project finances with ProjectLibre's cost management tools. Easily track project expenses, allocate budgets, and analyze costs to maintain profitability and make informed financial decisions.
Scheduling Tools: Seamlessly plan and schedule project activities with ProjectLibre's comprehensive scheduling tools. Effortlessly create and manage project timelines, assign tasks, and set dependencies to ensure smooth project execution.
Seamless Integration: ProjectLibre seamlessly integrates with MS Office, allowing you to effortlessly import and export project files. Collaborate with stakeholders who prefer Microsoft Projects without compromising the convenience and functionality of ProjectLibre.
Perfect for Small and Medium Projects
ProjectLibre is the perfect solution for executing and managing small and medium-sized projects for your business. Its user-friendly interface and robust set of features make it a valuable asset for teams of any size. With ProjectLibre, you can handle complex Microsoft projects effortlessly and achieve exceptional results.
Empowering Project Managers: Key Tools in ProjectLibre
WBS (Work Breakdown Structure): Break down your projects into manageable tasks using ProjectLibre's WBS feature. Create a hierarchical structure that outlines project deliverables, subtasks, and dependencies, providing a clear roadmap for successful project execution.
Read: 13 Best HVAC Software for Small Businesses
Gantt Chart: Visualize your project timeline and effortlessly track progress using ProjectLibre's Gantt chart. Easily identify task durations, dependencies, and critical paths, enabling you to make informed decisions and optimize project scheduling.
Value Costing EVM: Gain valuable insights into project performance with ProjectLibre's value costing Earned Value Management (EVM) feature. Monitor and analyze project progress, costs, and earned value to ensure efficient allocation of resources and maximize project success.
Network Diagrams: Get a quick understanding of project dependencies and relationships through ProjectLibre's network diagrams. Visualize the flow of tasks and identify critical paths, allowing you to make proactive adjustments and keep your projects on the right track.
Resource Histograms: Obtain a comprehensive overview of resource allocation and availability with ProjectLibre's resource histograms. Identify resource bottlenecks, balance workloads, and optimize resource utilization to enhance project efficiency.
Read: The Importance Of Project Management
MyCollab rocks when it comes to boosting communication and collaboration among team members. It provides a centralized platform for direct interaction, idea sharing, and discussions, making communication a breeze. This not only saves time but also ensures crystal-clear clarity within the team.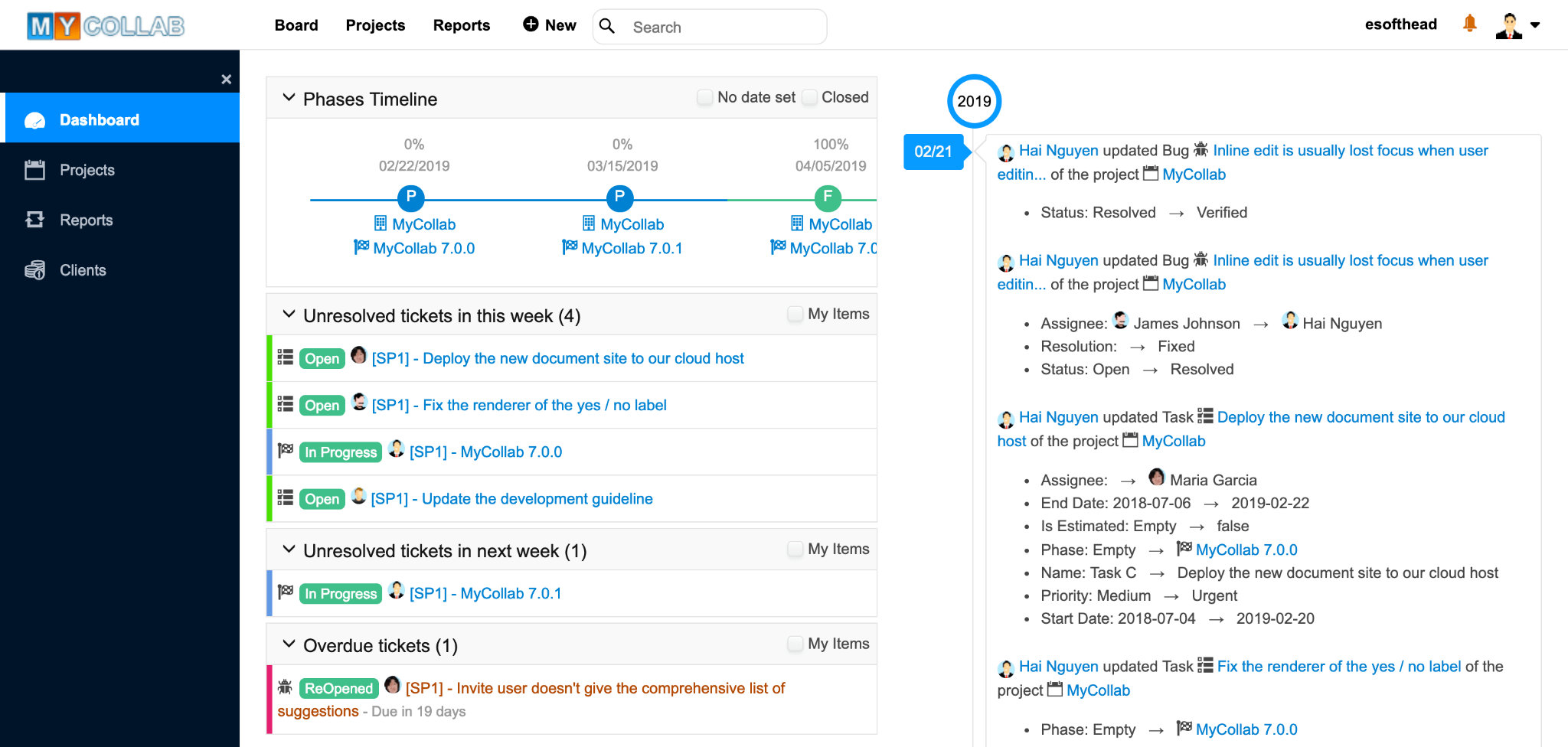 With MyCollab's roadmap view, users get a bird's-eye understanding of project goals and milestones. It aligns all team members and allows for informed decision-making and adjustments based on project progress. You'll never miss a beat!
Time tracking and document management become a breeze with MyCollab's dedicated tools. Team members can easily log their work hours, ensuring precise time management and efficient scheduling. Plus, the platform makes document sharing and collaboration seamless. No more hunting for files or getting lost in email chains!
Let's talk Kanban boards! MyCollab empowers project managers to create these powerful tools that provide an alternative view of project information. It's like having a visual representation of tasks, workflows, and progress right at your fingertips. Talk about boosting project efficiency.
Transparency and accountability are the names of the game with MyCollab. It keeps everyone in the loop with its activity log and worker activity streaming features. The activity log becomes the go-to hub for essential project information, keeping stakeholders updated on progress and changes. Plus, real-time monitoring of team members' contributions ensures seamless coordination and efficient resource allocation.
When it comes to task management and risk investigation, MyCollab has your back. Its intuitive task manager and tracker system help you identify potential risks and allocate resources like a pro. Stay ahead of challenges and prevent scope creep to keep projects on track and meet those deadlines. Your clients will be thrilled with the results!
Get ready to supercharge your productivity with ONLYOFFICE, the ultimate web-based office suite that's got it all! This robust and secure platform brings together top-notch editors for online presentations, text documents, and spreadsheets. ONLYOFFICE goes above and beyond the standard office suites by offering an impressive array of integrated collaborative features.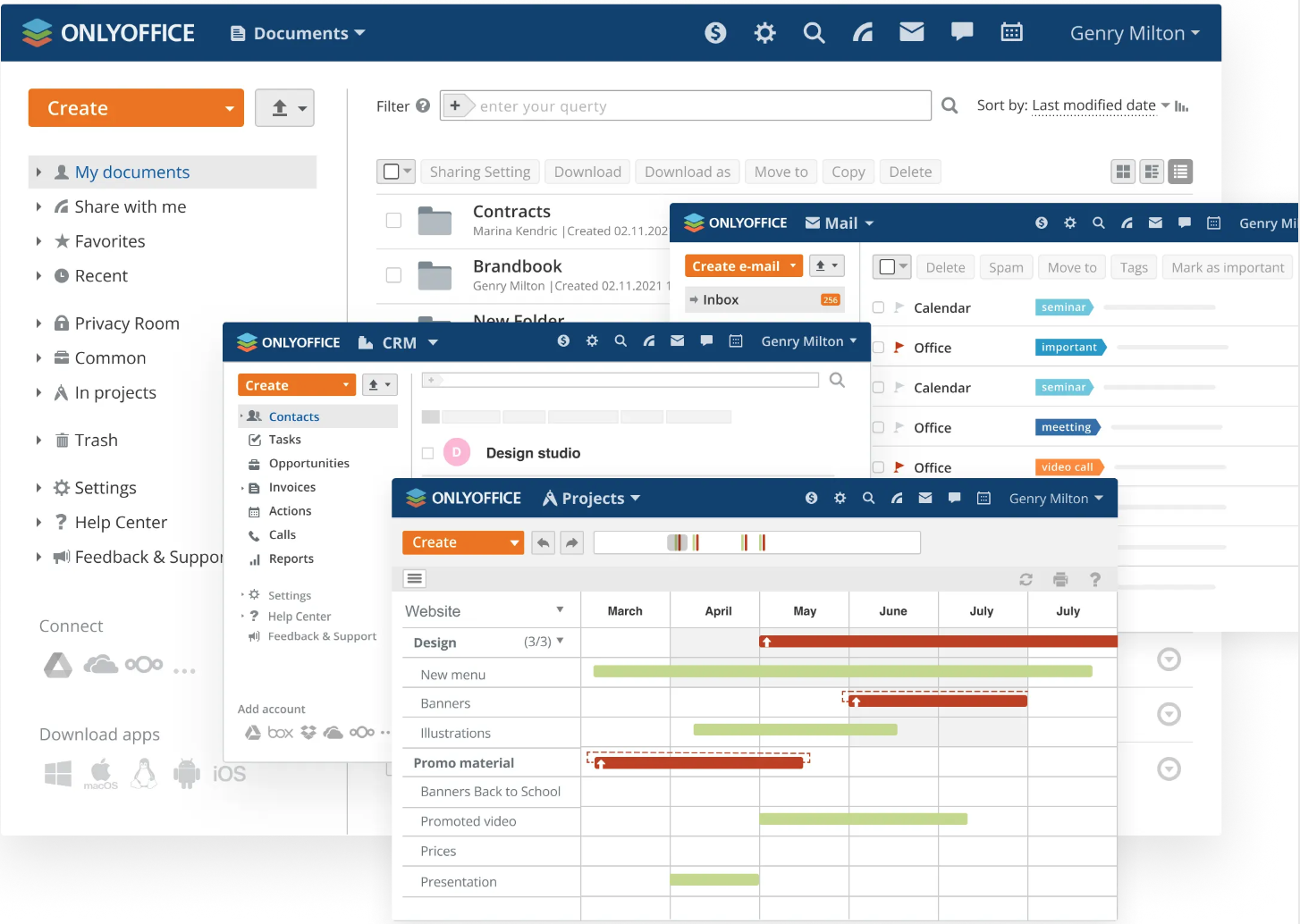 Let's dive into the key components that make ONLYOFFICE shine:
Collaborative Features: Seamless Communication Made Easy
Effective communication is the lifeblood of any work environment, and ONLYOFFICE gets that. Alongside its versatile editors, ONLYOFFICE packs a punch with a diverse set of collaboration tools. From chat and blogs to contacts, forums, and even a CRM system, ONLYOFFICE has your back. These incredible features make communication smooth as butter and foster teamwork that's off the charts within your organization.
All-in-One Management Toolset: Streamline Your Projects
Say goodbye to juggling between different software solutions to manage your projects. ONLYOFFICE serves as your centralized hub, where you can access a comprehensive document and project management toolset. This game-changing platform lets you oversee every aspect of your project without the hassle of switching between multiple applications. It's like having a personal project management assistant right at your fingertips.
Versatile Compatibility: Work the Way You Want
ONLYOFFICE understands that users have diverse needs and preferences. Whether you're a Linux aficionado or rock another operating system, ONLYOFFICE has got you covered. It offers extensive compatibility, seamlessly integrating with your existing infrastructure. This flexibility empowers you to work with your preferred systems and supercharge your overall productivity.
Unleash Your Potential with ONLYOFFICE: Skyrocket to Success
Now that we've uncovered the amazing features of ONLYOFFICE, let's talk about how it can unlock your potential and drive success in everything you do.
Enhanced Project Management: Get Things Done, Effortlessly
Efficient project management is the key to achieving your desired outcomes, and ONLYOFFICE's got your back. Its project management toolset equips you with all the necessary features to plan, organize, and monitor your projects like a pro. From assigning tasks and setting milestones to tracking progress, ONLYOFFICE empowers you to stay on top of your projects, ensuring timely completion and successful delivery. No more dropping the ball!
Seamless Collaboration and Communication: Teamwork Makes the Dream Work
Collaboration is the secret sauce for successful teamwork, and ONLYOFFICE makes it a breeze. With its integrated chat, forums, and CRM system, you can easily communicate, share ideas, and exchange feedback in real-time. This streamlined communication process sparks creativity and turbocharges your team's overall productivity. Together, you'll conquer mountains!
Streamlined Document Editing: Effortless Excellence
ONLYOFFICE's powerful editors for presentations, text documents, and spreadsheets are a force to be reckoned with. They offer a vast array of advanced features that take your document creation process to new heights. From formatting options that make your work pop to collaboration tools like track changes and comments, ONLYOFFICE provides an editing environment that ensures accuracy and efficiency. Say goodbye to time-consuming edits and hello to polished perfection.
Read: Best free project management software
OpenProject, a robust project management software, came into existence in 2012 as a cutting-edge web-based tool. It's tailored to meet the demands of the Linux environment and has since expanded its support to various operating systems. With OpenProject, you can streamline collaboration within your team and achieve triumphant project outcomes. The software offers two versions: a free variant and a premium edition packed with advanced features, ensuring it caters to a wide range of project management needs. You'll receive real-time updates and tracking capabilities, empowering you to stay in the loop on project progress and make well-informed decisions.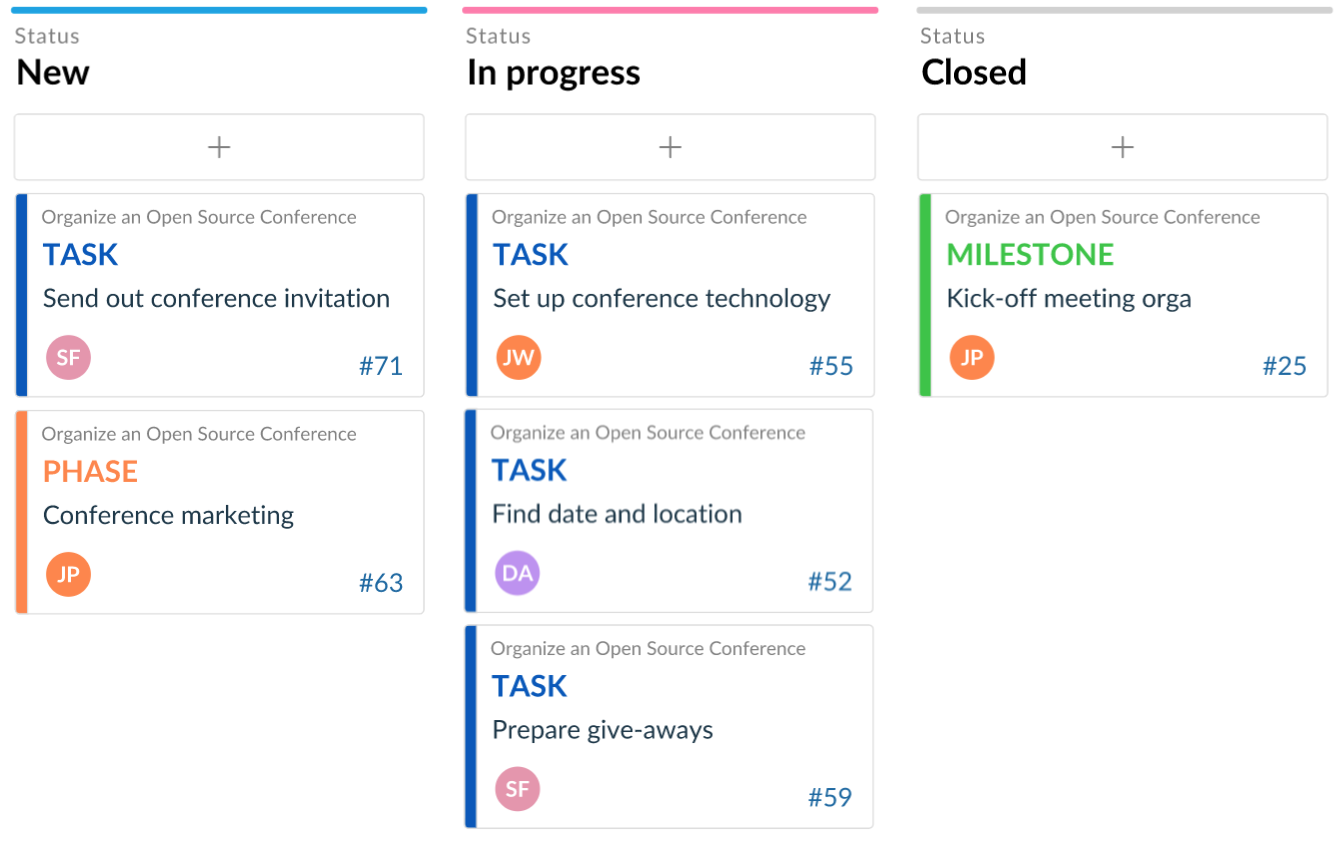 OpenProject boasts impressive functionalities like scope management and multi-project roadmaps, which enable you to effortlessly assign tasks, evaluate project status, and prioritize effectively. A noteworthy benefit is the availability of a free version, granting you the chance to fully explore its extensive capabilities at no expense. By harnessing the power of OpenProject, you can completely transform your project management practices, maximizing efficiency and fostering seamless collaboration within your team.
ProjeQtOr, the top-notch Linux Project Management Software tailor-made for efficient teamwork. Whether you run a medium-sized business or are embarking on ambitious ventures, ProjeQtOr is the ultimate open source tool to streamline your operations, empower your IT and marketing teams, and take your projects to new heights.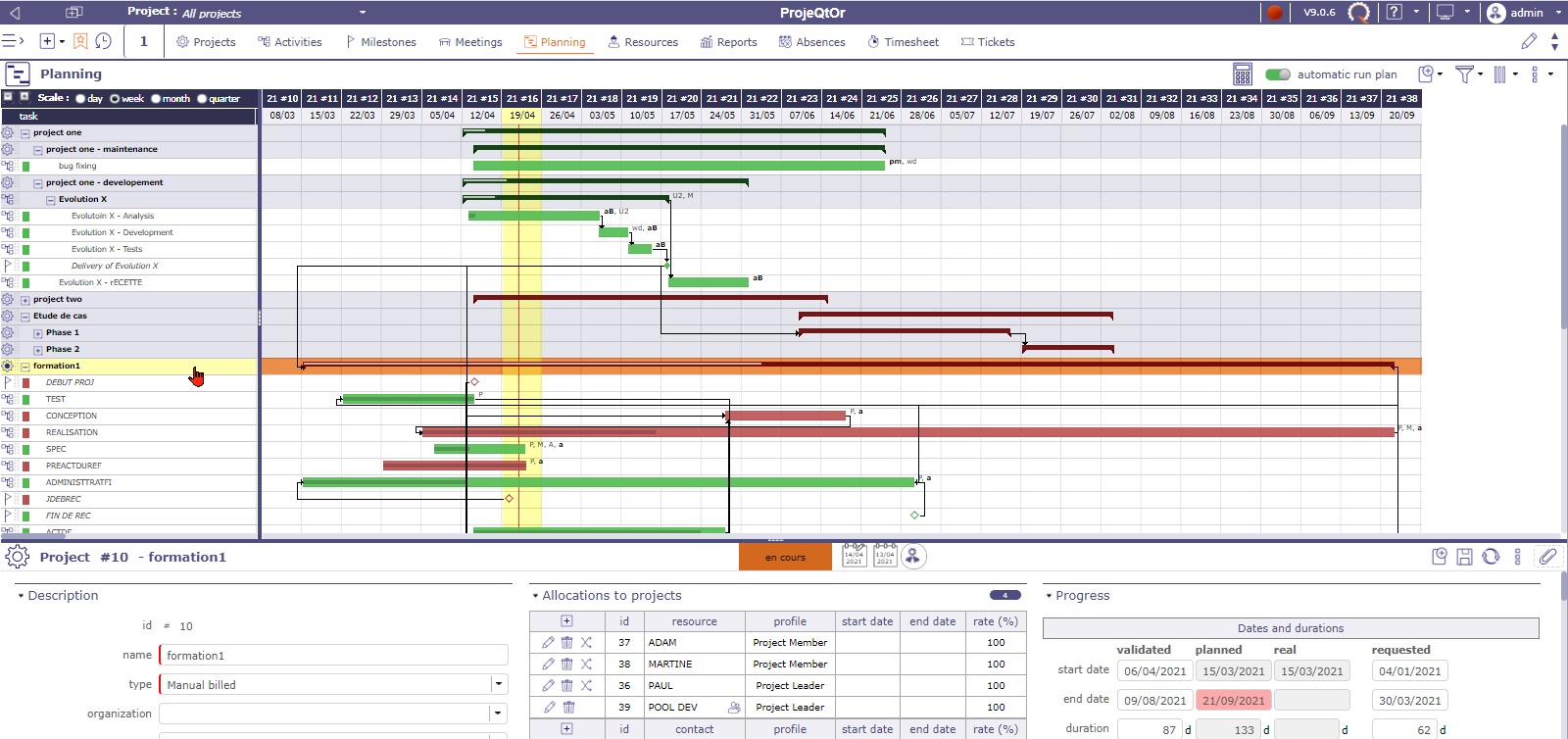 Unleashing Efficiency and Quality: The Power of ProjeQtOr
ProjeQtOr doesn't just simplify communication by reducing reliance on clunky email exchanges; it also lets you incorporate industry best practices to surpass the quality standards of your projects. With ProjeQtOr, you gain real-time insight into the status of your assignments, keeping your team accountable and accurately forecasting resource availability.
Effortless Project Management with ProjeQtOr
This project manager, driven by a commitment to quality, provides an extensive array of planning and scheduling tools, along with essential management features, making it a piece of cake to handle even the most intricate projects. As a user, you have the flexibility to create and save project templates, saving you valuable time and effort for future endeavors.
Navigating Risks, Embracing Opportunities: ProjeQtOr's Intuitive Toolkit
One of ProjeQtOr's standout features is its intuitive risk and opportunity management tool. By skillfully identifying and mitigating risks while capitalizing on opportunities, you can steer your projects towards success with unwavering confidence. ProjeQtOr empowers you to proactively manage incidents, optimize cost management, and meticulously budget your projects, among other remarkable functionalities.
Optimizing Resources and Boosting Performance
ProjeQtOr understands the critical importance of resource planning and allocation. Through its robust resource planning feature, you can ensure the right individuals are assigned to the appropriate tasks, optimizing productivity and maximizing outcomes. By centralizing resource management, ProjeQtOr enables you to make informed decisions, allocate resources efficiently, and minimize bottlenecks.
Seamless Collaboration and Enhanced Productivity
ProjeQtOr fosters seamless collaboration among team members, regardless of their location or time zone. Its user-friendly interface promotes efficient communication, ensuring everyone is on the same wavelength. With ProjeQtOr, you can effortlessly assign tasks, track progress, and collaborate in real time, fueling productivity and propelling projects forward.
Read: Project Management Software: How Does It Aid Decision Making
TaskJuggler, a robust project management tool, packs a punch with its wide range of features. From detailed reports to task lists, project calendars, resource usage tables, and status reports, this tool has got you covered. It effortlessly streamlines the project management process by seamlessly integrating with digital resources. No need to fuss over clunky dialog boxes anymore! With TaskJuggler, projects are marked in a text format, making things smoother than a hot knife through butter.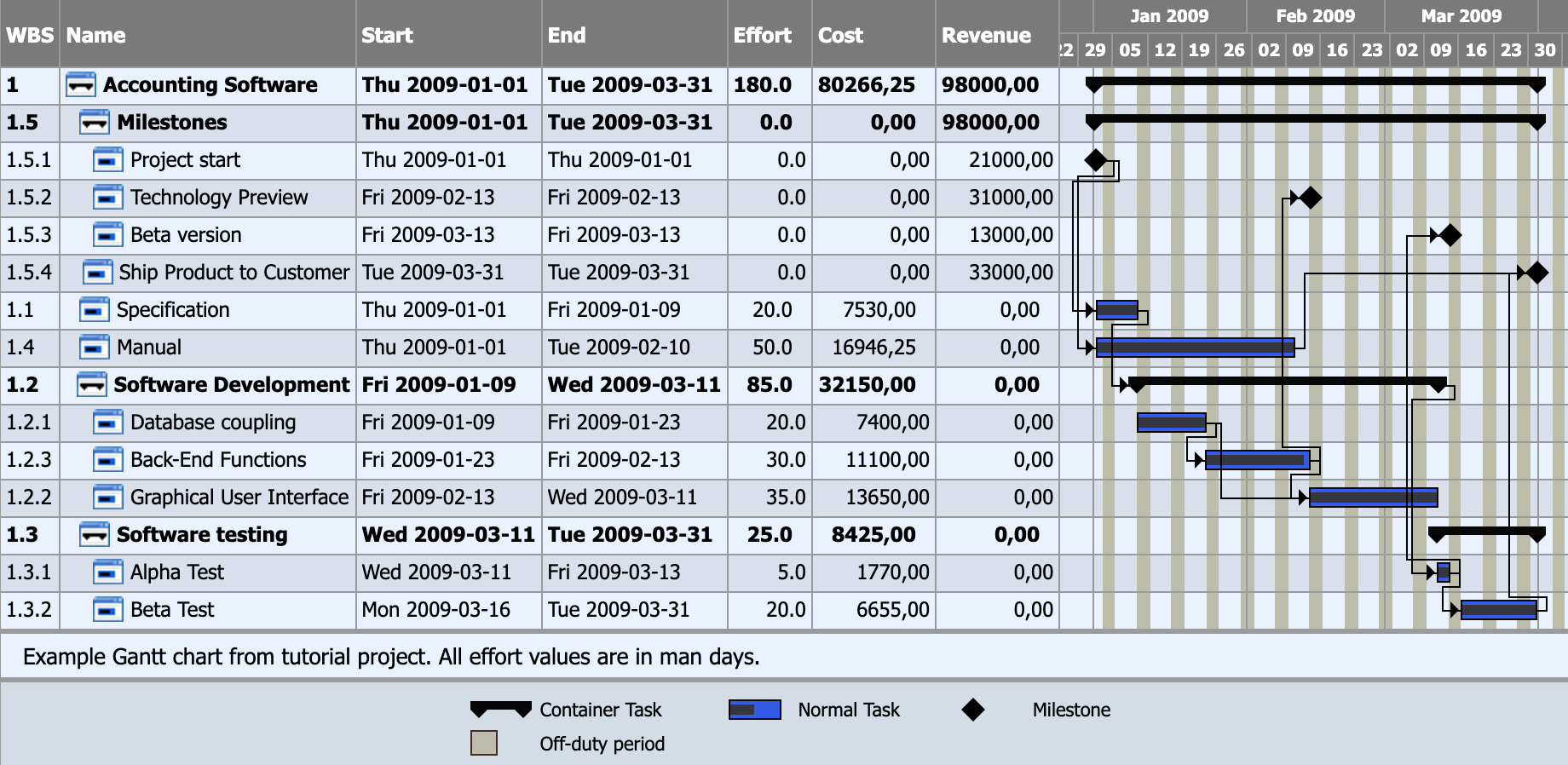 But that's not all! TaskJuggler takes project tracking and planning to a whole new level. Forget about those traditional "Gantt chart editing tools" because TaskJuggler's advanced methodologies are in a league of their own. They pave the way for successful project outcomes that'll knock your socks off. It's no wonder this software has received rave reviews from satisfied users across numerous projects.
Let's dive deeper into what makes TaskJuggler shine:
First up, we've got the comprehensive reporting feature. Brace yourself for detailed project accounting statements that offer valuable insights into progress, resource utilization, and overall performance. Stay in the know and make informed decisions that pack a punch.
Next, we've got efficient task lists. Picture this: an intuitive interface and powerful algorithms that make organizing and prioritizing tasks a breeze. Keep your project timeline in check and ensure critical deliverables are completed faster than you can say "Bob's your uncle."
Now, let's talk about the dynamic project calendars. Visualize your project milestones, deadlines, and important events with ease. No more guesswork! Track project timelines like a pro and ensure smooth coordination among your team members. You'll be hitting those deadlines like a bullseye.
Ah, the resource usage tables. We all know how crucial it is to allocate and utilize resources efficiently. TaskJuggler's got your back with comprehensive overviews of resource allocation, preventing any bottlenecks that might come your way. Take control of your project resources and boost productivity like a boss.
Last but not least, we've got the insightful status reports. Stay updated on your project's progress and milestones with reports that leave no stone unturned. These reports provide a comprehensive view of project performance, highlighting key metrics that'll make your stakeholders go "wow." Stay one step ahead and address any potential issues like a pro.
OpenProj is an exceptional open-source project management software that stands as a viable alternative to Microsoft Project. It's specifically designed for efficient desktop project management, allowing project managers to streamline their workflows effectively. What sets OpenProj apart is its seamless integration with both Primavera and Microsoft files, making it a versatile tool that fosters effortless collaboration and file sharing among team members.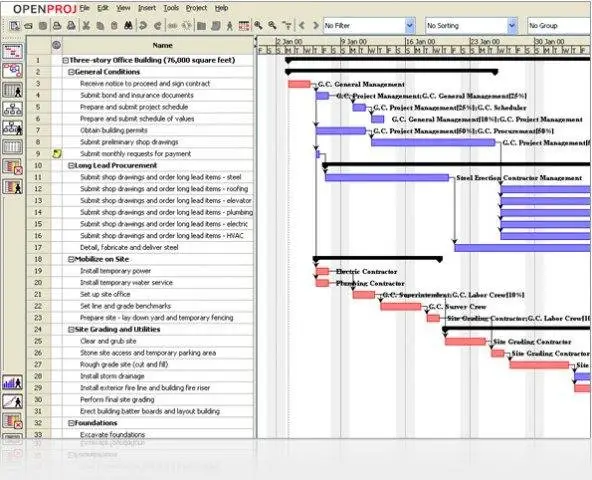 One of OpenProj's standout features is its adaptability to multiple languages, ensuring a smooth user experience for project managers around the globe. This versatility extends to its compatibility with Microsoft Project files, eliminating any compatibility issues that may arise when working across different platforms.
OpenProj takes project management to the next level by providing comprehensive reports on task utilization and progression. These reports offer valuable insights into the status and progress of each task within a project. With this information at hand, project managers can effectively allocate resources, identify potential bottlenecks, and optimize the overall workflow. Real-time monitoring further enhances project transparency, empowering project managers to make informed decisions promptly.
To aid project managers in visualizing project timelines, dependencies, and critical paths, OpenProj offers advanced Gantt charts and network diagrams. These visual representations provide a clear understanding of project structures. Gantt charts offer an intuitive overview of project tasks, durations, and dependencies, enabling project managers to schedule and allocate resources efficiently. Meanwhile, network diagrams illustrate the relationships and interdependencies between project activities, facilitating seamless project planning and effective risk management.
OpenProj doesn't stop at its core features; it goes the extra mile to provide additional functionalities that supercharge project management capabilities. With resource management, project managers can efficiently handle project resources by assigning them to specific tasks, tracking their availability, and optimizing their utilization. This feature prevents overloading or underutilization of resources, ensuring a balanced workflow.
Collaboration and communication are essential in any project, and OpenProj excels in this area. It enables seamless collaboration and communication among project team members through features like file sharing, task assignment, and progress tracking. By keeping everyone on the same page, OpenProj fosters effective teamwork and ensures that project developments are communicated efficiently.
When it comes to risk management, OpenProj proves to be a valuable asset. It assists project managers in identifying and assessing potential risks within a project. Armed with this information, project managers can prioritize mitigation strategies and take necessary measures to minimize the impact of unforeseen events. This proactive approach helps mitigate risks and ensures smoother project execution.
Additionally, OpenProj offers robust cost tracking and budgeting capabilities, enabling project managers to monitor project expenses, allocate funds efficiently, and maintain financial accountability throughout the project lifecycle. This feature ensures that projects stay within budget and helps project managers make informed financial decisions.
Read: Kubernetes Containerization Management For Large Projects
OrangeScrum is an outstanding open-source project management tool that boosts workflow and productivity. It's loaded with cool features like the Gantt chart, kanban view, time tracking, and sub-task management, making it a go-to solution for businesses of all sizes.
The Gantt chart in OrangeScrum is a game-changer. It lets you plan and allocate resources by visualizing project timelines. Breaking tasks into smaller sub-tasks keeps the workflow smooth and ensures on-time completion. The kanban view gives you a clear picture of tasks, allowing for efficient tracking and monitoring. OrangeScrum puts you in control, making project management a breeze.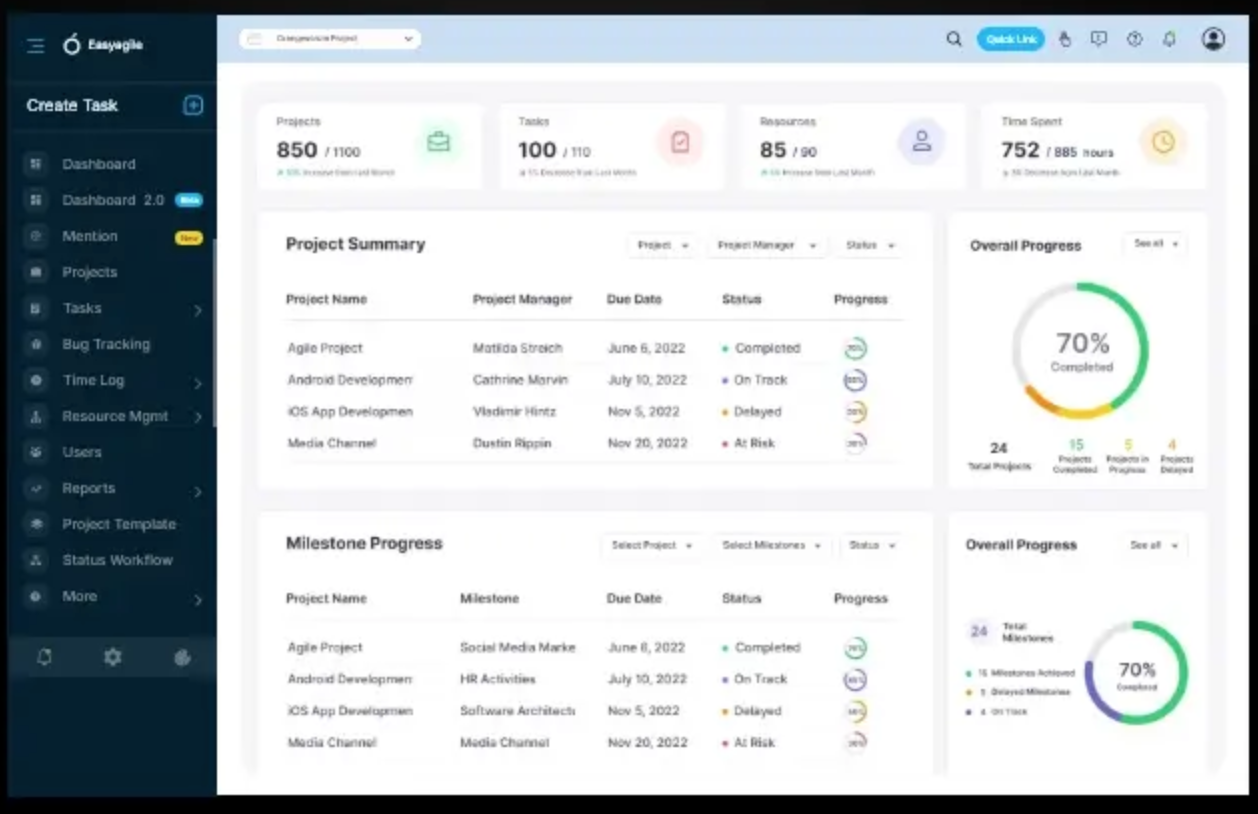 When it comes to success, nailing time management is key, and OrangeScrum gets it. With its top-notch time tracking capabilities, you can accurately monitor task durations. This data analysis helps you identify bottlenecks, optimize resource allocation, and supercharge productivity. OrangeScrum empowers you to make informed decisions, keeping your projects on track.
In today's digital world, data security is no joke. OrangeScrum takes data privacy seriously, implementing robust security measures to safeguard your sensitive information from unauthorized access. But that's not all! OrangeScrum also fosters seamless collaboration and smooth file sharing. By centralizing project files, everyone on your team can access and share information easily, eliminating communication hurdles and boosting teamwork. With OrangeScrum, project delivery is a breeze, exceeding client expectations every time.
GanttProject rocks as a top-notch project scheduling software, offering a robust set of tools and features to streamline project management. While it may not be a full-fledged Linux Project Management Software, it brings a wealth of resources to the table, including diagrams, symbols, templates, and more, making it a seamless design powerhouse.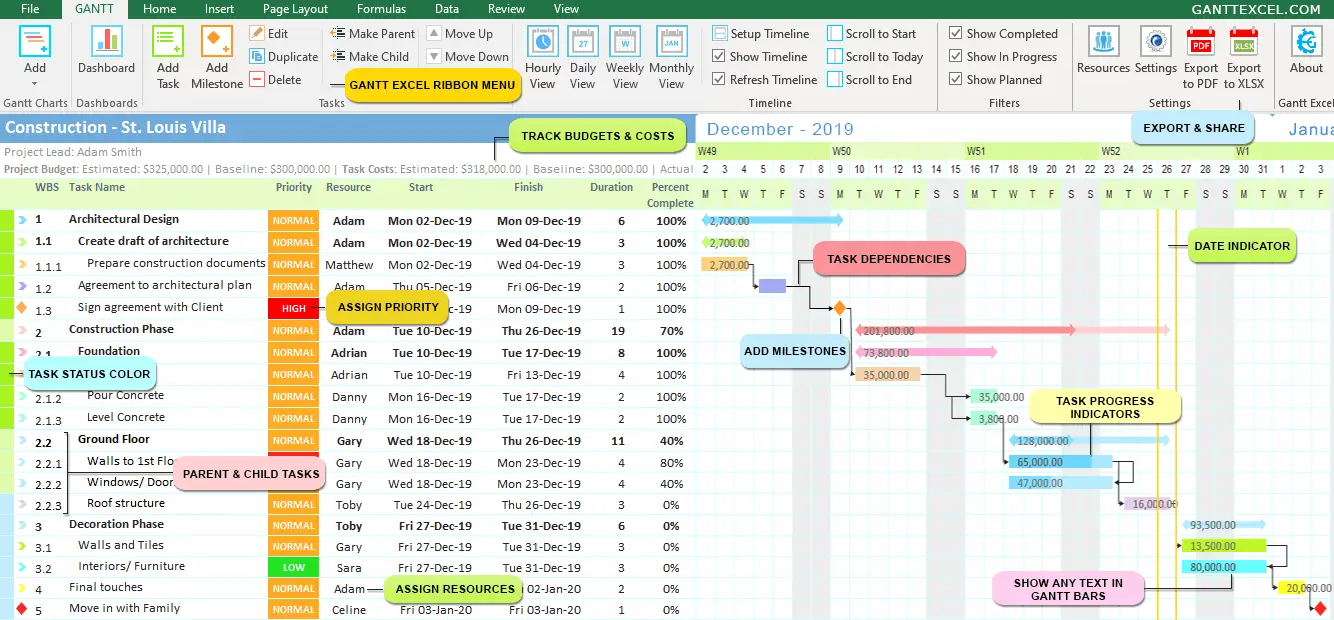 Level up your project management game with GanttProject's tailored features designed specifically for Gantt-based project management techniques. This software has your back with support for PERT charts and a program evaluation system, allowing you to optimize your project planning and execution. What's more, GanttProject enables collaboration by letting you work on project files using WebDAV.
GanttProject has been on the ball since its initial release in 2003, consistently delivering updates and improvements. This dedication to continuous development ensures users always have access to the latest and greatest features and enhancements. With this user-friendly software, breaking down complex tasks and accurately calculating project costs becomes a piece of cake, giving your project management processes a serious boost.
Effortlessly plan your projects and allocate resources with GanttProject's intuitive interface. It allows you to create dynamic Gantt charts that visually represent project timelines, dependencies, and resource allocation. Take advantage of its resource management features, effortlessly assigning resources to specific tasks to ensure optimal utilization and efficient project execution.
Exporting project files to PDF format is a walk in the park with GanttProject. In just a matter of minutes, you can generate professional reports and easily share them with stakeholders or team members. On top of that, GanttProject simplifies the process of importing files from Microsoft Projects and Excel, seamlessly integrating with your existing workflows.
Read: A Brief Overview of Software Development Methodologies
When it comes to running a business, project management holds a pivotal role in ensuring success and productivity. And let me tell you, having the right tools in your arsenal can make all the difference. That's where Redmine steps in, standing tall amidst a sea of project management solutions. With its cross-platform and cross-database capabilities, Redmine offers a versatile software package that excels at efficiently handling multiple tasks. Developed with the mighty Ruby on Rails framework, this tool grants enterprises the flexibility to customize it to suit their unique organizational needs.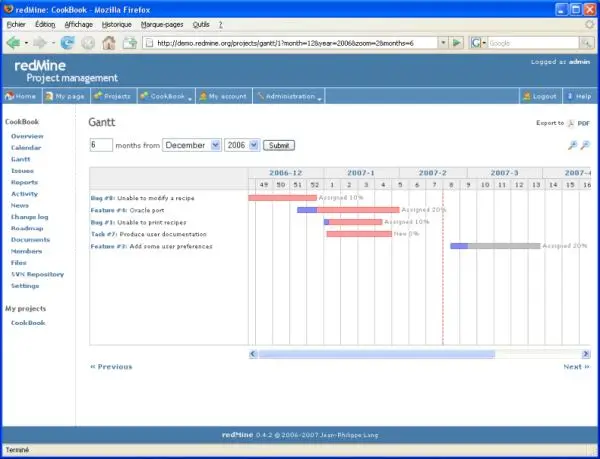 Tap into the Power of Redmine's Key Features
Redmine boasts an impressive range of features that are designed to streamline your project management processes. So, let's dig in and explore some of the most notable functionalities:
Rock-Solid Role-Based Access Control
Now, maintaining security and ensuring that your team members have the right level of access to perform their tasks is paramount. Redmine's flexible role-based access control allows you to define user roles and assign specific permissions accordingly. This means that each team member can access the information they need, while ensuring that sensitive data remains under lock and key.
Stay in the Know with Email Notifications and Feed Info
Effective collaboration heavily relies on staying up-to-date with project developments. And guess what? Redmine has got your back! By offering email notifications and feed info, Redmine simplifies the process of keeping everyone in the loop. These nifty features ensure that team members receive real-time updates on project activities, task assignments, and those all-important deadline reminders.
Master Time Tracking
Picture this: accurate time tracking becomes your secret weapon for managing resources, monitoring progress, and analyzing project performance. And here's where Redmine truly shines. With its comprehensive time tracking feature, you can effortlessly record and analyze the time spent on various tasks and projects. Trust me, this data will prove invaluable when it comes to optimizing workflows, identifying bottlenecks, and boosting overall productivity.
Pre-Project Forums: The Collaboration Hotspot
Let's face it, effective communication is the glue that holds successful project management together. Redmine takes collaboration to the next level by offering pre-project forums. These bad boys provide a dedicated space for team members to discuss ideas, share knowledge, and address any questions or concerns that may arise. It's the perfect breeding ground for open discussions, ensuring that every team member has a voice in the project.
Seamlessly Manage Documents, News, Media, and Files
We all know that juggling project-related documents, news updates, media files, and other assets can be quite a challenge. But fear not, because Redmine has your back. By providing a centralized platform for managing and organizing all your project files, Redmine simplifies the process to no end. Whether you're dealing with documents, images, videos, or any other media, Redmine enables effortless file management, ensuring that your project assets are easily accessible to all relevant stakeholders.
Take Collaboration to the Next Level with Redmine's Integrated Client Portal and Issue-Tracking System
But wait, there's more! Redmine doesn't stop at just the features mentioned above. It goes the extra mile by integrating a highly comprehensive client portal and issue-tracking system. And let me tell you, this integration is a game-changer! It enables seamless communication and collaboration with clients, ensuring quick resolution of tasks and issues. The client portal acts as a centralized hub where clients can access project-related information, share feedback, and stay engaged throughout the entire project lifecycle. And the issue-tracking system? Well, it ensures that any reported bugs or problems are swiftly addressed, reducing the potential for delays or miscommunication.
---
If you like the content, we would appreciate your support by buying us a coffee. Thank you so much for your visit and support.