If you run a small HVAC business, you know how challenging it can be to manage all the aspects of your operation. You have to deal with scheduling, dispatching, invoicing, customer service, inventory, and more. You also have to keep up with the latest trends and regulations in the HVAC industry. How can you do all that without losing your sanity?
The answer is simple: you need good HVAC software. HVAC software is a tool that helps you automate and streamline your daily tasks, saving you time and money. HVAC software can help you improve your efficiency, productivity, and profitability. But how do you choose the best HVAC software for your small business?
There are many HVAC software options available in the market, each with its own features, benefits, and drawbacks. To help you make an informed decision, we have reviewed some of the best HVAC software for small businesses. We have looked at their pricing, functionality, ease of use, customer support, and more. We have also highlighted their pros and cons, and what makes them stand out from the rest.
In this article, you will find out which HVAC software is best suited for your specific needs and budget. Whether you are looking for a simple and affordable solution, or a comprehensive and powerful one, we have got you covered. Read on to discover the best HVAC software for small businesses.
What is HVAC Software
HVAC software is an online platform designed specifically for businesses in the heating, ventilation, and air conditioning (HVAC) industry. This software aims to streamline day-to-day processes through organization and automation.
Key Features of HVAC Software
The primary features of HVAC software include scheduling and dispatching HVAC technicians, invoicing and quoting clients and booking appointments for customers. Whether you're still keeping track of customer records on paper or just need to revamp your spreadsheet game, HVAC service software is designed to handle the nitty-gritty details of your business in a more modernized and simplified way.
Read: Ways to Increase Production in Your Manufacturing Business
How can HVAC service software help your business
Implementing HVAC software in your business operations can bring about a multitude of benefits:
Effective Planning and Scheduling: HVAC software allows for efficient preventive maintenance and breakdown request planning and scheduling.
Improved Productivity: The software can lead to improved wrench time and a more productive HVAC service team.
Efficient Operations: HVAC service operations become more efficient.
Visibility into Operations: The software provides 360-degree visibility into your daily HVAC operations.
Streamlined Spare Parts Management: HVAC software aids in more streamlined spare sourcing and spare parts management.
In the HVAC industry, having the right software can make a significant difference in managing your business operations. Here are some of the best HVAC software for small businesses:
Wrightsoft, one of the top HVAC software, is a comprehensive suite of solutions designed to assist HVAC contractors and designers.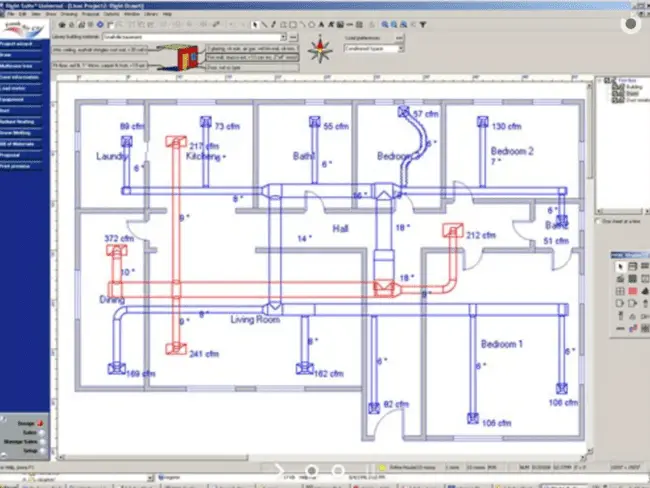 It's based on the ACCA (Air Conditioning Contractors of America) standards and offers a range of features:
Heat load calculation software: The program can calculate the heating and cooling loads for both residential and commercial buildings. This is crucial for determining the appropriate size and capacity of the HVAC equipment, ensuring both comfort and energy efficiency.

Duct design software: Wrightsoft can design the duct layout and size for any type of HVAC system. This is important for optimizing airflow and the distribution of conditioned air throughout the building.

Sales and proposal: This manual j software can generate professional and customized sales proposals and reports for HVAC projects. These tools can help HVAC contractors increase their revenue and customer satisfaction by presenting the best options and solutions for their clients.

CAD integration: The software can integrate with various CAD (computer-aided design) programs, such as AutoCAD, Revit, and SketchUp, to create and edit 2D and 3D models of HVAC systems. This can enhance the accuracy and quality of the HVAC designs and facilitate collaboration and communication between the HVAC contractors and designers.

Mobile solutions: The software can be accessed and used on mobile devices, allowing HVAC tasks to be performed on the go. This can improve the productivity and efficiency of the HVAC contractors and designers, no wonder it can be considered as one of the best software for HVAC companies.
This HVAC load calculation software is powered by the proprietary Hotlink Technology™, which allows for seamless and automatic linking of all calculations and data across the different modules and programs. This can save time, reduce errors, and ensure consistency and reliability of the HVAC results.
Wrightsoft HVAC software is the #1 HVAC service software for small business, .i.e. HVAC contractors and designers, with over 30 years of experience and innovation in the HVAC industry. It's trusted by thousands of HVAC professionals and organizations.
Read: B2B Email Marketing For Your Business : Best Practices
Elite HVAC Software is a comprehensive solution tailored to the unique needs of heating, ventilation, and air conditioning (HVAC) businesses.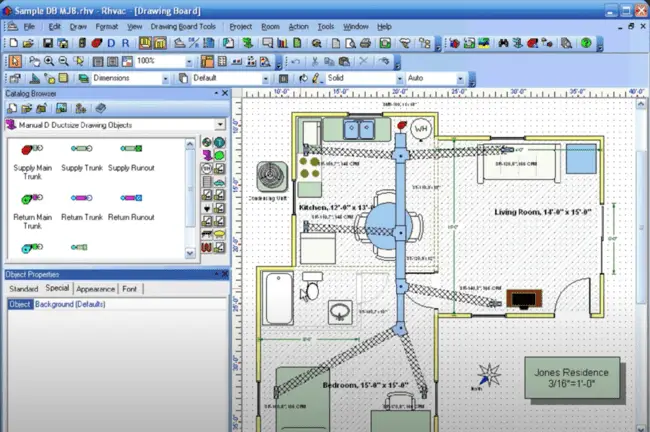 With its user-friendly interface and robust feature set, Elite HVAC Software empowers small and medium-sized HVAC companies to streamline their operations and enhance productivity.
Key Features:
Efficient Scheduling: Elite HVAC dispatch software simplifies the scheduling and dispatching of HVAC technicians, ensuring timely service delivery.

HVAC invoicing software Excellence: Create and manage estimates and invoices effortlessly, improving your billing process.

Customer Relationship Management: Keep detailed records of customer information and interactions for enhanced client relationships.

Time Tracking: Efficiently monitor and manage employee working hours to optimize resource allocation.

Seamless Communication: Utilize communication tools to engage effectively with customers.

Online Booking: Enable customers to book services directly, enhancing convenience for both parties.

Free hvac load calculation software : While the software suite offers both free and paid options, the no-cost versions deliver sufficient functionality for the majority of users.
Elite HVAC Software is engineered to provide unparalleled support for HVAC businesses.
Its scalability and adaptable pricing options make it an attractive choice for businesses seeking to optimize their HVAC operations.
FieldPulse is a comprehensive software solution for service contractors, offering a wide range of features to better manage and grow their business.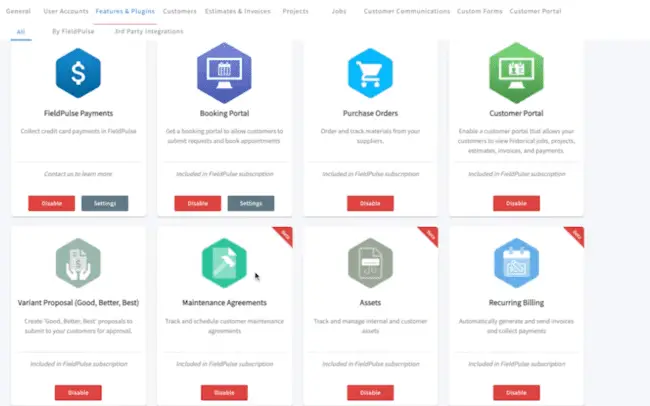 It's known for its ease of use, scalable functionality, and excellent customer success team.
Key features include:
Customer Management: FieldPulse HVAC management software system Helps keep track of customer information and interactions.
Scheduling & Dispatching: Allows efficient planning and assignment of tasks.
Estimates & Invoices: Facilitates the creation and management of estimates and invoices.
Timesheets: Helps in tracking and managing employee working hours.
Customer Communications: Provides tools for effective communication with customers.
Booking Portals: Enables customers to book services directly.
FieldPulse also supports English language and offers a standard plan at $99.00 per month with additional users at $60.00.
Users have praised FieldPulse for its customization options, ease of creating proposals, and template creator that makes putting together big quotes less time-consuming. However, some users have mentioned that the Line Items catalog can be cumbersome as every different line item created has to be cataloged.
Overall, FieldPulse seems to be a well-received software solution that can aid in the efficient management and growth of service contracting businesses.
Read: Best Project Management Software for Linux
ServiceTitan, best-in-class HVAC estimating software, is a comprehensive solution for residential and commercial field service businesses. It offers a robust suite of features, including call booking, scheduling, dispatch, invoice, payments, and a marketing automation system.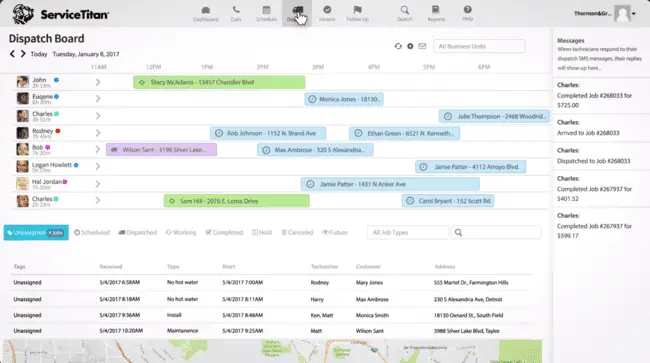 The software also provides real-time updates and reporting, enabling businesses to track technician performance and gain insights into their operations. However, some users have reported that the software can be complex and challenging to learn.
Read: Guide to POS Systems: Selection, Implementation and Evaluation for Small Businesses
Housecall Pro is a cloud-based field service management app for service professionals to automate workflows and streamline technician dispatch. It includes features such as job scheduling, dispatching, automated receipts and invoices, payment processing, customer notifications, and more.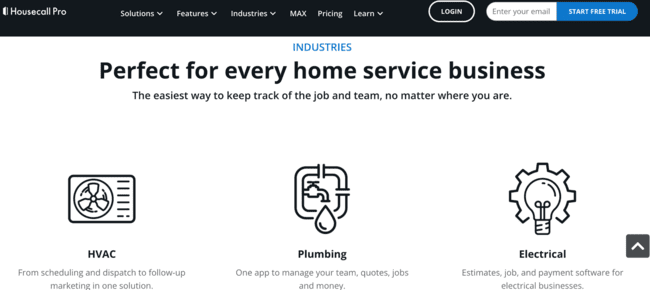 This QuickBooks HVAC software, also offers live map GPS tracking, an easy-to-use mobile app, and excellent customer service. Some users have mentioned that while the software is generally user-friendly, it may have occasional glitches.
FieldEdge is a powerful HVAC field service software that offers a wide range of features including scheduling, dispatching, invoicing, billing, and a fully integrated Quickbooks accounting platform.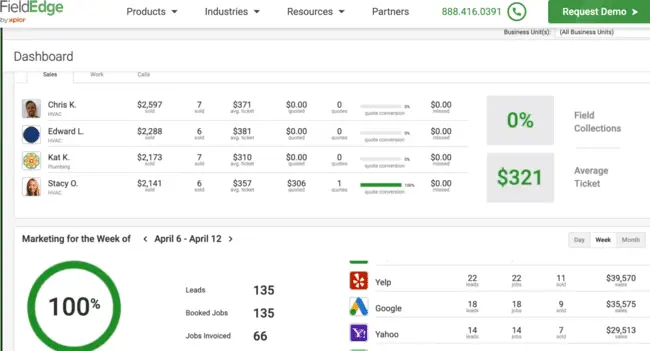 It also provides real-time data and analytics to help businesses make data-driven decisions. However, some users have reported that the software can be a bit clunky and may require some time to get used to.
Read: The Importance Of Project Management
Jobber is a platform for small to medium-sized businesses that offers a suite of features including scheduling, invoicing, a client manager, and more. It allows for batch invoicing, time tracking, and provides various reports.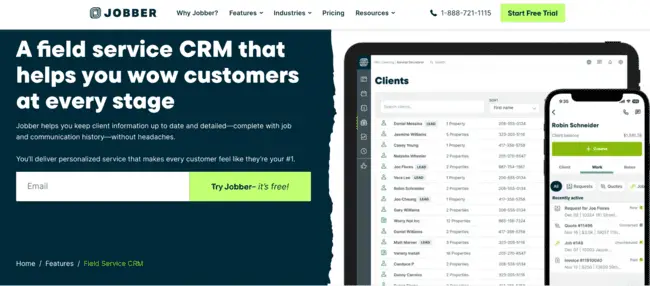 It also integrates with popular apps and software such as Quickbooks, Stripe, and PayPal. Some users have reported occasional issues with the software's speed and responsiveness.
mHelpDesk is a cloud-based field service automation software designed specifically for HVAC businesses. It offers a range of features to streamline your HVAC operation from the field to your office.
One of the key features of mHelpDesk is its ability to automate customer contact, scheduling, billing, and everything in between. It organizes your HVAC business customers' contact info into a virtual file cabinet, providing easy access to contacts, active jobs, service, and billing history.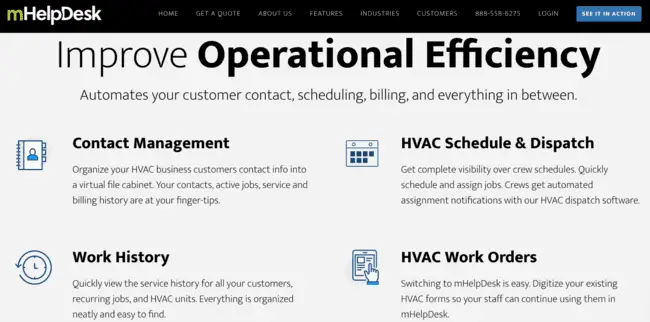 The software also includes a scheduling and dispatch feature that provides complete visibility over crew schedules. It allows for quick scheduling and assignment of jobs, and crews get automated assignment notifications with the HVAC dispatch software.
mHelpDesk also offers a feature to track the details related to all the HVAC units you work on. You can easily access its service history on the go and much more. It also allows you to digitize your existing HVAC forms so your staff can continue using them in mHelpDesk.
The software also includes billing and invoicing features that eliminate double-data entry, wasted time, and errors when you invoice and bill through mHelpDesk. It integrates with QuickBooks, which further streamlines the process.
However, it's worth noting that while mHelpDesk offers a comprehensive set of features, it may require some time to fully understand and utilize all of its features.
Jonas Enterprise Service & Construction Software is a cloud-based platform that offers a comprehensive solution for service and construction companies. It is designed to simplify processes, eliminate double entry, and provide a single source of truth.
One of the key features of Jonas Enterprise is its fully integrated construction management solutions. It offers over 40 modules, each designed in-house and works seamlessly with all other elements of the Jonas software system. This includes applications for project management, service management, and customer management, all of which are fully integrated with accounting for a comprehensive solution.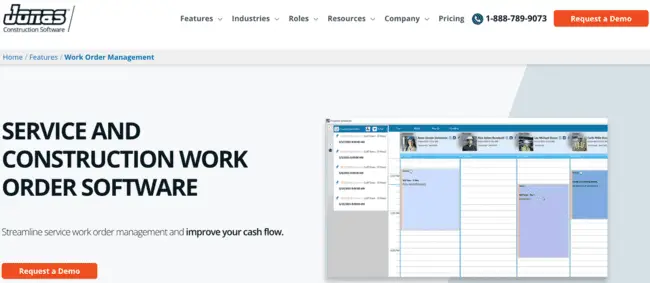 This HVAC billing software also includes a dispatching feature and web-enabled mobile capability, as well as a customer-facing portal. These features help to improve operational efficiency by unifying techs, dispatchers, and back office staff on PMAs, jobs, and work orders in a single integrated software.
Jonas Enterprise also offers robust reporting capabilities. It includes hundreds of standard reports, along with a variety of fully-configurable report generators. This allows for real-time data and reporting on your true costs at any given moment, enabling you to make informed and effective business decisions.
Additionally, Jonas Enterprise supports multi-company/division accounting, making it a scalable solution if your business is organized into multiple companies or divisions. This eliminates the cost of multiple systems and improves cash flow by decreasing billing cycles.
However, it's worth noting that while Jonas Enterprise is highly configurable and user-friendly, it may require some time to fully understand and utilize all of its features.
Read: AI and Architectural Design:What Will the Future Bring
ThermoGRID is a comprehensive software solution designed specifically for HVAC services, but it can also be used by any field service contractor. It offers a range of features that aim to streamline operations and improve efficiency.
One of the key features of ThermoGRID is its Smart Dispatching tool. This feature allows for highly automated dispatching, making it easier to schedule and dispatch technicians into the field. The software provides a calendar with drag-and-drop functionality, offering a quick visual for dispatch to see where the team is throughout the day.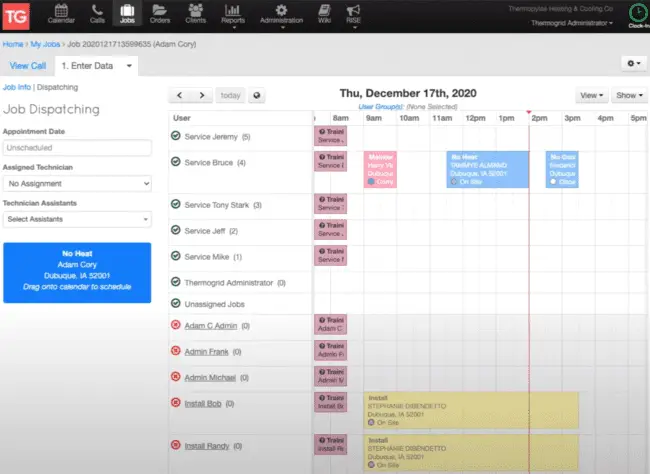 ThermoGRID also includes a mobile app, which offers easy access for technicians on-the-go. This app helps to connect the sales team and office with service technicians, enabling them to create estimates, receive payments, and capture signatures while in the field.
The software also includes accounting and invoicing tools, including flat rates for calculating costs. An integration with QuickBooks® accounting software ties your orders, inventory, and financials directly into one piece of software, reducing the need to switch between programs or risk making mistakes when entering accounting information manually.
Additionally, ThermoGRID offers a Voiceover IP feature that pulls up client details based on the phone number dialing in, providing many customization options for personalizing the dispatch board and KPI reporting.
However, it's worth noting that ThermoGRID does not currently have routing features and does not integrate with additional software other than QuickBooks. Also, the VOIP service costs more.
MobiWork is a comprehensive HVAC software solution designed to streamline operations for businesses in the field.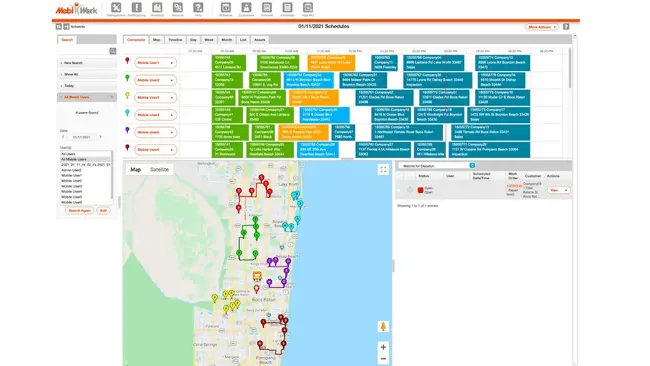 Here are some key features of the MobiWork HVAC software:
Customers and Prospects: MobiWork provides a centralized database for all customer and prospect information, easily accessible from anywhere at any time.
Schedules and Dispatching: The software offers powerful scheduling and dispatching capabilities, ensuring the right person is sent to the right job at the right time.
Maps & Turn-by-Turn Navigation: Integrated with Google Premier maps, MobiWork provides live traffic updates, construction alerts, estimated time of arrival, and alternate routes.
Parts, Inventory & Price List: MobiWork allows businesses to track all parts, including catalog, prices, costs, vendors, warehouse and user inventories, and purchase orders.
Work Orders: The software comes with pre-configured work orders for installations, repairs, and maintenances, including offline support, forms, and actions.
Service Contracts & Recurrent Routes: MobiWork automates job creation to ensure that customers and service level agreements are properly taken care of.
Estimates / Quotes: The software simplifies the process of creating and tracking estimates from creation to conversion to an actual order.
Invoices & Payments: MobiWork allows businesses to create invoices in the field or automatically on a recurrent basis, and capture payments in the field.
Assets: The software helps businesses keep track of their internal and customer-deployed assets, including history, warranty, and maintenance services.
Employees & Contractors: MobiWork provides tools for managing employees and contractors, ensuring everyone is on the same page.
Customer Portal: MobiWork offers a customer portal where customers can schedule appointments, check service history, accept estimates, and view invoices.
SkyBoss is a comprehensive business management software solution specifically designed for the HVAC industry.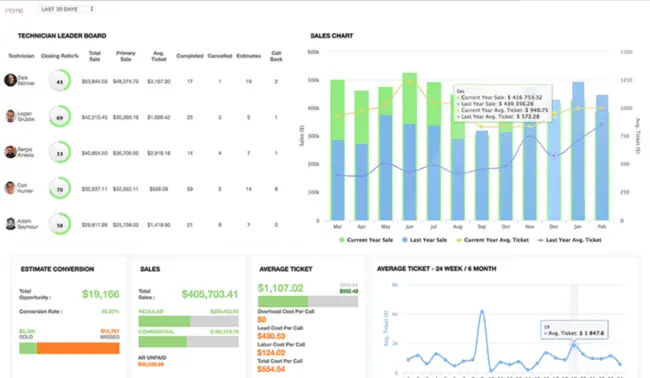 Here are some key features of the SkyBoss HVAC software:
Scheduling and Dispatching: SkyBoss provides an intuitive control panel with powerful tools for scheduling and dispatching. It includes a drag-and-drop calendar for easy scheduling of one-time and recurring jobs.
Invoicing and Payments: SkyBoss offers automated invoicing and billing functionalities, making invoicing and estimating easier than ever. It allows for emailing invoices with a click of a mouse and collecting payments online.
Customer Management: SkyBoss provides a complete, searchable database of clients, showing contact information, last job, upcoming appointments, recent payments, and more. It also allows for quick access to client history in the field or back office.
Accounting: SkyBoss offers integrated accounting to know your numbers in real time or simply sync with Quickbooks.
Technician Tracking and Routing: SkyBoss allows you to track your technicians right from the dispatch board, knowing where they are at all times.
Reporting: SkyBoss makes it easy to generate reports of your business so you can track growth over time and look for areas to improve.
Estimating: Writing and tracking estimates or quotes has never been easier with SkyBoss. It allows you to track all of your estimates, missed opportunities, and conversion performance.
Mobile Ready: The SkyBoss mobile app allows you to generate and send invoices and will even warn your technicians if they are missing important information like signatures or warranties. It also allows you to manage your business on-the-go and allows your technicians to update the status of their job and other details from the field.
Bank-Grade Security: SkyBoss ensures that your personal information and your data, including customer information, is kept secure with bank-grade security.
Read: Best interior design apps for Android
Sera is a Field Service Management (FSM) software solution designed to help HVAC, Plumbing, Electrical, and other Home Service Businesses streamline their operations and increase profitability. Here are some key features of the Sera HVAC software: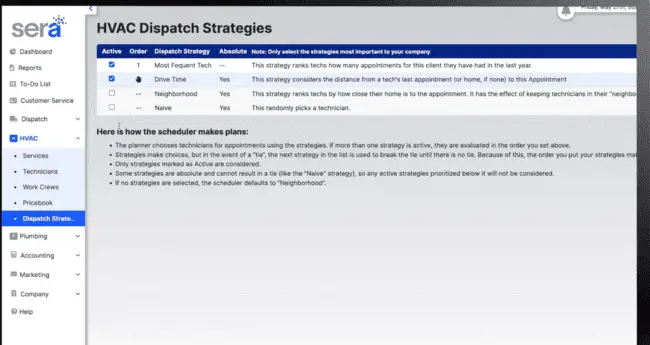 Automated Scheduling Admin Portal: This feature reduces the workload associated with manual scheduling by using automated intelligence to dynamically pre-assign jobs. It provides a visual representation of data, which helps in understanding the efficiency of each job and in making informed business decisions.
Membership Growth Tools: These tools are designed to help businesses grow their customer base and increase recurring revenue.
Dynamic Dispatching: This feature ensures that the right technician is assigned to the right job based on priority, capability, and availability.
Customer Hub: This is a platform where new and returning customers can schedule appointments, check service history, accept estimates, and view invoices. It also helps improve a business's organic search results as customers spend more time on the website.
Tech App with Quoting and Payment Processing: This app ensures a consistent customer experience across all jobs. It allows technicians to build multiple quotes within minutes and process payments on the spot.
Complimentary HVAC and/or Plumbing Pricebook: This is a pre-populated pricebook that allows for multi-quote presentation of good, better, and best options, along with 2 column quoting to show membership savings.
Conclusion
The best HVAC software for small business is the one that fits your specific needs and budget. Consider factors like ease of use, specific features relevant to your business, integration with your existing systems, and the level of customer support provided by the software company. Always take advantage of free trials or demos to ensure the software is a good fit before making a final decision.
---
If you like the content, we would appreciate your support by buying us a coffee. Thank you so much for your visit and support.