If you have a registered Samsung account, you can locate your stolen or lost device without much effort. Otherwise, it is also possible to do this with a Google account , if you have enabled the device manager .
It is worth noting that if you have no hope of finding a stolen cell phone , you should block the IMEI of the device . And, if you do find a cell phone that has been stolen, you should contact the police and not go after the cell itself.
how to track a Samsung phone using Samsung account
If you connected your Samsung account to your Galaxy phone, you should be able to track the device, since the Lock screen and Security> Find my mobile> Remote controls setting is automatically activated when you set up a Samsung account. Here's how to track it: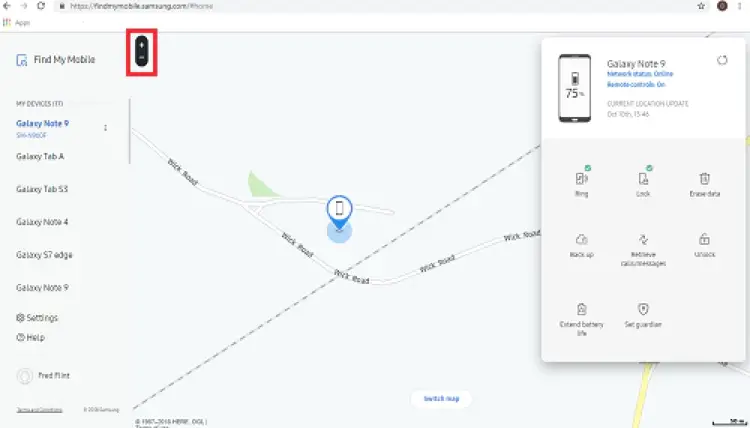 Image credit: Samsung | how to find lost Samsung phone
Go to findmymobile.samsung.com

Log in with your Samsung account.

Wait for the website to locate your device. Make sure the Network Status is Online and Remote Controls are Enabled .

Right away, the website will show the approximate location of your cell phone. If it cannot find it, it will show the last location where it was found.
Read: How to unlock Samsung Galaxy phone
From Find my phone , you can take several steps to protect your device, such as:
Ringtone : emits a sound at maximum volume for one minute (not recommended unless you have lost your phone indoors).

Lock : locks the phone screen with a PIN and / or prevents the phone from being turned off so that you can control it remotely.

Erase data : resets and formats your Samsung Galaxy phone to factory settings.

Backup : make a remote backup of your cell phone data.
Read: How to backup and restore your Android device with ADB on Ubuntu
Retrieve calls and messages : receive the latest calls and messages that your cell phone has made.

Unlock : remove any password from the cell phone, useful if you have already found it or forgot the password.

Extend battery life : saves your cell phone battery so you can track it longer.

Set Guardian : Set another guardian to control your phone remotely.
How to track Samsung Galaxy phone with Google account
With a Google account, the Device Manager, available on all Androids, does the dirty work. At google.com/android/devicemanager , you can see the location of the phone, if you have activated the service on the device. The Device Manager is designed to track stolen or lost mobile phones .
Tip: If you still have your phone, make sure it is turned on in Settings> Google> Security> Find My Device .
When you open Device Manager on the web, you have access to three options:
Play sound , which makes the device play a loud sound for five minutes, even if it is in silent mode.

Block , which blocks the device.

Clean up , when there is no more hope of finding the device and you want to delete the content. After using this option, it will no longer be possible to locate it through the Device Manager.
Read: Best apps to recover deleted photos from Android phone
It is worth remembering that, to locate your cell phone, it is necessary that it is connected to the internet to receive commands from the Device Manager. If you do not have 3G or 4G active, it is good to hope that it automatically connects to a Wi-Fi network.
---
If you like the content, we would appreciate your support by buying us a coffee. Thank you so much for your visit and support.