Losing our photos, videos, documents and other files is the worst thing that can happen to us on a Mac, but there are solutions such as iBoysoft Data Recovery for Mac , which deals with thisissue. A program specialized in recovering files deleted by mistake or lost due to technical failure, or malware attacks. In this article we will review this software.
How can you recover a deleted file?
When the information is completely erased on a hard disk, USB stick or memory card, or there is physical damage, it is very difficult to recover it. Fortunately, the vast majority of files that appear lost are still on the disk and can therefore be retrieved.
When you delete a file even from the Trash, its content are not overwritten, only that space is marked as free . If no new data has been stored in that location on the disk, with iBoysoft Data Recovery for Mac it is possible to recover the deleted files.
Versions of iBoysoft Data Recovery for Mac
There is a free version and a paid version of iBoysoft Data Recovery, the most relevant differences are:
With the free version you can only recover 1GB of data and it is not compatible with APFS

With the Professional edition you have unlimited data recovery, supports HFS +, FAT32, exFAT, APFS, APFS encrypted systems and can recover data even without starting macOS. It starts from USD 89.95 for one month license.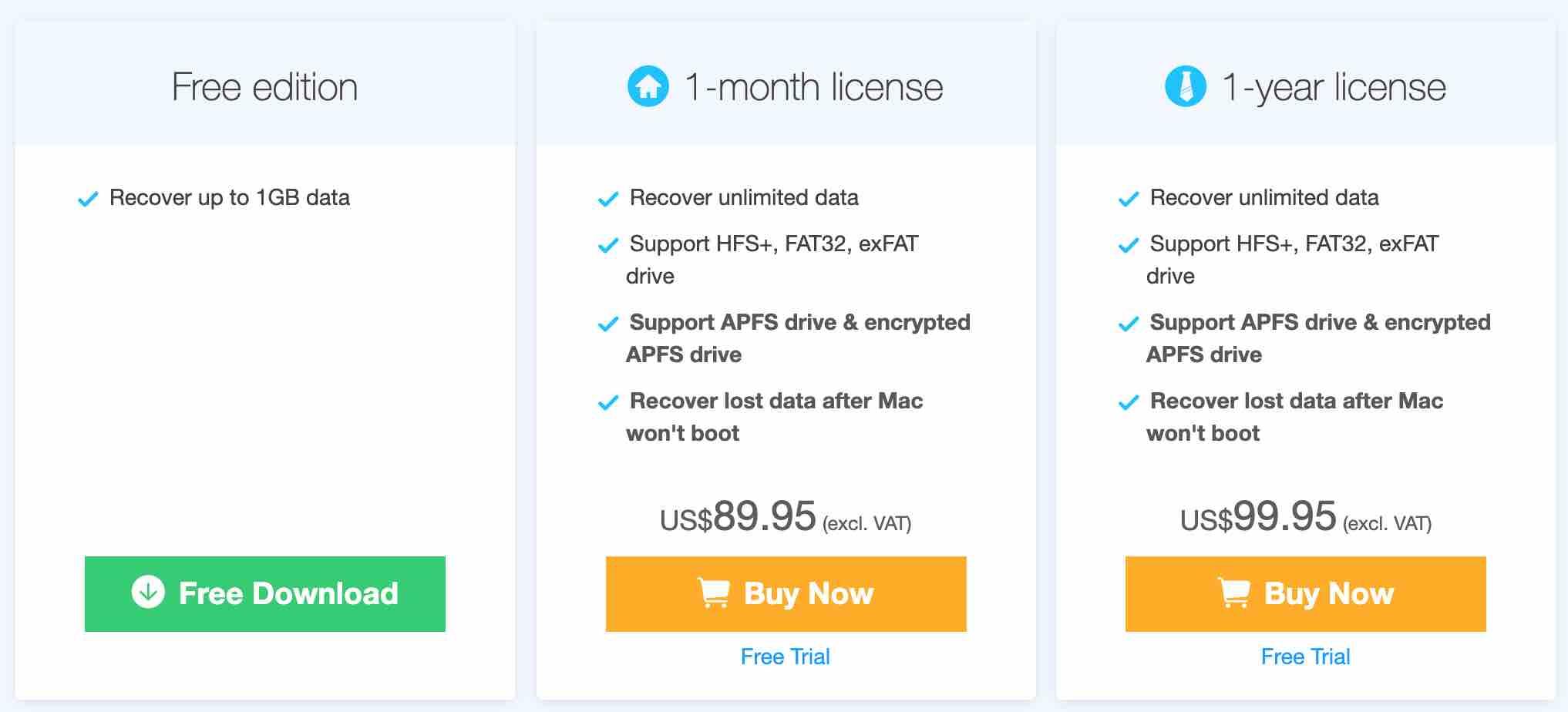 Features of iBoysoft Data Recovery for Mac
iBoysoft Data Recovery is an ideal program to perform data recovery easily, cheaply and quickly. Let's see now what are the main features it offers :
Multiplatform : allows the recovery of deleted files both in the Apple MacOS operating system and in Microsoft Windows, with full compatibility.

Full MacOS support: This system's support goes from MacOS 10.15 (Catalina), through MacOS 10.14 (Mojave), MacOS 10.13 (High Sierra), MacOS 10.12 (Sierra), OS X 10.11 (El Capitan), 10.10 (Yosemite ), 10.9 (Mavericks), 10.8 (Mountain Lion) until reaching MacOS 10.7 (Lion).

Supported file systems : Prevent recovery of APFS, HFSX, HFS, HFS +, exFAT and FAT32 file systems.

APFS Disk Data Recovery – Another brilliant feature is that it allows you to recover lost data from APFS partitions on MacOS Catalina, Mojave and High Sierra with absolute efficiency.

Deleted File Recovery – Offers comprehensive solutions to recover deleted files on Mac including photos, videos, documents, emails and music files etc.

Data recovery after failed startup: Many times your Mac will not boot properly , if this is your scenario even in that chaotic situation, this software will be able to help you even better than with native Mac recovery software.

Recovering data from encrypted APFS partitions : not only will you be surprised with being able to recover files from APFS partitions, you will also be able to recover deleted data without problems when they have been encrypted.

Data recovery from removable storage : you can not only find lost data on traditional drives like hard drives, but also on removable drives like external drives, SD cards, USB flash drives, and more, in a fully compatible way.

Unreadable Drive Support: Another very common problem that we may lose data about is when our storage drive becomes unreadable, in this case the support provided to recover data covers SD cards, HDDs, USB flash drives, external hard drives and plus.

Recovers files after a disk format : when we format the disk, all the data is usually lost, however, this software allows that even after a disk format, the data can be recovered successfully

Versatile scanning : The tool is capable of scanning in various formats, including deep and fast scanning. The setting can be done manually or you can choose the default setting, as you can do for recovering your files, and everything will be fine.
The quick scan is best for restoring recently deleted files .
Read: How to recover deleted files on linux: an Exhaustive list of tools 
On the other hand, Deep Scan is better for lost data due to formatting, virus infection, hard drive corruption or lost partitions. Then the data to be saved can be selected – even those that were once in the trash and were deleted.In this way, photos, videos, audio files, documents and more are restored and saved at a desired location on the computer or external storage media.
Preview : In the absence of the preview option, recovering files and data can be a tedious task. Indeed, in most cases, it is necessary to separate the data after recovery. But with iBoysoft Data Recovery, the task is easier because it has a built-in previewer, which means that you can check the files before the recovery process starts. You can use the filtering options to extract the precise data of your choice with this free tool.
How to recover lost files using iBoysoft Data Recovery for Mac
This is quite easy, as it is based on a wizard that guides you step by step after you have downloaded it from its official website. It is possible to install it on the disk where the data has been lost, which makes it comfortable to use.
Now, if the information is of extreme importance, or your macOS does not load, you can run iBoysoft Data Recovery for Mac in recovery mode prior to loading the operating system.
This completely eliminates the risk that some of the deleted files will be overwritten when using the Mac due to system processes.
Read: Five best open source Backup utilities for Linux
In any case, here are the steps for recovery:
A screen will display the available disk drives and also their division into partitions, to choose where to look for the data to recover: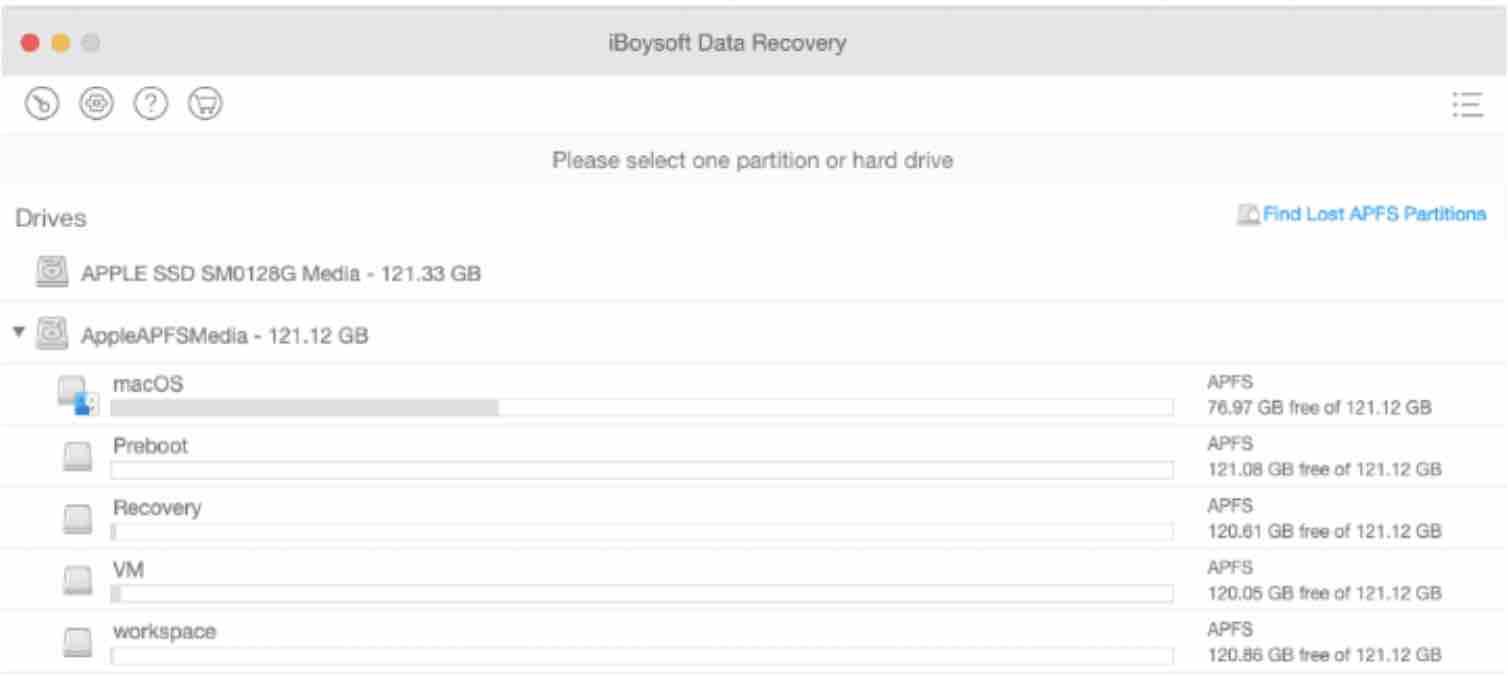 Next, iBoysoft Data Recovery for Mac will start scanning the disks for deleted files that are still accessible: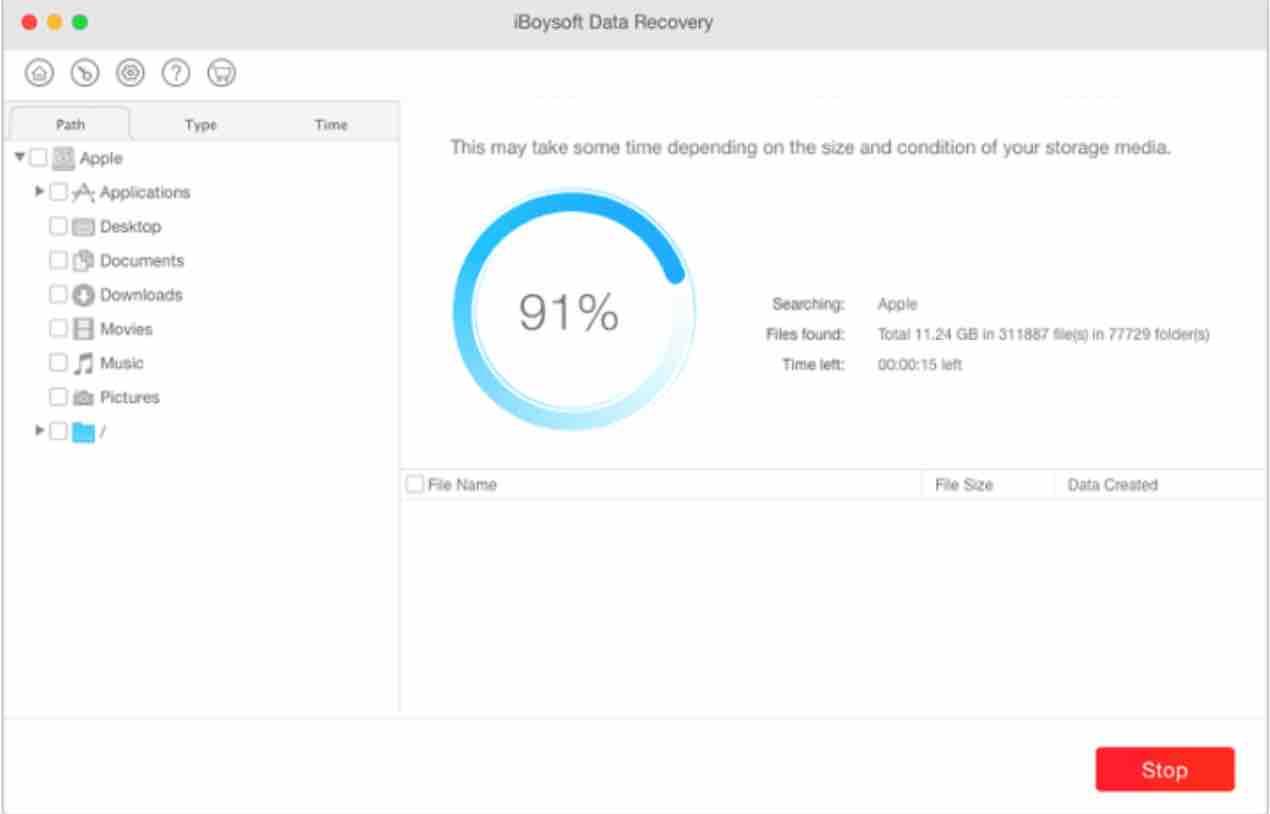 Now you will see all the content that can be recovered , in addition to a search engine in the upper right area, which allows to look up files by name or extension:

The data must be stored in a different drive than where it had been lost , if it is a small file, a USB stick will work, otherwise you can connect an external hard drive via USB to the Mac.

After waiting for some time, depending on the size of the files, they will be saved in the location you have chosen and you will be able to use them.
Obviously, after obtaining the data, it is key to save it properly so that another similar incident does not occur again. A good idea is rule 3-2-1, which is to have 3 backups in total, with 2 copies in different drives and 1 copy in a different geographic location.
For a personal user, this would be as simple as saving the first copy on the Mac itself, the second copy on a USB stick or external disk, and the third copy on iCloud or another cloud storage platform.
Pricing
iBoysoft Data Recovery for Mac is offered in 3 packages as shown below. We find the Lifetime package the most interesting since you will be able to recover your data for ever for only 169.95$.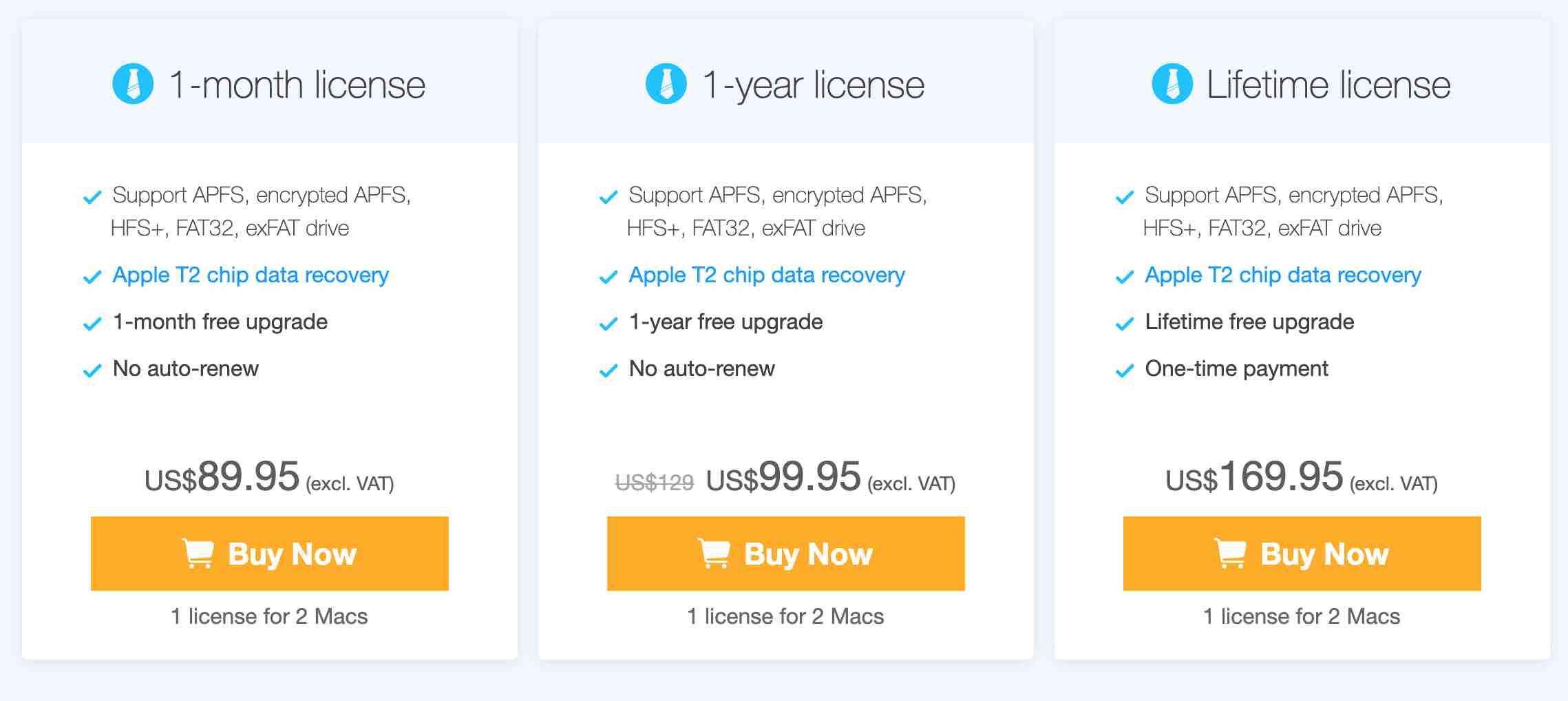 Summary
iBoysoft Data Recovery for Mac stands out in the market for data recovery software in a solid way, offering a solution that covers Mac but also Windows and above all it excels for its speed and ease to recover lost data where other similar programs usually fail.
One of the things we liked the most is that users can try it for free, without having to pay for the program. This allows you to test the application, see if it works to recover the data you need (it supports a maximum of 1 GB in the free version).
Finally, iBoysoft Data Recovery for Mac is a good solution to recover data , simple to use and effective in case you have mistakenly deleted important files on your Mac or you need to retrieve them from the disk because the operating system does not load.
---
If you like the content, we would appreciate your support by buying us a coffee. Thank you so much for your visit and support.