A Datacenter proxy server, or just a proxy, is like having another computer that your internet requests are sent to before going to the real website. It's a server that takes all the information you've submitted, like an order to buy new shirts at Amazon, for instance, and routes it through a different IP address.
That's what makes a proxy so powerful. They can make all your Internet activities appear as if they were from a completely different location. Below, we will first help you choose the right solution that suits you best. Later in the article you will find out more about Datacenter proxies and their uses.
What is the best solution for you
In the section below, we will outline some of the best datacenter proxies' providers in the market that you can use. We will afterwards offer some guidelines that will help you purchase datacenter proxies' services quickly and easily without sacrificing quality.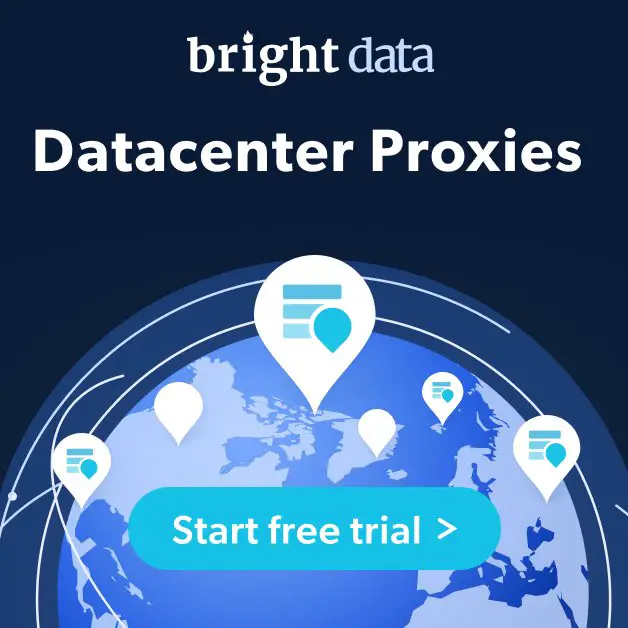 Image credit: Bright Data
If you're looking for a reliable and cutting-edge datacenter proxy solution, look no further than Bright Data. Bright data provides shared and dedicated IP addresses with unlimited bandwidth and an unlimited number of concurrent requests. What sets Bright Data apart from the competition is that it provides a peer-to-peer network of millions of authentic home and mobile IPs from nearly every country on the planet. Companies using Bright Data may exploit these consumer IPs for business reasons (with the customer's knowledge and agreement)..
If you sign up for their service, they'll assign you a unique number from their pool of more than 1.6 million IPs. You can also use a dedicated IP address with nearly unlimited data transfer. All of these IP addresses are dispersed throughout more than 3,000 subnets, and the network itself is guaranteed to be online 99.99% of the time.
Read: What Does an IP Address Show: Myths and Reality
Advantages of using Bright Data's proxy services
Widest geographical coverage in the market

Most reliable and best-in-class performance

Most stable and Fastest Datacenter proxies

More than 770,000 Datacenter Internet Addresses .i.e. IPs

Most stable with 99.99% network uptime

Used by Top 500 Fortune companies and more than 15000 businesses

Trustworthy and resilient proxy infrastructure

Best customer experience in the industry
Some of the many products offered by

Bright Data
Web scraping




You will be able to fetch data from several sources, like Walmart product descriptions, Google search results, social media pages or even Hotels.

Web Unlocker




Web Unlocker has the ability to solve CAPTCHAs and can also offer full proxy management.
In addition, Bright Data offers the following features to its customers:
Global distribution by geography

Proxy Administrator

There is no limit on the number of concurrent sessions

24/7 worldwide client support
The cost of Bright Data may be broken down into five different subscription tiers:
Experimenting: $300 per month

Starter: $500 per month

Advanced: $1000 per month

Advanced Plus: $2000 per month

Enterprise: You will have to request a quote.
Read: The Biggest Cybersecurity Threats For 2023

Smartproxy is also a well known datacenter proxy provider. By using their services, you only pay for your monthly bandwidth while accessing all 40k IPs in the US datacenter. With their HTTP(s) proxies, you are guaranteed 99.99% uptime.
Also, you can have unlimited simultaneous connection requests to any website. Datacenter proxies auto-rotate: you can choose whether you want them to rotate with every request or keep the same IP for up to 30 minutes.
If you're not a big fan of shared data center proxies, there's something for you too. Smartproxy's dedicated datacenter proxies. With these proxies you can really have full control over the IPs you buy! This means no more IPs being abused or disappearing in the middle of your projects.
With dedicated data center proxies you will have unlimited GBs and threads. Also, you can change all the IPs you have by simply renewing your subscription on the dashboard.

​​With more than 2 million dedicated proxy servers in the company's pool, along with another 32 million residential proxy servers, there are over 80 Oxylabs data centers around the world, and the company offers proxy servers in countries like the US, UK, India, Russia, Germany, and more.
This company's proxy servers are world-renowned for their speed and performance, and their location coverage is excellent.
There are no limits on bandwidth or the number of concurrent sessions offered by the company's datacenter proxy servers. Furthermore, 99% uptime is guaranteed, the setup process is quick and easy, password authentication is supported, and the user interface is very simple.
Oxylabs claims to offer quality proxies that are particularly good for web scraping, even helping users find clean proxy servers for scraping sites. Additionally, the company's proxy services are often used in brand protection, market research, video ad verification, and travel fare aggregation.
Read: 6 Cybersecurity Strategies for Handling Fraud and Data Breaches in Business

ProxyEmpire is a proxy provider offering high quality residential and mobile proxies. They have a network of millions of proxies that can be used to bypass firewalls, bypass geo-restrictions, extract data and browse the internet securely.
ProxyEmpire has a variety of packages to suit every need and offer a test drive for just $1.97. This allows you to try out their services and see if they are right for you.
Businesses or individuals can use ProxyEmpire for their needs and they offer customized packages to suit every need.

IPRoyal residential proxies work according to an easy-to-understand model. They, like the vast majority of residential proxy services, have no control over the IP addresses that are used in the process of routing client requests.
IPRoyal is a peer-to-peer (P2P) network that operates ethically and even compensates individuals for their participation in the network, in contrast to competitors who engage in unethical tactics to obtain IP addresses for their pool.
They offer a business called IPRoyal Pawns, and it pays those who are willing to give up their internet protocol address and connection in exchange for being used as proxies.
How to choose a datacenter proxy provider
Find a company that has offered datacenter proxy services in the past. You may learn a lot about a provider through their proxy voting habits and the firms they're affiliated with. Evaluate the proxy servers' performance, functionality and price in comparison to those of competing providers. Research the rates, anonymity, and costs of the many proxies offered by different datacenters.
Check the ratings and reviews
When looking to purchase datacenter proxies, ratings and reviews are also crucial. Check out the site's ratings and reviews, both on the browser it was built for and others. Sites run by unaffiliated third parties are another helpful resource for learning about the vendor's flaws.
Determine the success rate of previous users
One important factor will be the success rate of their proxies and the reactions of their past clients. Testimonials and contact details of the business or the user may be included on certain websites. Find out more about the firm and whether or not the testimony can be trusted. Trust in the datacenter proxy provider may be greatly bolstered by such in-depth investigation.
Read: Understanding the Latest Cybersecurity Trends
Choose a package according to the number of IPs required
A corporation can require 100 IP addresses or 1 million IP addresses. The answer lies in
The project and its scope,

The number of ip addresses to be concealed,

The period of time,

The function of the proxies used in the datacenter
The cost is often proportional to the available IP address space. Your goal would be to compare the pricing with different sellers and find out how many IP addresses you are obtaining. A larger number of IP addresses is always preferable. Once you have picked the number of datacenter proxies, it is time to make the purchase and set up the proxies.
What Is a Datacenter Proxy
Proxy servers are often used to bypass geographically restricted material, unblock content, hide IP addresses, and do various forms of data collection, such as web scraping. Let's take a closer look at what datacenter proxies are and how they work.
Datacenter Proxies
By definition, IP addresses obtained through a datacenter proxy server are known by their corresponding prefixes. Companies that operate datacenters are known as cloud service providers. Examples of cloud service providers are Microsoft Azure, Google Cloud or Amazon Web Services. These IP addresses are not linked to any specific ISP. There are 3 types of proxies: Private proxies, also known as dedicated proxies, provide their users with unique IP addresses that are only used by them for a certain period of time or for a specific site. Shared proxies where the term "shared proxy" refers to an authorization mechanism that may be utilized by many people simultaneously. They are compensated, and their performance on easy tasks is superior to that of public proxies. Finally, there are Public proxies ones where You may identify and utilize their IP addresses which are hosted by datacenters without having to pay anything. In any other circumstance, they serve no purpose and are not advised.
Uses of datacenter proxies
1. Access Geo-Restricted Content
If you are seeking anything in a certain location, accessing from the original IP address might be challenging, and you could not obtain legitimate information. Therefore, datacenter proxies should be used, as they not only hide your location but also provide you with an IP address in that desired area.
2. Maintains your anonymity
Using proxies located in a datacenter allows you to surf the web anonymously. Your online anonymity would be protected since your connection would come from the server you are using.
3. Control incoming and outgoing requests
Both incoming and outgoing network traffic may be filtered by using proxies in a datacenter. By configuring a reverse proxy server, you may restrict website access, cache material, and manage user activity on the web.
Read: Welcoming Web3: Why it's worth preparing for the next era of the Internet
4. Web scraping
These proxies in the datacenter will let your web scraping run smoothly at breakneck speeds. While domestic alternatives are slow and incapable of capturing web data at high speeds,
Such massive volumes of data might overwhelm a system with a single IP address, causing issues like system crashes. With datacenter proxies, there is no concern about such a crash. You need not worry; just keep scratching away.
5. Social media marketing
Multiple accounts per IP address are often disabled on popular social networking sites. As a result, marketers work hard to find ways around this constraint, as it would be counterproductive to raising brand recognition to the desired degree. Proxy servers allow you to create and maintain many social media accounts with little effort.
6: IP ban prevention
If you scrape websites or run several social media profiles from the same IP address, you risk being banned from those services. Using proxies from a datacenter may let you bypass this restriction and access whatever number of sites you need.
Datacenter Proxy servers users
Proxy servers are often used to filter or prohibit information on public networks, such as those found in businesses, schools, and libraries. Proxies cache the most frequently viewed websites, so they speed up performance and save bandwidth, making them ideal for use in offices and other businesses.
If you are a sports enthusiast, you may utilize an internet proxy server to follow your team's matches while you are overseas. Proxy servers allow people living in countries with authoritarian governments to circumvent censorship and other forms of online restriction imposed by their governments in order to have unfettered access to the internet.
Proxy servers are helpful tools because they allow users to hide their IP address, encrypt their traffic, improve their network's performance, and access material that would otherwise be restricted.
Conclusion
Proxies hosted in a datacenter are fast, trustworthy, inexpensive, and easy to secure. Users may access any material from any place owing to the top proxy service providers' hundreds of datacenter servers throughout the globe.
Today, you may choose from a wide variety of datacenter proxy providers, each of which offers its own set of services and pricing models determined by the required number of proxies or amount of data transfer.
In comparison to other proxy types, datacenter proxies are the most cost-effective and widely accessible means by which to conceal one's online identity while still gaining access to geo-restricted information, scraping the web, managing several social media profiles, and other such activities.
---
If you like the content, we would appreciate your support by buying us a coffee. Thank you so much for your visit and support.