We all know that all of the attachments in an email account that has been set up as an Exchange account will be found in an OST file. Now, in the event that you want to move your data from one computer to another, you will be unable to do so without first converting your OST files to the PST format.
The usage of a high-quality converter is one of several attractive options available for doing this. Stellar Converter for OST is discussed here since it is the go-to solution for converting OST files to PST format.
What are OST files?
(Tabs for Offline Data Storage) When a steady internet connection is unavailable, OSTs allow you to view your Exchange Server mailbox folders locally on your Outlook client. It lets you use your Outlook mailbox even if you aren't connected to the Internet or a server. Even while OST files are somewhat immune to external disruptions, there are still a number of factors that may render OST data unavailable, which can have a significant impact on daily operations.
Accessing an inaccessible OST file involves troubleshooting regardless of the version of Outlook you're using, whether it is Microsoft Outlook 2019, 2016, 2013, 2010, 2007, or an earlier ANSI edition. Converting the OST file to an Outlook PST file is the most straightforward solution to any problems with the OST file, regardless of how severe the damage or loss may be.
What Is Stellar Converter For OST?
Automatically convert numerous OST files to Outlook PSTs while keeping all of your mailbox data safe with the help of the professional Stellar Converter For OST program. The PST files are divided and compressed by the utility so that they are easier to handle. If you're moving your mailboxes to the cloud, it also immediately migrates (exports) the data from your OST files to Office 365. Microsoft Most Valuable Professionals advocate using software to convert OST because of these benefits.
Read: Stellar Photo Recovery Software Review
Capabilities of Stellar Converter for OST
Stellar Converter For OST includes a plethora of useful features by default.  It can for example accurately convert even the largest OST files and retrieve every single mailbox item, including emails, attachments, contacts, calendar events, tasks, notes, journals, and more. The converted mailboxes can be saved as PST, MSG, EML, RTF, HTML, PDF, or MBOX files .
Once the converted e-mail items have been saved, the OST converter software will detect any oversized PST files and split them automatically. This protects PST files from corruption due to excessive size, minimizing the risk of lost information.
It also includes a more complex split option, enabling you to divide the output PST file into smaller files.  You may divide your PST file into smaller pieces depending on their size which helps in making big inboxes more manageable.
 After the OST file has been converted into a PST, the "Export to Office 365" option may be selected. You also have the possibility to extract the contacts in a CSV file.
As you may be aware that Rackspace that hosts Exchange Servers for clients, has suffered a tragic outage on December 2, 2022 when the users started complaining that the services are not running. Initially, Rackspace assumed it to be a simple connectivity and login issue but later updated about a security breach when all hosted Exchange Server clients went down without access to the service or emails in their online mailboxes. The problem got even bigger when the incoming emails were bouncing back, and clients or recipients were getting the Non-Delivery Report (NDR) messages after several hours. Customer who had previously subscribed for archive services could restore the lost mailbox data from their archives though but majority customers were not able to do so.
Though Rackspace is temporarily giving its users access to Microsoft Exchange Plan 1 licenses on Microsoft 365 at no cost to restore email services, but there is no estimated time (ETA) to fix the issue from their end.
Working only on Webmail can cause chances of data loss, but using Outlook can help users work seamlessly as Outlook caches emails locally, users can extract and convert the data from local cache (OST file) into PST file and then import it into the new Office 365 platform.
Best way to recover lost mail data is by using Stellar Converter for OST :This best software allows you to copy all the OST files to a location, open them, and convert them to PST files with minimal processing needs and with complete data integrity. You can also directly export OST files to Office 365 with Stellar Converter for OST Technician Edition . There is no limit on size of the OST file.
How to Use OST to PST Converter?
Stellar Converter for OST may first be downloaded from Stellar's website and installed. (Try the tool out for free first to see whether it meets your needs before shelling out any cash).
Step 1: Run Stellar's OST converter. If you know where the OST file is located, pick it up using the Browse button; otherwise, use Find to look for and select the PST file.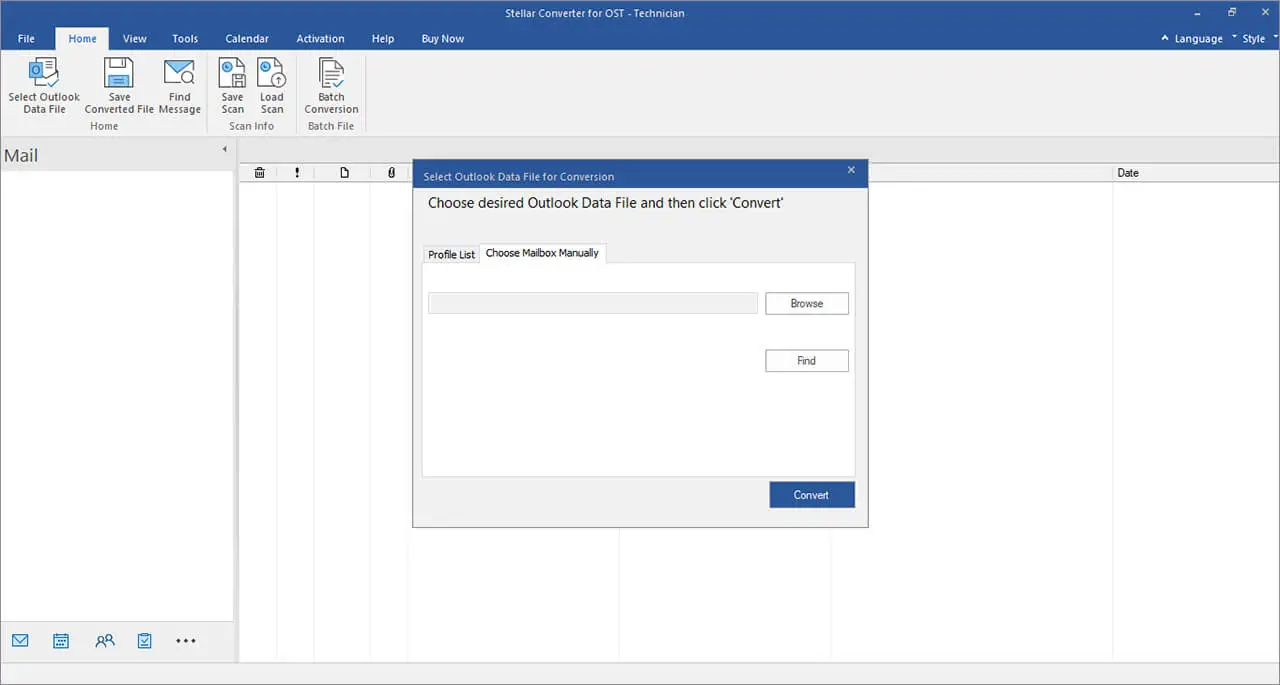 Step 2: On the Profile List tab, choose the Profile List > List Profile option to see all of the OST files connected to your Outlook profiles in their default location on your computer. To convert an OST file, just select it and then click the Convert button.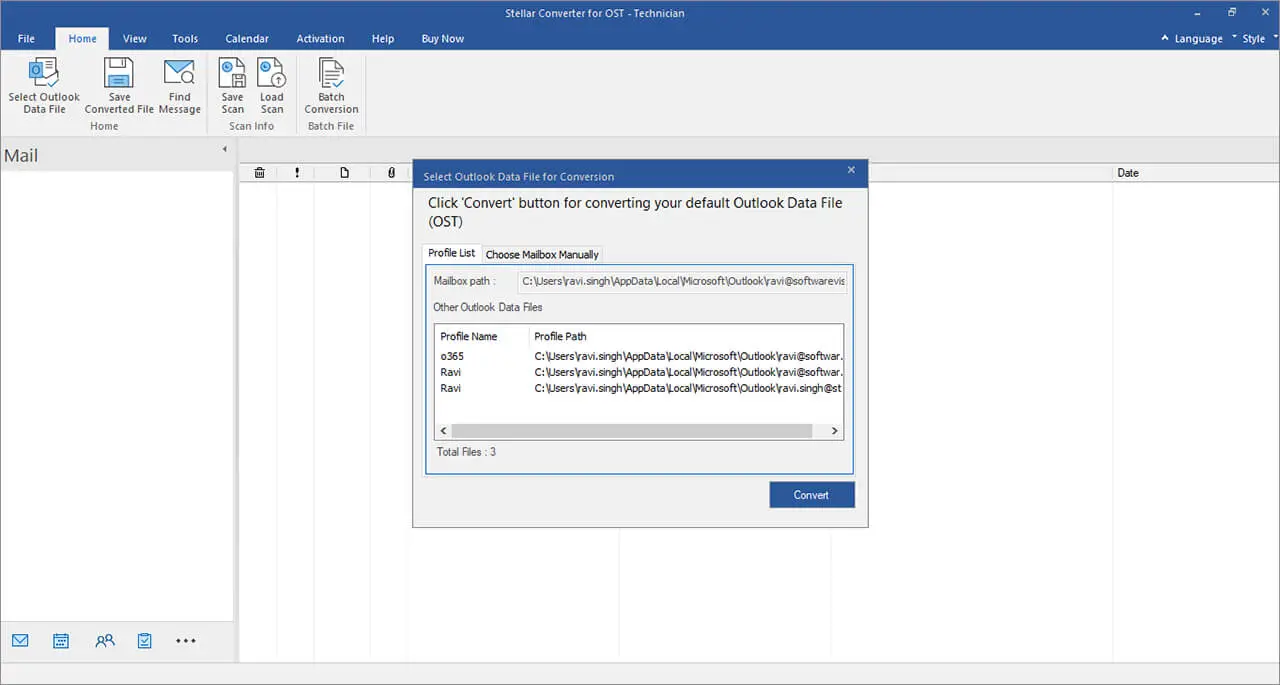 Step 3: The program provides a glimpse of the Outlook mailbox folders and deleted items (in red) on the Left pane after the conversion is finished. Messages may be previewed by clicking on them and saved by checking the boxes next to them.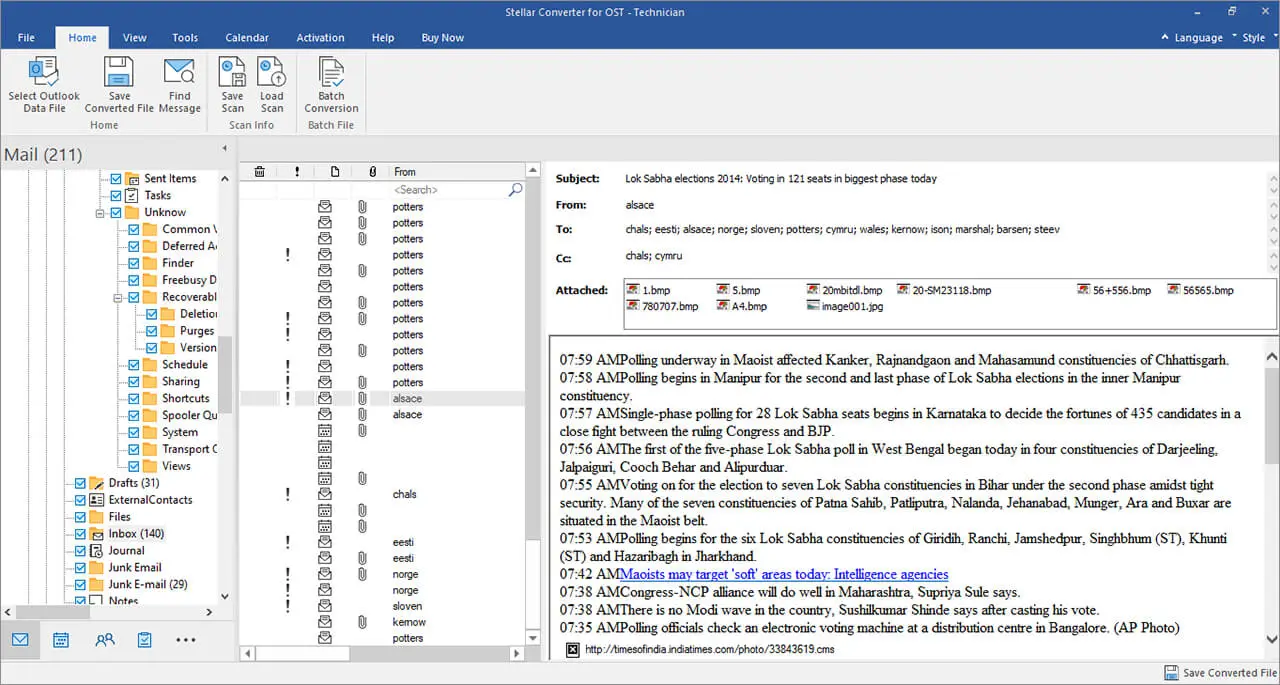 Step 4: You can rapidly save individual or batches of emails by searching for them using the Find Message option using different search criteria like "To," "From," "Subject," "Date," etc.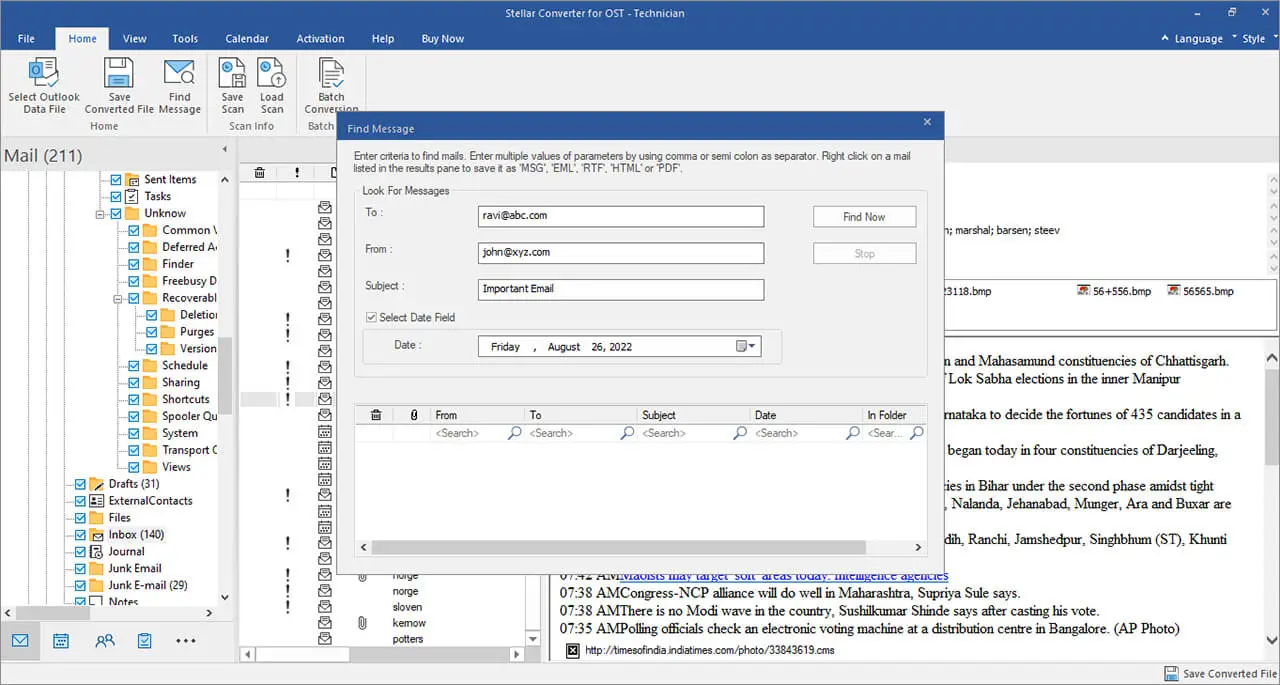 Step 5: On the Home tab, click Save Converted File button, and then choose the File Format option to either save the OST data to PST or other formats, or export it to either Live Exchange Server, Office 365, or an existing Outlook profile.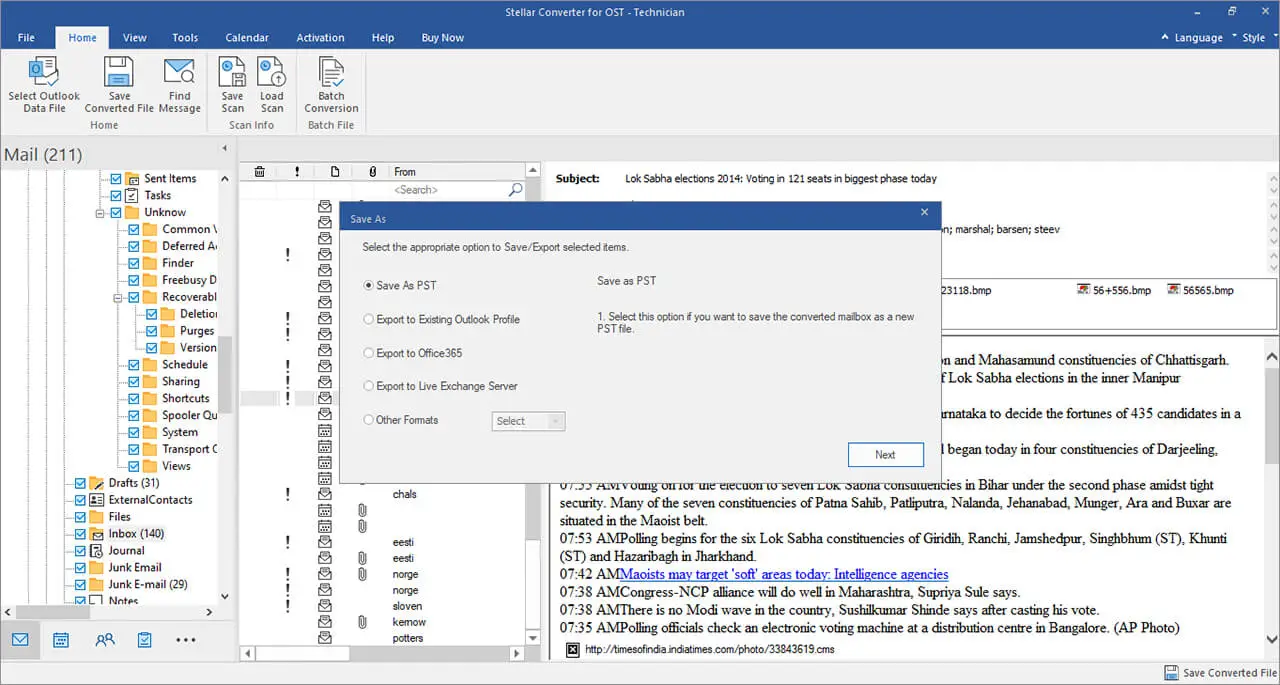 Step 6: You can save the PST file. As is the case in most cases, mail items will be saved in a PST file. You may also pick the Compact and Save PST option in order to reduce the size of the PST file, or you may select the Split and Save PST option to save the PST file in smaller chunks. Both of these options are available to you by selecting the appropriate radio button.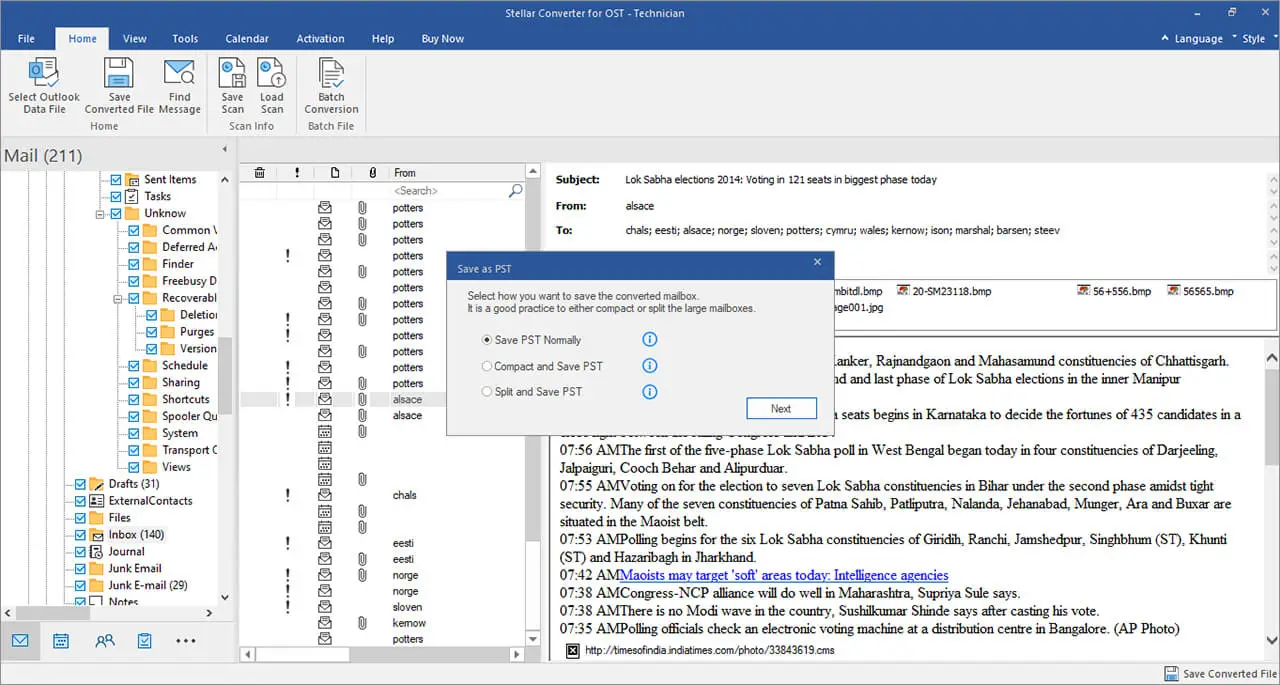 Step 7: Select a place to store the file by clicking the Browse button, then choose whether or not to use the Recover Deleted Items and Auto Divide PST File options by clicking the corresponding checkboxes. In addition, the Apply Advanced Filter link may be used to apply filters, after which you can choose OK.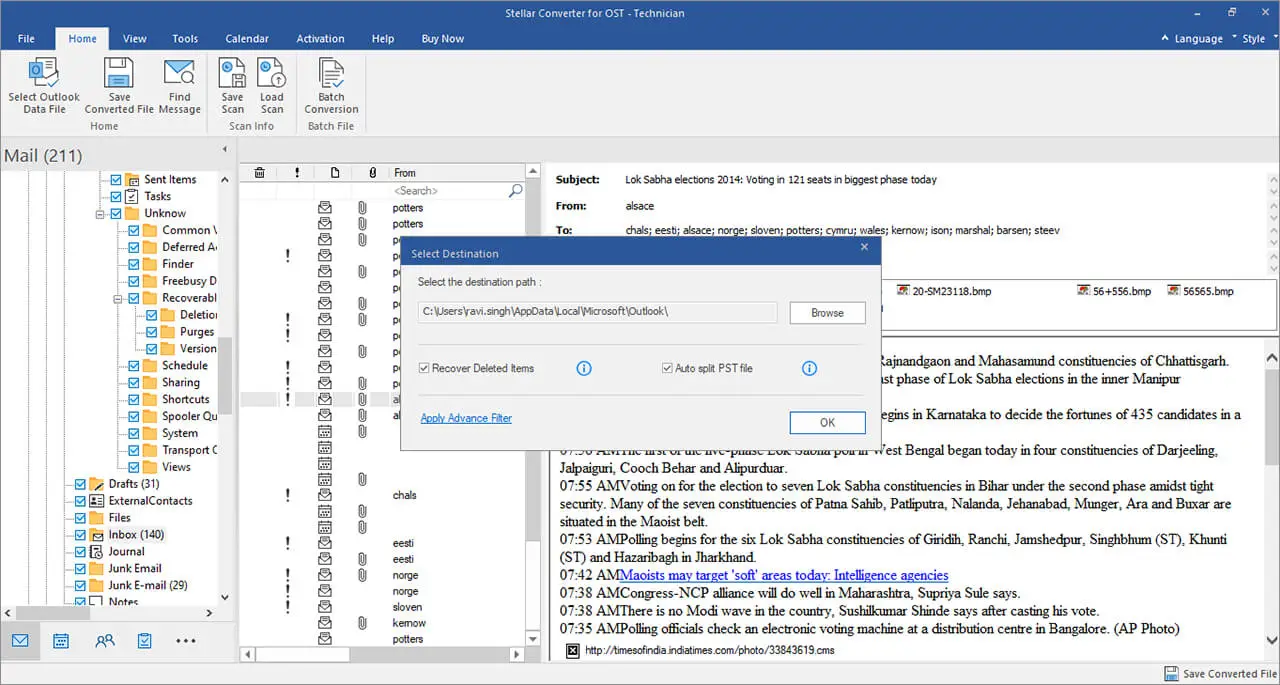 Step 8: Selecting the Apply Advanced Filter button brings up a new dialogue box in which you have the choice to include or exclude email messages depending on the email address and the time period.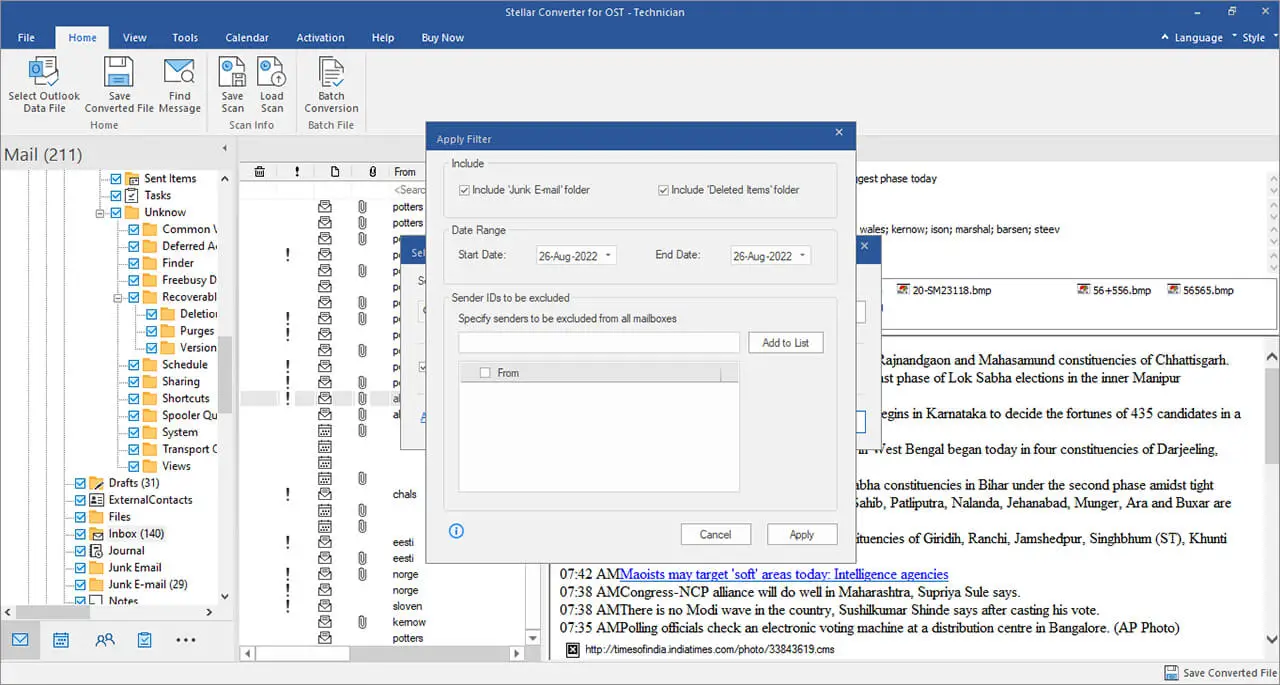 Read: Review of Stellar Data Recovery for iPhone on Mac
Pricing
Depending on your specific requirements, you may choose between a free trial and a paid edition of the program (both of which are available).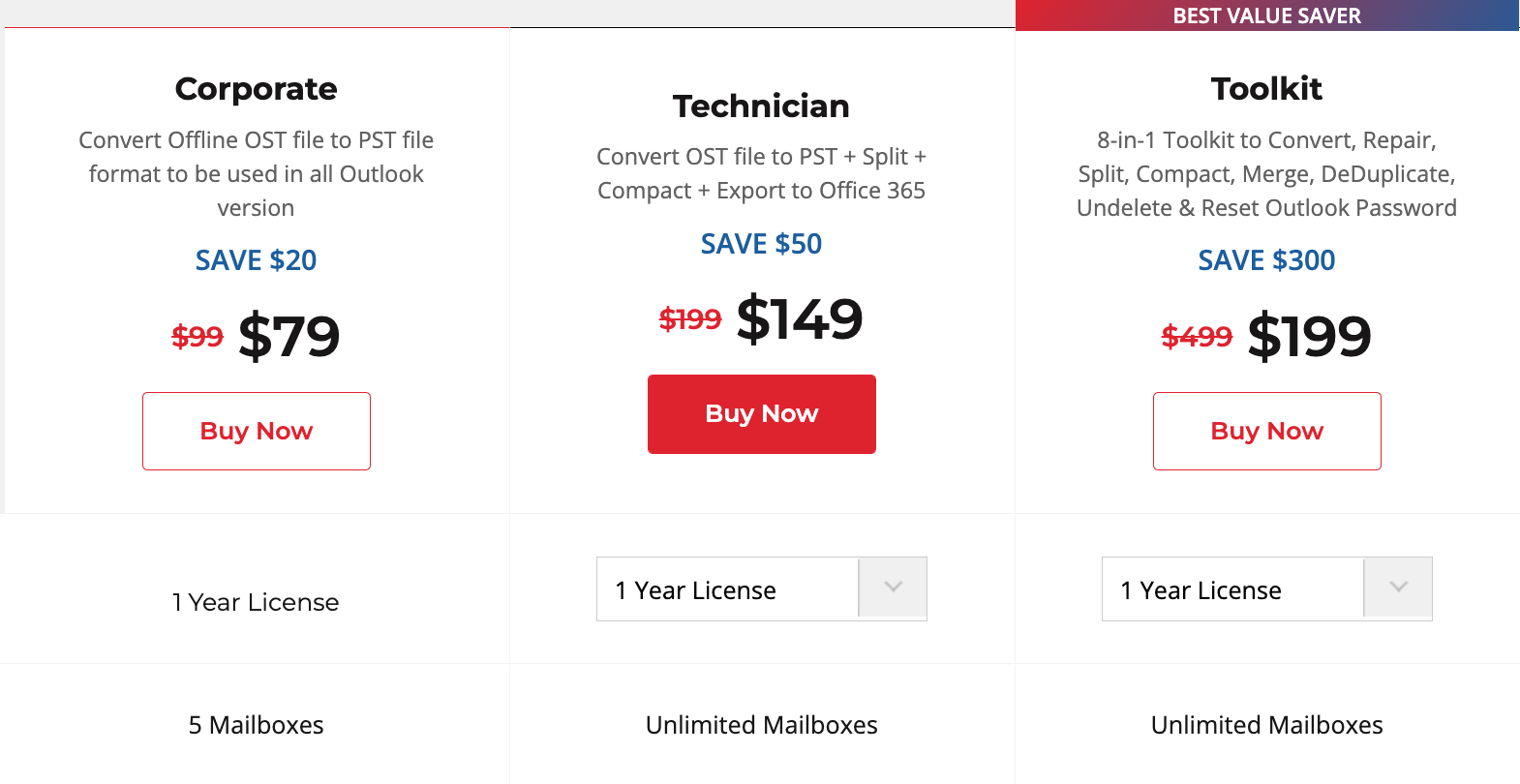 Stellar OST to PST Converter is available for purchase on the following page.
Conclusion
Your essential information is safe in the hands of Stellar OST to PST Converter, one of the greatest and most trustworthy pieces of software available. The program includes every conceivable format-changing feature. It does more than simply convert files; you can also compress and divide them. To everyone who prefers offline access to their email accounts, I heartily suggest this program.
---
If you like the content, we would appreciate your support by buying us a coffee. Thank you so much for your visit and support.