Last updated on Feb 11th 2022 – Basically, a report is a paper that presents the study you are conducting in a summarized format. Writing reports based on research is an integral element of college life, especially if you are taking a course in Science, Business or Medicine. Sometimes, it's not an easy task to complete. But with proper guidance, anyone can deal with it.
How to write a perfect report?
First of all, you need to convince your professor of the importance of your research. Next, you can start jotting down your ideas and making notes of important concepts related to your study. You can also discuss them with your peers to make sure that you are on the right track. If it turns out that you lack some information, do more research. But if you are so busy and do not have time for writing research, you can ask online writing services "Please, do my research paper" and they will help you. Once you've gathered all the key facts, create a structure for your report. Your outline must consist of an abstract, introduction, methodology, results, discussion and conclusion. You also have to include a bibliography and appendices.
When writing a paper, it's better to use plain English. You should make sure that each sentence is pretty clear and concise. As your goal is to present your findings in a simple way, make the text easy to read and understand. It's also essential to use a consistent format throughout the entire report for all pages, margins, fonts, headings, lists and diagrams, and figures. Don't forget to proofread and edit your work, so every section of it makes sense and doesn't contain any grammar or spelling mistakes. Before you submit it, you can ask your classmates or professors for feedback. These are the key steps to create an excellent report.
Read: Tips on How to Improve Technical Writing Skills
The best reporting tools for academic writing
Custom writing services
There are special companies that can complete any type of academic writing for you. At so-called essay services, you can place an order for your assignment and get it done due to the deadline date. Professional writers will do your job in the best way possible. After registering an account at their official website, you should pick a writer that meets your requirements and send them a message 'help me with writing a report' or 'do my research paper'. Then, you will get a confirmation from an expert, which means that you can send the task itself and the materials to use.
Grammarly
A key requirement to any assignment is excellent grammar. If your paper contains errors, it won't be taken seriously by your instructors. What's more, you'll lose your chance to get the highest grade no matter how good the content is. That's why you should take advantage of Grammarly. This tool checks grammar, punctuation and spelling and detects errors in your writing. Moreover, it suggests corrections, considering the context. It also highlights misused words and issues with sentence structure. You can use Grammarly as an add-in for Microsoft Office or an app on your smartphone. If you are ready to pay for Premium, you will get access to additional features that will make your paper look perfect.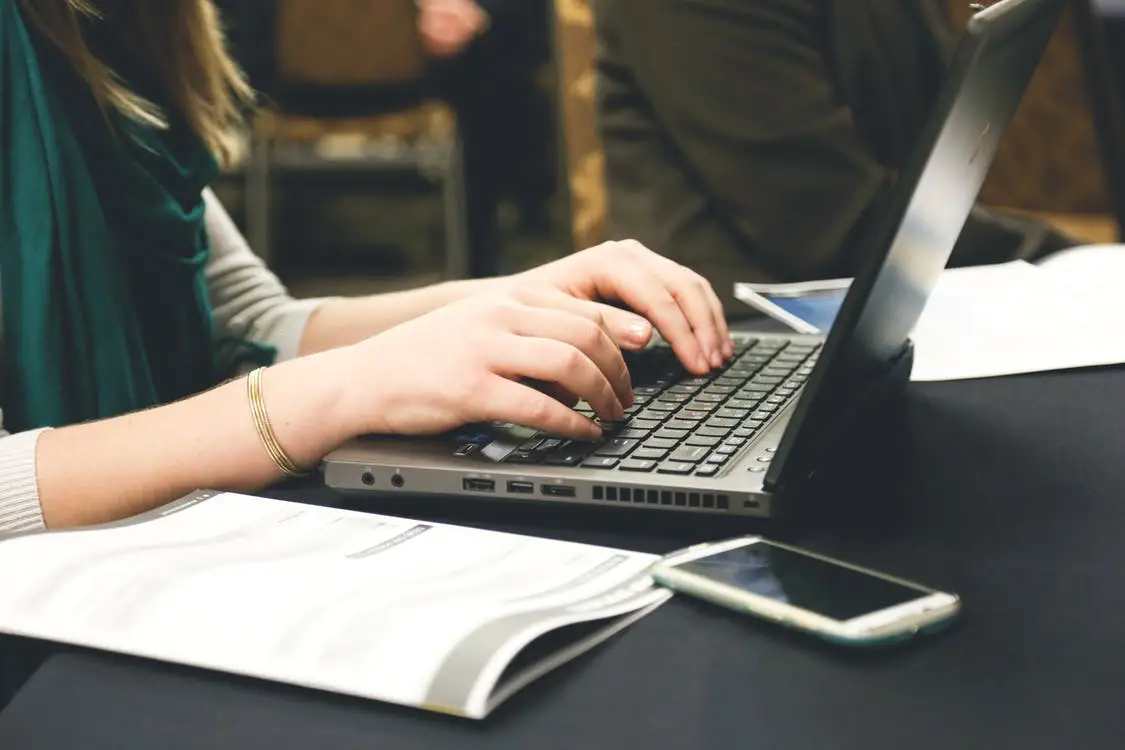 Image source: Pexels
Draft
Draft is a software program that allows you to save multiple versions of your report, so you can compare them and see how your paper is changing over time. This tool also makes collaboration with peers possible. If you work on a team project or constantly discuss your paper with instructors, you can use Draft. It helps co-authors and editors work together quite efficiently. When another user makes edits in a shared document, the program creates a new copy, so you can review it and accept or reject offered changes. In addition to it, Draft has a number of useful features such as audio and video transcription, a presentation maker, and auto-simplification for complex sentences.
Read: How To Boost Code Writing Skills For Better Team Cooperation
Hemingway
Hemingway is a great app that makes your texts more concise. If you tend to use wordy sentences that are hard to understand, this tool is for you. It highlights complicated parts of your writing in yellow or red and suggests shorter alternatives. Hemingway also detects passive voice and unnecessary adverbs, so your writing will sound much simpler with this app. The good news is that you can use Hemingway as a web platform for free. However, if you need a desktop app, you can download it on both Mac and PC for $19.99.
Final thoughts
Technology has completely transformed the way we write. With modern tech tools, you can significantly improve your academic papers and boost your grades. Credible writing services, Grammarly, Hemingway and Draft are some of the best software reporting tools to use.
---
If you like the content, we would appreciate your support by buying us a coffee. Thank you so much for your visit and support.