We've got some good news for you if you're sick of doing repetitive tasks on your computer and want to spend your time doing something more productive.
Games like CPS Test (Clicks Per Second Test) are just what you need to find out how good your mouse response time is and an auto clicker can help you to improve it. Many people use this auto clicker tool to score more CPS  in online clicks speed test games.
You are not required to repeat the same duties. Because using a macro tool, you can easily automate them. It will help you save thousands of hours per month and concentrate on the more critical aspects. In this article, we have composed and mentioned some of the best macro tools to record mouse activity.
List of Best Macro Tools to record Mouse Activity
Auto Clicker
AutoClicker is a simple yet powerful software that can mimic keyboard and mouse clicks. It can be customized to create combinations of clicks from different buttons on the keyboard. This will help players for instance to fool games into thinking the user is a human. For users who suffer from the extensive use of a mouse (Carpal Tunnel Syndrome) while playing games for example, Auto Clicker can be a life saver ! It can also help users who press the same combination of clicks every now when using a particular software. With its intuitive and simple interface, Auto Clicker offers the implementation of more than single clicks. Double and triple clicks can be selected easily. Delays between clicks can be defined by the user. This can be very useful when the user program has an anti auto mouse clicker software.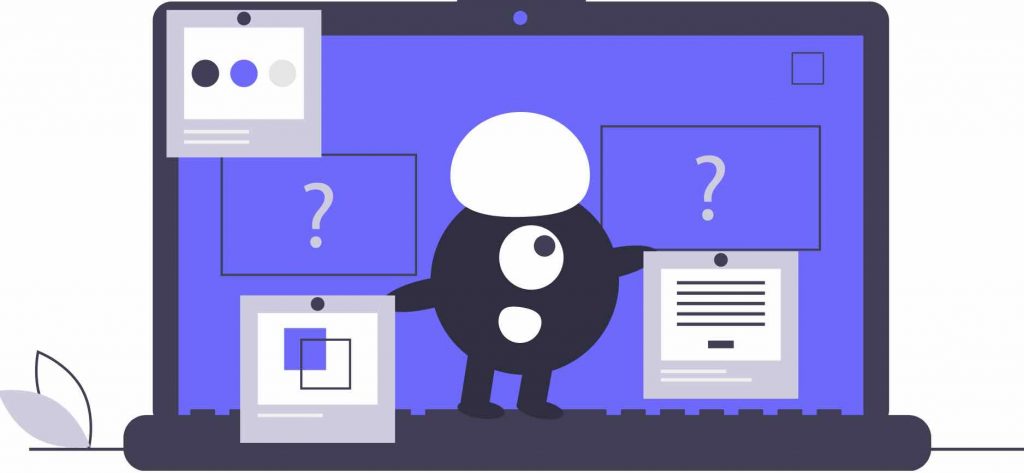 Auto Clicker can be used with several applications, like for instance:

Minecraft Auto Clicker
 Auto Click MAC
GS Auto Clicker
Auto Clicker for Roblox 
OP Auto Clicker 
Auto Clicker for Android
etc..
Read: Your computer mouse is twisting your arm every second. How to avoid a potential surgery
AutoClicker.io
Autoclicker.io designed and developed Auto Clicker 2.0 to convenience users who play click-based games like Roblox and Minecraft. It allows users to save a significant amount of time and effort while performing tasks that require multiple or repetitive clicks. Users should use this program to automate mouse and keyboard clicks.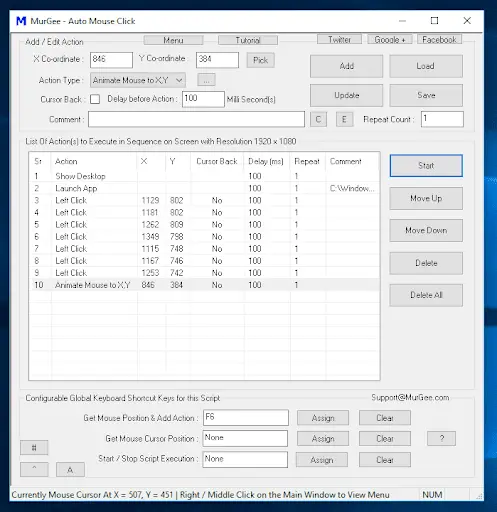 This application uses hotkeys to execute assignments (F9: run; F10: stop), which can be used if the application is running in the background. The default hotkeys can also be changed to any key on the keyboard, depending on the user's preferences.
Auto Click Typer 2.0 is an open-source application that is available for free. The user interface is intuitive, and the installation process is quick and painless.
Multiple mouse and keyboard tasks may be added to a sequential list, with each action being performed in the order in which it appears in the list. This list could be saved as an AUTOCT file and used again in the future. The user can change the order of the actions in the list and edit the actions as needed. 
Read: Top Chrome extensions to improve productivity
Pulover's Macro creator
Pulover's Macro Creator is the best alternative if you're looking for sophisticated and high-quality automation software. This feature-packed automation software has a user-friendly interface. The machine will record your mouse movements, clicks, and keystrokes. You can even perform automated Windows activation by reproducing your macros with this software's help.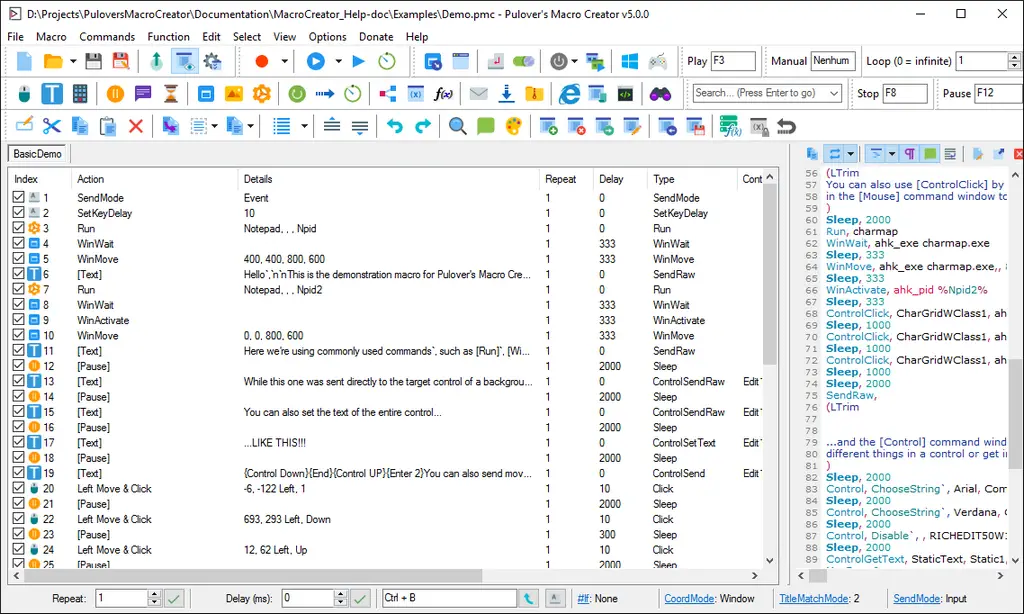 macro mouse recorder
You can generate your own functions using variables, integers, strings, and arrays, or you can use the software's built-in functions. You can also look for images and folders, take screenshots, and assign them tasks. The Autobot key language is what distinguishes this macro creator from others. The macro maker from Pullover is a free application.
Macro Recorder
Macro Recorder is a powerful but easy-to-use macro tool that can help you automate routine tasks and save time. Macro Recorder outperforms the other tools I've covered so far in terms of usability. It can, for example, transform shaky mouse movements into beautiful curved or linear shapes. This is ideal for screencasting because it removes visual distractions. You can also modify the playback speed for individual mouse movements or all mouse movements.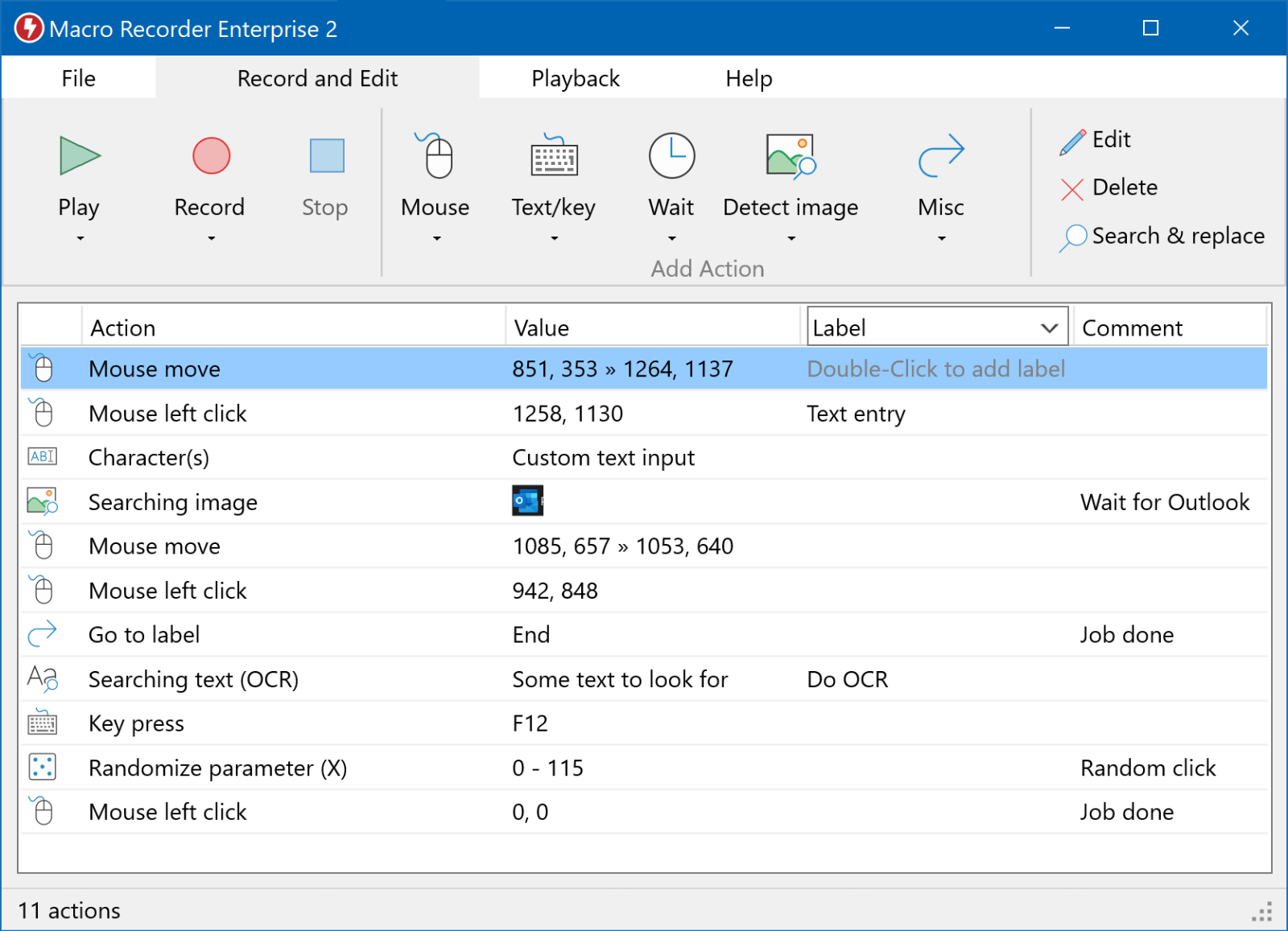 Best macro recorder software
Macro Recorder also simplifies editing by merging mouse movements from two clicks into a single mouse action.
Auto Hotkey
AutoHotkey is another excellent tool for recording and performing repetitive tasks quickly and easily. It allows you to record mouse clicks, keystrokes, and other activities. You can also create your own macro using a macro recorder or by writing it manually.
You can also use AutoHotkey to make hotkeys for various devices like the mouse, keyboard, joystick, and remote control. This program's extra features include the ability to change volume, transform joystick or other devices to mouse mode, and more. This macro recorder is completely free to download and install on your Windows system.
Read: How to protect your SIM card from being hacked
Jit Bit.
You can save a macro created with JitBit as an EXE file and run it on any computer running Windows OS. It also allows you to make hotkeys and shortcuts for writing lengthy text passages with a single keystroke.

Instead of typing "Hey, I'm not in the office right now, please contact me at XXXXXXX."
Use a macro to compose the entire message automatically.
WinMacro- Macro Creator.
WinMacro is an old macro-creation program, but it has all the features you need to automate your tasks. The application's user interface is both elegant and powerful. Also, the software's operation is simple to comprehend.
To make recordings, you only need to do three things:
Browse to the desired location where you want to save the recording.
Start recording by clicking the record button.

Pause/break as needed.
You will playback the task by searching for it in the.log file after it has been recorded. This software is available at no cost.
Perfect Automation.
Perfect Automation is another excellent tool for rapidly and easily automating your repetitive tasks. This software will save you time and help you be more productive and effective.
This single tool includes four features: launcher, scheduler, mouse and keyboard recorder, and script editor. As a reason, you do not need to install every piece of software on your computer. You should make transcripts of the activities and listen to them at any time. This fantastic software is completely free.
Easy Clicks.
EasyClicks is a macro tool that allows you to automate repetitive tasks, as the name suggests easily. It's a free tool that only works on Windows right now, but it has all the essential features and a nice user interface to make your everyday tasks easier.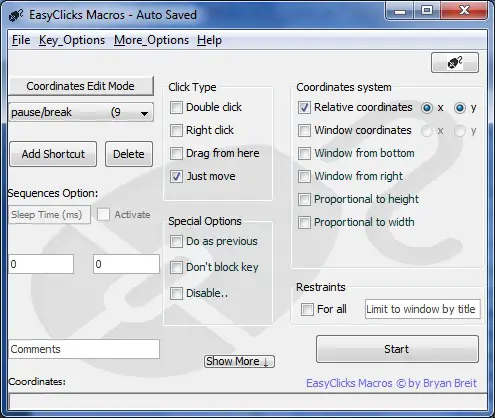 It allows you to record mouse activity with a single click and generate complicated macros that can be accessed through keyboard shortcuts and edited as many times as you want.
Mini Mouse Micro.
Mini Mouse Macro is a portable and free macro creator. This software is very user-friendly, particularly for those who have never used a macro-creation program before. With the least amount of experience, you can handle it. You don't even need to install this software on your system because it's portable. Uninstall the application, save it to your hard drive, and run it.
If there are no previous installs, you can save Mini Mouse Macro to another storage device such as a DVD, USB, or flash disc and run it on any other PC. Because it isn't installed on your computer, it doesn't leave any traces behind when you uninstall it. It indexes all keystrokes and mouse clicks on its interface, allowing you to keep track of everything.
Mouse Recorder Premium.
Macro Recorder Premium from Softpedia is a free program that allows you to create macros for repetitive tasks so that you can complete them quickly and easily. It is a simple application with simple functions and controls. It's never been easier to make macros.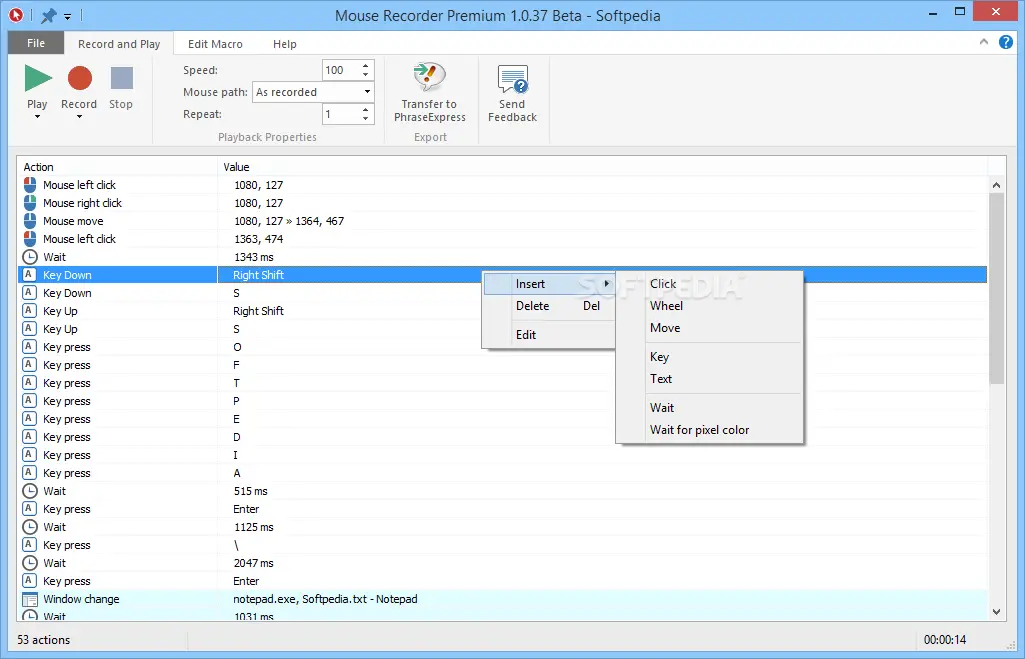 With this macro recorder software, you can record mouse clicks and keystrokes and play them back whenever and as much as you want.
Web browsing is automated using the mouse recorder. You can easily record and automate web browsing, with the macro pausing automatically if a web page is loading or has not completed any of its operations.
FAQ.
Is it legal to use Macro readers in games?
Ans 1. Macros are a major issue in a variety of PC games. In multiplayer, macros give you an unfair advantage. They allow you to automate a portion of the game-playing process.
Which free macro recorder is the best?
Ans 2. We have given you the entire guide above. You can read the entire post and qualify anyone as the best according to your needs. All the macro readers that we have mentioned are best available on the internet.
Conclusion
This was a short post answer of the best micro readers to record an activity that one can download. We assume that this post was informative and was helpful. If you have any questions, drop them in the remarks section below, and we will get back to you as soon as possible.
---
If you like the content, we would appreciate your support by buying us a coffee. Thank you so much for your visit and support.