Chrome is by far the most popular browser. It is well equipped, works quickly and is constantly being developed. However, it always causes trouble for its users – for example due to its extremely high memory requirements.
Surely, as many of you already see first-hand when working with our PCs, most tasks involve direct use of the Internet to a greater or lesser extent, specifically with our browsers, with the advantages and drawbacks that it entails.
And it is necessary to take into account that working online on certain occasions can be a great distraction that takes us away from our really important tasks. This is due to a large extent, to the constant notifications and updates that are popping out from platforms such as Facebook , Skype , Twitter , WhatsApp , etc. That is why we sometimes make take certain measures in order to avoid these distractions either from Windows 10, MacOS or Ubuntu or from any of the platforms that we regularly use.
Chrome and RAM
With Chrome, many users feel that the browser is consuming most of the memory resources. Even when few tabs are open, Chrome occupies several GBytes.
There are always new products designed to reduce the RAM consumption. Only recently it was again about surfing faster and saving resources at the same time and Google has explained which innovations are being developed in Chrome for this. In Chrome 79, the last release for 2019, a tab freezing functionality is available, at least as a flag setting, tabs that are in the background for more than 5 minutes are frozen. This way they don't consume additional resources.
Read: How to speed up your Windows computer
But basically the way Chrome works as a process already takes up a lot of memory, after all each page ends up in isolation in a process, which creates a certain overhead. Extensions should not be forgotten, they can also consume a lot of RAM. However, the built-in tab discarding feature provides an effective mechanism against this. When memory is running low, Chrome sends inactive tabs to sleep. If you click on them as a user, they will be refreshed again.
It should be clear that the RAM consumption decreases with fewer open tabs. So if you want to do something yourself, you simply leave fewer tabs open. However, extensions are usually more important. RAM eaters like to hide here, which you can expose via the Chrome Task Manager and then simply shut down. What can also happen: Ad blockers or other add-ons can prevent tabs from going to sleep. If the RAM consumption drops considerably after disabling extensions, you are on the right track. Themes or complex backgrounds can also eat up more RAM. Tools such as Auto Tab Discard or The Great Suspender can help minimize RAM consumption and thereby enable users to work more effectively.
Read: How to Install Google Chrome on Ubuntu 22.04
Zenmate VPN Chrome extension
VPN services have to meet several criteria to be really good: security and anonymity on the web and fast servers for streaming, preferably at a low price. Avoiding geoblocking is becoming increasingly important – be it to escape the eyes of repressive regimes or simply to access US Netflix.
If you are on a budget and looking for a complete Browser VPN extension that has a strict no-logs policy then you need look no further than the VPN Chrome extension from Zenmate. Its 7 day free trial version provides a large set of features already and its no-logs policy ensures your privacy and anonymity are protected. The interface is very simple to configure and set up when compared to competition.
Read: How to reduce Google Chrome's CPU usage
A small, green sign symbol next to the address bar will show up once ZenMate VPN is active. The extension encrypts all your activities in the browser using the VPN connection. In order to see the connection status, simply click on the Zenmate sign. Use the "Change your Location" button to jump to servers from Germany, Romania, the USA and Hong Kong.
ZenMate Chrome extension is not only a browser VPN, since you will be able to use it on any other device(iOS, Android) and platform (Windows , MacOS).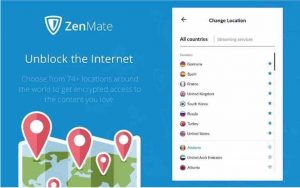 Once activated, you will be able to surf the Internet much more anonymously and without an annoying volume limitation alert. As it is the case with all browser proxies however, your identity is not protected if you connect to the internet using another third party application. Note that Zenmate also offers VPN extensions for Firefox and Edge as well.
With the Free Zenmate Chrome extension you will be able to : 
Strict 100% no-logs policy to guarantee privacy and anonymity

Modify your IP Address to one from a completely different location in order to unblock geographic restrictions and browse anonymously (ZenMate never records your online activity)

Keep your banking records, emails, contacts and passwords safe from hackers and intruders

Bypass restrictions that are set forth by governments

Unblock otherwise unreachable websites in your location by connecting to other  4 remote servers

Browse at a speed of 2Mb/s

Connect to the fastest server with only two clicks

 

Join 47 million Zenmate VPN anonymous users 
Download the Free Zenmate Chrome extension here.
Read: Six Gmail extensions that will make your day-to-day work easier
If you decide to upgrade to the ZenMate Pro for Browsers however, you will access yet another world of premium features. In addition to the previous functionalities, you will have the ability to :
Unblock streaming media service providers (such as Netflix and Hulu)

Unlimited browsers (Chrome, Firefox, Edge)

Browse at an unlimited bandwidth traffic and speed

Enjoy a very high data transmission encryption level (

AES 256-bit

)

Bookmark your preferred servers (located in more than 74 countries) in order to connect to them at a later time. ZenMate can offer up to 3700 servers spanning  more than 74 different countries

Peace of mind in case your connection drops thanks to Killswitch technology
The Great Suspender
Tabs, always. The more you open, the more RAM and battery you use. The Great Suspender has a unique feature: freezing inactive tabs to save speed and battery life for your computer.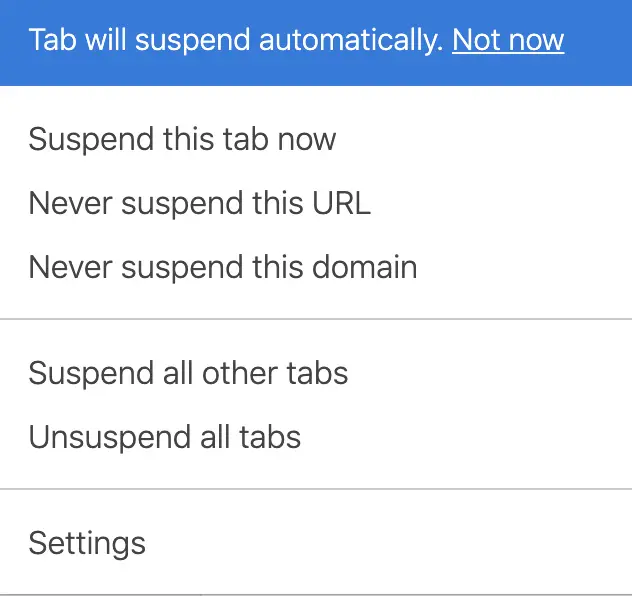 One of the best chrome extensions for productivity: The Great Suspender
Once you've installed The Great Suspender , you can choose how you want the tool to handle open tabs. The main task of the little helper is to put open and active Chrome tabs into sleep mode in order to reduce RAM and power consumption.
You can specify the time after which unused tabs should be put to sleep – by default, the time is 1 hour. However, this can be increased to 2 weeks or lowered down to 20 seconds.
If you are one of the users who also listen to music while working with Chrome, one of the presets would be perfect for you. This prevents tabs with audio playback from being put into sleep mode.
Auto tab discard
The automatic tab discard feature in Chrome takes effect when the memory is running low. The Auto Tab Discard extension uses the same mechanism and gives users more control over it. For example, you can use the extension to specifically discard tabs or send inactive tabs to a break after a certain time. There is also the option to exclude certain pages which play videos or music for instance or even tabs with input forms.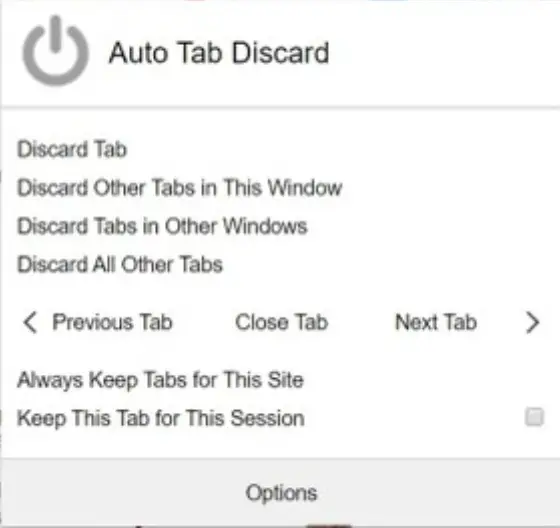 Alternative tab suspender
Alternatively, you can try Tab Suspender , which follows the same concept as The Great Suspender. This also allows you to send tabs to sleep after a pre-defined period of inactivity. You can define exceptions for individual tabs, and you can also automate operation with practical hotkeys.
New Tab Page
A number of extensions offer to replace the page that appears when you open a new tab. The concept created by Start.me goes further than the traditional inspiring photos, quotes and other lolcats that can be found there. As with many other chrome productivity extensions, New Tab Page  concentrates in one page everything that can be useful for your navigation: favorites, to do lists, information flow, etc. Of course, everything is fully customizable and synchronized between your different devices.
Momentum
The Momentum extension prompts you daily to write down your goal for the day, and will remind you as soon as you open a new tab. Bonus: breathtaking landscape photos, carefully chosen quotes and the option to add your to do list!
Session Buddy
Session Buddy is a cool extension you can count on. The concept is simple: with one click, the extension opens a tab from which you can control your entire current session. If you always have fifty tabs open at all times, Session Buddy is a must-have! The extension lists all your tabs, even allowing you to sort them by themes and access them quickly. You can also create your own session templates and open them with one click.
Onetab
Onetab works on the same principle as Session Buddy, with the difference that it is downright more radical. If all these open tabs are wasting your time and you need to focus on a specific task, the extension has a simple solution. In one click, Onetab closes ALL of them to group them into a list within ONE SINGLE tab. You will restore them as soon as you finish your task.
Strict Workflow
Have you heard about the Pomodoro technique? It is a section of the day or a task to be done in 25 min work without distraction, followed by a 5 min break. The ultimate remedy for procrastination, this method is a source of productivity gains as well as intellectual agility.
Ready to try? Strict Workflow will help you by assuming the role of the stopwatch, but also by blocking pages with high distraction potential, Facebook and Twitter at the top of the list.
Web timer
If you are not satisfied with the Pomodoro technique and Strict Workflow, Web Timer is an excellent complement. This extension calculates the time you spend on the different sites that you visit and compiles the statistics to help you optimize your navigation.
Feedly Mini
You may be familiar with Feedly, a great site for creating and organizing your own news feeds. Its extension is no less useful since it serves as a shortcut to save, share, tag or even add a page to your Feedly with one click.
Last Pass
Last Pass is a password manager that will help you not to have to remember all the keys of your social networks, ecommerce and other websites. As an award-winning password manager adopted by more than six million users around the world, you only need to remember one password and LastPass takes care of all your login credentials and synchronizes them between your different devices.It will be especially useful for those who have to log in to more than 5 or 6 accounts a day.
Forest
Forest will help you focus on one task by blocking all other applications or pages. This extension will prevent access to what you specify through a simple gamification process.
Pushbullet
This Google Chrome extension will improve your productivity because it will allow you to synchronize your mobile and your computer in an easy and simple way. With Pushbullet you will be able to see all the notifications from your smartphone – even calls – on the computer, so that you will not have to be constantly looking at your phone [Pushbullet Chrome].
Rescue Time
Rescue Time reports the time the user spends on each page. It works as a kind of virtual coach since when looking at the minutes (or hours) spent on each website, it aims to reduce the time spent on platforms that are not working. In addition, it shows the percentage of productivity that you have had each day to will help you improve yourself [RescueTime Chrome].
Noisil
Noisil is a Chrome extension that reproduces ambient sound (and blocks audios that can distract you) so you can focus better and reduce your stress.
Dayboard
Dayboard is a Chrome extension that will help you to carry out your tasks. This tool will allow you to select 5 daily goals and will remind you of your priorities each time a new tab is opened.
Dragdis
You will be able to add the images and videos that inspire you to your new Dragdis vertical menu with a simple drag and drop. Ideal for creative people looking for inspiration!
Save to Pocket
You are no doubt familiar with the Pocket application, which allows you to store articles to read later, even without an Internet connection. Its Chrome extension naturally allows you to save any page of interest in your Pocket account.
Bookmark Manager
If spring isn't here yet, there is no season to clean up your Chrome favorites. The Bookmark Manager extension developed by Google is a must-have for sorting your favorite links into small, neatly stored folders.
Extensity
With all of these new extensions to try, it's handy to have a place to group them all other than in your toolbar. The rallying point is called Extensity and allows you to launch the extensions you want to use and, conversely, uninstall the ones you don't use.
---
If you like the content, we would appreciate your support by buying us a coffee. Thank you so much for your visit and support.