In the dynamic landscape of modern retail, selecting the right Point of Sale (POS) system is crucial for the success of small businesses. This comprehensive guide explores some of the best retail software options available, each tailored to meet the unique needs and challenges faced by small enterprises. From Square's transparent pricing and Shopify's seamless integration with online platforms to Lightspeed's omnichannel loyalty features and KORONA's suitability for high-risk merchants, this article delves into the strengths, weaknesses, and standout features of various point of sale systems for small retail business. Whether you're a brick-and-mortar store, an online merchant, or looking for a system that supports both, this guide aims to assist small business owners in making informed decisions to streamline operations, enhance customer experiences, and drive growth.
Read: Guide to POS Systems: Selection, Implementation and Evaluation for Small Businesses
Square is a favored choice among small and mid-sized businesses due to its absence of monthly fees in the basic plan and a straightforward transaction fee structure. This makes it an ideal solution for emerging businesses seeking reliable retail pos systems for small business without significant upfront costs.
In the realm of payment processing, Square addresses a common headache for businesses by managing multiple fees imposed by card companies, banks, and compliance standards. The platform streamlines this process, requiring only a nominal fee for each transaction.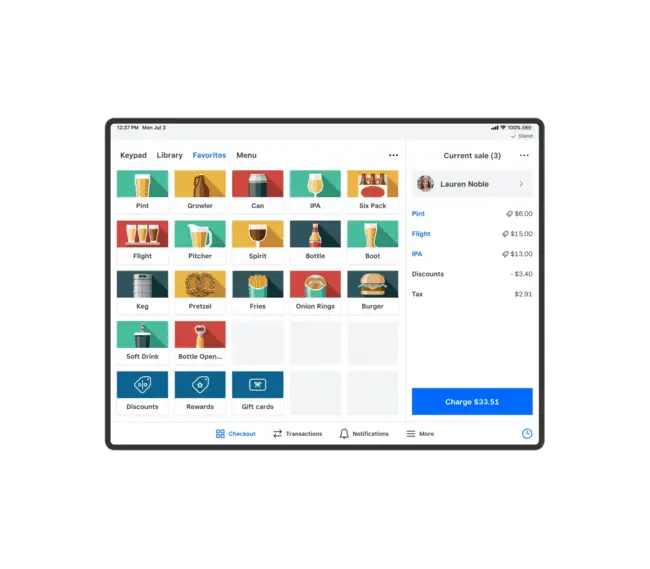 When it comes to card-present payments, Square imposes a fee of 2.6% plus 10 cents per transaction for payments accepted via a variety of Square devices, including the Square Reader, Register, Stand, Terminal, Retail Plus, or Square for Restaurants. For keyed payments, where card details are manually entered, the transaction fee is 3.5% plus 15 cents per transaction.
For online purchases through platforms like eCommerce API, Square Online Store, Square Online Checkout, or online invoicing, the fees differ. Card transactions incur a 2.9% fee plus 30 cents, while ACH bank transfers via invoices have a fee of 1%, with a minimum of $1 per transaction.
Read: Top 3 Ecommerce Platforms to Use in 2023
Square offers a range of hardware options, all with free software downloadable from Google Play Store and Apple App Store, and updates pushed through these platforms. The Square Reader for magstripe is provided at sign-up, with additional units available for $10 each. The Square Reader for contactless and chip, starting at $49, supports chip and contactless payments like Apple Pay and Google Pay. This device is particularly valuable in a post-pandemic business landscape where contactless payments are on the rise. For those needing a charging dock, the set is priced at $66.
The Square Stand for contactless and chip converts an iPad into a portable checkout station, priced at $149 or $14 per month for 12 months, bundled with a Square Reader for magstripe and contactless and chip. The Square Terminal, a comprehensive device with a display, magstripe reader, chip reader, and receipt printer, is available for $299 or $27 per month for 12 months. The top-tier Square Register, equipped to accept various payment methods, costs $799 or $39 per month for 12 months.
Core services provided by Square cater to both static and dynamic payment systems. The Square POS is perpetually free, irrespective of chosen hardware, and includes a complimentary Square Reader for magstripe. Square Appointments, free for individuals, is priced at $50 per month for businesses with two to five employees and $90 per month for those with six to 10 employees.
For restaurant-specific needs, Square for Restaurants offers a free version supporting unlimited devices and locations. It facilitates end-to-end restaurant operations, covering table management, course management, discounts, inventory management, and reporting. This service has three plans: Free, Plus, and Premium, with paid plans starting at $60 per location. Transaction fees are 2.6% plus 10 cents for in-person payments and 2.9% plus 30 cents for online payments.
Square for Retail, a retail management app, follows a similar structure with a robust free version and three plans: Free, Plus, and Premium. Paid plans start at $60 for the initial establishment and $40 for subsequent locations. Transaction fees mirror those of Square for Restaurants.
In addition to its core offerings, Square provides several other benefits. The Square App Marketplace features third-party integrations at varied costs. Square also offers add-on features at extra cost, including Invoicing (2.9% plus 30 cents per payment), Loyalty (starting at $45 per location, per month), Marketing (starting at $15 per month for up to 500 customers), Payroll ($5 per month per contractor and $29 plus $5 per month per employee), and Team Management, with a Free Basic Plan and a Plus Plan costing $35 per location per month.
Clover POS, developed by Clover Network Inc., a subsidiary of First Data Corporation, stands out as a popular point-of-sale (POS) system. This comprehensive and user-friendly solution caters to businesses, offering features for payment processing, inventory management, sales tracking, and overall operational efficiency.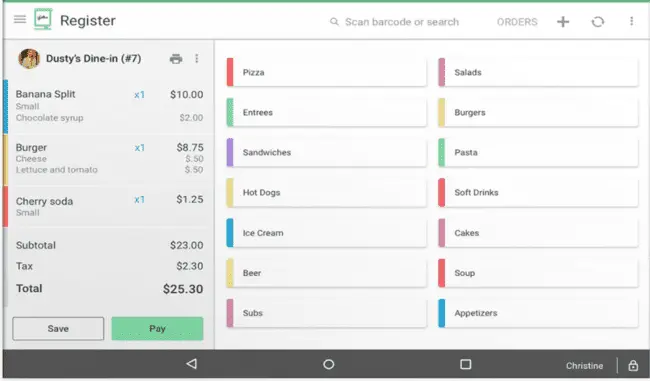 Pros: Clover POS proves versatile, tailor-made for various business types, including retailers, restaurants, professionals, and general businesses. It accommodates diverse needs, providing different hardware options and a plethora of apps. From small retail shops to bustling restaurants, Clover is designed to meet specific requirements.
Its hardware devices support a wide array of payment methods, including cash, checks, credit cards, debit cards, prepaid cards, gift cards, and EBT cards.
Read: 6 Best Credit Card Processing Tools 2022
Cons: While Clover POS offers a robust solution, the upfront cost of its hardware and software can be higher compared to some competitors. Users may encounter ongoing fees for software updates, debit card setup, early termination, and payment processing. Some users have reported mixed experiences with the quality and responsiveness of Clover's support team.
How Clover POS Works: Clover POS primarily facilitates sales transactions and payment acceptance. The setup process involves three key steps:
Step 1: Activate your account Visit Clover.com, create an account, and set up your tasks and services. Once done, you can seamlessly accept payments with Clover hardware.
Step 2: Set up your space Allocate space for your chosen device—Mini, Station Solo, or Station Duo. Ensure a secure area with a stable internet connection for optimal Clover hardware performance.
Step 3: Activate the device Follow the Quick Start Guide instructions to activate your device. This involves turning on the power, selecting a language, reviewing the internet connection, and entering the activation code. Successfully completed, Clover installs the latest apps on your device.
What Sets Clover POS Apart: Clover POS distinguishes itself by offering a range of hardware and software tailored to different business types. It provides plans for full-service dining, quick-service dining, retail shops, professional services, personal services, home and field services.
Clover POS supports third-party applications and services, facilitating integration with tools like accounting software, CRM systems, and online ordering platforms. This capability enhances efficiency by synchronizing data across different systems.
Clover POS Core Features:
Cloud-Based Applications: Easily integrates with third-party apps for enhanced functionality, including loyalty programs, online ordering, accounting software, and employee scheduling.
Hardware and Software: Offers a mix of mobile readers, handheld devices, and countertop devices with various accessories such as scanners and printers. Built-in features support employee management, customer engagement, tracking, and reporting.
Inventory Management: Enables businesses to track stock levels, monitor expiration dates, and automate inventory-related tasks. Ideal for restaurants managing online menus and customizing items.
Team Management: Provides employee management features to streamline workforce operations, including role-based permissions, access levels, time tracking, and performance measurement.
Reporting and Analytics: Access real-time sales data, track sales per employee, and generate comprehensive reports. Easily filter data to identify bestselling items and monthly sales trends.
Training and Support: Users seeking guidance can enlist SMB CompuCom professionals for on-site installation and training.
Clover Pricing and Plans: Clover POS pricing varies based on business types:
Full Service Dining: Starts from $160 monthly, offering omnichannel menu management, contactless dining, and online menu pages.
Quick Service Dining: Starts from $100 per month, with options for customer database, promotions, loyalty programs, and private feedback.
Retail: Starts from $60 per month, providing features for sales tracking, employee permissions, and third-party app access.
Professional Services: Starts from $14.95 per month, accommodating hardware-less transactions with options for handheld and counter POS.
Clover POS Hardware Costs: Compatible with various third-party hardware devices, Clover also offers first-party options suitable for retail, e-commerce, table service restaurants, counter service restaurants, and service-based businesses.
Clover POS Setup: Clover provides straightforward setup guides with visual instructions for device setup. Personalized help is available through account logins.
Ease of Use: Clover POS boasts an intuitive interface designed for easy navigation. Its visually appealing and organized layout ensures quick access to features, minimizing the learning curve for employees.
Security: All Clover devices are PIN Transaction Security (PTS) certified, compliant with PCI DSS. They come with end-to-end data encryption, tamper detection, and access authorization.
Customer Service and Support: Clover POS offers phone support, a FAQ section, and small business resources, providing valuable information and in-depth articles for users.
Shopify POS stands out as a favored point-of-sale (POS) system for small businesses. Its simplicity, robust features, and seamless integration with Shopify's online store platform make it an ideal choice for retailers of all sizes.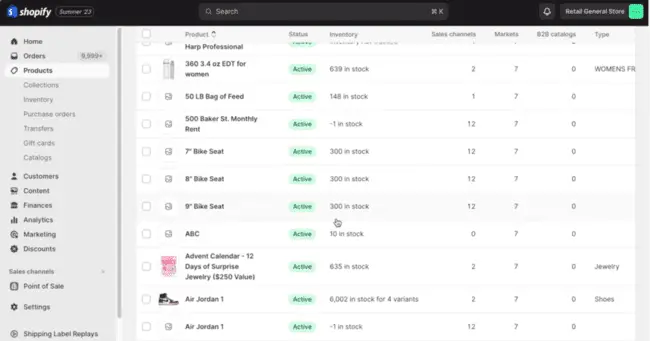 This system efficiently manages online and offline transactions from a unified dashboard, accepting various payment methods such as credit cards, debit cards, mobile payments, and cash.
Pros
Shopify POS excels in omnichannel commerce, providing a cohesive experience for customers. It enables both in-store and online shopping, offering features like cart retrieval for in-store abandoned carts. The system ensures real-time inventory synchronization across all channels, preventing stockouts. Staff management features, including role customization and performance tracking, enhance operational control. Marketing tools like product reviews, email marketing, and social media integration contribute to a comprehensive business toolkit.
Read: 11 Ecommerce Trends You Must Learn Before the End of 2022
Cons
A potential drawback is the absence of a free version; users need a Basic Shopify plan or higher, starting at $29 per month (billed annually) to access Shopify POS. The reduced free trial duration to three days might limit the evaluation period for some users. The pricing structure may pose challenges for budget-conscious small businesses.
How Shopify POS Functions
Shopify POS streamlines sales, inventory, and customer data management. It incorporates features for payment acceptance, staff performance tracking, and detailed reporting. The system offers integrated hardware and a customizable POS app tailored to individual business needs. Notably, the Shopify POS Pro plan ensures seamless inventory syncing across all channels, avoiding the risk of overselling.
Unique Features of Shopify POS
A distinctive aspect of Shopify POS is its integration with Shopify's online store platform. This integration empowers businesses to centrally manage sales, inventory, and customer data. This proves invaluable for businesses with both physical and online stores. Core features of Shopify POS encompass smart inventory management, staff administration, efficient checkout processes, streamlined product management, customer relationship building, and comprehensive reporting and analytics.
Shopify POS Pricing and Plans
Shopify POS offers various plans catering to different business types, including Full Service Dining, Quick Service Dining, Retail, Professional Services, Personal Services, and Home & Field Services. The Lite version, available free with a Basic Shopify plan or higher, covers order management and product management. Higher-tier plans, starting at $79 per month (billed annually), include advanced features such as staff and role permissions, unlimited registers, omnichannel selling, and in-store analytics.
Shopify POS Setup
Setting up Shopify POS is straightforward, guided by a step-by-step walkthrough. After downloading the app and creating an account, users input business and inventory information. Migration tools facilitate data transfer from other systems. The ease of setup is complemented by Shopify POS's intuitive interface, offering a visually appealing and organized layout.
Security Measures
Shopify POS prioritizes security with SSL encryption for data transmission and built-in fraud prevention tools. The system is PCI compliant, adhering to industry standards and undergoing regular audits for ongoing compliance. Users are encouraged to understand their obligations under the Payment Card Industry Data Security Standard (PCI DSS) for maintaining compliance.
Customer Service and Support
Shopify POS provides customer support through a bot that pre-qualifies users for direct contact with a live representative. The support system includes self-help resources, an FAQ section, the Shopify Help Center, and the Shopify Community. However, access to live human support might be contingent on factors like business size and revenue.
Lightspeed is a robust point-of-sale (POS) system offering features tailored for retail, restaurant and bar, and ecommerce businesses. This Lightspeed POS review aims to guide businesses in determining if it aligns with their needs.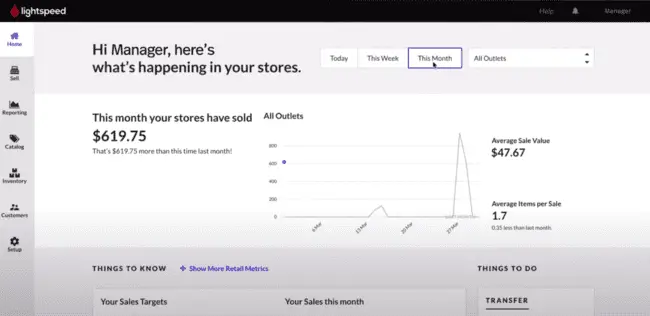 Lightspeed POS does not provide a free plan but offers a comprehensive 14-day free trial. Prospective users are encouraged to thoroughly evaluate the system's capabilities during the trial period before committing to a full-scale transition.
Paid Plans
Lean: Priced at $79 per month with an additional $29 per month for each extra register, or a discounted rate when paying annually. It includes one-on-one onboarding and integrated payments.
Standard: Geared towards omnichannel businesses with e-commerce and accounting integrations. Priced at $139 per month, with an extra register incurring a $29 monthly fee.
Advanced: This plan focuses on customer loyalty and enhanced business insights. Priced at $239 per month, with an additional register incurring a $29 monthly fee.
Enterprise: For custom pricing, businesses need to contact Lightspeed directly. Features include unlimited personalized onboarding, consultation services, and API support.
Transaction Fees
In addition to monthly charges, Lightspeed applies credit card transaction fees. Card-present transactions incur a fee of 2.6% plus 10 cents, while keyed transactions are charged at 2.6% plus 30 cents per transaction. Deposits are processed within two business days after the sale.
Omnichannel Loyalty
An impressive feature available in the Advanced plan and above is omnichannel loyalty. This enables customers to enjoy consistent loyalty benefits both online and in-store. Businesses can run targeted campaigns for loyal customers, fostering repeat business.
Considerations and Fine Print
Contractual Agreements: Lightspeed's sales team may offer better pricing with extended contracts. However, user reviews suggest challenges in canceling contracts if the software falls short of expectations. Businesses are advised to carefully review contracts and cancellation terms.
Hardware Requirements: New hardware is mandatory for Lightspeed POS, especially if the business already possesses terminal hardware. This is justified for safety reasons, ensuring certified firmware.
Comparative Pricing: Notable price differences exist between Lightspeed POS, Stripe Terminal, and eHopper POS. While Lightspeed entails a substantial monthly fee plus credit card processing charges, Stripe Terminal has no monthly fee but charges 2.7% plus $0.05 per successful card transaction.
Business Suitability: Lightspeed POS is most suitable for established businesses due to its feature-rich offerings accompanied by a higher price tag. The Enterprise plan is ideal for national retail chains with high-order volumes. The Standard tier is beneficial for businesses engaged in both online and in-person sales, leveraging its e-commerce and accounting capabilities.
Read: Boosting E-commerce Sales with Social Media Templates
eHopper provides a versatile point-of-sale (POS) software solution suitable for both retail and restaurant businesses, offering an array of features at an affordable price point.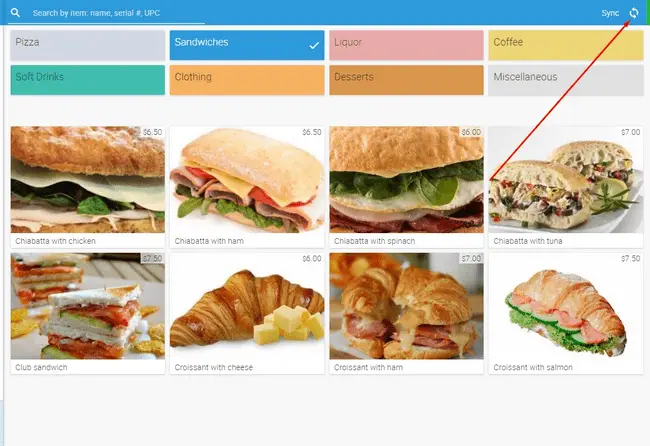 This review explores the various aspects of eHopper, highlighting its strengths, limitations, core features, pricing, ease of use, security, customer support, and additional functionalities.
eHopper Highlights:
Pros:
Free Plan: eHopper stands out by offering a free plan, which includes free software, an e-commerce website, and a payment terminal. This is particularly advantageous for small businesses looking to manage both in-person and online transactions.
Omnichannel Solutions: The free plan, known for its omnichannel solutions, is suitable for small businesses needing to process payments online. The OmniChannel plan extends support for larger businesses with additional features.
Platform Compatibility: eHopper is compatible with various devices, including iOS and Android devices, as well as Windows PCs. It offers flexibility by supporting a range of hardware options.
Flexible Payment Processing: Users can choose from various credit card processors, and eHopper supports a cash discount or credit surcharge program, passing processing fees to customers.
Cons:
Long-Term Contract Considerations: While eHopper provides discounts for long-term contracts, users should be cautious as there is no refund if they decide to terminate the agreement before its completion. A trial period on a month-to-month plan is advisable before committing to a long-term contract.
Free Plan Limitations: The free plan has limitations, including support for up to 50 products and 300 transactions per month. Larger businesses may need to opt for the OmniChannel plan, which comes with additional features.
Additional Costs: Certain features, such as table management, e-commerce, loyalty programs, pre-authorization, EBT, and customer support, may incur additional costs outside the free plan.
Core Features:
Free E-Commerce Site: eHopper provides a free e-commerce site that syncs with its offline POS, offering features such as SSL certification, content delivery network (CDN), SEO optimization, customization, reporting, reviews, and social selling.
Credit Card Processing: eHopper supports multiple credit card processors and provides free processing for U.S. customers using a credit surcharge and cash discount program.
Loyalty Program: Accessible with the OmniChannel plan, the Loyalty program encourages customer retention with customizable rules and rewards, supporting both physical loyalty cards and mobile phone numbers.
Pricing and Plans:
Essential Plan: The free plan with limitations, including support for one POS, 50 products, and 300 transactions per month. U.S. customers enjoy free processing, basic reporting, and inventory, customer, tip, and modifier management.
OmniChannel Plan: Priced at $39.99 per month, it includes features such as two licenses, unlimited products, table management, e-commerce, unlimited transactions, pre-authorization, EBT, menu builder, customer support, integration with QuickBooks, low stock alerts, and exchanges.
Ease of Use: Designed for simplicity, eHopper offers a user-friendly interface with step-by-step onboarding. It allows easy management of products, customers, and employees, along with streamlined reporting, inventory checks, and payment processing.
Security: eHopper emphasizes security features, including the ability to limit salespeople's access to the register, entry of opening and closing cash amounts, and the use of EMV-compliant technology to prevent fraudulent transactions.
Customer Service and Support: While the Essential plan lacks direct customer support, the OmniChannel plan offers phone, email, and chat support, along with onboarding and training assistance.
Additional Features: eHopper extends its capabilities with features such as restaurant table management, ingredients management, online ordering, partial payments, surcharge and cash discount programs, catering to diverse business needs.
Aloha Cloud, previously recognized as NCR Silver, emerges as a prominent cloud-based Point of Sale (POS) system dedicated to the restaurant industry.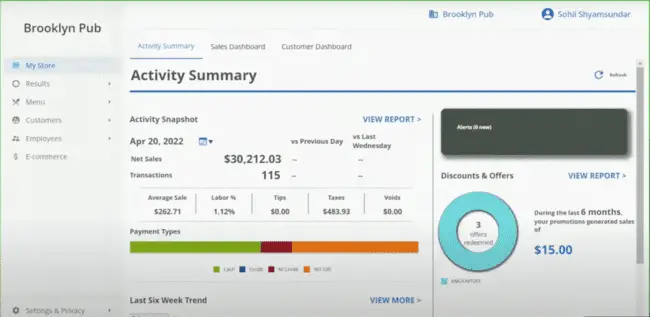 Aloha Cloud is tailored for restaurants aiming to streamline front and back-of-house operations, foster customer growth and retention, and gain valuable business insights. Particularly suitable for establishments prioritizing next-business-day access to their funds.
Pros:
Free Forever Plan: Aloha Cloud offers an enduring free plan, providing essential features without any associated costs.
Email Marketing and Loyalty: Both the free and Pro plans encompass email marketing and loyalty programs, enhancing customer interaction and retention.
Next Business Day Access to Funds: Aloha Cloud prioritizes swift access to funds, ensuring restaurants have the financial resources they need promptly.
24/7/365 Customer Support: The platform provides constant customer support, ensuring assistance whenever necessary.
Personalized Onboarding: Aloha Cloud offers personalized onboarding processes, facilitating a smooth transition for businesses integrating the POS system.
Cons:
High Payment Processing Rates for Free Plan: The free plan comes with relatively high payment processing rates, potentially impacting businesses with substantial transaction volumes.
Additional Cost for Inventory: While the free plan offers fundamental features, businesses need to consider additional costs for advanced inventory management.
Pricey Paid Plan: The Pro plan, starting at $65 per month, might be considered relatively expensive for some businesses, especially those with budget constraints.
Erply, formerly known as NCR Silver, distinguishes itself with robust functionality and broad applicability in the realm of Point of Sale (POS) systems.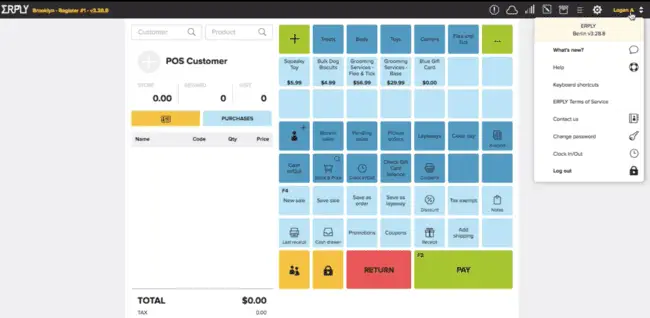 Key Features
Robust Functionality: Erply stands out for its extensive functionality, ranging from basic POS requirements for small shops to intricate inventory systems for larger retailers.

Tiered Pricing: The platform's tiered pricing structure is designed to address diverse business needs, ensuring that it caters to businesses of various scales and requirements.

Integration and Adaptability: Erply shines in its ease of integration with a variety of payment providers. The adaptability of its mobile app adds another layer of strength, enabling businesses to operate seamlessly.
Premium Packages
Erply's premium packages offer advanced Customer Relationship Management (CRM) tools and Application Programming Interface (API) access. These features enhance customer interaction, enable better business automation, and contribute to a more comprehensive business management experience.
Customization and Scalability
The platform boasts an impressive array of customization features, coupled with scalability. This makes Erply particularly advantageous for growing businesses that need adaptable and tailored solutions.
Industry-Specific Solutions
Erply demonstrates its versatility by providing industry-specific solutions. The detailed Point of Sale (POS) and inventory management system caters to the unique needs of various business types.
Target Users
Erply caters to businesses of varying sizes, accommodating the needs of small stand-alone stores, large-scale franchises, and enterprises. However, businesses seeking inventory management features will need to opt for Erply's paid plan.
Pros:
Comprehensive Paid Plans: The paid plans come with valuable features such as an inventory database and backend management, offering a holistic solution for business operations.
Payment Processor Variety: Erply supports a diverse range of payment processors, providing flexibility for businesses to choose according to their preferences.
Scalability: The platform's scalability is a significant advantage for growing businesses, allowing them to expand without outgrowing their operational tools.
API Access: Paid plans provide API access, empowering businesses with more extensive integration capabilities.
Cons:
Limitations in Free Plan: The free plan lacks inventory management features, making it less suitable for businesses with more complex operational needs.
Customer Support Limitations: Users on free plans may experience limitations in customer support, potentially affecting the level of assistance available.
Toast POS is a dynamic Point of Sale (POS) system that empowers businesses through its versatility and range of features.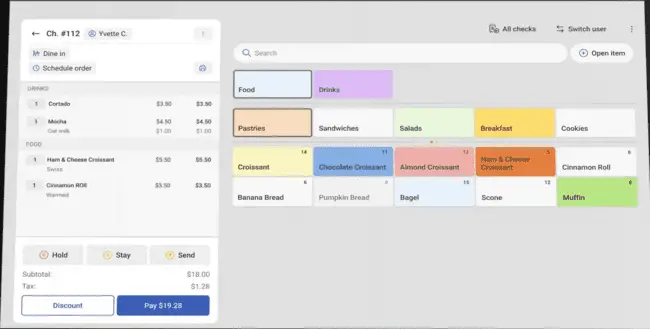 Key Features
Order Management: Toast POS excels in handling diverse order types, including delivery, kiosk, online, and mobile orders. This flexibility ensures that businesses can cater to various customer preferences seamlessly.

Open API: The platform boasts an open Application Programming Interface (API), facilitating integrations and customizations. This openness adds a layer of adaptability, allowing businesses to tailor the system to their unique needs.

Centralized Location Management: A standout feature is the ability to manage multiple locations efficiently from a single dashboard. This centralized control enhances the scalability of the system, making it suitable for businesses with varied setups.

Dedicated Account Manager: Toast POS provides businesses with a dedicated account manager. This personalized support adds value by ensuring that businesses have a direct point of contact for assistance and guidance.
Cons
Steep Onboarding Fee and Two-Terminal Minimum
Despite its strengths, Toast POS has a couple of considerations that potential users should be aware of:
Steep Onboarding Fee: The onboarding process comes with a notable fee, starting at $674. While this fee might be a hurdle for some businesses, it's essential to weigh it against the long-term benefits the system provides.

Two-Terminal Minimum: Toast POS requires a minimum commitment of two terminals. This might be a limitation for very small businesses or startups with minimal initial operational needs.
Target Users
Toast POS is designed to cater to a broad spectrum of businesses within the hospitality industry, including restaurants, cafes, and bars. Its adaptability and feature-rich nature make it suitable for both single-location establishments and multi-location enterprises.
Read: 13 Best HVAC Software for Small Businesses
KORONA POS distinguishes itself by offering a comprehensive solution tailored to the needs of high-risk merchants.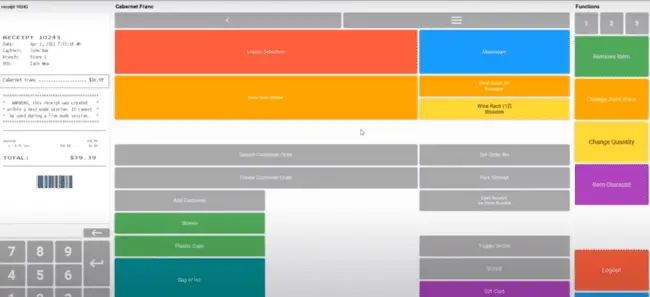 Key Features
All-Encompassing Feature Set: KORONA POS delivers a robust feature set that encompasses e-commerce integration, employee time tracking, loyalty program integration, and CRM capabilities. The inclusion of EMV and mobile payment options, along with retail inventory management tools, adds to its allure.

No Contracts or Hidden Fees: KORONA POS adopts a transparent approach by refraining from imposing contracts or hidden fees. This commitment ensures businesses can operate without the burden of unexpected costs.

High-Risk Industry Compatibility: A notable advantage lies in KORONA POS's compatibility with high-risk merchant industries such as CBD, liquor, wine, dispensary, and vape. This support for inherently risky sectors sets it apart from many other POS systems.

Scalability: KORONA POS is designed to support scalability, making it an ideal choice for businesses aiming to grow or manage multiple stores. The system ensures that it can adapt to the evolving needs of expanding enterprises.

24/7 Professional Support: Businesses leveraging KORONA POS benefit from round-the-clock professional support, ensuring that assistance is available whenever it is needed.
Who should use it:
KORONA POS is best suited for high-risk merchants who prioritize a fixed monthly fee structure over transaction-based fees.
Pros & Cons
Pros:
No transaction fees Includes an e-commerce store API access for enhanced customization Unlimited users and sales Tailored for high-risk merchant industries
Cons:
Need an Enterprise plan for ticketing and event management No pre-built integrations on its first three plans
Conclusion
The diverse landscape of Point of Sale (POS) systems offers a spectrum of choices catering to the unique needs of businesses across various industries. Square stands out with its transparent fee structure, making it an ideal choice for emerging businesses. Clover, Shopify, Lightspeed, and eHopper bring versatility and affordability to the table, each with its distinctive features and considerations. Aloha Cloud targets the restaurant industry, emphasizing a free forever plan and robust support. KORONA caters to high-risk merchants with transparency and scalability. Erply's extensive functionality and Toast's dynamic features enhance their appeal within specific niches.
While each POS system presents its strengths, it is imperative for businesses to align their choices with specific operational requirements. From transparent fee structures to industry-specific solutions, the POS landscape provides a nuanced array of options to streamline operations, enhance customer experiences, and foster business growth. In navigating this landscape, businesses should carefully consider factors such as pricing, features, and industry compatibility to make informed decisions that align with their strategic objectives and operational needs.
---
If you like the content, we would appreciate your support by buying us a coffee. Thank you so much for your visit and support.