A VPN can serve as your portal to a safe and secure Internet. A VPN can let you enjoy the web the way it was intended to be, whether you want to use public Wi-Fi without danger, watch geo-restricted material, or stay anonymous and protected fromonline snooping.
You can safeguard all of your devices, including PCs, laptops, tablets, mobile phones, and even routers, by selecting the top VPNs available.
A decent VPN will encrypt your data, disguise your IP address, ensure your internet connection is fast, and provide a number of other security and user experience benefits. It may be challenging to obtain it all in one bundle – which is why we're here to support you.
If you enjoy the concept of using a VPN, whether it's to safeguard your online privacy, watch geo-blocked material, or for any other reason, you'll want to do it on your mobile device.
Luckily, every reputable company will have reliable Android VPN software available for download. An Android VPN will protect your private details and fully utilize otherwise geo-restricted applications, stream video, and more while providing a safe internet connection, especially whether you're utilizing public Wi-Fi or cellular to browse the internet.
We have gathered a list of the leading Android VPN services for your smartphone or tablet, with everything from helpful customer service and simple UI to useful antivirus software and extras.
Read: 6 Types of Security Software to Keep Your Workplace Protected
What is the best Android VPN app?
There are a plethora of VPN apps available on the Play Store; plenty of them are… frankly, plain horrible. The ones we've chosen for this list have both strong security and strict privacy rules.
Of course, specialized Android VPN software should be as simple to use as feasible. First, check that it is compatible with your Android version.
It is still worth mentioning that, even though all of the VPN services listed below are available in the Google Play Store, we'd strongly advise researching them further and joining directly with each provider to make sure you're getting the best potential cost.
Best VPN for Android in 2022 – a comprehensive list
The list of the top VPNs for 2022 that follows is always changing and updating. However, one thing is certain: the VPN services listed below meet a variety of demands while being completely safe and dependable. That being said, let's see what each provider has to offer.

CyberGhost is an excellent VPN service with 7100 servers in 89 countries and has no monthly usage restrictions. It is quick, has a large number of servers, and can access practically any geo-restricted material.
CyberGhost VPN is an excellent streaming VPN, with servers tailored for Netflix, Disney+, Hulu, and other services. Overall, a good choice if you require a VPN to view your preferred TV series.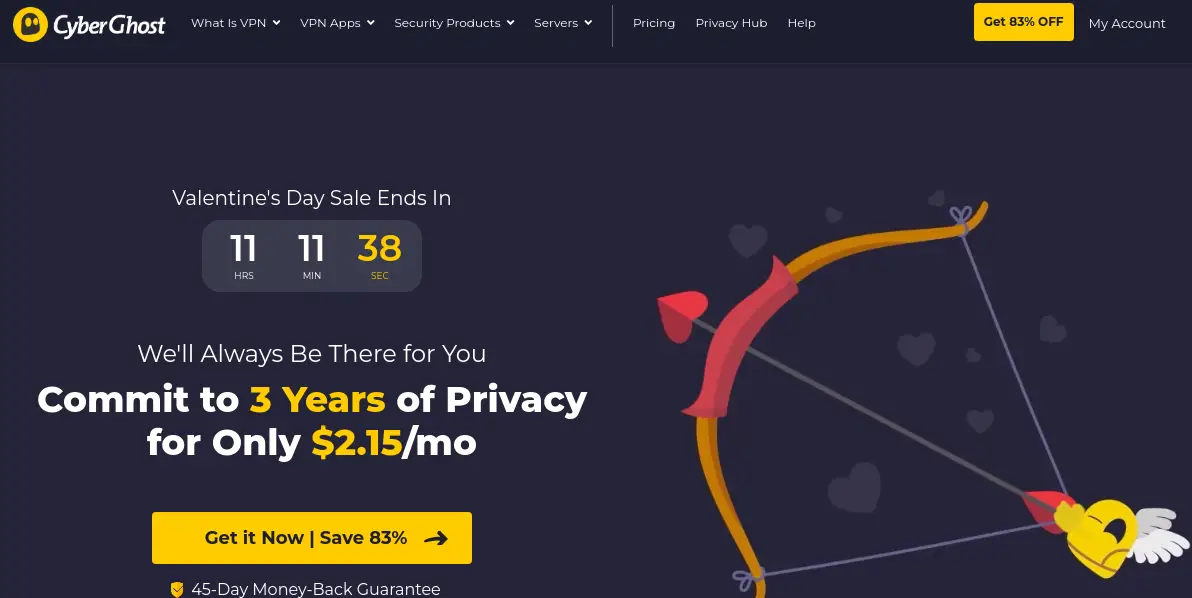 In terms of functionality, CyberGhost VPN allows torrenting and split tunneling (on Windows and Android), provides dedicated IP addresses, and includes a free SOCKS5 proxy. There's also a Tor over VPN function, which is useful for anyone who lives in a country where net neutrality is constrained.
CyberGhost VPN supports up to seven concurrent users. It features software for Windows, Linux, Mac, and Amazon Fire, and also mobile apps for iOS and Android, in addition to browser extensions and router connection choices.
CyberGhost VPN, like several other leading VPN services, uses military-grade encryption to secure your online information. It also features a permanently available kill button, and there have been no known leaks. It also does not maintain any files.
But, with an extensive server network and the WireGuard protocol, CyberGhost provides some of the industry's finest speeds. The drop-off should not be an issue if you have a good connection.
CyberGhost works with the greatest VPN providers on the market, providing live chat assistance 24 hours a day, seven days a week in English, French, and German. Additional tutorial sections focus on various operating systems such as Windows, Linux, Android, Mac, and others.
Read: Mobile Security: Trends and Threats
CyberGhost VPN will cost $2.12 per month on the longest, three-year contract. On the short-term plan, prices will be higher. A dedicated home IP address will cost an extra $5 per month. You may test it out with no risk, thanks to a 45-day money-back guarantee and a 24-hour free trial.

Surfshark is another excellent contender for top VPN, providing possibly the best bang for the buck of any VPN. It offers a rigorous no-logs policy, a multitude of features, and an ever-expanding server list — all for a very reasonable fee.
Surfshark has 3200 servers in 65 countries – and they perform great, unblocking Netflix, Peacock, Hulu, Disney+, BBC iPlayer, Amazon Prime Video, and Youtube. And, if you want to view your favorite programs on a device that doesn't have VPN software (such as a game console), Smart DNS can help.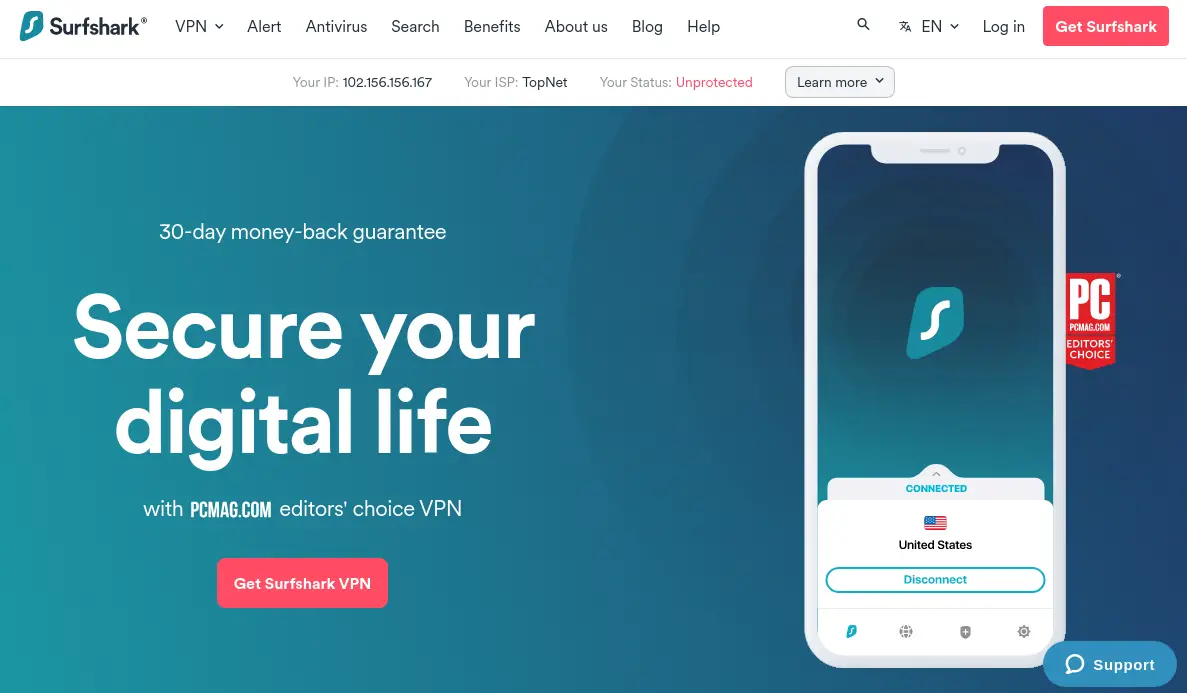 Surfshark VPN has a wide range of functions. All of its servers offer peer-to-peer file sharing (torrenting) and a private DNS for added security. Surfshark also has a multi-hop (dual VPN) function and a Camouflage Mode to disguise the fact that you're using a VPN. There's also a malware filter, a robust ad blocker, and complex split tunneling features that enable you to remove programs and sites from the VPN network. Android users may also utilize GPS spoofing, which matches your GPS position with the attached VPN server.
These functionalities are available on an infinite number of concurrent accounts. One membership may be used on all of your devices that run Windows, macOS, Linux, Android, iOS, or the Amazon Fire TV OS. Chrome and Firefox browser extensions are also available.
Surfshark's cybersecurity is also excellent. AES-256 cryptography for data encryption is included, as well as a kill button and leak prevention. In addition, their servers are RAM-only, meaning that when a server reboots, all data is entirely erased. Even so, user activity is never recorded.
Surfshark also performed admirably in terms of speed. It's one of the quickest VPNs we've used. And, if you need assistance utilizing Surfshark to its best potential, there is a live chat option offered to all users 24 hours a day, seven days a week.
So with that in mind, Surfshark's monthly fee of $2.30 appears to be quite reasonable. That's all the tools, no restrictions, and excellent value rolled into one fantastic bundle.

For years, ExpressVPN has been a VPN industry fixture and VPN review favorite. It has pretty decent speeds and a robust feature set. It's a good all-around VPN if you can overlook the increasing rates and a handful of flaws in the company's recent movements.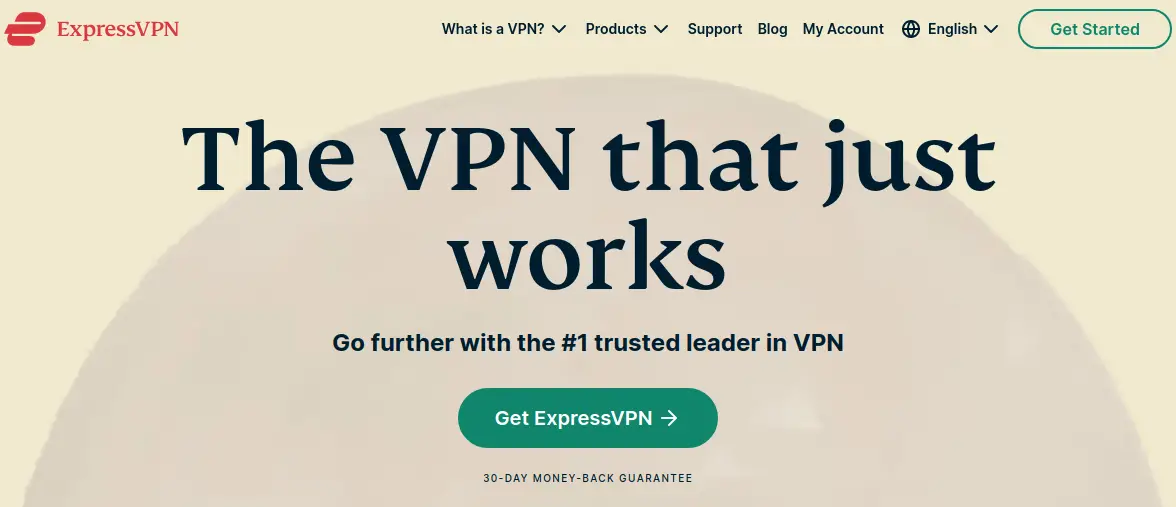 ExpressVPN genuinely stands above the crowd when it comes to streaming. It successfully unlocks any geo-restricted streaming catalogs you would like: Netflix, BBC iPlayer, Amazon Prime, Youtube, HBO Go, anything you can chuck at it. In addition, SmartDNS technology enables you to watch films on devices that do not support VPN, such as Apple TV and game consoles.
ExpressVPN includes other amazing features, including IP address masking, built-in performance testing, and a deadman switch. Advanced functionality like split tunneling and obfuscation servers are also accessible at any time.
ExpressVPN is compatible with a broad range of operating systems, including Windows, macOS, Android, iOS, and Linux. ExpressVPN can also be installed straight on your Amazon Fire Stick, and there is even personalized firmware for routers.
Whenever it comes to privacy, we must emphasize a few points. ExpressVPN is one of the few VPN providers in the industry with an independently verified no-logs policy. It also provides safe jurisdiction in the British Virgin Islands and RAM-only servers. Nevertheless, some people are skeptical about ExpressVPN because its CIO has a reputation for misusing covert surveillance tools. It is owned by Kape Technologies, a business with claimed ties to virus dissemination. It is up to the consumers to decide whether or not this is an issue.
Read: Android Spyware: Is Google's Built-In Security Enough
What isn't a problem is ExpressVPN's functionality. The platform's unique Lightway protocol provides strong all-around speeds, ideal for both surfing the internet and streaming Tv and movies.
Their customer service is also excellent. There are services for live chat, tickets, and email help available 24 hours a day, seven days a week.
What is the total cost of all of this? ExpressVPN begins at $8.32 per month with a long-term contract. It's a high-end VPN with a long list of capabilities, and the pricing reflects that. The good news is that a 30-day money-back guarantee covers all contracts, no questions asked.
You have a chance to get 25-30% discount with this ExpressVPN Coupon for your first purchase.

NordVPN is one of the most well-reviewed VPN systems available. It strikes a mix between speed and security while allowing access to multiple streaming services such as Netflix.
If you want excellent streaming, this is your best option. You will be able to bypass practically any geo-restricted website with NordVPN. Netflix, Amazon Prime, Disney+, Hulu, and HBO function well. To top it all off, you can use NordVPN's SmartPlay function to stream on hardware that doesn't support VPN.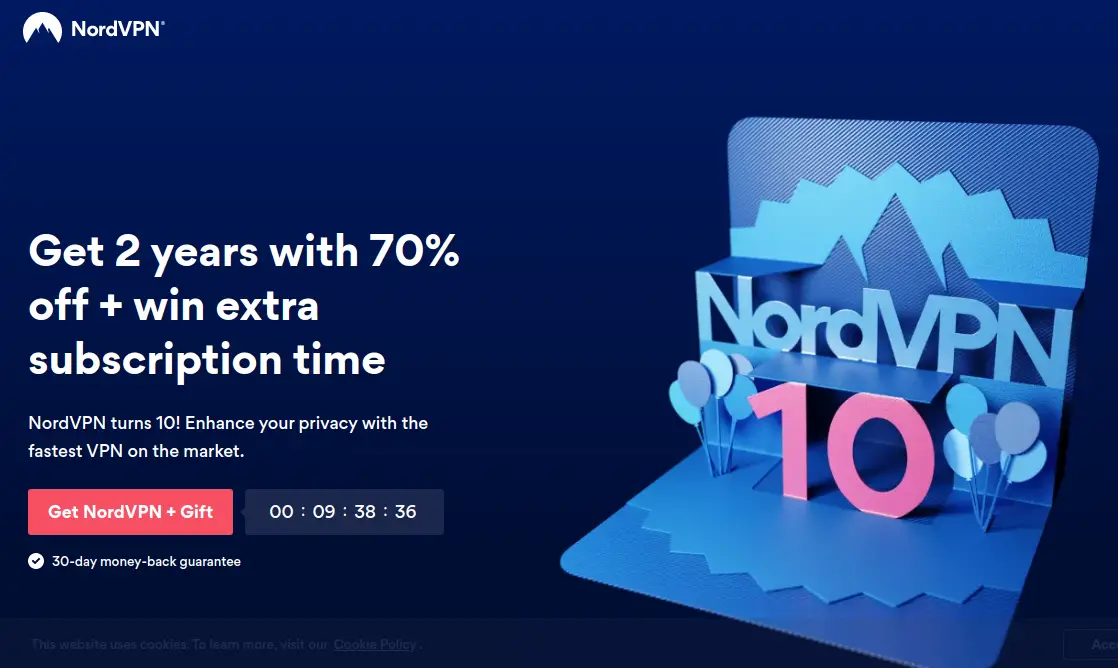 NordVPN has a huge array of components. For truly safe web surfing, there is an ad blocker and double VPN and interaction with the Tor network. CyberSec features to stop malware, corrupted websites, and advertisements, and there is an internet kill button in the event that your VPN connection breaks. NordVPN also provides split tunneling and a free SOCKS5 proxy. With disguised server capability, you may utilize the program in countries where VPN use is prohibited, such as China.
NordVPN enables users to access one account on up to six devices at the same time, allowing you to share one account across many devices (or between several family members). The platform is compatible with Windows, macOS, Android, iOS, Android TV, Amazon Fire TV, and Chrome and Firefox extensions. It may also be manually configured on routers, firewalls, and other hardware.
NordVPN also addresses all of the basics in terms of safety. NordVPN, which is based in Panama, is not required by law to gather any data on its customers. And it doesn't: its no-logs policy, which has been independently certified by Pricewaterhousecoopers, reflects this (PwC). You'll also get powerful AES-256 encryption, one of the most up-to-date encryption algorithms available.
NordVPN is one of the fastest VPNs we've tested due to its proprietary NordLynx tunneling algorithm, which provides the quickest website speed on the listing. Though your connection may vary due to a variety of circumstances, you should not encounter severe slowdowns when using this VPN. Customer service is also quick to reply – and it's open 24 hours a day, seven days a week, so there will always be someone on hand to assist you.
Read: 4 Top Security Tips When Remote Working
If you buy a two-year subscription service, NordVPN VPN starts at $3.71/month. Yearly and monthly memberships will be more expensive. The pricing is close to the industry norm – but the VPN's quality is much above it.

ProtonVPN is the best option for individuals who value privacy. It's the only VPN that employs its own 'Secure Core' network, which means your activity is routed via privacy-friendly countries like Switzerland and Iceland first to avoid compromised VPN servers (which regrettably occurs), and your IP address is never disclosed. Even better, it employs Perfect Forward Secrecy, ensuring that your encrypted information is not intercepted and decrypted afterward. With ProtonVPN's no-log policy, Tor connectivity, and location in Switzerland (a nation noted for its privacy rules), you can be confident that your data is secure.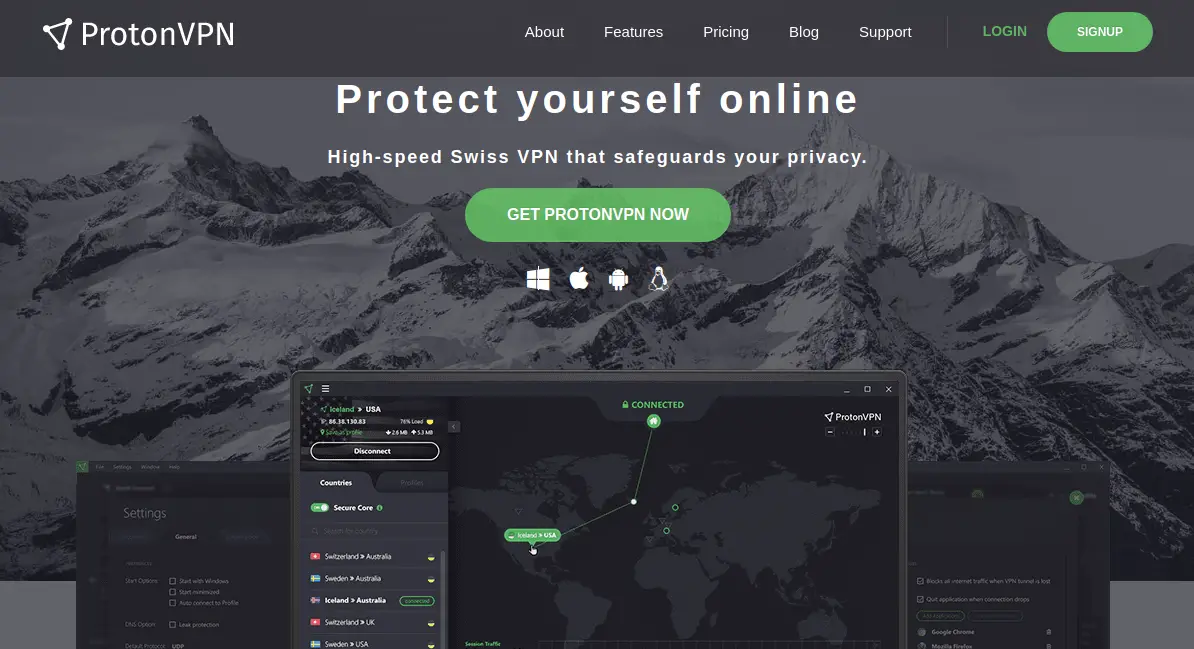 Oh, and you can use it for free! While this is a significant bonus on our list, it only provides access to three countries on a single device with finite speeds. This is enough for casual browsing (since it is a nice easy freebie). However, the service also offers reasonably priced subscription options, as well as its one-of-a-kind ProtonMail, which encodes your communications. However, ProtonVPN falls short due to a shortage of servers and locations. Connections can be a little slow even with its all-access Plus plan, which is quite a deal more costly than the faster VPNs on this list. Its few servers slow ProtonVPN, but once they get more, their reach will be limitless.
---
If you like the content, we would appreciate your support by buying us a coffee. Thank you so much for your visit and support.