Do you wish to read Whatsapp messages that have been erased on your Android device? Then continue reading. I'm going to show you two simple ways to view revoked Whatsapp messages. WhatsApp launched the Revoke option to both Android andiOS last year, and this feature has the potential to be both beneficial and unpleasant.
For those unfamiliar with this capability, it essentially allows you to remove a message from the recipient's device. If you send the wrong message, the revoke feature was implemented to delete it from the receiver's side.
However, it can be unpleasant if someone sends you a message and it is canceled before you can read it. You can't read any messages in WhatsApp once they've been revoked by default. However, a few more strategies and ways can be employed to achieve the same goal.
WhatsApp is, without a doubt, one of the best messaging apps available. WhatsApp is almost universally used for online communication. Also, WhatsApp has a lot of functions, the most important of which is the ability to delete sent texts.
If you want to read the full WhatsApp conversation of your kids, spouse, employees then, you have to use WhatsApp spy apps. Spy apps allow you to secretly read messages.
Read: How to send SMS from your computer
Well, that's all I'm going to write about in this article. So let's get started:
How to read revoked WhatsApp messages?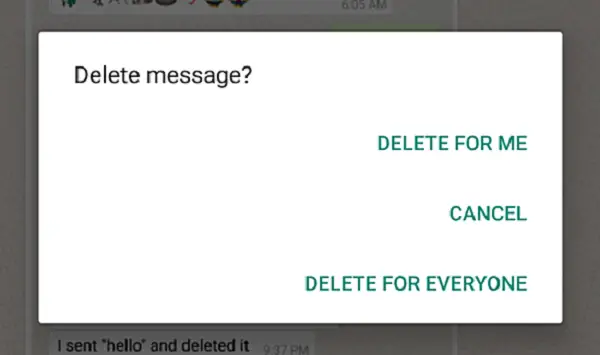 On WhatsApp, there are two ways to read revoked messages. I'll talk about WhatsApp backup in the first method. And for the second method, I'll discuss using third-party applications to read messages that have been revoked.
Method 1: Use WhatsApp Chat Backup to read revoked messages.
If you mistakenly erased a chat and want to retrieve it, WhatsApp chat backup can assist you.
As you may be aware, WhatsApp performs a daily backup at 2 a.m. every night by default. You can, however, choose between daily, weekly, or monthly backups for your chat. However, a daily backup is recommended, and I hope you have already done so.
So, to recover lost WhatsApp conversations, follow the procedures below:
Step 1: To begin, you must first uninstall WhatsApp from your device. Then, via the Google Play Store or the Apple Software Store, reinstall the app.
Step 2: Next, accept the terms and conditions and complete the registration process by entering your phone number.
Step 3: You'll be asked to restore chats from a backup as part of the registration procedure. Select the restore option to have your WhatsApp conversations restored.
When it comes to seeing revoked messages, however, this procedure may not always work. And this is where WhatsApp mods can come in handy.
Read: How to use multiple Skype accounts at the same time In Ubuntu
Method 2: Use third-party apps to see revoked messages
You may find several apps on the Google Play store that will tell you which messages have been deleted from your WhatsApp account. Such apps save all of the messages you receive through your notifications.
And if someone revokes a message, you can go to this app and review the message that has been stored. However, such apps only work when WhatsApp is minimized.
If you're using WhatsApp, you won't get any message notifications, and the app won't save the message. Because the Play Store offers a variety of such apps available for free, deciding which one is the best might be a challenge.
As a result, we'll be using the Anti-delete app in this post, which works wonderfully. So, if you want to view revoked messages using this software on your Android device, follow these steps:
Step-1: To download and install the Anti-delete app on your Android device, go to the Google Play Store or click this link.
Step-2: Allow all of the essential permissions that the Antidelete app requests once installed on your Android smartphone.
Step-3: Check to see if this app is enabled on your phone and indicates Service Running inside the app.
Step-4: After this, the Anti-delete app will continue to save all WhatsApp messages received via alerts. You'll also get a notification if someone deletes a message from your WhatsApp. You can use this app to see which WhatsApp messages have been canceled.
There are a few additional apps you may use to read deleted WhatsApp messages besides the Anti-delete app. However, you should be aware that granting a third-party app access to your smartphone's notification system poses a significant security risk.
Additionally, once your smartphone has been restarted, the notification log is erased from the Android system, making it hard to retrieve messages even when using third-party apps.
Read: Best messaging apps for iOS
Before sending a WhatsApp message, you should still consider your options.
You might find the option to delete a WhatsApp text useful. However, this does not imply that you can switch off your brain when utilizing the instant messaging application. The other individual has the same seven minutes, which is sufficient. What if he disconnects his internet after you send him a message?
Furthermore, it's possible that the receiver isn't using a version of WhatsApp that enables the erase feature. In that situation, you won't be able to undo your blunders.
Conclusion
So there you have it, a simple response to your question about How to Read Revoked Messages on Whatsapp. Now go ahead and test out both of these approaches to discover which one works best for you. Also, if you have any confusion, please leave a comment below.
---
If you like the content, we would appreciate your support by buying us a coffee. Thank you so much for your visit and support.