Mobile apps are becoming increasingly popular among businesses of all sizes. From healthcare and food delivery to online payment and eCommerce stores, there's almost no industry where apps haven't proven to be essential for effective communication with customers or established their marketing potential.
If you want to prepare your business for the future, you will need a mobile app. The fear of expensive developers doesn't need to hold you back any longer – the right app builder platform can get your brand on the path to a strong mobile presence within days.
Here are 7 ways your company will benefit from having a mobile app.
Increase Your Visibility
According to eMarketer research, people spend more than 2 hours a day using mobile apps, but only about 25 minutes browsing the web on a mobile device. The fact that users spend more time on their smartphones than computers is great news for businesses — all you need to do is adjust your marketing strategy to match this major shift.
Read: Software every Business needs to have
People are practically glued to their devices. They use them while riding to work, when waiting for the bus, and even while watching TV. Having an app will expose your business to a large number of eyeballs. Your name, logo, and tagline will be seen by masses of people, which is great for building brand recognition. When a mobile app user needs a certain product or service in the future, chances are they will choose an already familiar app over its competitors given the current mobile app development costs.
Provide Value to Your Customers
Today's customers are interested in useful products, but with so many brands offering the same or similar things, it can be hard to choose. An app is a great way to nudge customers to your shop.
For instance, if you have a loyalty program, you can make it digital or you can use location-based push notifications on your mobile app. When customers are near your brick-and-mortar location, they'll get a message inviting them to visit your store. You can also send a 'thank you' message to your customers after they've made a purchase.
Improve Communication
If customer service is one of your top priorities (as it should be), an app is a perfect solution to increasing customer satisfaction across the board.
Read: How to start your own digital business
At some point, customers will want to get in touch with you, whether to ask questions about the products/services they're interested in or to file a complaint. If you are hard to reach, you're taking the chance of losing tons of customers. There is nothing more effective in communication with potential and existing clients than direct personal communication as it guarantees a faster and more effective response to issues and inquiries.
An app can be a great solution that facilitates this reach. For instance, you can have a help desk on the app where clients can post their orders, questions, complaints, and comments. If you can manage to respond to all this communication, your customer engagement will improve significantly.
Boost Customer Engagement
Having an app can help increase engagement through customized features and options as it provides 24/7 visibility, quick booking and buying options, customer service and support options, as well as secure transactions and payment options.
To further boost your engagement levels, you should also consider adding social features to your mobile app, such as logging through social media accounts, comments and reviews, and in-app messaging.
Mobile apps features and content can be customized based on the user's preferences, engagement, and location, which will help improve the overall UX.
Image source: Unsplash
Improve Customer Loyalty
Customer loyalty is achieved when you continually remind your customers of your existence and the products/services you offer. But how do you cut through all that noise? Social media and email marketing, website banners, TV and radio ads, billboards, newspaper ads, flyers, coupons… There's already too much advertising out there and your message can easily get lost in the crowd.
Take some time to rethink your ad and marketing plan. An app allows you to make a sincere and truthful connection with your customers. The fact that your business is at their fingertips means increased loyalty and brand recognition.
Boost Sales
Today's customers are more comfortable exploring and searching products and services online rather than visiting a physical store because it saves them effort and time. In fact, more than 50% of online orders are done via smartphones for the same reason: it requires little effort to search and order the desired product within minutes.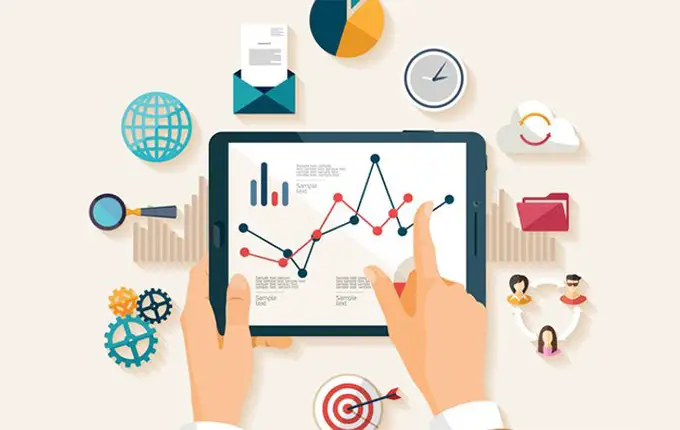 Image source: Lyfemarketing
Leverage your app to increase sales and boost revenues. Add your products or services under categories with advanced search options, a simple ordering process, and secure payment options to provide an outstanding shopping experience and, as a result, increase your profits.
Collect Valuable Customer Data
Mobile apps bring tons of information about your customers. Using Google Analytics, you will be able to track your app users' activity including:
User preferences and demographics (age, location, gender, types of used devices, etc.) and preferences

Daily, weekly, and monthly active users

Channels that directed them to your mobile app

Completed conversions (in-app downloads, transactions, calls, etc.)

Total transactions and revenue generated from your app
Analyzing these data will allow you to evaluate your business performance and adjust your app features and content to provide an even better user experience.
Final Thoughts
Any business should strive for development by staying tuned to the latest technologies and implementing innovations that can improve its efficiency. Mobile apps can provide many benefits to companies of all sizes and industries. If you're still not sure whether you need an app, we hope that the 7 benefits listed in this article will help you make the right decision.
---
If you like the content, we would appreciate your support by buying us a coffee. Thank you so much for your visit and support.