Don't you just hate it when you lose important data from your hard drive? We have all been there. It almost seems like these circumstances are inevitable. Many people think that if you use a redundant array, you are protected from data loss. However, that's not right. RAID configuration can be destroyed for many reasons. For example, it can happen due to the replacement of the wrong disk, RAID controller failure, operator error. In this case a user has multiple disks, on which the data is still stored, but he can't access them even with the help of special data recovery software.
Read: Is There Any Free Software For Data Recovery
Fortunately, there is a software that helps you recover your data from hard drives. Keep on reading to find out more about ReclaiMe Free Raid 5 Recovery, its features, and how you can use it.

What is ReclaiMe Raid 5 Recovery?
ReclaiMe Raid 5 Recovery software allows you to recover data from a redundant array of independent disks or RAID in the following configuration parameters: Disk Order, Block Size, Start Offset, Disk Sequence Parity Position and Rotation, Parity Delay Pattern, etc. Take note that the software is designed to work on multiple hard drives. If you're looking to use it on a single hard drive, we recommend using ReclaiMe File Recovery instead.
Key Features
Let's take a look at ReclaiMe's main features that you will find useful in RAID recovery.
Highly-intuitive and simple
If you're not very experienced in using similar software, there's no need to worry. ReclaiMe is designed to have an intuitive interface. This way, you can easily navigate through the software. No need to have any special skills to operate.
Award-winning software
ReclaiMe has won numerous awards for their recovery software. You can also browse through countless testimonials from satisfied customers.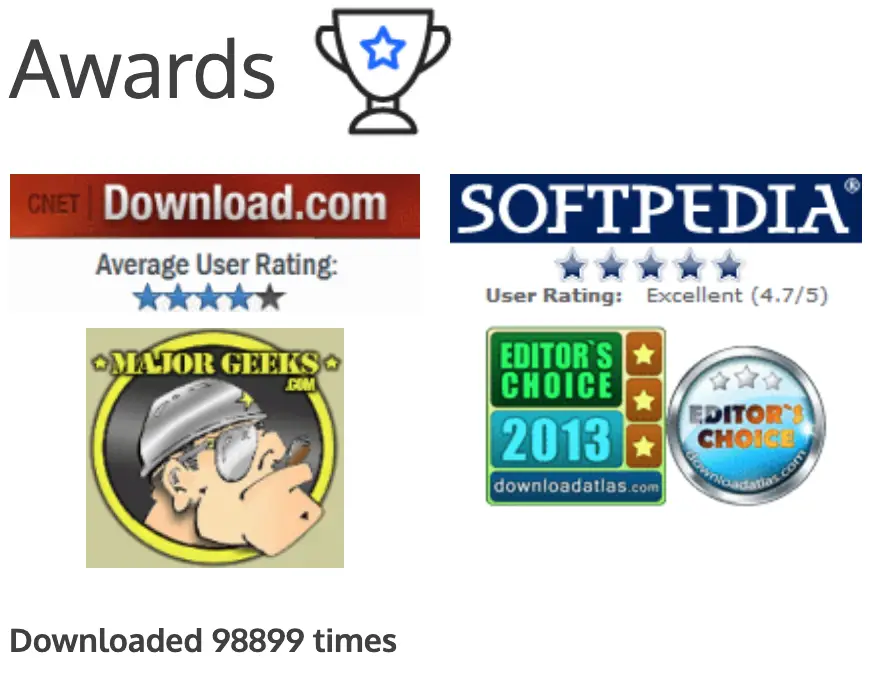 Compatible with multiple RAID types
They currently have Raid 0 Recovery, Raid 5 Recovery, Raid 6 Recovery, and Raid 10 Recovery. In this article, we will particularly focus on how you can use the software to perform a Raid 5 Recovery.
Read: How to Recover CR2, RAW, NEF, CRW Photos after Deleting
Free to Use
ReclaiMe is 100% free for you to use. There is no adware and spyware. It's also perfectly safe to use.
How to Use
First, you have to download the ReclaiMe Free Raid 5 Recovery tool and follow the steps to install. Once you have launched it, it will show you all the available member disks. Put a check on the box beside each drive and click the Start RAID 5 green button. Don't forget to click on at least two disks.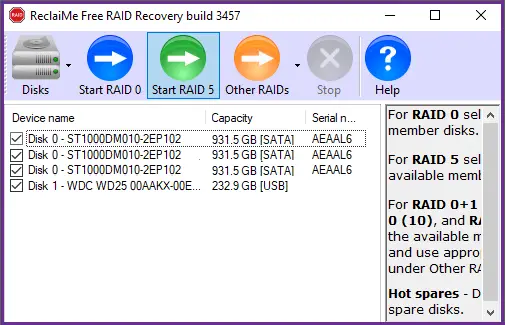 You will receive a prompt once the process is finished. Following this, the configuration parameters for RAID 5 will be restored. Note that determining the parameters is a prerequisite to recovering your data.
You have three options after this. You can download ReclaiMe Data Recovery Software; save the recovered parameters in an XML format; or use other data recovery software to transfer the parameters.
You can also perform a manual RAID 5 recovery. Just note that it is certainly more complex if you're not used to performing this task. Thus, we highly recommend using ReclaiMe to make the process easier, faster and more convenient.
Conclusion
If you ever need to rescue your hard drives because of a crash or any system error that has compromised them, you can always rely on ReclaiMe Free Raid 5 Recovery to have your back. It's a free software that you can download and use on your computer.
---
If you like the content, we would appreciate your support by buying us a coffee. Thank you so much for your visit and support.