Hiring an ideal employee is a difficult task. You have to find the perfect person for the job, and you also need to find them quickly. With so many candidates available, it can be hard to find an employee who stands out.
One way you can enhance your probability of finding the right candidate is to use recruitment agency software.
Recruitment software is the future of hiring because it makes the process easier and more efficient. It lets you make your recruitment processes more streamlined. Also, it makes it easier to find the best candidates and do applicant management. It lets you track your hiring progress, ensuring you're fetching the most out of your recruitment efforts.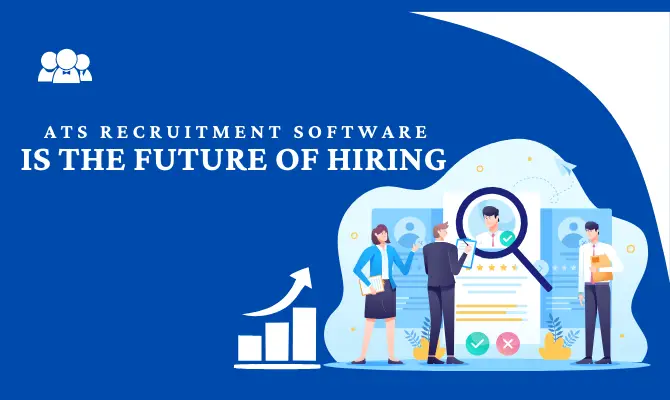 Recruitment software is no longer a luxury. It's essential to manage and hire the right people. Let's get to the discussion about why ATS is the future.
Read: 8 Skills Needed To Become A Hirable NodeJs Developer In 2022
1. Centralizes All Hiring Methods
One of the most enormous benefits of using an ideal ATS recruitment software is that it centralizes all your hiring methods. This implies you no longer have to go to different pages one by one, looking for the job board that matches your company's specific requirements.
Instead, you can search through all the available boards on the platform and find the perfect match for your needs.
A centralized ATS makes communication between recruiters and hiring managers much easier. Rather than sending individual emails to multiple people, you can easily create groups and send automated messages to everyone in the group, saving time and energy.
A centralized ATS recruitment software saves you money in two ways. First, it eliminates the need to visit different websites. Second, it reduces the amount of time spent interviewing candidates.
2. Better Candidate Sourcing
Candidate sourcing is one of the most necessary aspects of HR. ATS recruitment software helps you find the best candidates for your open positions and save time and money. Here are key reasons why ATS is the future of hiring:
ATS helps you quickly and easily search through a database of candidates, saving you time and money.

It provides detailed information on each candidate, including their resume, skills, and experience.

It offers alerts when new candidates are added or updated so you can quickly access them.

It makes it easy to compare candidates based on your specific needs and preferences.

It provides a dashboard that keeps track of all your hiring progress, making it manageable to see where you are and make adjustments as needed.
Read: What Is an Applicant Tracking System (ATS)
3. Better Candidate Screening
Businesses continuously work to be more diverse and make hiring decisions based on merit. The best way to adopt fair procedures is using applicant monitoring software. The HR management is given the tools by the ATS software to develop a clear and transparent approach and cut prejudice.
Additionally, you can quickly review hundreds of resumes and spend more time on the ones that matter. You can define rejection or crucial selection criteria with application tracking software.
For instance, X years of experience would be your primary criterion if you were hiring for a senior management role. You can remove applicants with less experience with the use of this software.
We can expect that HR software will help managers make better decisions in the future. For instance, data from the application monitoring software system will provide insights into the types of people that perform best for various roles.
Every writer you hired, for instance, had technical training, and IT workers tended to stick around longer than non-IT workers. You will achieve a more helpful understanding of the needs of your business and what has worked well over time with the aid of such insights.
Read: Busting HR Technology Implementations in Recruitment Myths
4. Conforming to Data Regulatory Standards
Good ATSs comply with global policies, including GDPR in Europe, CCPA in the US, or PDP. This ensures that your hiring process is run smoothly and that all data is handled appropriately.
ATS recruitment software can help you manage all your hiring needs. It's from finding qualified candidates to tracking their progress throughout the interview process. Using a good ATS ensures that you comply with all relevant privacy policies and remain compliant with GDPR, CCPA, and PDP.
5. Collaboration Opportunity
Collaboration is possible on two levels. ATSs enable internal collaboration amongst recruiters. It allows them to work on projects through a single interface, keeping everyone informed and on the same page.
Additionally, you can invite hiring managers and recruiting firms outside the company. So they can keep an eye on particular individuals and aid in decision-making. Giving clients access to assured high-quality hires can help to meet their needs better.
6. Extensive Reports and Analytics
Every recruiter has to have access to this resource. You must be able to track all the crucial data for continual improvement with a complete ATS. These KPIs include information on hiring parameters, including:
Time to hire,

Quality of hire, and others.
They can significantly impact the organization. An ideal ATS offers detailed statistics and analytics. They can be very easily exported with a single click. It will be helpful if you fully comprehend it. Because you can adjust your hiring strategies as necessary based on data-driven facts.
Read: 6 Ways a Human Resource Management Software Will Be Useful for Small Businesses
7. Lowering Hiring Costs
To cut down on business expenses, you need an ATS. You may make wiser judgments in the cheapest manner workable because of all the above mentioned factors.
It lowers the likelihood of a poor hire, increases recruiter productivity, and generally increases business performance! Every firm needs to track its numbers, so cutting expenses and raising revenues as much as possible are preferable.
The correct technologies are essential if you want to keep up with the constantly evolving trends and requirements of the recruiting market.
Compared to performing things manually, using an ATS has more obvious advantages. Make the most of your hiring strategies to benefit the company by taking advantage of its advanced potency.
Takeaways
ATS recruitment software offers several benefits that make it the future of hiring. By automating the finding and reviewing of resumes, ATS reduces the time required to screen candidates.
Furthermore, ATS enables hiring managers to manage their resumes more effectively, making it easier to find qualified candidates. Finally, with the ability to track candidate performance over time, ATS can help managers identify which candidates are most successful. Also, make better decisions in future recruiting rounds.
---
If you like the content, we would appreciate your support by buying us a coffee. Thank you so much for your visit and support.