Last updated on Jan 3rd 2022 – Most people use web clients such as Outlook or Gmail , but we must also bear in mind that there are alternatives developed by third parties that can help us manage our emails. In this article, we will outline some of the best email
management programs.
Mozilla Thunderbird
Mozilla Thunderbird is one of the best email clients around. It is very useful and intuitive if you are used to browsing with Mozilla Firefox, making it really easy to use Gmail or Hotmail emails, which are automatically configured to make the task straightforward. This setup wizard is also valid for most accounts that work with IMAP, SMTP and SSL / TSL servers, just entering your name, email address and password will be enough for the application to track the rest of the parameters in the databases and you don't have to add any more fields.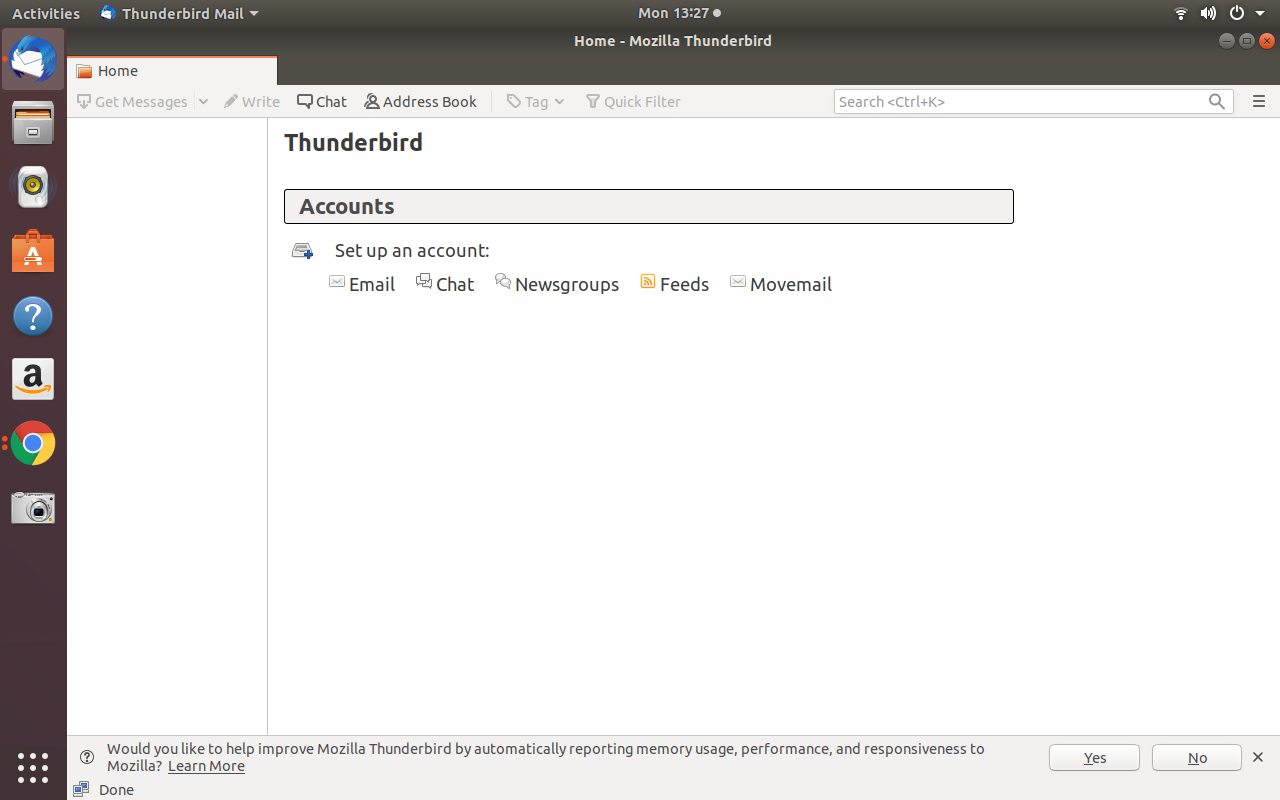 Best email clients for linux
One of the key successes of Thunderbird email client is that it is highly customizable, with more than a thousand add-ons to modify it at will, and with the possibility of integrating it into social networks or making use of its own integrated chat . One of the most useful options is tabbed email management: As with any web browser, with Thunderbird you can open several tabs of open emails simultaneously so that you can manage them as quickly as possible. In addition, it uses various external means to send attachments and its open source allows it to also be compatible with GNU / Linux and Mac OS X , in addition to Windows.
Read: Cold emails : How to Properly Validate Your Emails
Mailbird
Mailbird is another of those services that have been with us for several years, which allows it to continue growing and offering new benefits every time. It is one of the best Email clients that we can find in the market. Regarding the interface, it is interesting to highlight the configuration by colors choosing from millions of possibilities, including the dark theme for the night and the light theme for the day. Sound notifications can also be configured with various sounds of your choice or by uploading your own audio files.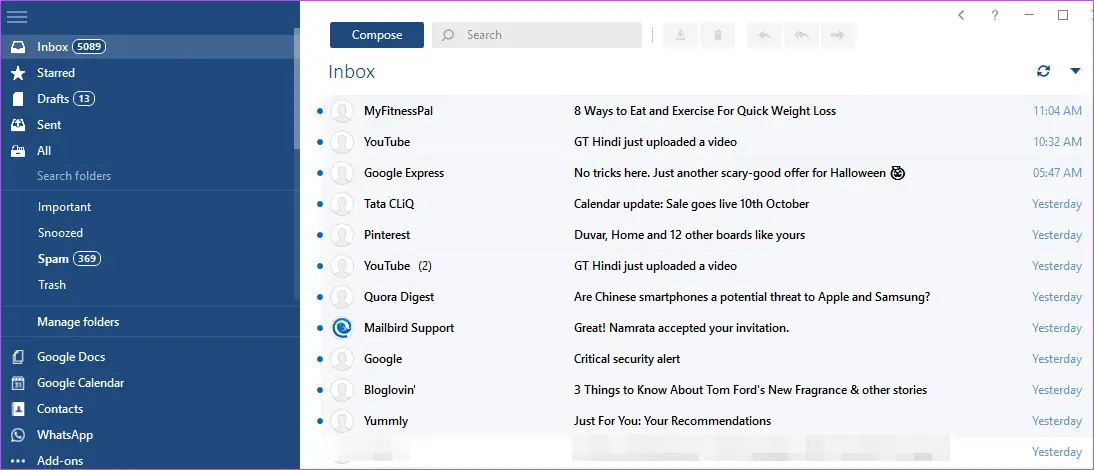 It stands out for offering a compact design, with which the screen is not loaded with unnecessary elements. It offers a unified inbox and the possibility of integrating numerous tools for email and calendar management . The integration with different management applications and social networks is another of the differentiating characteristics: Facebook, Evernote, Todoist, Dropbox, WhatsApp and many more. It is perfectly organized by folders and labels thanks to its integration with Gmail, and it also has a free extensions store so that we can configure it to our liking. Perhaps its biggest drawback is that it can only be used on Windows systems.
Microsoft Outlook
Although there are old versions for free, Microsoft Outlook is only available if we have a subscription to Office 365, although it is a messaging program that is well worth it. It allows you to group and work in an organized way: email, calendar, contacts, tasks and practically anything you can think of. Security is an important aspect in Outlook, currently the home version enjoys the same security measures as the tools used by Microsoft for business clients, including encrypted protection of the entire flow of information.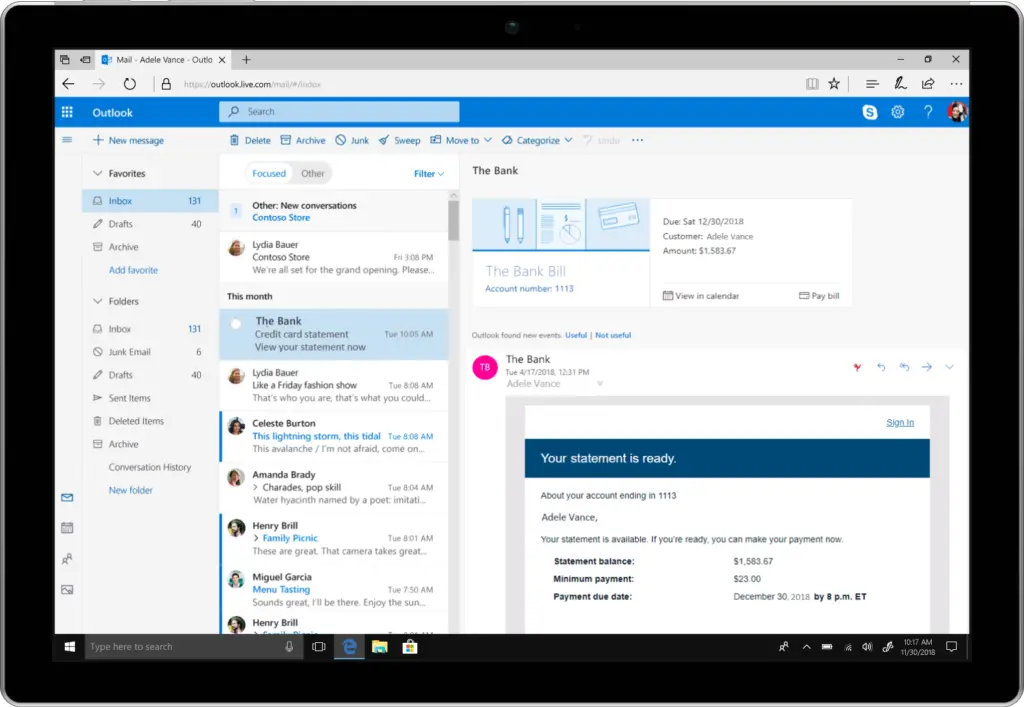 Best email clients for windows 10
In addition, the integration with Office allows you to share attachments from OneDrive, access your contacts and view LinkedIn profiles. Even those of Redmond do not track your personal information in the accesses, sent and received messages and then show you personalized advertising. In addition, it automatically adds payments, invoices or travel or event planning to the calendar. You can even plan and coordinate schedules by sharing calendars and seeing when your coworkers are available.
Read: How to fix: Outlook data file cannot be accessed
There was a time when email clients served the purpose of sending and managing emails. In 2021, the millennials are demanding more intuitive utilities that can make it easier for them to integrate with other applications while checking on their near and dear ones. This brings us to EssentialPIM which has already won accolades as a viable Microsoft Outlook alternative.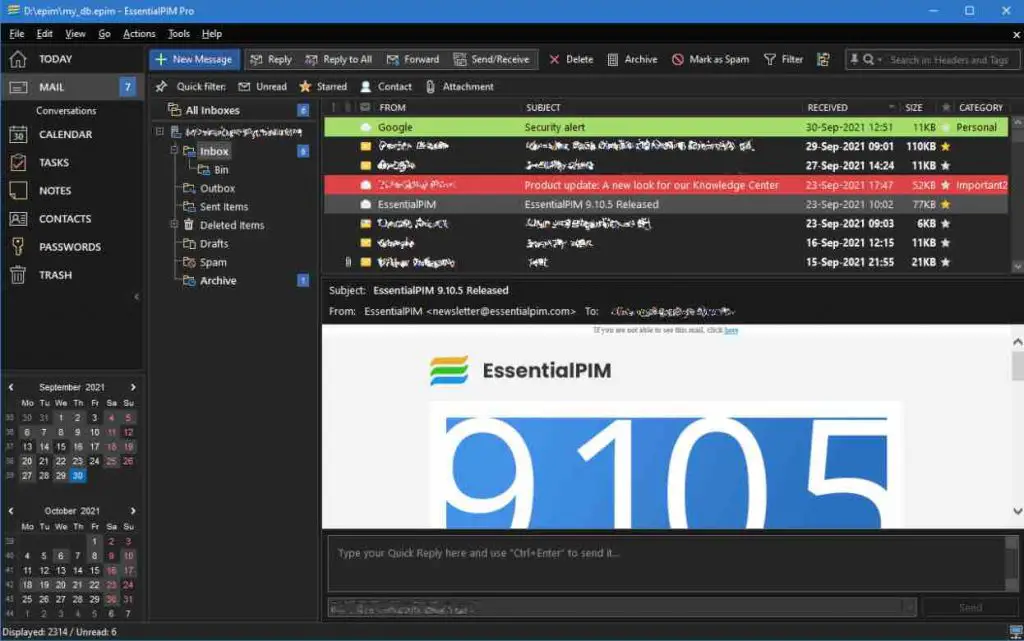 Integrating multiple emails under a common umbrella becomes easy with EssentialPIM which can be used in both online and offline mode. Users can also be completely guaranteed the privacy of their data coupled with the complete PGP encryption supported by this cross-platform utility. Features like email printing, setting of signature, sending emails at a later time allow it to challenge the functionalities of a mature email client. There is also an option of using various filtering tools like find, sort, and filter to scan through emails more efficiently. It becomes easy to enjoy an overview of all your email accounts from different service providers such as Google, Yahoo, etc. in a collective manner with EssentialPIM. 
Managing data on the go becomes easy with EssentialPIM which also allows seamless synchronization with popular cloud services. Cross-linking of data ensures that changes made in one field get reflected in the other as you store data about notes, appointments, tasks, passwords, and contacts.
Postbox
Another email manager to keep in mind is Postbox . It not only includes everything we can expect when organizing our emails, but also includes specific characteristics that make it different from the rest, earning points with respect to the rest of the options. For starters, the account settings are perfectly compatible with emails from GMail, iCloud, Yahoo! Mail, AOL, Office 365, Outlook, Fastmail, and Protonmail . Which means that you will only have to enter the email address, username and password to activate your account in Postbox.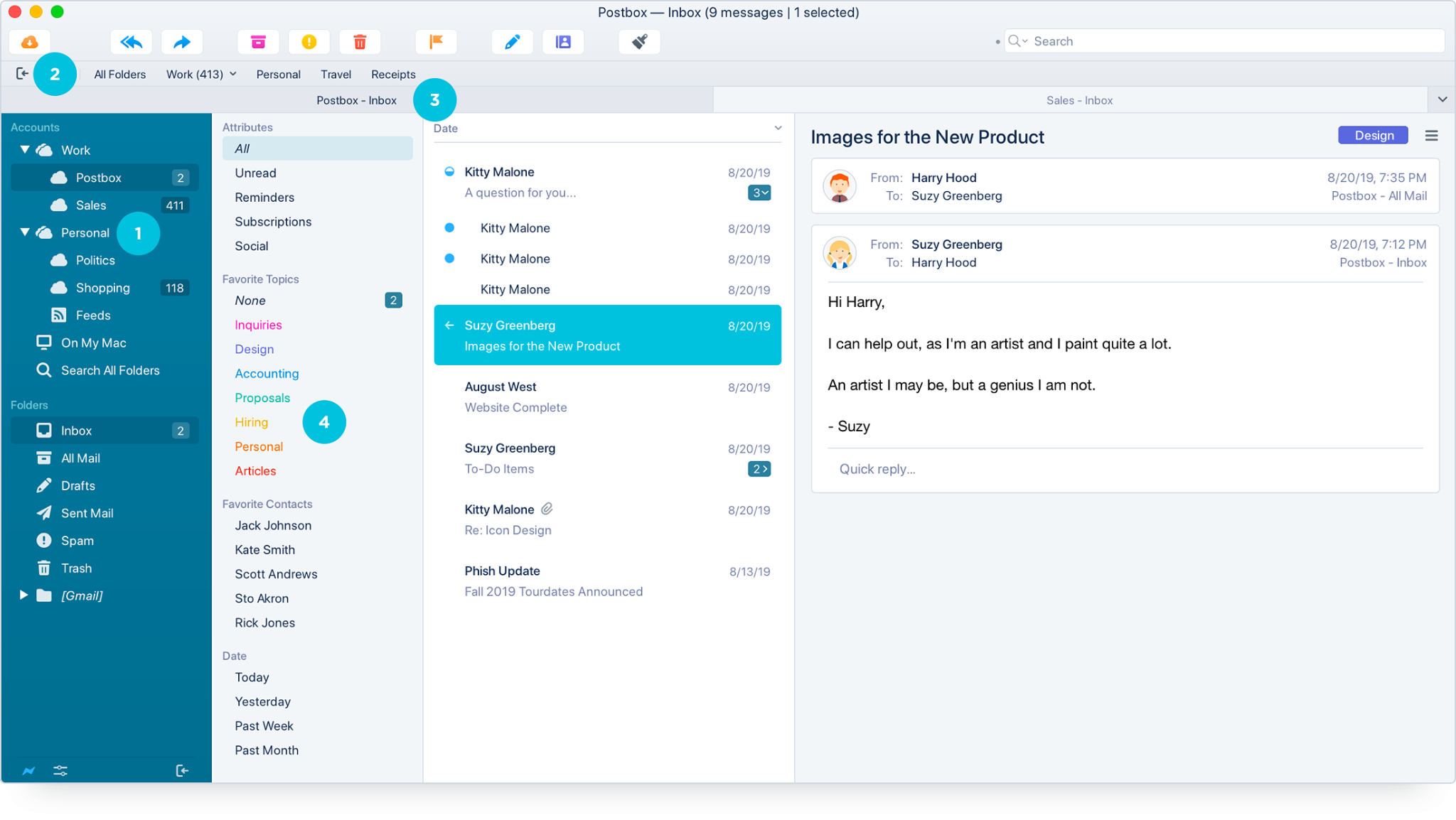 Postbox folders sync with Gmail labels , to put everything in the right order and help better organization. Its integration with Gmail also highlights the use of our contacts, auto completing their emails. In addition, we can also access the information of our Facebook, Twitter or LinkedIn contacts by simply linking our accounts in the configuration tab. The most professional will have access to 25 customizable email signatures to use in a single click, as well as access to the HTML code to review or make the necessary changes.
Polymail
A manager with a great future and no less present is Polymail , an application for OS X that stands out and is especially useful for those who require teamwork in their daily tasks. Especially since it has message traces that allow us to know when and who has read our emails. The application has an activity feed in which we can see everything in detail in real time, and we can organize everything perfectly thanks to a great design and its high customization.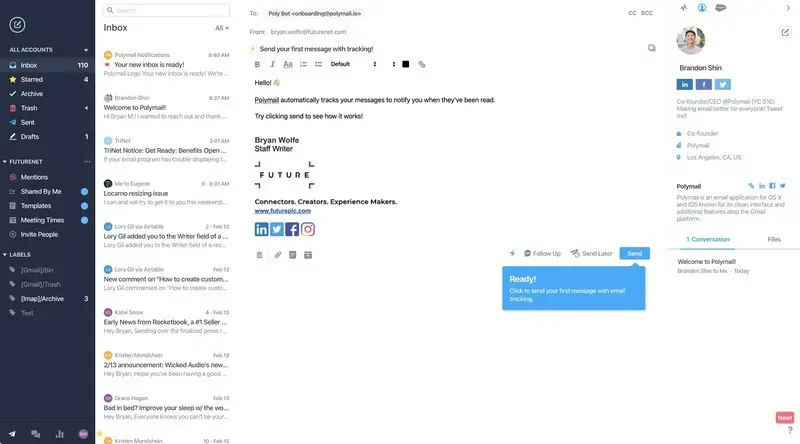 In addition, it has other very noteworthy features, such as configuring an email to send it later or postponing an email so that it appears later . We can even cancel an email within seconds of sending it if we have sent it ahead of time. The main task of Polymail is to save you time reading, managing and answering emails, that is why conversations are displayed in a more visual way and it is easier to manage those endless threads.
Read: Leveraging Mobile Email Marketing –  The Best Approach
eM Client
eM Client is an excellent option when it comes to finding a free email management program -although it has a Pro version. This is one of the multiplatform email clients that is compatible with Windows and Mac OS. It is a very complete client app with which the messages are sent out encrypted . You will easily see the threads and conversations and the options to respond to each one with predetermined responses .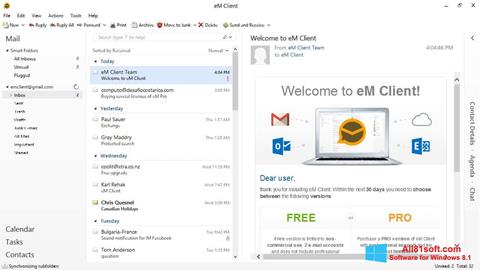 This service integrates with systems such as Gmail or iCloud, being able to import contacts and tasks , as well as the calendar with Google Calendar . It offers calendar , contact book and task list functions to be a complete all-in-one tool. In addition, it can be customized almost to our liking by implementing various widgets that will offer a more personal experience.
Newton Mail
Formerly known as CloudMagic , and although its closure was announced in the summer of 2018, just a few months ago Newton Mail has come back to life to bring back one of the most popular mail applications on iOS and Android. It was known for implementing the read confirmation feature in the emails or being the first to add functionalities such as postponing or undoing a send.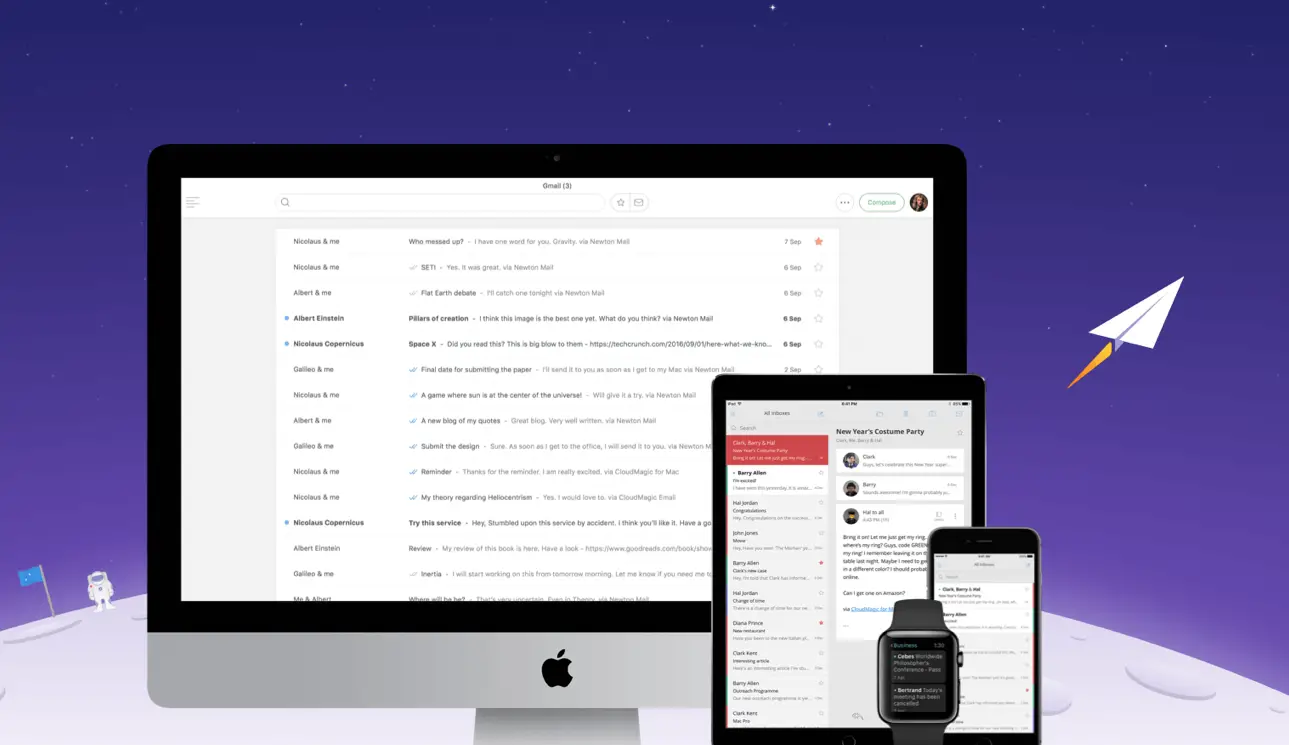 The app offers a practical and intuitive email management. If you dare to give it a try, you can do it for free through its 14-day trial.
SeaMonkey
SeaMonkey is a complete suite of office applications that includes an interesting email client. Some of the characteristics of this particular client is that the email messages are organized based on a personalized description, that it offers different functions to classify all the messages in our inbox and that it allows highlighting certain messages to quickly distinguish them from the rest in a visual way.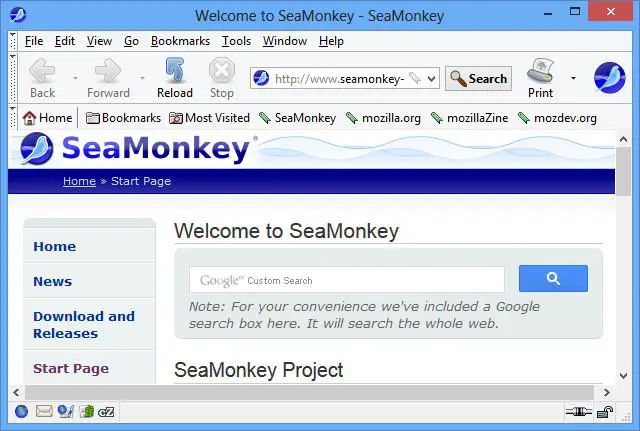 Another feature to highlight is message notification which allows adding a digital signature and integration into LDAP directory services. It has a spam filter that we can customize, as well as the option to configure and manage different mail accounts. Encryption is done using S / MIME, so SSL / TLS encryption must be enabled manually on the client itself.
Evolution
It is another free email client that is very popular especially among Linux operating system users . Specifically, it is a group collaboration program that works in a very similar way to Outlook, so the management and organization of messages, contacts, notes or tasks will be very familiar to us if we are using or have used the Microsoft mail client.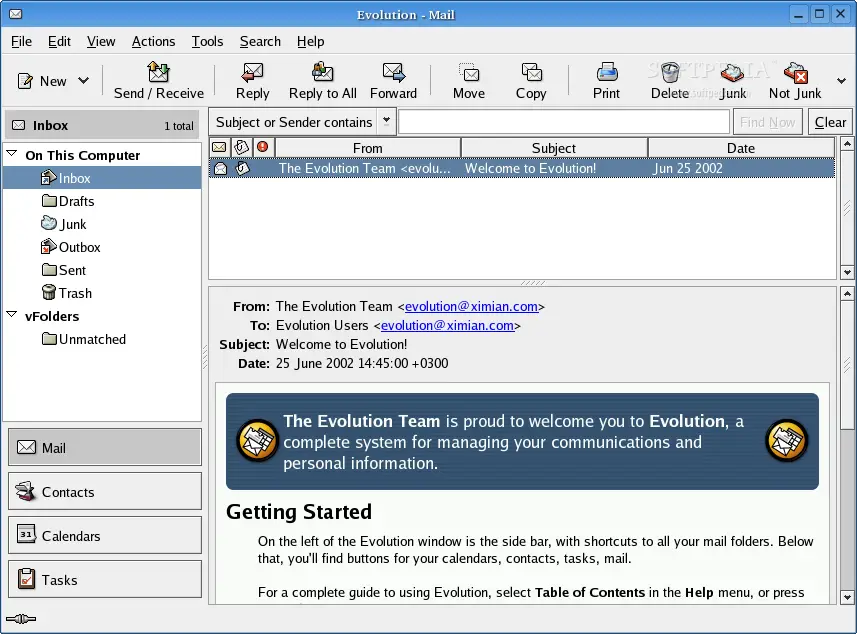 Evolution is available for Windows, Linux and Mac, has a customizable filter for email messages, an RSS reader and is compatible with Microsoft Exchange Server. Encryption is done by GPG and S / MIME.
Read: How To Attract and Keep Customers Using Digital Marketing
Spike
It is another great email client that combines perfectly the functions of the most classic clients with those of other more modern messaging applications. It has the basic functions such as the inbox, the calendar or the contacts which are integrated into a modern messaging environment so that managing and sending our email messages is much more similar to having conversations with our contacts.
With the simple fact of linking a mailbox with the application, we will no longer have to worry about completing the subject or inserting a signature every time we send a message. It allows AES-256 encryption so that our messages are fully protected. These security measures are especially important for teamwork tools where you can chat in real time about the different projects framed in the inbox. In turn, to promote interaction between multiple collaborators, you can include collaborative notes or a task manager for each workspace.
Claws Mail
This is an email program that does not follow the trend and which has a classic interface. But don't let its appearance fool you, since we are dealing with a fairly powerful email manager, with the counterpoint that everything must be configured by hand (like years ago), so the most inexperienced in this type of configuration can suffer a little. It does not accept HTML, so everything we receive should be in a text format.
It is an email client compatible with POP3 / SSL, SMTP, IMAP and NNTP protocols and you can organize your folders and messages by colored labels. Focusing on the most practical, Claws Mail has multiple templates for default responses, priority email account to reply or send email and dozens of templates to configure the interface. In terms of security, it has an anti-phishing link analyzer .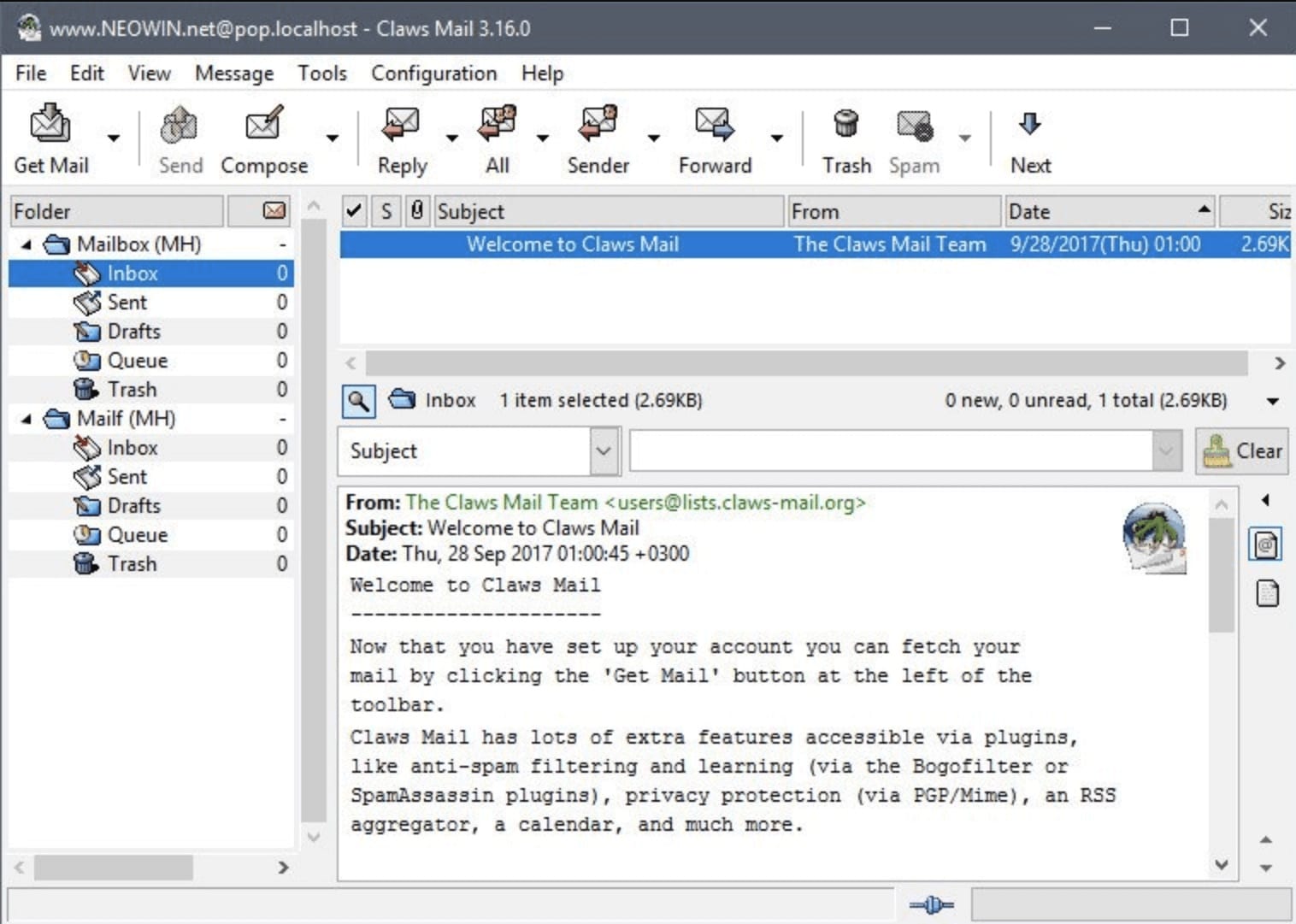 Inky
To begin with, Inky offers versions for Windows, iOS and Android which allows us to carry it on our computers and our phones while synchronizing perfectly between them. It is an email manager with many options, all of them very similar to those we see in Microsoft's Outlook, although with a somewhat more modern design. It is free for Gmail, iCloud and Outlook accounts, for the rest you will have to pay the sum of $ 5 per month.
Security and privacy are the priority for this email client. It has one of the most powerful tools to fight against phishing and other types of malware. Based on artificial intelligence , Inky analyzes the entire structure of your email looking for signs of fraud or scam in your inbox. In addition, you will see an intuitive guide on the procedure to follow when the application detects a malicious or suspected malicious email.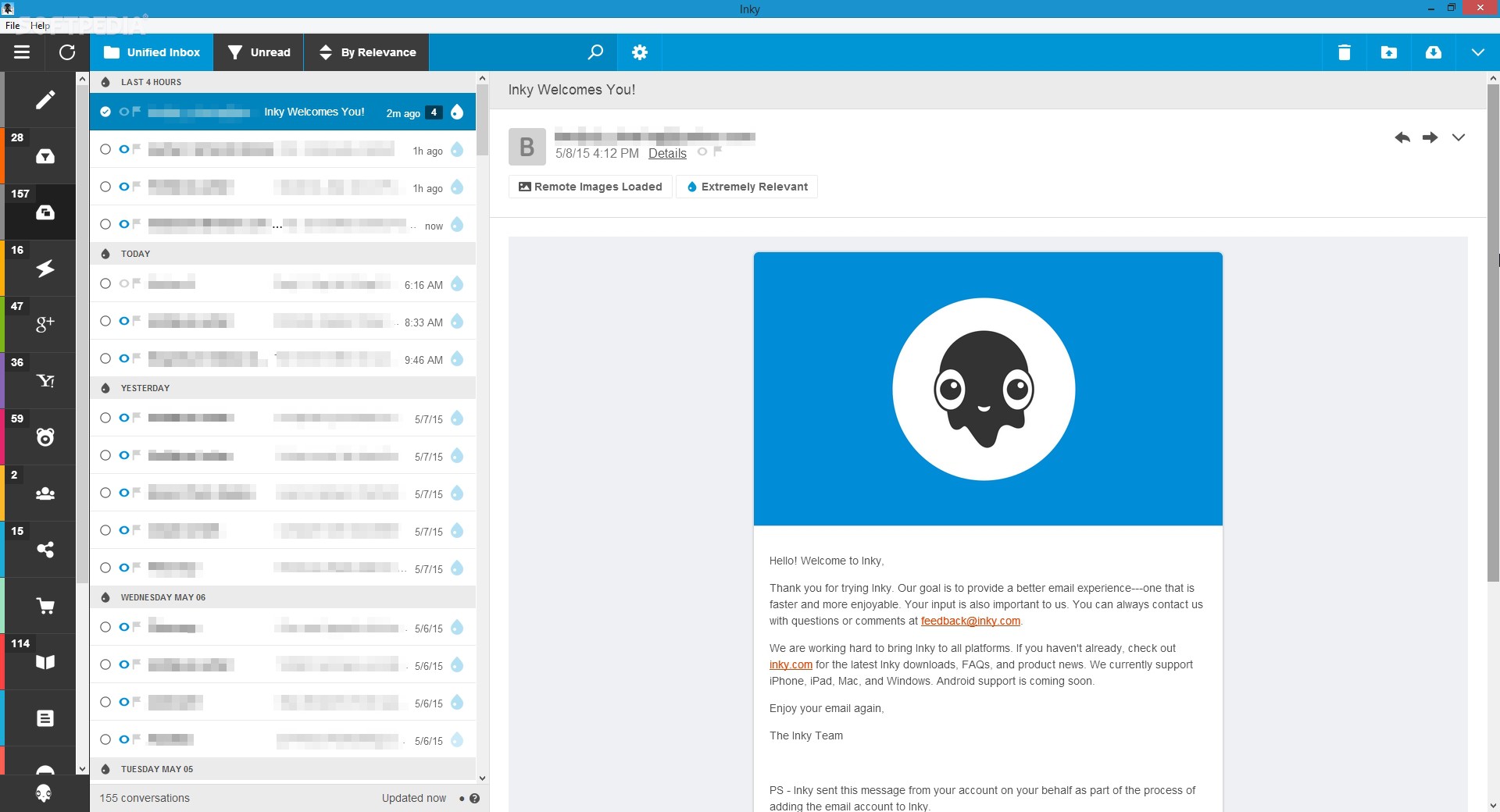 Read: What Is Customer Retention –  A Complete Guide
Spark
This is one of the most widely used cross – platform email clients – available for Windows, Android, iOS, and Mac OS. It has an intelligent inbox to be able to filter the emails received in an organized way and dedicate all the time to important messages. To help you with organization, smart search allows you to find sent or received messages through natural language searches. Within the smart organization you can also postpone email sending and manage them when the time is right. The teamwork is also present in Spark since it can have real time conversations on received emails and manage jointly the draft emails to be sent.
This email client is designed to minimize the time we spend in front of the inbox or composing new messages. This is why you can schedule the sending of emails to choose the appropriate time or activate follow-up notifications so that you do not forget to attend important meetings. You can also delegate email management to another team member or create a link to directly access a conversation. The free version has 5 GB of storage, 5 email templates and two active collaborators. The Premium version ($ 7.99 / month) , on the other hand, doubles the storage and the templates and active collaborators are unlimited.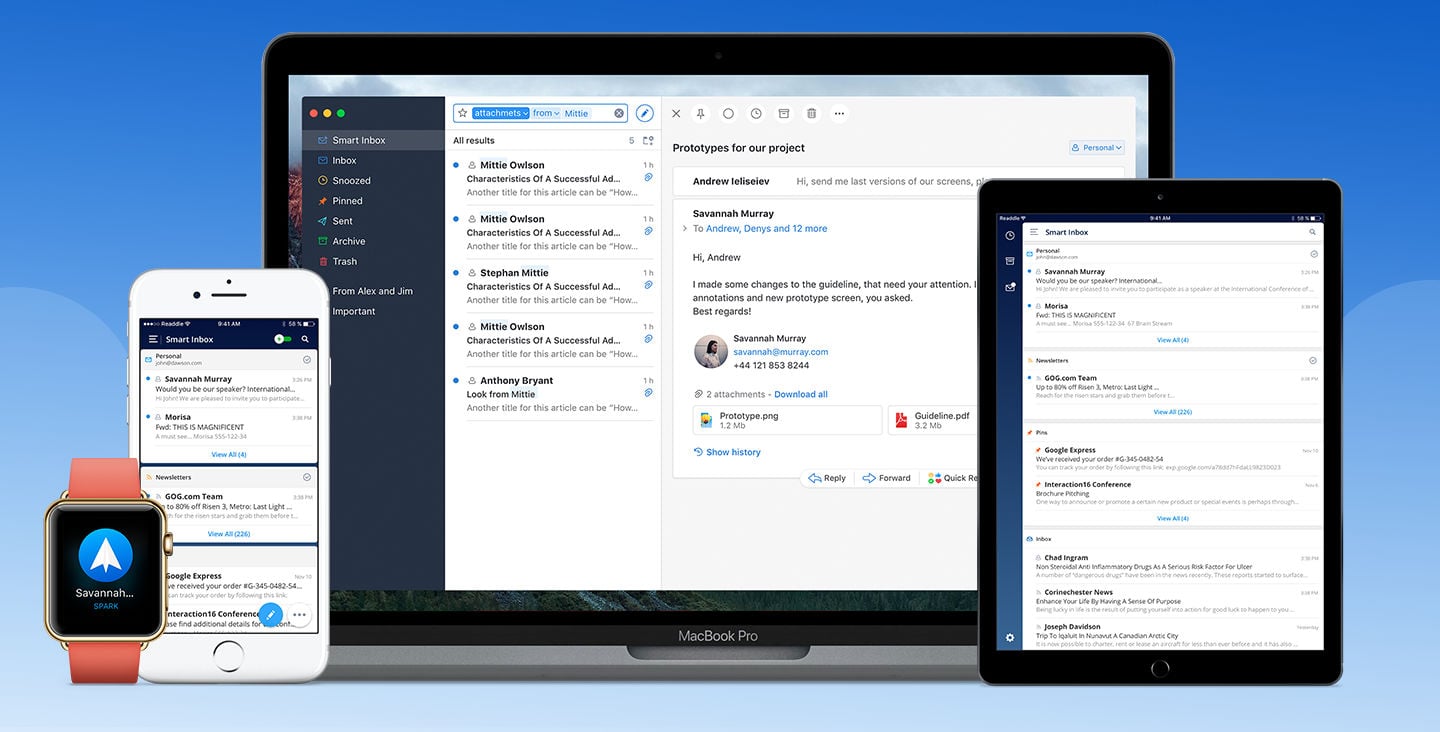 TouchMail
The TouchMail email client is available for Windows, Surface, and Xbox with over 1.5 million downloads. Managing several different email accounts is very intuitive by dividing the accounts into different colors and columns. The interface is ideal for working with the finger or the mouse, allowing multiple selection of messages even from different accounts and senders.
It is perfectly compatible with accounts that work with IMAP servers and with GMail, Outlook, Yahoo Mail, iCloud, AOL and Office 365 accounts. It stands out for the manageability of batches of messages, quickly selecting all the emails that we want to delete or move to another folder with a few finger taps or mouse clicks and dragging them to the new destination. Unfortunately TouchMail is not a free application.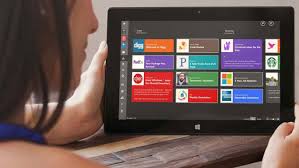 ---
If you like the content, we would appreciate your support by buying us a coffee. Thank you so much for your visit and support.