Font management is a critical piece for today's designers and requires the utmost attention, especially when they are new to the industry. It helps you organize large collections of fonts more efficiently. Also, it is the perfect way to solve problems like dealing with missing fonts, installing and uninstalling fonts.
In the days of printing presses, a font had a specific size, weight, and style of a typeface . The typeface can contain the different fonts condensed , normal , italic and heavy , for example.
Many names describe the weight of a font, that is, the thickness of the characters relative to their height. These ranks, in order of ancestry, as follows:
Thin / Hairline

Ultra light / Extra light

Light

Book / Light

normal / regular / simple

Medium

Semibold/Deboled

Bold font

extra bold / extra

Heavy / Black

extra black

ultra black / ultra
In this article, I'll explain why you should consider using font management software and describe some of the most popular font management packages for Windows and Mac users.
Read: Best pdf converters in 2023
Why font management is necessary
Font management software protects system fonts from accidental deletion and manages the activation of required fonts. Such software sorts, renames, finds, views, fixes or uninstalls damaged fonts.
Most importantly, font management software exists to preserve system performance and stability. Keeping thousands of fonts on a system hurts computer performance. Activating sources, individually or in groups, only when necessary has clear advantages.
Now that you've learned some of the basics of managing fonts, here are 13 of the best tools for organizing and managing fonts.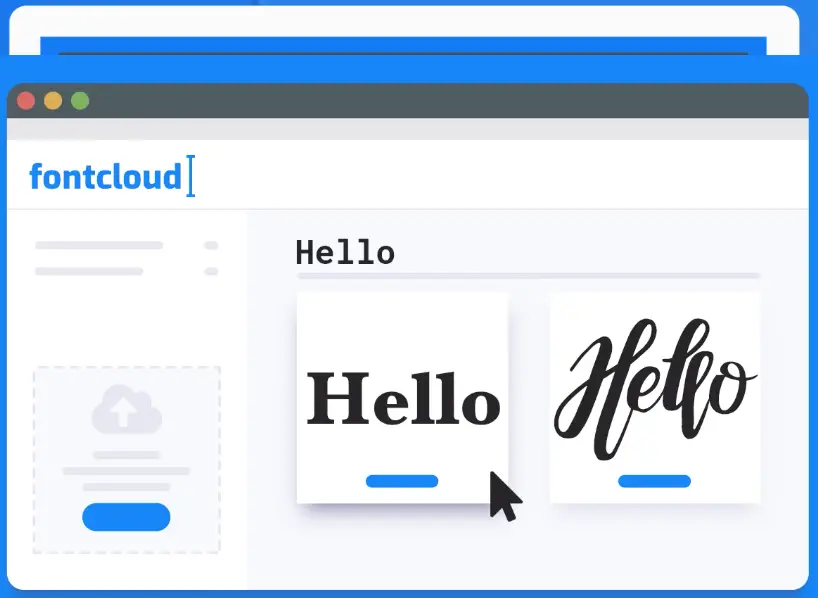 Read: How to create a modern presentation in Open Office Impress
The premier online font manager FontCloud from Creative Fabrica is completely free of charge. Exploring, Adding and viewing your fonts can be done very quickly. Fontcloud can be used to view all your available fonts in one overview. It allows you to look up the appropriate font for your upcoming project in no time .
In order to view or display all characters in a given font, you can simply click once with your mouse. FontCloud integrates PUA-encoded characters.
You have a meeting with a client or you have several machines? You would just need to login and access all your available fonts in no time. If you lose your fonts in one way or another, this software got you covered.
Read: Best PDF Editors For Linux in 2023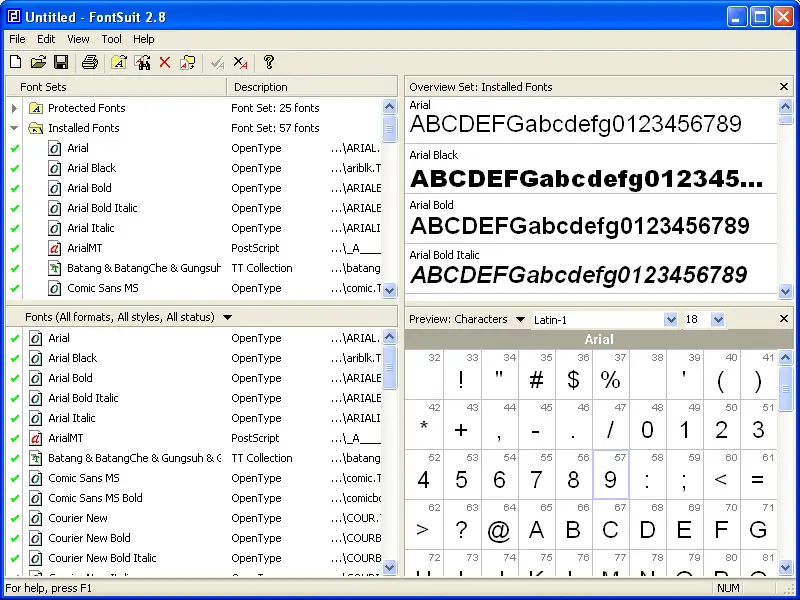 FontSuit is the simplest tool for Windows to manage your font collection. It can also install fonts to the system as and when needed. It supports TrueType, OpenType, Adobe Type etc which are basically favorites in Windows. You are allowed to view a font that saves you time. Also, the icon itself will show the status of the specific font. You can apply different filters to sort fonts according to their format, status or style.
FontSuit can :
Activate fonts when needed, saving resources.

Available for Windows XP, Vista, 7, 8, 10 (32 and 64 bit) to organize fonts.

Sources can be viewed in the section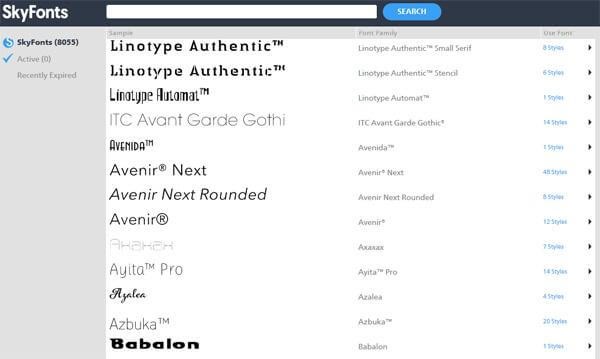 SkyFonts is an amazing program developed by Monotype Imaging Inc. It's the easiest and most straightforward way to try, install, and organize fonts. You can simply install fonts with a single click on participating sites. Best of all, the fonts install from the cloud on your computer in seconds, so you don't have to fill your storage by adding them to your machine.
SkyFonts features:
The tool installs, downloads and activates your fonts in real time.

You can subscribe to font libraries with over 11,000 fonts.

SkyFonts makes it easy for you to try out fonts in your design apps before you buy them.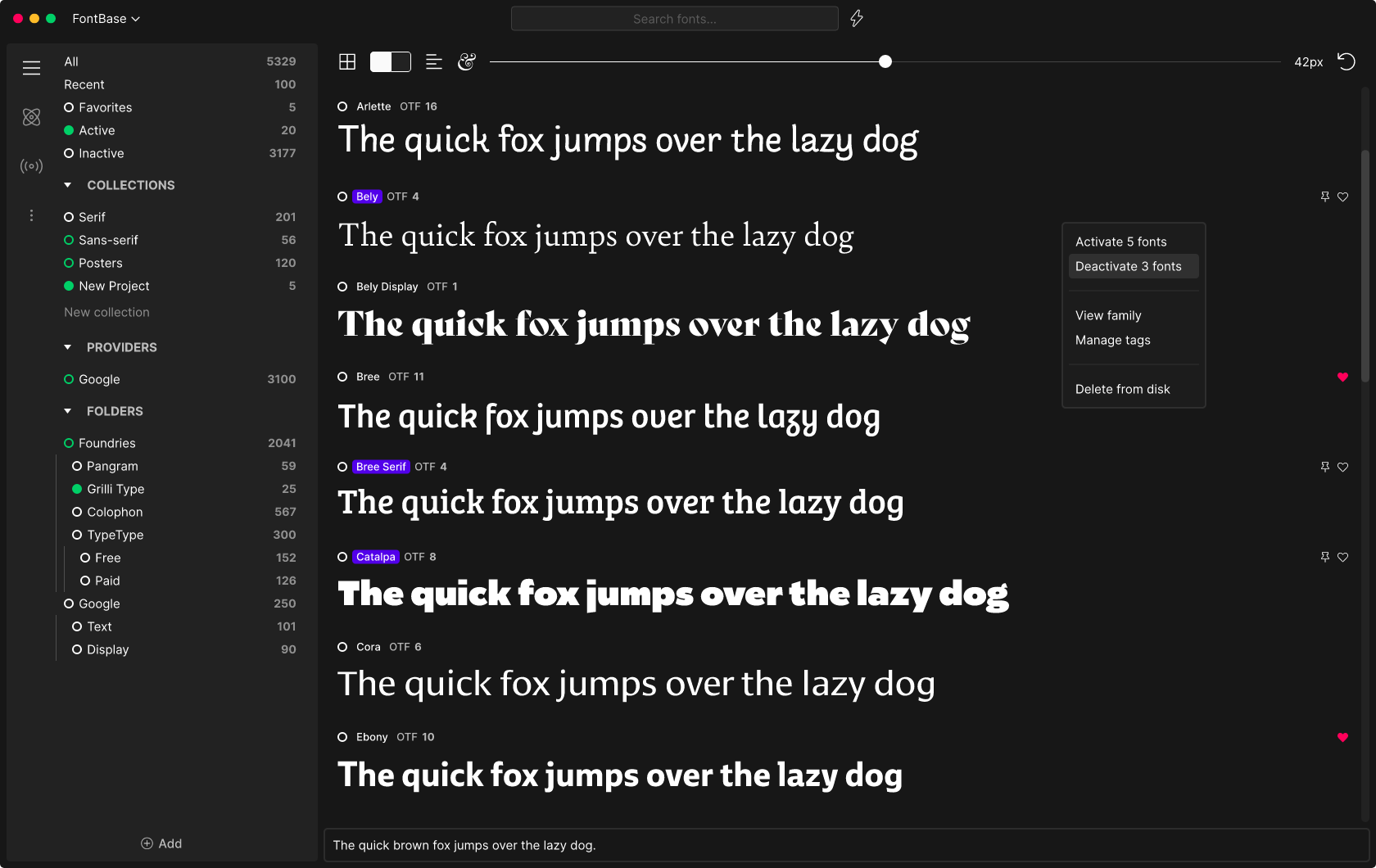 Perhaps the best font manager for Mac, for most people, is also a free font manager. FontBase is also cross-platform for macOS, Windows, and Linux machines.
Built for designers by designers, the premise behind FontBase is the activation and deactivation of fonts. Turn on specific fonts when needed for specific projects, and then turn them off so they don't drain system resources.
Fonts are automatically disabled when the FontBase application is closed. When the app is open and a font is missing for a given design document, the font is automatically activated.
Fonts can be organized into groups, making it even easier to manage a large collection of fonts.
Read: Best online code editors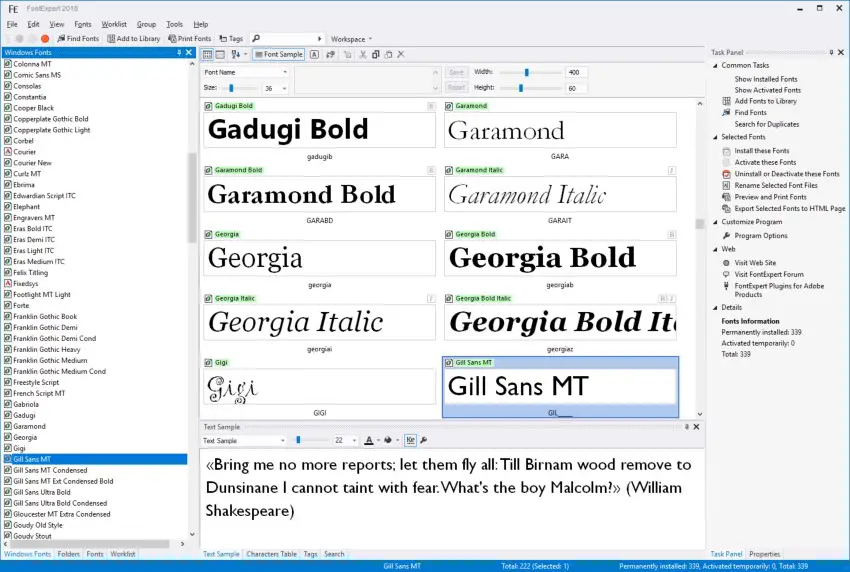 Specifically designed for Windows machines, FontExpert is a Windows font manager suitable for 32-bit and 64-bit versions of XP, Vista 7, 8, 8.1 and Windows 10.
FontExpert previews and manages installed and uninstalled fonts and checks for font errors on the system. FontExpert automatically detects broken and incomplete fonts and manages duplicates.
Fonts can be keyworded, rated, and placed into categories to organize in a way that works best for the user. Especially useful for designers who work with a large number of fonts in their projects. The font database is, of course, searchable.
FontExpert allows the installation of font sets, helps organize, activate and deactivate fonts and includes the Missing Fonts Loader plugin for Adobe InDesign and Illustrator applications.
FontExpert integrates with Windows by adding the Open, Print and Install Font menu commands to the context menu of Windows Explorer.
RightFont is another lightweight and fast font manager that claims the best font app.
RightFont lets you preview, sync and organize fonts anywhere without installing them. Fonts are automatically synced from Adobe Typekit and Google Fonts.
Activation and deactivation of fonts is possible with a single click, regardless of the location in which that font is stored. Fonts can be automatically enabled for other applications such as Photoshop, Illustrator, InDesign, and Sketch.
As a font manager, RightFont helps to filter fonts by a given classification like serif, sans serif, script, width, weight, etc. Fonts can be searched using keywords and further organization is possible by listing fonts as favorites or creating custom font lists. In addition, RightFont gives full access to font metadata information.
Importing and exporting new font files is as easy as dragging and dropping to and from RightFont, which also has huge performance advantages over Apple's Font Book and competing applications.
RightFont includes a free iOS app to install and preview any font for email attachments, AirDrop sharing, and iCloudDrive.
RightFont is an app for macOS 10.11 and higher that you need to purchase a license for, though it comes with a free trial version that you can download without registration.
Read: How To Reduce The Size Of Your PDF Files
From Extensis, Suitcase Fusion is a professional font manager and font organizer for macOS and Windows.
Suitcase Fusion is designed with compatibility in mind to support professional Adobe Creative Cloud, Affinity, and Sketch workflows and includes sync, via the cloud, with the free TypeSync app. This removes worries about lost fonts when working from, for example, a desktop and laptop.
FontDoctor is also included for checking for damaged fonts.
Suitcase Fusion's FontSense technology helps examine fonts in order to make sure the appropriate font is always used. Once again, fonts are turned on and off as needed and the app allows for browsing, previewing, and organizing many fonts.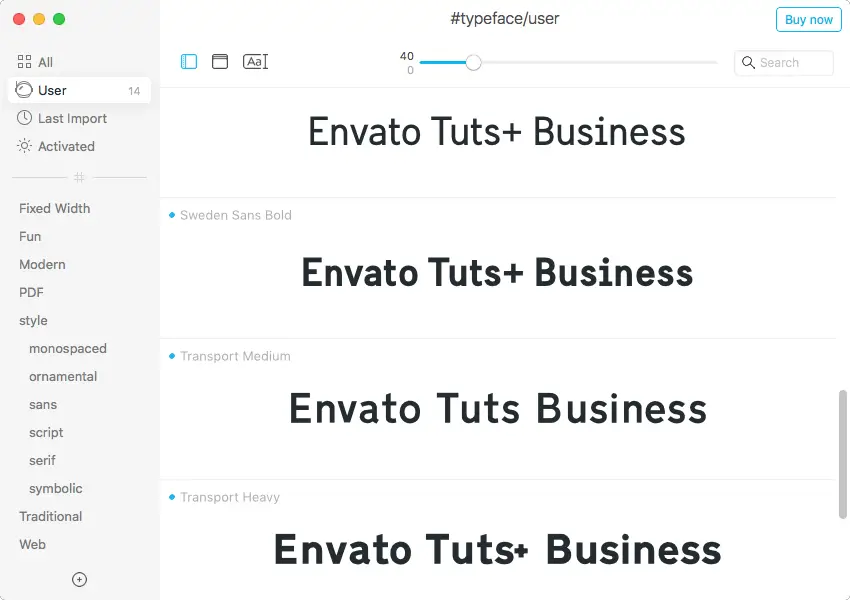 With a minimalist interface that focuses on fonts, Typeface Criminalbird is a beautifully designed font manager for Mac.
Typeface allows for easy navigation, with live customization of the preview and size of each font, both installed fonts and fonts imported from the default system, without distraction.
A flexible and easy-to-use tagging system adds another way to maintain particularly large font libraries. By mapping Typeface to a directory on macOS, newly downloaded fonts are automatically added on update.
Fonts can be turned on and off manually and there is an automatic font activation feature currently under development.
Font Comparison allows font professionals to distinguish minor differences between similar fonts with overlays to compare the two.
Font filters help designers locate the perfect font for any job by making it easy to find. Select bold, serif, or other characteristics of the desired font to discover matching ones.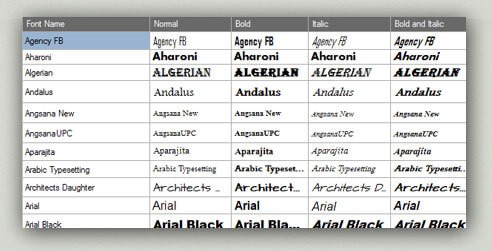 It is a portable font manager that has an excellent filtering option. You can trust the software to manage and organize Unicode smoothly. You can preview and organize a good number of fonts and apply their various styles to a text of your choice. In addition, Font Viewer is lightweight software that is easy to understand and run. In fact, it is one of the best Windows font managers that can make your life easier.
Font Viewer features :Font Viewer
The software exports the list to a text file (.txt) or a Font Viewer file (.fv) for later use.

It is freeware that comes in a readable and easily accessible format.

It provides a scrollable grid view and allows you to change the color, size and background with ease.
Read: How to use Microsoft Word on Ubuntu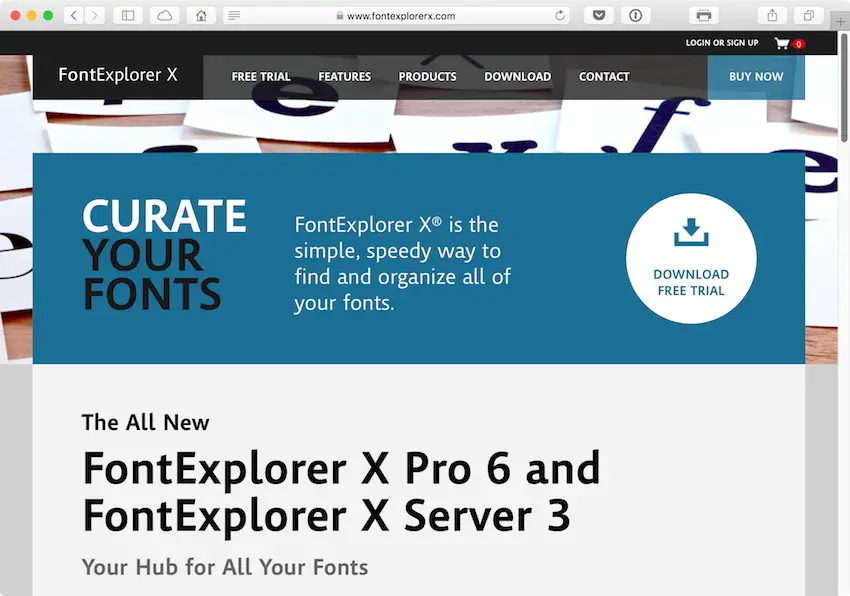 Aimed at professionals, FontExplorer Pro X is a font manager for MAC optimized for retina displays and with dark mode support.
It is the complete font management tool with organization of fonts by sets, and automatic activation and deactivation of fonts in order to preserve system resources. Especially important when managing many hundreds of fonts across dozens of projects.
As you'd expect with font management software, FontExplorer Pro X reveals detailed font information, character views, and customizable previews.
Being a professional solution, FontExplorer Pro X integrates into macOS with support for Spotlight. Additionally, FontExplorer Pro X includes localized font information for 25 languages.
FontExplorer Pro X is an application for OS X 10.9 and higher and macOS operating systems for which a license is required. It is possible to download a free 30-day trial, although it requires prior registration.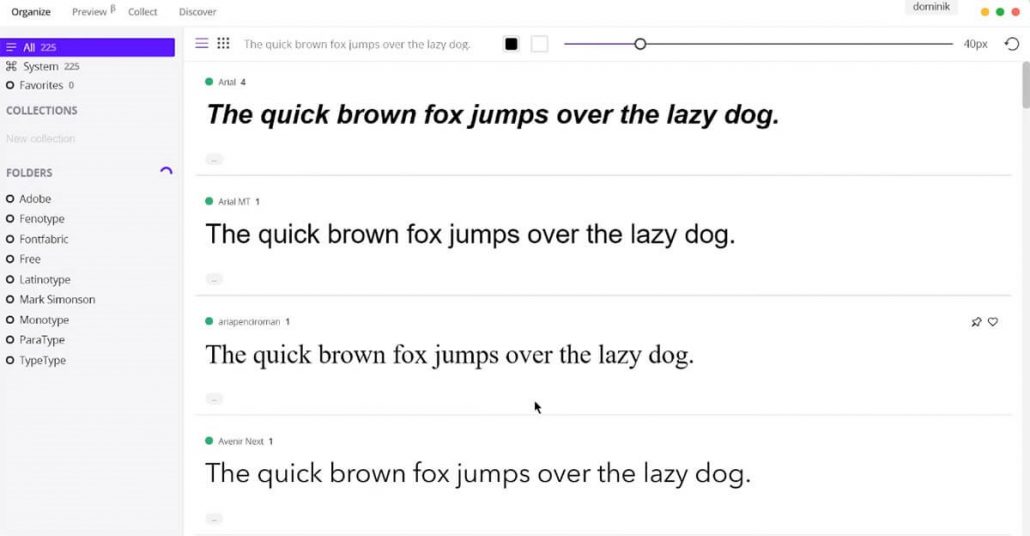 FontBase is one of the best Windows font managers. It is a well-designed program that has tons of mind-blowing features to give you a next-level experience. FontBase is developed by Dominik Levitsky Studio and is available for Windows, Mac and Linux. It is one of the best font management software for Mac to take your font experience to the next level.
FontBase features:
Creating and managing collections is quite straightforward.

It provides unparalleled performance in displaying and loading fonts.

You can activate any fonts of your choice without installing them.

For casual users, a lighter option is to look for an online solution for font detection, such as Wordmark.it . Typing a word or phrase is rendered, within the browser, in each and every font installed on your computer. Each example is listed along with the name of that font.
By its very nature, it lacks features like turning fonts on and off. That said, it's a quick and easy way to review and discover fonts within the system.
As for the options, there is an input field to enter the desired sample text, there are controls to increase and decrease the size of the returned font results.
Sources can be selected and filtered. Essentially, this is choosing a small number of sources to compare side by side.
There is also a dark mode. Indeed, the dark mode useful; it is quite interesting to see fonts in inverted colors.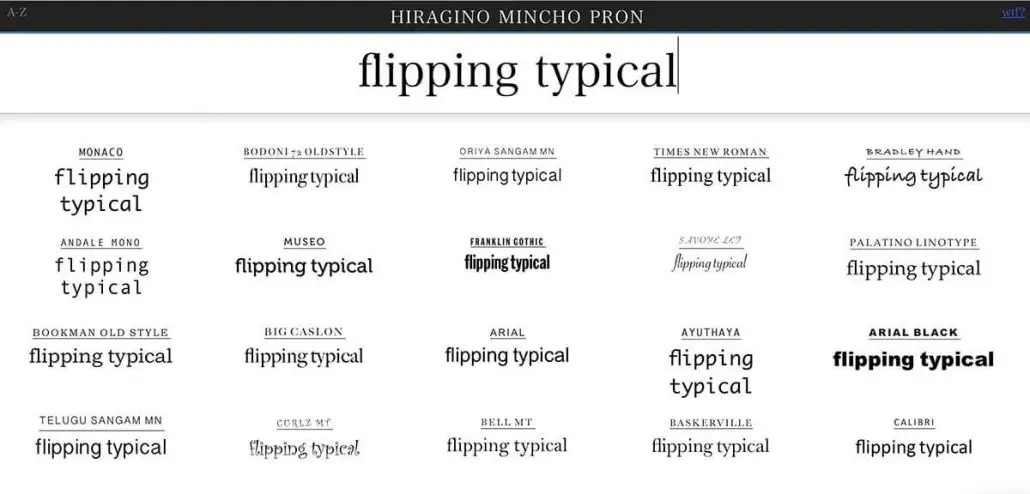 When it comes to online font managers, there's not much to choose between Wordmark.it and Flipping Typical. It probably comes down to personal preference.
Again, this is for the hobbyist, not an amateur or professional web or graphic designer, Flipping Typical is a quick and easy way to navigate fonts already installed on your computer.
Using Flipping Typical is simplicity itself. Open a web browser and go to flippingtypical.com and you will see the first 70 fonts rendered in the browser.
At the top, in the black bar, is the name of the selected font. The large text below functions as a preview and search box. Click on the box and enter some text to preview that text in different fonts. Click on the chosen font to move it to the preview at the top.
Flipping Typical requires Adobe Flash to be installed to view more than the first 70 fonts.
Unlike Wordmark.it, Flipping Typical doesn't have a font filter to choose a group of fonts and it doesn't have a dark mode either.
That said, for the ability to quickly view the library of installed fonts, on any computer, it's worth noting for the occasional computer user.
---
If you like the content, we would appreciate your support by buying us a coffee. Thank you so much for your visit and support.