Updated on Jan 23rd – 2023 – If you want to browse the internet anonymously or watch TV shows and movies online, it's best to use a VPN. This will keep you safe and anonymous while using services like Amazon Prime, Hulu, and Netflix. More and more people are using VPNs (Virtual Private Networks) when they go online for any reason. They offer many benefits, such as improving security and privacy by encrypting connections and allowing you to access restricted content in certain countries by bypassing geo-blocking.
How does a VPN work?
When using a digital network, your IP address acts as a identifier that can reveal your identity. However, using a VPN server can mask your identity by anonymizing and encrypting your data traffic. The VPN software establishes a secure, encrypted connection to a VPN server, through which all of your internet activity is transmitted. Whether you're checking emails, browsing websites, or streaming content, your data remains protected by the encrypted connection to the VPN server. Only the VPN server is visible to the outside, keeping your identity hidden and allowing you to surf anonymously. You can think of it like a tunnel, which is why it's often referred to as a "VPN tunnel."
Credits: broadbandgenie
When you use a VPN, you can access websites and streaming services without being blocked by geographical restrictions. This means that even if a certain website or streaming service is not available in your current location, you can still access it by connecting to a VPN. Additionally, by using a VPN, your internet connection is encrypted and your IP address is hidden, making it difficult for others to track your online activity and keep your identity private. This is especially useful when you're trying to access content from other countries or want to browse the internet anonymously.
Read: How to find your IP address in Linux
It's not just about staying anonymous while using the internet with a VPN, but also about how securely the VPN handles your data. Some countries, like China, require extra protection for sensitive content. However, you can trust that a VPN will provide a high level of security for your data, regardless of where you are located.
Why you should use a VPN ?
It's important to keep in mind that using a VPN alone will not protect you from all online threats. If you download files from suspicious websites, your VPN will not prevent you from getting a virus on your computer. However, if you frequently use public WiFi, such as at airports or cafes, it's beneficial to use a VPN with strong encryption to keep your information secure.
In a few years, the use of VPN has become widely available to individuals. Nowadays, more than 31% of all internet users rely on VPN services, according to SurfShark research. Internet users choose VPN solutions for various reasons: protect privacy on public Wi-Fi – 51%, anonymous browsing – 44%, secure communication – 37%, access restricted sites – 23%, access better entertainment – 22%, access sites when at work – 22%, avoid bandwidth throttling – 21%, hide browsing activity from the government – 21%, access censored content – 18%, get discounts when shopping online – 18%, access Tor browser – 14%, as stated by Statista. Whether you are using a VPN on a desktop computer, a mobile terminal, or even a router or a smart TV, these services allow you to hide your IP address behind that of the VPN server to preserve your identity, personal data, and geographic location.
Read: How to make your Netflix perfectly secure 
They are, for example, a simple and efficient means of surfing safely on public networks like airports, stations, shopping centers, hotels, etc., to avoid any risk of intrusion. Although there are many different solutions out there, finding a trustworthy one is not as easy as it seems. 
A large number of customers go through a VPN to access catalogs of streaming services based in particular in the USA (Netflix, HBO, Amazon Prime, Pandora …) . You should also know that some VPN providers do not allow streaming and / or downloads on P2P sharing platforms and torrents.


Arguments for using a VPN on the Internet:
Your own provider no longer sees which pages you visit and what you use the Internet for. This means that he cannot give this information to anyone or lose it due to a data leak.

The servers with which you exchange data do not know your real IP address and cannot determine your identity based on the connection.

Data transmission through VPN is encrypted and secured against eavesdropping.

You can usually bypass any geoblocking , so you have access to videos and other content that are not available in your country without a VPN (or proxy).

Protect yourself from cyber-attacks

Avoid censorship in certain restrictive countries (China Iran, Russia …)

Access foreign sites and services that are usually inaccessible
When using a VPN, it is crucial that the service is efficient and easy to use. This is why fast server speeds and user-friendly software are key. Only in this way can the VPN effectively serve its purpose. Especially for those who rely on VPNs to securely transmit data on public networks, high security standards are of great importance.
Read: Benefits of using VPN while working at Home
In this article we are going to show a list of the best VPNs available on the market .It should be mentioned first that there are both free and paid VPN services. Our advice is to use the latter, since this will ensure optimal operation and also prevents your data from being filtered.
Best VPN services for 2022 at a glance:
ExpressVPN

NordVPN

CyberGhost

SurfShark

PureVPN

VyprVPN

ProtonVPN
ExpressVPN

Visit site
ExpressVPN is a well-known provider in the VPN market. The company is based in the British Virgin Islands and has been in operation since 2009. ExpressVPN provides secure and anonymous internet access through their encrypted VPN lines. They offer a variety of features and services that are considered to be among the best in the market. With over 3000 servers in 94 countries, ExpressVPN is known for its fast connection speeds and user-friendly interface.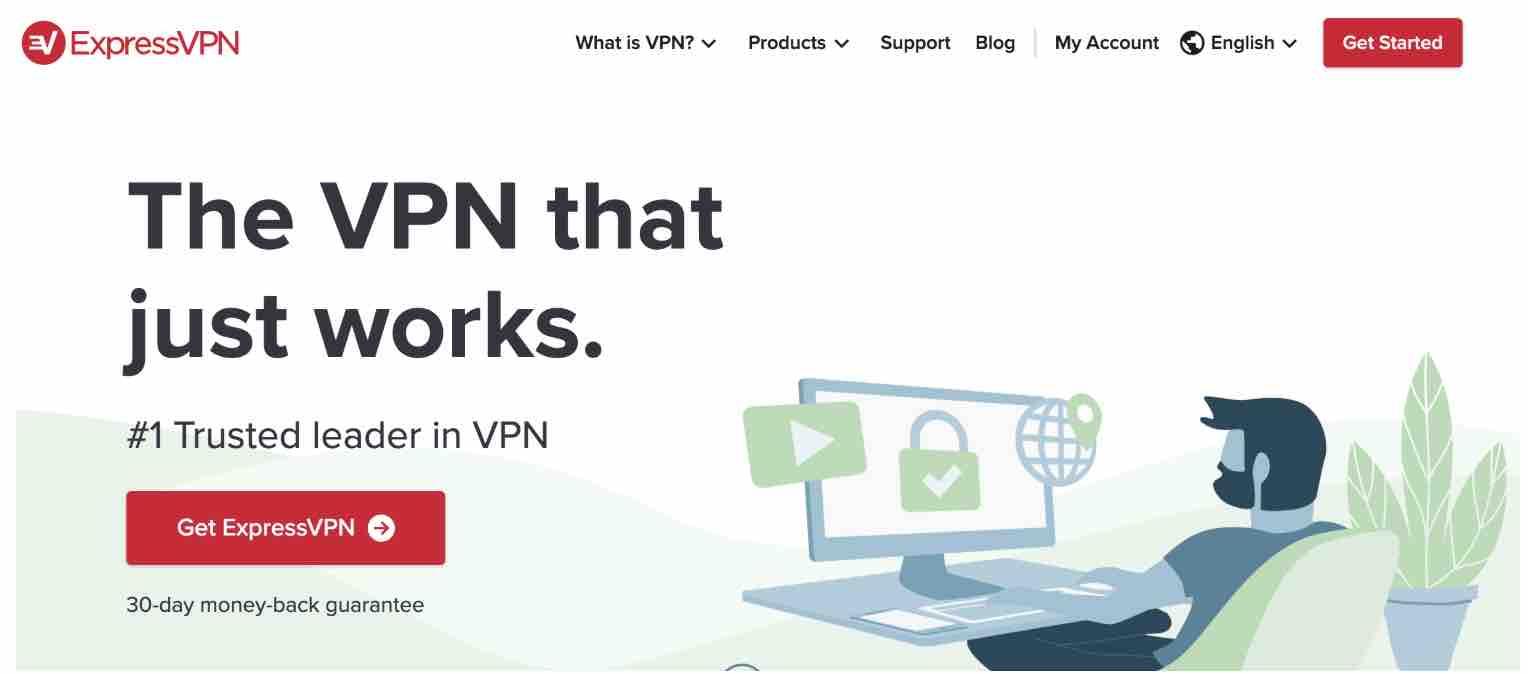 Versatile and efficient
ExpressVPN is a popular VPN service that supports a wide range of operating systems and devices. This includes traditional systems like PC, Mac, Android and iOS, as well as Kindle Fire platforms, Apple TV, PlayStation, Xbox, BlackBerry, Linux routers and streamers like Chromecast. With ExpressVPN, you can use up to 5 devices at the same time, but you also have the option to use a router application to connect an unlimited number of devices on the same network.
ExpressVPN is known for its fast performance and stability. Whether you're browsing the web, accessing geo-restricted services like Netflix US, or downloading data, the service offers remarkable speed and performance. Plus, data transfers and speed are unlimited and protected by 256-bit AES encryption.
Simplicity and automation
Although the settings are limited, users can activate less than 5 network protocols (UDP-OpenVPN, TCP, IKEv2, L2PT, and PPTP) or opt for the automated mode. The service has an original function called "Speed ​​test" to see at a glance which are the fastest servers.
Read: How to Install OpenVPN on Ubuntu
ExpressVPN offers a great user experience with its easy-to-use interface and quick access to frequently used servers. The program also has a feature that automatically selects the best server for you based on your location. However, it doesn't have a world map feature, which some competitors have, to help users select servers.
After installation, ExpressVPN is ready to use right away and the settings are easy to navigate. The interface is clean and simple, which applies to the server selection and supported VPN protocols. In the rare case of a slow connection or connection failure, users can manually choose a VPN protocol, as advised by the provider. If there are any questions, the provider's website and customer service, available 24/7, are great resources for finding solutions. One downside is that registering the program on other PCs requires an activation code which is sent via email, rather than simply using a username and password.
The features:
Platforms: ExpressVPN is available for all major platforms, namely PC, Mac, iOS, Android and Linux, and also for routers. The service also offers browser extensions for Chrome and Firefox. And there are apps for the PlayStation 4, Xbox One and Nintendo Switch consoles. Finally, Apple TV, Amazon Fire TV Stick and Smart TVs are supported.
Server: The VPN service is represented in 94 countries with 160 server locations and a total of over 3,000 servers . The countries are freely selectable.
Devices: Once purchased, ExpressVPN can be installed on any number of devices. However, only five devices may be used at the same time .
Data volume: There is no data limit.
Netflix: To the delight of all freaks and blockbuster junkies, ExpressVPN has servers that are not blocked by Netflix and especially by Netflix USA.
P2P: The service allows P2P and torrenting – without restriction on all servers.
Free version: There is no free version.
Desktop / mobile: The desktop and smartphone versions hardly differ optically. However, the desktop version offers more setting options.
Security
ExpressVPN is always safe. The service encrypts its VPN connections with AES-256 and thus offers a high level of security. In addition, the manufacturer promises in its terms and conditions not to log the activities of its users .
Neither ExpressVPN nor the Internet provider know which pages the user accesses, which services he uses and which messages or passwords he enters and sends. But that doesn't mean that ExpressVPN doesn't save anything at all since it can know the day of use and the amount of data used.
Read: 6 Types of Security Software to Keep Your Workplace Protected
Conclusion
ExpressVPN is not necessarily a bargain. In return, users receive a VPN provider with a great range of services – in this discipline, it is the winner. It starts with a very large number of servers. The VPN user's favorite activity – bypassing geo-blocking and streaming foreign media libraries such as Netflix – works just fine with ExpressVPN.
Security and anonymity are guaranteed thanks to AES-256 encryption and the absence of data logging and the option of paying with Bitcoin. Useful extras, such as split tunneling and automatic network optimization are a welcome plus.
Read: Best Linux Web Hosting Services
NordVPN

Visit site
NordVPN is a well-established VPN service that has been active since 2012, and it is built on one of the largest infrastructures available. It offers a wide range of features and emphasizes security. With NordVPN, you can access servers in 62 countries with highly encrypted VPN connections, it provides an extra level of security to stay anonymous. For added security, you can connect to two VPN servers in series or combine the VPN with the anonymization network Tor. This makes NordVPN go above and beyond the typical standards.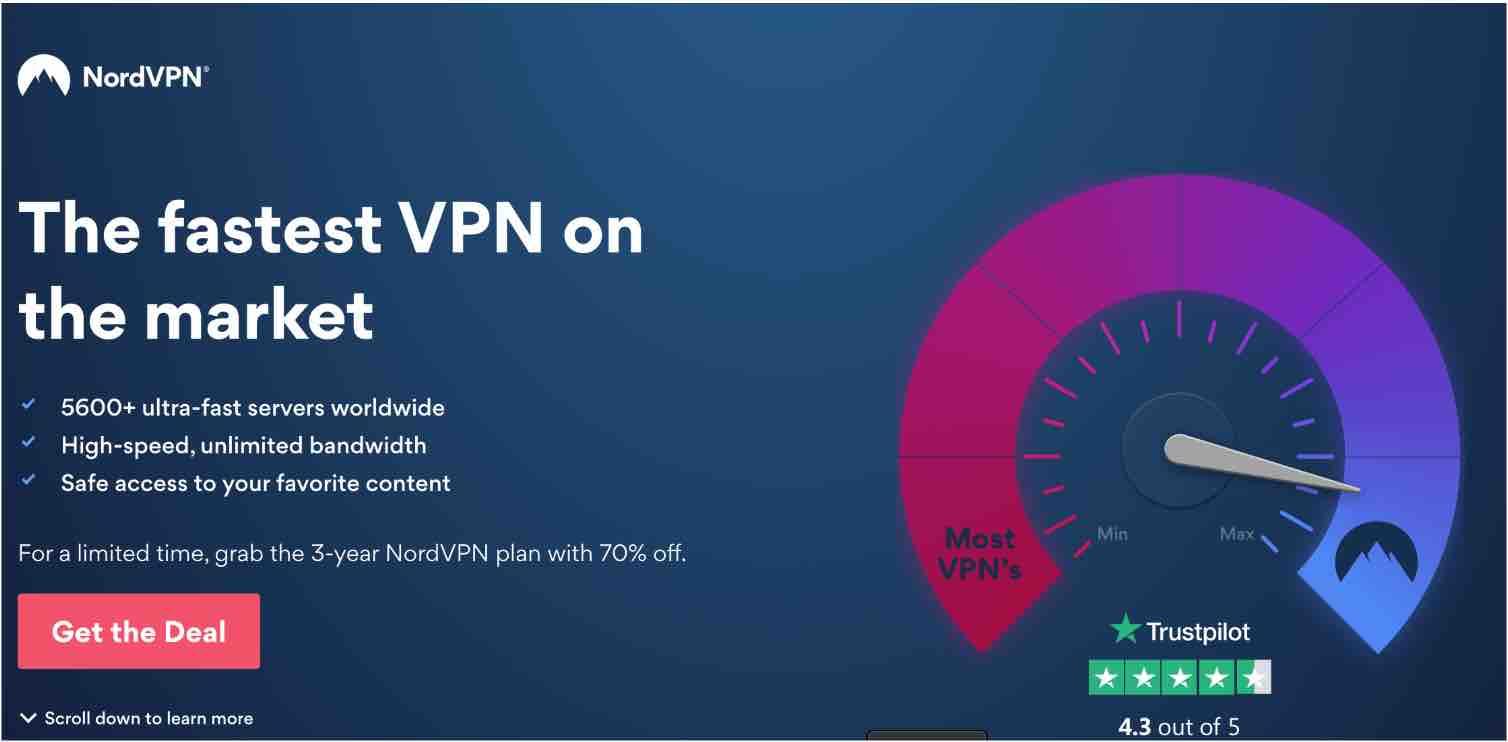 The user interface is easy to understand and organized around a world map. This can be moved like a map service à la Google Maps. There is a pin in all countries where a NordVPN server is available.
A streaming ace
NordVPN has grown significantly over the years to become one of the most comprehensive VPN services available. It has a variety of advanced tools that allow you to customize many security settings. It has double AES 256-bit encryption that encrypts all data exchanges, as well as a Kill Switch function that cuts off internet access and closes specific applications if the VPN connection is lost.
Additionally, NordVPN has Wi-fi protection, DNS anti-leakage, access to the Tor network via certain servers, and the option to choose between VPN protocols OpenVPN and IKEv2. Like most reliable VPNs, NordVPN does not have a data transfer or speed limit and the connection is fast and stable. One of its major strengths is the in-house "SmartPlay" feature, which allows easy access to streaming services such as Netflix, HBO, and Prime Video US.
Read: How to Browse Different Genres on Netflix
Data privacy and protection
NordVPN places a strong emphasis on privacy and security, which is why they have a strict no-registration policy that prevents tracking of user traffic. Additionally, they are based in Panama, which is a country that does not require data storage for investigations, and far from countries that could ask for user information.
In case the VPN connection is lost, the software has a "Kill Switch" feature which blocks internet access to prevent sensitive data from being exposed. This feature can be activated globally or only for specific processes such as Torrent downloads.
Another added benefit is the "CyberSec" function, which is currently in beta version. It aims to block dangerous websites and suppress annoying ads.
Features:
Security: NordVPN relies on the secure VPN protocols OpenVPN and IKEv2 / IPSec and the encryption standard AES-256. A kill switch is built in and disconnects the connection in the event of problems.
Multi Hop: This process, also known as the VPN cascade and called "Double VPN" by NordVPN, sends the data via two successive VPN servers. Data is encrypted twice. The plus in anonymity: No sender and destination are known on any VPN server.
High transparency: NordVPN does not save any logs of the online activities of its users and publishes a regular transparency report on its website.
Equipment: With over 5,000 servers in almost 62 countries, NordVPN offers a considerable range of servers.
Top speed: NordVPN is the second fastest VPN service.
Streaming and Netflix: thanks to the integrated Smart DNS function, the servers are not recognized as proxies. In addition, the loading times are fast and the quality is great.
Geoblocking: With the special obfuscated server function, Internet use is also possible in countries with highly regulated Internet, for example in the People's Republic of China.
Operation: You can quickly find your way around on the modern menu interface with a world map look. A suitable connection is established within a few seconds.
Device support
NordVPN offers software for Windows, macOS and Linux, Android, iOS and Android TV as well as browser extensions for Chrome and Firefox.
Read: Why Every Student Should Care About Online Privacy
Furthermore, NordVPN provides instructions for use on a variety of devices and platforms, such as Raspberry Pi, Synology NAS, Blackberry, and different routers. Even though the use of VPN doesn't require the provider's software, it makes the setup and management of connections much more manageable. However, if needed, the open-source VPN software OpenVPN is always an option. NordVPN provides its own software for the most common device types and the instructions are clear and easy to follow, making it simple to set up a VPN connection.
Simultaneous server connection and speed
With NordVPN, you can connect up to 6 devices simultaneously with a single subscription. This makes it convenient to secure multiple devices in your home at the same time. NordVPN does not impose any limitations on bandwidth or speed, so you will always get the best possible download and upload speed, making it ideal for P2P downloads. In fact, NordVPN promotes safe and anonymous downloading through the P2P network, and it has servers specifically marked as "P2P" to ensure optimal performance.
Conclusion
NordVPN shines with numerous supported end devices. In the area of ​​country selection and server speed, the competition sometimes performs slightly better, but NordVPN continuously invests in new locations.
Due to the server location in Panama, the VPN service is located outside the 14 eyes ( conglomeration of the secret services of several countries, created by the UK-USA agreement) and does not save any log files.
It is also gratifying that the service can be configured without the provider's software: On its own website, NordVPN has numerous detailed instructions on how to set up the servers in the router using various protocols.
CyberGhost
Visit site
CyberGhost is immediately noticeable for its sleek and user-friendly interface. It is built on one of the largest network infrastructures available, and it serves over 30 million customers globally.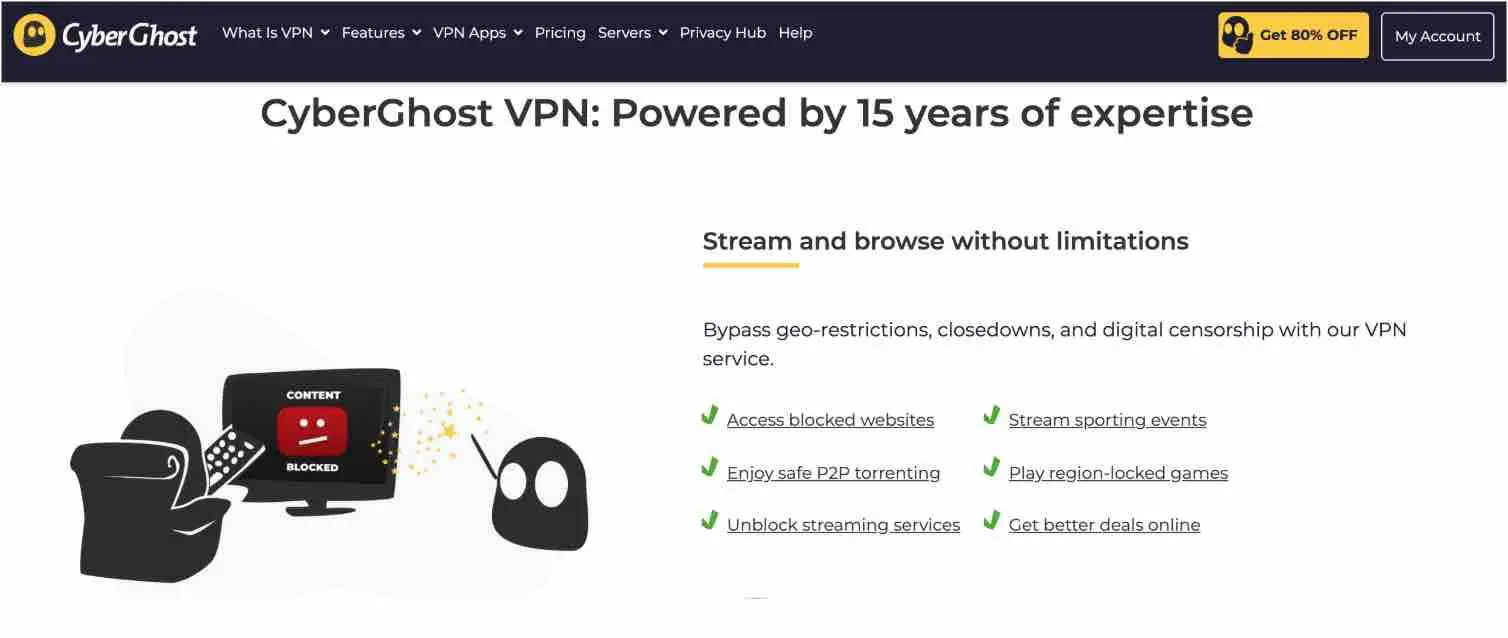 CyberGhost, founded in 2011 in Romania, is a reputable and dependable VPN solution in the market. Despite its success, the company continuously improves its service over time. Along with a new interface and compatibility with most platforms, it boasts over 5,800 servers, including new 247 servers in the United States, spread across 90 countries.
A complete service
This year, CyberGhost has made significant efforts to improve its service. It is compatible with a wide range of platforms, including the most popular operating systems like Windows, Mac, Linux, Android, and iOS. It also offers web extensions for Chrome and Firefox, and apps for Amazon Fire and Android TV. The premium version also allows users to manage multiple devices such as Linux routers, Raspberry Pi, NAS, and Chrome OS.
CyberGhost's privacy policy is clear and straightforward. The company does not track or log any of its user's activities. It also offers a robust set of security features, including 256-bit AES encryption, different VPN protocols like OpenVPN, PPTP, and L2PT, a Kill Switch, a Wi-Fi protection mode, and ad-blockers.
Read: Top 10 Reasons Why Your Business Needs to Embrace the Cloud
Cloud-based security
CyberGhost offers a user-friendly interface that allows for manual connection to one of its more than 7,100 servers, which can be done through a "user-defined" menu on both computer and mobile devices. The service also allows for quick server selection through the taskbar on Windows devices, but this feature is not currently available for Mac users. If desired, users can also configure the CyberGhost server outside of the software using a compatible OpenVPN-capable router or alternative VPN programs. Additionally, pre-configured profiles are available for those who prefer not to connect manually, providing options for destination country and additional features such as cloud-based advertising and malware blockers, automatic HTTPS forwarding, and tracking cookie prevention. CyberGhost also assures that it supplies all security scanners from its own source, rather than relying on third-party providers.
Read: 4 Doubts you might have about moving to the cloud
Subscription required
CyberGhost VPN requires a paid subscription from day one. However, the company offers a 45-day money-back guarantee, and connections to all CyberGhost servers are always protected with strong AES 256-bit encryption . You can also choose between L2TP, IKEv2 and OpenVPN protocols.
The largest infrastructure and the best interface on the market
CyberGhost has recently revamped their user interface to make it even more user-friendly and intuitive. The interface is well-designed and can be easily navigated by both beginners and advanced users. With a quick glance, users can easily select servers that are optimized for popular streaming services such as Netflix, HBO, or Prime Video US from abroad. The same goes for servers dedicated to P2P downloads/torrents that are easily accessible with just one click. CyberGhost is known for its reliability and speed and offers unlimited data transfers and bandwidth. Additionally, the service can be used on up to 7 devices and they also offer 24/7 support.
Conclusion
With a huge server selection and good speeds, CyberGhost can convince as a VPN service provider. Maximum security and anonymity on the web is guaranteed. Due to the up to seven devices that can be used at the same time, the service is particularly recommended for users who are equipped with smartphones and tablets.
CyberGhost VPN service is one of the best on the market and also one of the most versatile, with very high security thanks to the use of OpenVPN and IPsec IKEv2 using AES-256-GCM, and also having available the Kill Switch.
CyberGhost, is easy to use and support via live chat is friendly and fast. Since its inception, it has expanded its range of servers increasingly and the easily accessible and competent support yields a promising impression.
SurfShark

Visit site
Surfshark, which was established just over a year ago, is a new VPN service that has shown great potential. They focus on providing top-notch security, the ability to connect an unlimited amount of devices, and competitive pricing options.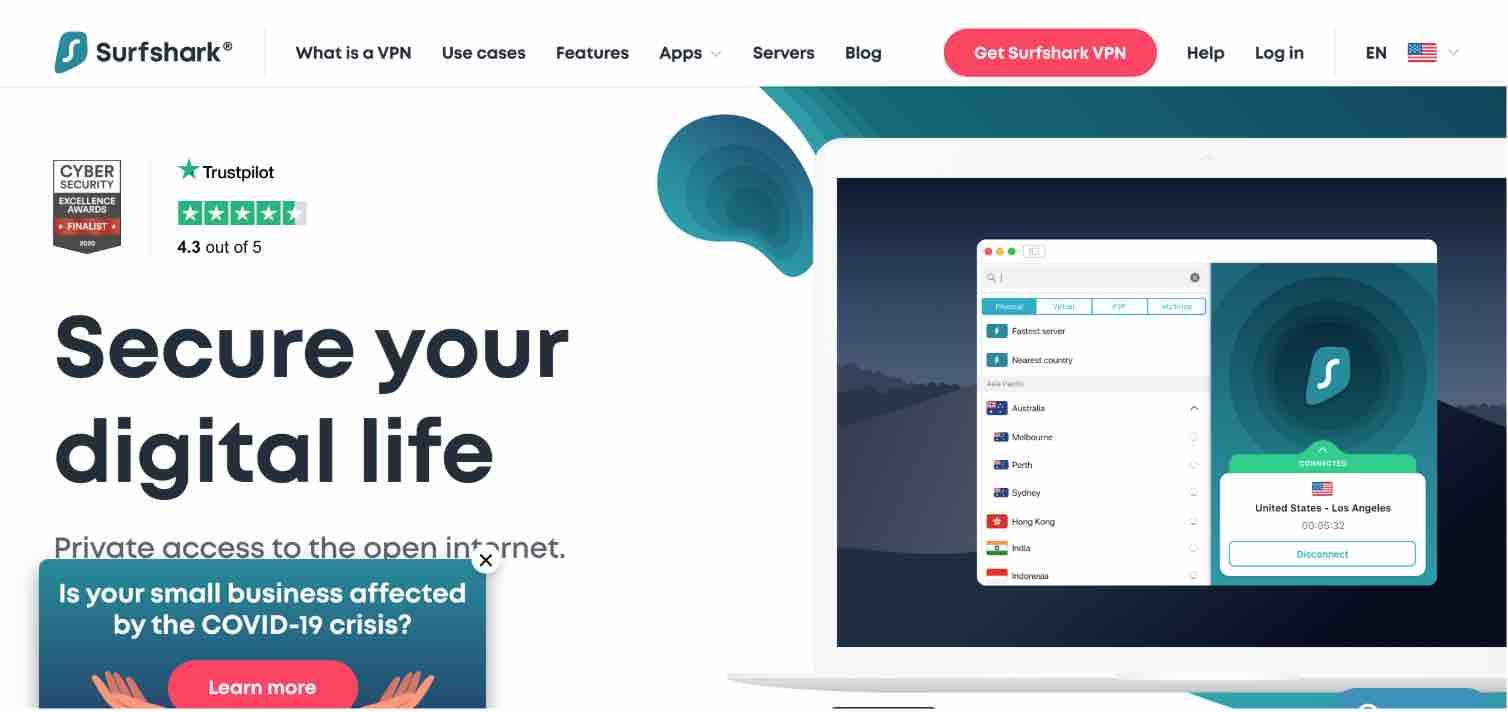 Despite having a smaller server network compared to industry leaders, Surfshark currently provides access to over 1,000 servers in 61 countries worldwide, and is based in the British Virgin Islands which means it is not subject to the US Patriot Act, and does not keep any records of its users' activities.
Optimized connection and increased security
In order to make up for having a smaller number of servers, Surfshark has implemented a feature called "Fastest Server" which automatically selects the server that is closest to the user in order to provide the best possible performance. Generally, the connection speed is quite good. However, when the "CleanWeb" option, which blocks ads and trackers, is activated, it may lead to some issues with internet connectivity.
Surfshark also has advanced features like the Kill Switch and DNS, WebRTC and IPv6 leak protection.
Features:
Simple operation: it can hardly be faster – select a country, click on the connection and the secure VPN connection is already established.
Clean Internet: With the "Clean Web" function, you can add a practical ad blocker, tracking and phishing protection to put a stop to curious marketing and malware distributors.
Own DNS servers: This guarantees a watertight connection, since browser requests are not routed via third-party DNS servers (e.g. Google).
Surf without limits: With the "No Borders" mode, use in restrictive countries like China is possible. Surfshark also offers the Shadowsocks protocol, a Socks5 proxy that does not specifically encrypt the data traffic, but instead creates a data stream that is as inconspicuous as possible and that is difficult to distinguish from ordinary traffic.
Fast speed: The download and upload speed was only slightly behind the values ​​of the test winner, a great result compared to other VPN providers.
Functions: wide spectrum
Surfshark offers more than just the basic VPN services such as IP hiding and secure protocols. The provider places a strong emphasis on security and data protection as its key features.
The following functions are included in the price:
CleanWeb: protects you from advertisements, trackers, malware or phishing attempts

Whitelister: allows you to exclude certain websites or apps from the VPN connection

Camouflage mode: hides your VPN connection from your provider

MultiHop: switches a second VPN connection
The following extras are available for an additional fee:
HackLock: checks whether your email address appears in hacked databases

BlindSearch: is a search engine without advertising and logs
CleanWeb
The "CleanWeb" function is included to protect you from advertisements, trackers, malware and phishing attempts. CleanWeb is not just an adblocker, it also does its job and blocks ads and pop-ups. It also has a currently maintained database of compromised URLs and warns you if you click on a link that is classified as suspicious.
Read: Mobile Security: Trends and Threats
In the mobile version, CleanWeb also saves you bandwidth, since trackers and advertising are also blocked .
Device support
Surfshark does not limit the number of your connected devices as well as the number of concurrent sessions. The following systems are specifically supported:
PCs or laptops (Windows, macOS and Linux)

Smartphones and tablets (Android, iOS)

Browser plug-ins (Chrome, Firefox)

Smart TVs ( Fire TV , Apple TV and others)

Consoles (Xbox, PlayStation)
Once you have created an account with Surfshark, you can connect as many devices as you want to it. This allows you to use the VPN for online gaming, streaming services like Netflix, and general internet browsing. The features available on the desktop software and mobile app are the same, though the browser extension is more basic and only includes a list of servers sorted alphabetically. To make things easier, you can set up the VPN service directly on your router, so that all devices connected to your network automatically use Surfshark VPN without needing to configure each device individually.
Whitelister
In addition, Surfshark allows whitelisting, so you can allow certain apps and websites to bypass the VPN. It can happen that when using a VPN your bank denies you access to your bank account for security reasons. In such a case, it is practical not to have to turn off all VPN traffic just to be able to make a transfer.
Conclusion
The VPN newcomer Surfshark advertises with a very high level of security and nice features such as built-in ad blockers, unlimited number of devices and a "Whitelister". This allows you to allow certain apps and websites to bypass your VPN connection separately, which can make sense in special cases .
High level of security

Netflix compatible

Unlimited number of devices

Great support with live chat
PureVPN

Visit site
PureVPN, a VPN service headquartered in Hong Kong, stands out for its impressive server performance that leads to fast connections. It offers specialized "modes" for different uses, such as server and network setups optimized for streaming videos, sharing files, or enhancing security and anonymity. The server list is organized by ping values, making it easy to find the fastest server at the top and connect to it with just one click.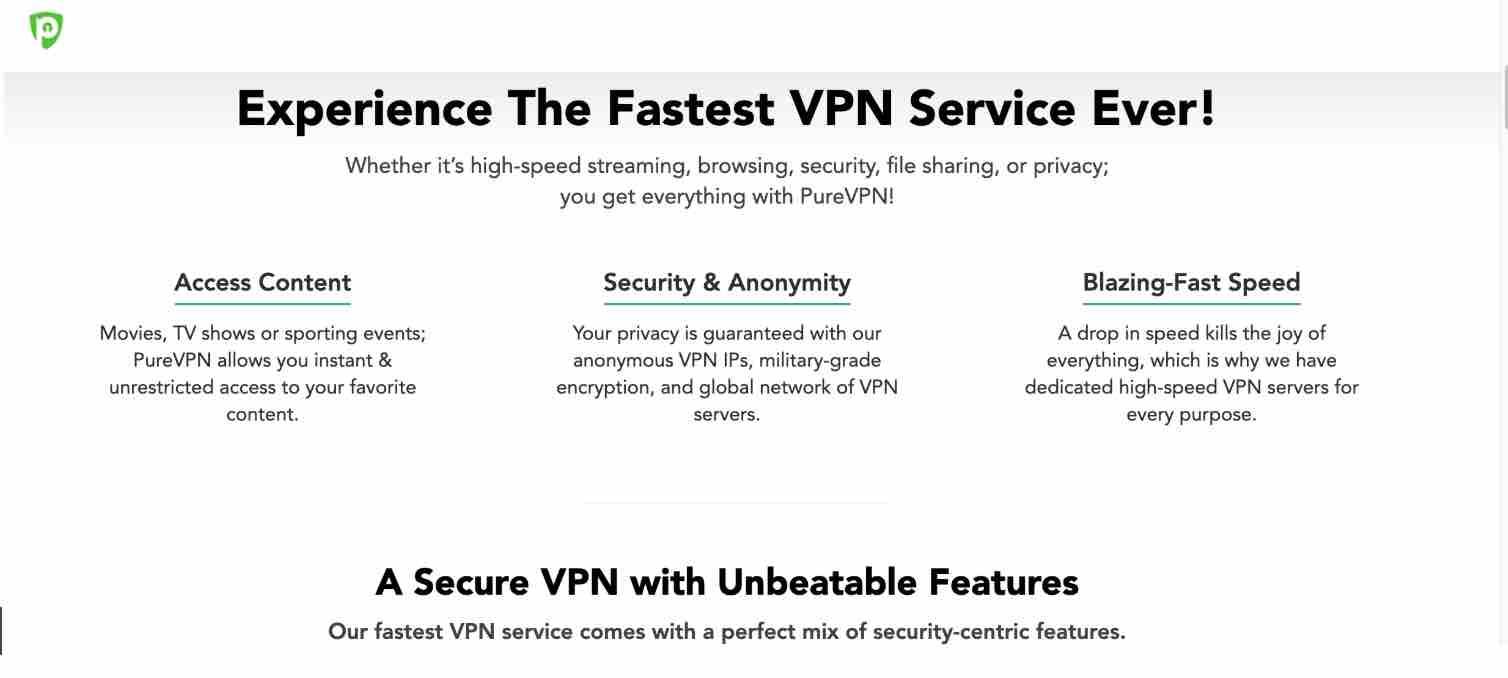 PureVPN offers specialized modes, such as configurations optimized for video streaming, file sharing or security and anonymity, making it a great choice for experienced users who want to customize their VPN experience. The service, which has 3 million users, provides a stable and fast connection, but its interface is somewhat outdated.
Self-managed infrastructure and extensive coverage
Based in Hong Kong, PureVPN practices a "zero archiving" policy, that is to say that the supplier does not keep any data or any trace of the online activities of its customers.
For now, the provider can claim to be one of the oldest VPNs and, unlike many competing services, to own and manage its own international network infrastructure. It is made up of more than 2,000 servers in 140 countries.
Read: Android Spyware: Is Google's Built-In Security Enough
PureVPN has the largest cross-platform coverage. Besides conventional OS and web browsers, it not only supports TV services (Android, Amazon Fire, Kodi, AppleTV), but also many SmartTV as well as game consoles and most routers on the market. The service offers up to 5 simultaneous connections, unlimited speed and transfers.
Advanced security and features
In addition to countless servers dedicated to P2P / torrents, it has a mode called "Stream" allowing access to servers optimized for streaming services worldwide. Even if it keeps all its promises whether it is for downloads or streaming abroad, it does not reach the performance of CyberGhost, NordVPN or ExpressVPN in these areas.
The service which uses 256-bit AES encryption also offers many VPN protocols (OpenVPN, L2PT, IKEv2 …) as well as advanced security functions such as Kill Switch, Split tunneling or even Port Forwarding (security layer additional against attacks). The support is particularly responsive by replying almost in real time via a live chat available 24/24 and 7/7.
Device support: desktop, mobile, router, smart TV and game consoles
PureVPN is compatible with more than 20 operating systems and device types. The most important are:
Windows

Mac

Linux

iOS

Android
The service also offers software solutions for:
DD-WRT router

Kindle

Google TV

Amazon Fire TV

Kodi

Browser extensions for Chrome and Firefox
With manual setup, you can use PureVPN on many other devices. These include game consoles (Nintendo, Xbox, Playstation), Roku, Chromecast, Blackberry, Chromebook, Synology NAS, various routers and more. You can find the full list of supported devices on the website.
Server selection
In terms of coverage, PureVPN offers a significant number of servers in a wide range of countries. However, what truly matters to most users is whether or not the countries that are relevant to them are included and the connection speeds. Popular VPN providers generally cover the countries with the most sought-after streaming content, but there may not be a need for IP addresses in other regions such as Africa, Asia, or South America.
Security
In the data protection declaration, PureVPN clearly assures that it does not save any logs of your internet activities. This should be the case with any good VPN provider.
With PureVPN, your connections are encrypted with AES-256 , which corresponds to the highest common standard. In addition, the provider promises other protective devices, such as against DDos attacks and viruses and a NAT firewall.
Conclusion
PureVPN boasts impressive server performance and efficient default configurations for streaming services like Netflix. These features make it easy for users to quickly find a suitable VPN connection for their needs without extensive searching or trial and error. The provider also offers specialized "modes" for specific purposes, such as video streaming or file sharing, and organizes its server lists by ping values for easy selection of the fastest option.
VyprVPN

Visit site
VyprVPN is one of the most reputable historical VPNs on the market. With solid security features, it has the advantage of owning and managing its own computer servers in more than 70 locations around the world.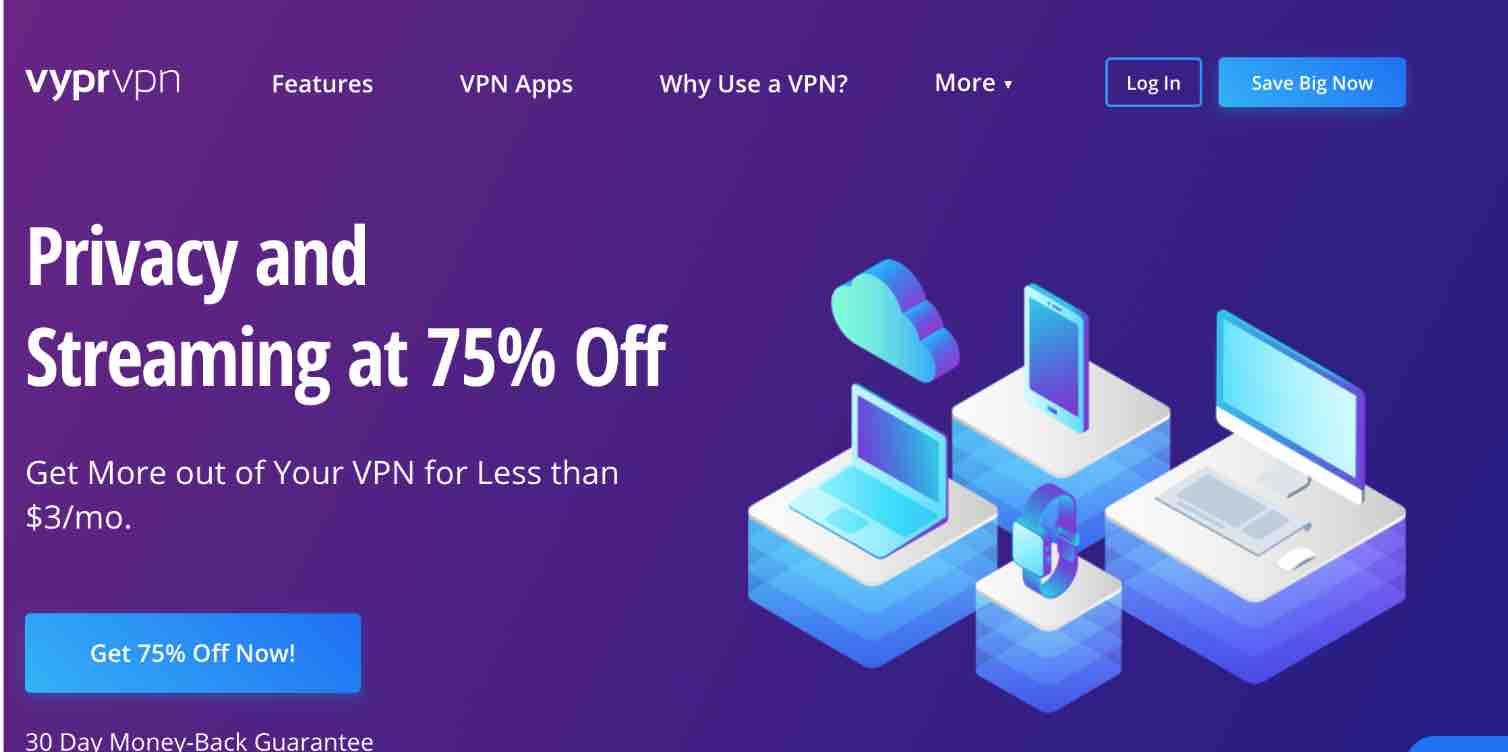 Created by Golden Frog, a Swiss company specialized in computer security, VyprVPN has many advantages. Very respectful of the privacy of Internet users, the company does not keep any information about its customers and it guarantees 100% anonymous exchanges.
Security
When it comes to encryption and security protocols, VyprVPN is in a good position: In addition to the OpenVPN-256 , OpenVPN-160 and L2TP / IPsec-256 standards , there is a specially developed technology for encrypting data. VyprVPN also scores with the in-house Chameleon 256-bit protocol .
According to the provider, this encrypts the metadata, which avoids VPN blocking and data throttling. Automatic protection shields users when connecting to public WLANs and a kill switch function interrupts network traffic if the connection to the VPN is lost.
Read: Top Guide to Increase your E-commerce Store's Security
VyprVPN has its own DNS security protocol called VyprDNS , which sends DNS requests through an encrypted tunnel and prevents DNS filtering. The VPN service passed the DNS leak test undamaged, so good security can be assumed here.
VyprVPN follows a no-logs policy, does not collect or save any user data. Because the company is based in Switzerland, Golden Frog is subject to one of the strictest data protection laws in the world. The company owns and operates all servers and networks, which makes access by third parties difficult.
Complete and versatile
VyprVPN is a highly dependable and speedy VPN service provider that offers unlimited data transfer and bandwidth. With its own infrastructure that includes over 700 servers in 70 countries across 5 continents, as well as access to over 200,000 IP addresses, it has become a trusted and popular choice among users. Its user-friendly applications support a variety of platforms, including Windows, macOS, Android, iOS, routers, NAS, and even smart TVs. It allows for easy connection to streaming services in the USA and blocks P2P downloads and torrents (except legal torrents).
Set up and use
The VyprVPN download and setup are quick : download the app from the website or the app store – and you can start right after logging in. The operation is simple and self-explanatory. The only pre-stored server option is the fastest server cluster, which is mostly located in the Czech Republic; certain countries can also be selected.
The service offers some customization options such as public WLAN protection, kill switch, security protocols or DNS. For problems with VyprVPN there is an official forum and a live chat with employees who replied promptly.
Device support
VyprVPN offers special VPN apps for Windows, Mac, Android, iOS, QNAP, Blackphone, Smart TV, Anonabox and various routers. Below the download buttons you will find instructions for setting up a VyprVPN connection on DD-WRT, OpenWRT, ASUSWRT, Boxee, Synology NAS and Blackberry on the linked page. Instructions for Linux are not listed there , but they are also available.
Features :
Platforms: The service is available as an app for Windows, MacOS, iOS and Android . A VPN can also be installed with the help of Vypr for the router, smart TV and Android TV.

Servers: Thanks to over 700 servers in 65 countries worldwide, the number is good compared to other providers.

Devices: Depending on the subscription model, customers use the service on three to five devices simultaneously .

Data volume: The amount of data is illimited .

Netflix: VyprVPN has eight server clusters in the United States . The streaming of Netflix works smoothly and quickly .

P2P: According to the provider, P2P and torrenting are permitted .

Free version: The service does not offer a free version – but a 30-day money-back guarantee.

Desktop / Mobile: The mobile version has fewer setting options than the app for PC and Mac.
Conclusion
VyprVPN offers a great entry-level package with ultra-fast streams – whether it's US Netflix, or media libraries. It is easy to use, plus Chameleon encryption as well as its own security protocols. In addition to the mandatory kill switch, public WiFi protection also appeals. With its pricing policy, VyprVPN is one of the cheaper VPN services on the market.
Simple operation and modern design

Based in Switzerland

Strict data protection laws

Good security

In-house VPN protocol

VyprDNS

Strong streaming performance

Good speeds

Favorable annual price

P2P / torrent support
ProtonVPN

  Visit site
ProtonVPN, based in Switzerland, is a sister product of ProtonMail, a well-known provider of encrypted email services. The VPN service, provided by Proton Technologies, places a strong emphasis on data security and privacy. A unique feature offered is the "Secure Core" server network, which routes data traffic through additional rounds in Iceland, Switzerland, or Sweden to enhance security. These server farms are located in highly secure facilities and are fully owned by the company.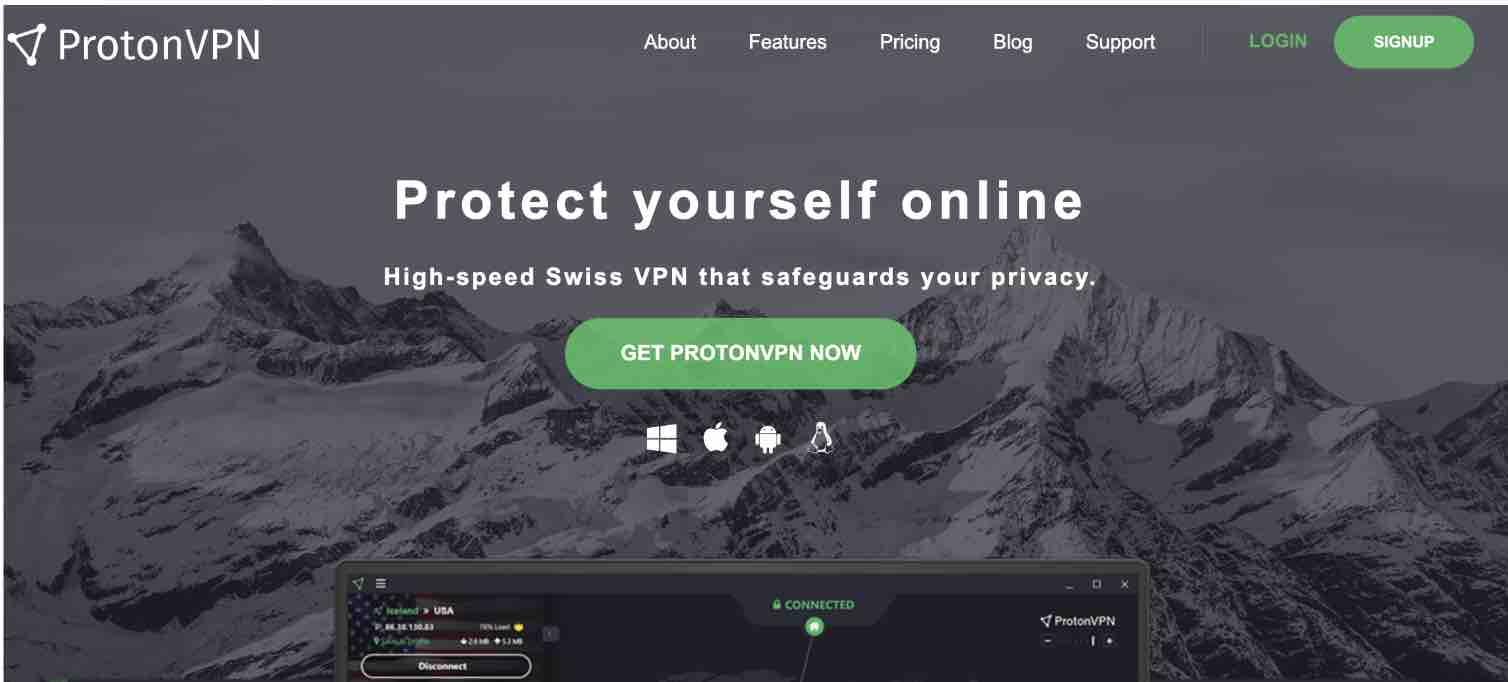 A young VPN provider
ProtonVPN may not have the largest network of servers, but it still offers a good connection speed by choosing less populated servers. You can also select servers that are optimized for specific purposes such as the Tor network, P2P file sharing, or accessing geographically blocked streaming services like Netflix and Prime Video in the United States, Germany, and England. The service is user-friendly and provides advanced security features such as 256-bit AES encryption, Kill Switch, DNS leak prevention and split tunneling. Additionally, it offers the choice of various VPN protocols and a proprietary network routing solution, "Secure Core" that adds an extra layer of protection by routing traffic through multiple countries before accessing the internet.
Read: How To Create a Mobile App For Your New Business
Mobile use
ProtonVPN is also available as an app for iPhone, iPad and Android devices. If you have a "Basic" package, you can connect 2 devices to the VPN network. For many, this should be enough because it covers the common equipment with a computer and a smartphone. Unfortunately, only one device is included in the free package.
Device support
Since ProtonVPN uses the open protocol OpenVPN, you can use the service in principle on any device that enables connections via OpenVPN. It also supports the most important operating systems: Windows, macOS, Android and iOS.
ProtonVPN has detailed instructions for setting up a connection on Linux computers and DD-WRT routers .
Security
Security is at the heart of ProtonVPN's self-presentation and advertising. Encrypted emails, VPN and the headquarters in Switzerland go well together in this regard.
ProtonVPN encrypts your data stream with AES-256, the highest common standard. However, this is also common with other VPN providers. What you don't necessarily get there is "Secure Core" and the convenient use of the Tor network with a click.
ProtonVPN also promises that the "Secure Core" server farms will be housed in secure, partly underground bunker systems and will consist exclusively of in-house hardware. In the VPN business, it is otherwise quite common to rent servers.
The combination of a VPN with the Tor network is another plus in security that ProtonVPN offers. The focus on security is also reflected in the fact that ProtonVPN only supports the most secure VPN protocols: OpenVPN and IKEv2 / IPSec.
Features
Quick Connect: Automatically connects to the currently fastest server in the entire network. This feature is industry standard.

Profiles: This is not the case with other providers. Here you can save sets of VPN settings as profiles that you use regularly.

Countries: The country selection. Of course, this is also standard. ProtonVPN offers servers in 34 countries.

Secure Core: If you activate this option, your traffic runs through an additionally secured network of servers in Iceland, Sweden and Switzerland.

Map: You can also use the map view to connect to a specific country.
Conclusion
The transfer rates are very good and P2P transmissions and Netflix streaming are also possible with the higher-quality packages of ProtonVPN.
Applications are available for the main OS (Windows, macOS, GNU / Linux, Android and iOS), but ProtonVPN unfortunately misses out on Smart TVs. Note that the supplier does however support certain routers. Depending on the subscription chosen, the VPN allows the use of up to 2, 5 or 10 devices simultaneously.
ProtonVPN combines advanced security features with pleasant, easy operation, high transfer rates and a stylish user interface. Definitely a high level VPN provider.
High transfer rates

Strong security features

Free option

Nice design

Large package selection
---
If you like the content, we would appreciate your support by buying us a coffee. Thank you so much for your visit and support.