By Jessica Fender – Many app developers dream of coming up with the next Angry Birds or Candy Crush. Others dream of developing a personal development/lifestyle-related app that will beat out all the competition because it is so unique. Still, others simply want todevelop an app for their business, so that customers have the convenience of using it on their mobile devices. After all, the use of mobile devices has outpaced PC use for a number of years now.
As of the first quarter of 2021, there were a total of 5.6 million apps on the Apple Store and Google Play combined. It seems that the adage, "there's an app for that" is really true.
With all of these options for consumers, it's no surprise that a huge number of apps simply sit out there and die a slow death. This may be the result of several factors – lack of strong marketing, too repetitious of other apps that came out earlier, etc.
One factor that may not be receiving enough attention from app developers/owners is content. Yet, it is the one thing that can set your app apart and give your users an experience they will not have with your competition. When your content can genuinely engage your app user, you will have a winner. And your users will not only keep your app, but they will also share it with others – they become "marketers" for you.
Just What is Engaging Content?
Journalists and successful bloggers can probably define this for us. They understand what it takes to capture the reader's attention and hold it. It is the crafting of text and visuals that immediately capture attention, from the headline on, and that provide valuable education, entertainment, or inspiration to those who access it.
So, how does this translate to app content? Read on for five tips to craft your engaging content for your app.
5 Tips
Know The Audience and Target Members Personally
All content should be written with the target audience in mind. It's not about what you want to say. It's about what that audience wants to hear. Your content must demonstrate that you understand their needs and problems and that you can provide the solutions they are looking for.
Let's take a simple example. All airlines have an app. If a person downloads the app of an airline they frequently use, they can of course book their flights and get flight information. However, when there are delays, gate changes, or other incidents, each customer receives a targeted personal message regarding his flight. Content like this endears app users and serves their needs, not those of the company. Pushing out generic messages to all users is not good content and becomes irritating.
If a potential customer has added an item to their cart and then never purchased, what content can you push to them to encourage finishing the purchase? This speaks to relationship building through your content.
The questions you need to ask yourself here are who is going to use your app, what are looking to get from using it, and how will this app provide that? The additional question is how can you personalize the content they access and receive?
Honor the Screens and Users of Mobile Devices
Mobile devices surpassed PC use several years ago. If you developed a web app for PC use, the content cannot simply be moved over for mobile screens and users.
First, mobile users will not tolerate walls of text – the screens are too small, and users are often "on the go." They want their content delivered in ways that can be quickly absorbed. Use more visuals than text; use video; and anything in print must be large.
Remember, today's consumer has a very short attention span (some research says about 8 seconds). If you have not caught their attention within that time, they will go to your competition.
Read: 7 Must Have Social Media Tools In 2021 
Promote Your App Content Via Social Media
While this is an obvious marketing tool, it should not seem like one to a social media user.
Consider this: there are almost 4 billion people on social media, and the average person has 8 accounts.
When you can transfer some of your app content to your social media platforms to engage your target audiences, you can generate more interest in it. Here are just two things you can do:
Create trailers or teasers to show potential users what your app does and how it provides value to them.

Offer incentives to download and share posts about your app – this can be a free trial or a temporary free upgrade.
If you struggle with integrating social media posts with your app content (and this can be a bit tricky), check out Edubirdie, a professional online writing service. They have a large department of creative writers with experience crafting social media posts and managing social media platforms for businesses. Let one of their pros take a look at your app and create great copywriting content for your platforms.
Read: 8 Types of visual aids to use in your marketing strategy
Use Visual Storytelling
This is especially important for a mobile app. First, let's define visual storytelling as a content medium. It is not a lengthy tale by any means.
You have seen short story snippets in advertising – Flo and team from Progressive Insurance, the Geico Gecko, the Charmin bears. How can you use this concept in your app content?
Begin with a great icon that is easily recognizable and one that can tell a brief visual story of what your app is all about. Here is an example from Soundcloud: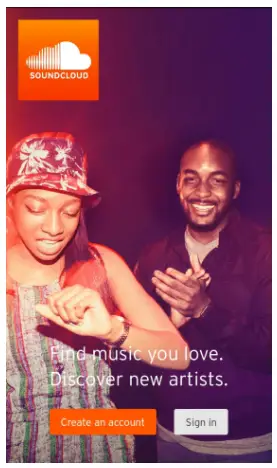 Your app will be easily recognizable on anyone's screen. And the story? Two people enjoying the music they have found.
Moving on to the actual app content, how can you tell short visual stories as users experience all that it can do for them?
One of the best examples of this is the now-discontinued weather app, Poncho. Launched in 2013, this was probably the most popular weather app, until its demise after being bought from its funders by Dirty Lemon, a company that only wanted the technology behind it. Poncho provided weather forecasts that were personalized based upon user input, but he did far more than that. He chatted with his users; he had his own "life," captured in visuals.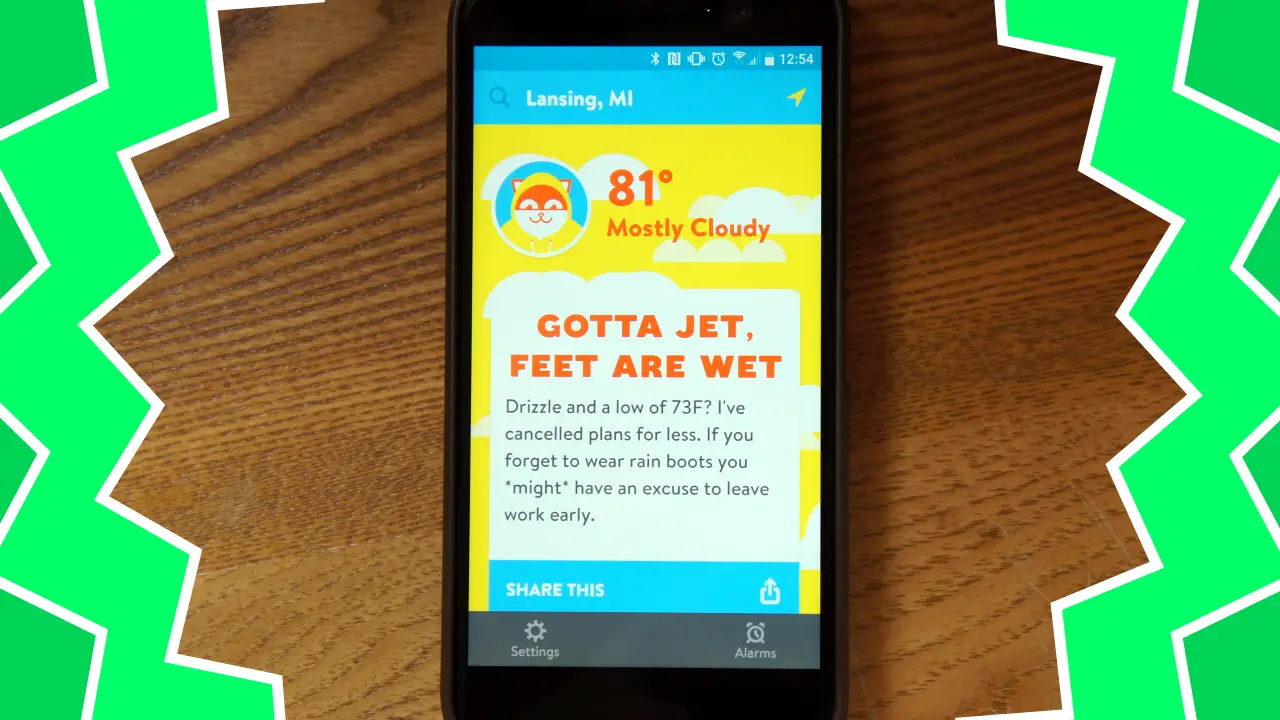 Ultimately, Poncho expanded to offer more, such as daily horoscopes pushed out to users who provided their zodiac signs and wake-up alarms. Each of these features sported Poncho with a short visual "story."
Use In-App Feedback to Get Better
Once someone has experienced your app, one piece of your content needs to ask for feedback on that experience. It will provide invaluable information on how you can improve. While it may be a simple feedback survey, it can also simply ask for users' opinions, which they can freely express. This is the best method to measure user satisfaction/unhappiness.
When ModCloth, a highly popular women's clothier, launched its app, the results were not wonderful. Fortunately, it had in-app feedback technology to tell them this. Here's an example:


Love ModCloth Hate the app
It's a painful app that makes for a painful shopping experience. The apps search features doesn't look so you can't look up items. On top of that you can't bring down the side menu to shop by clearance or to choose a category. So if the item you want to purchase is not accessible by one of the promotions on the front page then you are out of luck. There is no way to then access that item even if you saw it in an ad.
So when your whole order you spent time sizing and fitting to yourself gets deleted out of your cart once you log in you feel a deep sense of dread knowing you probably won't find most those items again. I got lucky and only missed out on a couple items before I finally made my purchase out of fear my items would delete again. ( and my original order was close to 300$ now I was placing an order for 180$)
Now you might think that is bad but what makes it worse is the fact the same problems are on the mobile site too. Which makes it hard to navigate around this problem unless you are on a pc. ModCloth is a great fashion brand that I grew up loving. But they are loosing money by not having intuitive functioning app and mobile sites. I will still by from them but it's no longer convenient and easy to purchase which means I am more likely to by from other brands unless I have time to shop on my laptop.
Developer Response,
Hi, there. Thank you for reaching out. I'm very sorry for any shopping inconvenience. Our team is aware of the current search and menu issues, and they are working on a fix, as we speak. We hope to have this resolved very soon!
You can respond to the feedback and assure users that you are doing what you can to fix their dis-satisfaction.
Wrapping It All Up
Are these tips all that you need to create amazing app content that will have your users thrilled? No, not at all. But these five tips are a start point. Work with these, check out how your competitors are making use of the content, and keep refining your app based upon what your users say.
Jessica Fender is a copywriter and blogger at Writeload with a background in marketing and sales. She enjoys sharing her experience with like-minded professionals who aim to provide customers with high-quality services.
---
If you like the content, we would appreciate your support by buying us a coffee. Thank you so much for your visit and support.