Google loves when people watch videos directly on their platforms. This is one of the reasons why they make it impossible for anyone to be able to download videos directly from their streaming website. This can be frustrating to people who may want todownload and watch a video later, or for any other reason. Fortunately, far as technology is concerned, there is always a way out. The completely free and easy to use 4k video downloader is the answer. In this article, you will learn how to use the 4K Video downloader to download YouTube videos of your choice. 
But before you start using it, first download 4K Video Downloader software and install it on your desktop. It runs on macOS, Windows, and Linux. 
How to Download an Entire YouTube Playlists
One of the most outstanding features of 4K Video Downloader is its ability to download an entire YouTube playlist.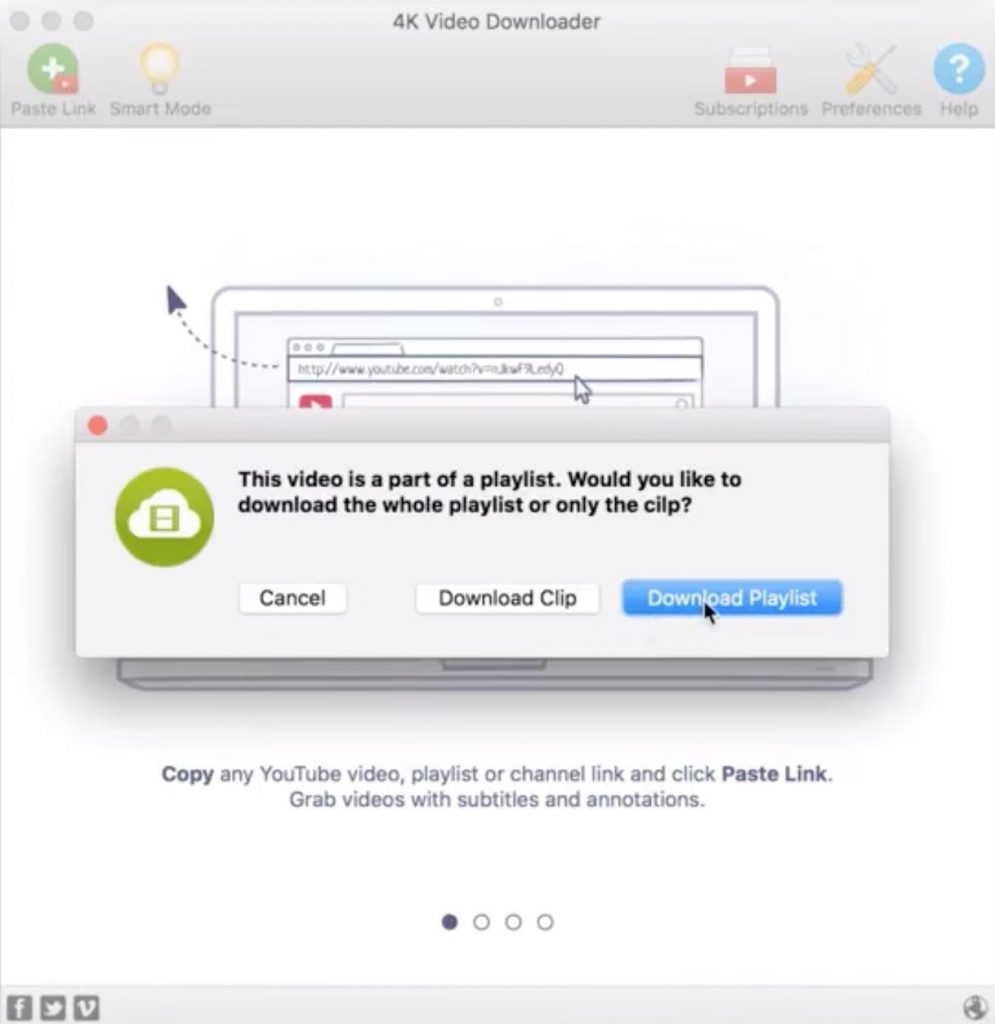 To do that :
Copy the URL of any video in the playlist

Next, paste the URL of the playlist into 4k downloader

Click "Download Playlist" in the pop-up that appears. See screenshot above.
You can choose which videos you want to download from a list provided by the software solution. You can also select the quality and format of the video file.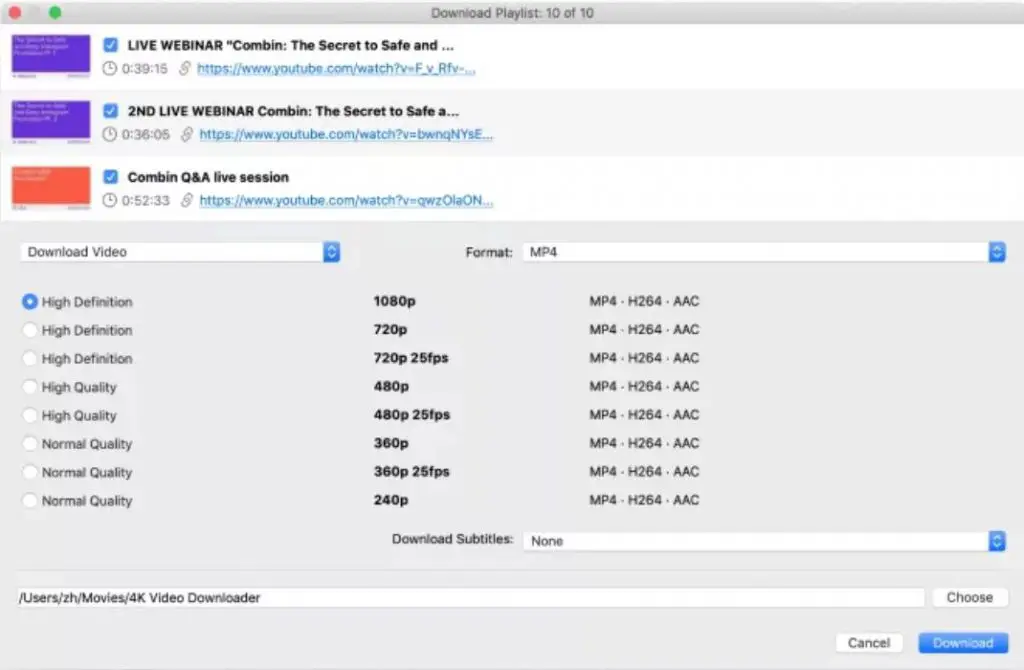 How to Download Subtitles & Annotations
Many YouTube videos have subtitles or closed captions in other languages. So, you will need to download subtitles as well if you need to download such videos. 4K Video Downloader will download both simple and transcribed subtitles. In the end, you get srt. files (supported by video players with modern technology) or videos (with subs).
Here is how:
Copy the browser video link

In Preferences, you can choose between distinct srt files and embedded subtitles.

Enable "Embed the subtitles in the video" (if possible) in the Preferences

Then paste the Url of the video in 4K Video Downloader

Select the following :
– The video quality,


– The download subtitles, and




– a language.

Then click 'Download.
That's it.
How to Download Private Videos 
Using other video downloaders to download videos from private channels can be a challenge. The 4K Video Downloader, on the other hand, streamlines the entire procedure. Using this tool, you can download any private channels or playlists that you have. However, the method of obtaining these videos is a little more complicated. 
The following are the steps that need to be taken:
First, Click on Tools > Preferences and then select "Log In" from the menu

Log in to your YouTube account, and then copy the link to that video from the browser

Paste it into 4K Video Downloader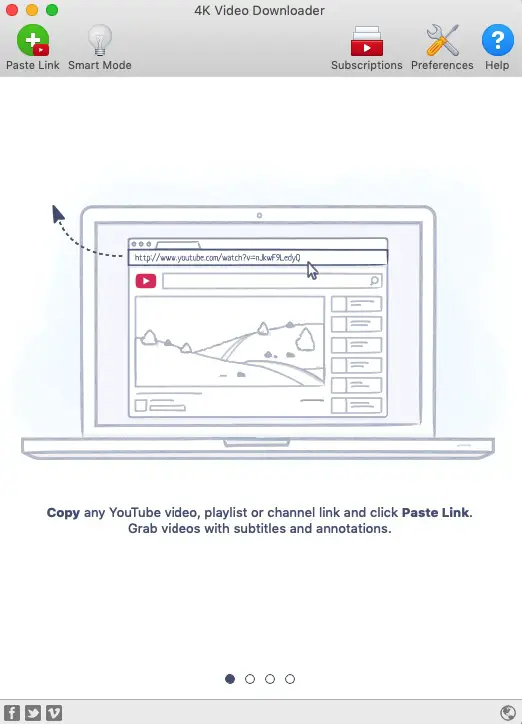 Next, choose your desired video format and quality, and then hit download
And your private video is downloaded stress-free.
Read: Best online browser games without download or installation
How to Download YouTube Premium HQ Audio 
All YouTube Premium members have access to High-resolution audio (256kbps AAC). The 4K Video Downloader delivers more than expectations by allowing you to download high-quality audio from videos. There is no advertising on videos stored by the service, as well as offline and background playback of video and music on mobile devices.
With this option, you can:
Enjoy your videos without pop-ups interference

Watch videos offline on your mobile devices for free

With your YouTube Music membership, you'll get more out of the service
The only thing you'll need to do is authorize your YouTube account in the app.
The process is as simple as copying and pasting the link into your browser's address bar, and clicking on "Download Video". You can even choose the option "Extract Audio". It's also possible to select between MP3, M4A, and OGG audio formats.
How to Download YouTube Channels
YouTube channels can be downloaded using the 4K Video Downloader in the same way that playlists can be downloaded. While the free version only allows you to download five videos per channel, the paid version allows you to download as many videos as you want.
Copy the URL from your favorite channel. The URL should be either https://www.youtube.com/user/username or http://www.youtube.com/channelname.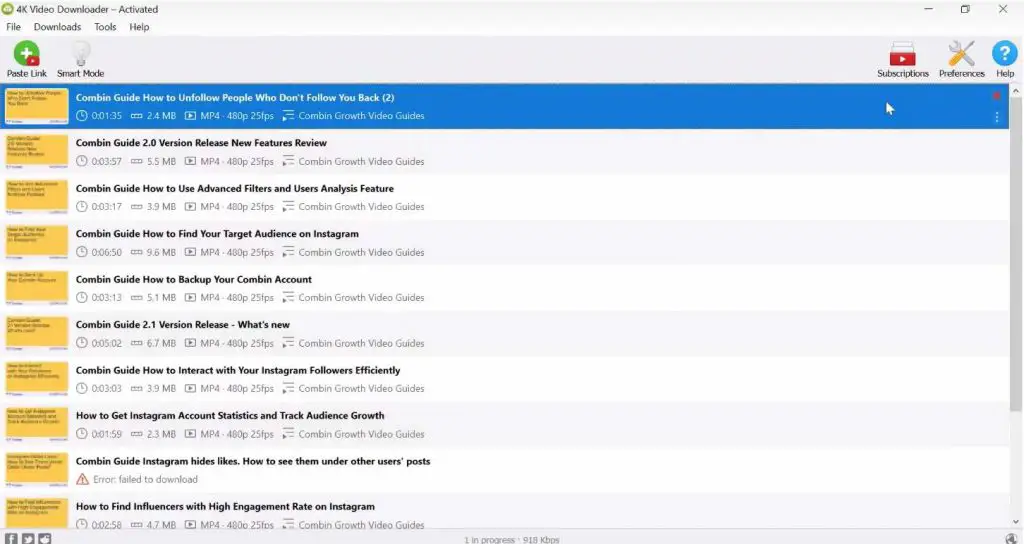 4K Video Downloader will download the entire channel's playlist if you paste the link into the app. You can equally pick and choose which videos you want to save.
Decide on the output format, quality, and if you want the audio to be extracted to a separate file.
How to Download TikTok and Likee Videos
This is a feature that came out with the 4.2 version of the app. TikTok and Likee can now be easily downloaded with 4K Video Downloader. Likee allows you to download the entire channel as a single file.
Here, we've just demonstrated how to download a video from Likee. It's a piece of cake. It's as simple as copying and pasting the URL of the video from Likee into 4K Video Downloader. Once the video has been saved, it will be available for viewing.
You can download your video by clicking on the "Paste Link" button in 4K Downloader.
How to Make a Slideshow with 4K Video Downloader
Click on the "Add photos" button and add your photos. Once you've selected the photos you want to use, press the "Open" button. Holding down the "Shift" button on your keyboard will allow you to select multiple photos at once. On the other hand, you can simply drag and drop your images into the main window of 4K Slideshow Maker.
The App's main window will display your selected photos. The mouse can be used to reorder the slides. As you mouse your cursor over on the slide, the available options will be shown. You can either rotate or remove the slide. And if you have photos on Instagram which you want to add, you can simply click on "Add Instagram" and select your photos.
To learn more about how to use 4K Video downloader, you may want to visit the official website here.
Verdict
4K Video Downloader is an essential desktop app for YouTube video downloading. It gives you complete control over any video by allowing you to download videos from popular sites such as TikTok, Facebook, etc. 4K Video Downloader can be downloaded for free on Windows, Ubuntu, or macOS. So, what are you waiting for? Download 4K Video Downloader now. 
---
If you like the content, we would appreciate your support by buying us a coffee. Thank you so much for your visit and support.