Everyone loves watching videos – whether it's a movie or comedy. At times, we share it with friends and family to enjoy the beauty of life. However, nothing is guaranteed in life. What if the video got corrupted? It would be frustrating, especially if you invested so much money to get this movie or video. Is there a way to get it fixed? Can a corrupted video be repaired to play again?
Nowadays, there are several ways you can use to repair a damaged or corrupted video. If you find yourself in this situation, there is no need to get frustrated because you have a professional video repair tool that can repair a damaged, corrupted, or broken video. Yes, your video will undoubtedly play again after using the software. Stellar Repair for Video is one undeniable software that seems to help deal with damaged or broken video.
The name alone should ring a bell that your video can come back to life. To help you know how it works, we will review the software, looking at various aspects of it and why you should consider getting it to resolve your corrupted video issues. Without further ado, let's get started.
Read: Tips To Create Accessible Videos for Broader Reach
Reasons for corrupt videos
Converting video files using untrustworthy software

Virus or malware attack on video or device

Sudden shutdown while downloading or recording the video

Converting into different file formats

Using a faulty video player to play a video

Unsafe removal of external device
Review of Stellar Repair for Video
Stellar Repair for Video is a unique software that repairs all video files that you might have shot using a DSLR, smartphone, or downloaded online. It fixes video that stops playing, shuttering, flicking, or blurry for no reason. Furthermore, it can handle any corrupted video files that look like they won't play after using several video players.
The Stellar Repair for Video has an advanced repair function that repairs highly corrupted videos, making it a sought-after software in the industry. Let's look at some essential features that distinguish Stellar Repair for Video from other video repairs on the market.
Features of Stellar Repair for Video
Advanced Video Repair – We have already mentioned some reasons why you might get a corrupted video, but that shouldn't stop you from deleting the video.


The advanced video repair feature of Stellar Repair for Video can fix it up. All you need is to provide a sample to the software to repair the corrupted video.

Fixes several corruption issues – Stellar Repair for Video repairs all corrupted issues that display messages such as "error loading media files" or "could not play video." In addition, it can fix frozen or blurry videos.

Preview repaired videos – It allows you to preview repaired videos to save your time and effort.

Repairs videos captured on several devices.

Supports files in different formats, including WMV, MTS, M4V, AVCHD, ASF, MPEG, MP4, F4V, 3GP, etc.
How does Stellar Repair for Video work?
It follows a simple process to repair corrupted video files. All you need is to select and add the corrupted or damaged video into the software and allow it to do its magic. It has two repair modes – the basic mode and the advanced mode. The basic mode allows you to fix minor video issues, whereas the advanced repair mode repairs highly corrupted videos. Let's look at the process of repairing corrupted videos.
Read: What Happens When You Permanently Delete Files from the Recycle Bin
Steps to repair corrupted Video using Stellar Repair for Video
Step one – Add corrupted video files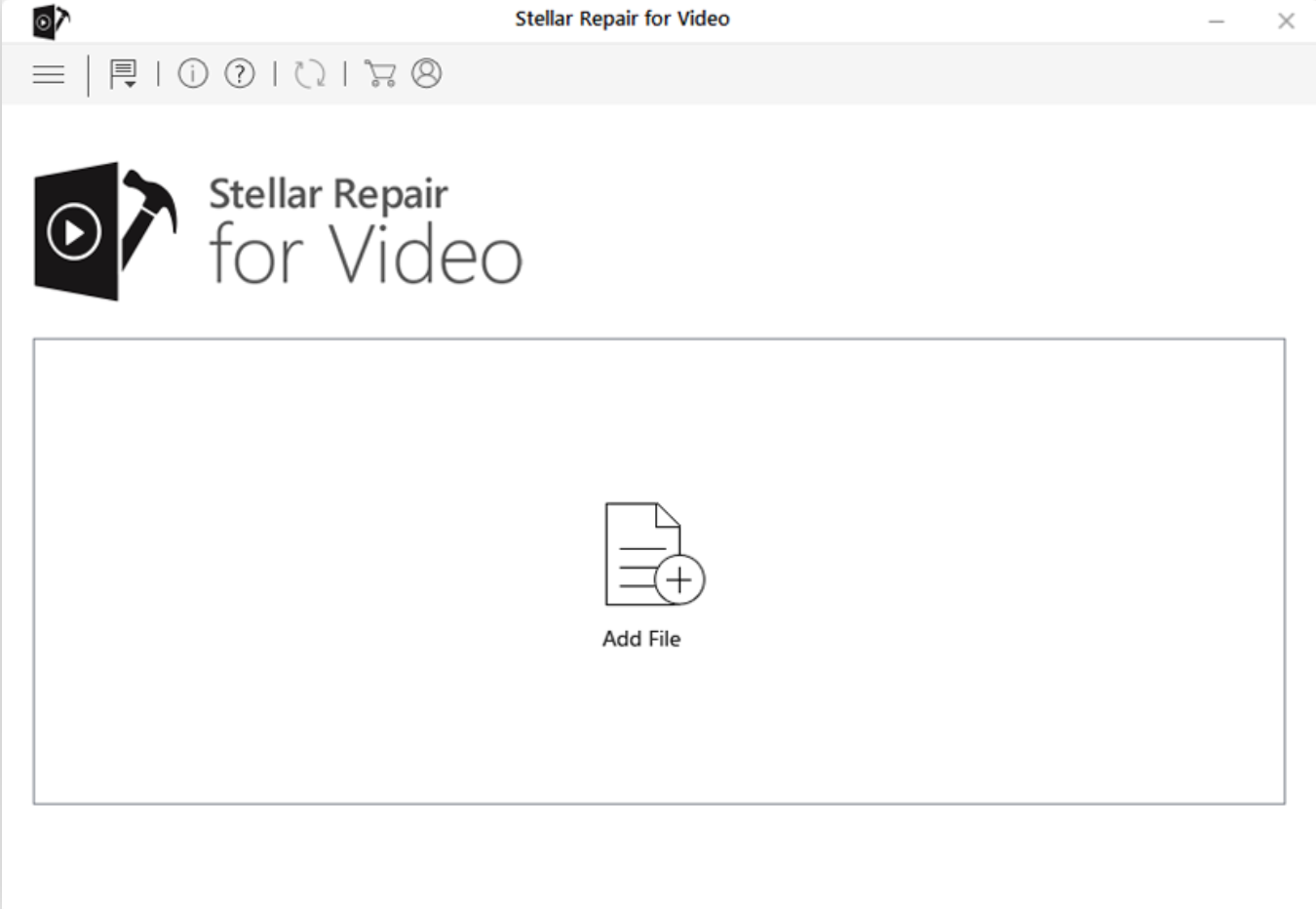 Open the "Stellar Repair for Video" software and add video files. You can add multiple files by using the "Add button" on the left hand side of the dashboard.
Step two – Repair added file
After adding the corrupted video, it will upload on the software interface. You need to click on the "Repair" button on the far right side of the dashboard. The process will take a little time before it gets completed.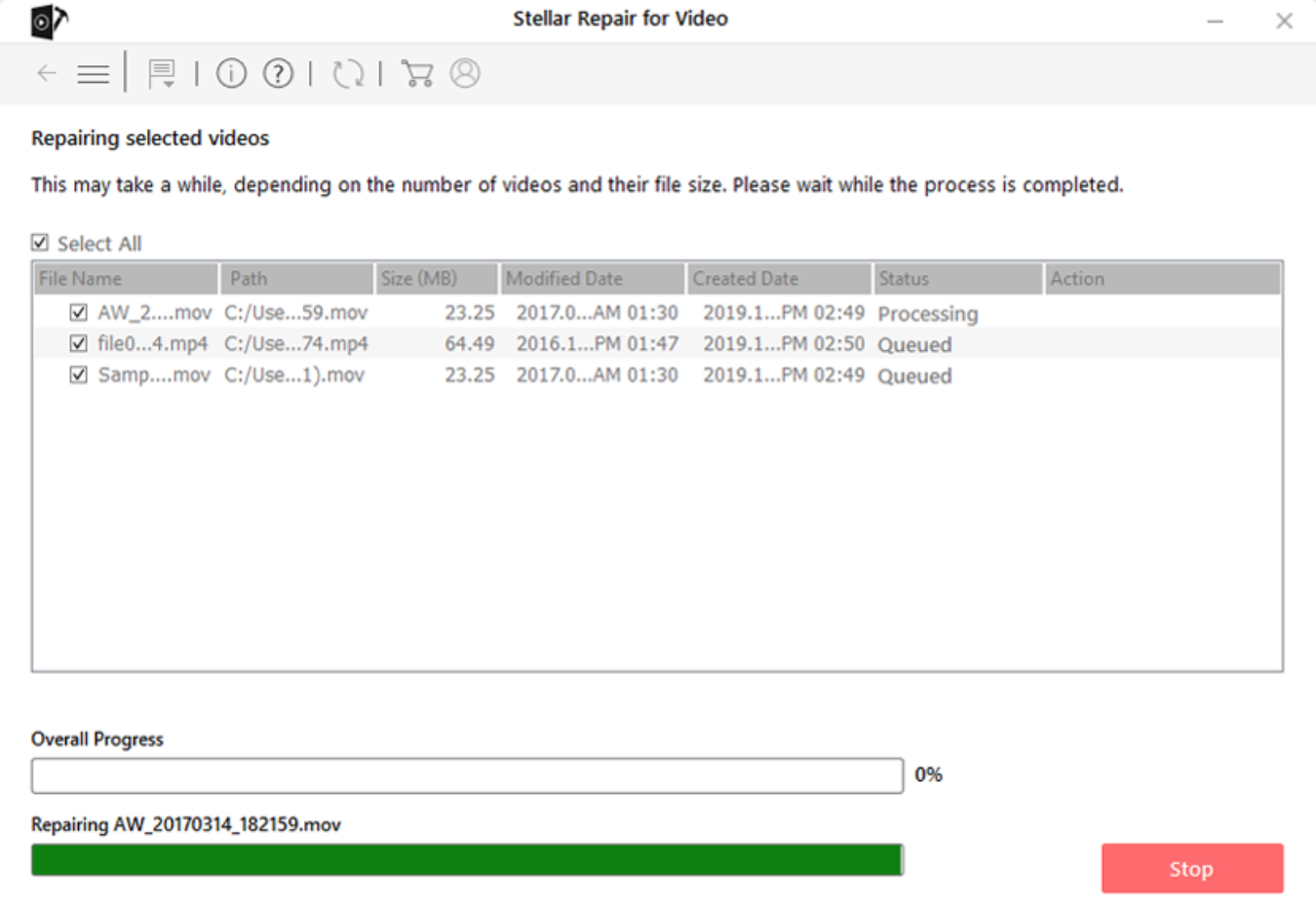 Step three – Saving repaired file
Once the process completes, you will receive a notification indicating a "Completed Status." You can preview the repaired video before saving it, as you can see in the snapshot below :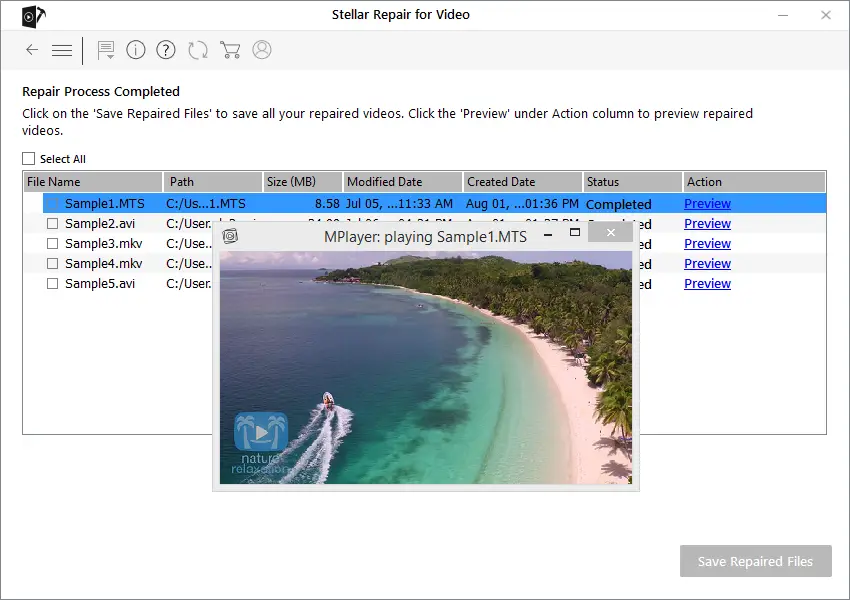 Assuming that you are convinced everything is sorted out after previewing, you can click the "Save Repaired Files" button.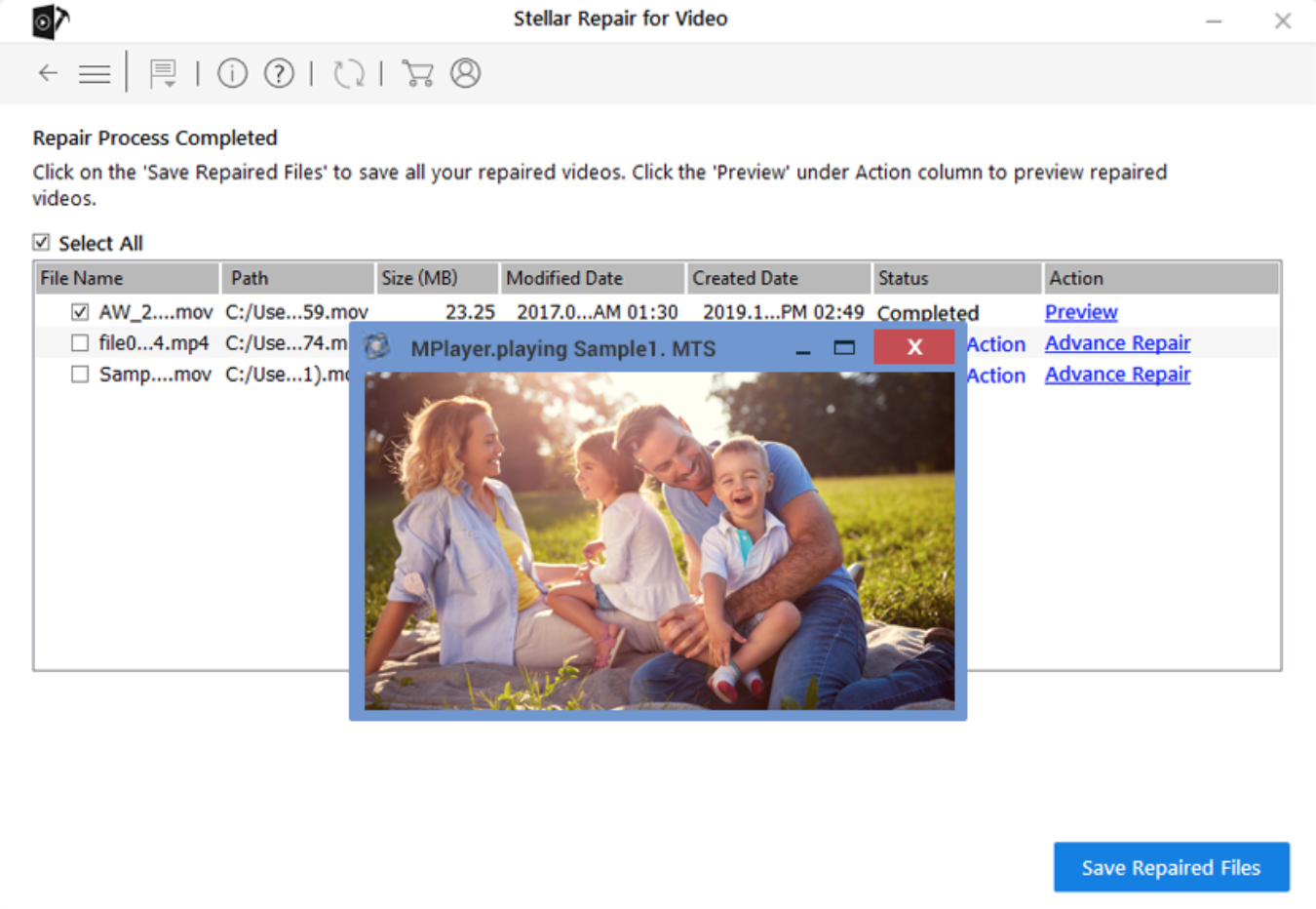 Pricing of Stellar Repair for Video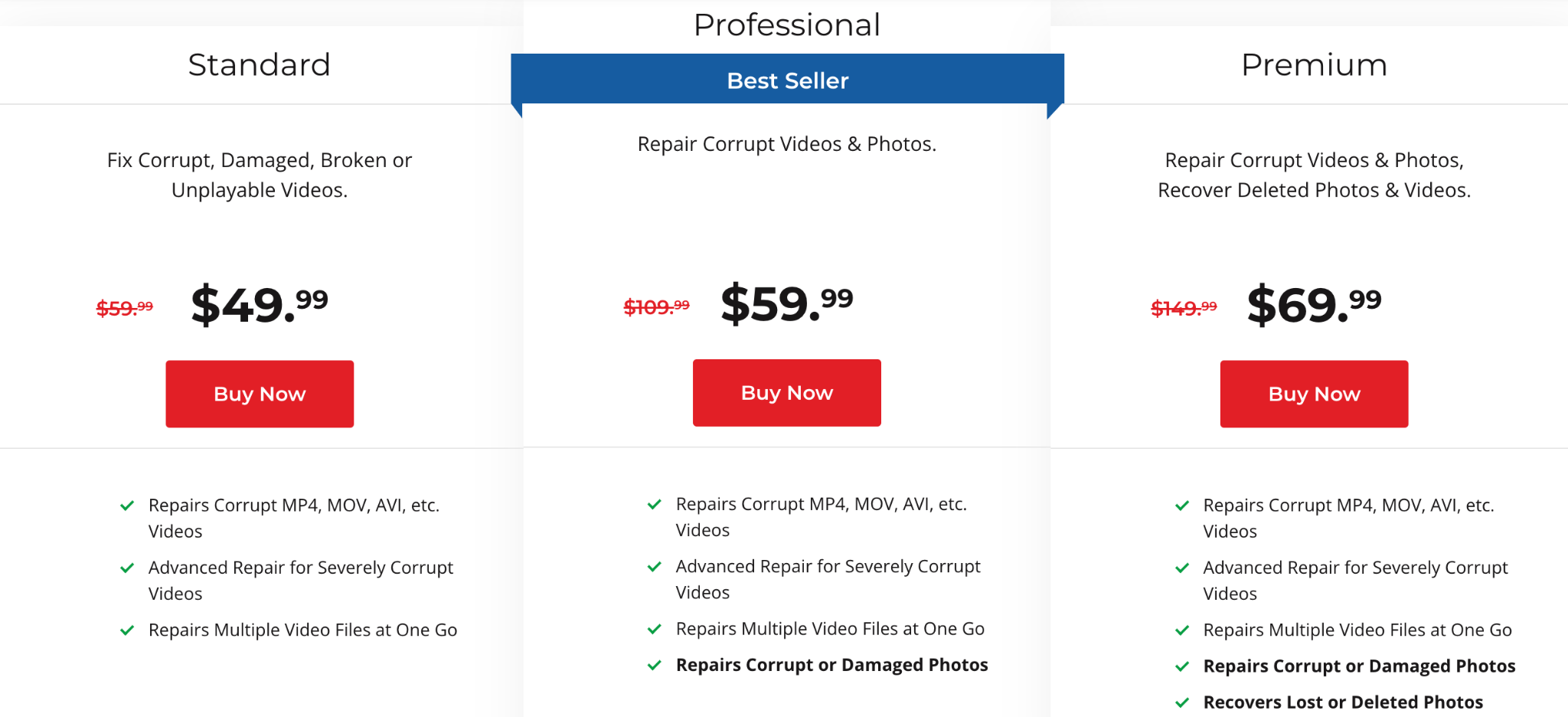 The Stellar Repair for Video software comes with a trial version that allows you to repair a corrupted file but it doesn't allow you to save the repaired file on your computer. You can only preview 20% of the entire video. Nevertheless, if you are convinced about the workability of the software, you can get the paid version.
Read: How to Stream videos from PC to Android
The software has three packages, including standard, professional and premium. The best option is the professional version, as it comes with additional features, including photo repair and data recovery. On the other hand, the premium plan offers advanced features such as allowing three systems to use it. It is suitable for professional videographers and agency owners.
Final Verdict – Stella Repair for Video
The software is an excellent tool for anyone creating content, especially video content. It lives up to its name in repairing corrupted or damaged video. Stellar Repair for Video fixes video files with several issues with the option of using its basic or advanced repair video. Overall, we consider Stellar Repair for Video a great software that is worth using before trying other video repair software.
---
If you like the content, we would appreciate your support by buying us a coffee. Thank you so much for your visit and support.