The M4A4 Howl is pleasing to the eye, but the aesthetics are only part of its appeal. This skin is one of the rarest items in CS:GO — it is only available through purchase or trade up contracts. As the number of copies is limited, you will be lucky if you obtainit in 2022. The most expensive version, StatTrak Factory New, costs almost $28,000, but it is still possible to snatch a good deal.
This impressive red and black skin first appeared in the Huntsman Weapon Case in May 2014, when the "Hunt Behind" update was released. It was quickly removed due to copyright violations. Today, you cannot find a more expensive skin for your CS:GO rifle, so owning a M4A4 Howl is a real luxury. It is the only Contraband item in the game.
Read: Best online browser games without download or installation
The Appearance of the Skin
The rifle is painted red, black, and brown, and the colors form a flaming pattern. The central part features an image of a wolf's head in shades of white and orange. The handle is solid red.
You can find all conditions of this coveted item with the exception of Battle-Scarred. Abrasions cover the body even when the skin is Factory New. The number and size of scratches increase over time, but the image of the wolf's head remains largely intact. The background flame pattern becomes significantly faded in the Well-Worn phase.
Read: Important recommendations for keeping personal data safe when playing online video games
Overview of Prices
The basic version will set you back over $10,300 if you buy it in the Factory New condition. Since the beginning of 2018, its price has grown by over 400%! To save money, you can get a Well-Worn skin for half the price. The StatTrak range is roughly between $28,000 and $10,000.
The best prices for the Field-Tested and Minimal Wear conditions, according to Steam Analyst, are found on DMarket. These cost $3,200 and $3,836.20, respectively. As you can see, prices vary dramatically.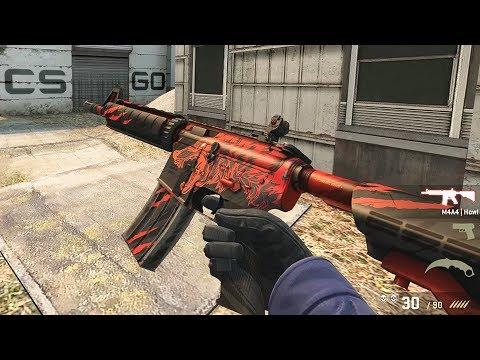 Where to Buy
Although this skin is available on Steam, the official community does not always have the most competitive rates. What's more, it has other disadvantages that deter CS:GO traders. As a closed environment, Steam will not allow you to withdraw cash if you sell your M4A4 Howl or other game assets. Withdrawals are impossible, and any profit must be spent on Valve products.
Not only does DMarket often have the best deals on many popular skins. It is also extremely popular with traders, as they can use a variety of withdrawal methods. This system, built on blockchain, is secure and user-friendly. It offers over 1 million skins, 24/7 support, and a sleek mobile app. You can buy, sell, or exchange any items on the go at attractive prices.
---
If you like the content, we would appreciate your support by buying us a coffee. Thank you so much for your visit and support.