You probably won't deny it. One of the main problems everyone encounters is the slowness of their PC. The recurring question on the forums or that IT professionals hear regularly is the same: " How do I speed up my computer ?"
It is a fact that a PC gets dirty over time. Games, software, programs, viruses … Your hard drive and RAM contain a large amount of data, which inevitably leads to a slowdown of your computer due to the accumulation of different types of data (junk files, downloads, temporary files ….), but also prevents you from finding your way around. Nothing is more annoying than a slow PC. But often few small tricks help get your Windows machine back on track. Let's see how to clean windows or how to clean up a computer to run faster .
Define the data to be considered
Is your computer running slow ? Is the boot taking a long time? Do not wait to start the cleaning process. This necessarily means that something is wrong. How to speed up a computer can be achieved by cleaning it up thoroughly. Ask yourself the right question: what should be cleaned?
Several data should be taken into account before starting the cleanup process :
● Installation files: These files are linked to the application that you install on your computer. Even when uninstalling, this software sometimes remains on your hard drive.
● Adware: Also known as adware, it is often installed without your consent to analyze your behavior.
● Cookies: you need to know them. You record your personal data when you surf the Internet.
● Spyware: This spyware can monitor all of your activity and recover your personal information.
● etc.
Read: How to protect your Windows PC against malware
The amount of data to be cleaned, whether malicious or not, is therefore important. Before each action, it is recommended to make (for a possible recovery in case of problems), a hard backup of your data or to use a recovery point.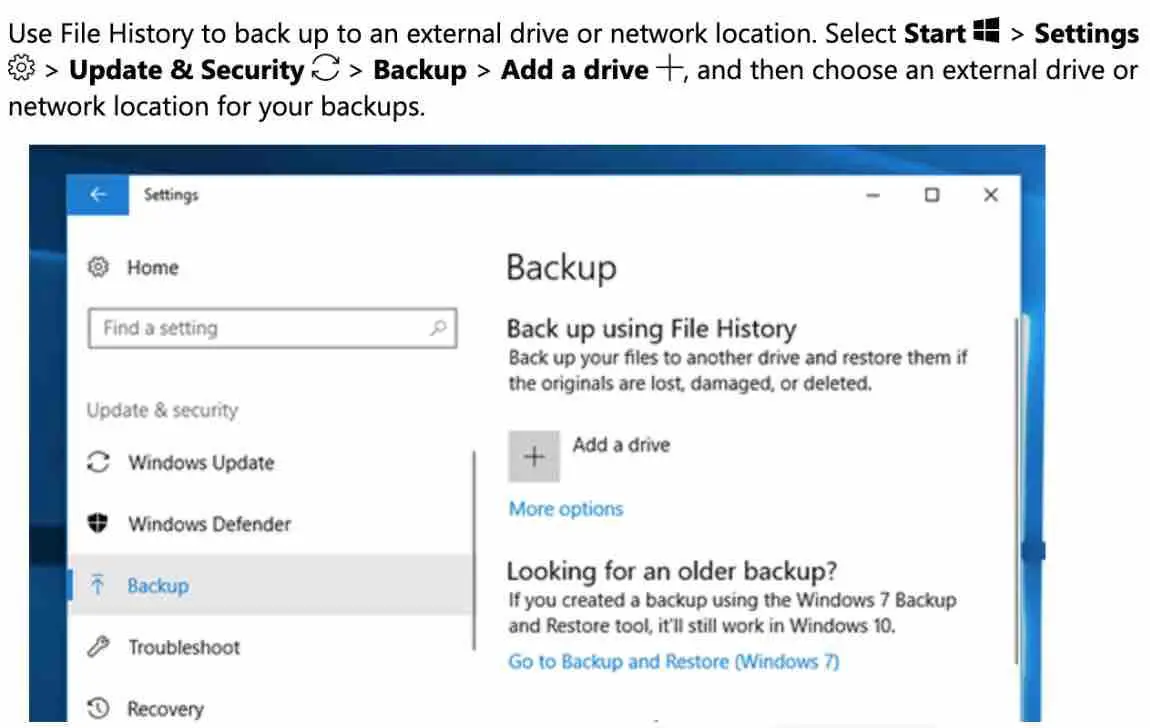 Delete unnecessary programs, files and folders
First, it's important to remove software that compromises the security and proper functioning of Windows. Many files are not only unnecessary, but sometimes even dangerous :
● Programs that are launched when Windows starts: When you install a program, a folder with the name of the program is automatically created. Some programs start automatically when Windows boots, even if you don't need them. They unnecessarily overload the memory. After uninstalling them, it is assumed that they will disappear. However, this is not always the case. If you have some doubts, ask a specialist on how to uninstall programs effectively and securely.
Read: How to speed up Linux
● Temporary files: These files can take up an unnecessarily large amount of storage space because they are no longer reused by the system.
● Duplicated files
● The history of your web browsing
● Error report files: They are unusable for non-professional users and take up unnecessary storage space.
You can use the Windows Task Manager to find out which programs are running on your PC. Since these programs only show up with their processes, it is not always easy to identify them. Also pay attention to the programs in the start bar and in the systray, the area next to the time display.
Check also which extensions are installed in your browser and consider which ones are unnecessary. This is especially true for toolbars like Ask.com which were never really wanted.
As mentioned above, if the space on C: drive becomes smaller, you should consider removing unnecessary programs. The Apps & Features list in the Settings under System shows the memory requirement of all installed apps. If the hard disk space becomes small, you can find and uninstall the largest unnecessary memory 'eaters'.
You can choose to install new applications on a different drive however. To do this, select the desired drive for new apps in the settings under System / Storage / Change storage location for new content . The new programs usually offer the option of choosing the drive and directory for the installation.
Read: How to speed up your laptop: Here are 10 tips
Windows Disk Cleanup
Disk cleanup in Windows is used to remove unnecessary files in order to free up space. The tool is called via the Clean button in the properties of a drive in Windows Explorer (File Explorer->This PC and right-click the selected drive and select Properties). Disk cleanup searches for unnecessary files and offers to delete them.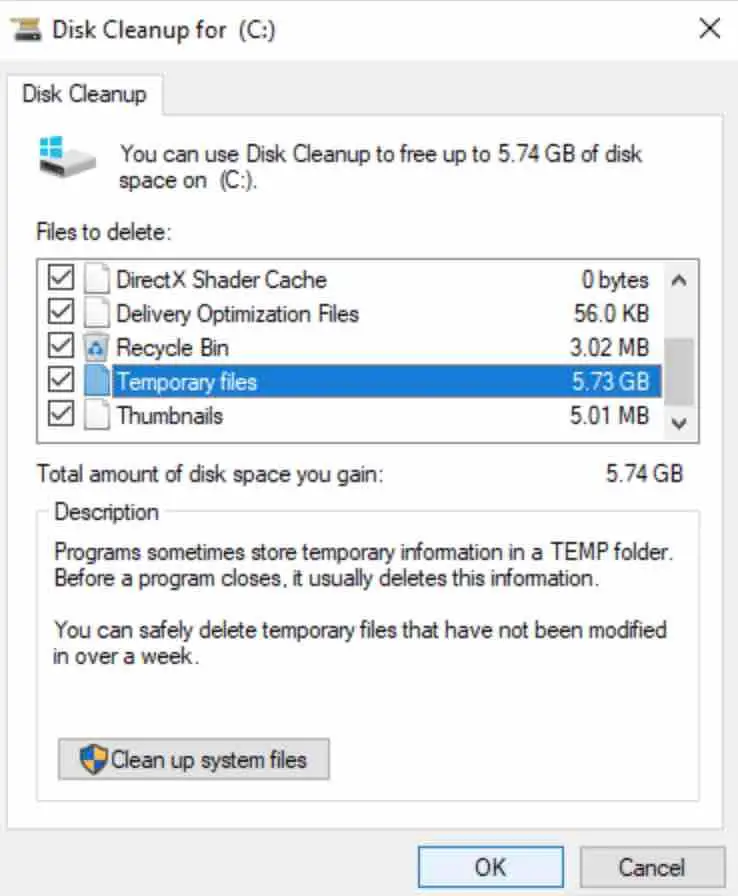 How to speed up computer using disk cleanup
The search is carried out in typical directories that often contain leftover files when Windows is used normally. These usually do not include any files that are necessary to operate the system. Users should not store their own files in the proposed directories.
If you click Clean System Files in Disk Cleanup , the More Options tab appears. Here you delete older system restore points. The latest is always kept. This can free up a lot of storage space. The PC However can then only be restored to the last system restore point.
Read: How to remove Internet Explorer in Windows 10
For safety's sake, don't trust Windows. Select the category to be displayed in the list and then click on Show files . Disk Cleanup permanently deletes the files and does not put them in the trash. Here is a list of file types that may be deleted, proceed with caution though :
To delete :
Setup log files (indications of installation errors)
Windows Defender (temporary files)
Downloaded program data (ActiveX and Java applets from websites) . Delete if no space is available.
Temporary Internet files (cache of Edge and Internet Explorer)
System error dumps (blue screen dumps)
Old CHKDSK files (remains of previous hard disk check)
Delivery optimization (distribution of updates in the LAN) . Delete if no space is available
Previous Windows installation (previously installed Windows) = delete if it runs smoothly
Temporary files on windows (determined by system variable TEMP) . You may want to have a quick look before deleting.
Error reporting file (automatically generated error reports).
Thumbnails (mini images for display in Explorer) are always created anew
Limit the maximum hard disk space in the trash
Limit the amount of space that the trash can use. To do this, right-click on the trash can icon on the desktop and select Properties from the context menu . Here you can set the trash bin size separately for each hard disk partition.
Automatic file deletion
Since the disk cleanup is not exactly user-friendly, Windows has a feature called Storage Sense in the Settings under System / Storage , with which frequently occurring file remnants can be deleted easily or even automatically. Files that have been in the trash for more than 30 days can also be automatically removed here.
If desired, files in the Downloads folder can also be deleted automatically after this period – provided you don't store any data here that you might need again at some point.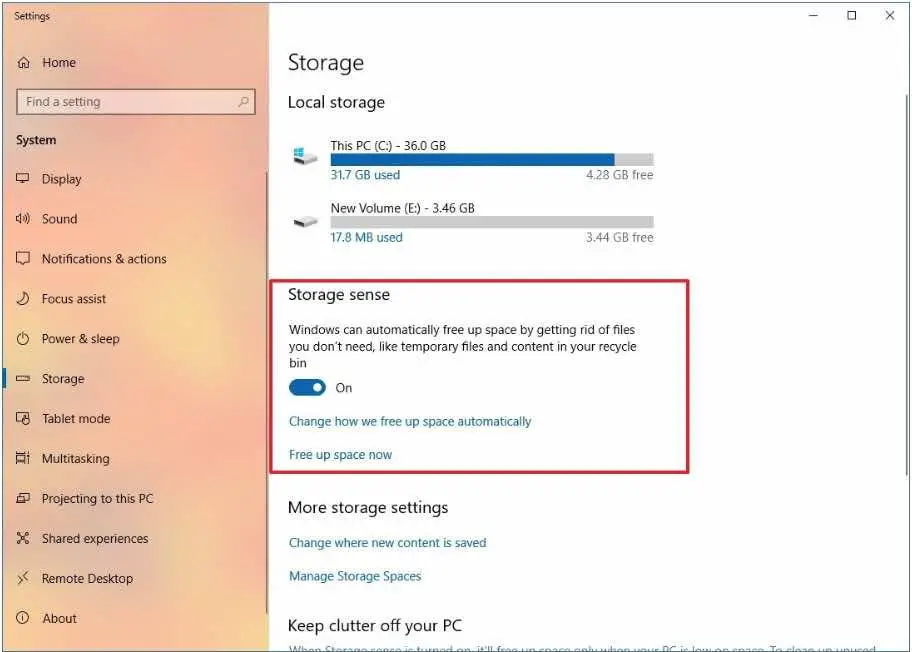 Identifying the culprit
Is the whole PC slow or is it a single program that makes it sluggish? If the latter is the case, then take a close look at the program. With the Windows Task Manager you can find out which programs consume the biggest chunks of the CPU and RAM.
Once the culprit has been identified, you can simply end it and restart it. Make sure to save any changes though. Try also to check if you have overloaded the program. For example, browsers can have many tabs open at the same time which takes a lot of RAM. The same applies to Word and OpenOffice, for instance, which slow down when the opened documents are large.
Delete malicious, advertising and spyware files
Adware, spyware, malware, … malware is plentiful and likely will get installed on your PC, especially if you don't have an antivirus. Its goal? Damage your computer system and sometimes steal personal information. There are various signs of their presence: noticeable slowness , pop-ups, antivirus deactivation , homepage alteration, etc.
AdwCleaner is a particularly useful tool to eliminate adware and other ad invasions .
To get rid of these parasites and properly clean your PC, using a cleaning tool is almost essential. However, it is difficult to know what and how to use if you do not know. If you remove the malicious files yourself, there is also a risk of missing certain files that are somehow deeply located . Knowing how to remove spyware is also important since this can damage your files or even your computer. How to remove malware can effectively be done using up to date antivirus software or using Windows Security which is a powerful scanning utility that fetches and removes malware from your computer. Here is how to launch it. Another windows tool is Windows Malicious Software Removal which can also be used against malicious apps. You may want to visit the official windows support page to find out how.
Finally, remember to clean up your internet browser (Google Chrome, Mozilla Firefox, Opera …). Often attacked by malware , it shouldn't be left out.
Read: How to stop data collection by Microsoft on Windows 10 
Restart

Thanks to clever energy-saving functions, PCs are restarted much less often than in the past. In many cases, they simply fall asleep when they are not needed. However, a restart is always a good opportunity for the PC to fix problems itself. Programs that have crashed but are still occupying memory and consuming CPU resources are terminated.
Many problems go away on their own after a restart. This is also the reason why many PC technicians first ask if they have restarted the PC in the event of problems. So if your PC is slow, just try restarting it.
Uninstall the pre-installed programs
When you purchase a computer, preinstalled software may reduce the available space on the disk and may affect the performance of your PC. This can be typical antivirus software or utilities from the manufacturer. Sometimes their removal is interrupted or they do not delete themselves completely during the uninstallation.
Add more RAM
Every program on your PC needs memory while it is running. This means that you can also overload an actually perfectly functioning PC by starting additional programs at the same time. In such situations, Windows stores the data that has not been needed for a long time on the hard disk or SSD. It will reload them as soon as you return to the corresponding program. This takes time and slows down the PC.
There are two possible solutions to this problem. You can make sure that you exit the open programs carefully when you no longer need them. Or you can otherwise upgrade the RAM of your PC.
Sometimes a RAM extension is not an option, for example if the maximum amount of RAM is already installed on the PC. However, if there is still a hard drive in your PC, you can still speed it up. Swap the hard drive for a modern SSD. The outsourcing of data from the working memory cannot be prevented in this way, but it can be accelerated enormously.
Update software
If your PC becomes slow on a regular basis, it can be because it cannot cope with your requirements. Before you buy a new PC, you should first check whether the operating system and programs are up to date.
The easiest way to update Windows is via Windows Update. The system itself does a lot to update itself online. But the update function could not function properly or may be hindered for whatever reason (no internet connection, malware…) .
In the update settings for Windows 10 you can see whether new system updates are available. Start Windows Update first via the settings or by entering "Windows Update" in the search field in the start bar. Let the check run and, if necessary, import updates that have not yet been installed.
Then repeat the process with your programs. How you do this depends on the software. Microsoft Office and browser, for example, have their own update functions. If there is no online update function, visit the manufacturer's website and check if there is an update there.
---
If you like the content, we would appreciate your support by buying us a coffee. Thank you so much for your visit and support.