Did you know that there will be 4.6 billion email users by 2025? That's an impressive number. However, many businesspersons do not consider email marketing as one of the means to engage and retain customers. To succeed, one should first get email subscribers. You can motivate your website visitors to share their email addresses with email popups.
In this article, you'll find 15 inspiring email popup examples that you can incorporate into your email marketing efforts.
15 Email Popup Examples to Expand Your Database
An email popup is a small box that appears on a website visitor's screen requesting their email address in exchange for certain benefits, such as one time discount or other purchase bonuses. Check out these 15 email examples of pop ups to get more high-quality leads.
Timberland and the popup with high-quality images
It's no surprise that Timberland, as a fashion brand, knows how important high-quality images are. Those images clearly state the benefits of subscribing to the Timberland email newsletter. This gives the user the impression that they're getting a great deal in return for their email addresses.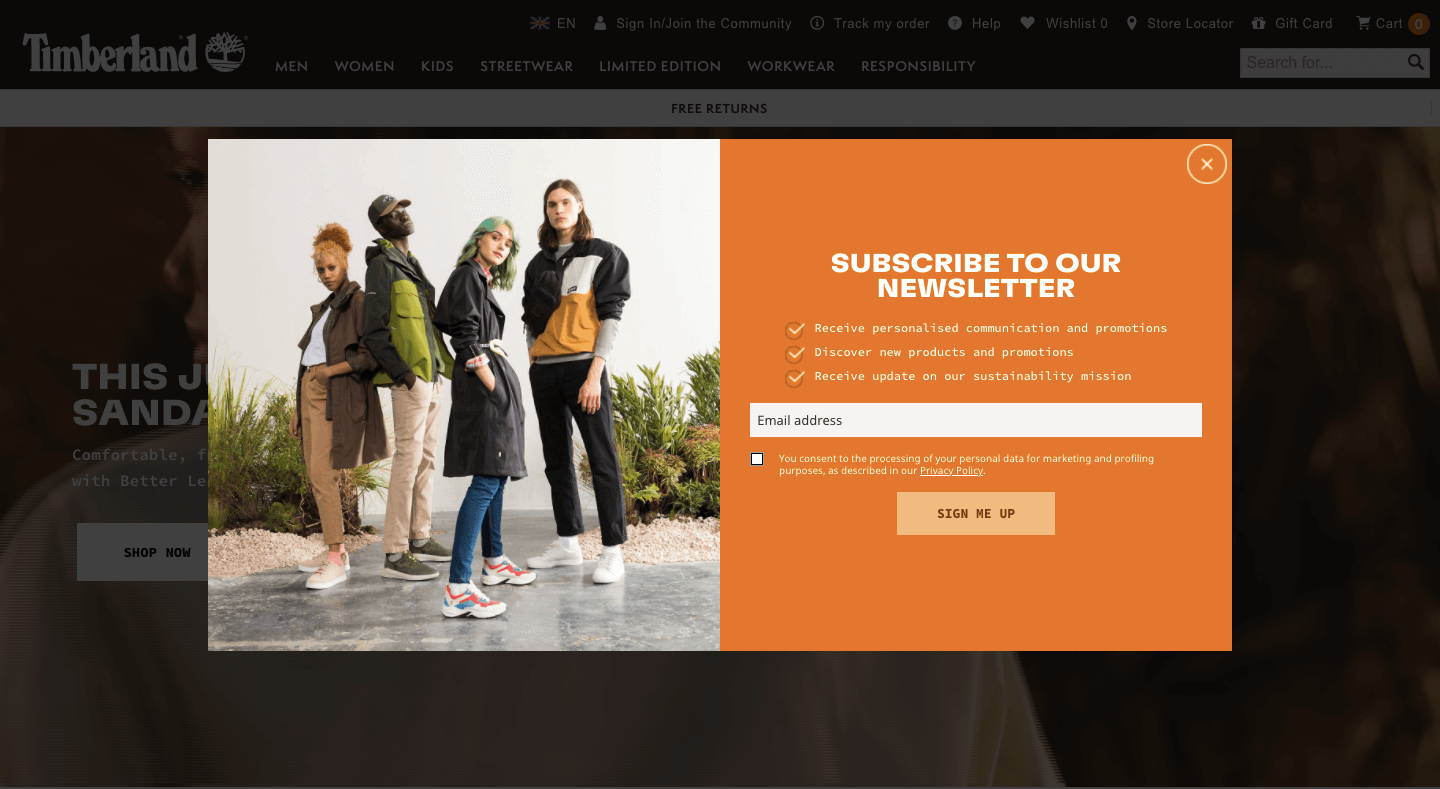 Read: Why You Should Focus On Your Re-Engagement Email Campaigns In 2022
Under Armour and their greeting popup
Under Armor's email popup greets users with the words "Everything here is built to make you better." Considering Under Armor is a health and fitness store, nothing could be better. The popup has a dotted black background, making the text easier to read. In addition, just like Timberland, they clearly explain what the site visitor will receive after signing up.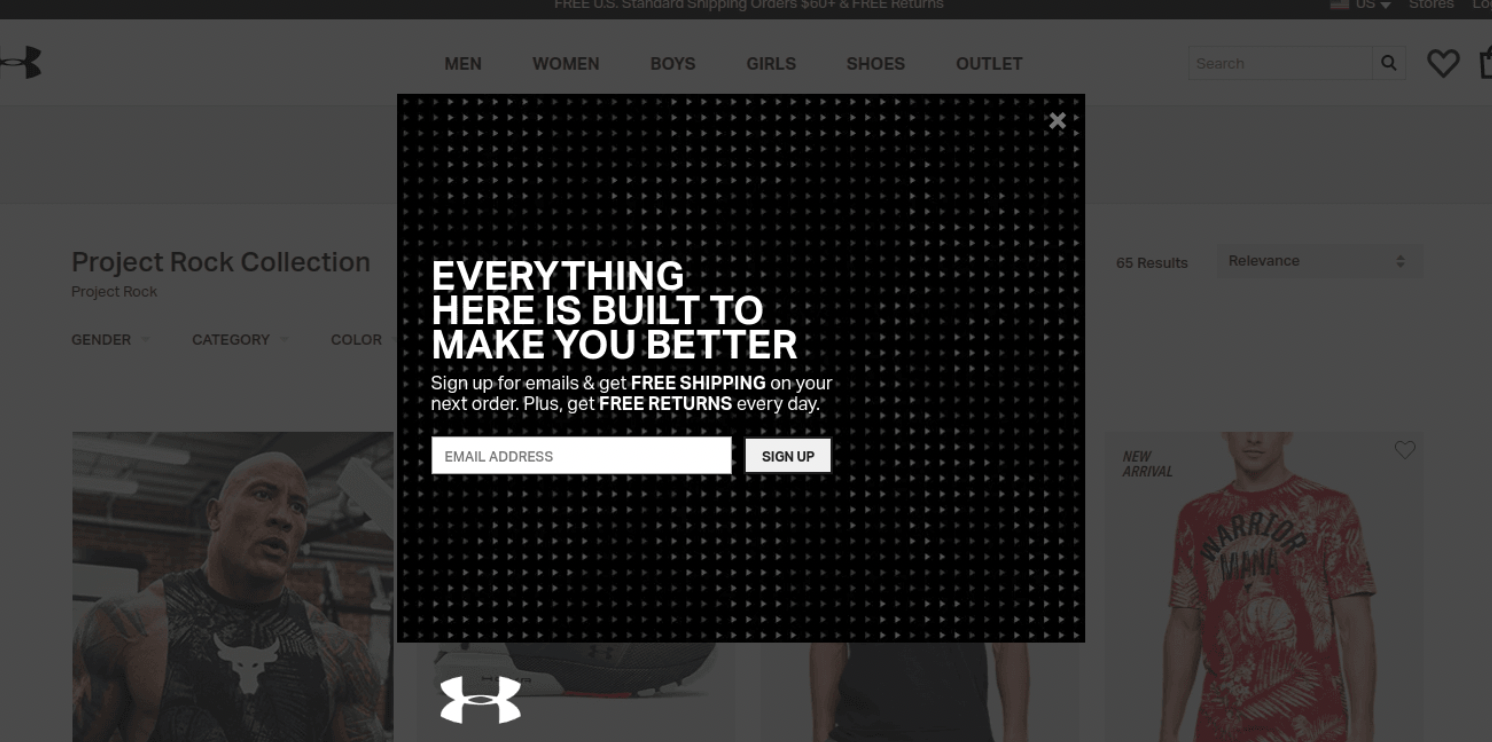 Beauty Bakerie and the competition popup
Indeed, the deal you offer in return is the most important factor to consider when requesting someone's email address. Look at how Beauty Bakerie adds value by inviting its visitors to enter a monthly giveaway.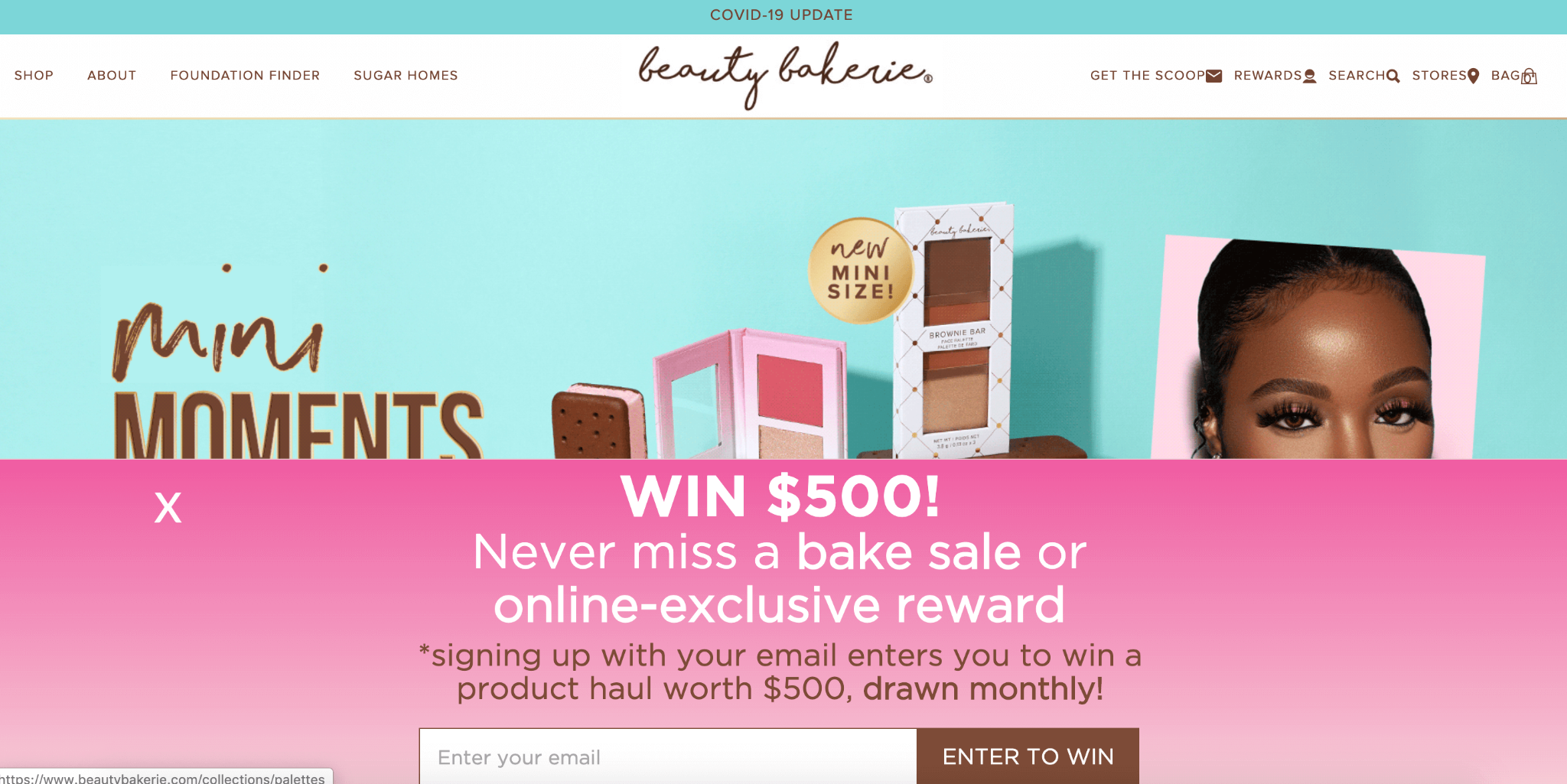 Milledeux and the exit-intent popup
The average time spent on a website is 54 seconds. While it's not a lot of time, an exit intent popup could increase visitor engagement. For example, Milledeux, a clothing retailer, uses pleasant emotions to capture users' email addresses when they try to leave their shopping carts.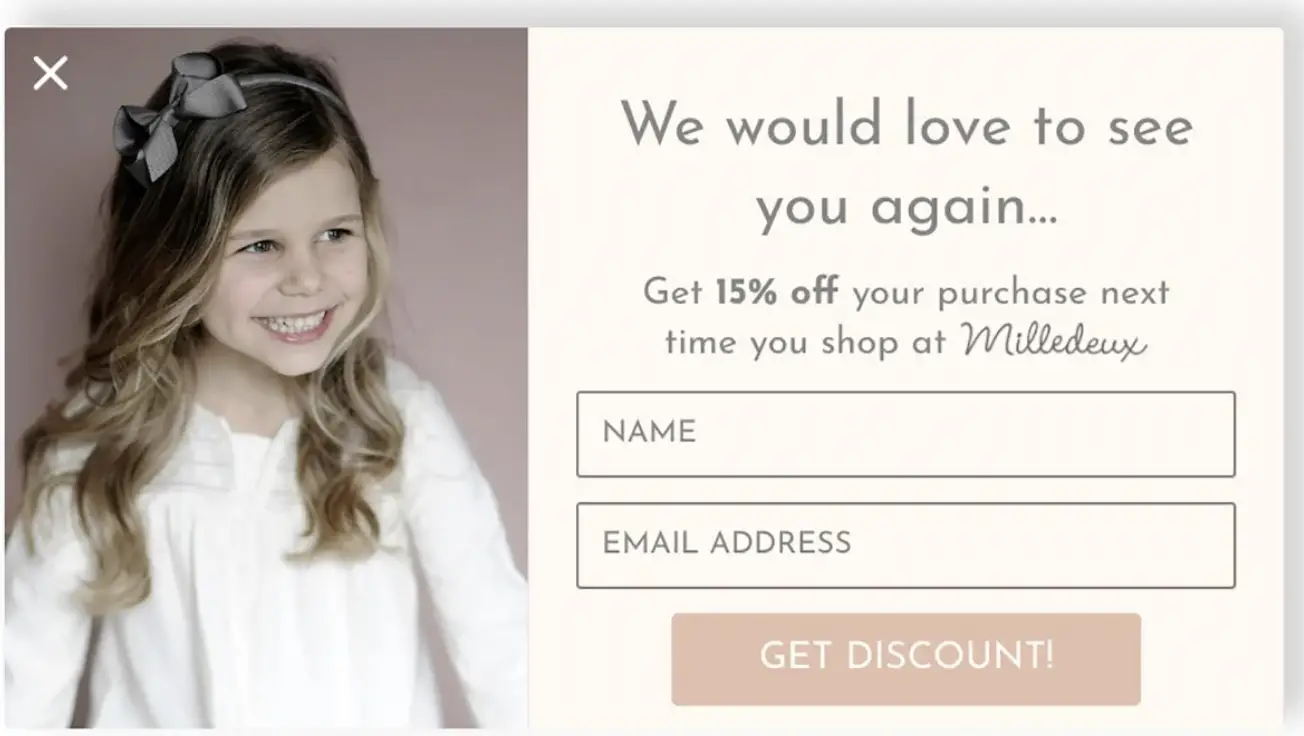 Read: The Benefits of Email Marketing
Show Monkey and the personalized popup
Snow Monkey, a vegan ice cream retailer, wanted to target customers based on their location to increase regional sales. By collecting email addresses with zip codes, they can now send specific offers based on the proximity to the nearest store.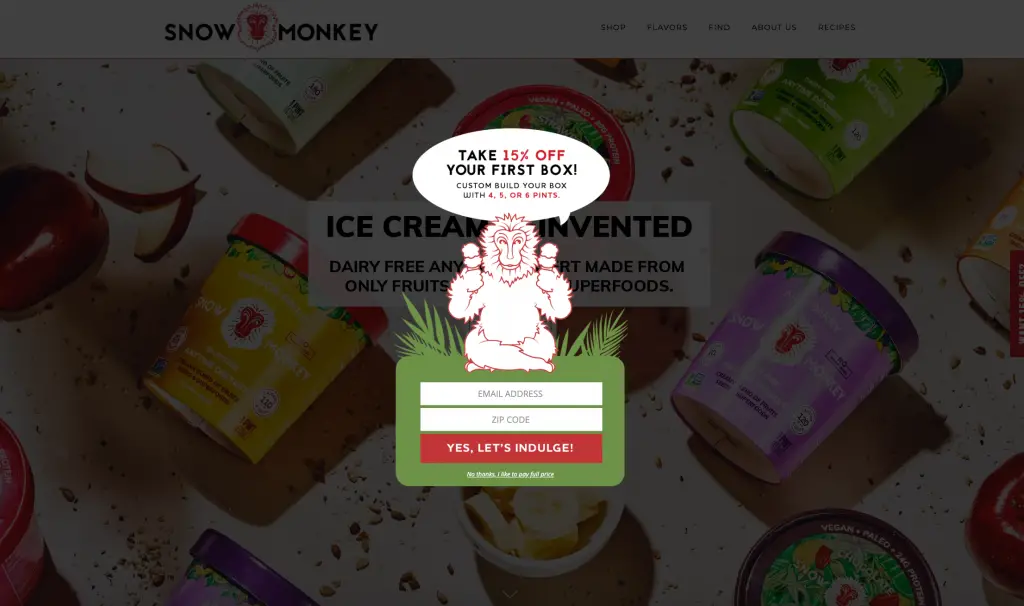 Ultra Beauty and the bottom-of-the-screen bar
Sometimes the best and most effective popups aren't the most obvious ones. Ulta Beauty, a U.S. beauty chain, nails it with this bottom screen bar that allows visitors to continue browsing while simultaneously presenting them with an intriguing deal.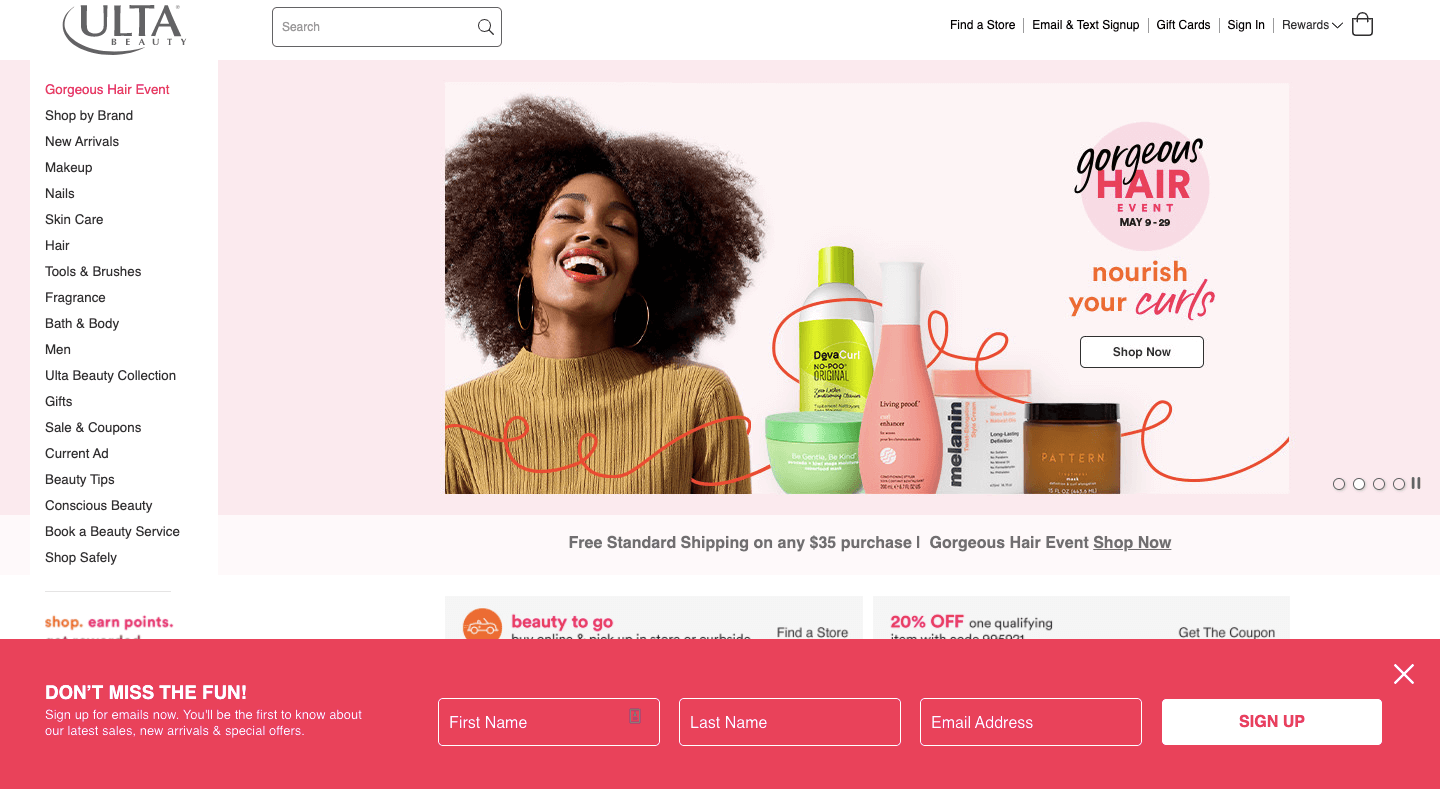 Madewell and the multi-field popup
Madewell invites its customers to become "insiders," which gives them access to special events, free delivery, and birthday gifts. To do this, the brand uses the multi-field form that offers to create an account directly from the popup.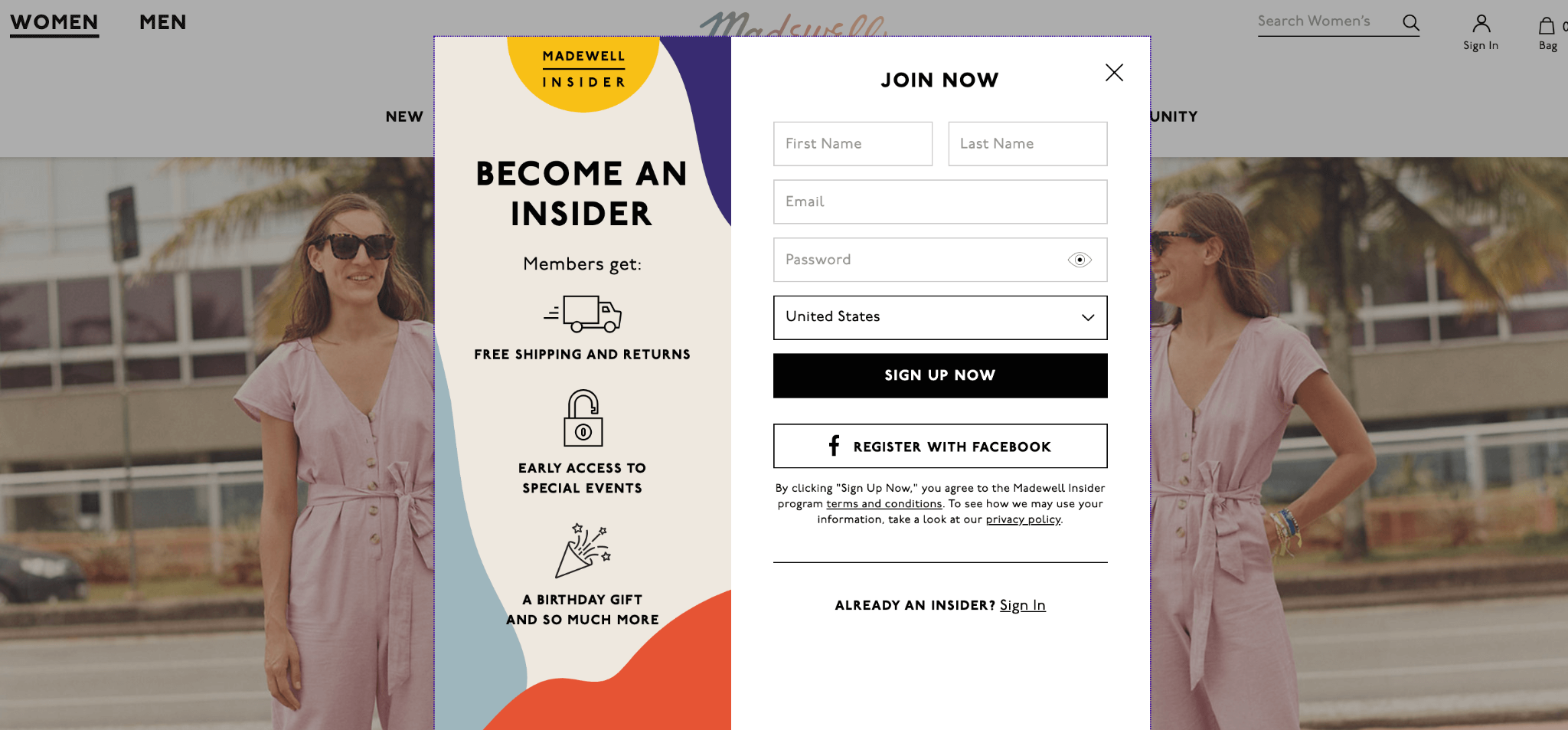 Read: Best Email clients of 2022
Debenhams and the no-form popup
Unlike the other examples of email pop ups we've presented so far, the popup from Debenhams, a fashion retailer, doesn't include a form to type in an email. Instead, the popup redirects users to a separate landing page via the "Subscribe today" link. What an interesting approach!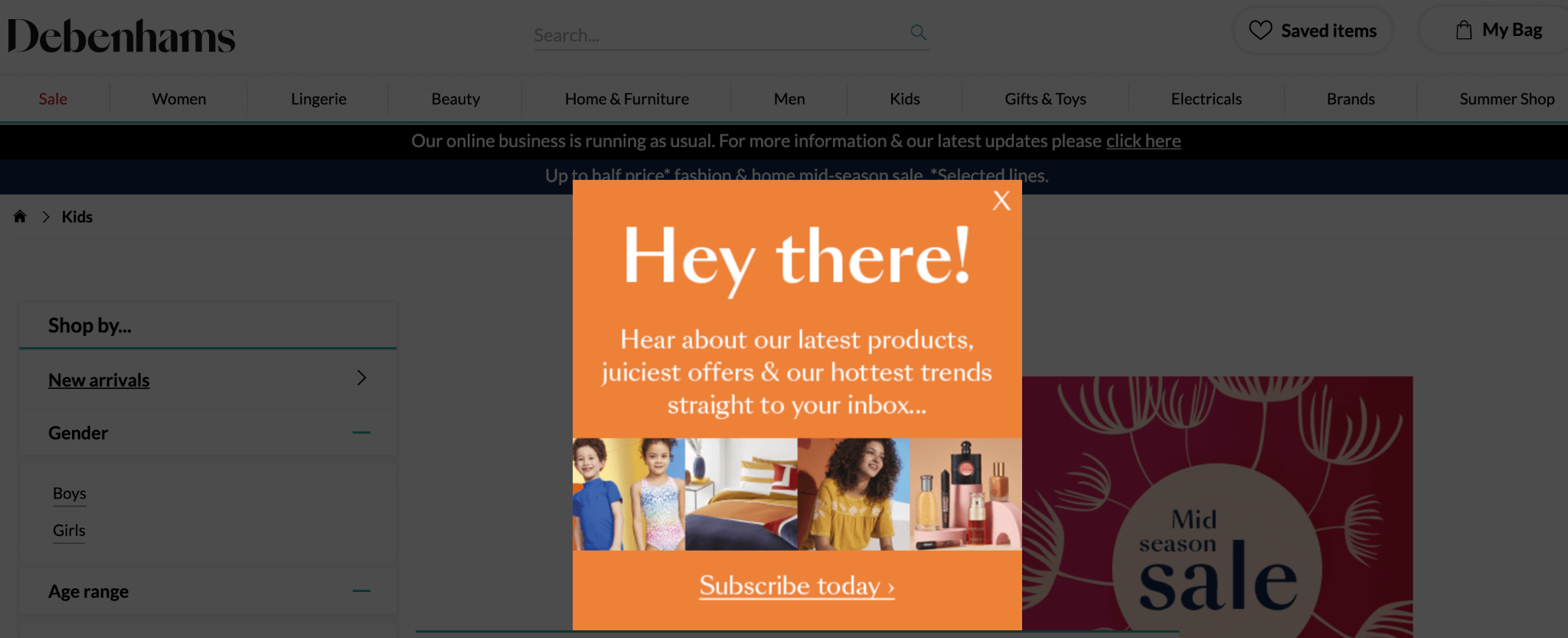 Aplos and the free-shipping popup
Customers love free shipping, and Aplos knows that. That's why the company has decided to make free shipping the main call to action in its popup. Aplos displays this popup to welcome visitors a few seconds after they arrive on the site.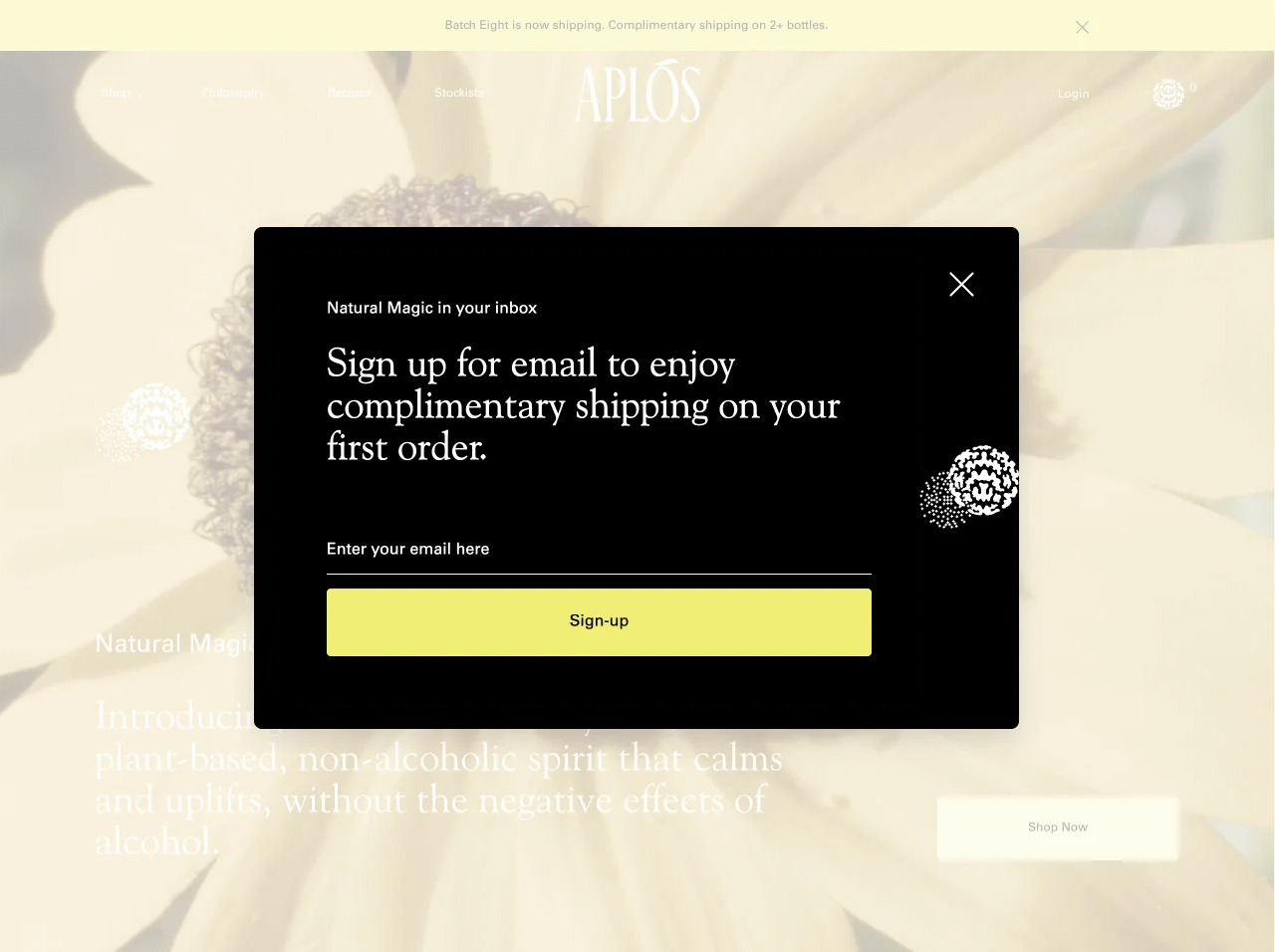 Old Spice and the on-brand popup
There's no need to use common phrases in your popups. Many websites use them. Instead, make a bold decision, as Old Spice did. For example, the company uses the headline "Ahoy Matey!" instead of the boring "Save 15% on your purchase." They also say that your nose will thank you afterwards. That's a fantastic extension of the brand message.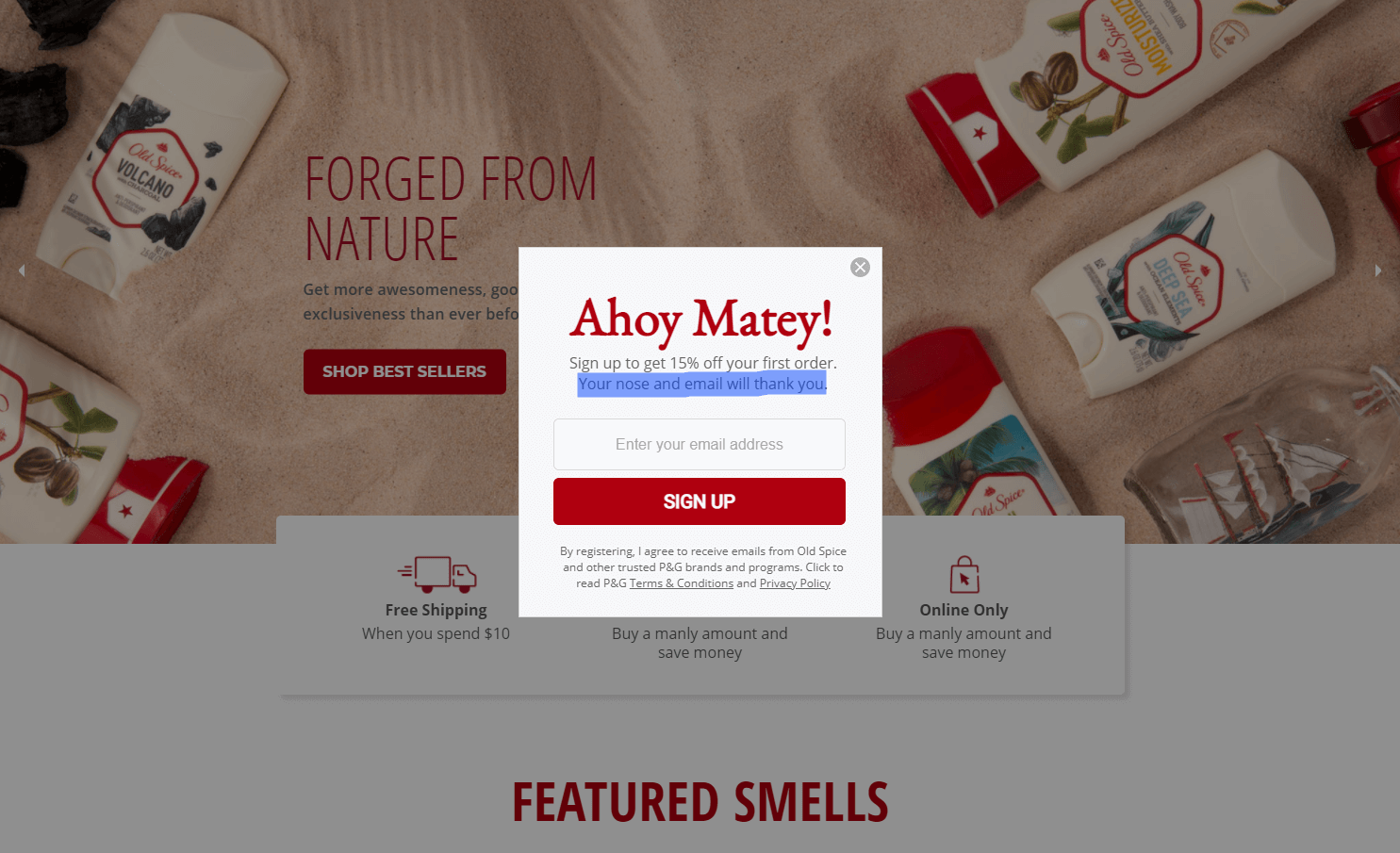 Read: Understanding Email Archiving and Policies
Besame and the hashtag popup
Besame is another brand that knows how to communicate with its customers. Just like Old Spice, they chose to keep the shape small so as not to disrupt the user experience in their store. The caption "Be A #BesameBeauty" emphasizes the concept that you can feel beautiful with their products. In addition, the popup promotes the brand's hashtag to reinforce brand recognition. A double benefit!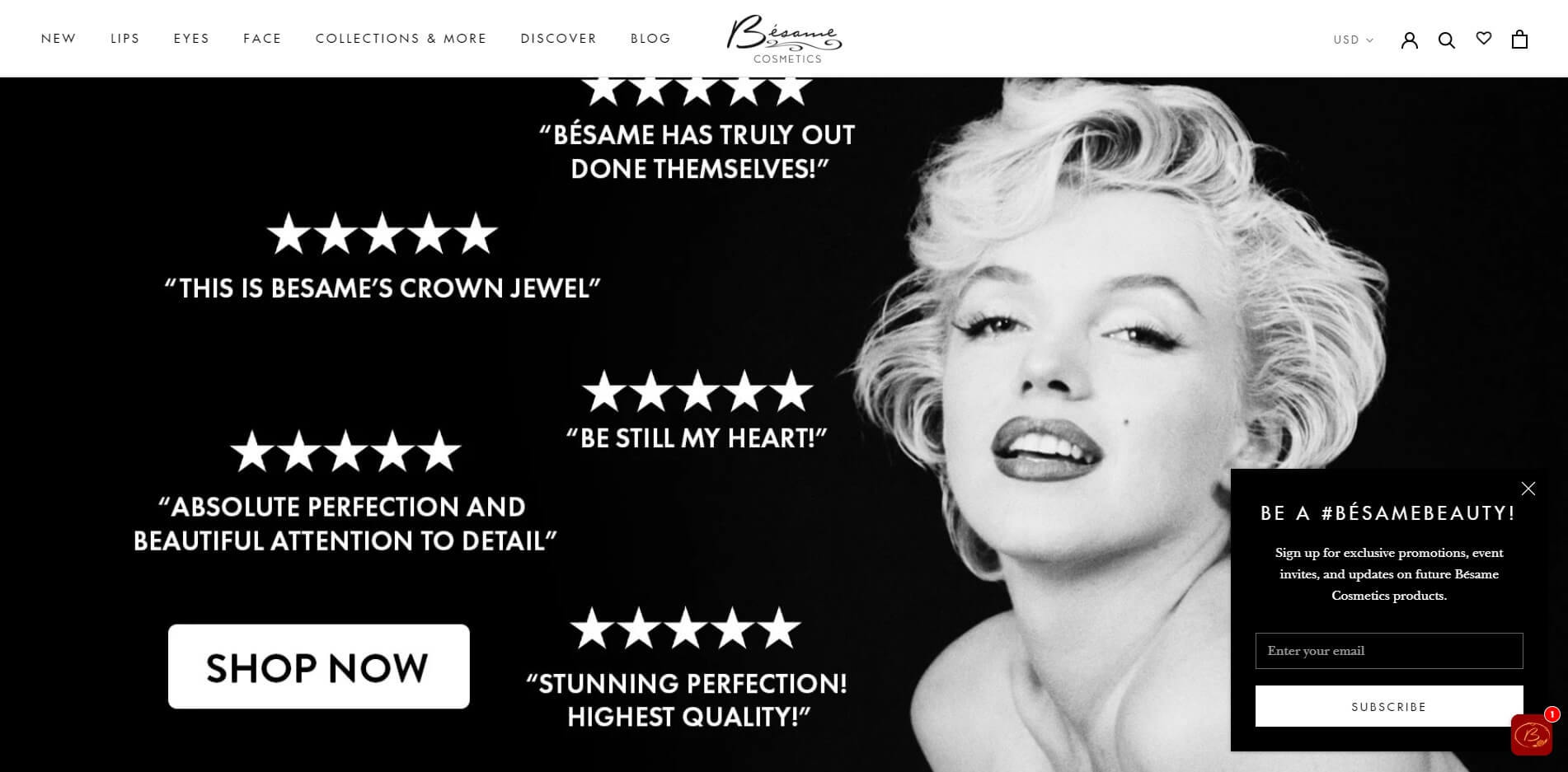 Fort and the modal popup
Fort is another example of how modal popups don't have to be intrusive to be effective. While hiding the background, Fort keeps its pop-up form small enough to not be too pushy but large enough to be effective and simple.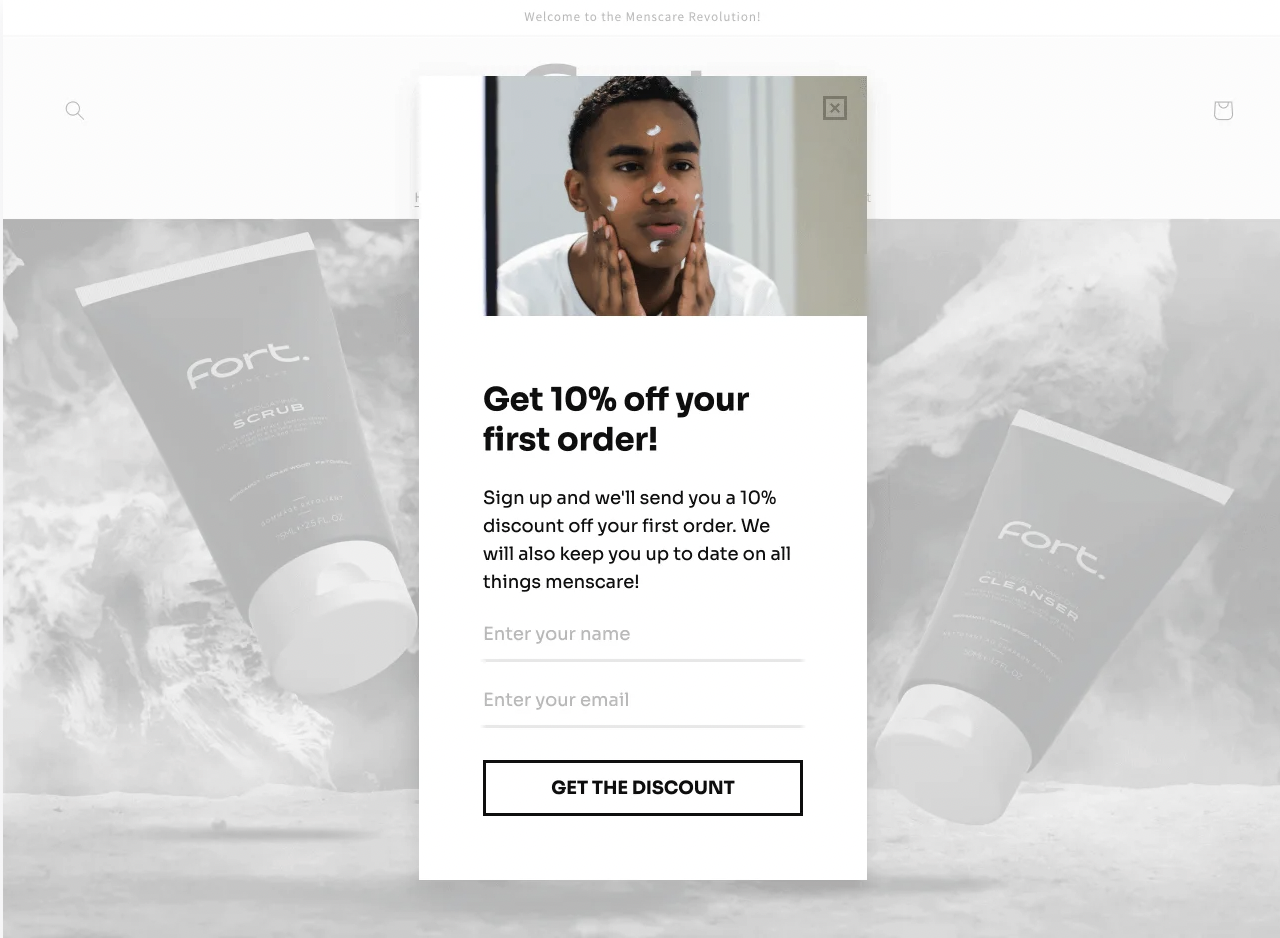 Gravitas and the discount popup
Gravitas, a clothing company, features some of its iconic outfits in an intriguing snapshot on its email popup that appears immediately after the visitor clicks on the page. What's more, it conveys an urgency by providing a 10% discount if the user fills out just one form field.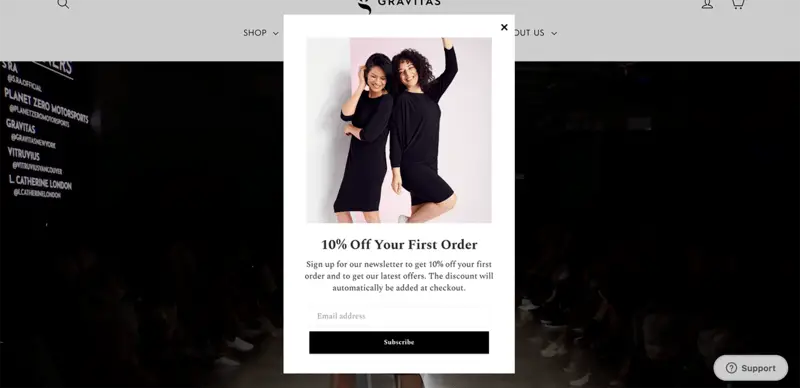 Read: Cold emails : How to Properly Validate Your Emails
Diesel and the minimalistic popup
Diesel, a clothing designer and retailer, complements its brand's simple, industrial look with a sleek black-and-white popup. Upon landing, a user is asked for their email address and can choose a gender to customize the email experience.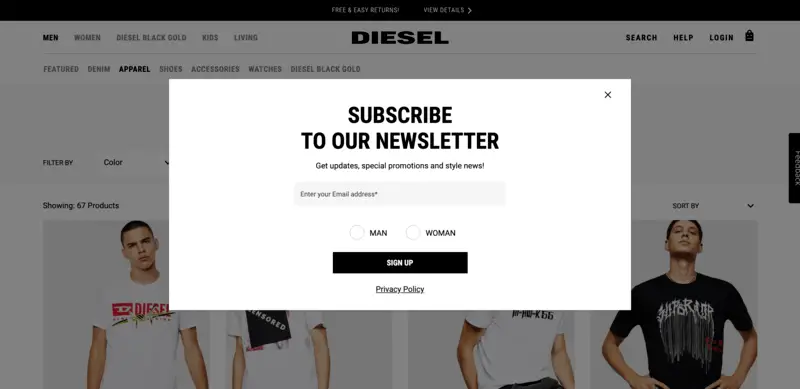 Dolce & Gabbana and the straight-to-the-point pop-up
As a luxury brand, Dolce & Gabbana is expected to be masters of the craft of email marketing! Dolce & Gabbana used a simple welcome popup — you do this, you get that! In addition, the popup form offers gender and language choices that D&G will use to send customized newsletters.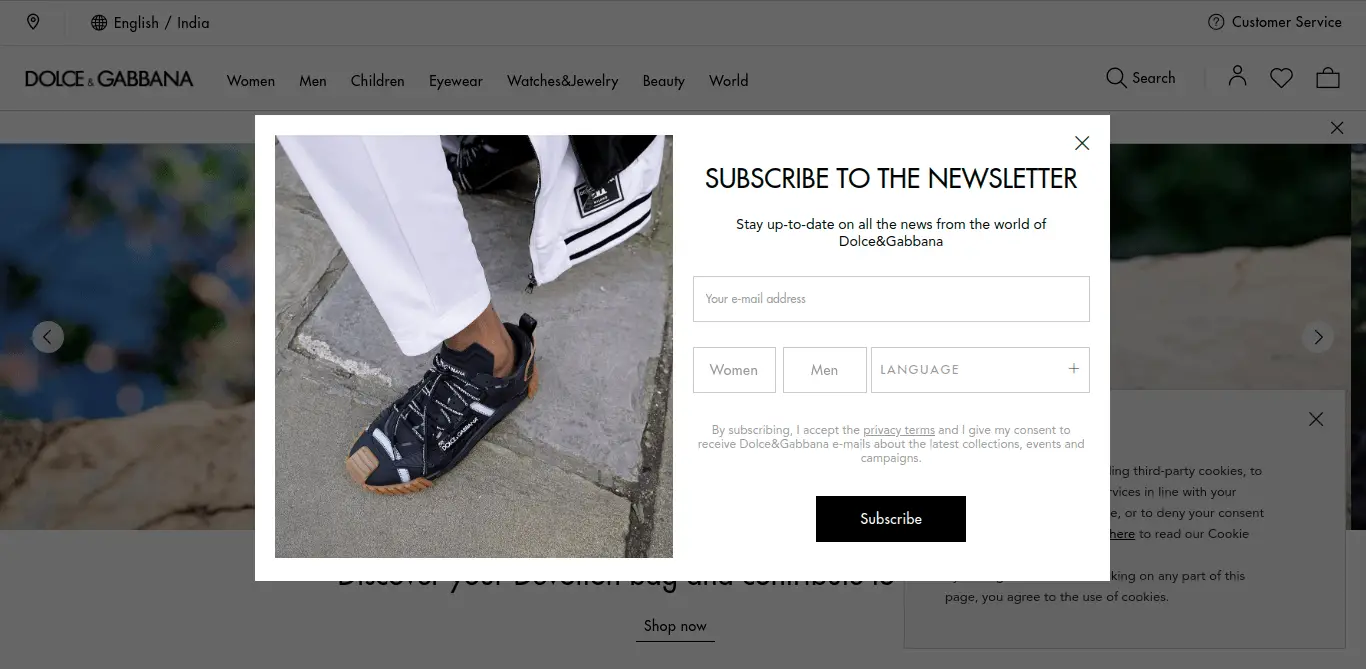 Conclusion
Email popups are a great way to grow your customer base and increase conversion rates. There's a lot of space for creativity when designing an engaging popup. Someone might be attracted by a 10% discount on a subscription, another gives their email address for free shipping. We hope this list of email popup examples has inspired you to create a popup your website visitors will rather appreciate than close!
---
If you like the content, we would appreciate your support by buying us a coffee. Thank you so much for your visit and support.